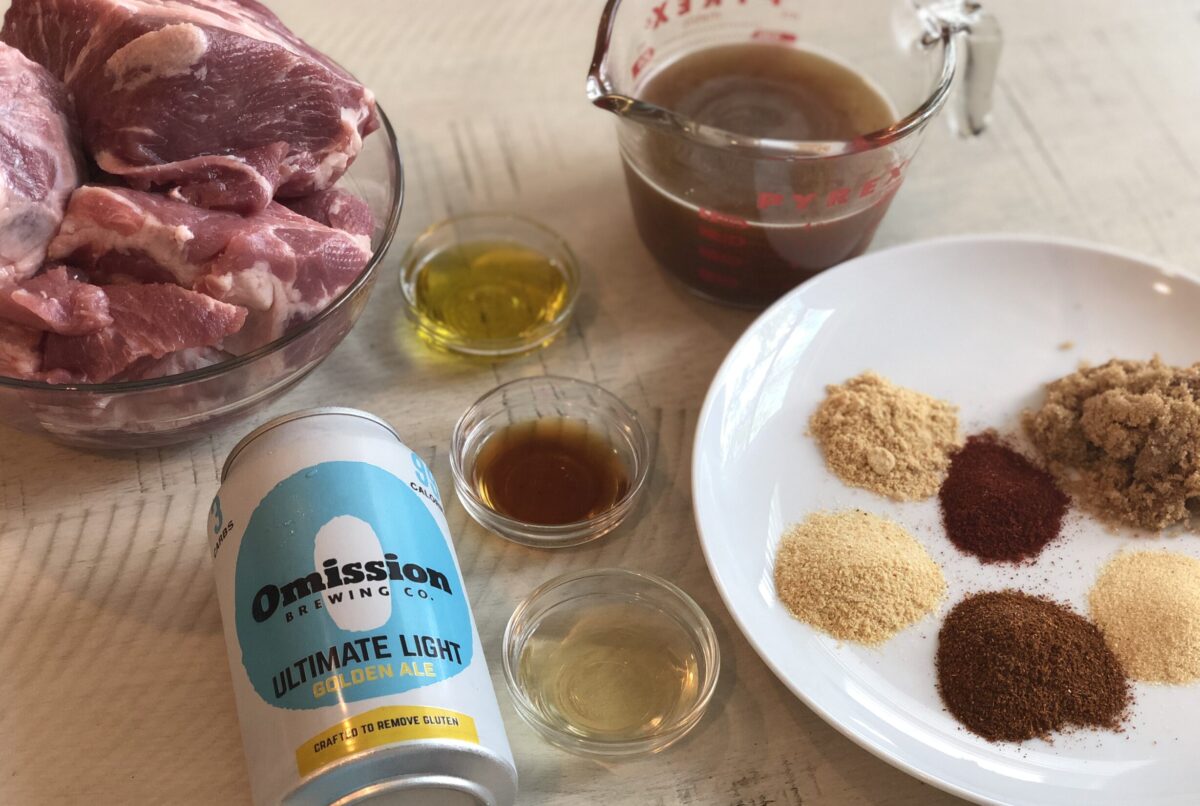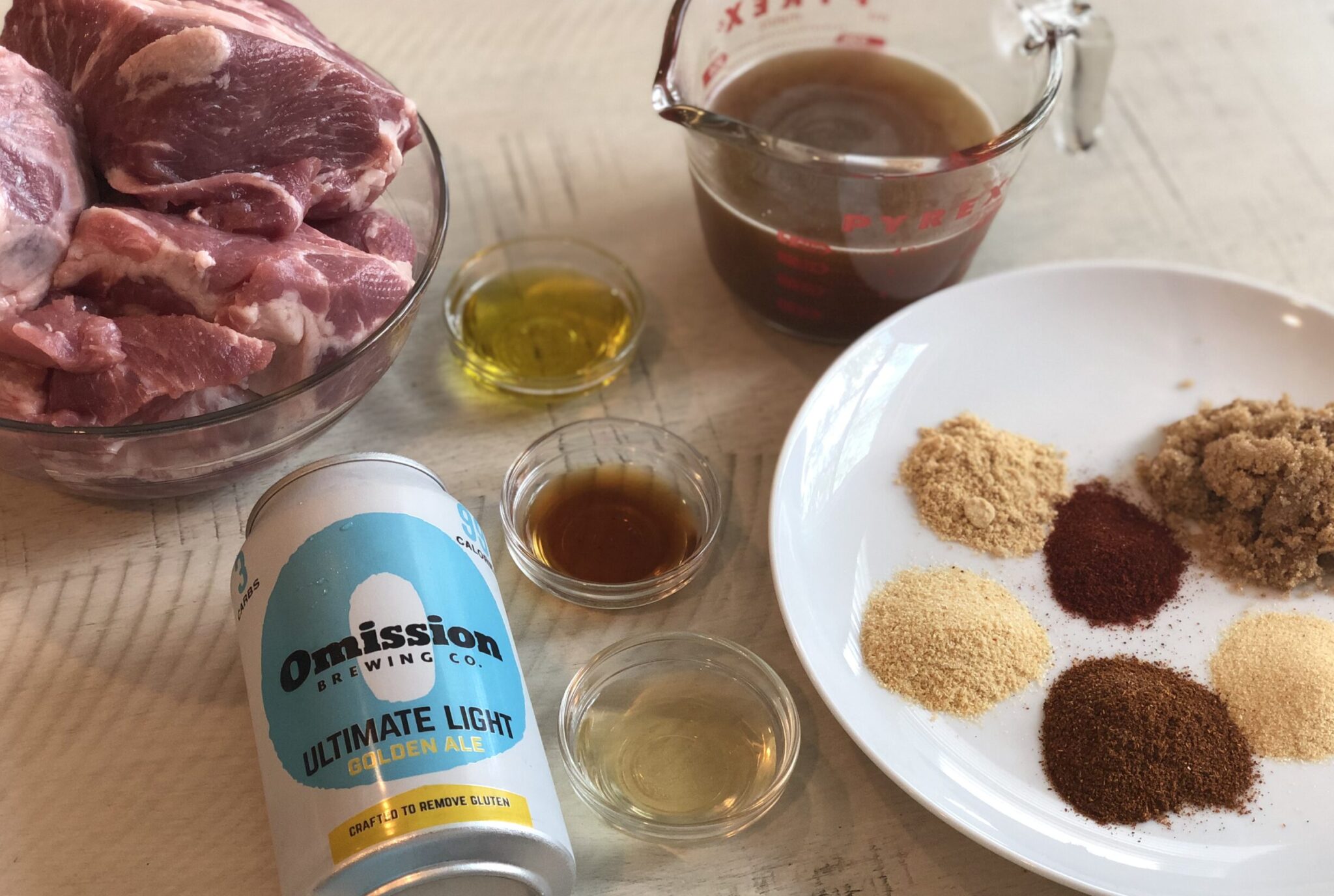 BBQ Pulled pork is a major favorite of mine. Any pulled pork is a winner in my book, actually. It can be BBQ pulled pork, teriyaki sandwiches, or carnitas tacos. It gets bonus points because my kids like it and I can make big batches without a ton of work. It's also a nice change up from the usual chicken or beef.
You may have read in a previous post that I like to buy a big pork shoulder from Costco and divide it up into easy-to-use sections. Pictured above is that very same meat, ready to take a hot bath in beer and spices. A few hours later, it will become a tender and buttery meal with all the fixings: Jack Daniel's BBQ sauce, baked potatoes, green chile cornbread and an easy salad.
Cooking Process
Let's talk method for a minute. Pulled pork needs to go low and slow, so the best cooking options are either the oven or smoker. Since I like mine saucy, I start it on the stove in a cast iron pot and move it to the oven where it can go low and slow for awhile. I start with the pot on medium-high heat so I can brown all the pieces. The crust that builds on the meat and bottom of pot is all flavor. Working in batches allows the browning to happen quickly, without burning, but we are not trying to cook the meat through. That will happen later.
The next layer of flavor comes from the beer pulling up those brown bits (aka fond) off the bottom of the pot and adding our spices. This is point that we decide which flavor profile our dinner will have. For BBQ, I use chili powder, paprika, mustard, garlic, onion, brown sugar, salt and pepper. If I was making tacos, I'd pour in cumin, onion, garlic, and chili powder. So, they are very similar with just a few subtle differences. Next it goes in the oven for a few hours where the pork will completely fall apart into a tender masterpiece. Not a ton of work for a big return in my opinion.
After the meat is done cooking and comes out of the oven, I use two forks to pull apart the meat into shreds. Lastly, the sauce goes on. Now the meat will be tender and juicy, so it doesn't need a heavy sauce, just a light coating to seal in that BBQ flavor. My favorite is Jack Daniels Sauce. Serve it with a couple good sides or on hamburger buns for sandwiches. Also great as sliders for kids on Hawaiian sweet rolls.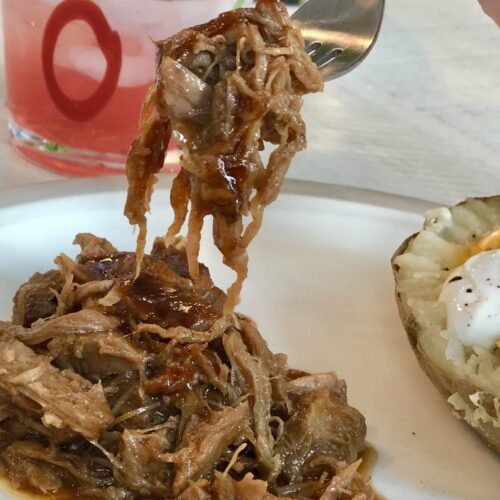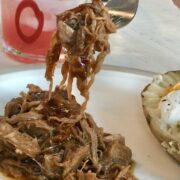 Print Recipe
BBQ Pulled Pork
A tender pork shoulder cooked low and slow with BBQ sauce.
Ingredients
4

pound

Pork shoulder

2

tablespoon

vegetable oil

2

tbs

salt

2

teaspoon

black pepper

1

12 ounce

beer

1

tbs

liquid smoke

1

tbs

apple cider vinegar

2

tbs

brown sugar

1

tablespoon

chili powder

2

teaspoon

mustard powder

2

teaspoon

garlic powder

1

tablespoon

onion powder

2

teaspoon

smoked paprika

¾

cup

beef broth

such as Better Than Bouillon

1

cup

BBQ sauce
Instructions
Cut pork shoulder into large pieces, discarding any large pieces of fat and season with salt and pepper.

Heat cast iron pot on medium-high and add vegetable oil.

Working in batches, brown the chunks of meat on all sides.

Remove browned pieces of meat, add more oil if needed, and continue cooking until your meat has browned.

Remove all meat from the pot and add the beer, scraping up all the brown bits off the bottom of the pot.

After the alcohol from the beer has cooked off, add the apple cider vinegar, liquid smoke, spices, ¼ cup of beef broth, and add the meat back in the pot.

Put the lid on and move it to the oven. Cook for 2 ½-3 hours and check on it occasionaly, stirring the pot to make sure nothing sticks to the bottom and that it doesn't lose too much liquid. Scoop off any fat that seperates and floats to the top. If the liquid gets too low, add more beef broth.

After the meat has cooked completely, move pot back to the stove. Use a couple forks to pull it apart. Remove any pieces of fat that you want to eat.

Add BBQ sauce and stir to coat completely.
Notes
I prefer a thinner BBQ sauce for this so everything is evenly coated, but not too heavy.
For a little extra heat, add a pinch of cayenne pepper with the other spices. 
This saves well and makes great sandwiches for lunch. 
This post contains affiliate links. As an Amazon Associate I earn from qualifying purchases.