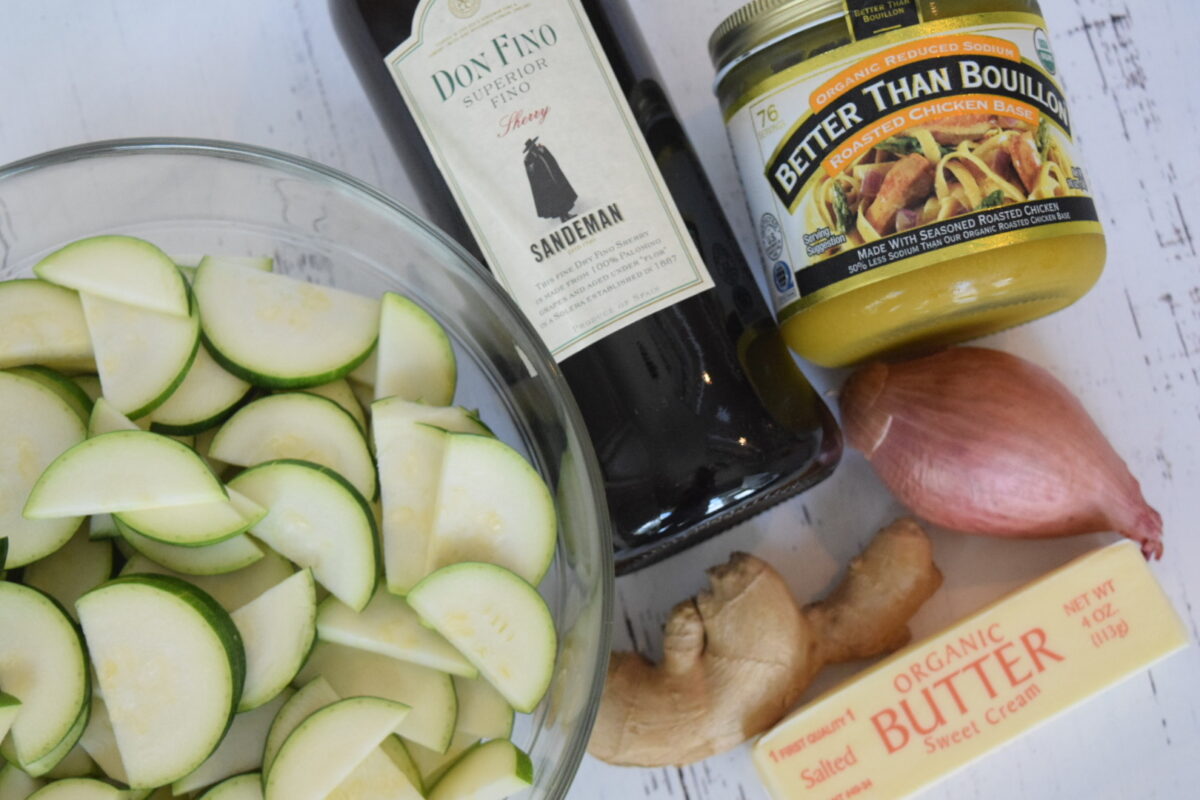 Sherry and ginger zucchini is my favorite way to eat this green summer veggie. Like so many others, this is a dish that my father makes and I still enjoy. His version is a little saucier and I'm not sure how he does it, but it's amazing. I think it's not too often I see people serve seconds of vegetables, but I do see that often with this dish.
I also think a lot of the time, vegetables are the afterthought of a great meal. If you want to eat vegetables, make them tasty. Eating vegetables shouldn't be a chore you have to get through. Give them some attention. This sherry and ginger sauce is so good, you'll go back for seconds. I'm sure of it. This is a great side dish for a roast chicken, by the way.
See the recipe below and read on for tips and variations. Click this link to watch the video on JumpRope.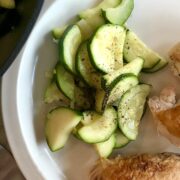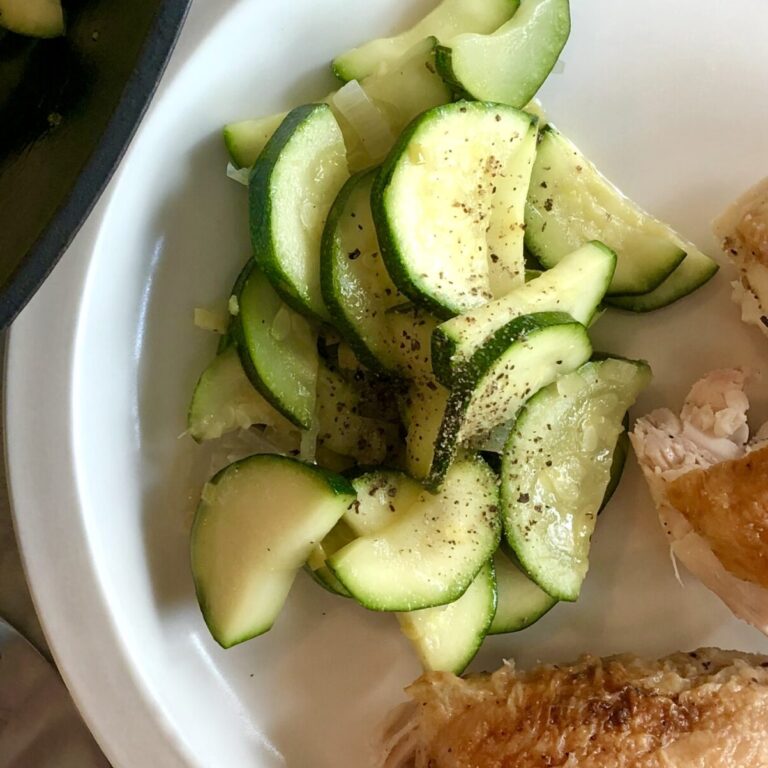 Print Recipe
Sherry and Ginger Sauce
A sherry based sauce infused with ginger and chicken stock.
Equipment
Cast iron or stainless pan
Ingredients
½

cup

dry sherry

3

tablespoon

butter

1

tablespoon

better than bouillon

1

tablespoon

minced fresh ginger

1

shallot

¼

cup

water

2-3

medium zucchini
Instructions
Slice zucchini into half moons about a ¼" in thickness.

Mince shallot and ginger.

In a large skillet or cast iron pan, heat to medium-high. Add butter.

Once the butter begins to foam, add the ginger and shallot. Let it cook for a few minutes.

Add the sherry and stir it in to coat the ginger and shallot.

After 2-3 minutes and when the alcohol smell has evaporated, add the Better Than Bouillon and water.

Let the mixture come up to a bubble and add the zucchini. Combine it so the zucchini is evelny coated with the sauce.

Cook on medium for 5-8 minutes, cuntinuing to stir until the zucchini is cooked but still firm. (Dont let the zucchini get mushy)

Check for seasoning and add salt if needed and definitely add some fresh black pepper. Add one more dab of butter and stir in.

Serve it quickly with a roast chicken or another main course of your choosing.
The key to this sauce is letting the flavors build one layer at a time. Butter with shallots and ginger is a great foundation. If the butter browns a little, that's a good thing. The dry sherry is the star of this sauce though. I use some sort of wine or alcohol in almost all of my sauces. It creates a depth of flavor that stands out. As soon as the alcohol has burned off, the sauce is ready for the chicken base. It's all about building on one layer at a time. Nothing complicated. Just whole ingredients and a good flavor combination.
Sherry and ginger sauce is also good on other green vegetables. I've done it with asparagus, peas, and green beans. It's a great sauce to master so that your vegetable side dish isn't ever an afterthought. And these are mostly pantry ingredients. If you don't have fresh ginger, definitely sub it out for ginger powder. Give your veggies a salt check and add a little at the end if needed. I also add a generous amount of cracked black pepper when I serve it. YUM! I hope you like it 🙂