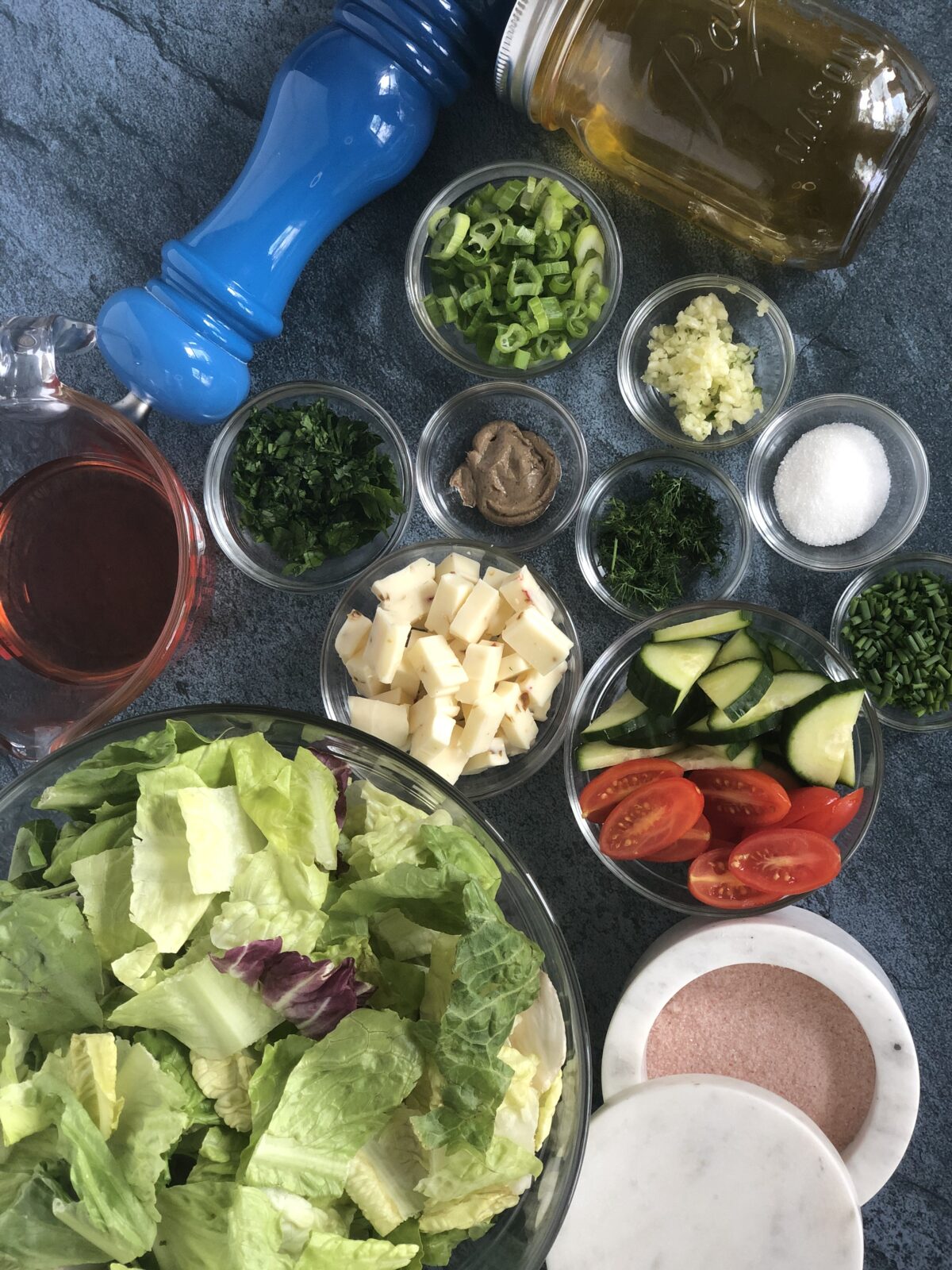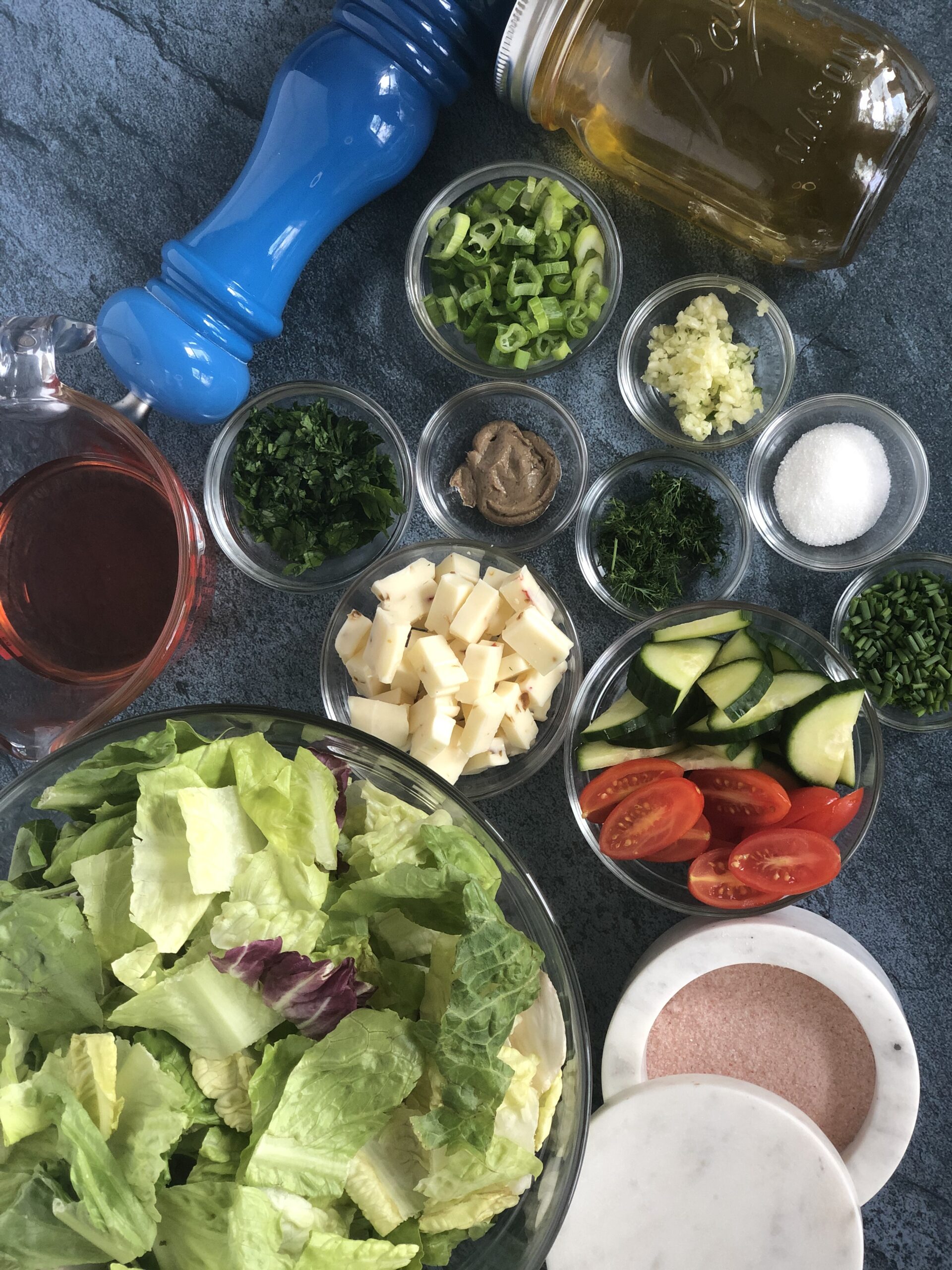 This herby vinaigrette is a fresh and bright dressing that's perfect for hot summer days. It is also such a light veggie course that it pairs really well with any heavy comfort food or large portion of protein such a filet mignon or rib-eye.
My herby vinaigrette is filled with fresh dill, chives, green onion and minced garlic. They are such light flavors, nothing over powers or competes with each other. Those herbs combined with zippy red wine vinegar and a bite from pepper jack cheese, this dressing is perfect for some simple greens.
Follow along each step of the recipe with JumpRope.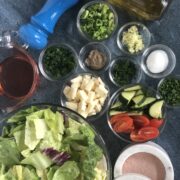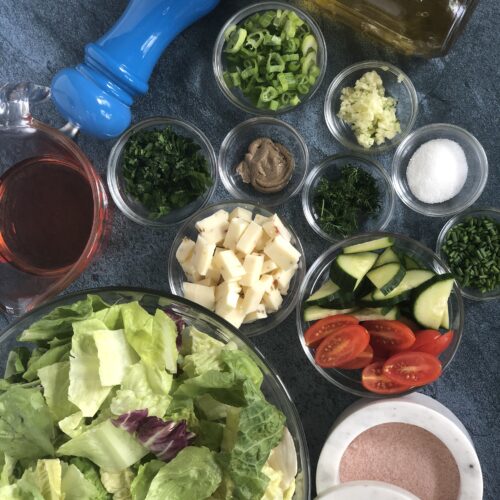 Print Recipe
Herby Vinaigrette
An herby salad dressing loaded with garlic, cheese, and red wine vinegar.
Ingredients
¾

cup

olive oil

½

cup

red wine vinegar

2

teaspoon

anchovy paste

1

clove

garlic

2

tablespoon

fresh dill

2

tablespoon

chives

2

tablespoon

green onion

greens and some white

1

tablespoon

parsley

2

teaspoon

sugar

½

cup

diced pepperjack cheese

2

teaspoon

salt

1

teaspoon

black pepper
Instructions
Mince the garlic, dill, green onion, chives, and parsley.

In a medium size mixing bowl, combine the minced garlic and anchovy paste.

Add a splash of the red wine vinegar to break up the anchovy paste. This will make it easier to emulsify it with the rest of the ingredients.

Add the rest of the vinegar, dill, chives, green onion, parsley, sugar, salt, and pepper.

Pour the entire mixture into glass jar with a lid.

Add the diced pepper jack cheese and olive oil.

Let the chill for at least 2 hours before serving.

Serve with a salad of mixed Italian lettuce, cucumber, tomatoes, and bacon. Shake the dressing will before topping onto lettuce. Extra cracked black pepper higly recommended.
Nutrition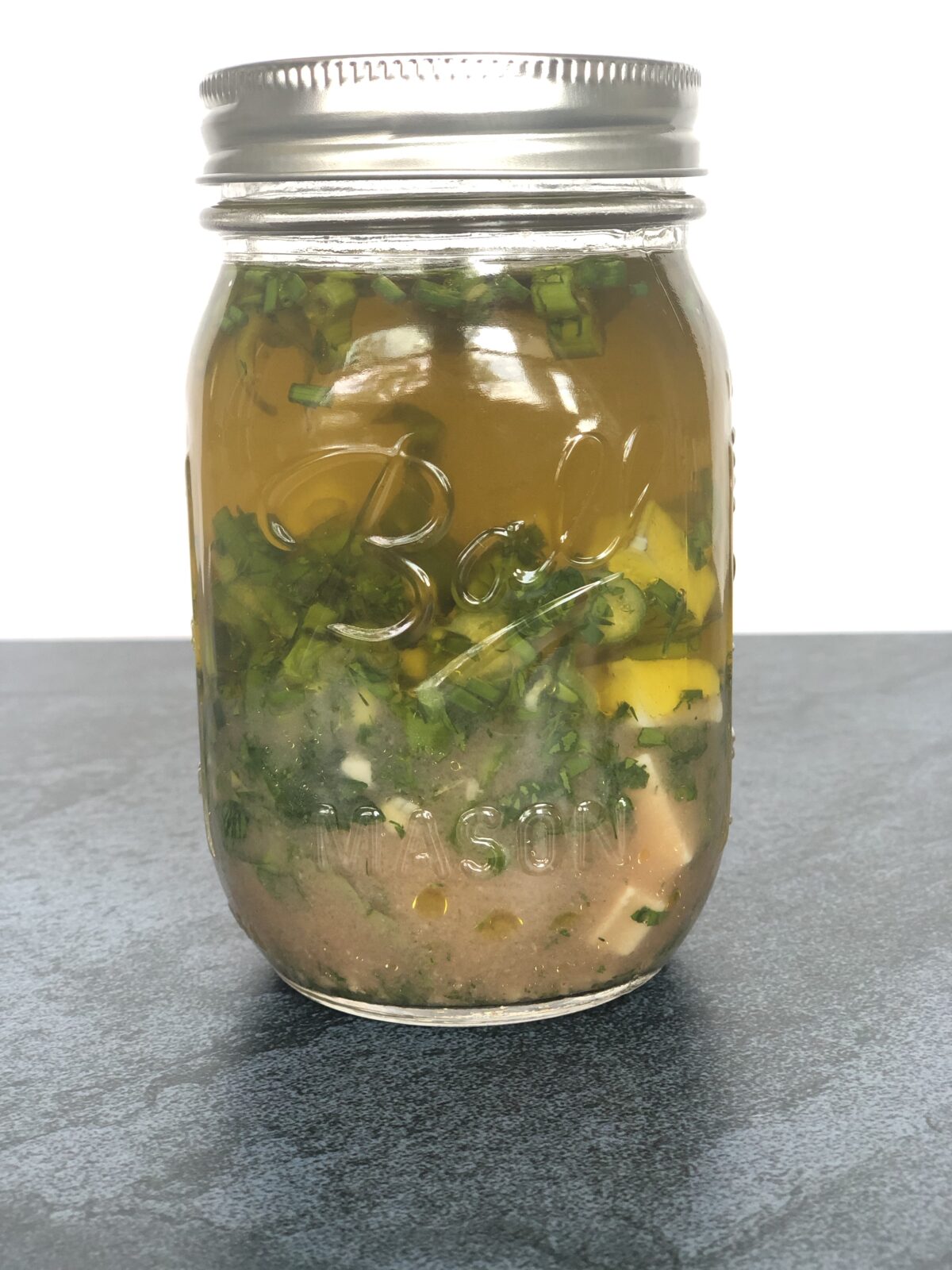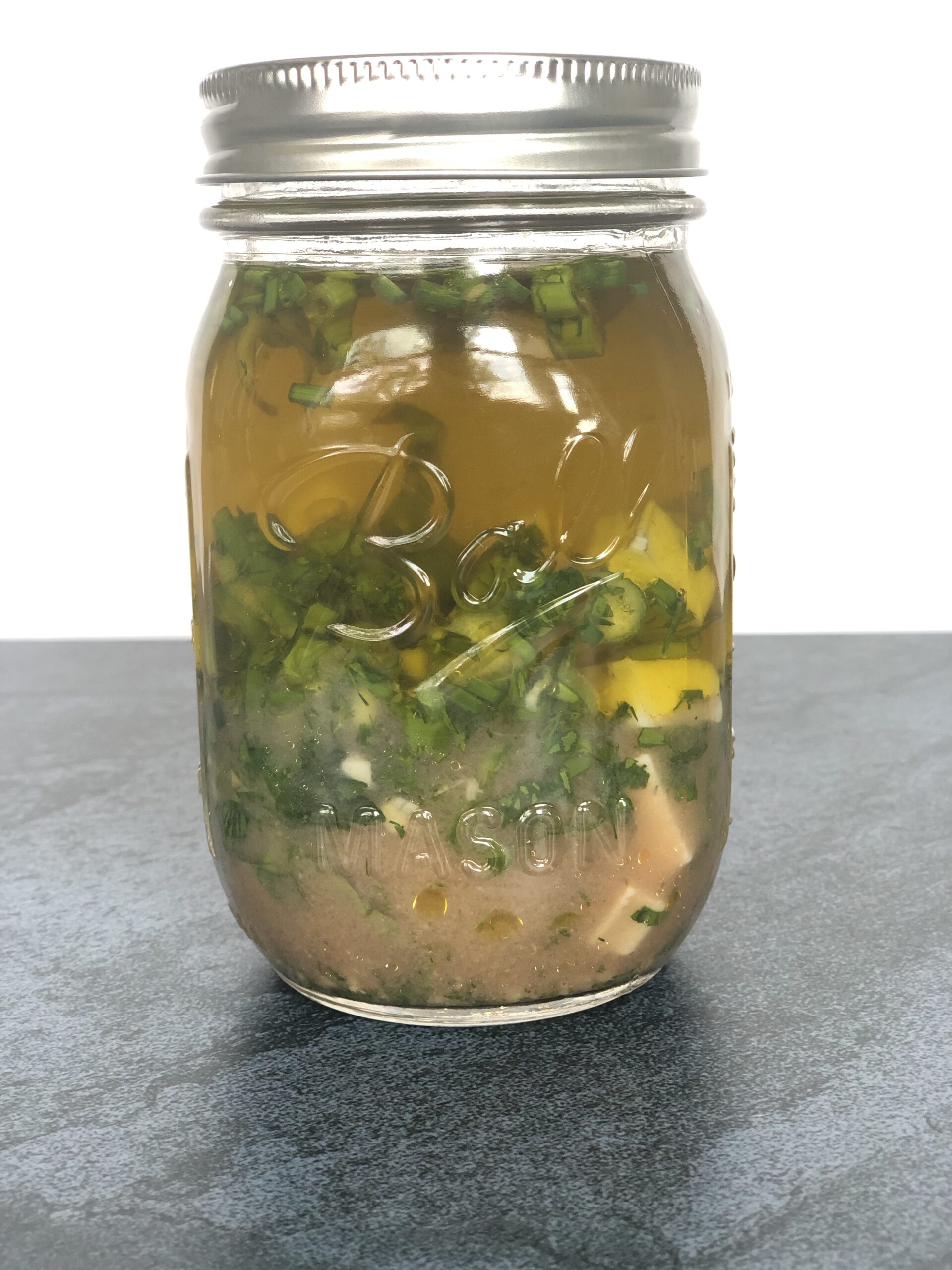 The back story
This salad and dressing came from two inspirational sources.
Many, many years ago, Costco carried a salad dressing that I still think about. It had pepper jack cheese, green olives, a ton of herbs and probably some other ingredients that I can't remember now. Alas, Costco only carried it for a short time and I never saw it again. Anywhere. I know this has happened to you. One of the chief complaints I hear people voice about their favorite wholesale club is that they get you hooked on a great item only to take it away.
A few times I tried to recreate the dressing, but something was missing and I couldn't figure it out.
But then...
Years later, I fell in love with a chopped salad at my favorite steakhouse. Aside from the steak, the chopped salad is the reason I like to go there. One night while eating there, I finally asked the waitress what is in the dressing. While she couldn't give me the full recipe, she did tell me the "secret ingredient" is anchovy paste. Now this put me a difficult position. One, I don't love the idea of anchovies, and ignorance was bliss. Second, my husband heard this and dislikes the idea of anchovies even more than I do, so I may have ruined that salad for him. The thing is, that salad is soooo good, I chose to embrace this information and go along with it. Now that I have created my new herby vinaigrette, I can say it has been worth it.
It took a little trial and error, but now I'm pretty happy with this recipe. The anchovy paste does make it better. The herbs are so good, and good for you! I like to make up a little chopped salad with Italian mixed lettuce, cucumbers, tomatoes, bacon, and my herby vinaigrette. I like to season it with just a sprinkle of salt and more black pepper. I will eat this salad all day, everyday!