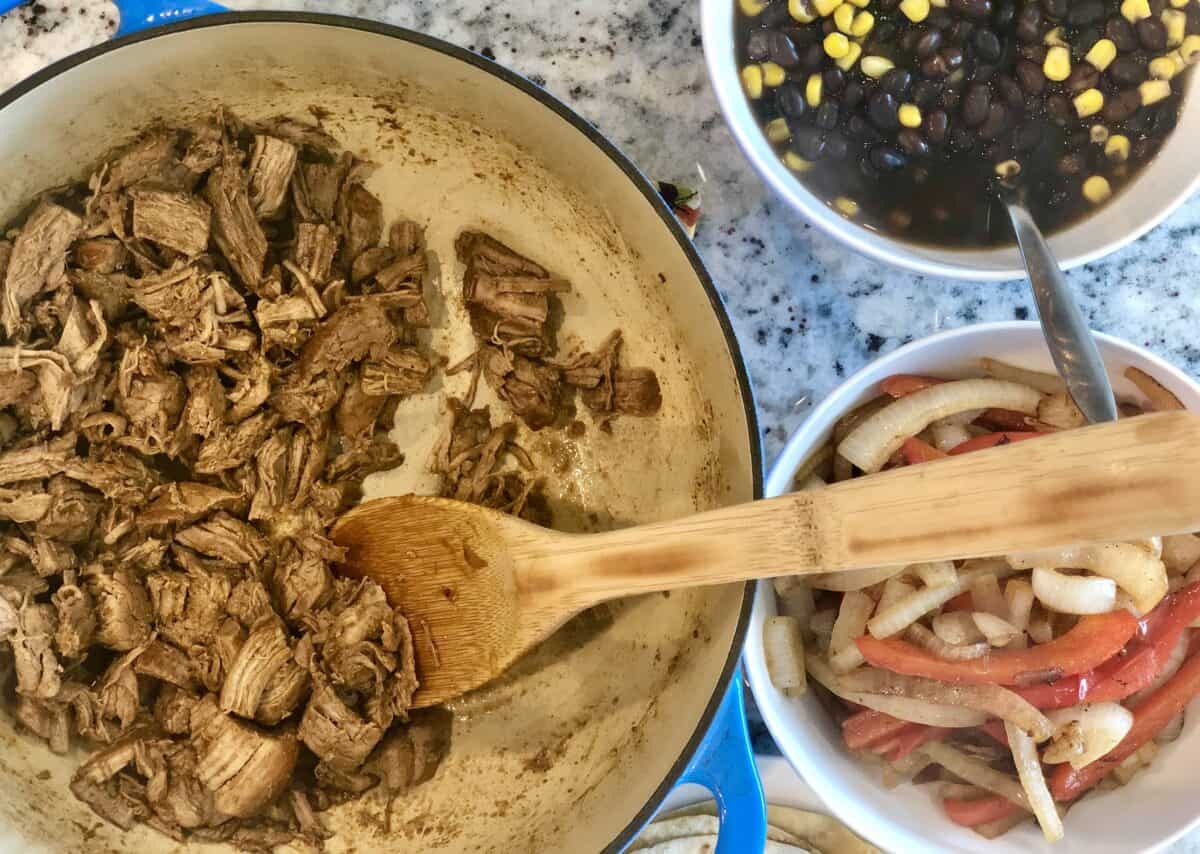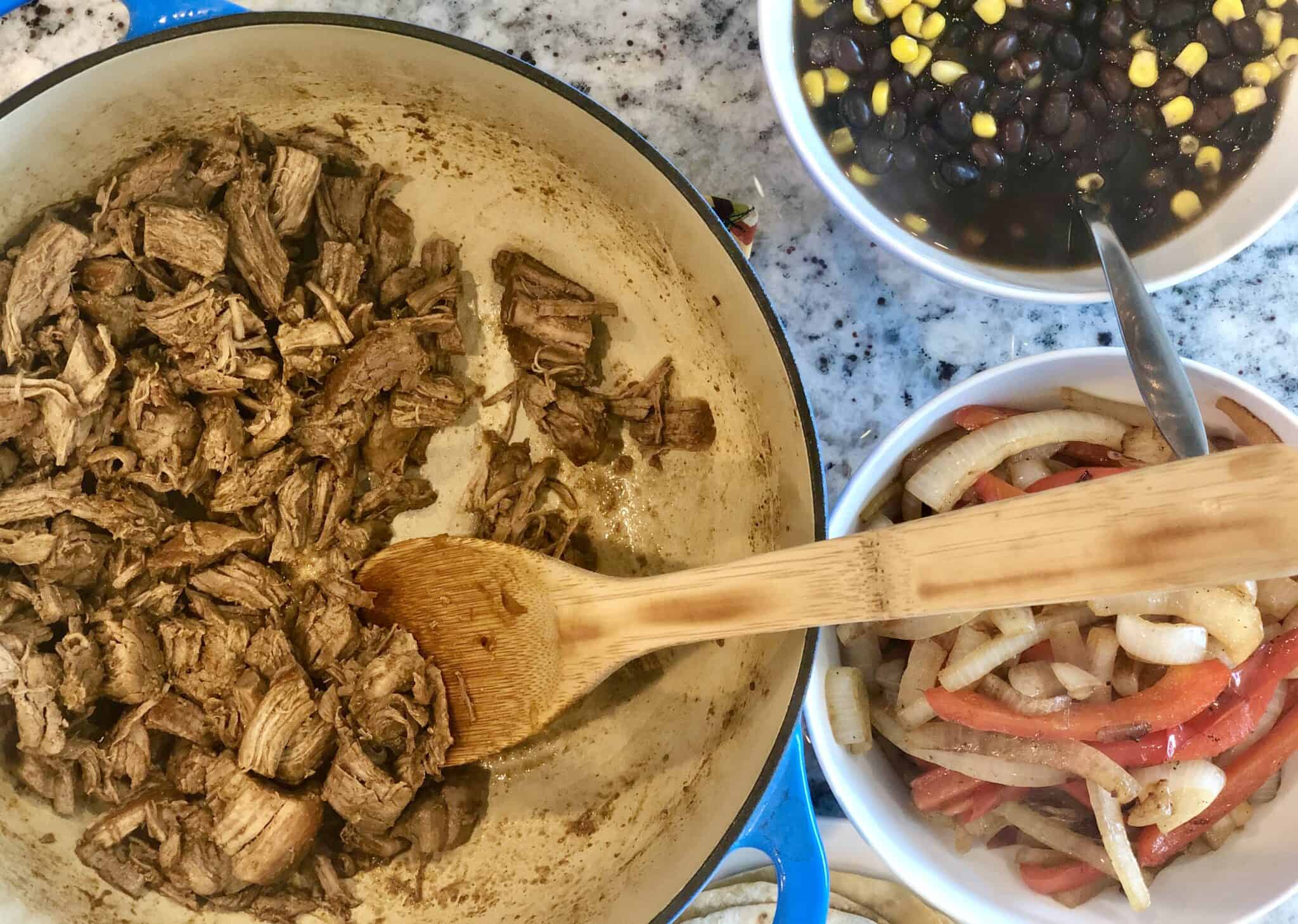 I can eat pulled pork tacos eight days a week, and sometimes I do. In fact, I ate carnitas tacos from Chipotle so much when I worked at Costco, my co-workers asked if I was serving tacos at my wedding.
This recipe for pulled pork tacos has just a few pantry ingredients. Go big with the spices and don't be shy with the beef base. It cooks low and slow until the meat shreds easily. You end up with tender and juicy meat that's perfect for a taco, burrito, bowl, or nachos.
What you'll find a little different with this version though is that I use a pork loin versus a shoulder. I love a good pork shoulder for tacos or bbq, but if I'm making dinner for just my small family, a 2-3 pound pork loin is just the right size. Since I buy my pork loin from Costco, they come with two loins in 2-packs, giving you 4 pork loins total. I portion them out and prepare them for whole roasts, saltimbocca, or pulled pork.
When I'm ready to make them, I just dump the precut medallions into the pot with all the seasoning. Check out my video for a quick overview.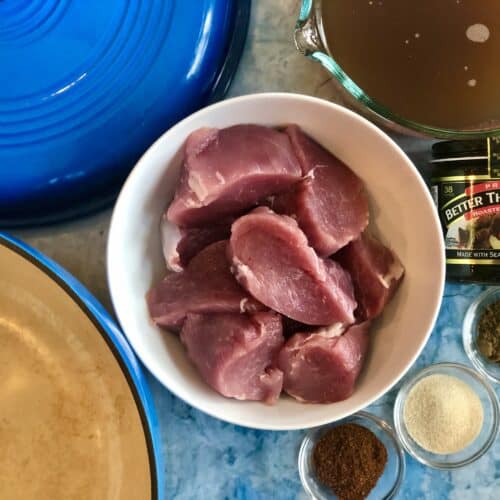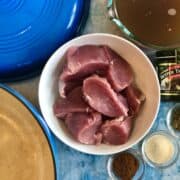 Print Recipe
Pulled Pork Tacos
Juicy and perfectly seasoned pulled pork in a taco with all the fixings.
Ingredients
3

lb

pork loin

2

tablespoon

onion powder

1

tablespoon

chili powder

1

tablespoon

cumin

1

tablespoon

avocado or preferred veg oil

2 ½

cups

water

1

tablespoon

Better Than Bouillon Beef
Instructions
Heat oil on med-high.

Cut pork loin into 2 inch sections. Add to pot of oil to brown.

Once browned on all sides, add spices and beef stock.

Cover. Bring to boil. Reduce to simmer.

Cook covered for one hour.

Uncover and cook for an addition 30-40 minutes, letting the liquid reduce.

Once the meat is fork tender, use two forks or a wood spoon to break apart the meat into shreds.

There should be enough liquid for the pulled pork to be very moist.
All The Fixings
I like to serve my pulled pork tacos with lots of topping options.
I make a quick guacamole with one avocado, half of a lime, and salt. That's it. Smash it together and serve.
I go for red bell pepper and sweet onions sautéed in a big pan with a little oil and salt.
Black beans with a cup of frozen corn, onion powder, and 2 teaspoons of beef base are a delicious side dish.
Then you just need some tortillas (flour or corn, doesn't matter), cheese, sour cream, lettuce and a good salsa.
Lastly, get your bartender to serve with a cold margarita! You'll thank me later 🙂