Nothing, and I mean nothing, is better than a juicy prime rib-eye that has been dry aged and cooked to perfection. And the best part, it's not hard to do. Cast iron steak brings the steakhouse to your home.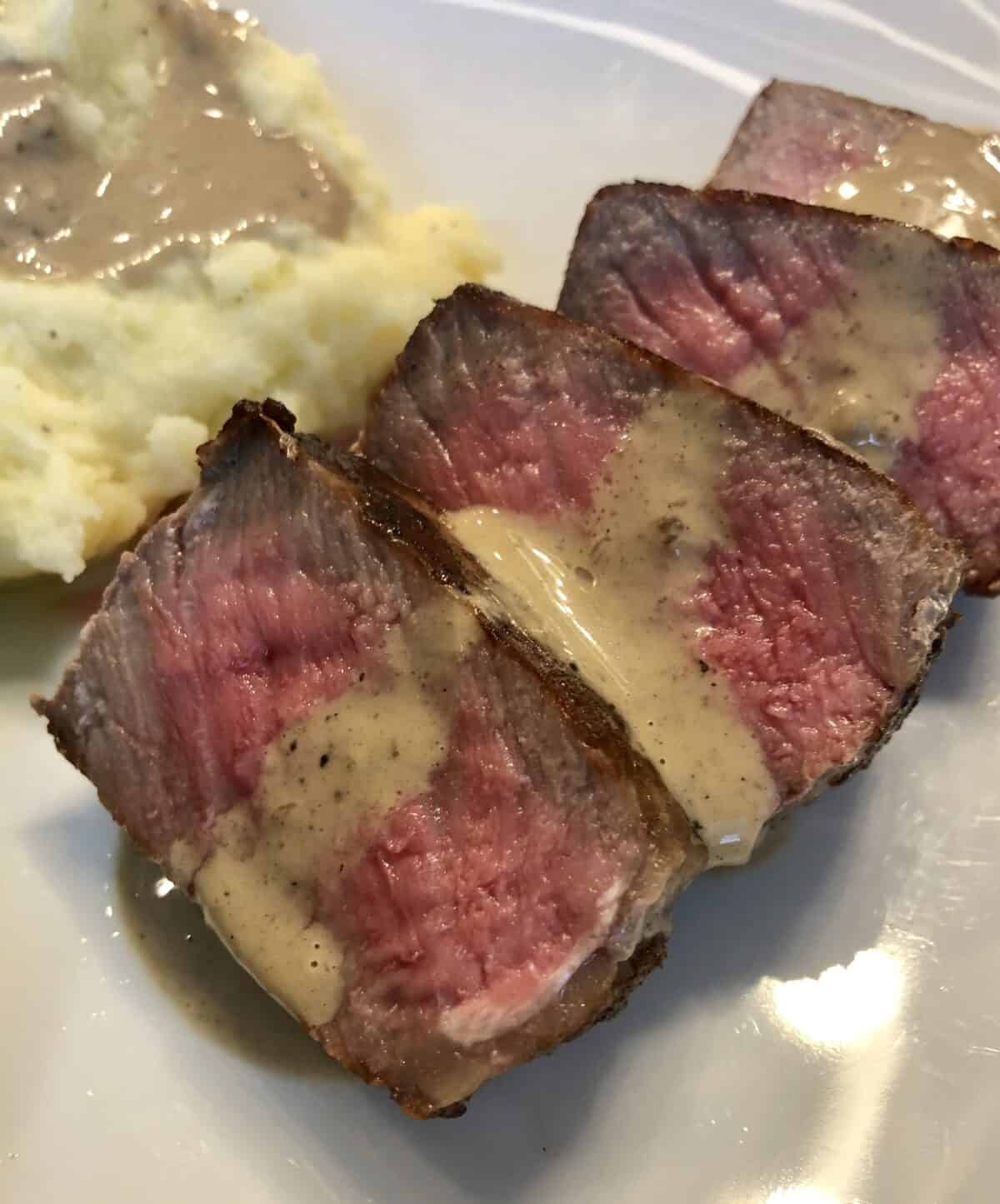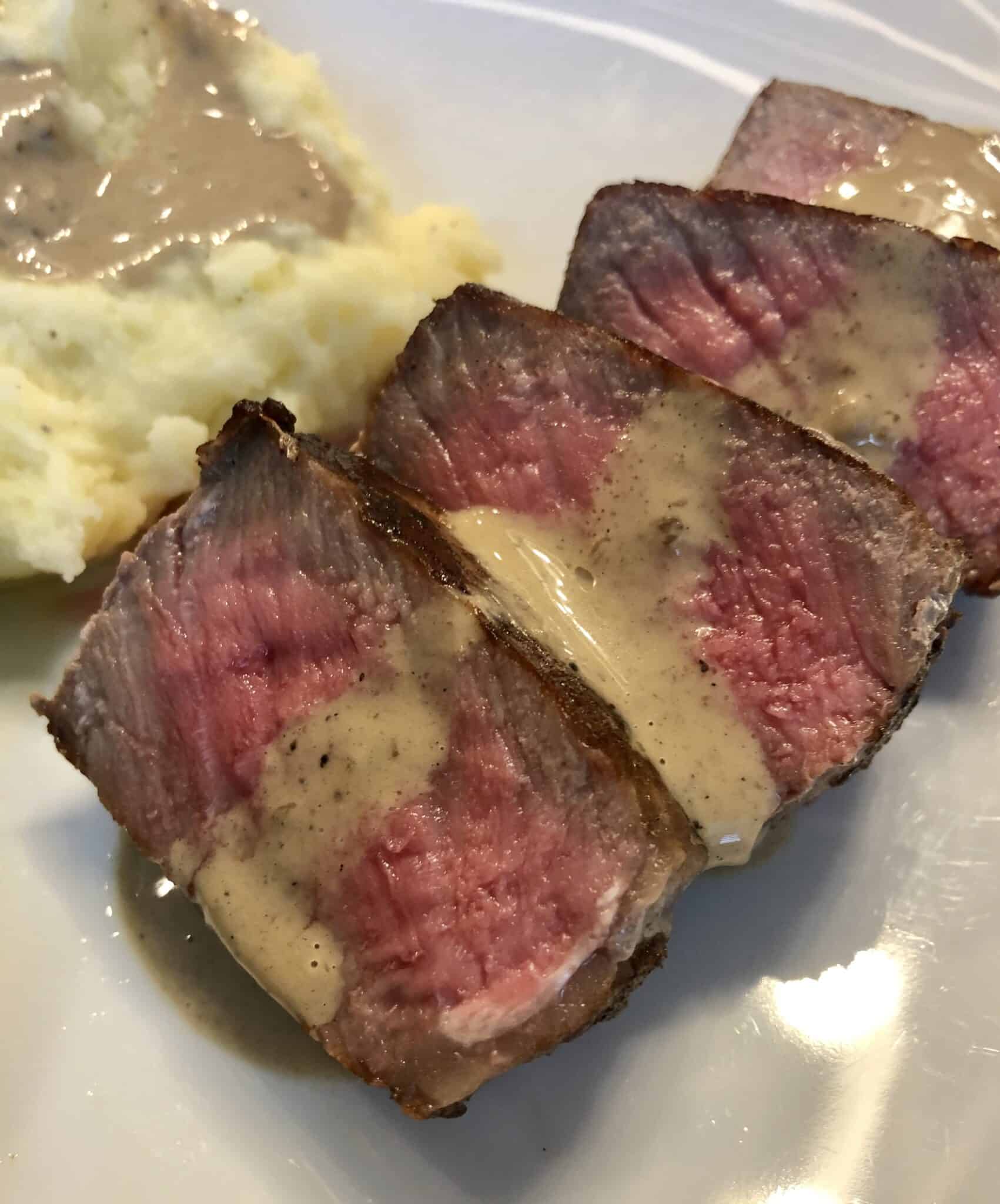 After a little practice, I perfected my craft. But I'll be honest, the first time my husband brought home a prime steak from Costco, I was intimidated. I did not want to screw up that meat, both because of the cost, but also the quality of the steak. I respect my food.
Now you get to benefit from my trial and error and take a short cut to the end result: a perfect steak.
Dry Age Your Own Steak
The key to the perfect steak is dry aging it for a day. I salt the steak and place it on a wire rack over a plate, uncovered overnight. The process seasons the steak and pulls moisture from the meat. That liquid is absorbed back into the steak and seasons more than just the outside of the steak. It doesn't matter if you head to the grill or cast iron. This always makes a real difference. I actually do this with all kinds of protein. Especially whole chickens and ribs benefit greatly from a day with dry rub.
The Sauce
I love for a good sauce. My favorite to order in a restaurant is Au Poive- or a cognac peppercorn sauce. It's just a few simple ingredients and a breeze to make. After the steak comes out of the cast iron, I use tongs and a wet paper towel to wipe out the extra fat that cooked off from the steak. Then I add the cognac, some beef stock, and finish with cream and fresh pepper. It really is so simple and so heavenly. You will feel like you're in a five star restaurant. Also, if you're cooking for friends or family, this sauce will leave them especially impressed.
Heres the how-to video of the process below. You'll need a sheet pan with wire rack and a cast iron skillet.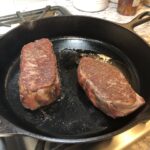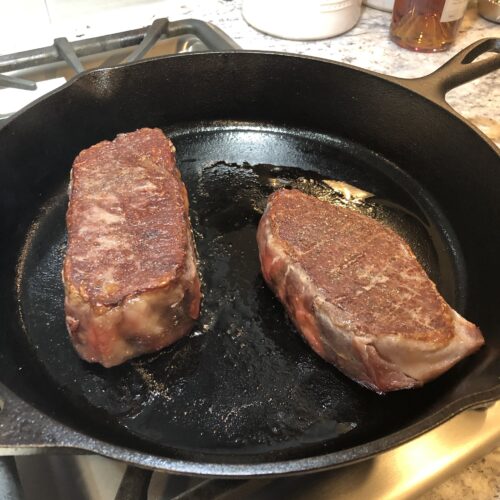 Print Recipe
Cast Iron Steak
Dry aged steak with a cognac cream sauce.
Ingredients
2

6-8 oz steaks

Ribeye or NY are my favorite

2

tablespoon

olive oil

2

teaspoon

salt

¼

cup

cognac

½

cup

heavy cream

½

cup

beef stock

such as Better Than Bouillon

1

teaspoon

corse cracked black pepper
Instructions
The night before, prepare steak by patting dry and salting all sides to taste. Place on wired rack, uncovered, in the fridge over night.

To cook, preheat cast iron skillet to med-high. Generously coat the outside of steak with preferred vegetable oil.

Once cast iron is hot, add steak to pan, cooking 3 minuted per side. Use a timer and rotate cooking on all sides.

Remove steak and cover with foil.

While your steak rests, prepare the sauce

Turn off the heat for the skillet. Using several wet paper towels, wipe out extra oil and any burnt bits left behind, but do not wash out the skillet.

Turn heat back on and add cognac.

After 30-60 seconds, add beef stock.

Reduce heat and cook on med for 5-7 minutes.

Add cream and freshly cracked black pepper.

Cook on med-low stirring occasionally. The sauce will reduce and thicken. (it will continue to thicken as it cools off, so cook it down a little thinner than you really want, otherwise it will be too thick)

Give it a QC check for flavor and add salt or pepper as needed.

When your'e happy with the flavor, pour sauce into individual serving cups or sauce pitcher.

Slice steak and get yourself a happy beverage.

Enjoy
This post contains affiliate links. As an Amazon Associate I earn from qualifying purchases.