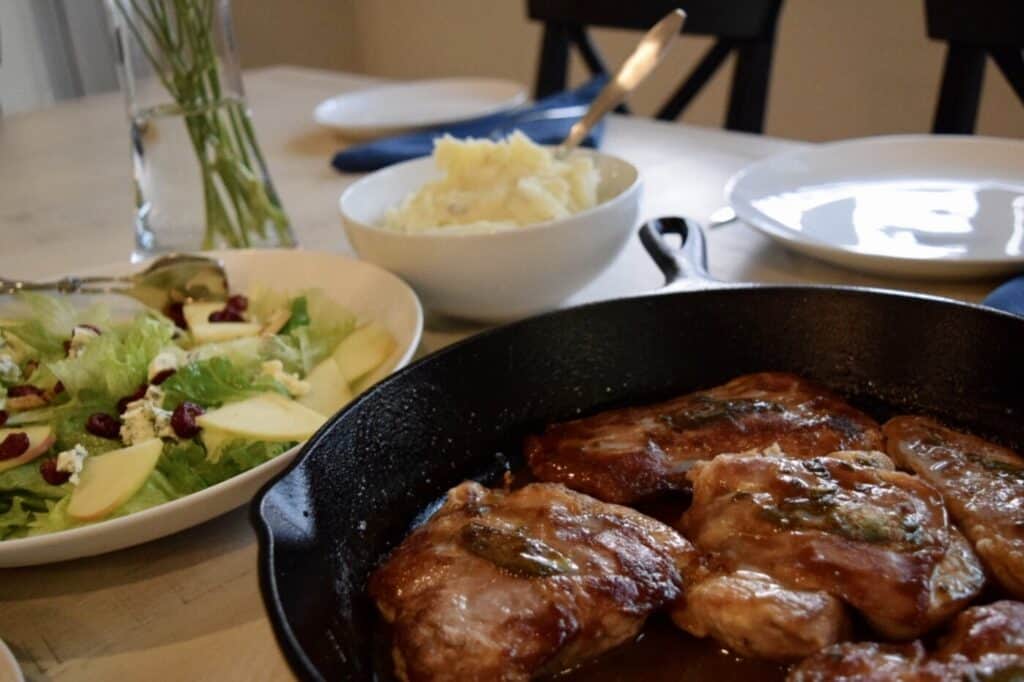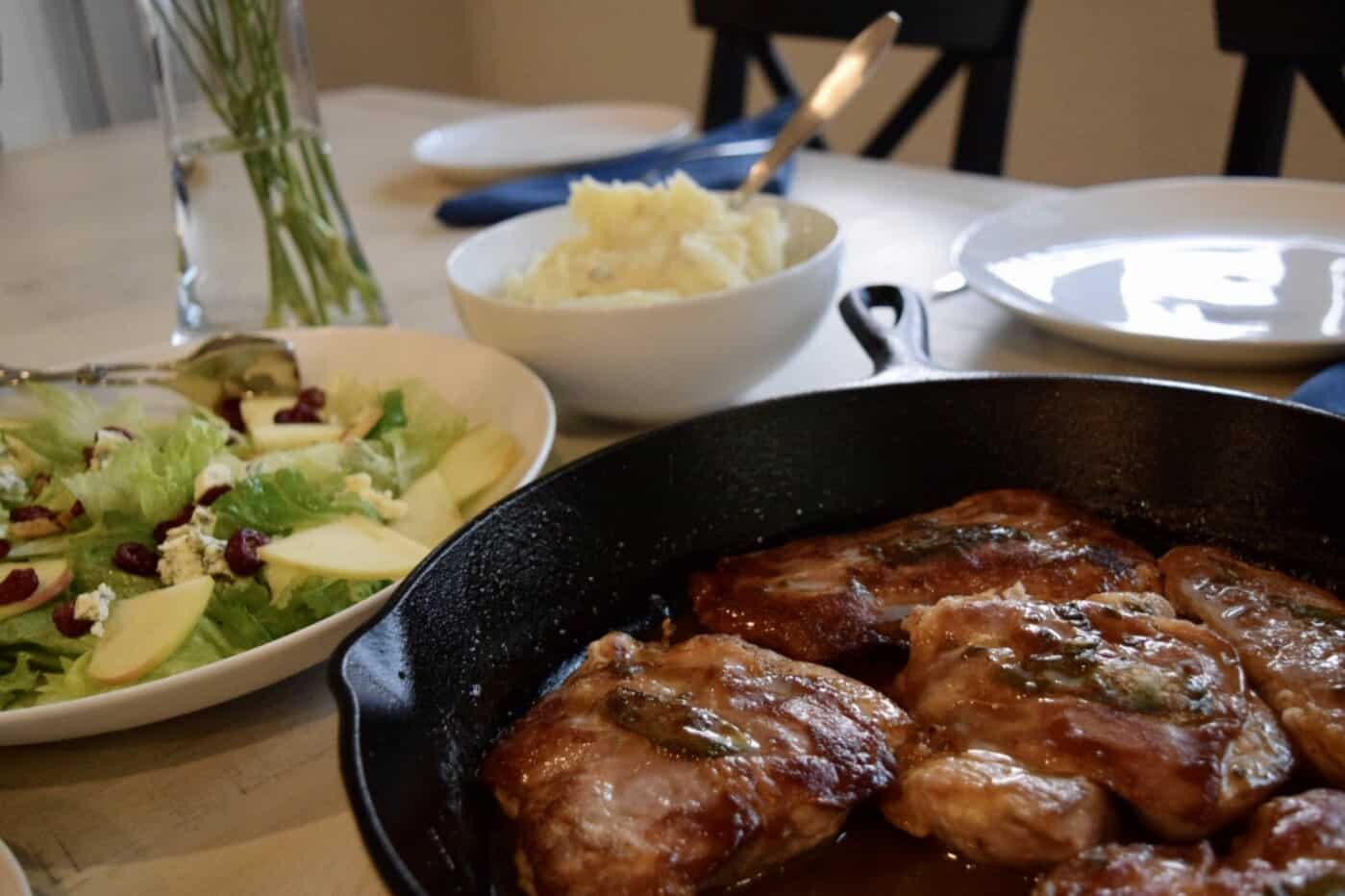 Saltimbocca means "jump into the mouth." -Joy of Cooking
Do I have your attention?
I love this recipe. It's simple, but fancy. I read the version we are making here in an America's Test Kitchen magazine: Best-Ever Italian Recipes. Their version is a little different from the original though. The original, pictured above, is a veal cutlet pounded thin and filled with prosciutto, sage, and cheese. The cutlet is then folded over and secured with toothpicks, pan seared, and topped with a white wine, lemon, and butter sauce. Sounds amazing, right?
The Test Kitchen version is a little simpler though. Their recipe calls for pork loin rounds, pounded thin, and the prosciutto laid on top. I think this would also be good with a chicken breast pounded thin if you prefer that over pork. And even though the sauce has a good amount of butter, it's not a heavy meal. I served mine with mashed potatoes and green salad: Romain lettuce, honey crisp apples cut thin, blue cheese crumbles, dried cranberries, candied walnuts, and a balsamic vinaigrette.
I was so happy the first time I made it. It was so good and easy. The kicker, I also prep these in bulk ahead of time. I buy the four pack of pork loins from Costco. They include two packs with two loins in each. So I open one, cut both loins into rounds, pound them thin and prep with prosciutto. Then I wrap each one in plastic wrap, seal in a food saver bag, and just pull out however meany I want another night down the road. It's great!
Now, on to cooking…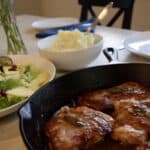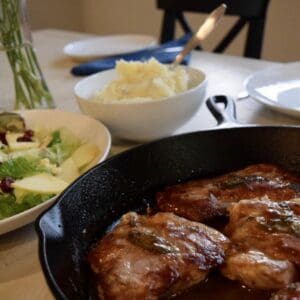 Print Recipe
Pork Saltimbocca
Tender pork loin with prosciutto and a lemon, sage, white wine sauce.
Ingredients
1

pork loin

5

slices

prosciutto

5

whole sage leaves plus 1 tbs chopped

1

egg white
Sauce
1

lemon

½

cup

dry white wine

¾

cup

chicken stock

4

tbs

butter

olive oil

salt and pepper
Instructions
Cut pork loin into 5 equal sections.

Trim any silver skin and discard.

One at a time, pound each section with a meat mallet.

I put mine in a zip top bag to keep my prep area clean. You could also use plastic wrap.

Season with salt and pepper.

Lay a piece of prosciutto over each cutlet, folding the extra over.

Dip each leaf in the egg white and press into prosciutto

This is mostly for looks, there will be more sage in the sauce.

Heat pan on medium-high

Add 1 tbs butter plus a little olive oil.

In two batches, pan fry each cutlet on both sides, starting them prosciutto side down.

Make the sauce:

Remove meat to a plate and cover with foil.

Add wine to deglaze the pan, scraping up the brown bits. After a few minutes, add chicken stock, lemon, and chopped sage plus salt and pepper to taste.

Cook on medium and reduce by half.

Turn off heat. One tablespoon at a time, whisk in remaining butter. This makes a glossy finish.

Return pork to the pan and spoon sauce over each piece. Serve with mashed potatoes and green salad. Bon appetit!
Notes
As the sauce cools, it will thicken and have a silky coating the pork cutlets.