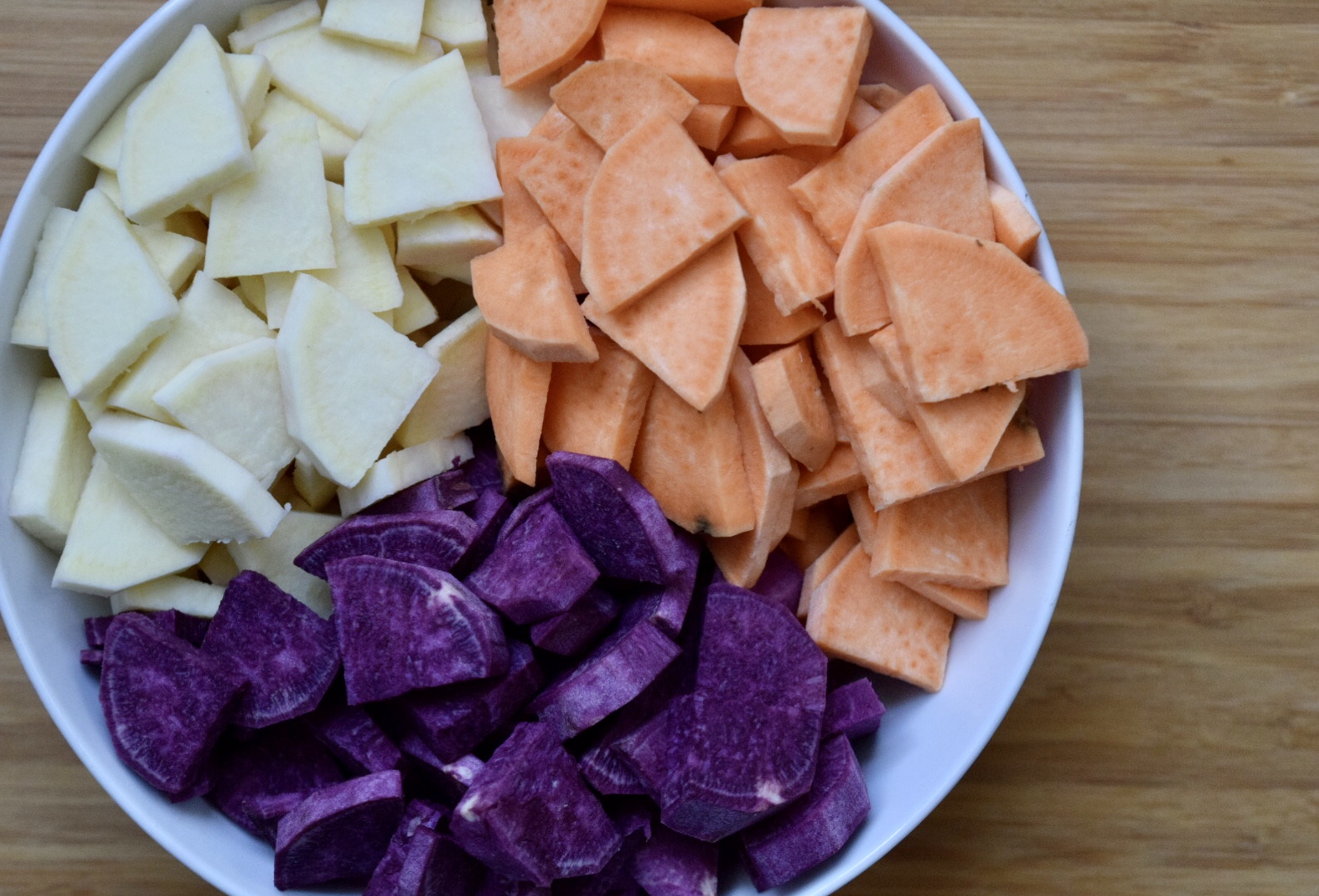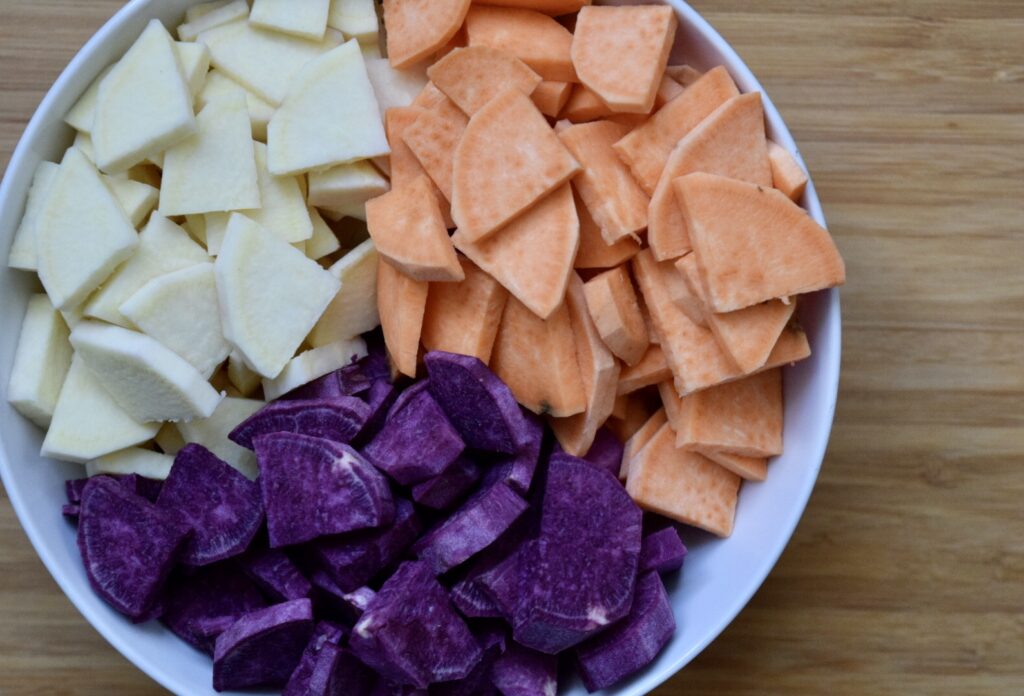 Tri colored breakfast potatoes are a great way to start the day off right with vitamins, fiber, and flavor!
White, orange, and purple sweet potatoes are just what you need to mix up the breakfast routine.
I'm not a great breakfast eater. Although, I have come a long way since I was in my twenties when I ate a donut and a Red Bull for breakfast, but eating a healthy meal that I like is still tough. I do a great job of feeding my kids and getting them to eat a filling meal, but most of the time, I come last.
This is one breakfast I can get behind. I love potatoes, pretty much all of them. So with that in mind, I set out to make a colorful, fast, and tasty breakfast that has a good portion of protein and fat to get me through the morning. Sweet potatoes are filling and each of these (white, orange, and purple) pack their own variety of vitamins and flavor. Secondly, this whole thing is made in the Air Fryer, so it's basically a one pot meal. If you don't have an Air Fryer, you can certainly make this on a sheet pan in the oven and will just have to play around with the temp and time so it comes out how you want it.
This recipe made enough for me to eat breakfast and have enough for three more. On a lazy Sunday, I'll make a blender hollandaise sauce to pour over it and feel real fancy. Get the coffee pot programmed and set for 6:00 AM. There's no reason to skip breakfast with this winner ready to go.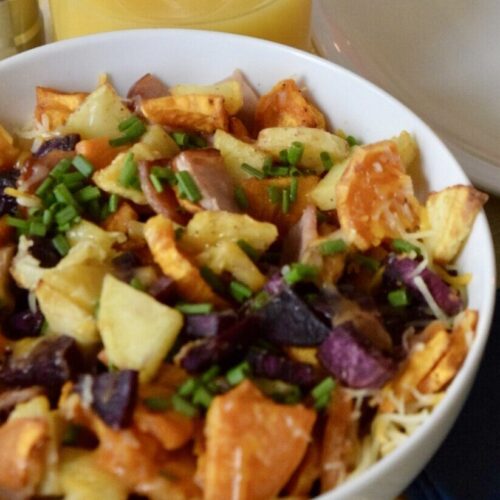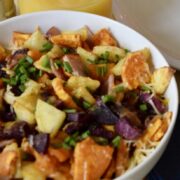 Print Recipe
Tri Colored Breakfast Potatoes
Sweet potatoes, breakfast meat, cheese and veggies make a special and fast breakfast,
Ingredients
3

sweet potatoes: any combo of white

red, orange, purple

¾

cup

cooked breakfast meat: sausage

ham, bacon

1

cup

sliced white mushrooms

optional for all you mushroom haters

¾

cup

shredded cheese: Chef's choice of cheddar

monterey jack, swiss

chives to garnish

2

tbs

olive oil

Salt and pepper
Instructions
Wash, peel, slice sweet potatoes into quarter pieces about ⅛" thick.

Coat potatoes with oil, salt, and pepper. Stir well to mix in evenly.

Cook in Air Fryer on 330F for 20 min. Pull out Air Fryer basket and give a little shake halfway through.

After 20 minutes, add breakfast meat and mushrooms. If you don't like mushrooms, it's all good, I know a lot of people don't. You can leave them out. If you love mushrooms, use more and mix up the variety with baby bellas.

Increase temp to 400 and cook for 10 minutes.

Remove from air fryer basket to a bowl and toss in shredded cheese and chives.

Serve it up!
Notes
*other mix-ins: parsley, hollandaise sauce, paprika, garlic powder, avocado, or put an egg on it!