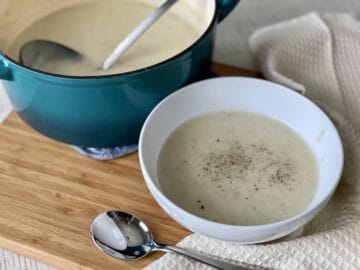 This easy 3 ingredient potato soup recipe checks all of the boxes when it comes to both a simple recipe and delicious comfort food. It comes together so quickly and with very little effort. I am sure you are going to add it to your recipe box for a cold winter day or busy weeknight meal.
This blog post contains affiliate links. As an Amazon Associate I may earn income from qualifying purchases. Thanks for the support.
The Basic 3 Ingredients for Potato Soup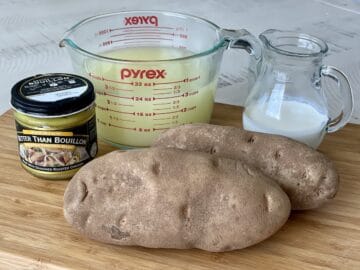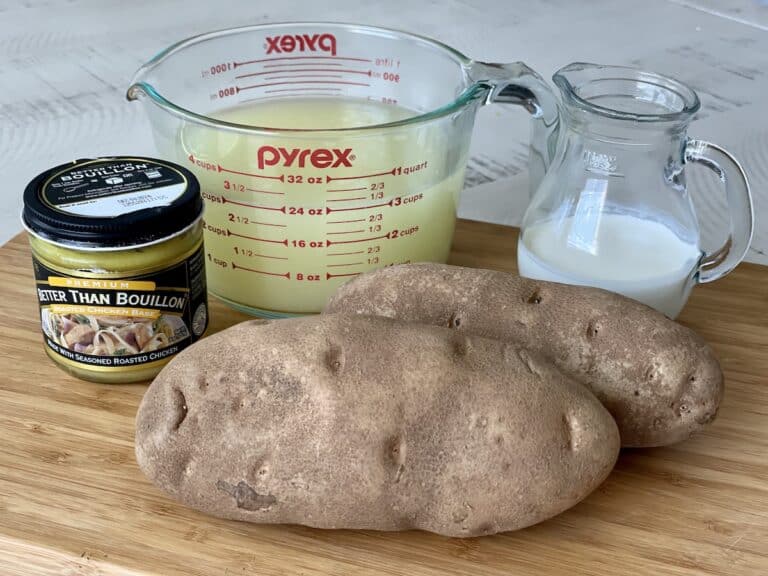 As advertised, we only need 3 main ingredients: russet potatoes, chicken stock, and heavy cream. That is the super simple base for a delicious and creamy soup. Since the bulk of the flavor for this soup comes from the chicken stock, make sure to pick a good one. I love Better Than Bouillon for its rich flavor. If you are using homemade chicken stock which I am also a huge fan of, check for seasoning!
Why Use Russet Potatoes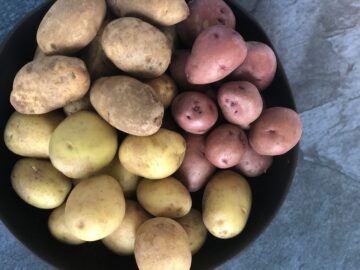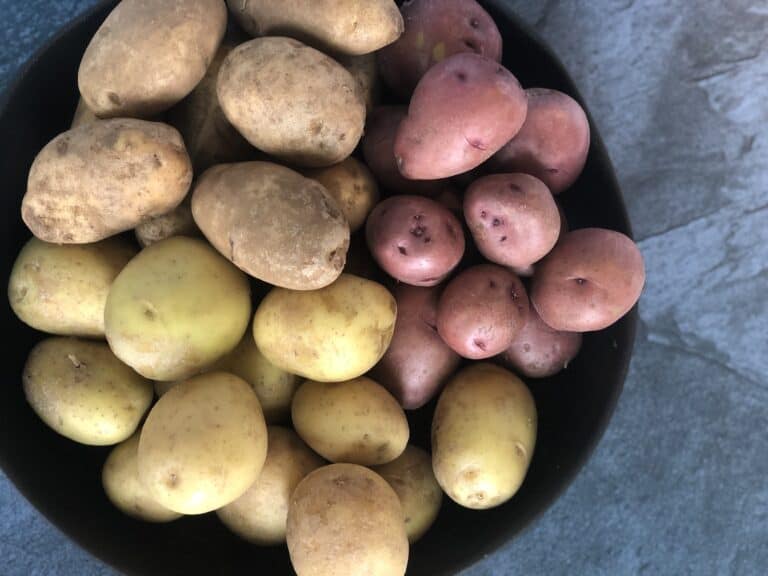 Hands down the best potatoes for a creamy soup are russet potatoes. They are starchier than other potatoes and are able to blend until completely smooth. Red potatoes will not yield the same results because they are such waxy potatoes. You could use Yukon gold potatoes if that is what you have on hand and you'll get a little extra flavor from them. As far as basic ingredients go, I really prefer russet potatoes the most.
I actually started making this soup because of potato skins. When I hallowed out the insides of russet potatoes, I needed to make a good use of the insides so I tossed them in a pot with chicken stock for an easy baked potato soup and an easy recipe was born!
Cooking Supplies for 3-Ingredient Potato Soup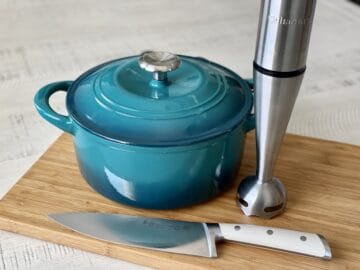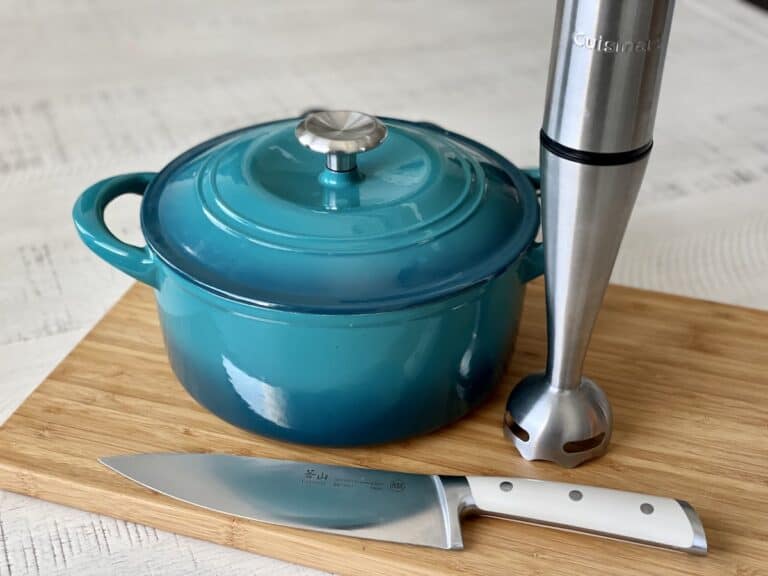 We need something to cook the soup and something to make the soup smooth. Go figure. I like using a dutch oven for all soup recipes because it maintains heat consistently. However, any soup pot or large sauce pot will work just fine.
After the soup has cooked we need to blend it. One of my favorite kitchen tools is the immersion blender. This reduces clean up and keeps my easy potato soup recipe all in one pot. The alternative would be to use a regular blender instead.
If you don't need a completely smooth soup or have a power outage, you could use a potato masher to work through the potatoes.
The Cooking Process for the Basic Recipe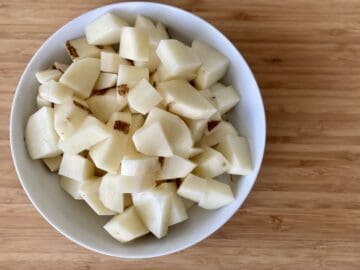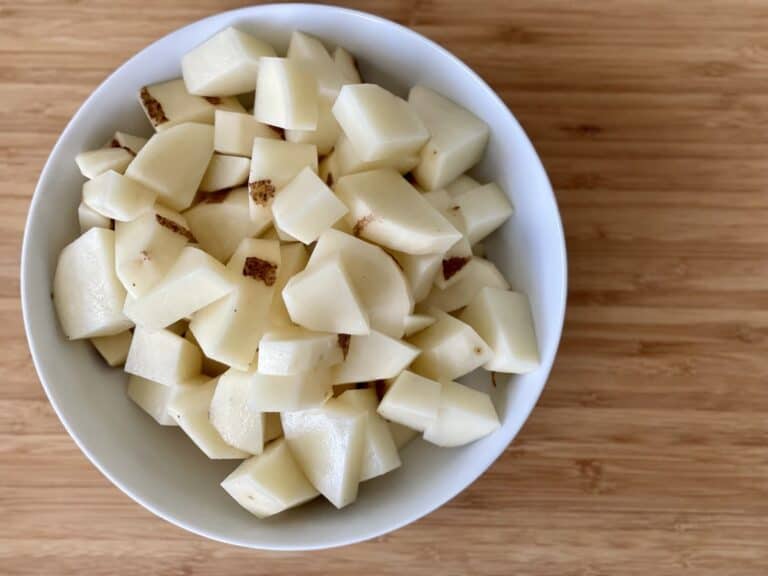 To start, wash and peel the potatoes. Cut through the center twice so you have 4 quarters of potatoes. Slice through those quarters making half inch pieces. This will ensure even cooking.
Once the potatoes are cut, add them to your soup pot and heat over medium high heat. Pour over the chicken stock and bring it up to a simmer. Reduce the heat to medium and cook for about 10 minutes at an even bubble.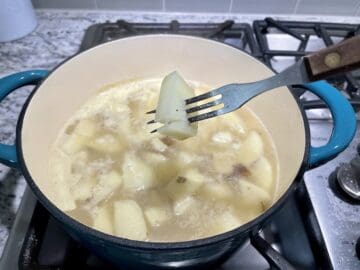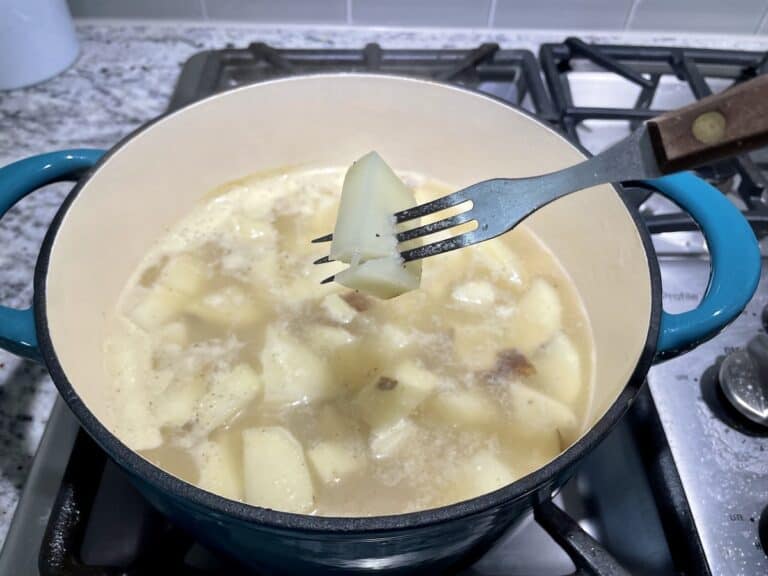 When the potatoes are fork tender, you can gently blend the soup using an immersion blender or alternate device such a stand blender, food processor, or potato masher but an immersion (stick blender) is the best way.
​Now that the base is done, you can add your cream and season with salt and pepper.
Serving Creamy Potato Soup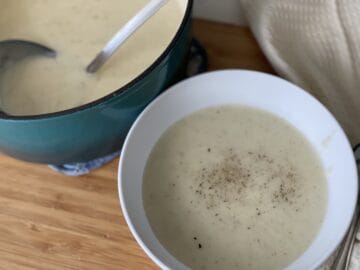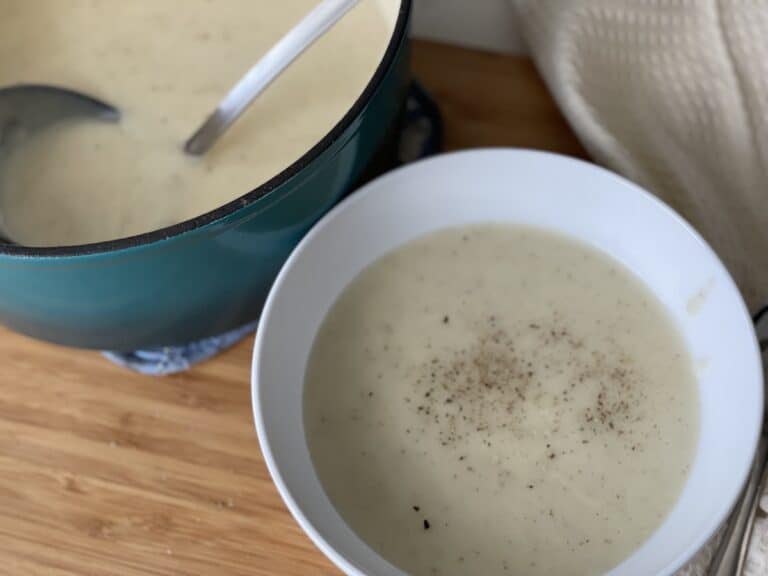 After the soup has cooked completely and you are ready to serve, give it taste and add salt and black pepper. I personally crave the black pepper with this soup. Every bowl of soup needs a piece of crusty bread. I like to toast a sliced baguette and rub it with fresh garlic cloves for a super simple garlic bread. If you want to take this recipe up a notch, add on some toppings listed below.
Optional Toppings and Extras for Potato Soup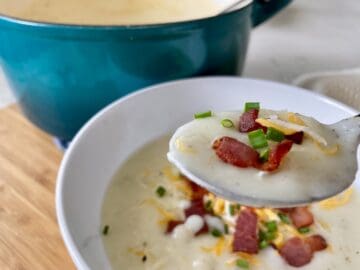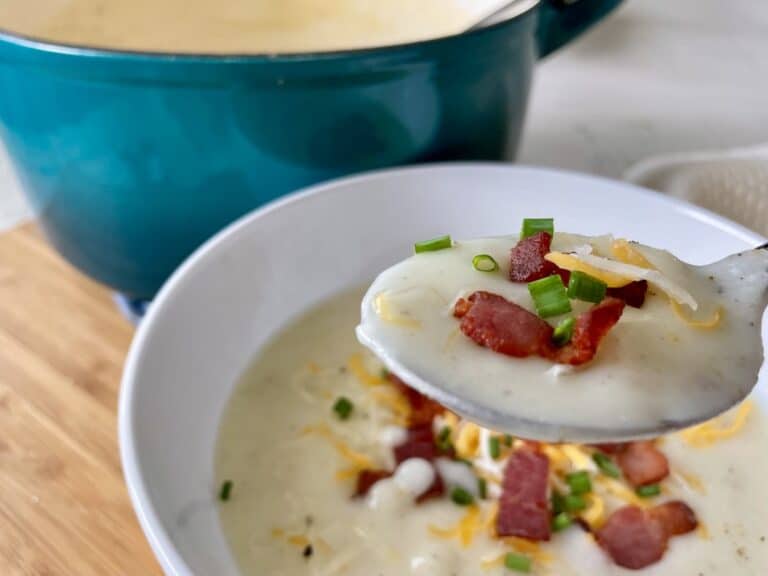 To be honest, the best part of creamy potato soup is the extras and toppings I can pile on. My favorite toppings are crispy bacon, shredded cheddar cheese, and chives. Here is a full list of my suggestions:
crumbled bacon
shredded cheddar, Swiss, or parmesan cheese
sour cream
green onions (green parts only)
croutons for some texture and a little crunch
Recipe Modifications
This extremely versatile soup can run in several directions. It's already naturally gluten free because of the potato base, but we can make it lighter and healthier too.
Vegan- if you want to make this a vegan soup instead, use vegetable broth instead of chicken broth. You can start with diced yellow onion and a little olive oil to start. Cook the onions over medium-high heat until they are translucent. Then add the diced potatoes and vegetable broth. Follow the regular recipe steps from there. Finish with coconut cream or coconut milk to maintain that creamy finish. 
Lower calorie- if you want to reduce the calories, swap out the heavy cream for whole milk, skim milk, or half n half instead. Because of how well the potatoes blend after they are cooked, you will still have a very creamy soup.
Make it sweet potato soup- you can swap out the russet potatoes and opt for sweet potatoes for a healthy boost of vitamin A. Top it with a sprinkle of chili powder and dollop of cream cheese for a warming bowl of comforting soup. 
Adding other vegetables- for more veggies and fiber add two large carrots that have been diced or half of a medium onion to get a little more fiber in the soup. Use vegetables that will blend easily and become smooth to maintain the texture!
Storing Leftover Creamy Potato Soup
After you have finished eating or if you have made this in advance, wait for the soup to cool completely and transfer it to an airtight container. I like to save mine in individual containers for quick lunches later in the week.
Easy Potato Soup Recipe Card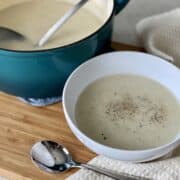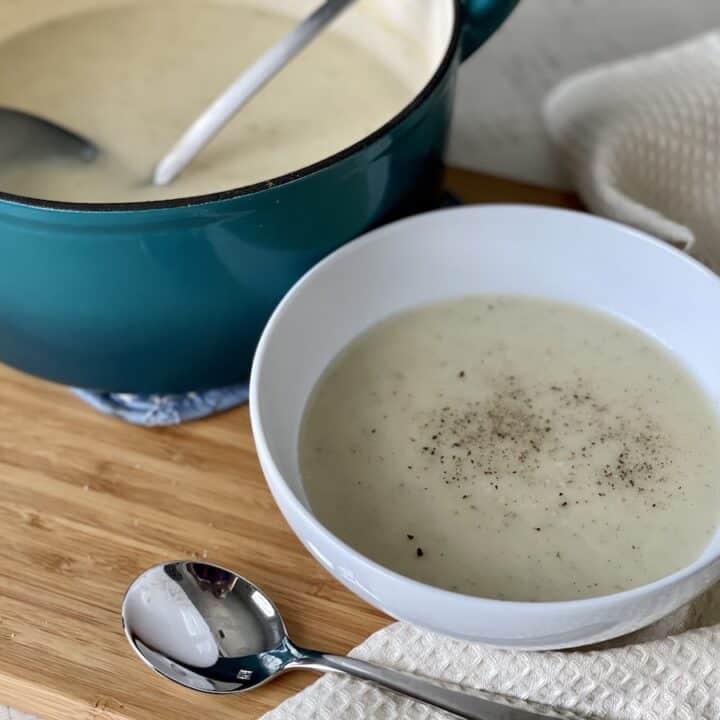 Print Recipe
Easy 3 Ingredient Potato Soup Recipe
A smooth and creamy potato soup that you can make in less than 30 minutes.
Equipment
1 soup pot

1 cutting board

1 knife

1 vegetable peeler

1 immersion blender

or counter top blender
Ingredients
4

cups

chicken stock

2

large

russet potatoes

½

cup

heavy cream
Instructions
Prepare the russet potatoes by washing and peeling them. Dice both potatoes in ½" pieces and add them to a large pot or enabled cast iron pot.

Add 4 cups of chicken stock and heat the pot over medium-high heat.

Bring the chicken stock up to a boil and reduce the heat to medium. Cook the potatoes for 10 minutes or until they are fork tender.

Once the potatoes have cooked through completely, turn the heat off. Use an immersion blender in the potato soup and blend until there are no more chunks. The soup should be completely smooth. If you do not have an immersion blender, let the soup cool for a few minutes and transfer the soup to a large countertop blender. Blend until smooth. Work in batches if needed. Careful not to let the hot soup splatter or burn you.

Add the heavy cream and stir well.

Season with salt and pepper to taste.

The soup is ready to serve. See below for optional toppings.
Notes
Optional toppings: crispy bacon or pancetta, shredded cheddar cheese, croutons, green onions, chives, or chopped fresh parsley.
Make this recipe vegan or plant based by using vegetable stock instead of chicken stock. Use coconut cream instead of heavy cream. 
Nutrition
Calories:
333
kcal
|
Carbohydrates:
43
g
|
Protein:
11
g
|
Fat:
14
g
|
Saturated Fat:
8
g
|
Polyunsaturated Fat:
1
g
|
Monounsaturated Fat:
4
g
|
Cholesterol:
41
mg
|
Sodium:
360
mg
|
Potassium:
1050
mg
|
Fiber:
2
g
|
Sugar:
6
g
|
Vitamin A:
446
IU
|
Vitamin C:
11
mg
|
Calcium:
51
mg
|
Iron:
2
mg
More of my Favorite Potato Recipes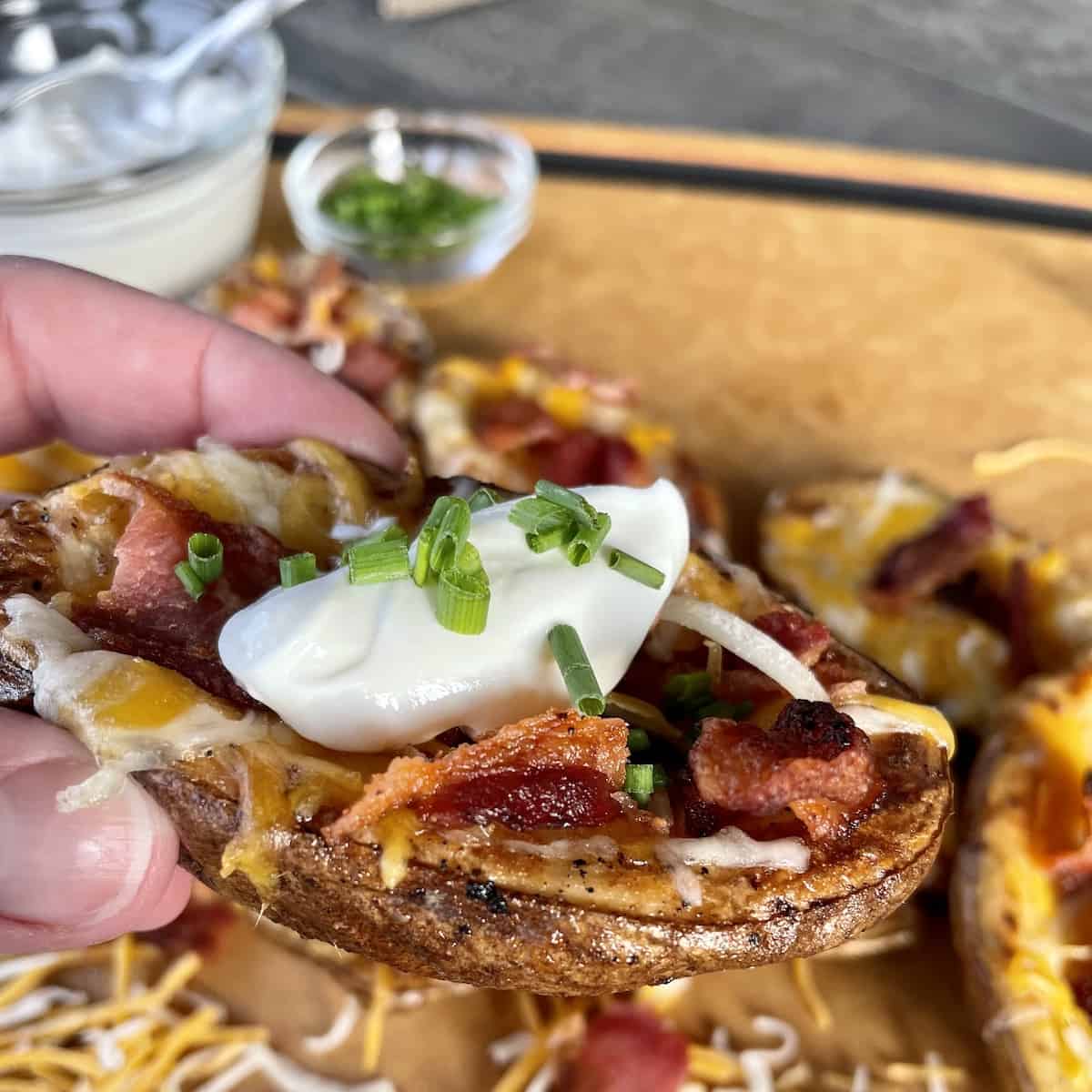 Grilled Potato Skins are so easy to make. They get crispy on the outside and tender on the inside. You can load them up with cheese and bacon for a delectable two-bite snack. Best of all, they are not greasy from being fried!