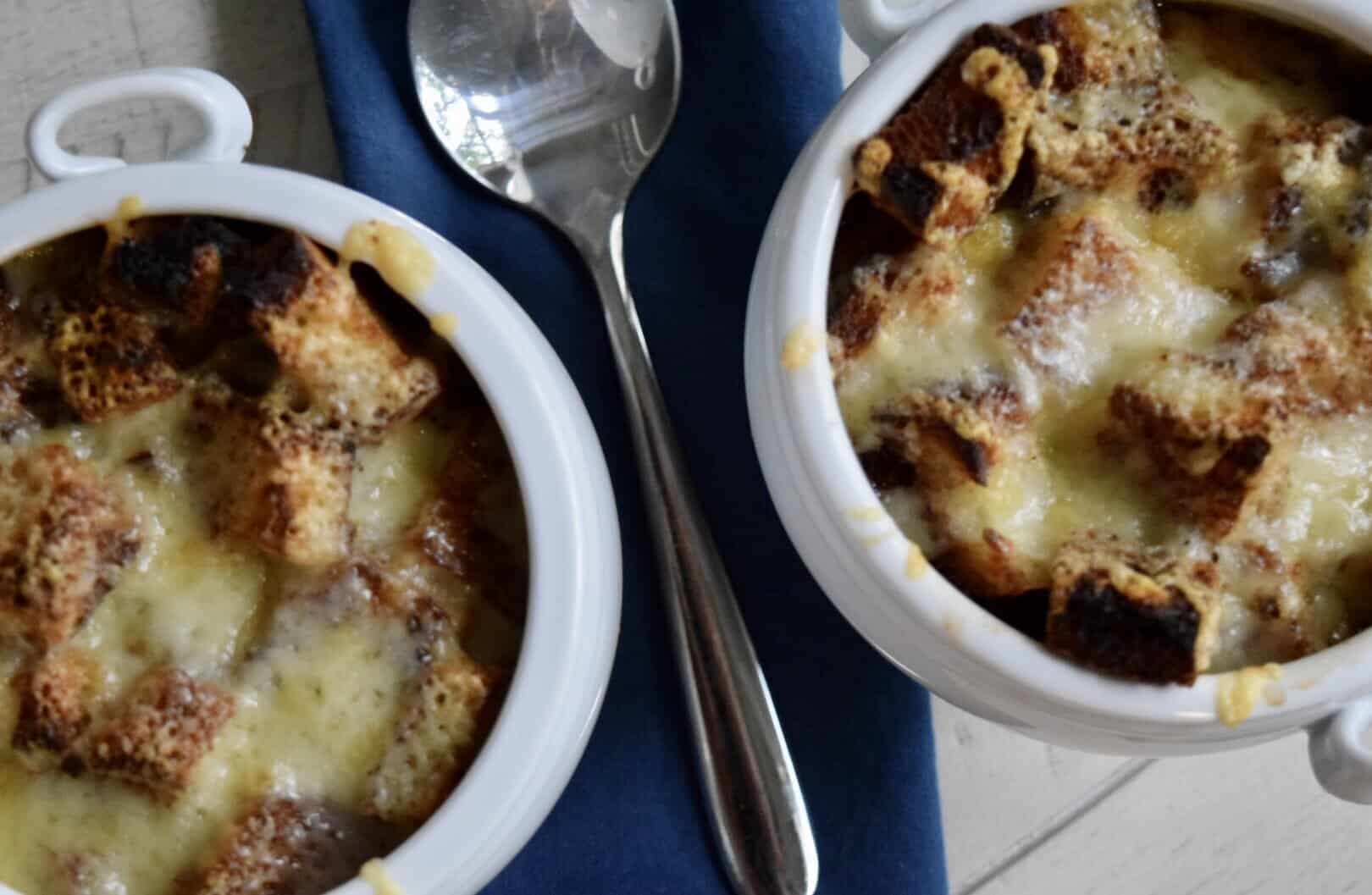 Even as a kid, French Onion Soup has always been my favorite soup. Although when I younger, I didn't eat the onions. Just the gooey, cheese covered crouton, and the rich salty broth. Now, I love all of it.
Caramelizing the onions
I think one of the most important components to making French onion soup as good as it can be is the caramelizing of the onions. That is the difference between a deep complex soup versus boiled and salty onion broth. But you have to be patient with this dish. Enjoy the process. On a medium-low heat, the onions need to slowly soften in the butter and build layers of sugar. This process turns the onions into a browned and sweet goodness that renders loads of flavors. You only have to stir them once in awhile as long as you pay attention to the heat. One thing that helps manage the heat and keep it consistent is using a cast iron pot. The heaviness from the pot holds it's heat very well. Last note, if you want to add a couple teaspoons of sugar to help the onions caramelize, that's okay. Just stir it in well when you get started and watch your flavor build.
The Ingredients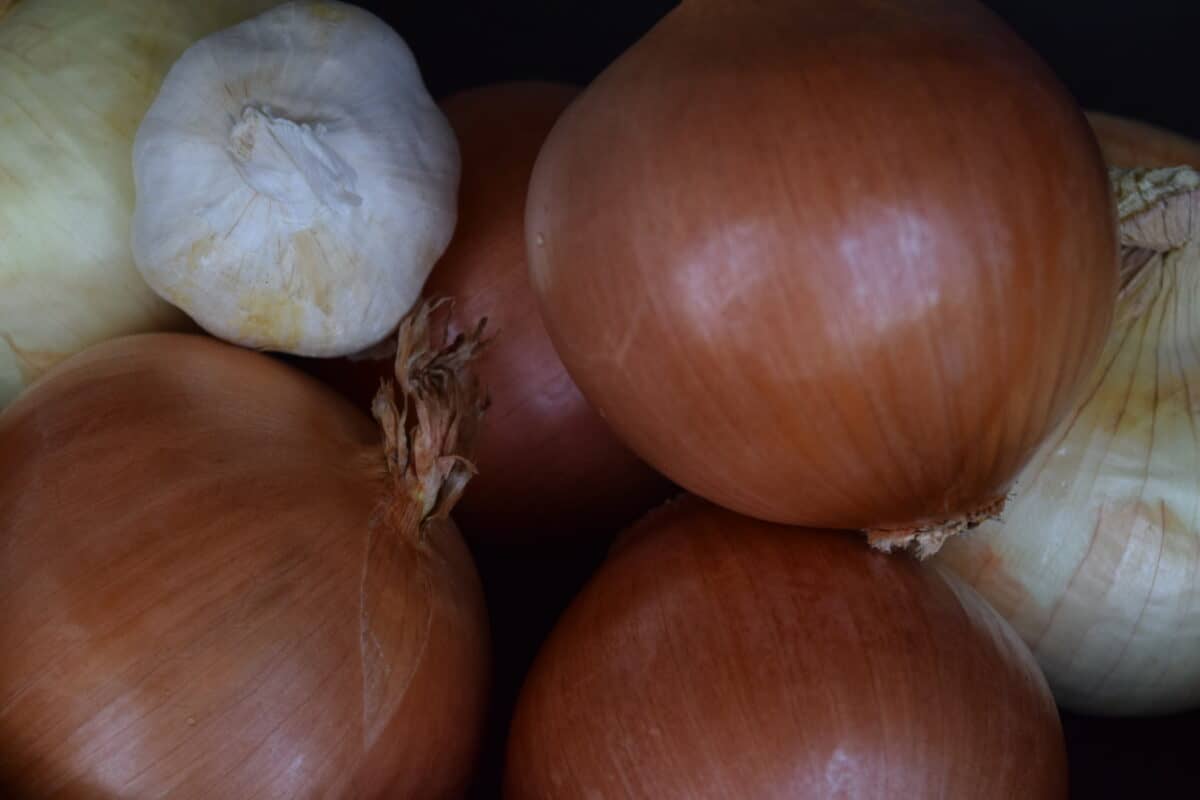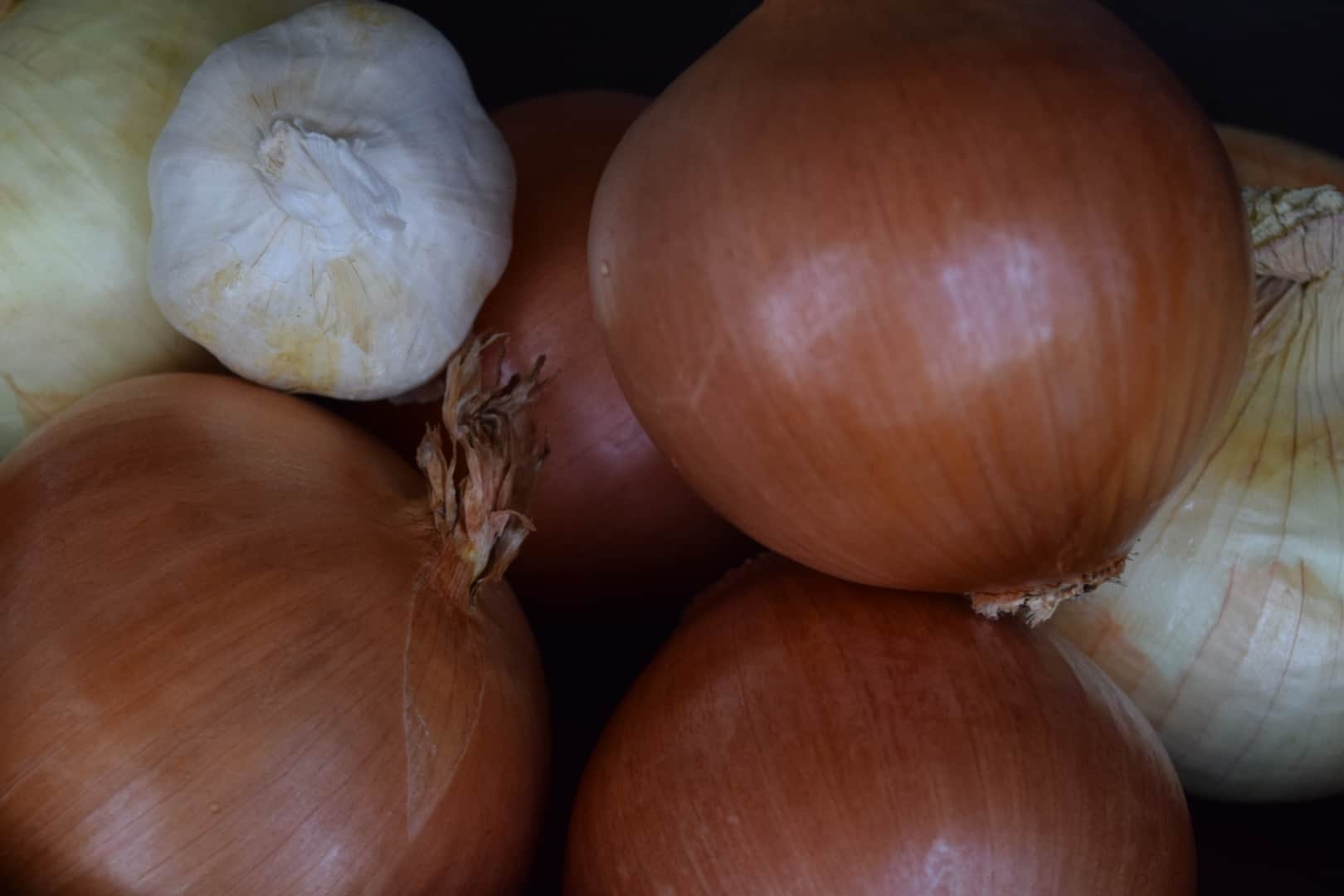 The ingredients are so simple and uncomplicated. Yellow onions are the workforce of produce. If they are treated right and allowed to do what they need to, you will have an extraordinary meal. Store bought beef stock is perfectly fine for this. I like Better Than Bouillon. It has a really rich flavor. The secret ingredient to make your French Onion Soup restraint quality is cognac or brandy. After the onions are thoroughly caramelized, and I mean be through with this, add the cognac or brandy. Once the liquor hits the pan and cooks off, you'll see the onions come together in an almost jam like consistency. Not a bad thing by itself. You can spread it on toasts with cheese for an appetizer or spoon it on top of a burger to dress it up. After that, it's just about getting the beef stock in and pulling it altogether for an amazing soup.
The Croutons
Now, a traditional French Onion Soup has a large slice of toasted bread which makes one giant crouton with cheese on top. It's good, don't get me wrong, but it's not the easiest thing to break into. I prefer individual croutons that are crunchy and easy to get my spoon around. Top them off with a load of Swiss cheese (why isn't it French cheese? hm), and bam. Perfection.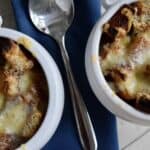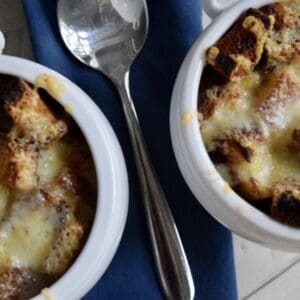 Print Recipe
French Onion Soup
Ingredients
4-5

large yellow onions

2

cloves

of garlic

1

tbs

fresh thyme

¼

cup

cognac or brandy

4

tbs

butter

6

cups

beef broth

4

large slices of baguette or sourdough

1 ½

cups

shredded gruyere

salt and pepper
Instructions
Slice onions, mince garlic, pull thyme off the stems.

In a large pot or dutch oven (my preference) heat to medium and add 3 tablespoons of butter.

Once the butter has melted and bubbled, add the onions, stirring to coat.

After a couple minutes, add the garlic. Now, be patient. Keep an eye on the onions and occasionally stir. The onions will shrink down and start to caramelize. This is a slow and happy process. If you stir too often, the onions will not release its sugar or brown. (see pics below).

After 20 minutes, the onions should be golden brown and soft. Increase to heat to medium-high and add the cognac and thyme. Stir well to deglaze the pot.

Next, add the beef broth. I prefer Better Than Bouillon for its depth of flavor in this soup.

Bring the soup up to a simmer and cook for 15-20 minutes.

While the soup is simmering, make your croutons. I like bite size croutons vs one large piece of bread because I think it's easier to eat that way. Dice your bread and heat a large skillet on medium. Melt 1 tablespoon of butter and add bread cubes. Lightly salt and stir continuously until all the croutons are evenly toasted and golden brown. Remove from heat and set aside.

After the soup has simmered and reduced a little, give it a taste to check the salt. It may not need any because the beef broth has quite a bit, but check to be sure and adjust salt or pepper if necessary.

This last step can be done two different ways. Option 1) ladle soup into oven safe bowls. Top each serving with croutons and a large handful of shredded gruyere. Move your top oven rack to a height where your bowls will fit under broiler on a sheet pan. Set broiler to low. Place your assembled soup bowls on a sheet pan and put under the broiler. Keep an eye on it and watch as the cheese melts, bubbles, and browns. Remove from oven and let stand for a few minutes. They will be screaming hot. Option 2) assemble soup servings as mentioned above. Use a kitchen blow torch to melt and brown the cheese until golden brown and bubbling. (Also, blow torches are cool)
I love to serve this with a big fat steak. I cast iron steak makes me feel like I'm at a restaurant minus the fact that I have to do the dishes and make my own drinks. But it's worth it.
This post contains affiliate links. As an Amazon Associate I may benefit from qualifying purchases.