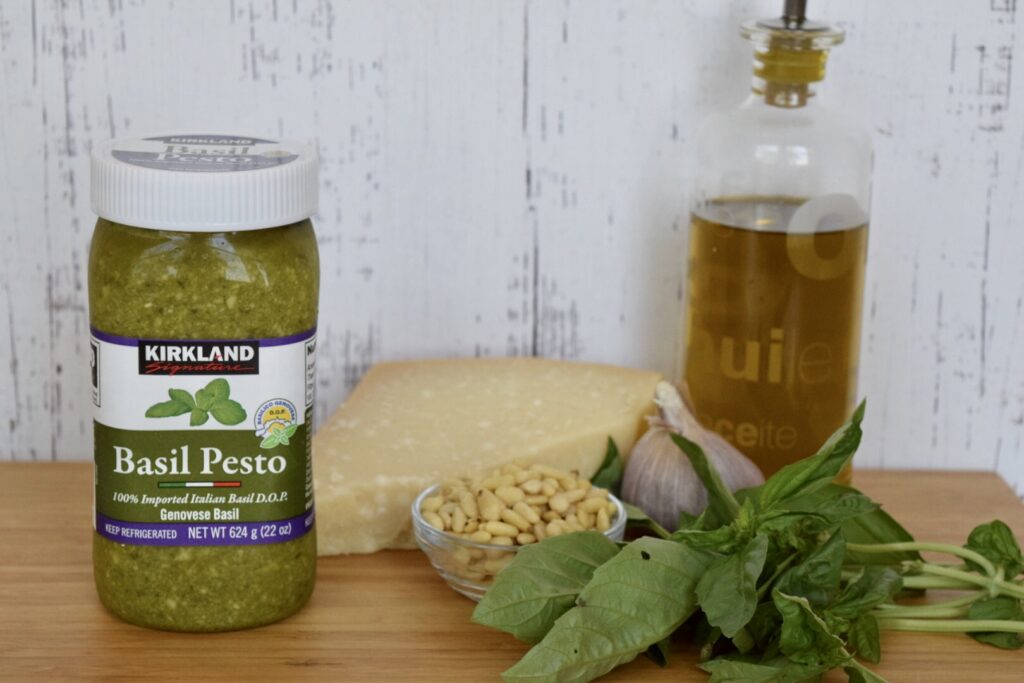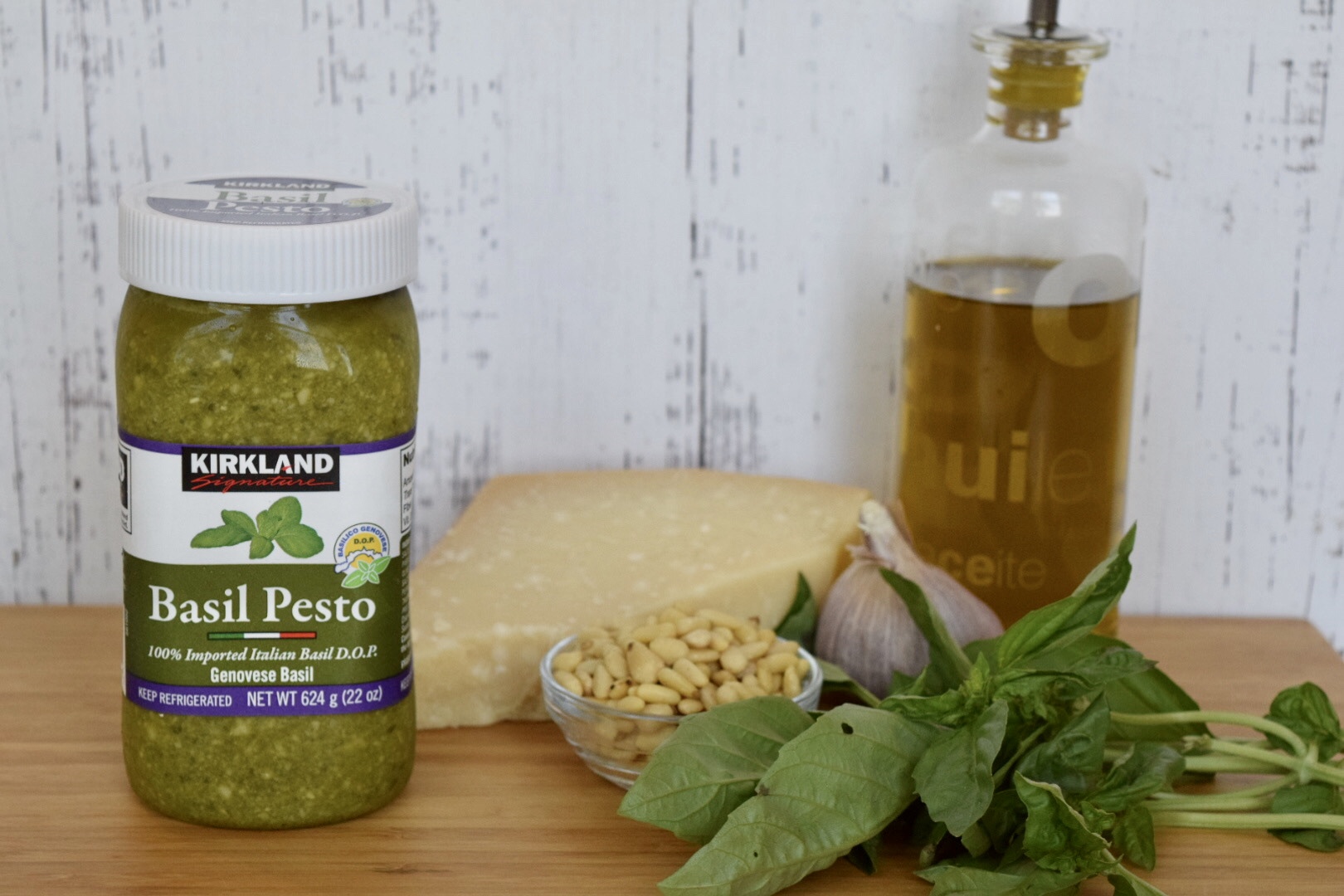 Pesto Tri-Tip is about as easy and straightforward as a recipe can get. It's quick, easy, and perfect for a weeknight dinner. Since the ingredients and process are so simple, I dare say it can't be screwed up.
Let's start with the star of the show. Pesto. I think pesto is under rated and under utilized. It can do so much more than just go on pasta. I have several recipes dedicated to creatively using up the Costco sized jar of Kirkland Signature Pesto. To list the reasons I think pesto is great: it has a fresh flavor even though it's jarred, the herby combination of basil and garlic is lighter than many other sauces, and it can be used on meat, pasta, sandwiches, and added to soup. Certainly not a one trick pony.
Next, tri-tip. A great cut of beef that can feed a group. It's tender and flavorful. I grew up eating a whole lot of tri-tip. Recently I learned that's it's more of a California thing, but they are here in Texas too, so I'm hoping this cut catches on!
On to the recipe and then more back story for this recipe and other meal ideas below.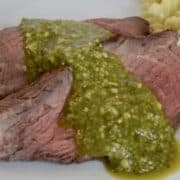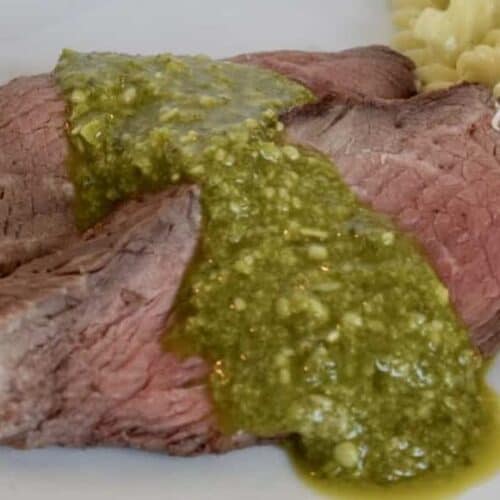 Print Recipe
Pesto Tri Tip
Grilled tri-tip topped with pesto and a side of creamy pesto pasta.
Ingredients
1

tri tip

2

teaspoon

salt

1

teaspoon

pepper

1

teaspoon

granulated garlic

¾

cup

jarred pesto

1

tbs

oilive or veg oil
Creamy Pesto Pasta
1

lb

dried pasta

someting with lines or ridges

1

cup

heavy cream

¾

cup

grated parmesen

plus more for topping

½

cup

pesto

pasta water
Instructions
The day before cooking the tri-tip, season with salt and place on sheet pan with wire rack. Leave uncovered in fridge overnight.

Next day, preheat grill to 400F.

Pull tri-tip out of the fridge and coat with a light layer of veg/olive oil. Sprinkle with pepper and granulated garlic.

Cook on grill for 25-30 minutes, flipping once.

Meanwhile, make the pasta. Cook noodles to package directions.

In a small sauce pan, on low heat, warm up the cream. Bring it just to a low bubble and add the parmesan cheese. Turn off the heat and stir in pesto. Add salt to test, but dont go overboard. The pesto has a good amount of salt.

Drain the pasta and save a few tablespoons of the cooking water just in case you need to thin out the sauce. Toss the pasta with the creamy pesto. Check for seasoning one more time and top with extra parm.

Once the tri-tip, has reached an internal temp of 125F in the largest section, pull it off the grill and let rest for 5-10 minutes.

Slice the trip-tip and top with pesto. Serve alongside creamy pesto pasta and a green salad.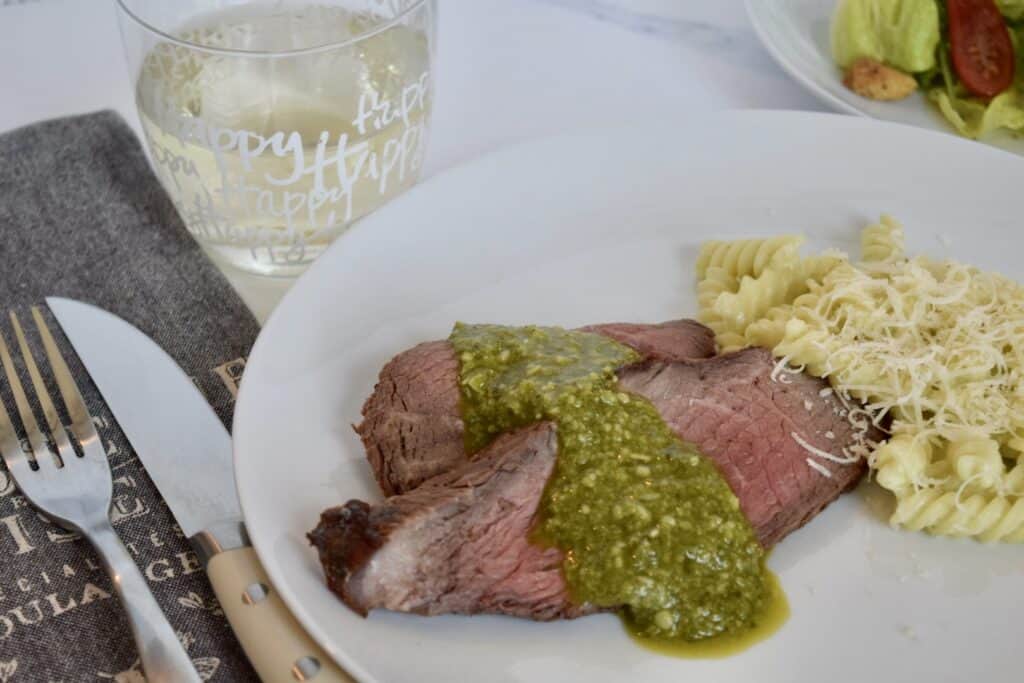 The back story on pesto tri-tip...
The first time I had this, it was being served at a grand opening for a new Costco in the Bay Area, although I don't remember which one. Maybe Rohnert Park, California. I am told it was created by a chef at Mallard's restaurant in Modesto named Stan. (Thank you, Stan).
After that, my family started serving it this way. Like I said above, I grew up eating a lot of tri-tip, especially family dinners with my aunts, uncles, and cousins. It's triangular in shape just like it sounds. It has a very wide end and tapers into a narrow end. I think this is great for serving to a group because some parts will be more rare and some more well. Additionally, it's a tender and inexpensive cut compared to some others, so family it's perfect for family dinners. Slice it thin and serve it with steak sauce, BBQ, or simply as is.
Now if you happen to happen to have any leftover, it makes a great sandwich on a french roll with some melted provolone cheese. This meal is the gift that keeps on giving. That brings me to my next list: what else to do with a big jar of pesto.
Bruschetta- top toasted rounds of sourdough or french bread with a dollop of pesto, Italian blend cheese, and prosciutto.
Chicken Pesto Sandwich- mix pesto with mayo and spread on a toasted roll. Layer thinly sliced chicken breast, provolone cheese, and arugula for an extra special sandwich.
Pesto Pork chops- self explanatory. Just like pesto tri-tip.
Soups- add to any tomato based soup, especially if you're out of fresh herbs.
Lastly, I like to save a portion of pesto in an ice cube tray. About 6-8 cubes worth. If I'm not serving it to a good sized group, I don't want to risk letting any go to waste. That way, when I am making a soup or sauce, I can pull out one or two cubes and toss them in.