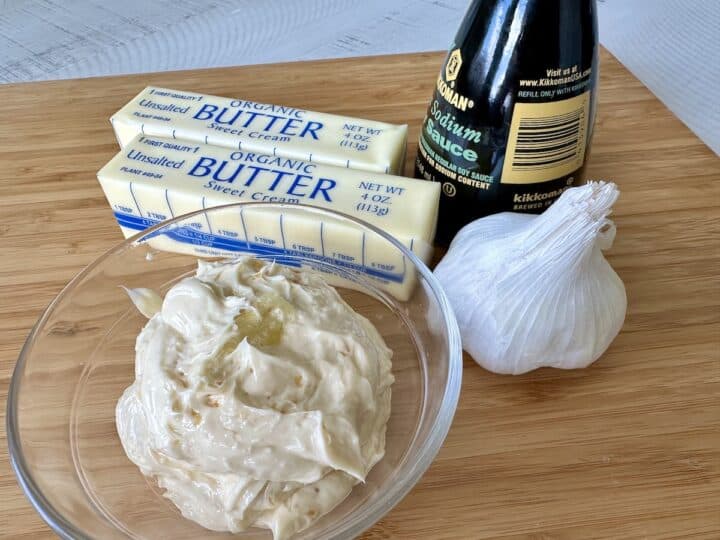 If you want to make delicious hibachi at home, you need this copycat Benihana garlic butter recipe. It really is the secret recipe that separates regular stir fry cooking and elevates food to the great flavors we love from Benihana restaurants. The garlic butter gets used in just about every menu item that hits the hibachi cook top. But you can make this secret ingredient in your own kitchen in less than 10 minutes.
This blog post contains affiliate links. As an Amazon Associate I may earn income from qualifying purchases. Thanks for the support.
The Delicious Flavors in this Garlic Butter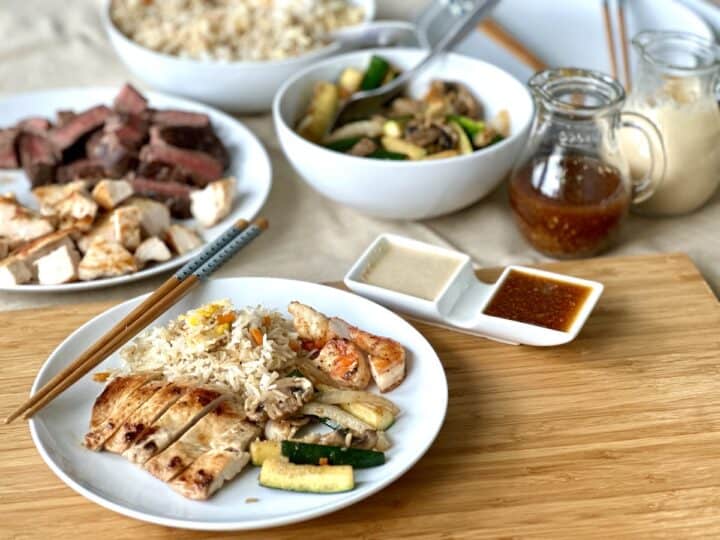 Every hibachi Japanese restaurant chain has their own version of garlic butter. It's become a staple in Japanese cuisine here in the United States. What gives this compound butter its delicious flavor is the grated garlic and a little soy sauce. That's all you really need for Benihana garlic butter sauce.
Now, you will see other versions of hibachi butter that add sesame seeds or a few drops of lemon juice. That's not how I recommend making it for two reasons.
First, while lemon does get added to hibachi chicken and shrimp, it does not go on the hibachi steak or traditional vegetables. Second, I want a perfectly creamy butter mixture without the added texture of sesame seeds that may burn on the flat top. It's great to garnish with toasted sesame seeds at the end, but we want this butter to mirror the Benihana recipe.
Key Ingredients for Garlic Butter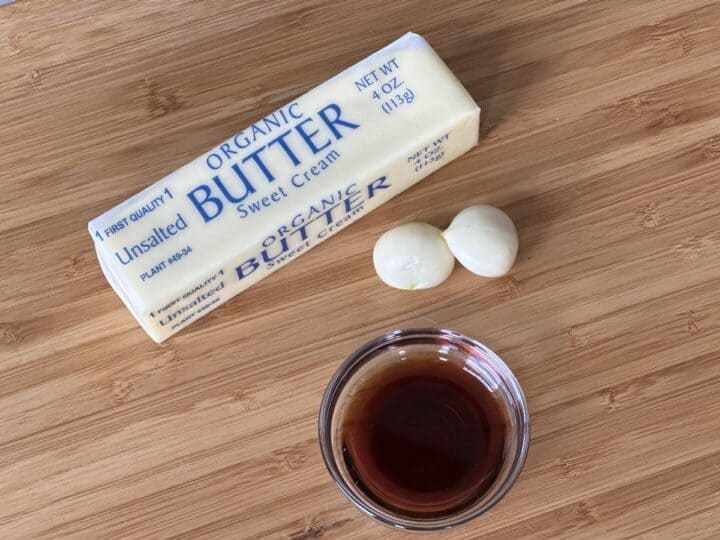 When I learned how to make hibachi butter, I actually laughed a little. I bet you have all three simple ingredients in your refrigerator right now.
For the garlic butter, you need:
Unsalted Butter: One stick of butter. Use whatever unsalted butter you have on hand. The brand doesn't matter. Take the butter out of the refrigerator a few hours in advance and let it come up to room temperature for easy blending.
Low sodium soy sauce: when we cook authentic hibachi, soy sauce hits almost every menu item. Going for a light soy sauce keeps the sodium in check and prevents your food from getting too salty.
2 gloves of garlic: look for good sized garlic bulbs. The bigger the cloves, the easier it will be to grate them for the butter.
Kitchen Tools That Make This Easy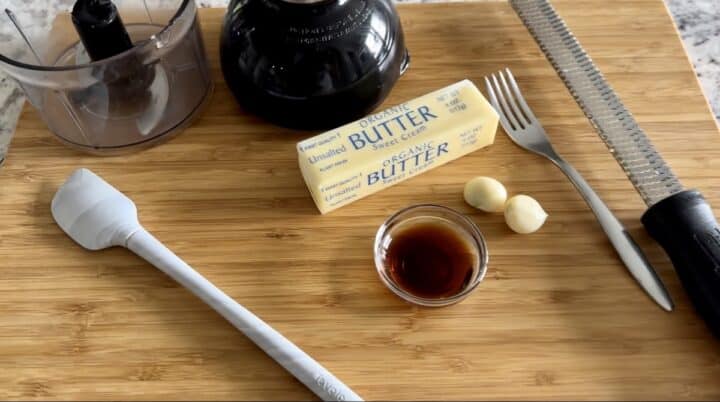 For best results, I like to use a mini food processor to cream the butter. It's the perfect size for a small batch of garlic butter. If you don't have a mini food processor, you can use a fork or whisk. It will just be more work on your arms.
My other favorite time saving tool is a microplane for grating the fresh garlic. The microplane is able to make a garlic paste in a matter of seconds with very little effort at all. Another pro-tip to share, use a fork to hold onto the clove of garlic. This takes work off your fingers and reduces the risk of cutting yourself on the grater.
How to Make a Small Batch of Benihana Garlic Butter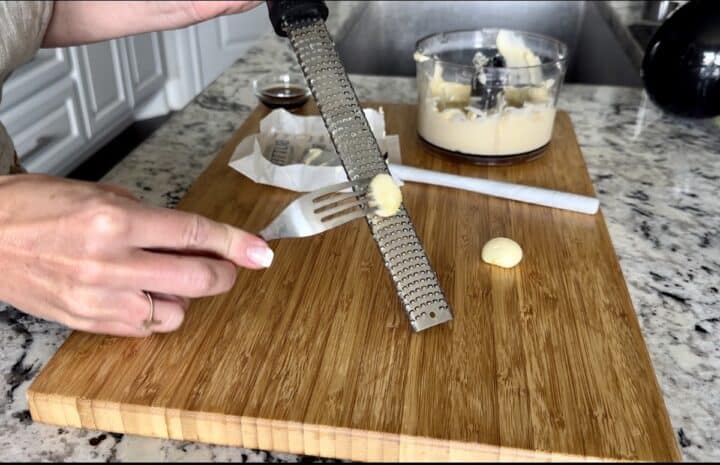 It's such a simple recipe to make. Just follow three simple steps:
Cream or whip the softened butter. This prepares it for mixing with the garlic and soy sauce.
Grate two large garlic cloves on a microplane or mince and smash with your knife to create a paste. (See modifications below if you want to skip this step).
Mix the grated garlic with soy sauce until they are completely combined. Then add that mixture to the small bowl of the mini food processor with the whipped butter and mix until they are completely combined.
That's it. Such a delicious butter and hardly any effort required.
When Will I Use This Garlic Butter Recipe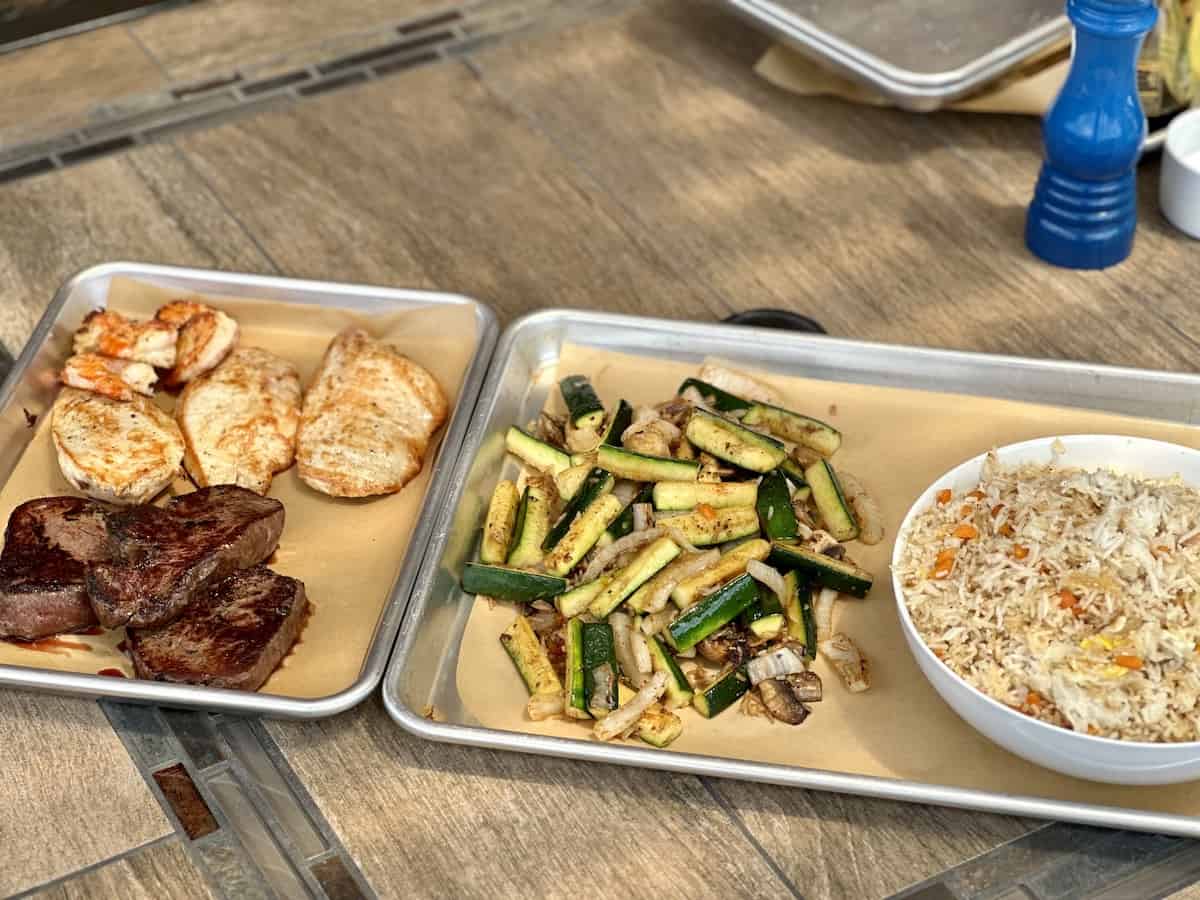 The reason this recipe is so important is because a little garlic butter hits every element of Japanese cooking. Cooking hibachi at home starts with a hot skillet or cook top and a little olive oil or neutral vegetable oil.
Then, you get to cooking hibachi vegetables, protein like steak or chicken breast, even the fried rice. When cooking is nearly complete, small amounts of garlic butter are added to finish the cooking which adds extra dimension. As the butter melts and gets golden brown, it adds the most delicious flavor to your meal.
If you're looking for a great way to make amazing fried rice at home, add a little bit of this garlic butter with a couple dashes of sesame oil at the end. It's one of my kids favorite dishes and they ask for it all of the time!
How to Store Homemade Garlic Butter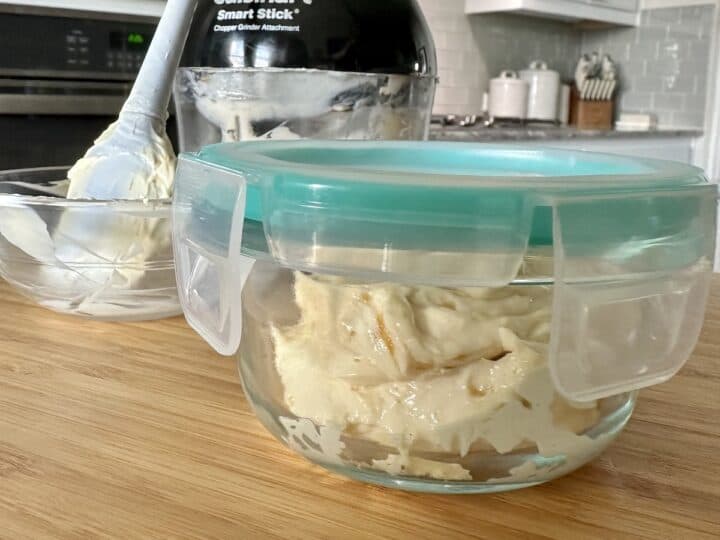 If you make the hibachi garlic butter in advance, have some leftover, or make a double batch to save for later use, let's make sure to save it the correct way. First, you want to transfer the prepared butter to an airtight container with a tight fitting lid. I like to use glass snap ware. Store the garlic butter in the refrigerator for up to 4 days.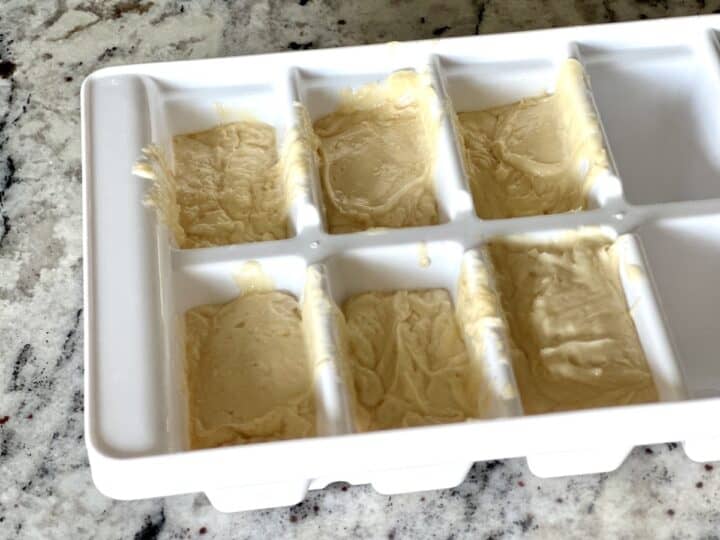 ​Sometimes it's nice to get ahead and make a big batch that can be used later. Here are three options:
Save the prepared butter in an ice cube tray. Once the butter has frozen, you can pop the cubes of butter out of the tray and save in freezer bags.
Transfer the butter to vacuum seal bags
Roll the butter in plastic wrap and twist the ends. Put the wrapped butter in a zip top freezer bag or wrap in aluminum foil.
Recipe Modifications and Substitutions
The first time you make Benihana's garlic butter, I suggest you follow the steps just the way I have it lined out for you. But, if you want a few options, there is more than one way to make.
Garlic- instead of grating the garlic on a microplane, you can grab a tube of garlic paste from the grocery store out of the produce section. The other substitutions is to use garlic powder or granulated garlic if you don't have fresh garlic on hand and you just want to make hibachi tonight. Substitute one teaspoon of garlic powder for 2 cloves of fresh garlic. Using one of these other garlic options will extend the shelf life of the garlic butter to a full week versus 4 days as mentioned above.
Soy Sauce- if you avoid soy you can use liquid aminos or coconut aminos and still get that umami flavor.
Butter- this will come as a shock but the infamous benihana garlic butter is actually a butter blend margarine. They use it in restaurants because it has a higher smoke point than butter. I very much prefer the flavor of butter and since we are cooking on a large skillet at home versus a restaurant cook top, we can control the heat and make sure nothing burns.
​If you want to make a double or even triple batch, I won't judge you. For every one stick of butter, use two cloves of garlic and one teaspoon of lite soy sauce. You can make a larger batch with a hand mixer or electric mixer.
Benihana Garlic Butter Recipe Card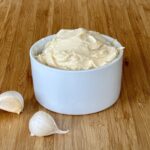 Print Recipe
Benihana Garlic Butter Secret Copycat Recipe
Easy 3 ingredient hibachi garlic butter for cooking hibachi steak, chicken, vegetables, and fried rice.
Equipment
1 mini food processor

1 microplane
Ingredients
1

stick

unsalted butter

2

cloves

garlic

2

teaspoon

low sodium soy sauce
Instructions
Add one stick of room temperature butter to the bowl of a mini food processor. Mix the butter until it is whipped and creamy. Set aside.

Peel the garlic cloves. One at a time, poke a fork into the clove and grate it on a microplane. Add the grated garlic to a small bowl with 2 teaspoons of soy sauce and mix well to combine.

Add the garlic and soy sauce to the mini food processor and mix until they are completely combined.

The hibachi butter is ready to use with hibachi chicken, steak, shrimp, vegetables, or fried rice.
Nutrition
Calories:
104
kcal
|
Carbohydrates:
0.1
g
|
Protein:
0.2
g
|
Fat:
12
g
|
Saturated Fat:
7
g
|
Polyunsaturated Fat:
0.5
g
|
Monounsaturated Fat:
3
g
|
Trans Fat:
0.5
g
|
Cholesterol:
30
mg
|
Sodium:
47
mg
|
Potassium:
8
mg
|
Fiber:
0.01
g
|
Sugar:
0.02
g
|
Vitamin A:
353
IU
|
Calcium:
4
mg
|
Iron:
0.02
mg
Did you make this recipe? Tag me on Instagram @fancy_apron 🙂 or leave a comment below.
More Benihana Copycat Recipes
Check our more hibachi recipes and make it a fun dinner party to WOW your friends:
Hibachi Fried Rice
Hibachi Steak
Ginger Dipping Sauce
Hibachi Chicken and Shrimp