Get ready to dazzle your family with the ultimate hibachi chicken and shrimp recipe. This meal will have everyone asking for seconds and you can make it all in the comfort of your own home. We are bringing all of the flavor from Japanese steakhouses home with super simple ingredients and the best sauces. I have the tools, tips, and ingredients you need to make something special without breaking the bank.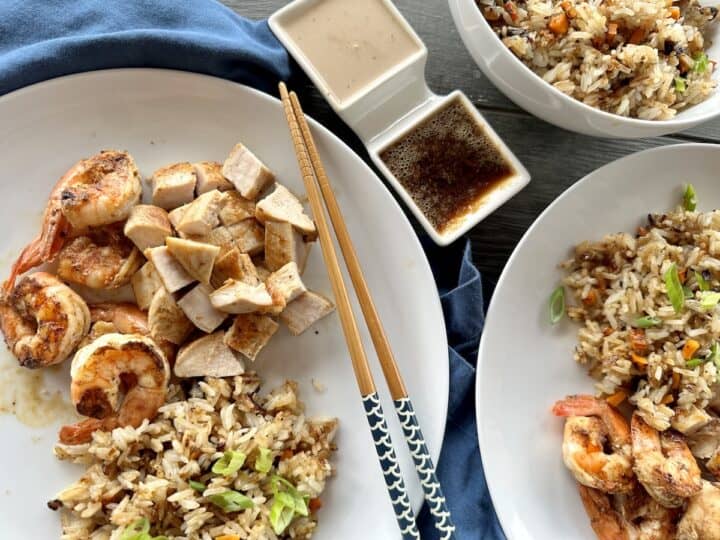 This blog post contains affiliate links. As an Amazon Associate I may earn income from qualifying purchases. Thanks for the support.
How To Get Great Hibachi Flavors At Home
So, you are craving your favorite dishes from the local hibachi grill, but you want to cook it at home instead. We can save money and control the ingredients by creating our own hibachi meal at home.
When I set out to learn the basics of a great hibachi recipe, I was surprised to learn how simple and easy is to make this delicious meal at home. You can absolutely make your favorite hibachi dinners even better than Japanese restaurants.
With these recipes, less is more. It's all in details like finishing the fried rice with a little sesame oil and using fresh garlic cloves in our homemade hibachi butter.
Hibachi Chicken and Shrimp Ingredients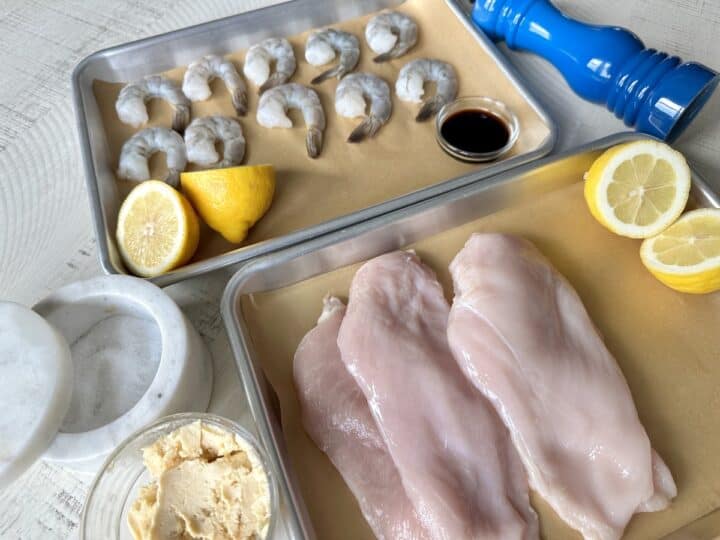 One of the reasons we group chicken and shrimp together is because they require all of the same ingredients. One of the cornerstone recipes for hibachi restaurants is the hibachi garlic butter. When I was learning how to cook these recipes at home, I quickly learned how important the hibachi butter is because it goes on every dish. Here's the complete list of what you'll need to make this at home:
2 large chicken breasts cut through the center to make thin cutlets
1 pound of shrimp - Jumbo shrimp are best for this recipe.
2 lemons cut in half
vegetable oil- canola oil or avocado oil are good for their high smoke point. *you can use olive oil, but you'll want to watch the heat
salt and black pepper
soy sauce or low sodium soy sauce if you prefer
​Extras
hibachi garlic butter - unsalted butter is combined with grated garlic cloves and low sodium soy sauce
Japanese ginger dipping sauce for the shrimp
creamy mustard dipping sauce for the chicken
creamy yum yum sauce can be found at your local grocery store
Optional: toasted sesame seeds to garnish
What Tools and Equipment Do I Need for Hibachi at Home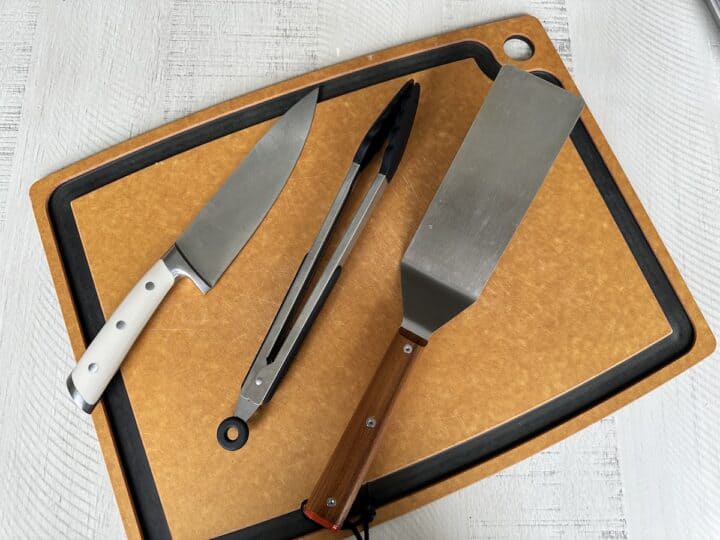 plates or sheet pans
tongs
large cutting board
sharp chefs knife
Hibachi chefs are able to cook pretty much everything on the cook top with a couple of large spatulas and two pronged kitchen fork. When you have a lot of food spread out across a large work area, the large spatulas help to be able to move items around quickly. Tongs are also a good idea for laying the ingredients on the cook top and pulling them off as you finish.
As I prepare my ingredients, I organize them on quarter sized sheet pans. This way, I have the ingredients for each dish together and I hardly have to think when I am cooking.
How to Cook Hibachi at Home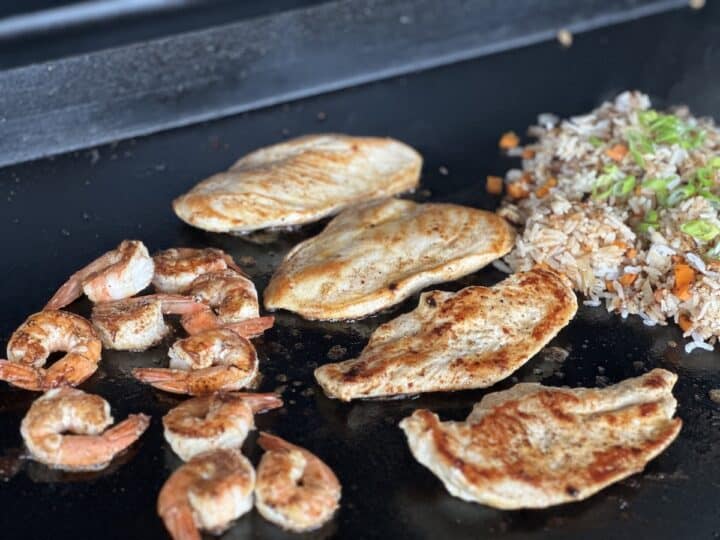 In Japanese steakhouse restaurants, hibachi or teppanyaki is cooked on a large stainless steel cooktop. The at-home version of this is an outdoor griddle. I absolutely love my Traeger Flat Rock. If you have another outdoor griddle, this recipe will be perfect for you. If you don't, use two large skillets and cook this dishes on the stove top.
The important thing to keep in mind is managing the heat and the timing for getting items on and off the flat top. You can do it, I promise.
Start by preheating your burners to medium-high heat and let the cook top get nice and hot.
Add a generous amount of your cooking oil and spread it around evenly.
Lay the chicken cutlets on the flat top and cook for 5-7 minutes per side. They'll be ready to flip when they pull away from the cook top easily and don't stick to the griddle.
Place the raw shrimp on the griddle in a single layer after you flip the chicken for the first time. The shrimp take less than half the time to cook as the chicken.
Add a tablespoon of hibachi garlic butter, drizzle with soy sauce, and a generous squeeze of fresh lemon juice to both the chicken and the shrimp. Season with a little salt and pepper.
Remove the chicken and shrimp. Slice the chicken into bite sized pieces. If there is any pink in the middle, get it back on the hot griddle for another couple of minutes.
Transfer all of your hot cooked food to serving dishes. Pile your dinner plates high and dig in.
Special Tips and Important Notes for Hibachi at Home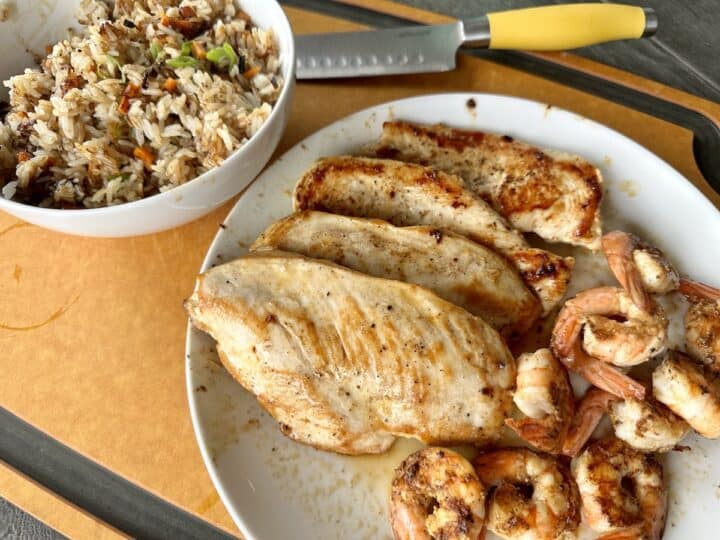 DO NOT cut the chicken into bite-sized pieces before you cook it. Dice the chicken after it has cooked. Cutting the chicken into small pieces ruins the cooking process. Those small pieces cook too quickly, let out too much water, and don't have a chance to build a golden brown outside for good flavor.
DO have all of your ingredients prepped before you fire up the cook top grill or skillet. These cook fast and you want to be ready to pull them off the heat as soon as they are finished cooking. I like to have clean plates ready so I don't waste any time.
Saving And Reheating Leftover Hibachi Chicken and Shrimp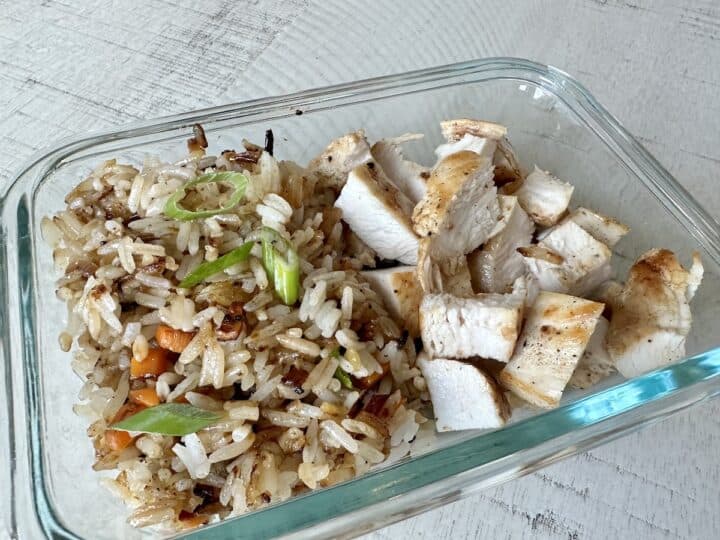 Leftover hibachi chicken is one of my favorite lunches. Sliced chicken with the mustard dipping sauce and fried rice is the perfect hot lunch when I am working from home. Just transfer any leftovers to an airtight container like glass snap ware and enjoy with 4 days. You can reheat your perfect little lunch in the microwave or on the stove top in a couple minutes.
When it comes to leftover shrimp, however, it's just a no-go in my book. When you are cooking this dinner at first, you will have perfectly tender shrimp if you don't over cook them. Reheating them routines the texture for me.
What to Serve with my Homemade Hibachi Dinner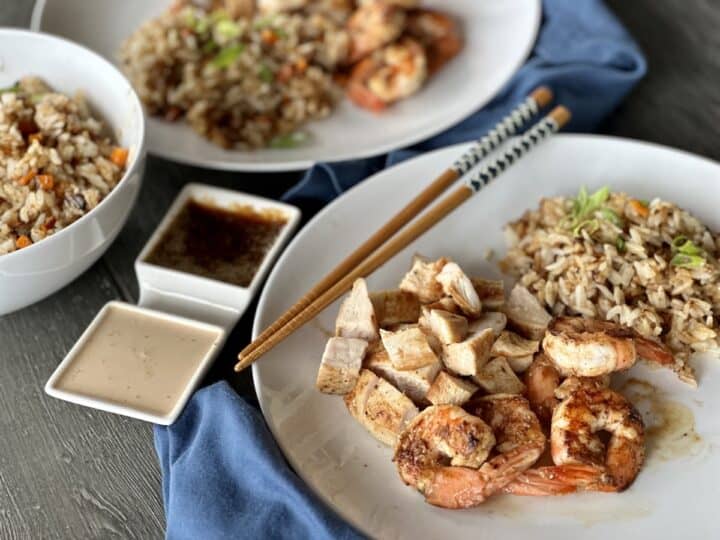 Fried Rice or steamed white rice - I am partial to fried rice. Since we are making this meal on our flat top grill, we have plenty of cooking surface available to make a tasty fried rice right next to our chicken and shrimp. Garnish with sliced green onions and you have something magical.
Hibachi vegetables - keeping it simple I go for diced zucchini and sliced sweet onions. Some people like to include sliced bell peppers, bock choy, or mushrooms.
Hibachi mustard dipping sauce - this is the absolute best sauce for hibachi chicken (and steak). This is my favorite hibachi sauce and I make this meal just because I want the mustard sauce.
Ginger dipping sauce - the right sauce for our shrimp and veggies
If you want to keep this a simpler dinner, you could certainly serve the chicken and shrimp with steamed jasmine rice and green salad with Japanese ginger dressing for a perfectly delicious dinner.
Easy Hibachi Chicken and Shrimp Recipe Card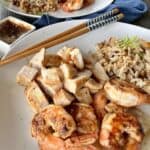 Print Recipe
Hibachi Chicken and Shrimp
Traditional hibachi flavors for perfectly cooked hibachi chicken and shrimp.
Equipment
plates or quarter sheet trays
Ingredients
2

chicken breasts

1

pound

shrimp

2

tablespoon

cooking oil

2

tablespoon

lemon juice

3

tablespoon

low sodium soy sauce

kosher salt

black pepper
Hibachi Butter and Dipping Sauces
2

tablespoon

hibachi butter

see notes below

½

cup

mustard dipping sauce

½

cup

ginger dipping sauce
Instructions
Prepare the Hibachi Chicken and Shrimp Ingredients
Prepare all the ingredients ahead of time, especially if this the first time you will be making hibachi chicken and shrimp.

-Cut the chicken breasts through the center to make 4 thin chicken breast cutlets.

-Organize all of the ingredients and have them close by before you start cooking.
Cooking on the flat top
Begin by preheating your Traeger Flat Rock to high heat. Let the cook top preheat for 6-8 minutes. Then reduce the heat to medium.

Squeeze about 2 tablespoons of your preferred cooking oil on the surface of the cook top. Use a stainless steel spatula to spread the cooking oil around and let it heat for at least 2 minutes.

Season the chicken with salt and pepper.

Once the oil is hot, lay the chicken breasts on the cook top. Leave room between the chicken breasts and try not to crowd them.

After about 5 minutes, check to see if the chicken has browned and is ready to flip. Once it has a nice golden brown on the bottom, you can flip it.

After you flip the chicken, add the shrimp. These won't take long. about 3 minutes per side or until they have turned completely pink.

As the chicken and shrimp finish cooking, remove them to serving plates or a large cutting board to cut into bite sized pieces.

Turn off the burners and scrape off the cook top. This is best if you do it while the cook top is still hot.

Serve your cooked hibachi chicken and shrimp with your favorite dipping sauces, rice, and veggies.
Nutrition
Calories:
296
kcal
|
Carbohydrates:
1
g
|
Protein:
48
g
|
Fat:
11
g
|
Saturated Fat:
1
g
|
Polyunsaturated Fat:
3
g
|
Monounsaturated Fat:
5
g
|
Trans Fat:
0.04
g
|
Cholesterol:
255
mg
|
Sodium:
698
mg
|
Potassium:
767
mg
|
Fiber:
0.1
g
|
Sugar:
0.3
g
|
Vitamin A:
34
IU
|
Vitamin C:
4
mg
|
Calcium:
82
mg
|
Iron:
1
mg
Did you make this recipe? Tag me on Instagram @fancy_apron 🙂 or leave a comment below.
I really hope you enjoy this easy weeknight dinner. It has become one of my family's favorites. You can absolutely make restaurant-quality hibachi at home. If you have any questions, please comment below.