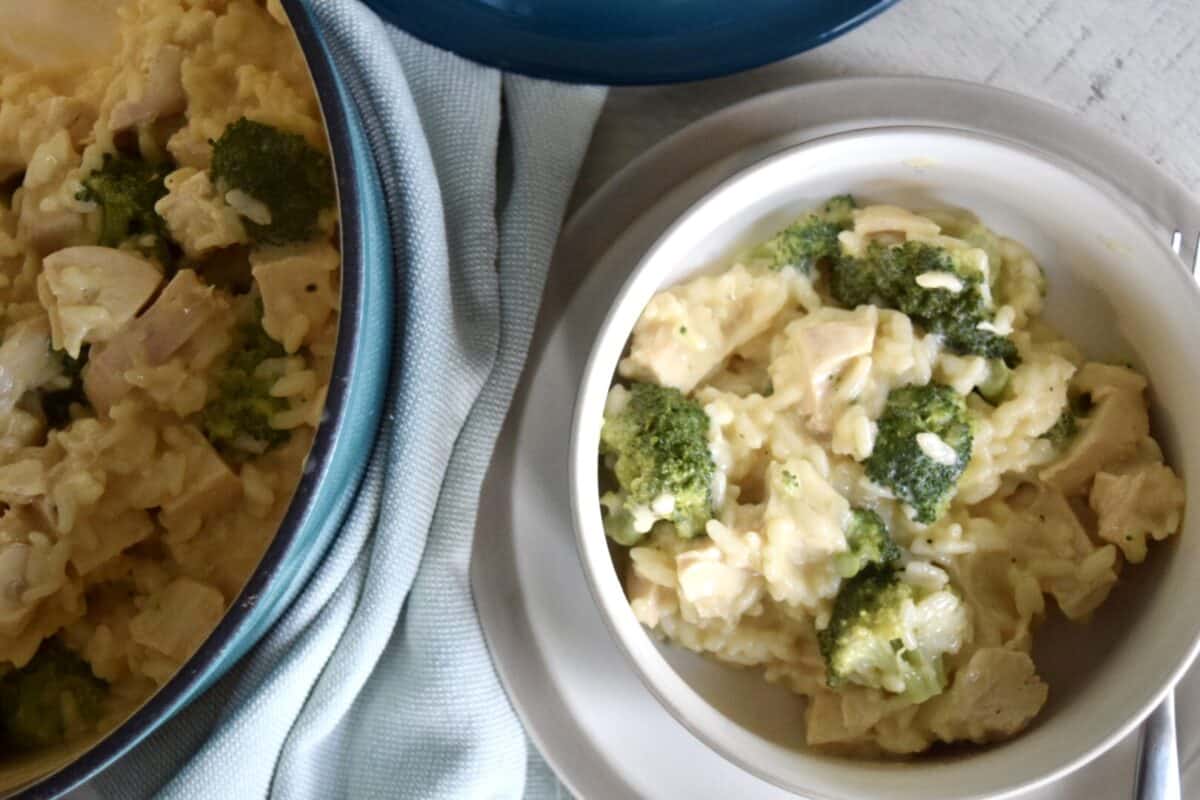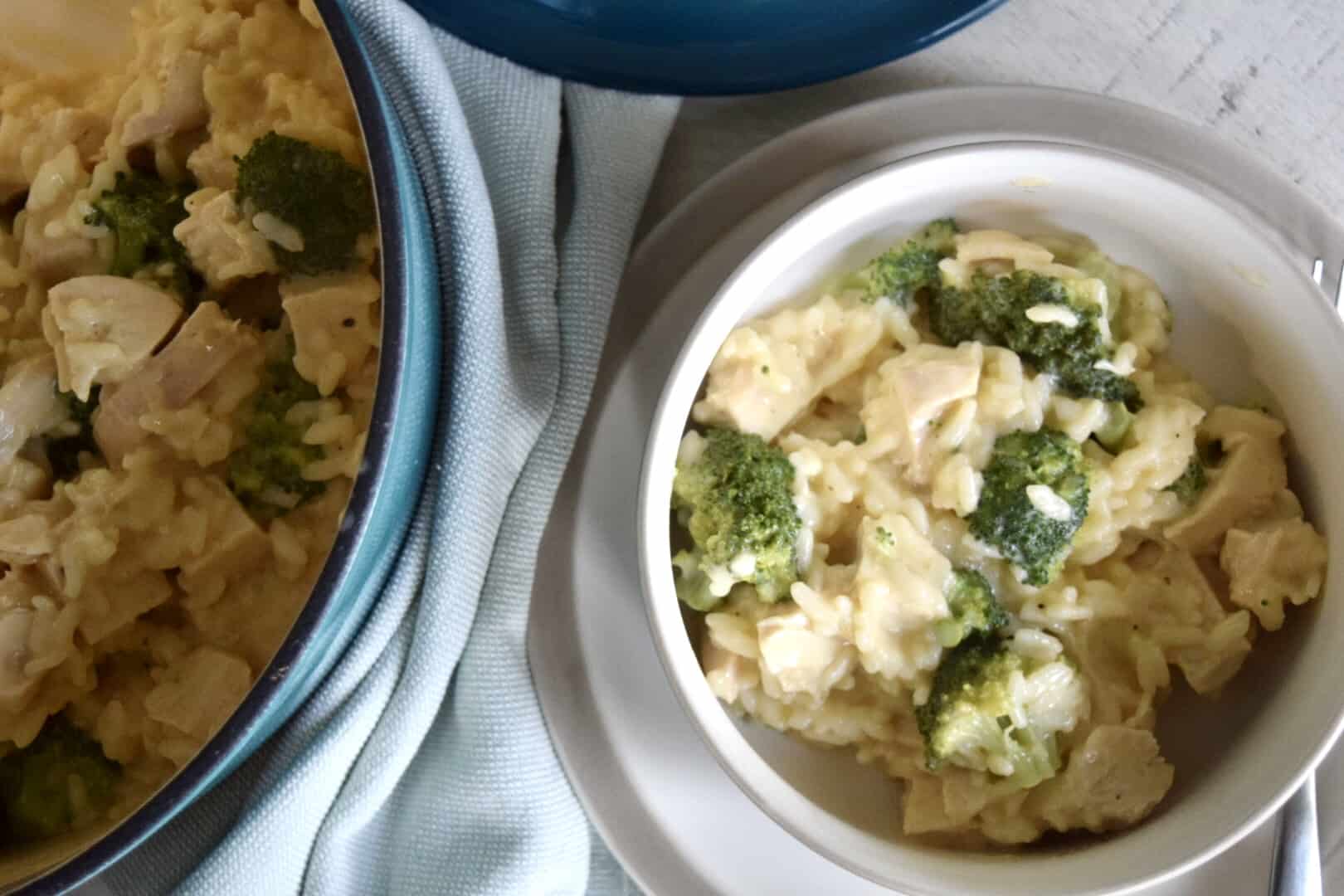 Beer and Four Cheese Risotto is my gluten free answer to mac n cheese. I was in the mood for mac n cheese, but man, I don't love the texture of gluten free pasta. But I do love risotto. So, just like that, a new side dish for my dinner menu was born.
The Beer and Cheese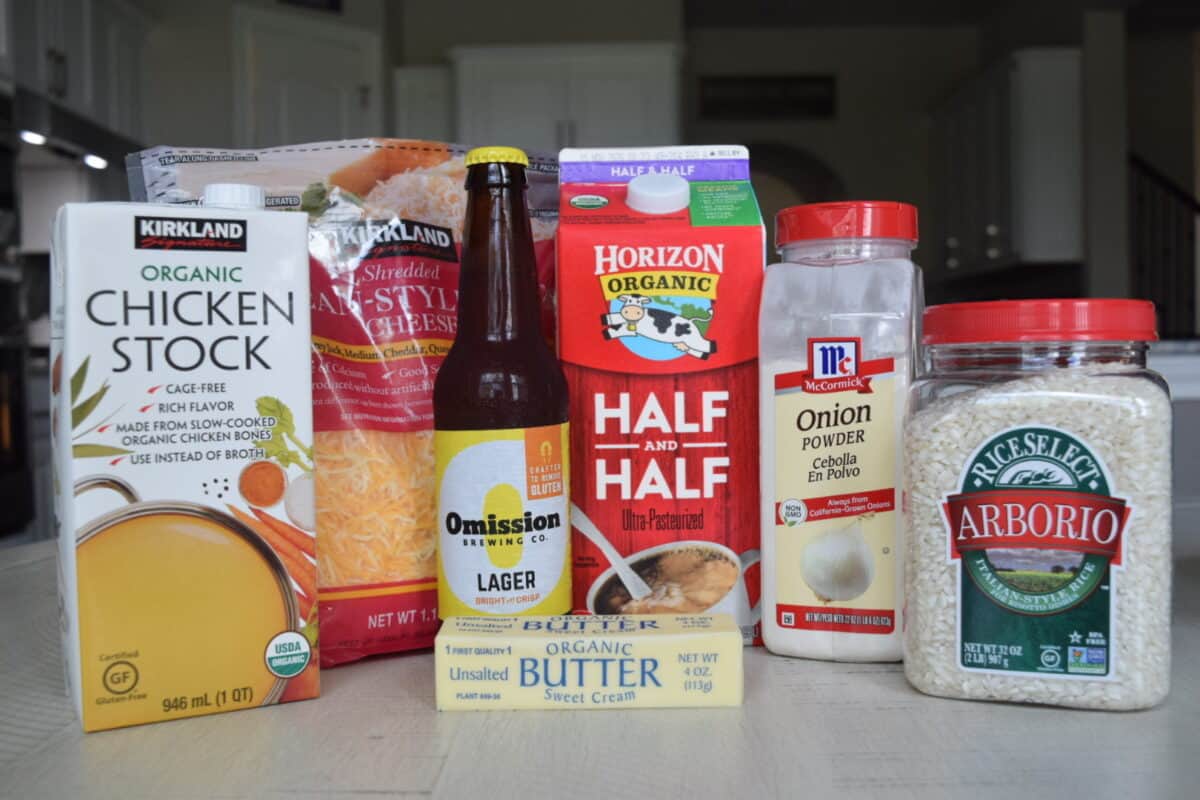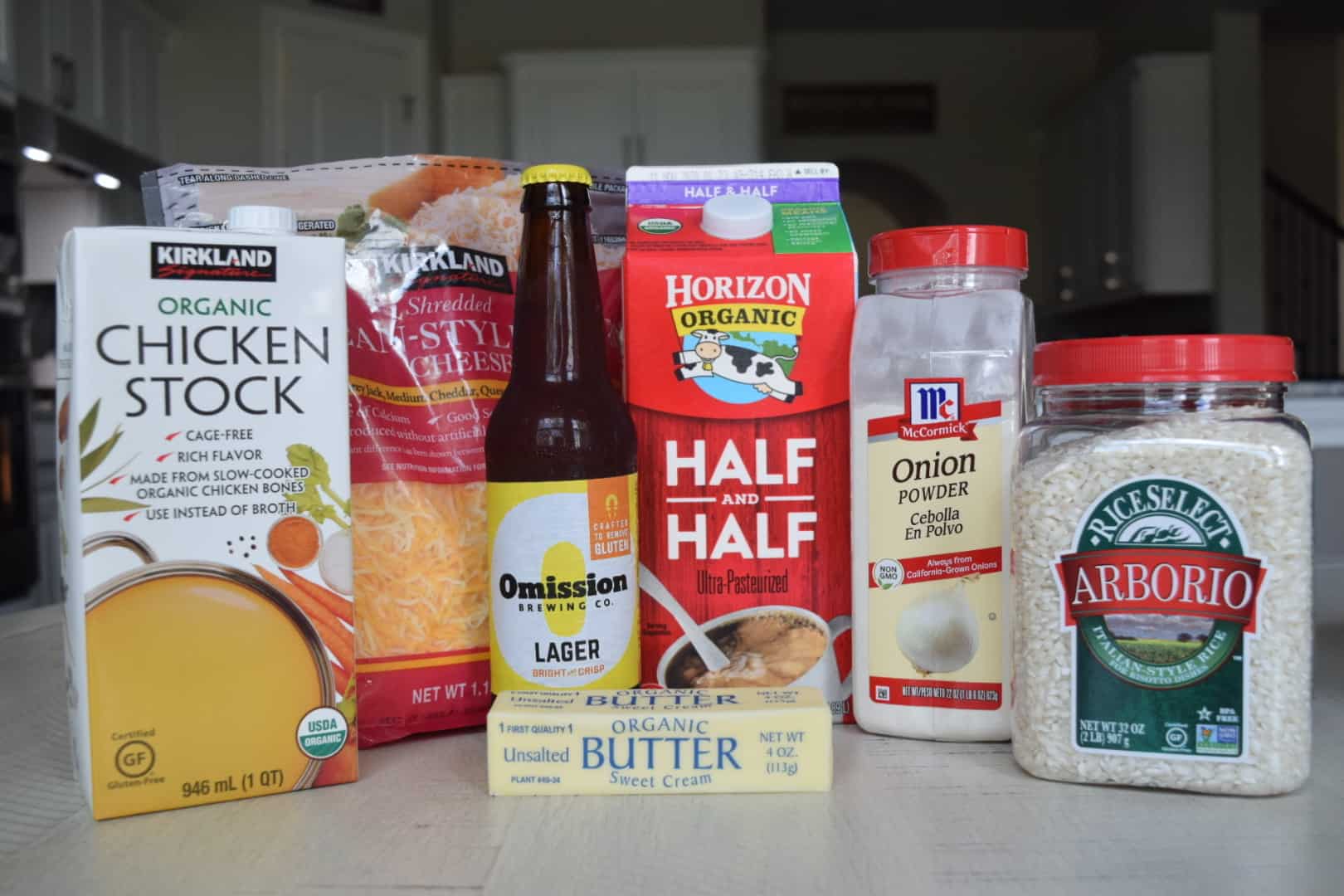 So, a traditional risotto is arborio rice cooked with white wine, chicken stock, and finished with cream and parmesan cheese. The transition to mac n cheese flavors was pretty simple. I swapped out wine for gluten free beer. I like Omission. And then for the cheese, I just used my four cheese blend from Costco. Some half and half at the end gives this the perfect creamy finish with a cheesy sauce feel. Heaven!
The Process
I think risotto can be a little intimidating, but it just takes practice. It's actually one of my favorite one pot meals. Especially my Chicken Marsala Risotto. The cooking process involves adding chicken stock one cup at a time, stirring, watching, and adding more stock until the arborio rice is cooked. Y'all know I have two boys running a muck in my house so it's not like I'm actually able to have a staring contest with my pot of risotto. I add the chicken stock, stir, mind the heat, get Cooper an ice pack because he just bonked his head, talk to Jack about the picture he's drawing, check on the risotto. Repeat. IT JUST TAKES PRACTICE. Once you learn the ideal heat setting and get a feel for how quickly the stock is absorbed by the rice, it will truly be a breeze.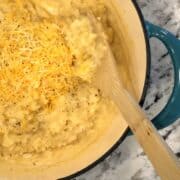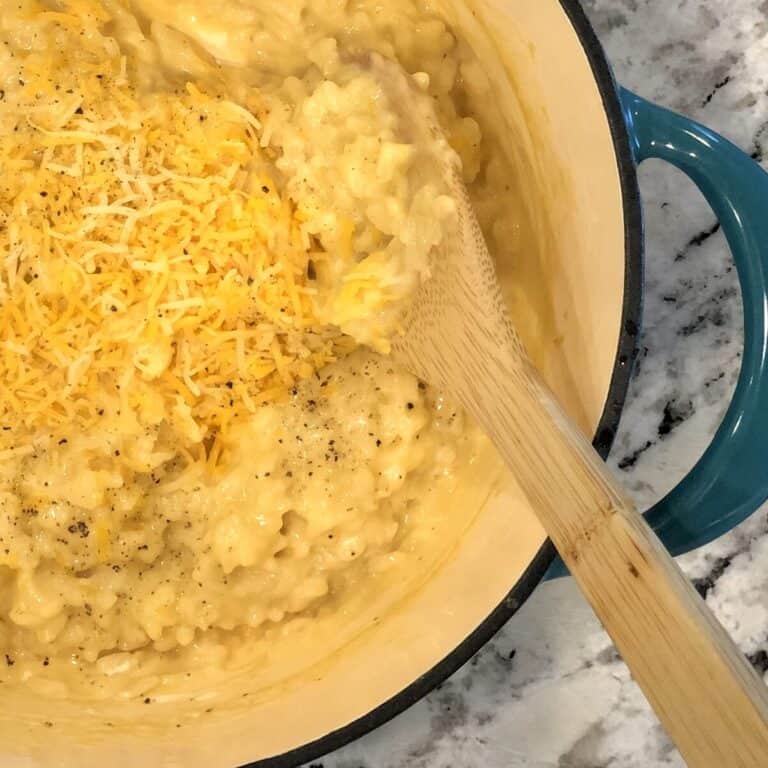 Print Recipe
Beer and Four Cheese Risotto
Classic risotto turned up with gluten free beer and a four cheese blend.
Ingredients
1

cup

Arborio rice

1

tablespoon

butter

½

cup

gluten free beer

1

teaspoon

onion powder

3

cups

chicken stock

½

cup

half and half

1

cup

shredded cheese

½

teaspoon

salt

½

teaspoon

black pepper
Instructions
In a large heavy pot, preheat to medium and melt butter. In another sauce pan, heat 3 cups of chicken stock to a low simmer. It does not need to boil.

Add 1 cup of Arborio rice to the pot with the butter and stir to coat the rice completely. Toast for 2-3 minutes.

Add ½ cup of beer. I use Omission gluten free lager. Stir well and cook for 3-4 minutes until all of the liquid has been absorbed by the rice.

Add 1 cup of hot chicken stock to the rice and stir well. The rice and stock should be at a low bubble. Keep an eye on it and stir as needed. Each time the stock is fully absorbed by the rice and the pot does not have standing liquid in it, add a cup and repeat the process, stirring occasionally.

As the rice cooks, starch will be released, creating a glossy shine around the edges of the pot. After the 3rd cup of stock has been absorbed, test a little bit of the rice to see if it is cooked through. If it's not, add another ½ cup of stock and continue the cooking the process.

When the rice is fully cooked, turn off the heat. Add the Half and Half, salt and pepper. Stir it in and notice the thickness. It should be pretty loose.

Add the cheese, stir, and serve.
Nutrition
Serving:
65
g
|
Calories:
320
kcal
|
Carbohydrates:
42
g
|
Protein:
11
g
|
Fat:
12
g
Make it a meal
Oh the many ways this can be served... Beer and Four Cheese Risotto goes with so many things.
As pictured above, for a fast weeknight meal, add diced rotisserie chicken and cooked broccoli straight to the pot.
Serve on the side of a grilled tri-tip with buttered green beans.
Pair it with anything BBQ and a good crisp salad.
Make another one pot meal by adding sliced chicken and apple sausage and frozen corn.