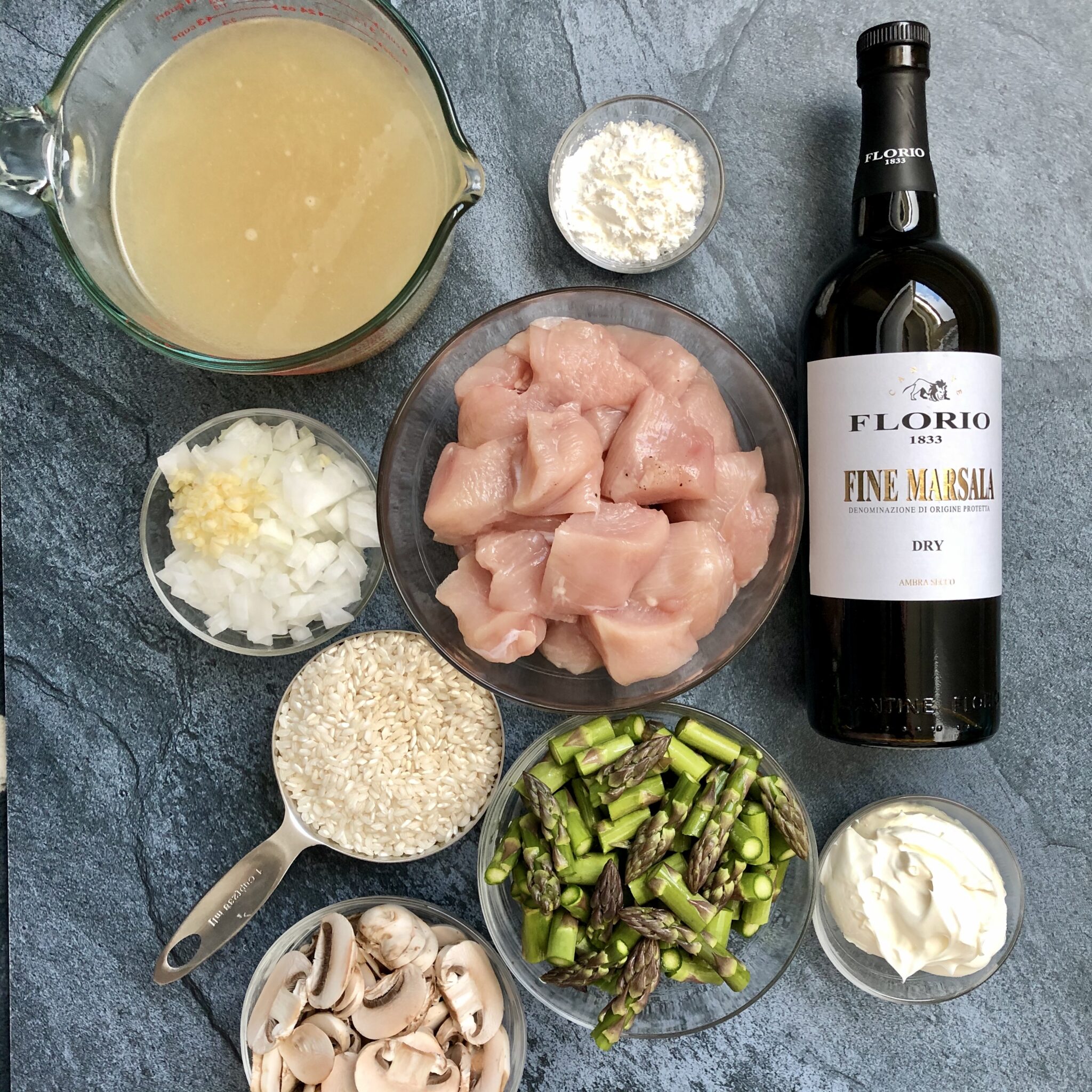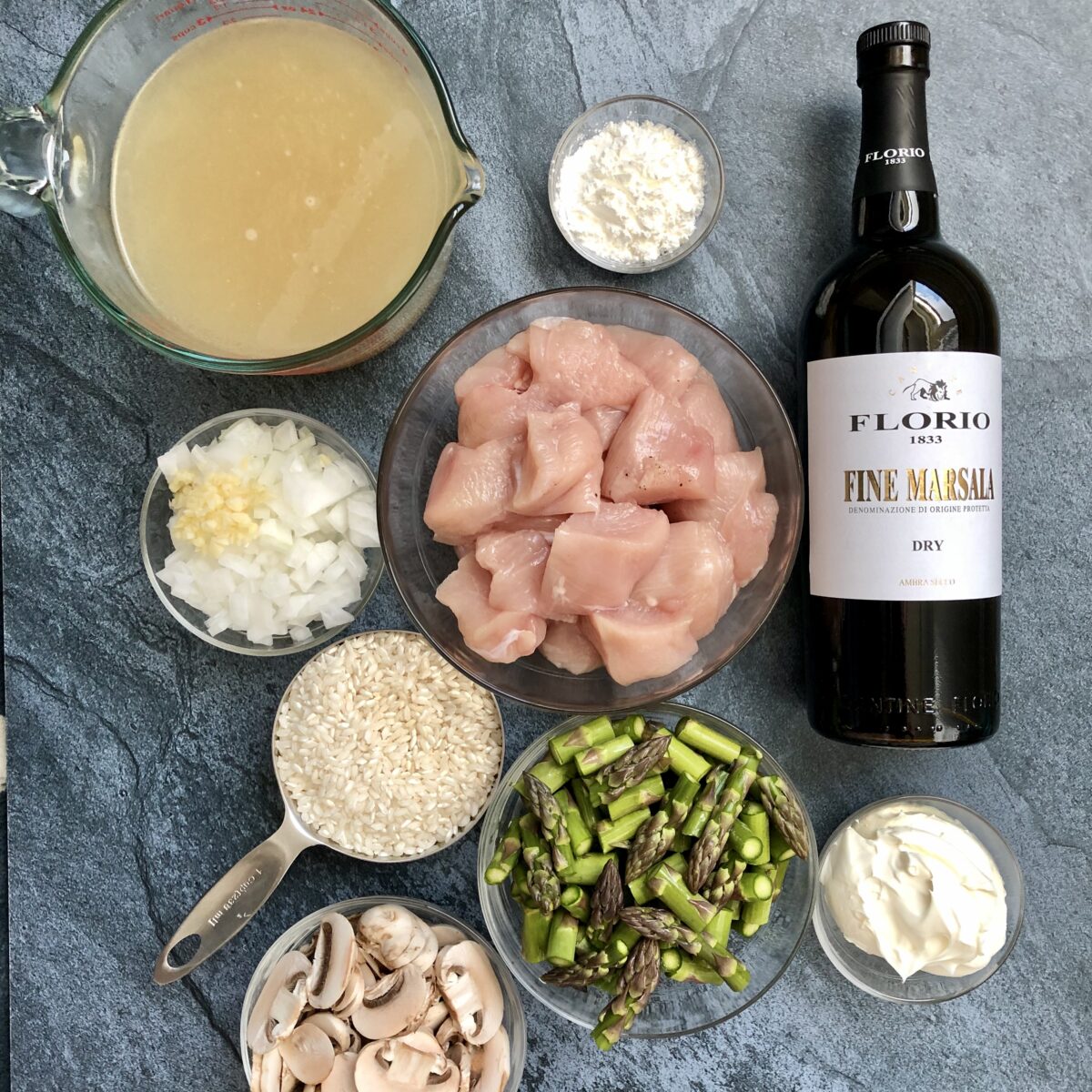 Chicken Marsala Risotto is a mash up made in heaven. I love Chicken Marsala. Anything with a flavorful wine based sauce is my kind of comfort food. Enter creamy risotto and it's "Hello, lover!"
Now, these two dishes on their own are generally time consuming, but man is it worth it! I've tried my best to simplify it so I can make it on a regular weeknight without too much trouble. So these are the components: diced chicken and arborio rice cooked in a large heavy pot, a sheet pan of roasted asparagus and mushrooms, and marscapone cheese added at the end to tie this altogether.
Cooking Process
This meal starts with the chicken. A light coating of corn starch, salt, and pepper on bite sized pieces of chicken sets us up for success. We saute the chicken until it's golden brown and transfer it to a sheet pan where it will finish cooking in the oven with the asparagus and mushrooms. Not hard, right?
Next, let's talk about the risotto... Risotto is made from arborio rice, toasted in butter, and cooked by adding white wine and chicken stock. It's a gentle process and stirring continuously builds a creamy/starchy consistency. There are plenty of variations out there, but many include some cream and cheese added at the end. It might be my favorite comfort food aside from mashed potatoes.
So we are going to make all of that, but with marsala wine instead. Throw in the chicken, veggies, and marscapone cheese for a complete meal. Voila, Chicken Marsala Risotto!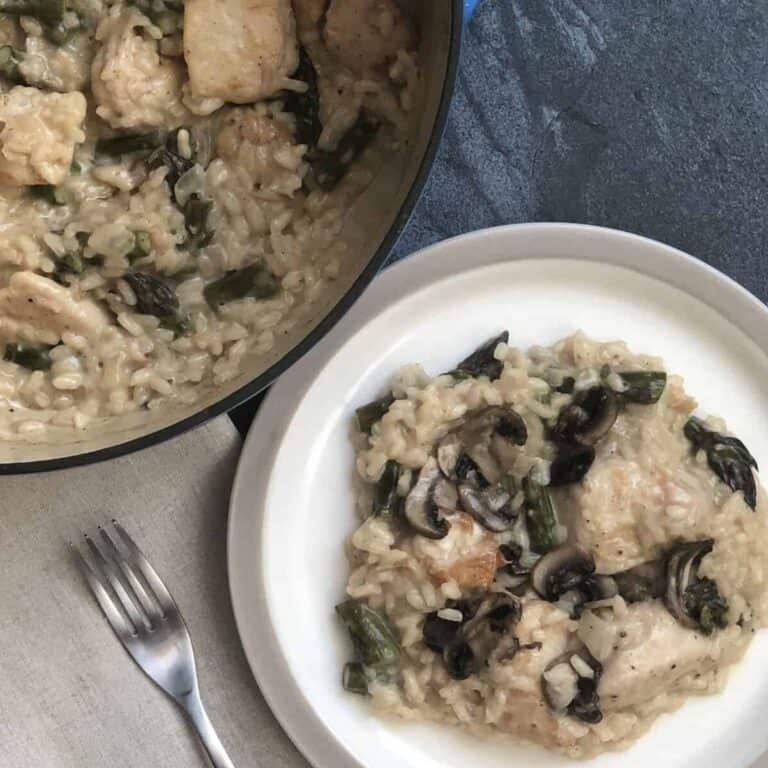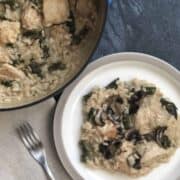 Print Recipe
Chicken Marsala Risotto
Creamy risotto made with marsala wine, chicken, mushrooms, and asparagus all in one bowl.
Equipment
Large pot or dutch oven

sheet pan
Ingredients
2

large chicken breasts

¼

cup

cornstarch

1

cup

arborio rice

½

cup

dry Marsala wine

3

cups

chicken stock

homemade or Better Than Bouillon

½

cup

diced onion

1

clove

garlic

1 ½

cups

cut asparagus

about one bunch

1

cup

sliced mushrooms

about one 8 ounce container

½

cup

marscapone cheese

2

tbs

olive oil

1

tbs

butter

Salt and Pepper
Instructions
Dice chicken breast in bite sized pieces. Season with salt and pepper. Coat with cornstarch.

Dice onion, slice mushrooms, and cut asparagus.

In a small saucepan, heat the chicken stock so it's at a low simmer.

Heat a large pot or dutch oven to medium-high and add oil.

In two batches, brown the chicken breast. It does not need to cook all the way through. It will finish in the oven.

Remove browned chicken from pot and set aside.

Lower heat to medium and add butter, onions, and garlic to the pan stirring continuously.

While the onions soften, line a sheet pan with parchment paper or nonstick spray. Spread out the mushrooms, asparagus, and chicken onto the sheet pan. Drizzle the veggies with olive oil and season lightly with salt and peppers. Put in the oven and cook for 20 minutes until veggies have cooked through.

Add arborio rice to the pot and stir to coat with butter and onions. Let the rice toast in the butter for about two minutes.

Add the Marsala wine and stir in well. Scrape up all the brown bits from the chicken off the bottom of the pot.

Once the Marsala wine has cooked down, add a full ladle of warm chicken stock to the pot and continuosly stir. The rice and chicken stock mixture should stay at a low bubble throughout the cooking process. Every time the chicken stock has been completely absorbed by the rice, add another ladle. This process will take 25-30 minutes.

Take a little taste of the rice and see if it is cooked through. Add salt or pepper if needed. Once it is cooked through, make sure there is enough liquid to just keep the risotto loose and not stuck together.

Stir in marscapone cheese. It should have a loose and creamy consistency. Next, add in the chicken. Then fold in the asparagus and mushrooms.
The Back Story
I learned how to make chicken marsala a long time ago, and I was so pleased with myself because it was delicious and I thought it was going to be difficult. It has become one of my go-to dinners to serve when we have company. The thing I learned with that recipe that I carried over is that I coat the chicken lightly in cornstarch. The original recipe says to coat the chicken in flour which helps the sauce thicken and stick to the chicken. Since I avoid gluten as much as possible, I opted for cornstarch. It works perfectly. The diced chicken is protected by the cornstarch, so it browns evenly on the outside and holds all of it's juices on the inside. It's a game changer.
One of my other favorite meals is risotto. Anything with heavy cream and parmesan cheese is my favorite actually. Getting these two dishes together makes me happy.
Tips
Use homemade chicken stock if possible. The depth of flavor really ties it all together.
The first time you make risotto, stay by the pot and watch the process. After you've made it a couple times, you'll learn how much you can be away from the pot and how often you have to stir it. It would be a real shame if the rice stuck to the bottom of the pot.
When your dish is finished, make sure it's loose and not stuck together. You may need to add a little chicken stock at the end to keep things loose.
You may not use all 3 cups of chicken stock. As the stock simmers, it may reduce and that's okay. It's just better to have extra than run out before you're finished.
This dish is already gluten free. Leave out the marscapone and butter if you need it to be dairy free also. The starch from the arborio rice and the chicken stock will still be amazing.
Send me a note if you have any questions!