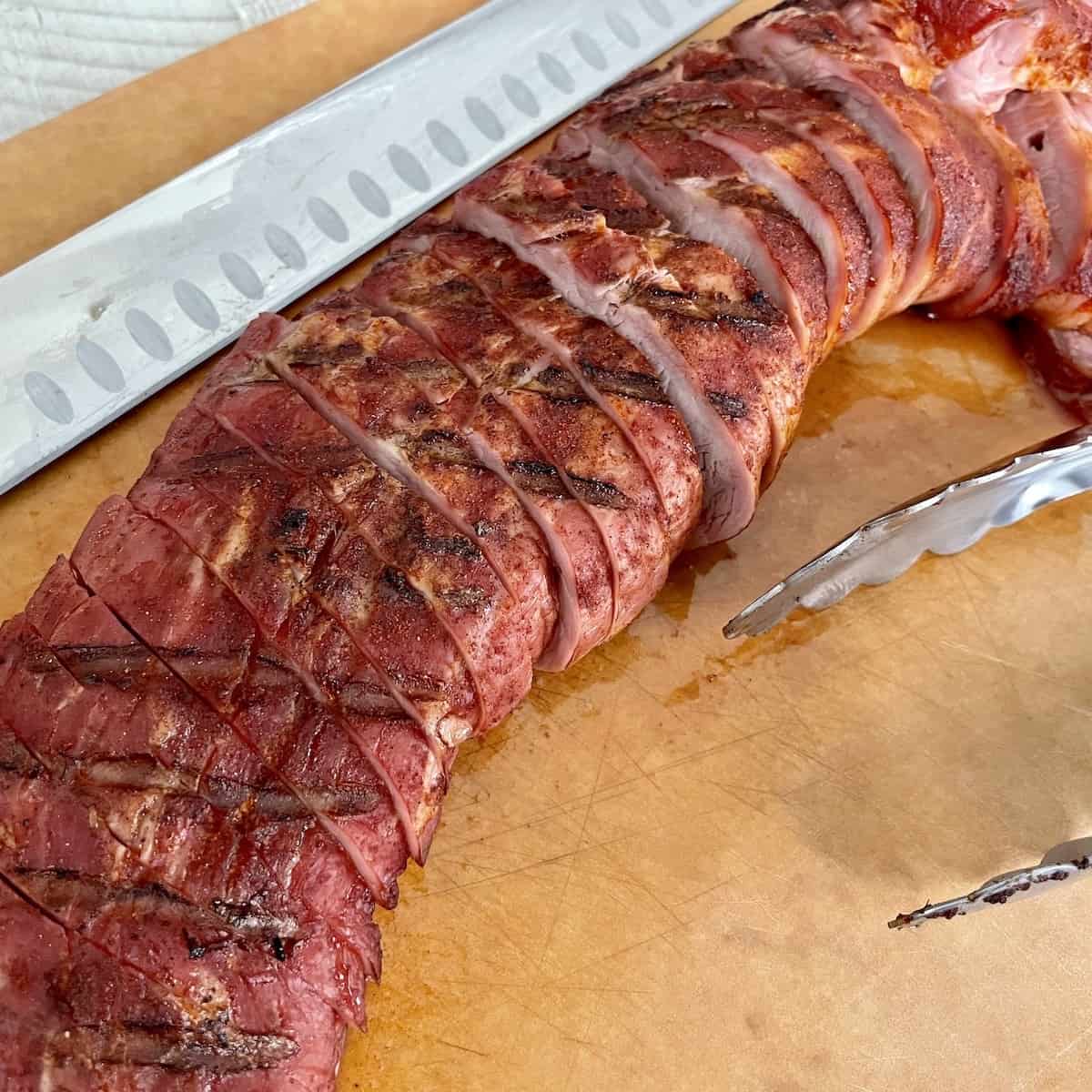 Here you will find cook temps, times, and flavor options for cooking a pork tenderloin on a Traeger Grill.
This blog post contains affiliate links. As an Amazon Associate I may earn income from qualifying purchases. Thanks for the support.
Cooking a pork tenderloin on a Traeger Pellet Grill is a quick, easy, and versatile meal. We can make this main dish fit any menu by going with a smoky BBQ rub, garlic and herb crusted, or marinade it in a simple teriyaki sauce. This post is meant to get you started with temperatures and cook times. Once you get that down, you can make it however you want.
Pork Tenderloin Basics
What is a pork tenderloin first of all? A pork tenderloin is an inexpensive cut of meat similar to chicken tenders and beef tenderloin (aka filet mignon). It is a tender piece of meat because it is a muscle that does not get used very much, if at all. The tenderloin cut pictured here and in the recipe below is found on the backside of a pork loin or pork loin roast. A boneless pork loin roast is lighter in color and that is where pork chops come from.
A pork tenderloin is a lean cut of meat, so it does not have much fat or marbling. That means it also does not have any tough connective tissue like a pork shoulder or pork butt. Because of that, we can cook this pork tenderloin quickly on our Traeger Grill. It will, however, have silver skin on one side that needs to be removed as much as possible.
Traeger Pork Tenderloin Cook Times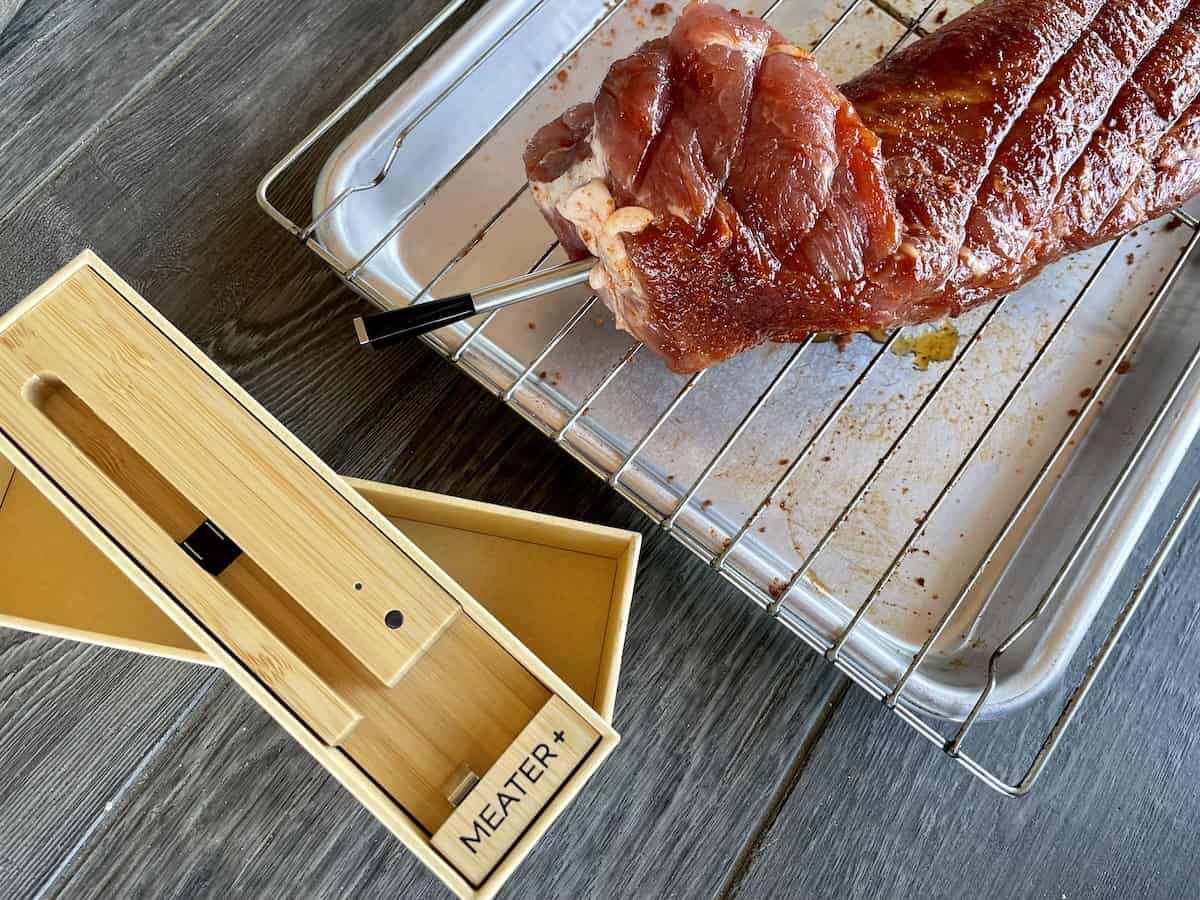 Use a meat thermometer! A digital meat thermometer is the best. A pork tenderloin is done cooking when the internal temperature reaches 145 degrees Farenheit. The Meater+ wireless thermometer is a great option. You can also use the meat probe attachment made by Traeger.
Cooking Time Table
| | | |
| --- | --- | --- |
| Quick Cook | 375F | 18 minutes |
| Medium Cook | 300F | 50 minutes |
| Slow Cook | 225F | 90 minutes |
The table shown above is what I have tracked on my Traeger. With a higher temperature, the meat cooks faster. I like cooking a pork tenderloin quickly on high heat since it is so lean. Flavor profiles like teriyaki or garlic herb won't benefit as much from the smoke flavor we like from a longer cooking process.
However, When I want to have that real BBQ flavor, I opt for the slow cook at 225F. As a result, I end up with a smoked pork tenderloin that has a nice smoke ring. I start with my favorite dry rub and finish it with a favorite bbq sauce (Kinders Organic sauce).
The most important thing here is that the internal temperature of the pork reaches 140-145 degrees Fahrenheit. As soon as it hits the mark, remove the pork tenderloin from the grill to a cutting board and cover it with aluminum foil. Allow for a resting time of 5-15 minutes. The longer the cook, the longer the rest time. This ensures the moisture in the pork has had a chance redistribute before slicing.
Suggested Pork Tenderloin Rubs and Marinades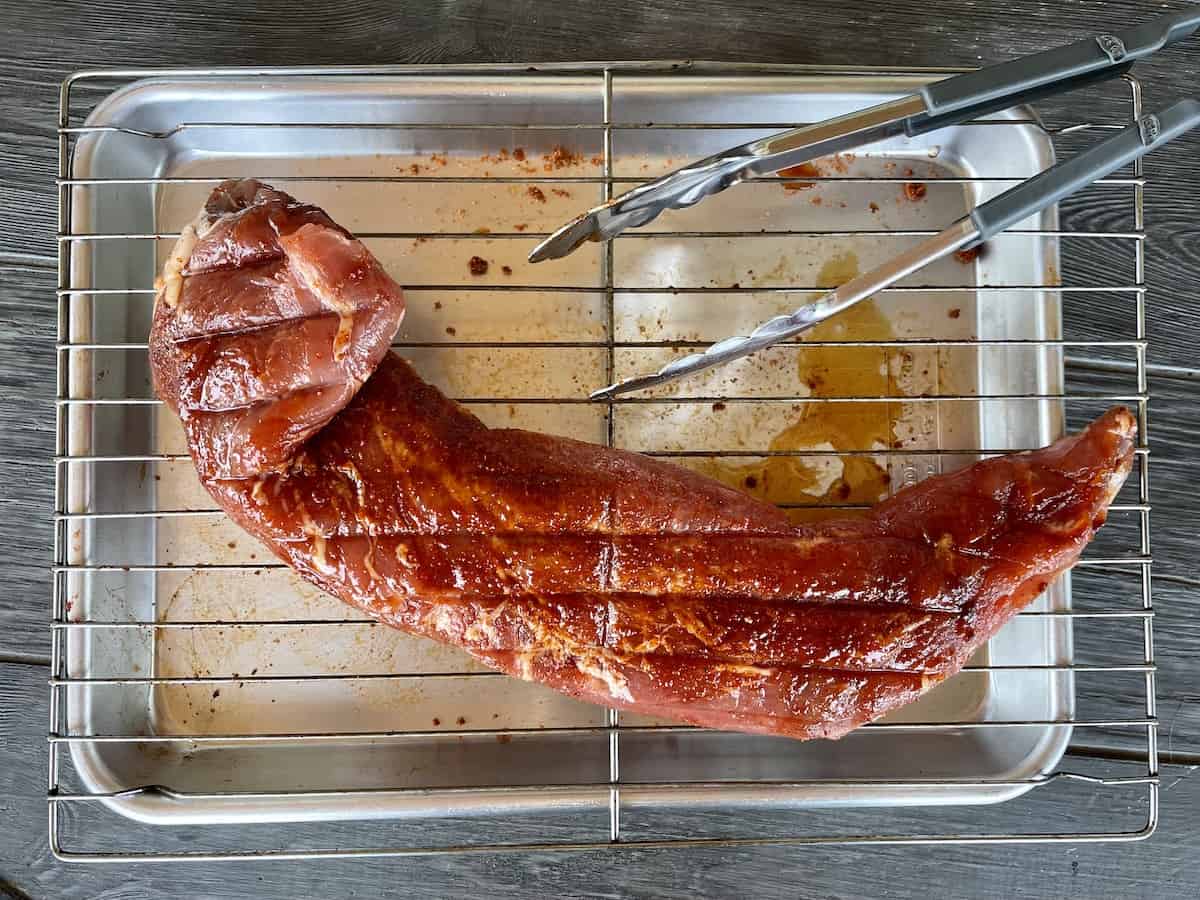 There are so many great rubs and sauces out there from specialty shops to grocery stores. Traeger offers a variety pack of rubs including six different flavors. If you love sampling, check these out!
Smokey BBQ: check out the Pork Rub from Traeger Grills. It has a warm smoke flavor that finishes with a soft sweetness. For this flavor profile, opt for a lower-slower cooking process mentioned in the recipe card below.
Garlic and Herb Crusted: blend together minced garlic with fresh herbs such as rosemary, thyme, and parsley. Pull the fresh herb mixture together with olive oil, salt, and pepper. For this recipe, use the medium cook time running the Traeger at 300F for about an hour.
Teriyaki: for a very quick cooking pork loin, a strong bottled teriyaki marinade is my go to. A couple hours in the marinade, quick cook time, and extra sauce on the side for dipping is everything you need on a weeknight. Follow the temps and times- 375F for 18 minutes.
Supplies
Traeger Grill
Wood Pellets- I stand by the Signature Blend or the Kirkland Signature blend from Costco
Sheet pan with wire rack
Tongs
Meat thermometer
Cutting board and sharp knife
Traeger Pork Tenderloin Recipe Card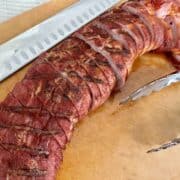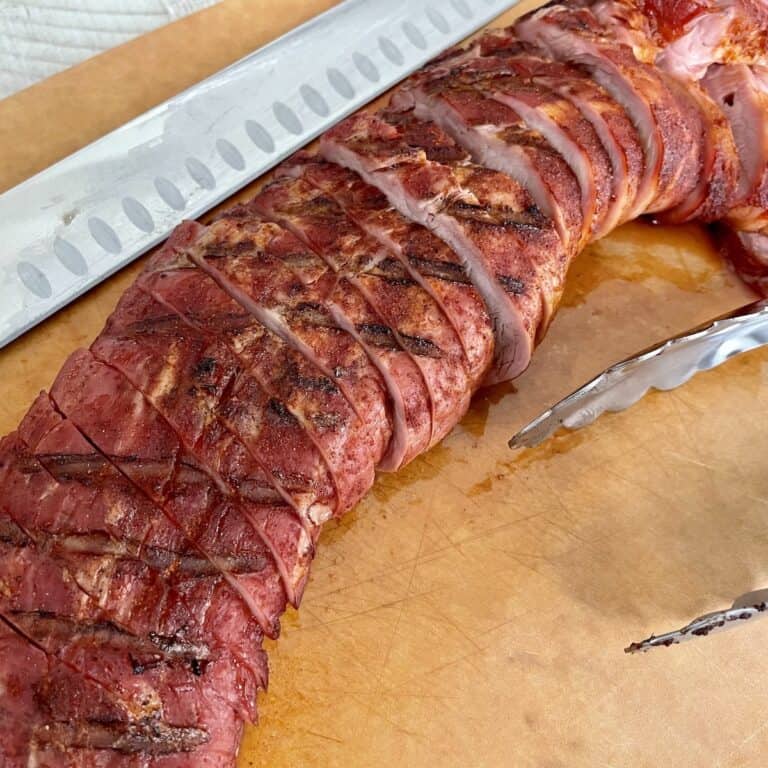 Print Recipe
Pork Tenderloin on a Traeger
Basic recipe for cooking a pork tenderloin on the Traeger with a smoky spice rub for a moist and tender main course.
Equipment
1 Traeger Grill

1 small sheet pan with a wire rack

optional

1 meat thermometer

1 cutting board and sharp knife
Ingredients
1

pork tenderloin

2

tablespoon

traeger pork rub

1

tablespoon

vegetable oil
Instructions
Preheat the Traeger grill by setting the temperature to 225F and allow to heat with the lid closed for 15 minutes.

Prepare the pork tenderloin by trimming off any silver skin and fat. Generously sprinkle the pork tenderloin with Traeger pork rub. You can do this ahead of time if needed. After seasoning, place the pork tenderloin on a sheet pan with a wire rack and refrigerate for 2-4 hours.

Once the Traeger has reached 225F, lay the pork loin in the grill grate and close the lid. Cook the pork loin for and hour and a half, flipping the pork tenderloin halfway through to create grill marks on both sides.

Once the pork loin has reached an internal temperature of 145F, remove it from the grill and allow it to reset for 10 minutes before slicing.
Nutrition
Calories:
167
kcal
|
Protein:
26
g
|
Fat:
6
g
|
Saturated Fat:
1
g
|
Polyunsaturated Fat:
2
g
|
Monounsaturated Fat:
2
g
|
Trans Fat:
0.1
g
|
Cholesterol:
82
mg
|
Sodium:
67
mg
|
Potassium:
503
mg
|
Calcium:
6
mg
|
Iron:
1
mg
If you made this recipe, please come back and let me know how it went. I love hearing from you!
The end result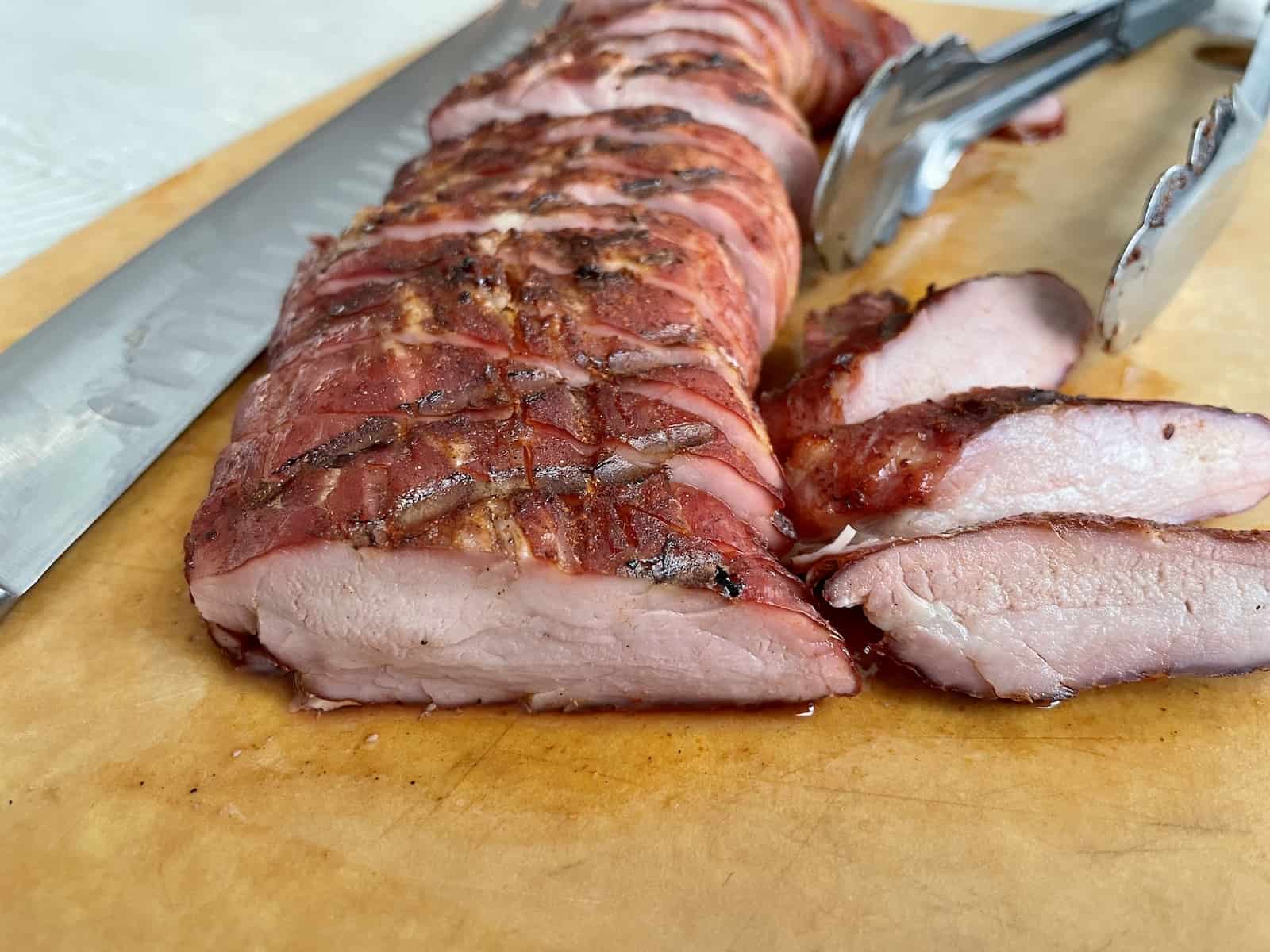 Finally, The end result will leave you with a tender, juicy, and super flavorful cut of meat. It is just such an easy recipe, I can't recommend it enough if you need a new delicious weeknight dinner.
How can I use leftover smoked pork tenderloin?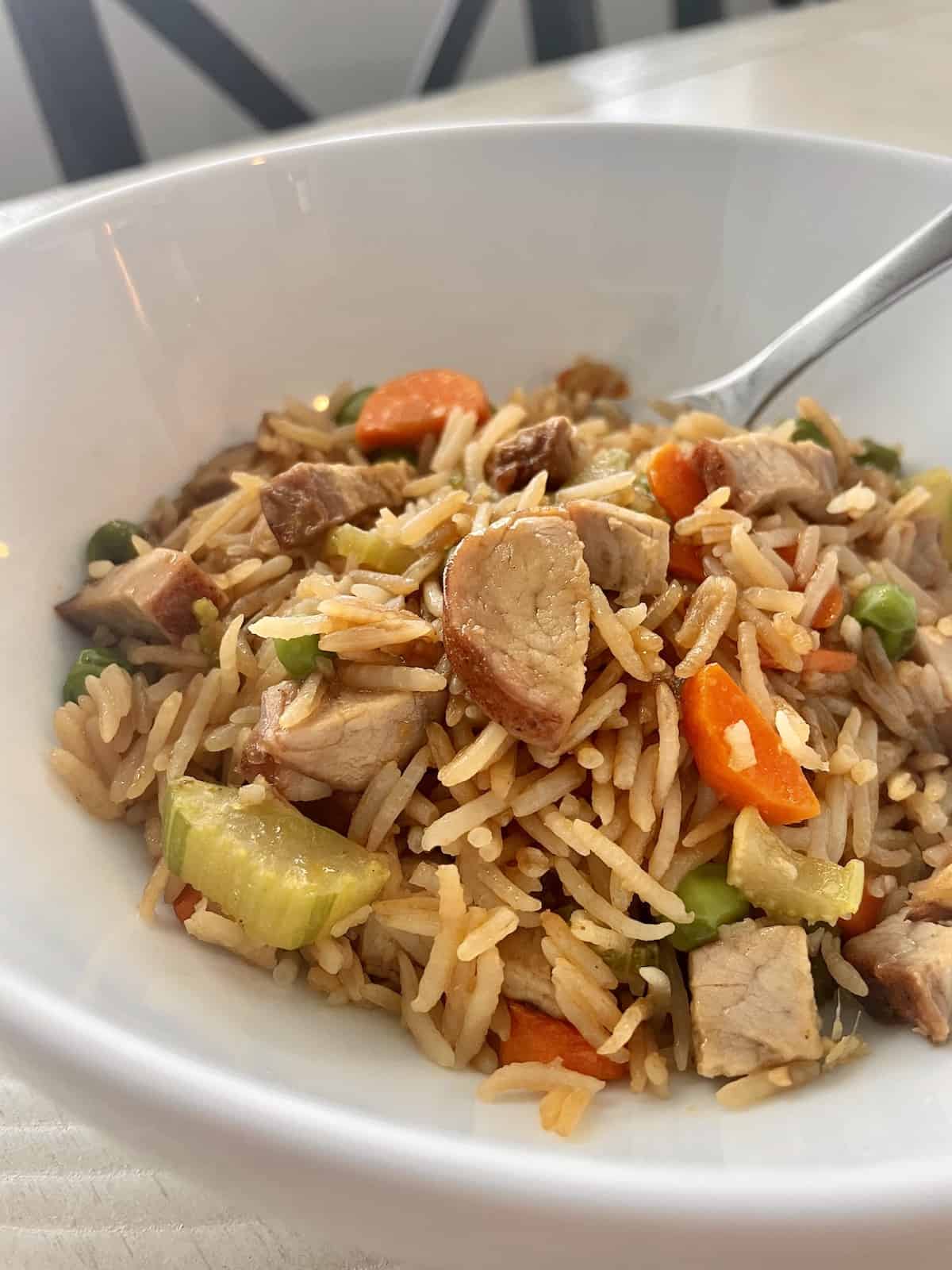 I am so happy you asked! The very pork tenderloin pictured above was used to make two servings of bbq pork fried rice.
To make the rice, just dice up veggies that you have on hand such as carrots, celery, onion, garlic, frozen peas. Saute the veggies in a pan with a vegetable and sesame oil.
Lastly, fold in cooked white rice and leftover diced bbq pork tenderloin. Finish with soy sauce and enjoy!
Recommended Side Dishes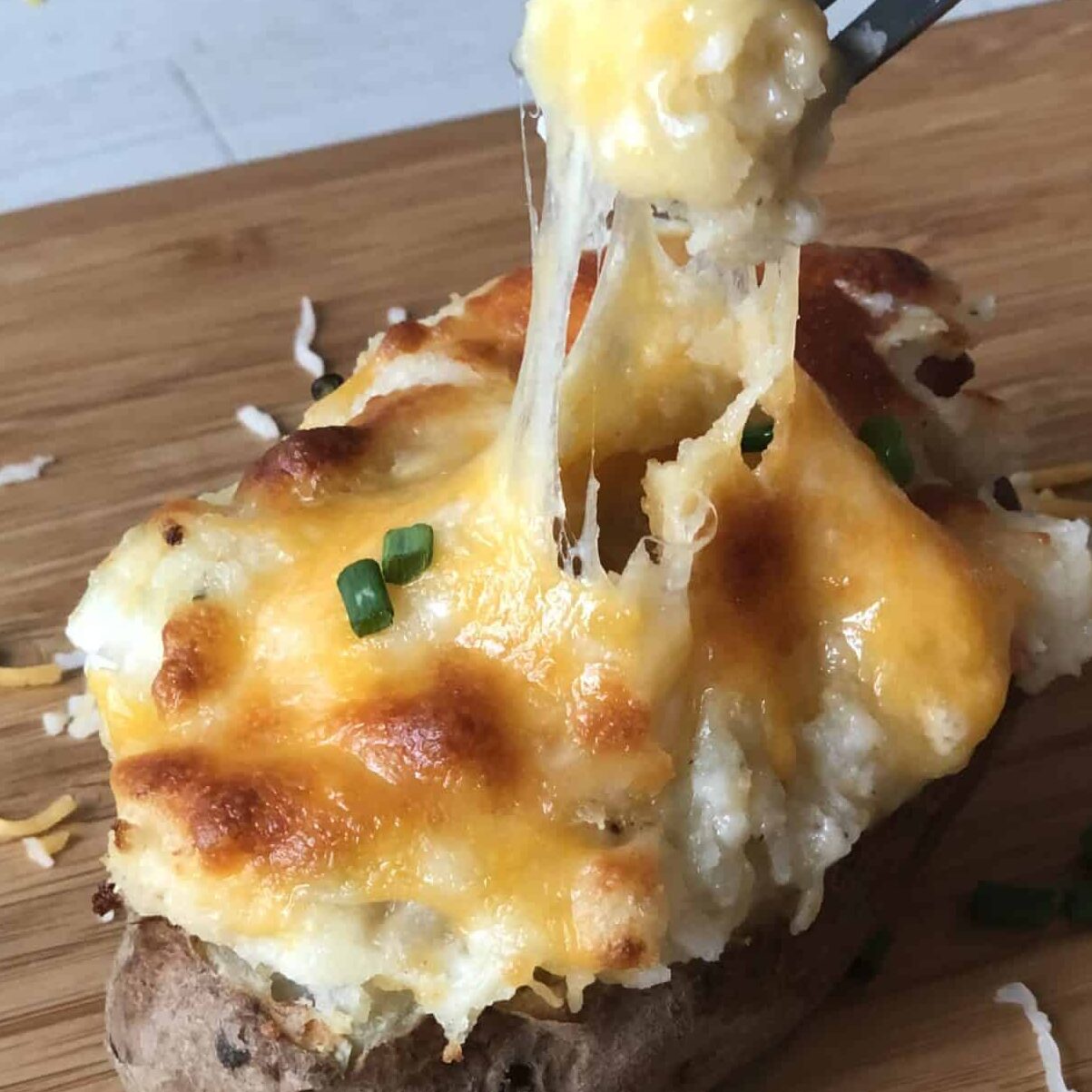 More Traeger Recipes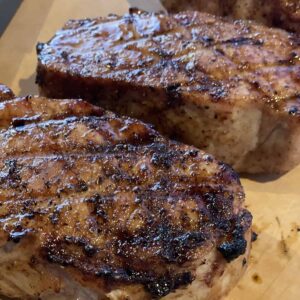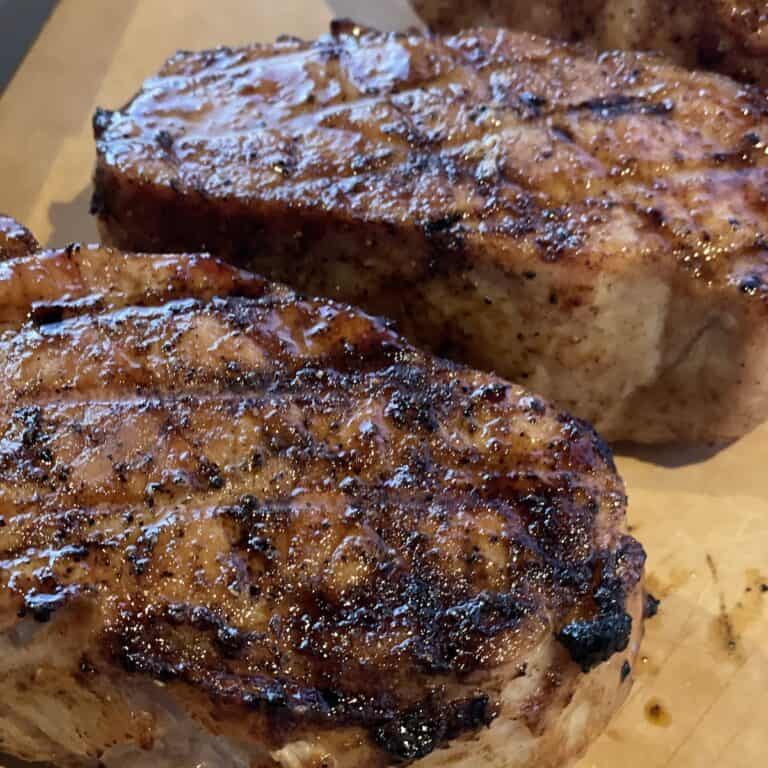 If you liked the recipe from the printable recipe card above, I really encourage you to try my Bourbon Glazed Pork Chops. They are brined over night which infuses great seasoning and helps maintain moisture in such a lean cut of pork. After grilling on the Traeger, you finish it off with a brown sugar bourbon glaze. The flavors are so good together and it not a complicated recipe at all.