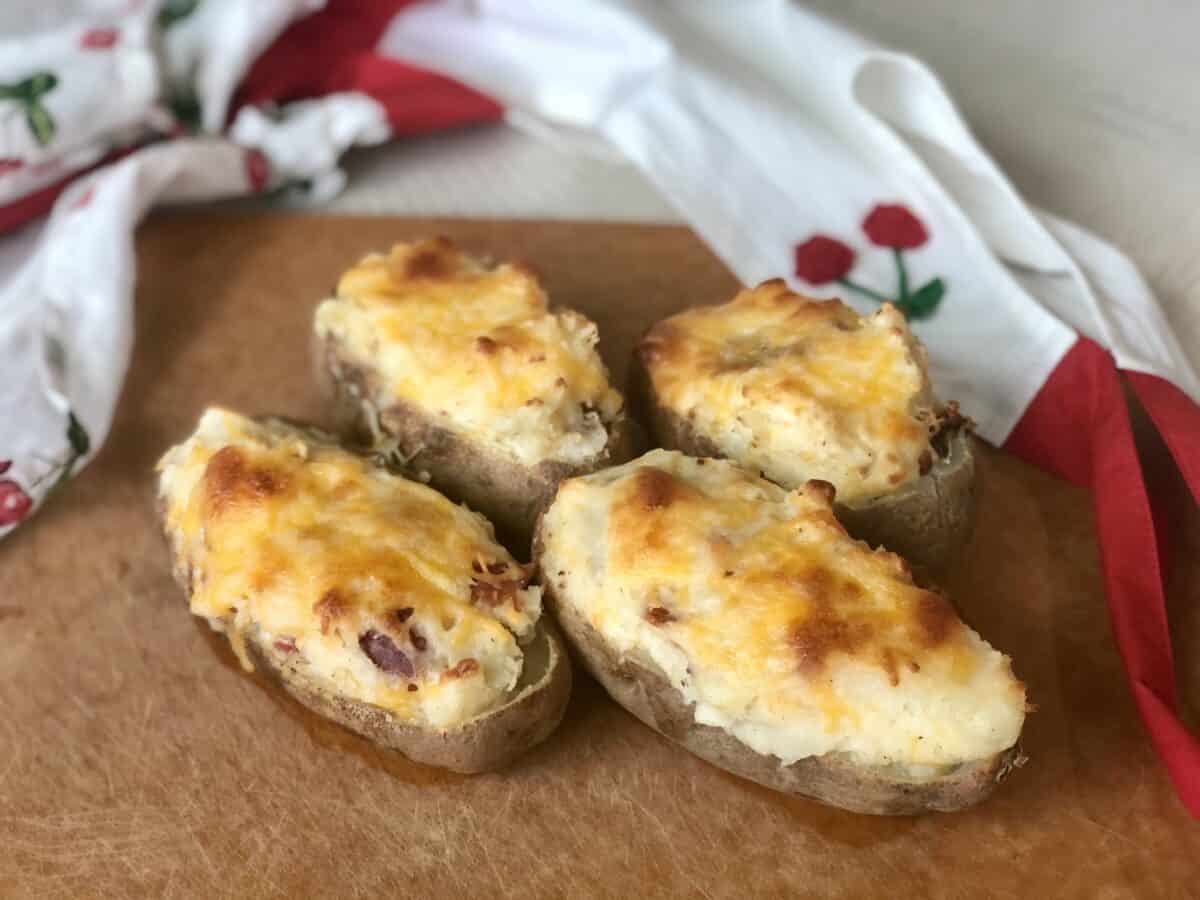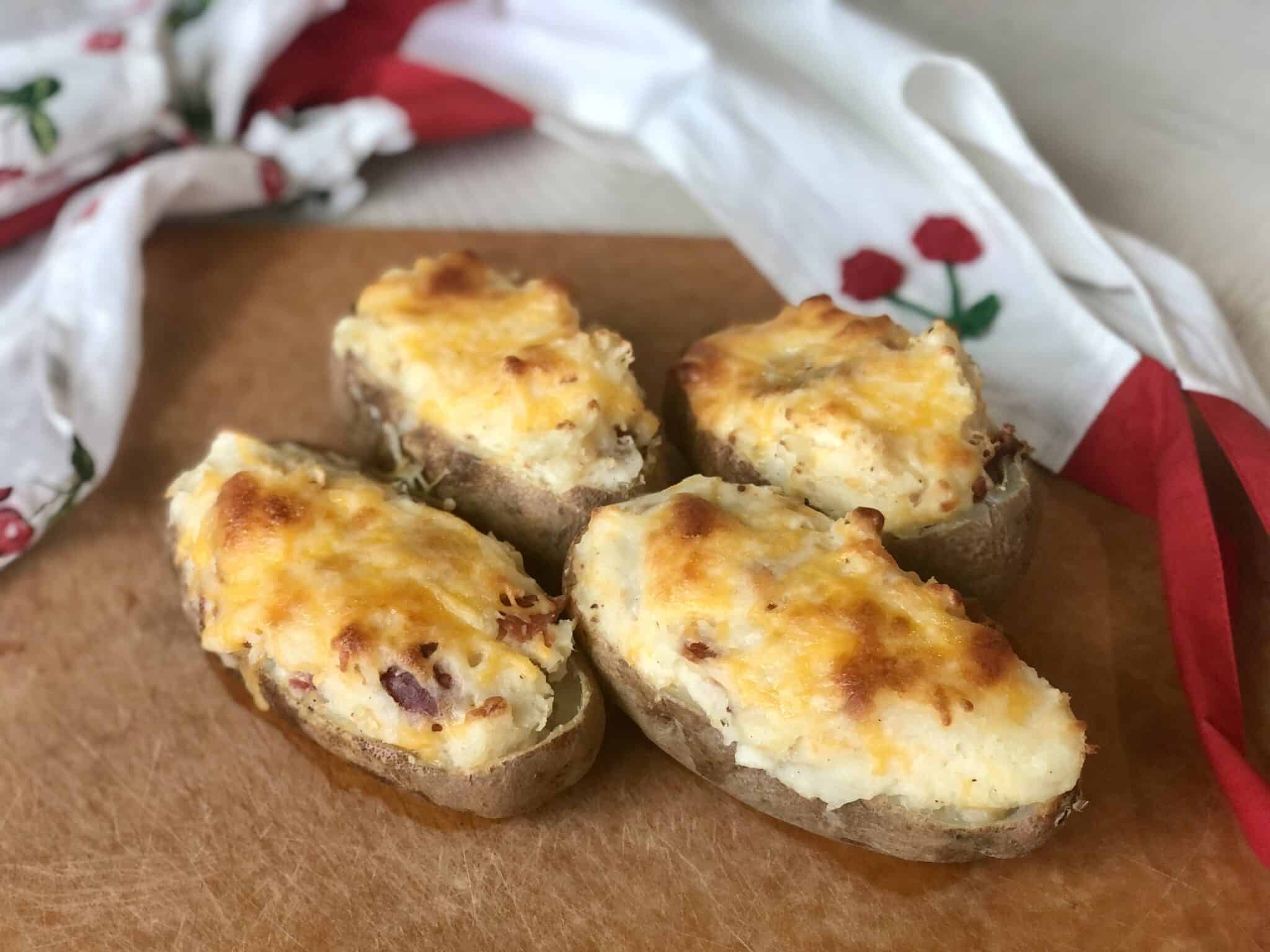 I like a lot of easy sides. These easy twice baked potatoes are one of them. Aside from the simple ingredients and low maintenance assembly, my boys love them. Yes, both Jack and Cooper actually have a couple foods they can agree on.
The Process
This is gonna be quick, so keep up. The potatoes get washed really well and poked with a sharp knife a bunch times so they don't explode in the oven. I have exploded more than one potato in my life and its a pain to clean up. Not recommended.
We are going to bake the potatoes until they're fork tender. That means a fork easily penetrates the peel and the potato flesh inside is soft. After they have baked the first time and as soon as you can handle them, cut off the top, and scoop out the potato into a big bowl.
Twice Baked Potato Mix-Ins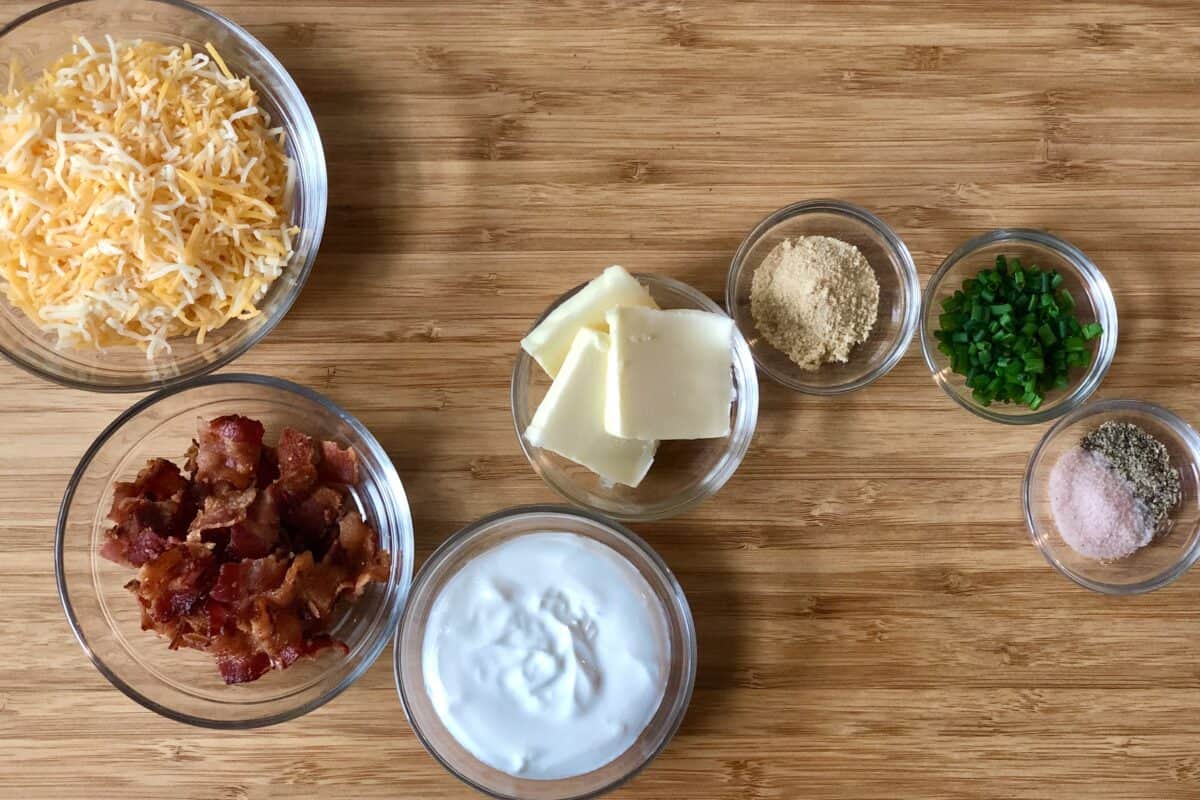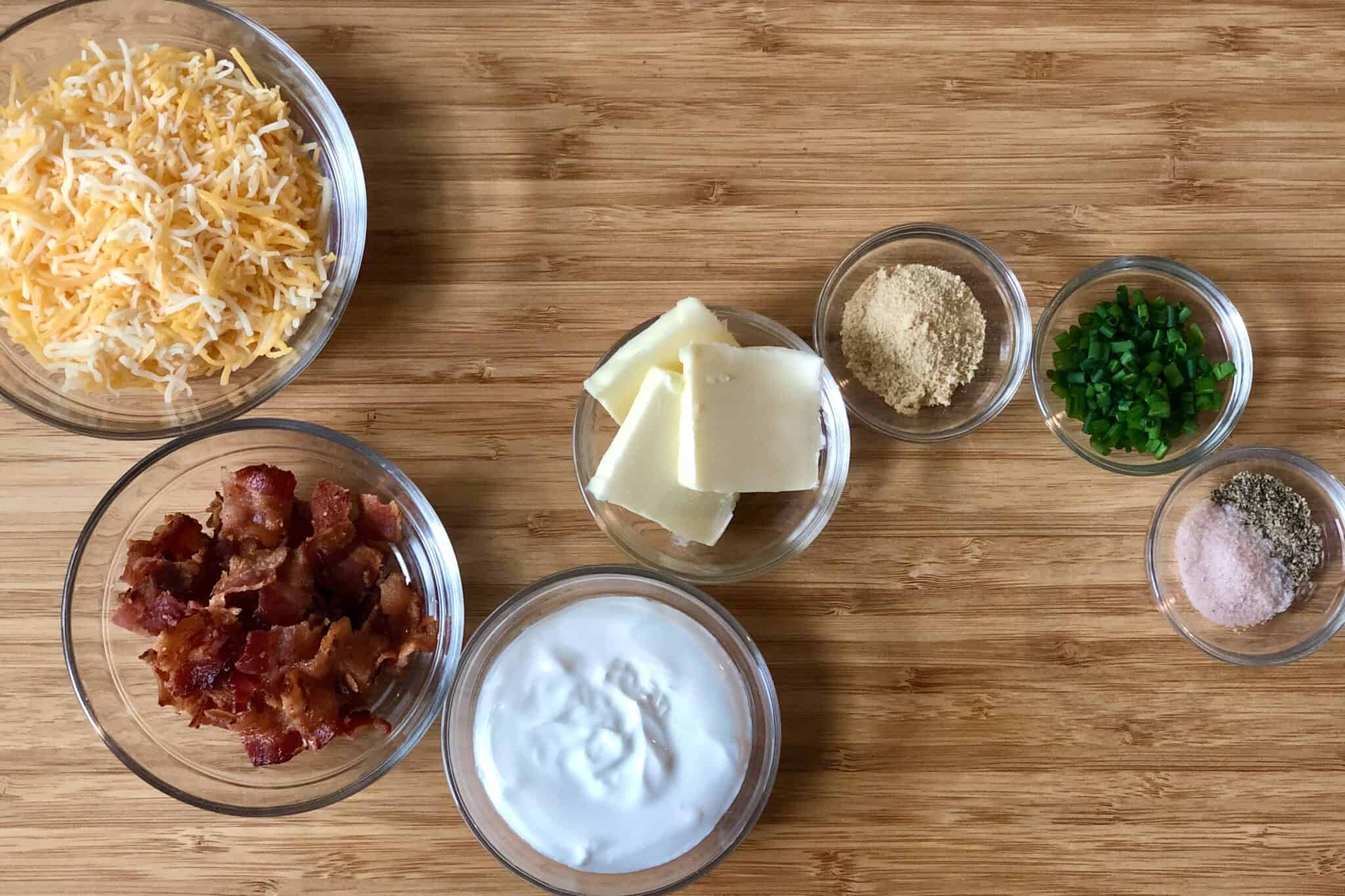 Now we are ready to add our mix-ins. Leave just enough potato flesh inside the peel so that the shell holds it's shape. Minor detail. I like to mix in all of the regular baked potato toppings. Bacon. Cheese. Sour cream. Maybe chives depending on how fancy I'm feeling. Some seasoning from salt, pepper, and a little onion powder brings it all together.
After they are sufficiently seasoned and loaded with more cheese on top, back into the oven they go. The melty cheese and perfectly crisp bacon jammed in that potato is simple perfection.
Make it step by step with my video and follow along.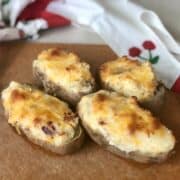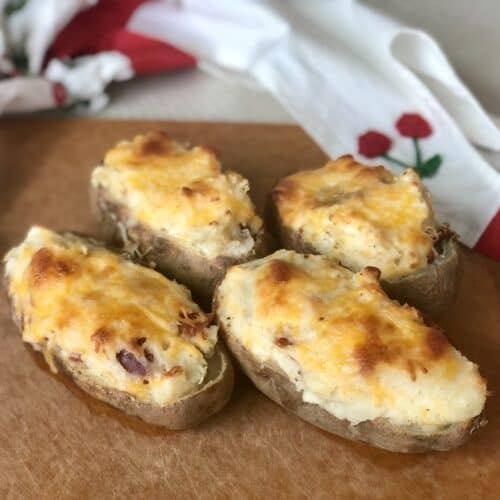 Print Recipe
Easy Twice Baked Potatoes
Cheesy and loaded with bacon, these potatoes are the perfect scratch made side dish and are so simple to make.
Ingredients
4

Russet potatoes

3

tablespoon

unsalted butter

⅓

cup

sour cream

1

cup

shredded cheese

4

slices

bacon cooked and crumbled

½

teaspoon

onion powder

½

teaspoon

salt

½

teaspoon

black pepper

1

tbsp

chives
Instructions
Preheat oven to 400F.

Wash potatoes. Place them on a baking sheet and poke each potato several times with a knife so they can let out steam while cooking.

Bake potatoes at 400F for one hour or until fork tender. Remove from oven and allow to cool off for a few minutes before handling.

Cook strips of bacon in a pan until crispy and cooked through. Let bacon cool on a plate lined with a paper towel. Once the bacon has cooled completely, break or slice bacon strips into crumbles.

Once the potatoes are cool enough to handle, cut off the top portion, about the top quarter, and scoop the potato into a large mixing bowl. Keeping the potato peel in tact, leave a small border of potato inside the peel so it holds its shape. Discard the peel from the top quarter. Set aside the potato shells to stuff later.

After all the potatoes have been have been scooped out, add salt, pepper, onion powder, and butter to the mixing bowl. Use a potato masher to mash all of the potato and butter together.

Add in the sour cream, ½ of the shredded cheese, bacon crumbles, and chives. Fold in to combine.

Fill each potato shell with the filling and pile it high.

Top each potato with the remaining cheese.

Return to the oven and bake for 15-20 minutes until the cheese on top has melted completely and slightly browned.
Nutrition
Calories:
410
kcal
|
Carbohydrates:
48
g
|
Protein:
16
g
|
Fat:
24
g
Perfect side for entertaining...
I like to make these when we have company for all the reasons…
I can prepare them ahead of time. Assembled twice baked potatoes can be stored in a covered container and refrigerated for two days before cooking,
Easy to serve. Grab and go.
They are in impossible to screw up. (pretty much)
What am I forgetting???
Oh, other optional add-ins:
Make the whole thing a meal and stuff them with cooked broccoli, diced ham, and lots of white cheddar. (Definitely recommend Costco sized potatoes and a longer cook time for this).
Go with caramelized onions or crispy shallots in brown butter with some swiss cheese to make a twice baked potato-french onion mash up.
You could do an au gratin version with just heavy cream, lots of cheese, salt and pepper.
I have a lot of ideas for this but haven't tested them out, but I'll be back with more easy twice baked potatoes recipes later.
Questions you may have:
Wrap them in foil? — No, not necessary. A somewhat crispy peel is desirable so the potatoes hold their shape.
Any subtitles for sour cream? — Yes, you can use heavy cream or cream cheese if youre out of sour cream.
What'd you think?
If you made this recipe, please leave a rating or send a comment. I always like to know how it goes for my people!