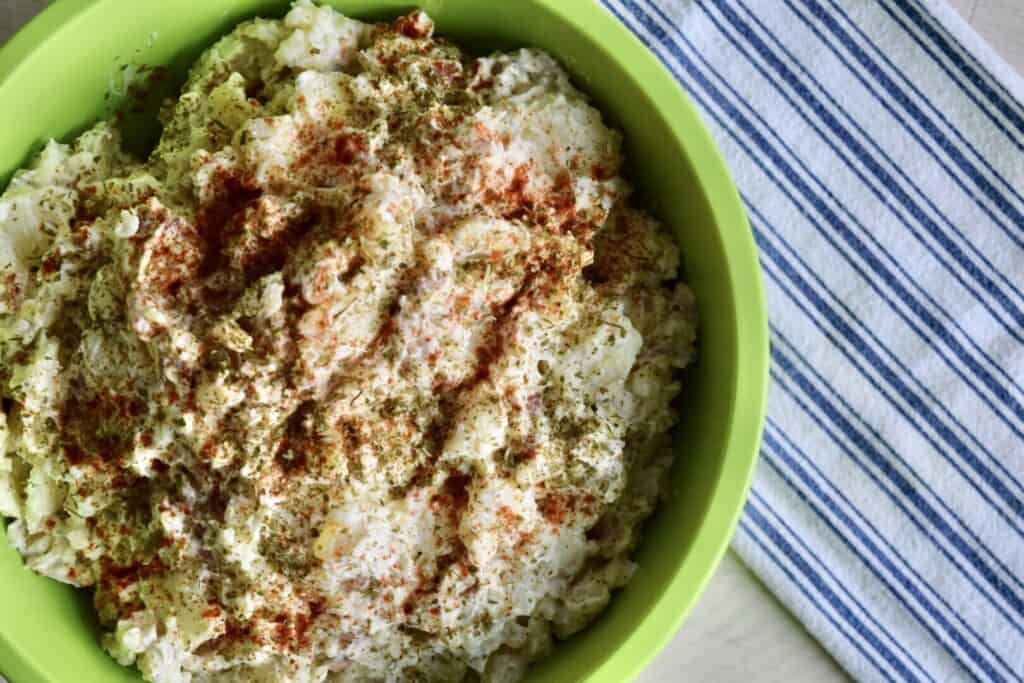 My mom didn't cook. She probably could have, but she didn't need to because my dad is a good cook and he enjoyed doing it. However, she did make 5 things: chocolate whipped cream cake, caesar salad, grilled peanut butter and jelly sandwiches, cheesy garlic bread, and potato salad. Quite the culinary hodge-podge, I know.
Anyway, most families I know seem to have a potato salad recipe that they stand by, and I think* my mom got the recipe from my grandma who saved it from a newspaper a million years ago. That's how it became our family recipe and my mom LOVED making it for any occasion. It's a great dish to bring to an event because it can serve a crowd and it's great for parties or bbq's because 90% of the work is done the day before you plan to eat. I remember her being asked for her recipe and sharing it repeatedly. She thought she was really cool when email became a "thing" and when someone asked for the recipe she'd say, "oh sure, I'll email it to you!"
So, this dish is as near and dear to my heart as any food can be. It's not only a special reminder of who my mom was, but making this was a family effort. My brother and I peeled the potatoes after they cooked, my dad minced the onion and cooked the bacon, and my mom did everything else. My brother was also the taste tester, which is kind of funny, because it tasted exactly the same, every time, no matter what. But it was their thing.
Alright, enough back story. Let's do this thing.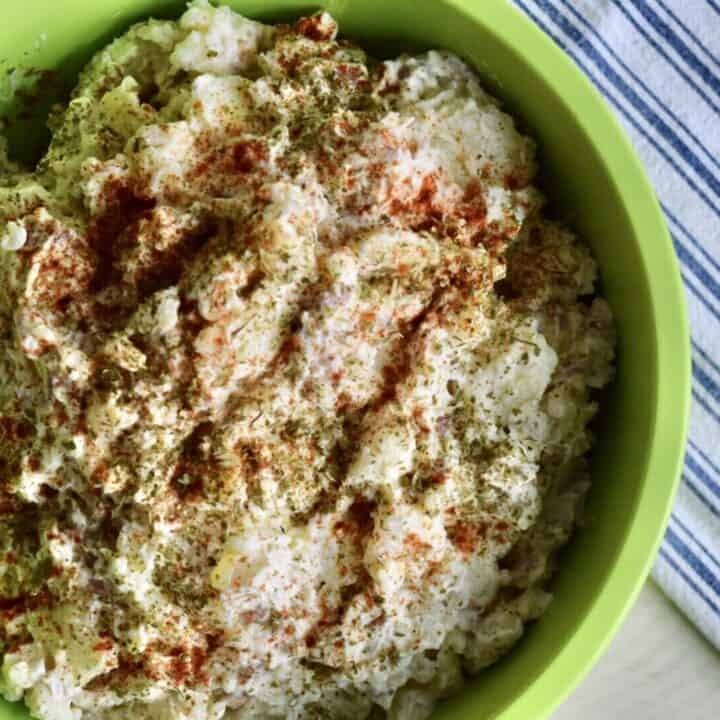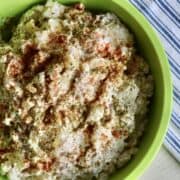 Print Recipe
Classic Potato Salad Recipe
Simple and delicious potato salad that goes with any picnic, BBQ, or party.
Equipment
1 Large Pot

1 large bowl

1 paring knife

1 spatula or spoon
Ingredients
3

lbs

russet potatoes

6

strips of bacon diced

⅓

cup

medium red onion minced

2

tablespoon

dill pickle relish

1

tbs

apple cider vinegar

1

teaspoon

celery seed

1

tbs

dried parsley

1 ¾

cup

of mayo

salt

paprika to garnish if you're feeling fancy
Instructions
Put 3 lbs of russet potatoes in a large pot and cover with cold water. Do not peel the potatoes ahead of time. Boil potatoes until they are fork tender. Drain and put on counter to cool for a few minutes.

While the potatoes are boiling, cook diced bacon and set aside.

Mince your onion and pour 1 tbs of cooked back fat over the onion. This will soften it slightly and take the edge off. It's important.

Get out a large mixing bowl. Once the potatoes have cooled just enough to handle peel, slice, and lightly salt the potatoes into your bowl. The potatoes will not be uniform in shape.

After all the potatoes are peeled and sliced, add in the bacon, onions, apple cider vinegar, pickle relish, celery seed, and parsley. Fold together and cover with plastic wrap. Put in the fridge overnight.

The next day, before serving, stir in mayo. Start with 1 ½ cups and add more if needed. Once it looks right, transfer it to a clean serving bowl. Sprinkle with a little paprika and more dried parsley.

This goes great with anything. I like it with ribs. Multiply the recipe out if you're making 5 or 10 pounds of potatoes to feed a bigger group.