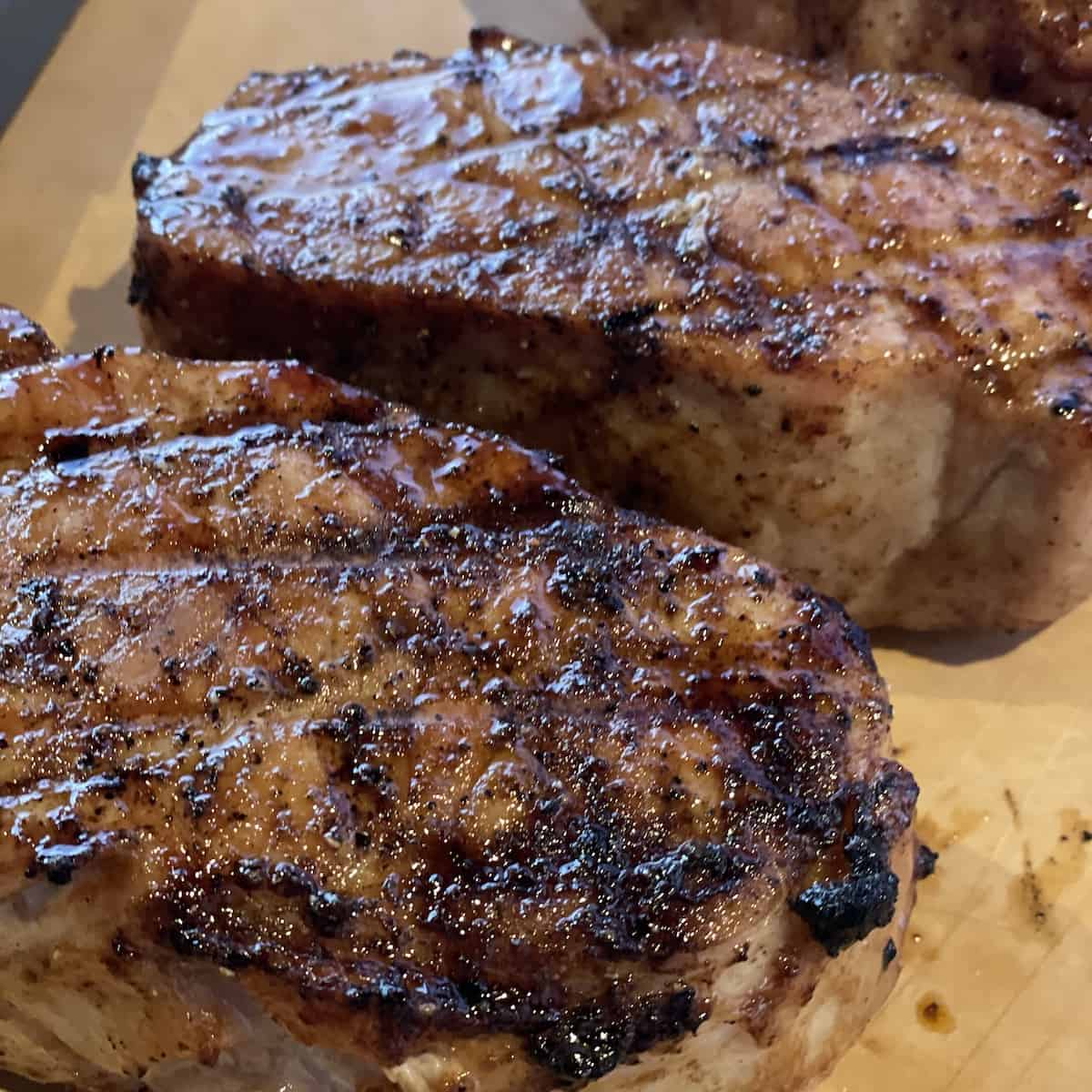 Mix up your meat routine with these easy and delicious pork chops.
These bourbon glazed pork chops are brined to infuse flavor and moisture. We finish them off with a sticky brown sugar and bourbon sauce. This is a simple and easy recipe to pull off. Approved for novice cooks. We'll be eating perfectly seasoned and well cooked pork chops tonight with a delicious, sticky, brown sugar and bourbon glaze.
This blog post contains affiliate links. As an Amazon Associate I may earn income from qualifying purchases.
Bourbon Glazed Pork Chop Recipe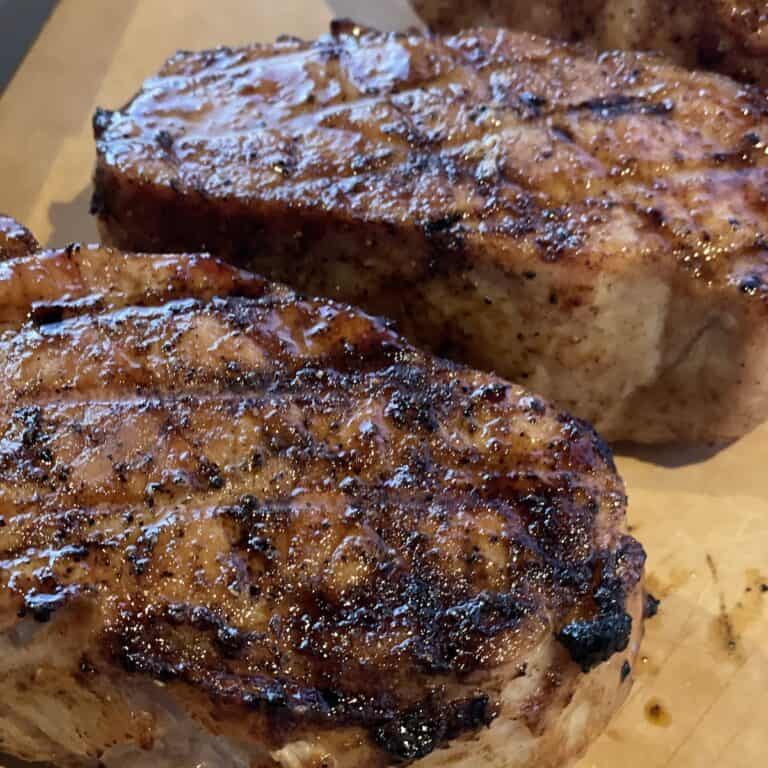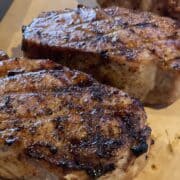 Print Recipe
Bourbon Glazed Pork Chops
Tender and juicy pork chops cooked to perfection and finished with a brown sugar and bourbon glaze.
Equipment
1 small sauce pan

1 large food storage container with lid or ziplock bag to brine in
Ingredients
Brine
2

boneless pork chops

2

cups

water

¼

cup

salt

¼

cup

granulated sugar

1

bay leaf

1

tablespoon

peppercorns
Pork Chop
2

teaspoon

vegetable oil

1

teaspoon

smoked paprika
Bourbon Glaze
½

cup

brown sugar

½

cup

bourbon

*see note below

1

tablespoon

soy sauce

½

teaspoon

granulated garlic

½

teaspoon

freshly ground black pepper

2

tablespoon

butter
Instructions
Brining the Pork Chop
In a medium pot, combine all of the brine ingredients: water, salt, sugar, bay leaf, and peppercorns. Heat on medium high until the mixture boils. Stir the brine and remove from heat to cool completely.

Once the brine has cooled, pour it into a large food storage container or gallon sized zip top bag. Add pork chops and seal the container.

Refrigerate the pork chops in the brine for 24 hours.
Grilling the Pork Chops and Make the Bourbon Glaze
Remove the pork chops from the brine and pat dry.

Drizzle each pork chop with vegetable oil and paprika.

While the grill preheats, make the sauce. In a small sauce pan or pot, combine the ½ cup of bourbon and ½ cup of brown sugar. Turn the burner on to medium-high heat and bring the mixture to a boil. Cook for 2-3 minutes.

Lower the heat to medium-low and maintain a low bubble. Add the soy sauce, granulated garlic, and black pepper.

Cook the sauce and let it reduce for 10-15 minutes. Add 2 tablespoon of butter and remove from heat.

Once the grill has preheated to 425F, add the pork chops and close the lid. Flip the pork chops at 15 minutes. Cook for a total of 25-30 minutes or until the pork chops reach an internal temperature of 140F.

After flipping the pork chops, spoon or brush the bourbon glaze on all sides. Do this 2-3 times while the pork chops cook for a well coated pork chop.

Save the remaining bourbon glaze for serving.
Did you make this recipe? Tag me on Instagram @fancy_apron 🙂 or leave a comment below.
How to Make a Brine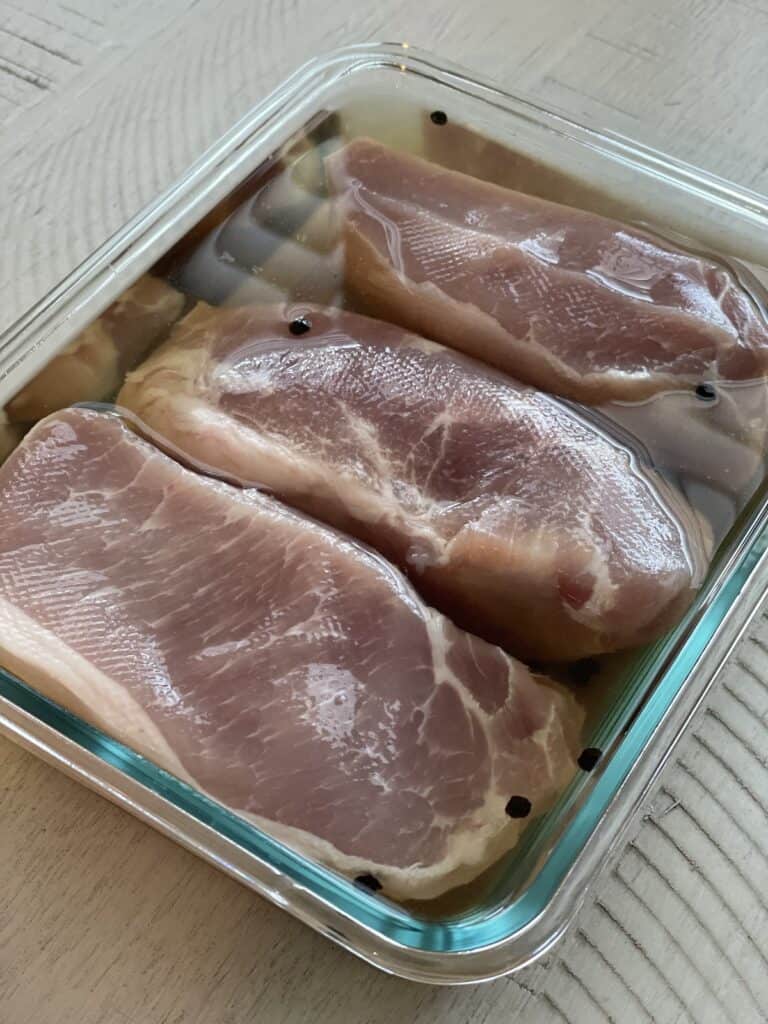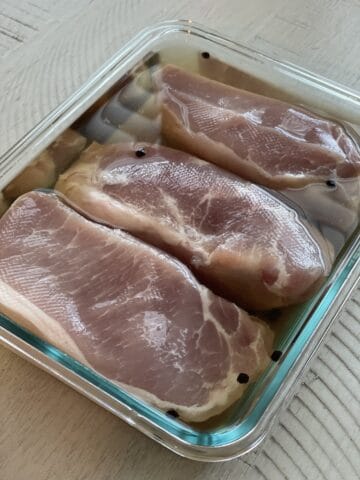 A brine is a solution consisting of water and salt. Some include extras and aromatics such as herbs, peppercorn, bay leaves, and more. In this recipe, we are keeping it simple because the grilled pork chops will be seasoned with smoked paprika and finished with that brown sugar and bourbon sauce. So for this recipe, we only need water, salt, sugar, bay leaves, and peppercorns.
The Bourbon and Brown Sugar Glaze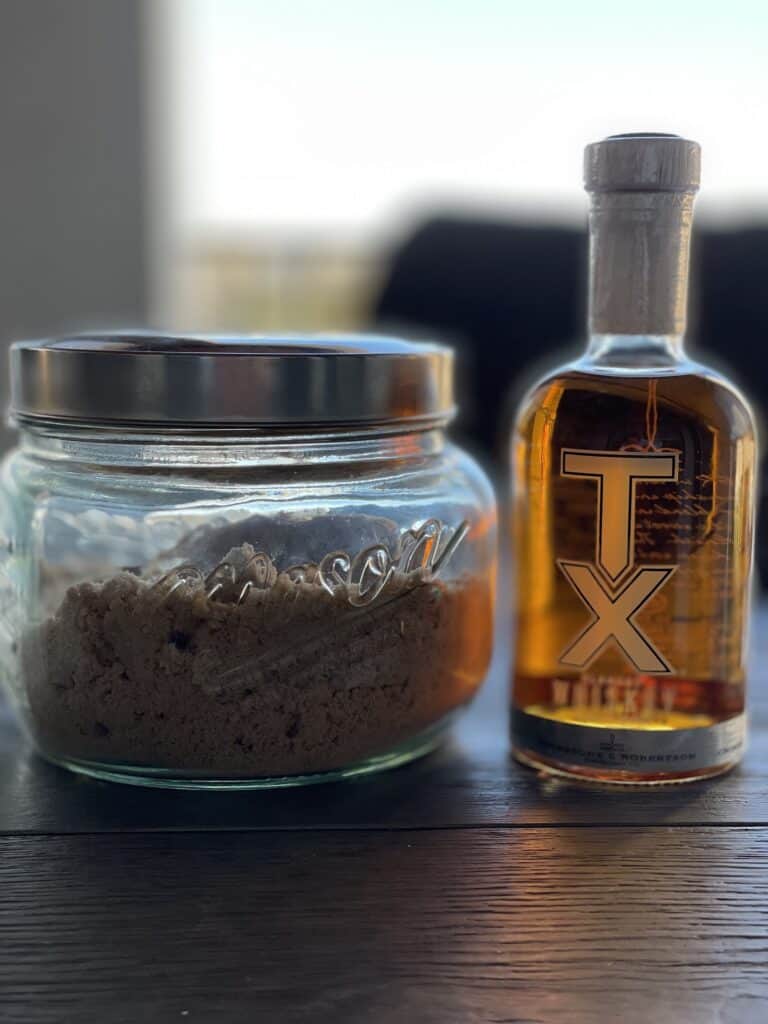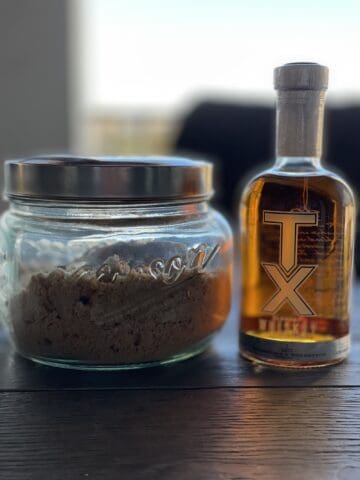 Bourbon and brown sugar are a winning combination. My only advice here is to pick a bourbon that falls on the sweeter side. TX is a good choice. They have a variety of flavors, but any should do. Pick one that is good to drink, but not so expensive that its a waste to cook with it. We only need half of a cup.
As the sauce cooks and reduces, it will tighten up and be a little sticky. Finishing the pork chops with the glaze gives them a wonderful sticky coating that won't slip off. And voila- bourbon glazed pork chop perfection.
Bourbon Glazed Pork Chops on the Traeger
I make these pork chops on my Traeger. Here is my shameless plug and amazon affiliate link in case you are in the market for a Traeger Grill and don't shop at Costco. And some wood pellets if you don't have those either.
Seriously though, I like cooking these pork chops on the Traeger because they are so thick. If we were going to cook pork chops on the stove, they would still need to finish in the oven. That makes it more likely they will be overcooked. We don't want that. On the grill with the lid down is a guaranteed way to achieve moist and tender pork chops.
Recommended Side Dishes