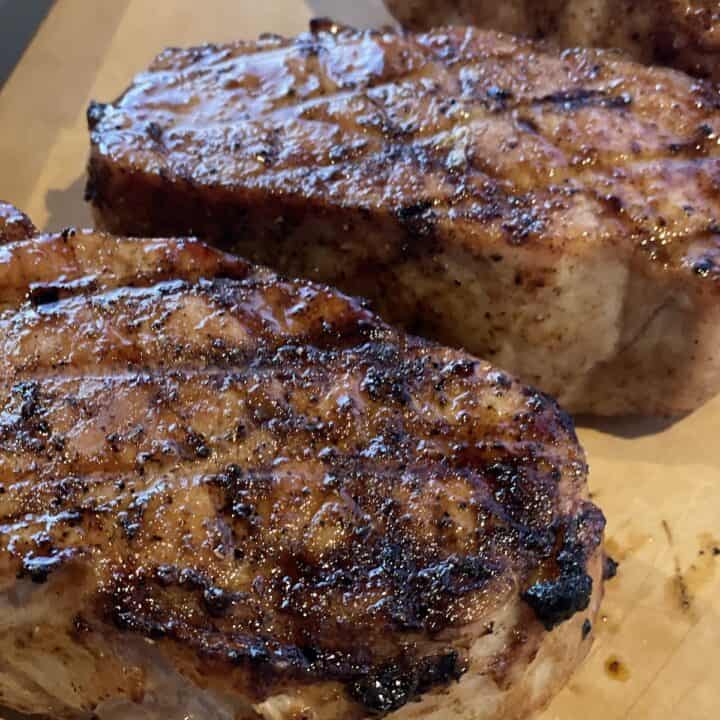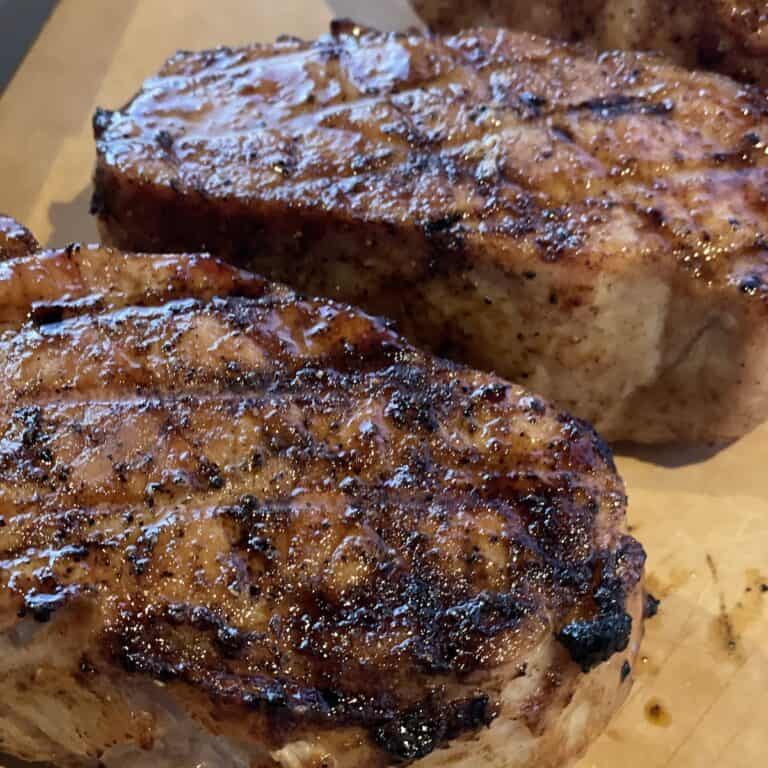 Mix up your meat routine with these easy and delicious bourbon glazed pork chops.
These chops are brined to infuse flavor and moisture. We finish them off with a sticky brown sugar and bourbon sauce. This is a simple and easy recipe to pull off, especially for busy weeknights. Approved for novice cooks. We'll be eating perfectly seasoned and well cooked pork chops tonight with a delicious, sticky, brown sugar and bourbon glaze.
This blog post contains affiliate links. As an Amazon Associate I may earn income from qualifying purchases. Thanks for the support.
How to make delicious and juicy pork chops
There are two key components to making juicy pork cops: they need to be brined to control their moisture and they need to be cooked to an internal temperature of 145˚F. I prefer thick cut boneless pork chops, but if you like a good bone-in pork chop by all means cook that. It's a personal preference and won't change the recipe at all. Thin pork chops tend to become more dry which is why I like a nice thick chop.
How to make a brine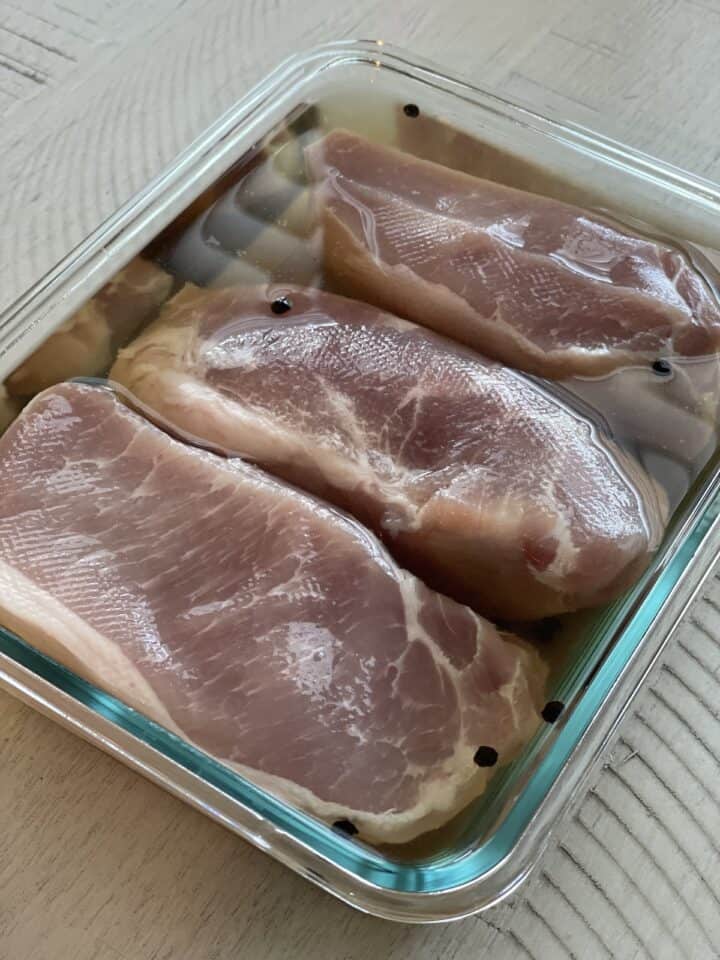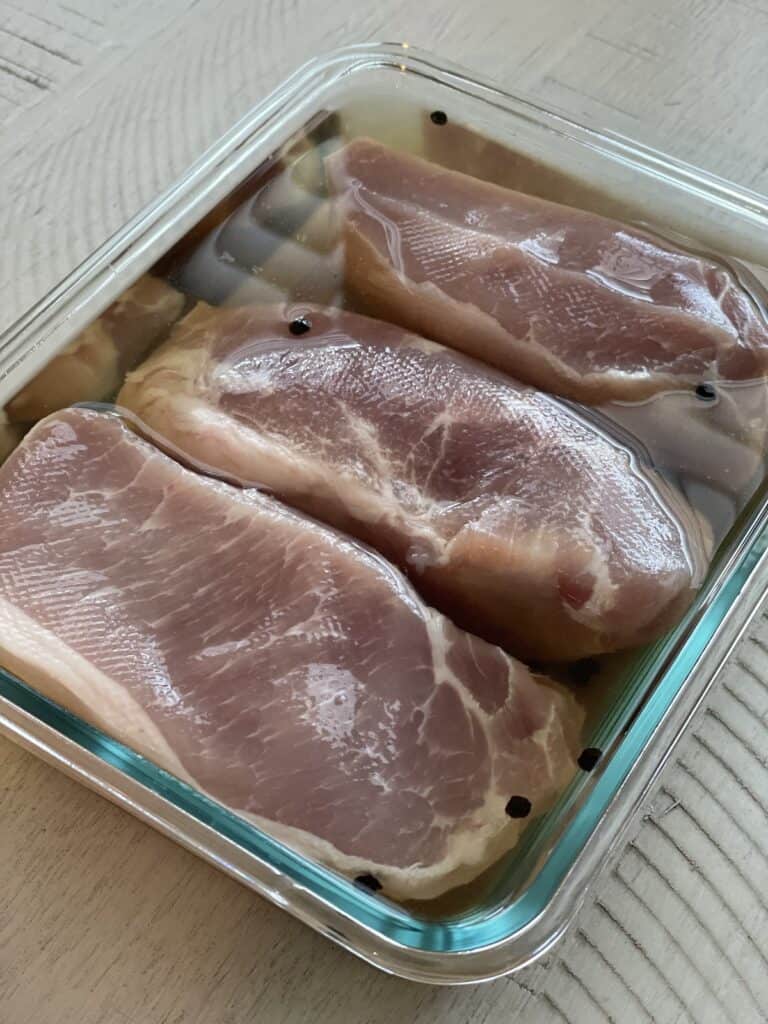 A brine is a solution consisting of water and salt. Some include extras and aromatics such as herbs, peppercorn, bay leaves, and more. In this recipe, we are keeping it simple because the grilled pork chops will be seasoned with smoked paprika and finished with that brown sugar and bourbon sauce. So for this recipe, we only need water, salt, sugar, bay leaves, and peppercorns.
Brine ingredients:
2 cups water
¼ cup salt
¼ cup granulated sugar
1 bay leaf
1 tablespoon peppercorns
To make a brine, place a medium sauce pan over medium-high heat. Combine all of the brine ingredients and bring the mixture up to a boil. Allow the mixture to cook for 2 minutes until the salt and sugar have dissolved. Turn off the heat and allow the brine to cool completely before adding the pork chops.
Once the brine has cooled completely, transfer the liquid to an airtight container and add the pork chops. I find that a shallow dish with a lid or zip top bag work best so that the pork chops are submerged in the brine with a lot of extra air space.
How to make the most amazing bourbon glaze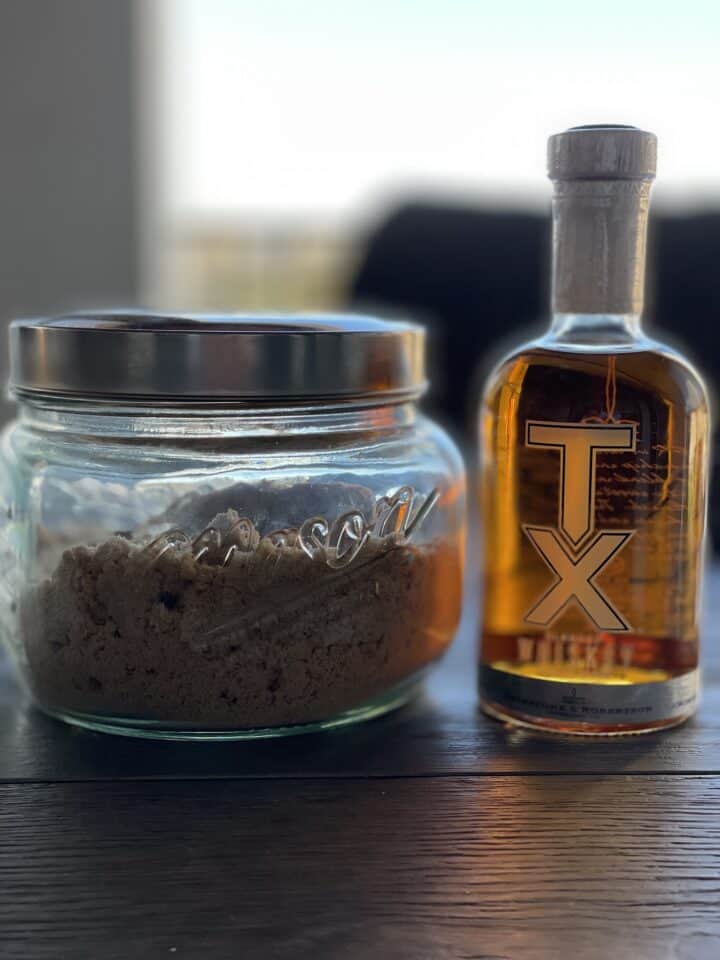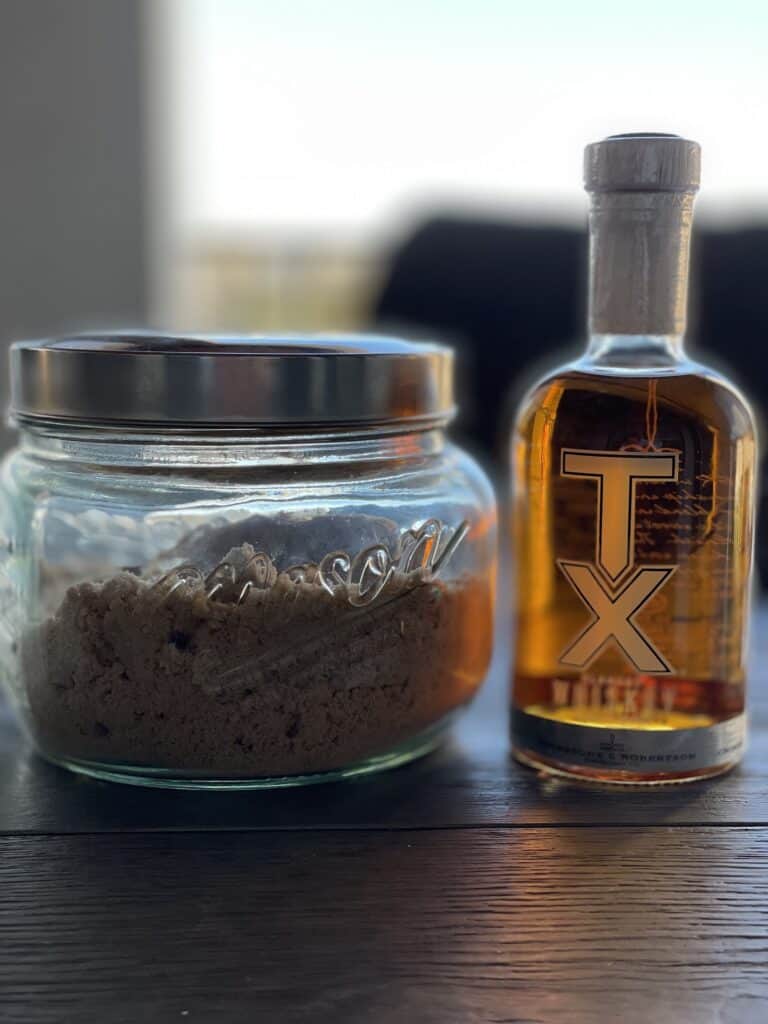 Bourbon and brown sugar are a winning combination. My best advice here is to pick a bourbon that falls on the sweeter side, but whatever you have open is a good choice. This time I'm, using TX bourbon. They have a variety of flavors, but any should do. Pick one that is good to drink, but not so expensive that its a waste to cook with it. For this recipe, we only need one half cup bourbon.
The other ingredients for the glaze include: soy sauce, granulated garlic or garlic powder, black pepper, and butter for finishing the sauce.
As the sauce cooks and reduces, it will tighten up and be a little sticky. Finishing the pork chops with the glaze gives them a wonderful sticky coating that won't slip off. And voila- bourbon glazed pork chop perfection.
Starting with a small saucepan over medium high heat, add the bourbon and brown sugar. Bring the mixture up to a boil and cook for 2 minutes until the alcohol scent has burned off. Reduce to medium low heat and add the rest of the ingredients. Cook the glaze for about 10 minutes. It will reduce and become the consistency of maple syrup.
What is the best way to cook bourbon glazed pork chops
I make these pork chops on my Traeger. Grilling pork chops on a Traeger is perfect because of the consistent heat output and mild smoky flavor.
If we were going to cook pork chops on the stove, they would still need to finish in the oven. That makes it more likely they will be overcooked. We don't want that. On the grill with the lid down is a guaranteed way to achieve moist and tender pork chops.
Cooking the pork chops on a Traeger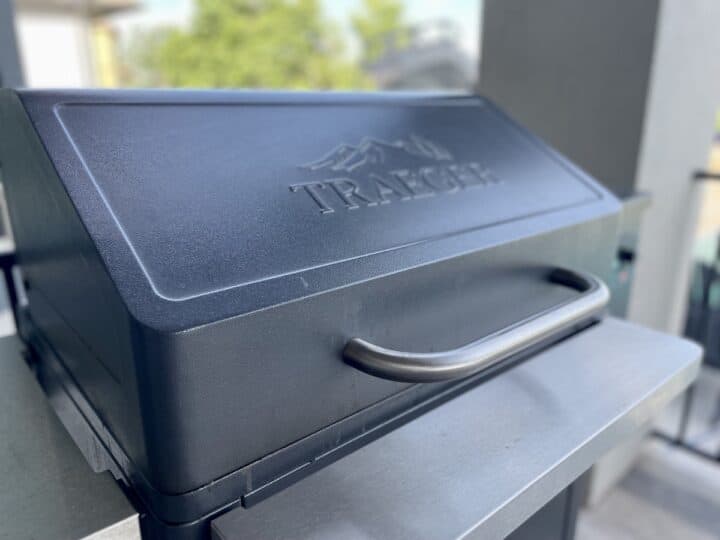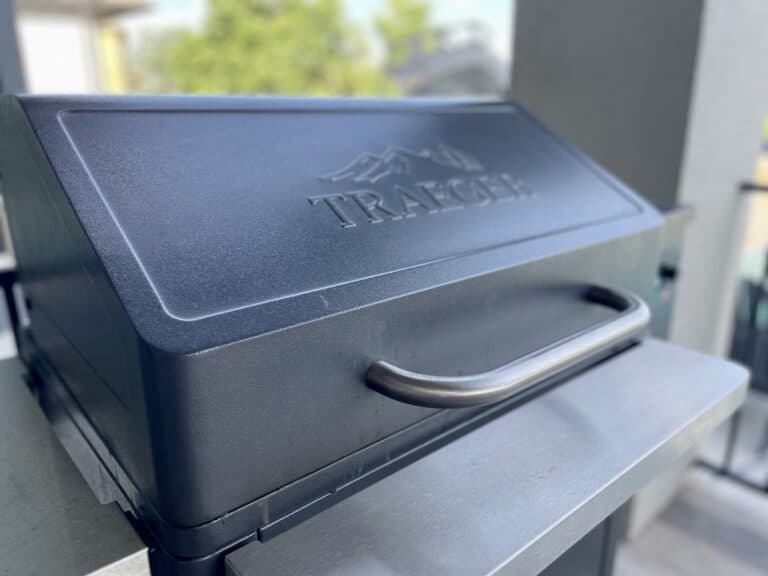 When you are ready to cook the pork chops, begin by preheating your grill to 425F. Remove the pork chops from the brine and pat them dry with paper towels. Next, drizzle the pork chops with a little olive oil and sprinkle with paprika. The smoky flavor of the paprika is perfect for the smoky flavor we get from the Traeger and the glaze.
Once the grill has reached 425F, place pork chops directly on the grill grates and close the grill lid. Cook the pork chops for 25-30 minutes total or until the internal temperature reads 140-145F on a meat thermometer. If you want the thermometer to notify you when the pork chop reaches 140F, use this wireless meat thermometer from Meater+.
Halfway through the cooking process and when you go to flip the chops, brush the bourbon glaze all over the pork chops. Make sure to get it on all sides of the pork chops. We do this halfway through the grilling time so that the sugar does not burn. The glaze will caramelize nicely and leave the pork chops with a delicious sticky coating.
After the cooking process is complete, remove the pork chops to a plate and let them rest for 5 minutes before cutting. Make sure to save the remaining glaze for drizzling over the pork chops after you slice them or serve with dinner as a dipping sauce.
Recipe Modifications
Other spices you can include: chili powder, cayenne for a spicy kick
Leave out the bourbon- you can add peach preserves or jam and make this a peach glaze instead which will be great on the pork chops
add more fresh herbs to the brine: garlic cloves, rosemary, and thyme are all great ways to up the flavor of the brine
Great Side Dishes for this Pork Chop Recipe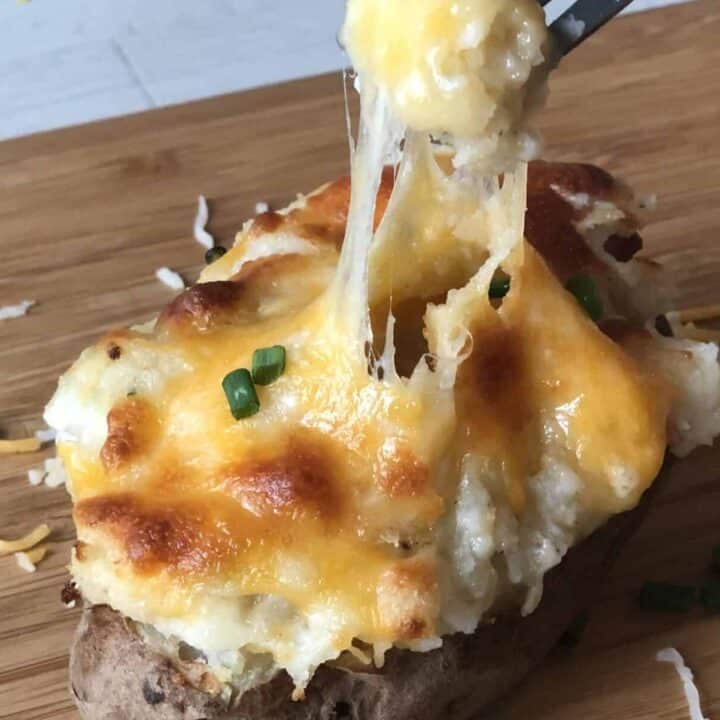 A delicious main dish like this needs a hearty side dish and you'll have the perfect dinner.
baked sweet potatoes
green salad with apple cider vinegar dressing
baked beans
macaroni and cheese
Bourbon-Glazed Pork Chops Recipe Card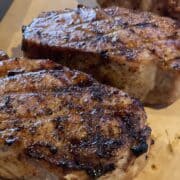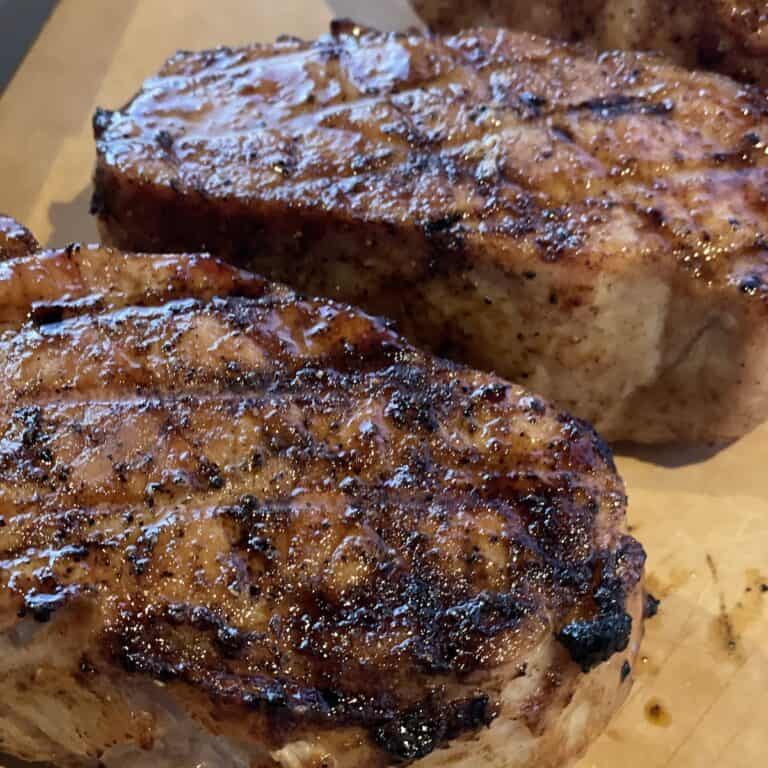 Print Recipe
Bourbon Glazed Pork Chops
Tender and juicy pork chops cooked to perfection and finished with a brown sugar and bourbon glaze.
Equipment
1 small sauce pan

1 large food storage container with lid or ziplock bag to brine in
Ingredients
Brine
2

boneless pork chops

2

cups

water

¼

cup

salt

¼

cup

granulated sugar

1

bay leaf

1

tablespoon

peppercorns
Pork Chop
2

teaspoon

vegetable oil

1

teaspoon

smoked paprika
Bourbon Glaze
½

cup

brown sugar

½

cup

bourbon

*see note below

1

tablespoon

soy sauce

½

teaspoon

granulated garlic

½

teaspoon

freshly ground black pepper

2

tablespoon

butter
Instructions
Brining the Pork Chop
In a medium pot, combine all of the brine ingredients: water, salt, sugar, bay leaf, and peppercorns. Heat on medium high until the mixture boils. Stir the brine and remove from heat to cool completely.

Once the brine has cooled, pour it into a large food storage container or gallon sized zip top bag. Add pork chops and seal the container.

Refrigerate the pork chops in the brine for 24 hours.
Grilling the Pork Chops and Make the Bourbon Glaze
Remove the pork chops from the brine and pat dry.

Drizzle each pork chop with vegetable oil and paprika.

While the grill preheats, make the sauce. In a small sauce pan or pot, combine the ½ cup of bourbon and ½ cup of brown sugar. Turn the burner on to medium-high heat and bring the mixture to a boil. Cook for 2-3 minutes.

Lower the heat to medium-low and maintain a low bubble. Add the soy sauce, granulated garlic, and black pepper.

Cook the sauce and let it reduce for 10-15 minutes. Add 2 tablespoon of butter and remove from heat.

Once the grill has preheated to 425F, add the pork chops and close the lid. Flip the pork chops at 15 minutes. Cook for a total of 25-30 minutes or until the pork chops reach an internal temperature of 140F.

After flipping the pork chops, spoon or brush the bourbon glaze on all sides. Do this 2-3 times while the pork chops cook for a well coated pork chop.

Save the remaining bourbon glaze for serving.
Nutrition
Calories:
624
kcal
|
Carbohydrates:
87
g
|
Protein:
2
g
|
Fat:
17
g
|
Saturated Fat:
2
g
|
Polyunsaturated Fat:
4
g
|
Monounsaturated Fat:
9
g
|
Trans Fat:
0.03
g
|
Sodium:
14688
mg
|
Potassium:
195
mg
|
Fiber:
2
g
|
Sugar:
79
g
|
Vitamin A:
523
IU
|
Vitamin C:
0.05
mg
|
Calcium:
89
mg
|
Iron:
2
mg
Did you make this recipe? Tag me on Instagram @fancy_apron 🙂 or leave a comment below.
More Popular Pork Recipes
My Traeger Pork Tenderloin is one of my most popular recipes. You can get the cook times and temperatures for an easy meal whether you want it cooked low and slow or high and fast.