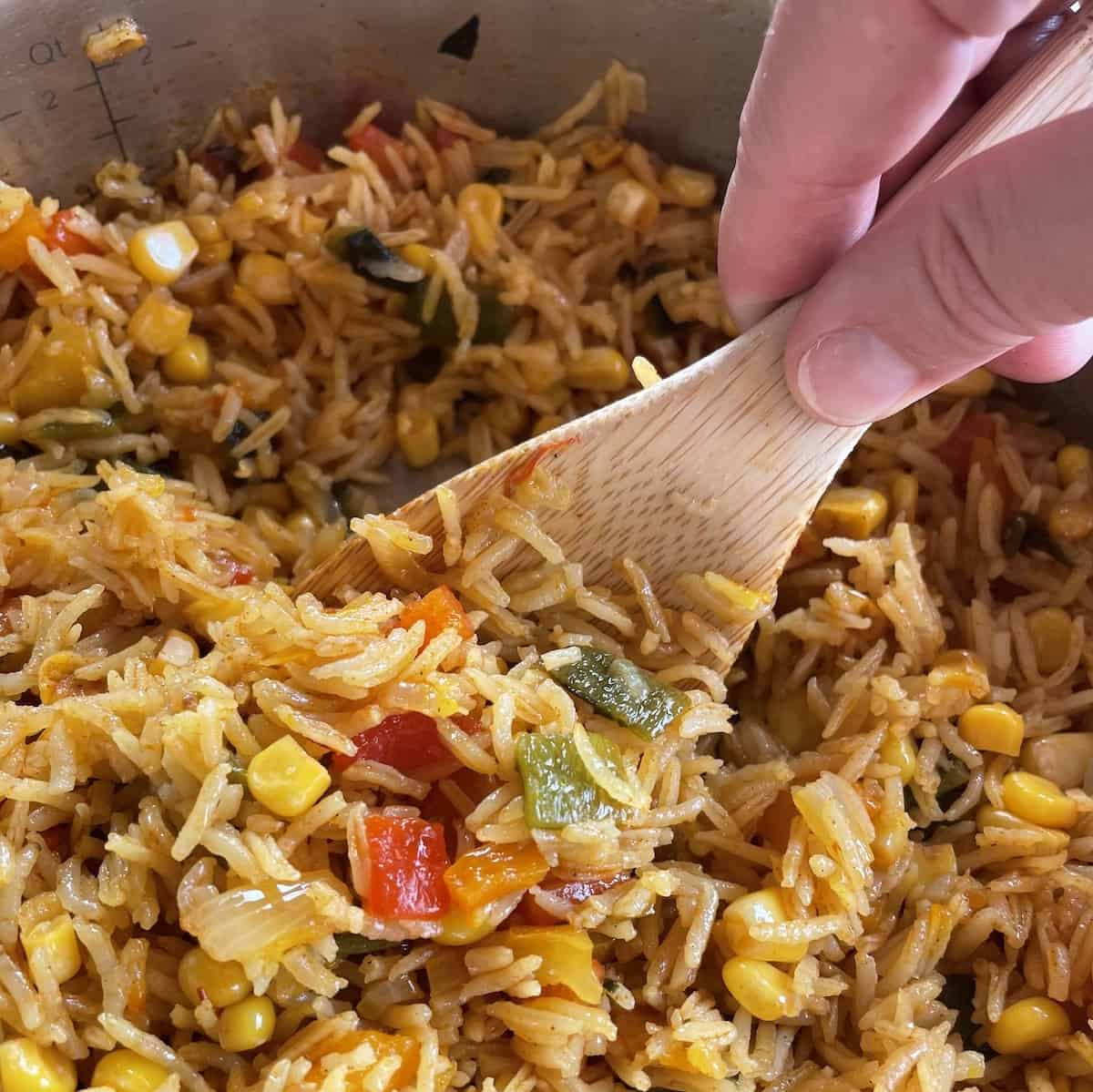 I can't remember when I started making this, but it's one of my truly original recipes. I think I was inspired by the flavor combination of spicy poblanos and sweet corn. That, along with my love of saffron rice, got me thinking about how to create a new side dish with lots of flavors.
Another reason this is one of my favorites, I love fried rice and anything that gets a starch and veggies in the same bowl. Bell pepper has loads of vitamin C and other healthy benefits! Pictured above is last nights tequila lime chicken with my fancy rice. This doesn't require a ton time, equipment, or effort. You know I like my forgiving recipes. If you can cook rice, you can make this.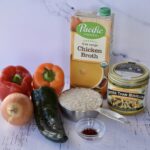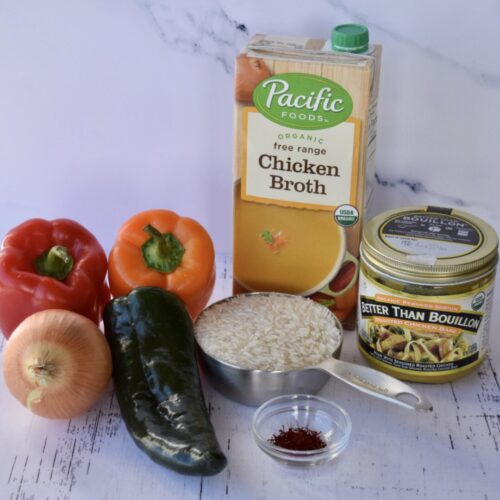 Print Recipe
Saffron and Roasted Pepper Rice
Flavorful saffron rice with onions, bell peppers, and poblanos.
Ingredients
1

cup

rice

2

cups

chicken stock/broth

1

medium onion

1

poblano pepper

1

red bell pepper

1

orange bell pepper

¾

cup

frozen corn

1

pinch

of saffron

1

tbs

butter or olive oil
Instructions
Heat up your preferred chicken stock or broth. For this recipe, it doesn't need to be homemade. The above options are my preferred brands of store bought stock: Organic Better Than Boullion or Pacific Chicken Broth. Add a pinch of saffron to the chicken broth as it heats so it can steep and release it's flavors.

Turn broiler on high. Place oven rack close to the top leaving enough room for the peppers to not touch fire/broiler coil. Place peppers on a sheet pan and broil for 3 minutes per side, turning after each side has charred. Set a timer so you don't forget and let the peppers burn. There is a fine line between perfectly charred and burned.

After the peppers have charred on all sides, remove to a bowl and cover with plastic wrap. Let stand for 15 minutes.

While the peppers are waiting, cook the rice according to package directions with saffron infused chicken broth.

After the peppers have rested, scrape off the blackened peels and discard. Remove stems and seeds. Dice peppers and onions.

In a large skillet, heat butter and sauté onions. After the onions have softened, add peppers and corn.

After the rice as cooked, add it to the pan and fold in veggies.
Notes
Enjoy in a bowl with grilled chicken marinaded in a ½ cup orange juice, 1 tbs lime juice, 1 tbs tequila, 1 teaspoon chili powder, and a 1 teaspoon salt.