*This post contains affiliate links. As an Amazon affiliate I may earn income from qualifying purchases.*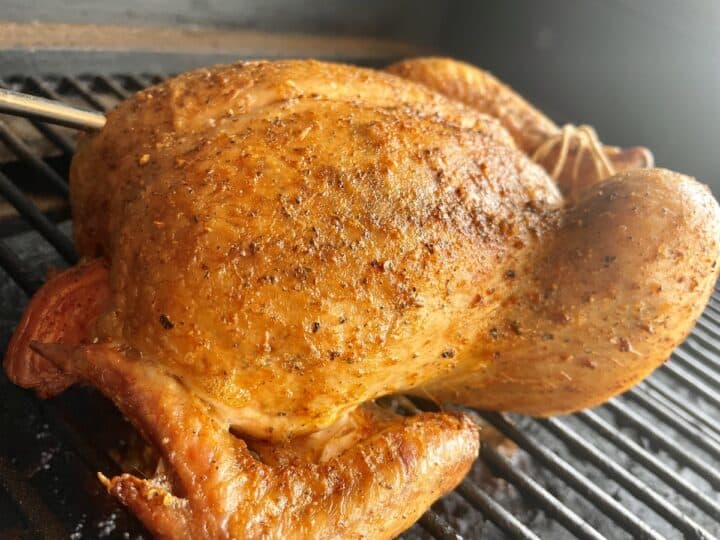 Smoking a whole chicken on the Traeger grill is a great way to get a tasty dinner on the table with minimal work. By cooking our chicken on a Traeger Pellet Grill, we can seal in tons of flavor and end up with a perfectly cooked juicy chicken. 
By dry bringing the chicken, we control the moisture in our bird and that means even cooking all of the way through. It's the preparation that counts, but I promise it's an easy recipe. Not much active time required.
Favorite Traeger Chicken Ingredients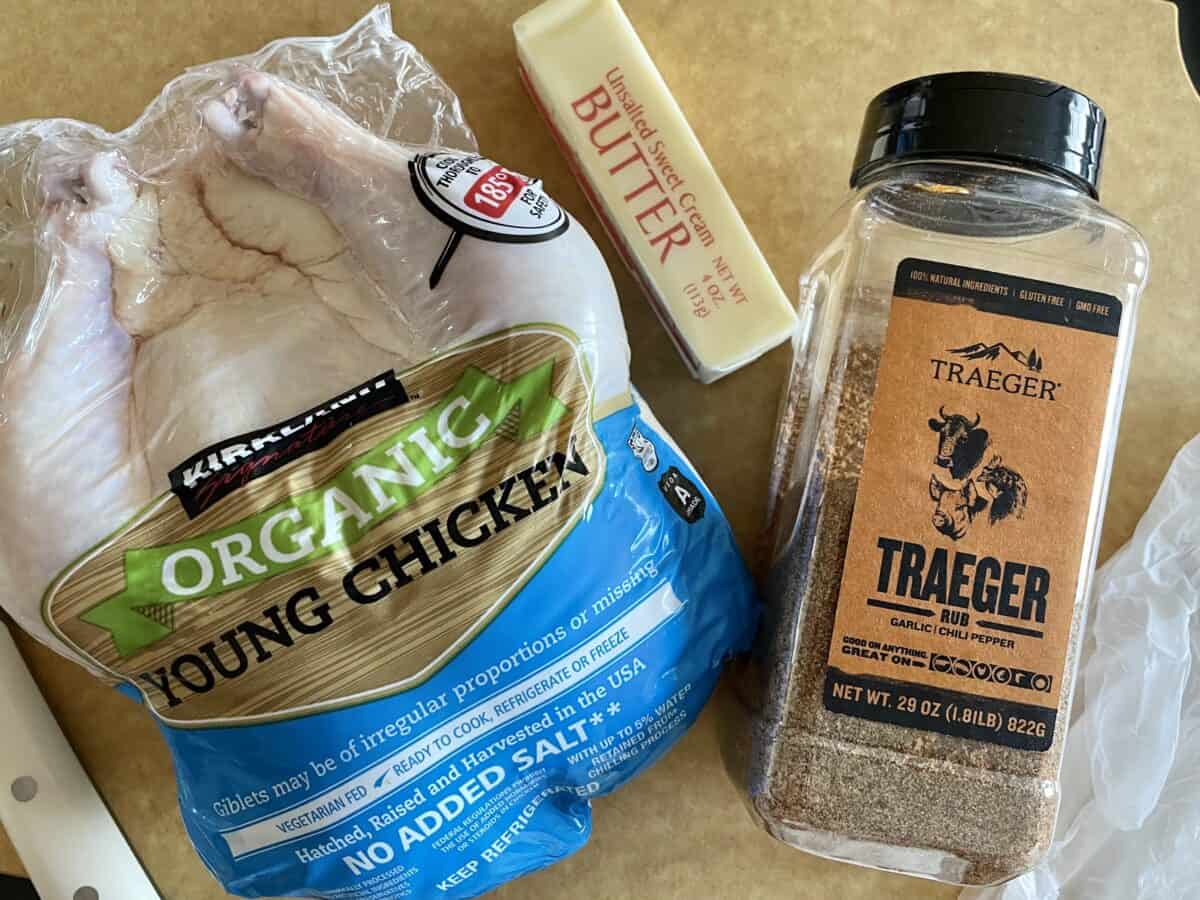 The ingredients couldn't be any easier. All we need is a whole chicken, a good spice blend or dry rub, and some butter. I love the flavor from Traeger Rub. It's versatile enough to use on beef, chicken, or pork. Often times, I will add some Traeger Rub to another spice mixture to turn up the flavor because I love it so much.
However, I have two other recommendations for the chicken rub. The Traeger Chicken Rub has a Citrus and Black Pepper rub that is just fantastic. I love the bright flavor from the citrus and the slight kick of heat from the black pepper. I like this one when I want a brighter tasting smoked whole chicken.
Lastly, if I was all out of my favorite rubs, I would make a small batch of my own. The basic spices include: salt, brown sugar, garlic powder, onion powder, smoked paprika, and black pepper.
The Supplies for Prepping a Whole Chicken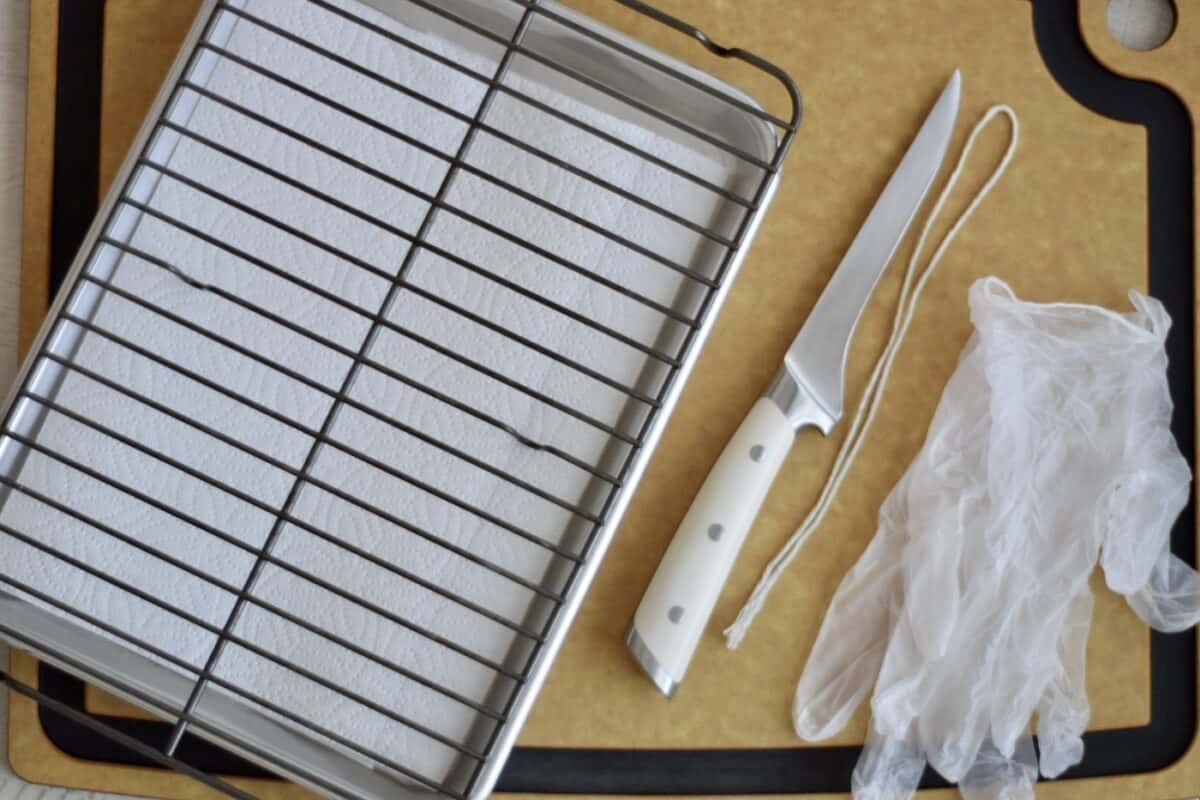 The preparation and dry brine is really what makes this whole smoked chicken recipe a great recipe. Set up your work station close to your kitchen sink. You'll need:
large cutting board
sharp knife
sheet pan with wire rack
kitchen string
food safe gloves (optional but recommended because raw chicken is a lot to handle)
Not pictured is the Traeger Grill. I love my Traeger and I use it several times a week. Read more on that below. If you don't have a Traeger, you can use an alternate smoker or oven. The Traeger is the way to go if you want that great smoky flavor and consistent cooking temperatures.
Now that you have your supplies and ingredients ready, we can move on to the dry brine and get this bird prepped for deliciousness.
How to Dry Brine a Whole Chicken
The process of brining is the best way to make any whole chicken recipe. And you have two methods to choose from: wet brine or dry brine. I prefer a dry brine because I always get a crispy skin and the best results for seasoning the thickest part of the breast.
Dry brining is the process of seasoning meat and allowing it to rest. This can be done on just about any kind and cut of meat. It allows for the salt to penetrate several layers down rather than only seasoning the outside. The process goes like this:
Use paper towels to pat the outside and inside of the chicken dry.
Season the entire chicken including under the skin into the breast meat. Place on a wire rack so air can circulate all sides.
Place in the refrigerator for 12-24 hours, uncovered.
Remove from refrigerator and finish preparation for cooking.
During step #2, the salt will pull moisture from the meat, dissolve in the liquid that is pulled, and soak back into the meat. This is how we get so much flavor deep into the chicken breast.
Dry Brine Transformation
Check out the pictures below and notice what happened to the chicken after a day of dry brining.
The chicken flesh and skin has completely changed in color. The skin has become slightly translucent in several spots. The whole bird is also much drier and firmer than when we took it out of the packaging.
That extra dry exterior is going to easily crisp! Woohoo for extra crispy chicken skin.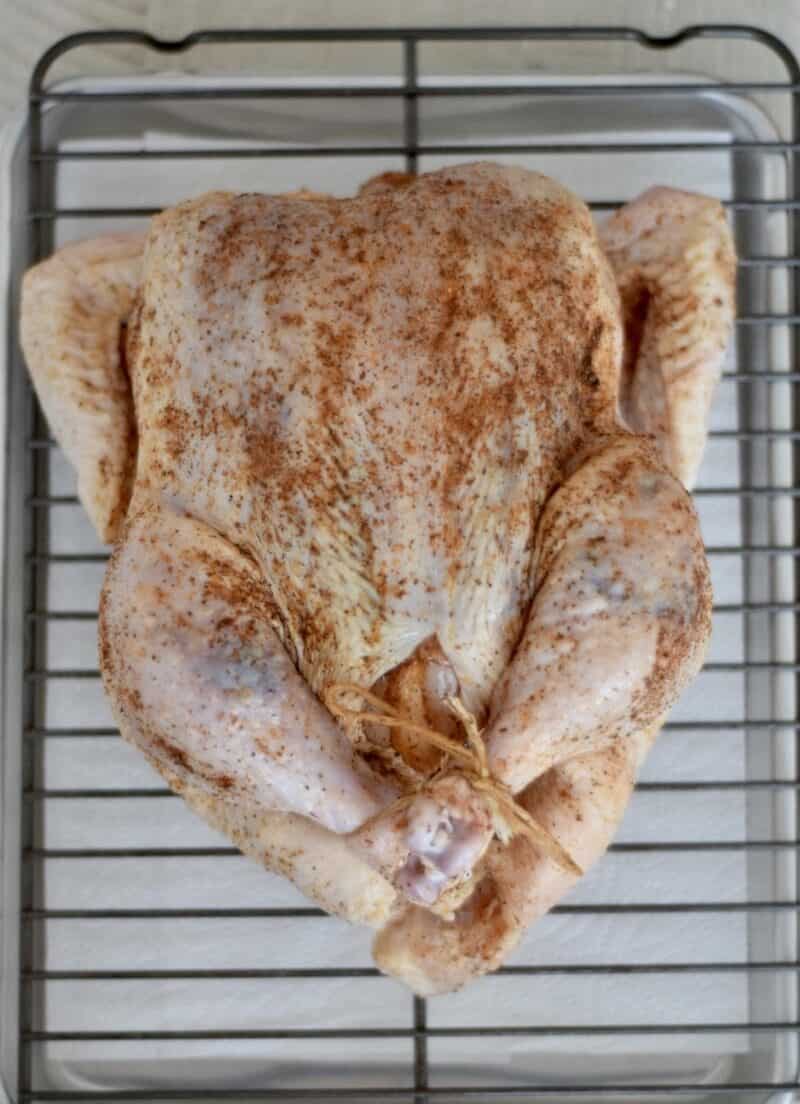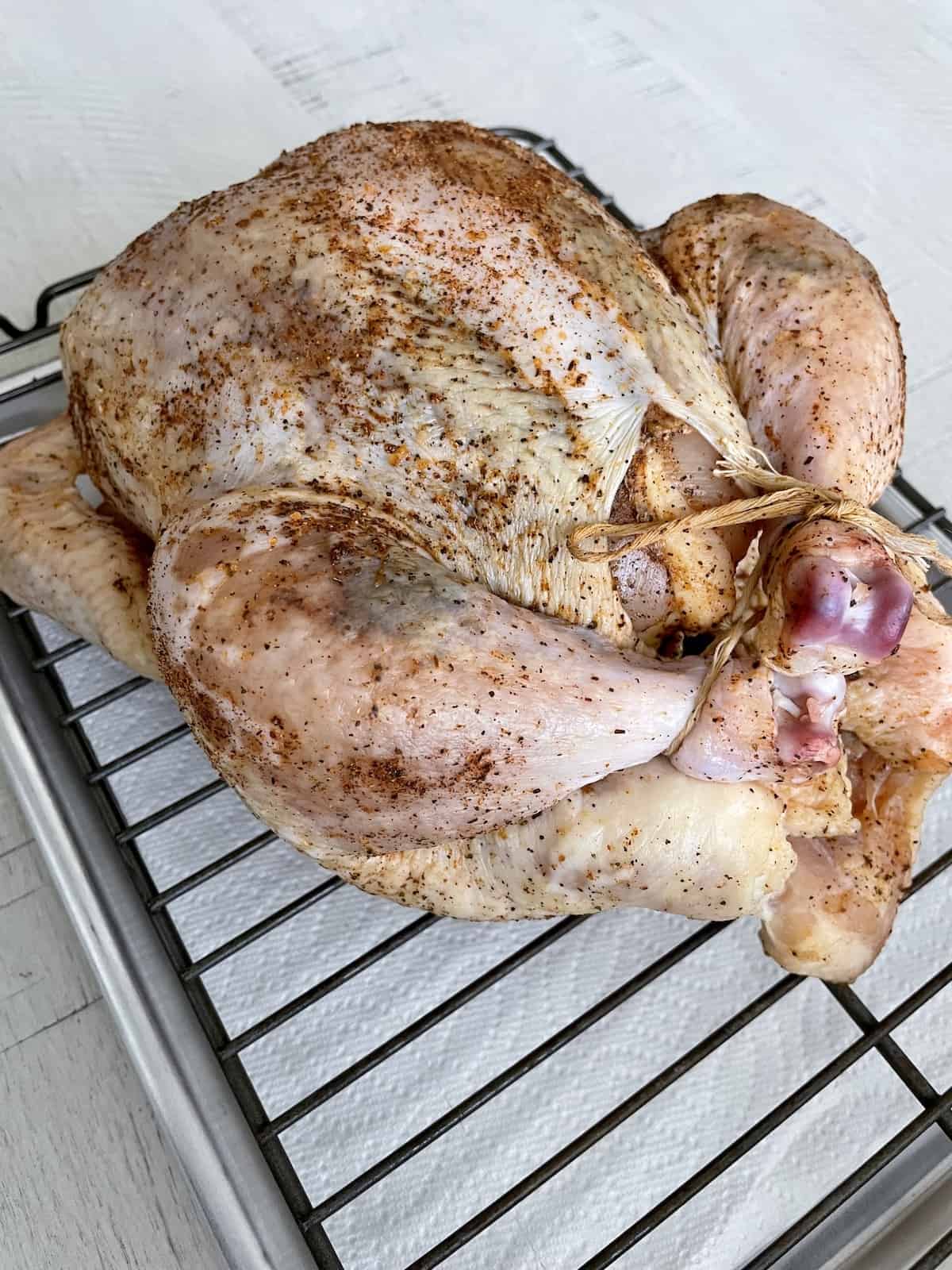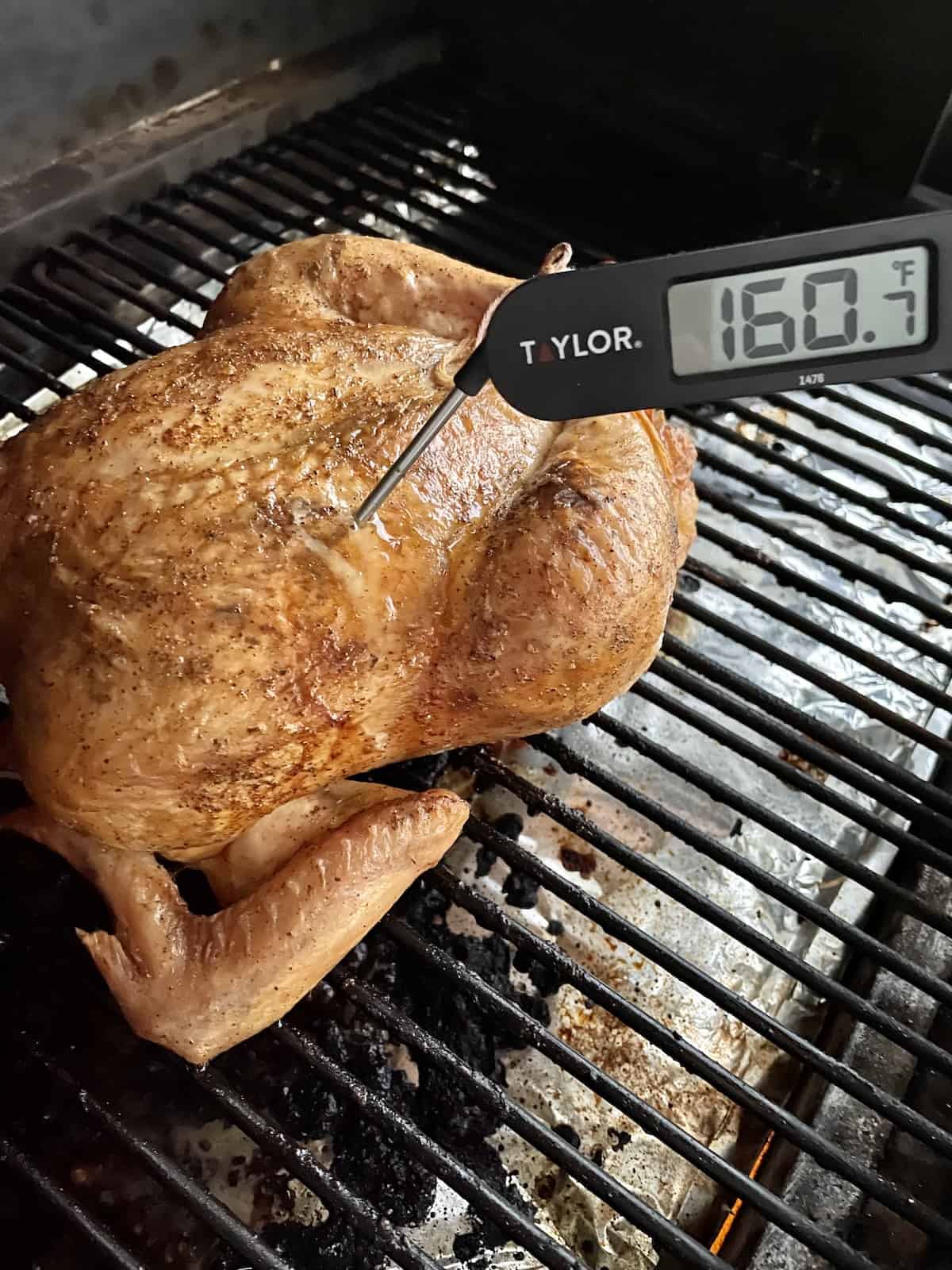 Cooking our Whole Chicken on the Traeger Grill
Now that the chicken has properly brined, we can get it on the grill. To start, preheat your Traeger, alternative pellet smoker, or electric smoker to 225F and allow it to heat for 15 minutes. Brush the outside of the chicken with butter. Use butter twine to tie the legs together. Tuck the chicken wings behind the the back.
Let the chicken to come to room temperature while the pellet smoker preheats. When it is time, place the chicken breast side up directly on the grill grates and close the lid.
What Temperature and for How Long Should I Smoke a Whole Chicken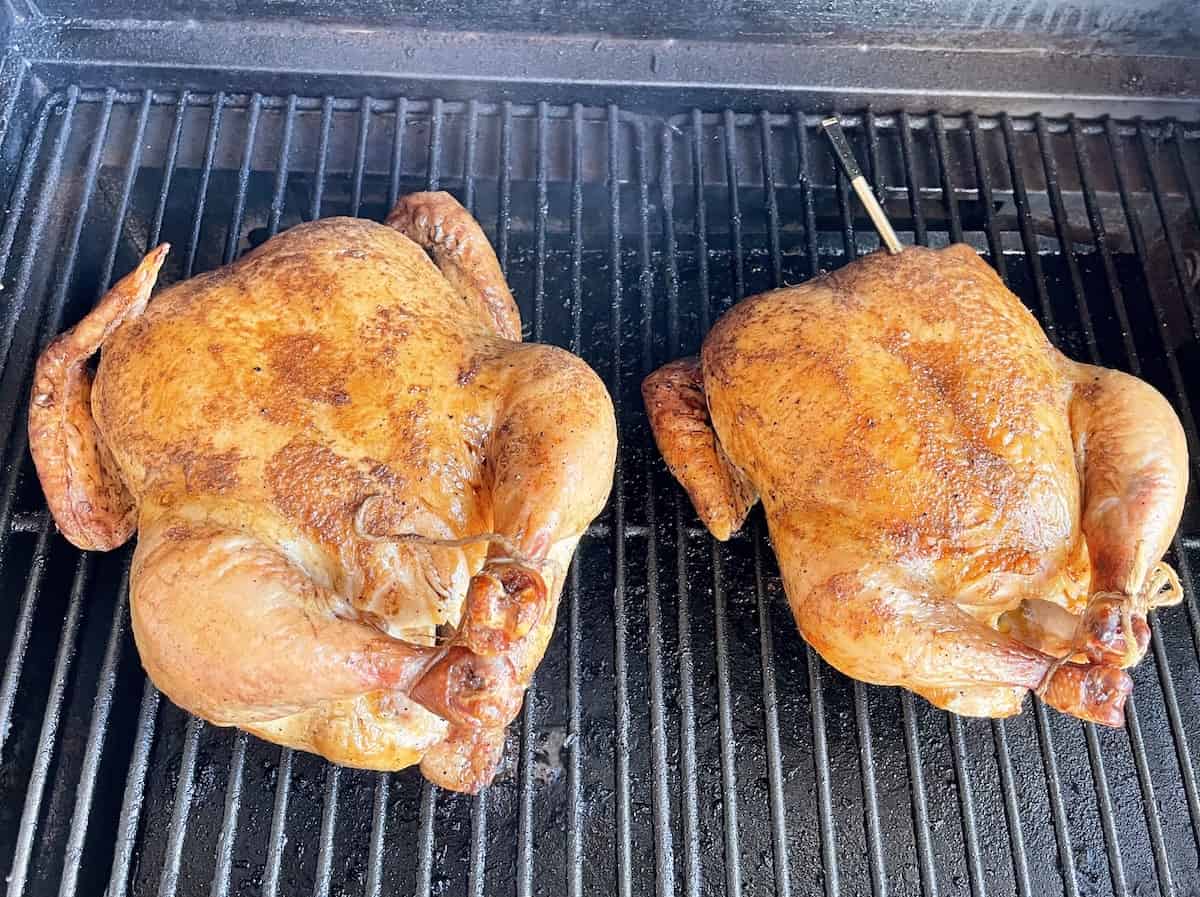 There are several options for what temperature to roast your chicken at and for how long. The cooking time will fluctuate depending on three things: smoker temperature, size of your chicken, and bringing vs salting the day you cook the chicken.
Lower temperature for cooking will obviously take longer, but it will also infuse more smoke flavor into the chicken meat. A higher temperature will cook much faster and also reduce the chances for rubbery skin. Not a fan of that... So, I like to cook it low and slow, but increase the heat at the end.
Here is a table based on a 4-pound chicken to get you started:
| | |
| --- | --- |
| Temperature | Cook Time |
| 225F | 3 ½-4 hours |
| 250F | 3-3 ½ hours |
| 300F | 2 ½-3 hours |
| 350F | 1 ½ hours |
How do you know when the whole chicken is cooked?
Lastly, before you get cooking, let's talk internal temperatures for these lovely ladies. The internal temperature of the chicken breast must reach 165 degrees Fahrenheit and the legs/thighs must reach 180 degrees F. You will make sure of this by using an instant read thermometer, temperature probe, or a wireless meat thermometer such as Meater+.
On the one hand, chicken can be difficult to gauge doneness, especially if you are concerned with food safety (as you should be!). But, with an easy to use meat thermometer, I think it's actually easier because there is no guesswork and no wiggle room. The internal temp of a chicken breast is set in stone. No debates.
When you remove the whole chicken from the pellet smoker, place it in a large cutting board or plate and cover it with aluminum foil. This chicken is hot and she needs to rest! A general rule of thumb, is to let meat rest for half of the time it took to cook. However, we are not waiting an hour to cut in to this dinner. A 20 minute rest time is sufficient to allow all of the juices to redistribute throughout the meat and maintain the best moisture content possible.
Time To Cook
Alright, you are ready. I have shared the best chicken spice rub, technique, and pro tips that I have. Use the printable recipe card below and make yourself one of best and easiest recipes I know.
Whole Smoked Chicken on the Traeger Recipe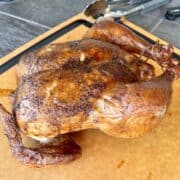 Print Recipe
Traeger Whole Smoked Chicken Recipe
Dry brine and smoke a whole chicken on a pellet smoker for a delicious, tender, and juicy chicken dinner.
Equipment
1 Traeger Grill

1 sheet pan with wire rack

1 large cutting board

1 sharp knife

kitchen string
Ingredients
1

whole chicken

2

tablespoon

Traeger Gill seasoning

3

tablespoon

unsalted butter
Instructions
Dry Brine the Chicken
Line a sheet pan with paper towels and place wire rack inside. The paper towel is only meant to catch any liquid that drains off the chicken. We don't need chicken juice moving around on a sheet pan.

Prepare the whole chicken by removing it from all packaging. Remove any pieces from inside the chicken such as the neck or extras if those are packaged inside.

Pat the chicken dry with a paper towel.

Gently loosen the skin around the chicken breast, legs and thighs.

Sprinkle seasoning under the skin and rub into the breast meat, legs, and thighs. Lightly sprinkle seasoning on the outside skin of the chicken.

Tuck the wings behind the back. Pull the legs together and tie with the kitchen string. We will undo this when it's time to spread the butter, but this step helps the chicken hold together while it dry brines. Dry brining will firm up the whole chicken.

Place the chicken on the sheet pan fitted with a wire rack. Put in the refrigerator, uncovered, overnight.
Smoking the Whole Chicken
Remove the dry brined chicken from the refrigerator and leave on the counter to come to room temperature for 20 minutes.

Preheat the Traeger Grill to 225F.

Untie the legs. Spread room temperature unsalted butter underneath the skin and on the outside of the whole chicken. The skin will have dried quite a bit and that makes spreading butter over the meat easier.

Tie the legs back together.

Place the chicken on the rack in the center of the Traeger Grill. Close the lid. Cook at 225F for 3 hours.

Increase the temperature to 325F and cook for an additional 30 minutes. This will allow the skin to get extra crispy and ensures doneness all the way through.

Using an instant meat thermometer, take the temperature on the chicken breast. The chicken is fully cooked when the temperature of the breast meat reads 160-165F and the thighs read 180F.

Remove the cooked chicken to a large cutting board. Cover the chicken with aluminum foil and allow it to rest for 20 minutes before cutting.
Notes
Other recommended rubs: Traeger brand Chicken Rub- citrus black pepper.
Make your own rubs with salt, brown sugar, granulated garlic, onion powder, smoked paprika, and white pepper.
Nutrition
Calories:
510
kcal
|
Carbohydrates:
1
g
|
Protein:
36
g
|
Fat:
40
g
|
Saturated Fat:
15
g
|
Polyunsaturated Fat:
7
g
|
Monounsaturated Fat:
15
g
|
Trans Fat:
1
g
|
Cholesterol:
173
mg
|
Sodium:
135
mg
|
Potassium:
363
mg
|
Sugar:
1
g
|
Vitamin A:
616
IU
|
Vitamin C:
3
mg
|
Calcium:
24
mg
|
Iron:
2
mg
Did you make this recipe? Tag me on Instagram @fancy_apron 🙂 or leave a comment below.
A Traeger Whole Smoked Chicken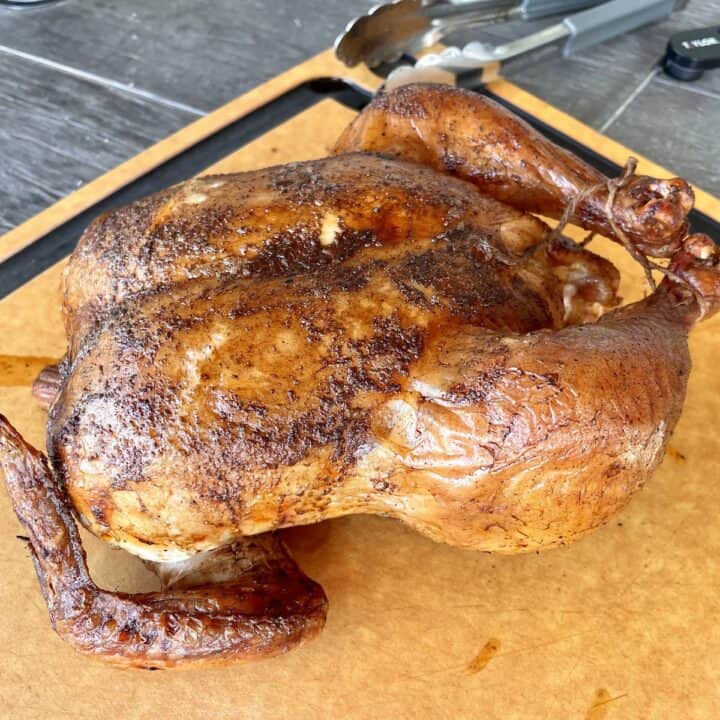 The reason I love cooking the whole chicken on the Traeger Grill is because of how low maintenance the process can be. The only steps are setting the temperature, getting the bird on the grill, and checking the final temperature of the chicken for doneness.
Any Traeger Grill will work for this recipe. Here is my link for a medium sized Traeger Grill that will do all of the things you need from smoking to grilling. You'll also need some wood pellets. I tend to use wither the Traeger Signature blend or Kirkland Signature wood pellet blend by Costco. If I was choosing a wood flavor specifically for a whole chicken on the Traeger, I would go with apple.
Serving the Bird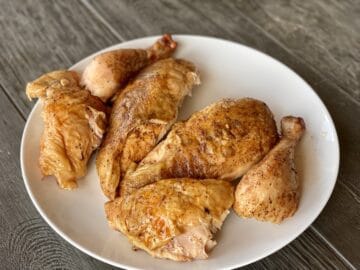 After the chicken has reached the right internal temperature, remove it from the grill and loosely cover it with foil. Allow the chicken to rest for at least 10-15 minutes. This will allow the juices to redistribute properly and ensure you have a juicy chicken.
After you let the chicken rest, carve the legs and chicken thighs first. Set those aside. Remove the chicken breasts from the carcass and slice from the wide end to the narrow end.
Recipe Modifications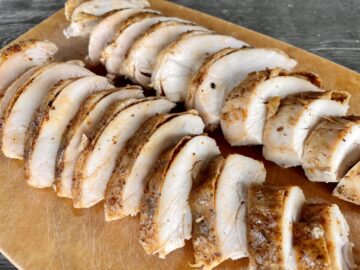 If you want to change up a few things, you can certainly do that. There are a lot of ways to make a flavorful chicken dinner on your Traeger Grill. Once you get the cooking process down, you can try tons of variations.
Olive oil instead of butter- olive oil is a fine substitute for butter if you are dairy free or prefer the flavor. Make sure to use some sort of fat though with your chicken to get plenty of moisture and a crispy skin.
Up the smoke flavor- add smoked paprika to your dry rub if you want to really drive home that smoky flavor
Just use salt and pepper- if your are making a roast chicken to meal prep and get you through the week, go for a rotisserie chicken vibe and just use kosher salt and black pepper. I like to cook chicken ahead of time and use for chicken salad sandwiches, tacos, and cob salads.
How to Save Leftover Chicken
If by chance you have leftover smoked chicken or have cooked this whole chicken to feed you for the week, let's get it into an airtight container. I like to use glass snap ware, but a zip top bag also works just fine.
One option is to save large pieces after carving them. Another is to pull apart the chicken and save it in shreds. It just depends on how you plan to use up those leftovers.
Frequently Asked Questions
How long do you smoke a chicken per pound?
30-45 minutes per pound and until the internal temperature reaches 165F. Chicken should cook at 30 minutes per pound if dry brined for more than 12 hours.
What is the minimum amount of time to brine a chicken?
To be effective, dry brine your chicken for at least 12 hours.
Do I rinse off my chicken after dry brining?
NO! Just make sure you season it to taste from the beginning.
Great Recipes to Serve with the Smoked Chicken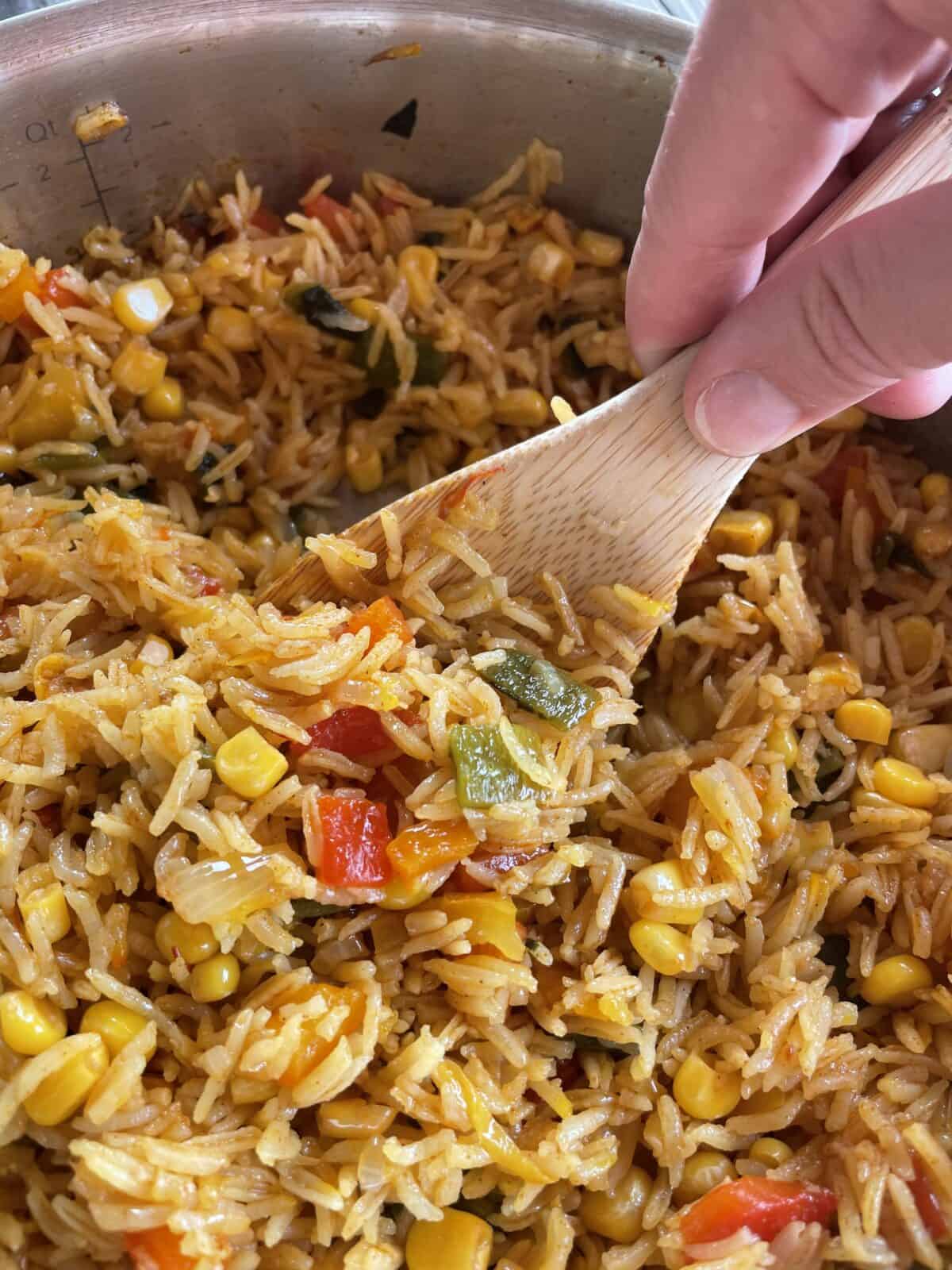 This chicken needs some tasty side dishes and maybe a good sauce. I love eating it with twice baked potatoes and creamed corn or classic iceberg salad with ranch dressing. That roasted poblano and bell pepper rice is also a personal favorite because of the sweet and spicy combo from the peppers and corn. For a great Traeger side dish, try Traeger Grilled Corn on the Cob and make your whole meal in one place.