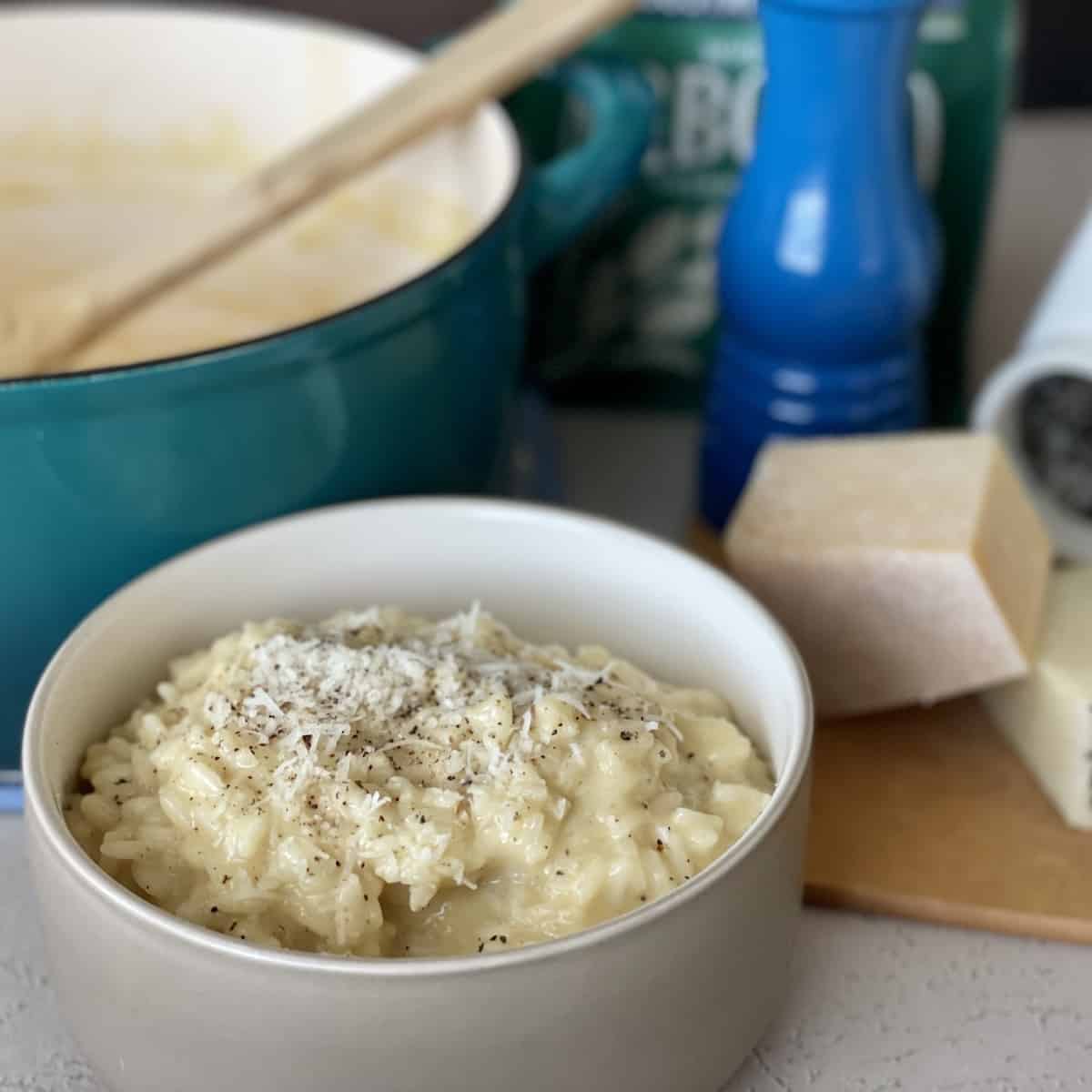 Cacio e pepe risotto has the delicious traditional flavor of pecorino romano cheese and freshly cracked black pepper. This is cheesy, creamy, comfort food to the fullest.
This blog post contains affiliate links. As an Amazon Associate I may earn income from qualifying purchases. Thanks for the support.
Traditional Cacio e Pepe
Cacio e pepe is a very classic Italian pasta dish that is centuries old. The creation of cacio e pepe is credited to Roman sheperds traveling across central and northern Italy. Makes sense because the traditional ingredients are exactly what Roman shepherds had available: pecorino romano cheese- a sheep's milk cheese, fresh cracked black pepper- a light and easy to carry spice, pasta, and water. That is all.
The traditional pasta dish is made by pouring cooked pasta fresh out of its boiling water into a large bowl of grated pecorino cheese. A small amount of pasta water is added to create a sauce. Freshly cracked black mixes in to give the pasta dish a unique flavor.
Now that you know the back story, we can get in to why we are transforming this traditional Italian pasta dish into risotto- my way!
Cacio e Pepe Risotto Ingredients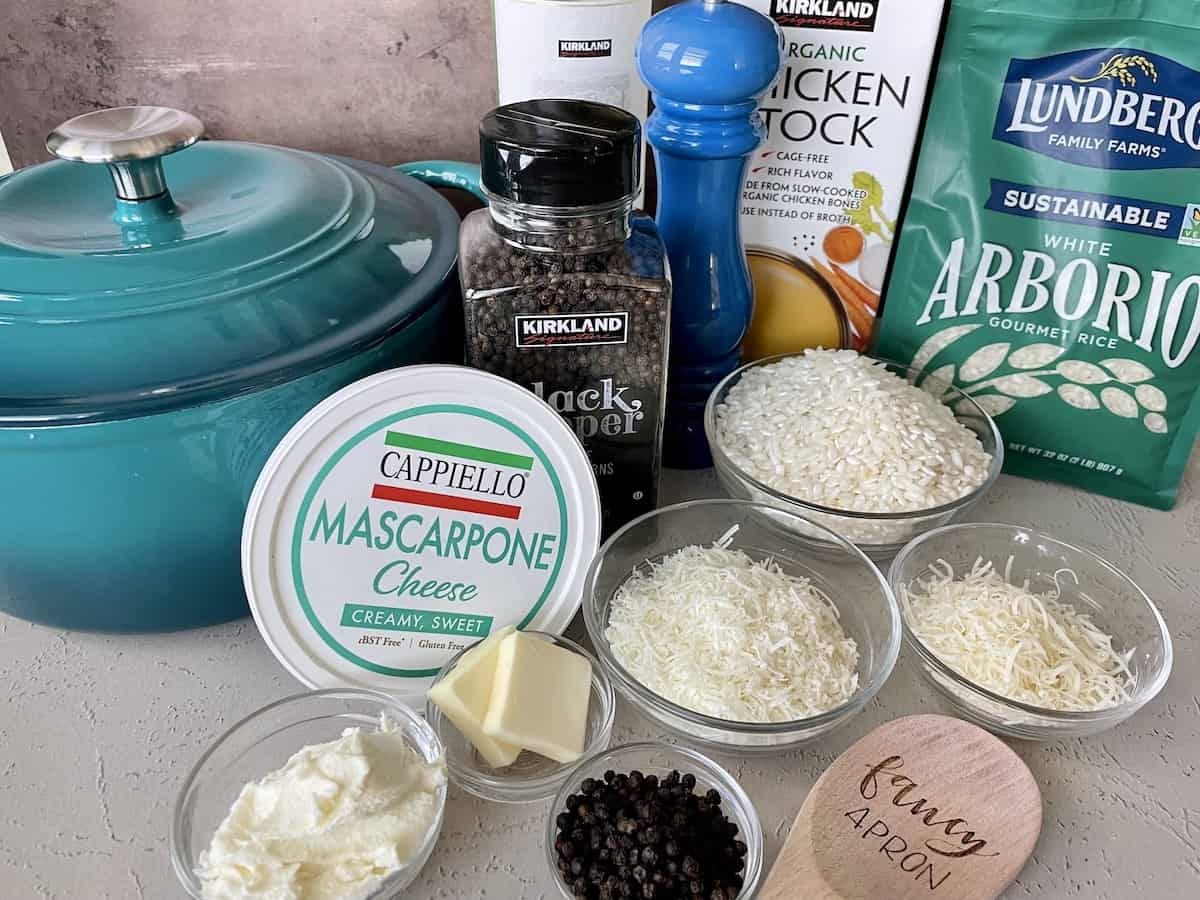 First, we will go over all of the ingredients we need for a delicious and creamy cacio e pepe risotto. Let's talk about the rice. Risotto is made with Arborio rice. It is the best type of rice because it has a very high starch content. It holds up well through the cooking process and the starchy texture is made for a creamy consistency.
Next, the other risotto basics: butter, dry white wine, chicken stock, and yellow onion are traditional. For this cacio e pepe version, hold off on the onion. I want the flavors from the cheese and black pepper to shine through. Butter is very traditional to risotto and more commonly used in northern Italian dishes compared to olive oil. Equally important is the chicken stock. Chicken stock is the main ingredient that actually cooks the risotto, but you could used vegetable stock is you prefer. Also, for that reason we are not using as much wine as I would in a typical risotto.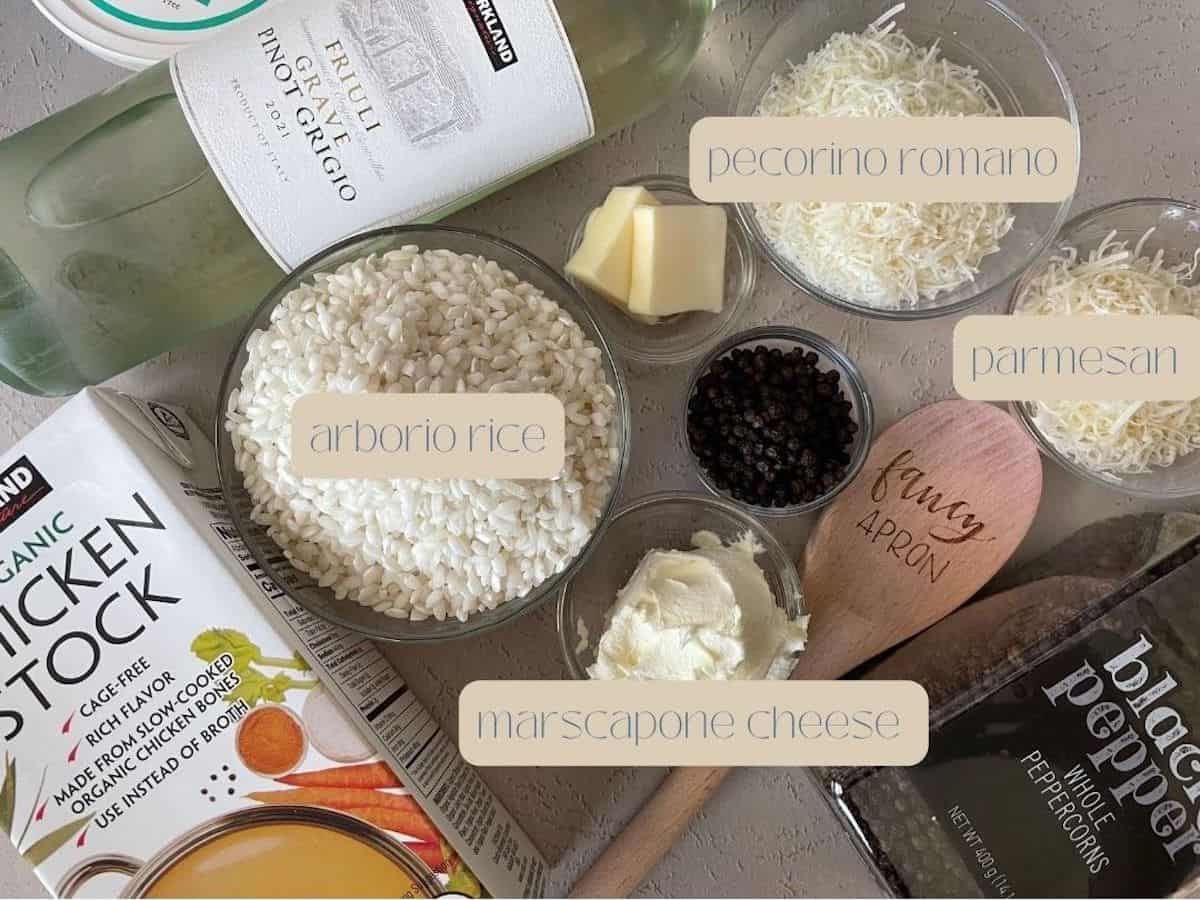 You'll want to use fresh black peppercorns. Preferably tellicherry. If you want to really bring out the natural flavor and aroma from the peppercorns, lightly toast them in a dry pan for 2-3 minutes before grinding them. Since the black pepper is the star of this dish along with the cheese, it deserves the extra step.
Lastly, the cheese! Pecorino romano is a must. We are also using a little parmesan cheese for a nutty bite and marscapone for the creaminess. Marscapone does not add much flavor at all. It is the equivalent of Italian cream cheese and melts beautifully creating a velvety texture that risotto needs.
Best Cooking Equipment for Making Risotto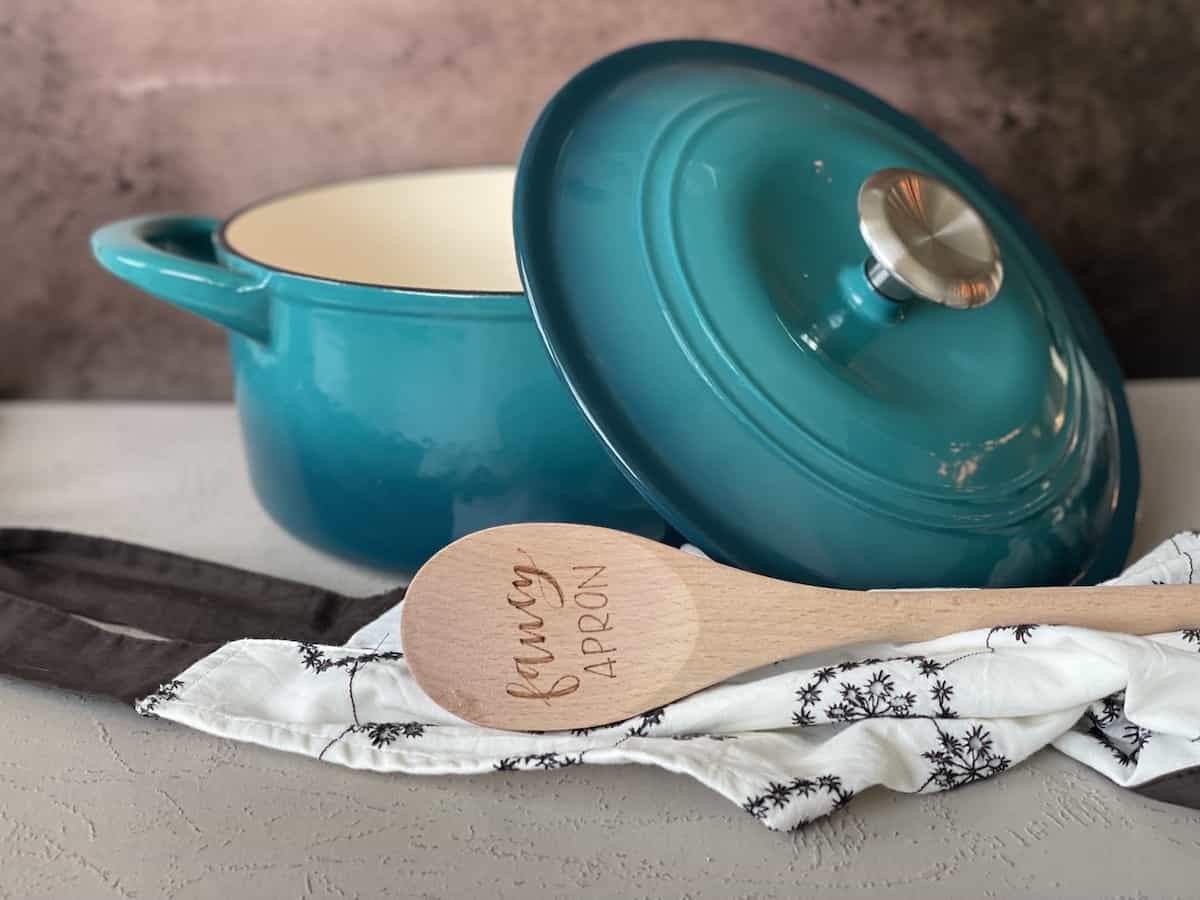 In order to make a perfectly cooked risotto you just need a couple of things. You'll want a heavy pot or dutch oven to cook the risotto and a medium saucepan to heat the chicken or vegetable broth. Just your pots and a wooden spoon. That's all it takes. risotto is really about the technique. No special equipment required.
Risotto Cooking Technique and Tips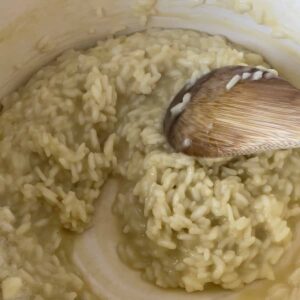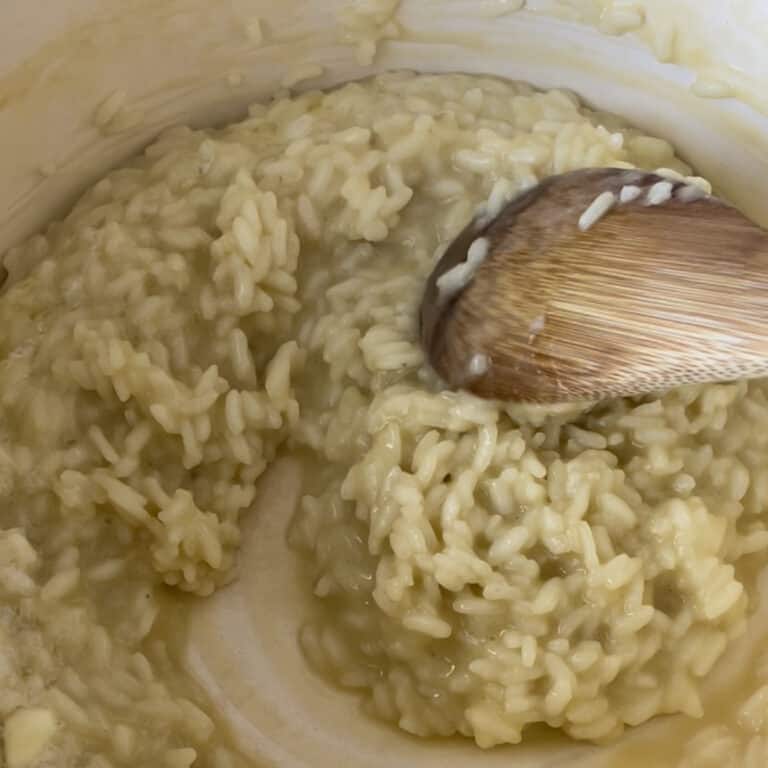 Lets start with the technique:
toast the arborio rice in butter on medium heat
add wine first, followed up by adding broth in one cup at a time
each time more liquid is added to the rice it is stirred and cooked on medium until nearly all of that liquid is absorbed by the rice
this process of adding more liquid and stirring is repeated 3-4 times or until the risotto is cooked al dente
once the risotto has finished cooking, cheeses and cream can be added before serving
Risotto cacio e pepe tips:
prepare and measure all of the ingredients before starting
have your cooking liquid on a consistent heat at medium low in order to maintain the temperature of the risotto each time you add more liquid
once the risotto is cooked and you are ready to serve, make sure the risotto is a little looser than you want. As the risotto cools, it will tighten up quite a bit. We want a creamy risotto that is easy to scoop.
Cacio e Pepe Risotto Recipe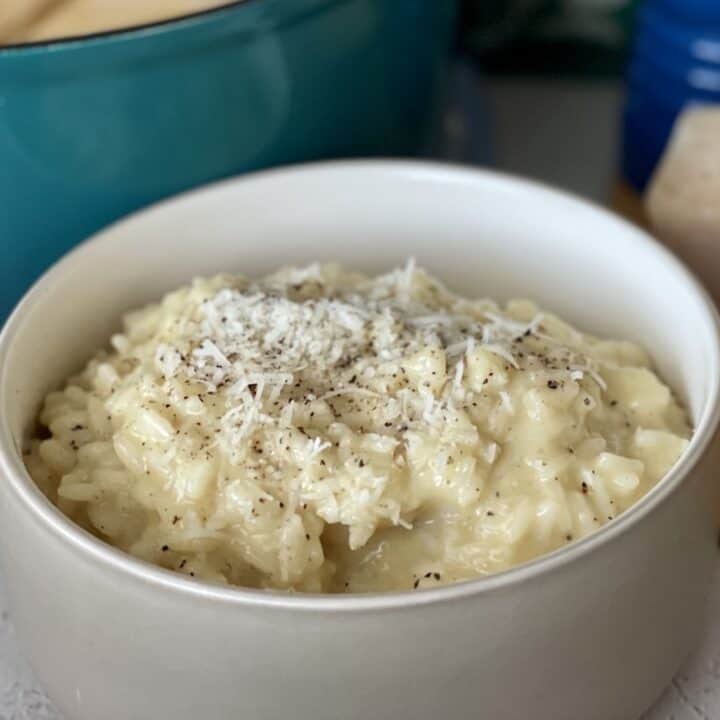 Print Recipe
Cacio e Pepe Risotto
Cacio e pepe risotto combines the delicious flavors from freshly cracked black pepper and pecorino romano cheese into a creamy, starchy, comfort food experience .
Equipment
1 cast iron dutch oven or heavy pot

1 medium pot

1 cheese grater or zyliss
Ingredients
1

cup

Arborio rice

1

tablespoon

Butter

¼

cup

dry white wine

4

cups

Chicken stock

¼

cup

Marscapone

¾

cup

Pecorino Romano cheese

¼

cup

Parmesan

2

teaspoon

Fresh cracked black pepper

*see note below
Instructions
In the medium pot, heat 4 cups of chicken stock and bring to a low simmer. Reduce the heat to low and keep warm.

Heat a large pot or dutch oven to medium-high and add 1 tablespoon of butter.

Add arborio rice to the pot and stir to coat with butter. Let the rice toast in the butter for about two minutes while stirring.

After the rice has toasted, add the white wine and stir in well. Reduce the heat to medium and cook the rice in the white wine until it is completely absorbed.

Once the white wine has cooked down, add a full ladle of warm chicken stock to the pot and continuously stir. The rice and chicken stock mixture should stay at a low bubble throughout the cooking process. Every time the chicken stock has been completely absorbed by the rice, add another ladle. This process will take 25-30 minutes.

While the risotto cooks, prepare the pepper corns and grate the cheese. In a small dry pan, toast about a tablespoon of whole black peppercorns on low heat for 2 minutes or until the peppercorns become fragrant. Transfer the toasted peppercorns to a pepper grinder. Grind pepper into a dish and set aside.

Take a little taste of the rice and see if it is cooked through. Once it is cooked through, add one more half of a ladle of chicken stock to keep the risotto loose and not stuck together.

Turn off the heat. Stir in the marscapone cheese. It should have a loose and creamy consistency. Next, add 1 teaspoon of pepper and half of the shredded pecorino romano and parmesan cheese. Season with salt and more black pepper if desired.

The risotto is ready for serving. Top the risotto with the remaining cheese and more ground pepper if desired.
Notes
Black Pepper: add as much or as little as you would like. This recipe calls for 2 teaspoons, but only add as much as you want. One teaspoon may be all you need if that is your preference. 
Optional add ins: diced onion, minced garlic, fresh lemon wedges for serving, fresh parsley for serving, cooked pancetta and peas to make it a meal
Nutrition
Calories:
349
kcal
|
Carbohydrates:
24
g
|
Protein:
16
g
|
Fat:
19
g
|
Saturated Fat:
9
g
|
Polyunsaturated Fat:
1
g
|
Monounsaturated Fat:
5
g
|
Cholesterol:
45
mg
|
Sodium:
679
mg
|
Potassium:
297
mg
|
Sugar:
4
g
|
Vitamin A:
331
IU
|
Vitamin C:
0.5
mg
|
Calcium:
302
mg
|
Iron:
1
mg
Recipe Substitutions and Additions
You have so many options here. First of all, you can use just parmesan cheese if you want. I make a creamy risotto with a glass of wine, heavy cream, and a heaping pile of parmesan. It is a such a simple dish, but so incredibly flavorful. Another cheese you can opt for is grana padano cheese.
If you want to make this meal, I love folding in some delicious crispy pancetta and bright green peas. That will definitely make this tasty dinner a one-pot-wonder.
I love every risotto version I can come up with. Creamy, cheesy, starchy does all of the things for me. Check out my other great risotto recipes below.
More Risotto Recipes