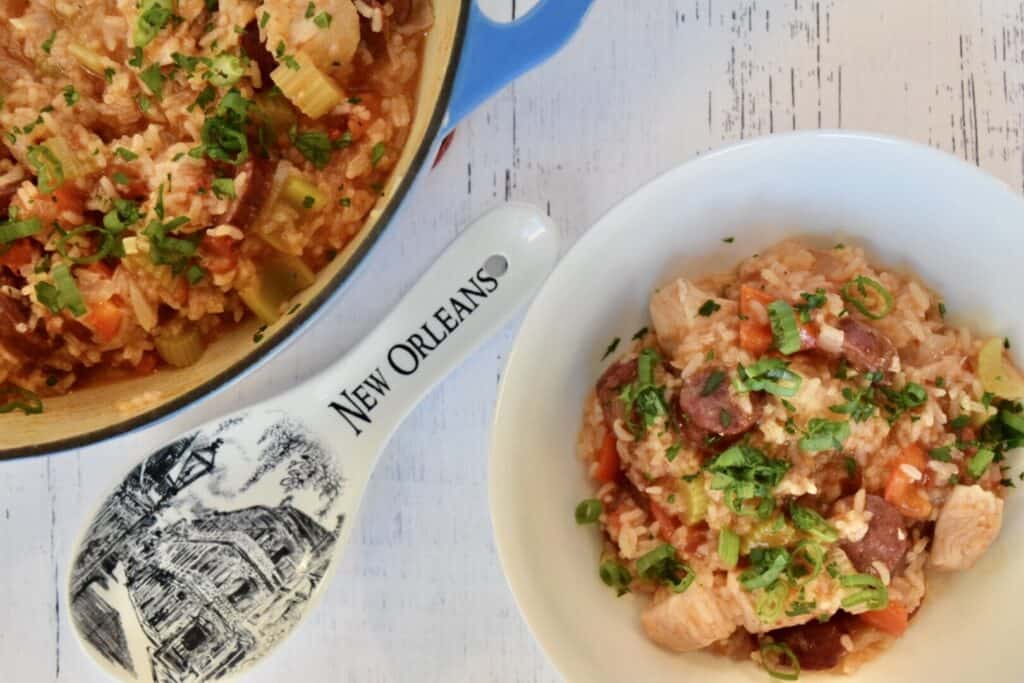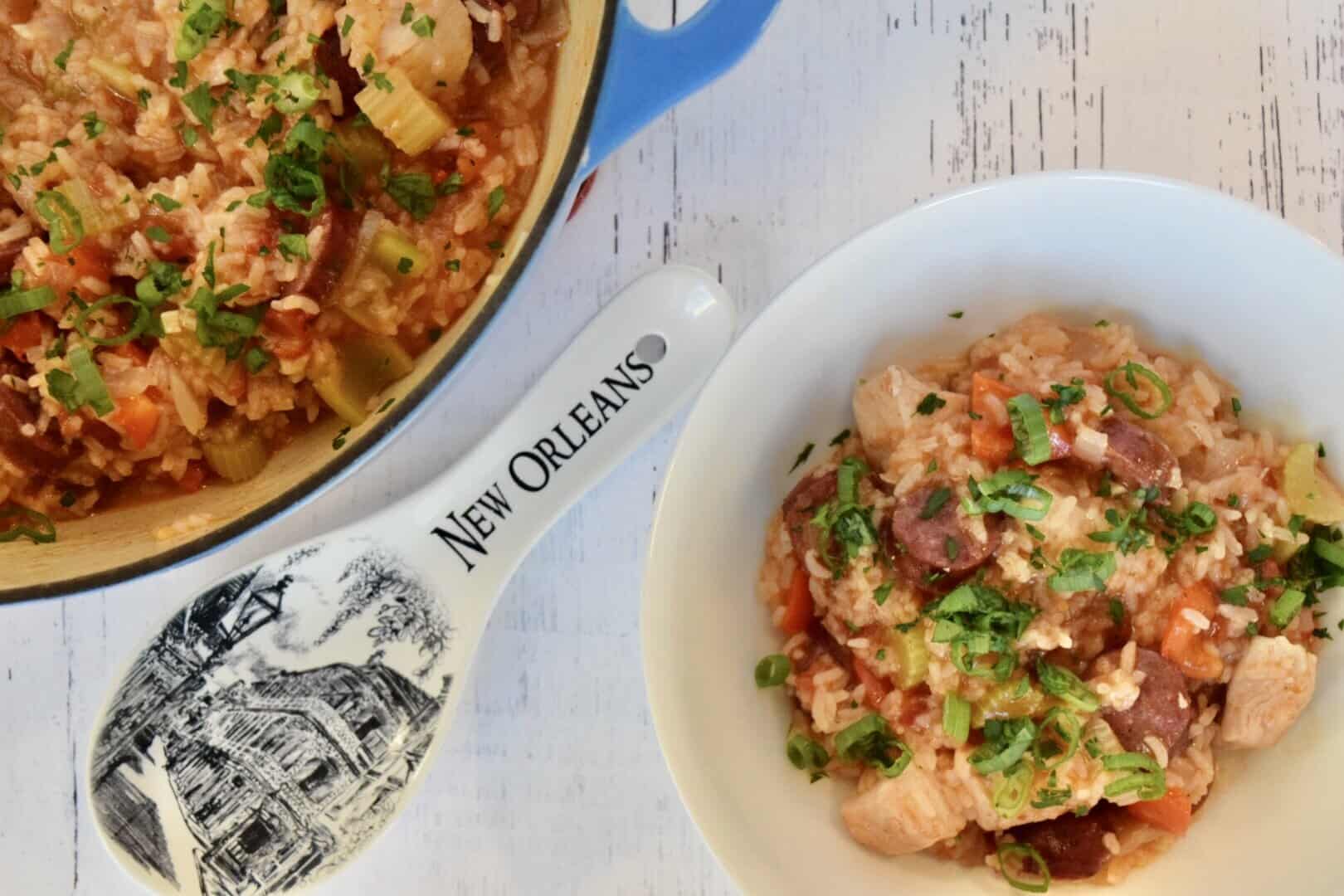 This recipe is one of my favorites and in honor of Mardis Gras this week, I am sharing it with you. I originally learned how to make it when I was visiting family in Seattle. It was so good, I made sure to take a copy of the recipe with when we left. Now I have no idea where that print out is because I have made it so many times and memorized the process, plus put my own spin on it, so who needs the paper copy now anyway?
I love a good one-pot meal for the easy cooking process, and so does my husband because he does the dishes and he doesn't have a war zone of a disaster to deal with after a filling meal. Aside from the fact this one-pot stop is loaded with flavor and veggies (a major win in my book), it can also be easily modified to accommodate any dietary needs or preferences. At the end of the recipe, we will discuss how to take this already gluten free and dairy free dish into the land of Whole 30 or Vegan.
Last notes before we start… I make this for my family of four, so the heat is turned way down compared to a traditional Jambalaya. Also, no one around here likes shrimp but me, so its not included here. If I really wanted some, I could toss some on the grill separately and add them in my bowl. If you like seafood, by all means, get it in there!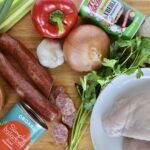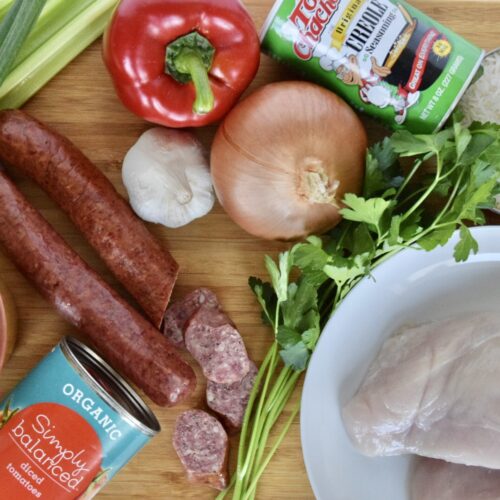 Print Recipe
Jambalaya
A thick stew of sausage, chicken, veggies, and rice
Ingredients
Chicken: 2 chicken breasts or 4-5 boneless skinless thighs

2-3

kielbasa sausages

or andouille if you like it spicy

6

ounces

of beer

if your me, gluten free beer like Omission

1 15

ounce

can diced tomatoes

1

red bell pepper

1

medium onion

3

stalks of celery

2

cloves

garlic

1

cup

long grain rice

2

cups

of chicken stock

2 ½

teaspoon

creole or cajun seasoning

2

tbs

oil

salt and pepper

green onions or parsley or both to garnish
Instructions
Heat a large pot on medium and add oil. Cut chicken into bite sized pieces. Season chicken lightly with salt and pepper and saute in batches, careful not to overcrowd the pot. Also, be careful not to over season in the beginning. The cajun spices have salt in the mix. Remove with a slotted spoon and set aside until it's invited back.

Slice sausage into bite sized pieces and follow the same process as the chicken. Saute. Set aside. Maybe sample a bite of sausage for quality control 😉

Add a little more oil if needed. Add the onions and give them a minute, then add the garlic, celery, and bell pepper. Cook for 4-5 minutes, stirring consistently so nothing burns. That would be sad.

Next in the pot, the cajun seasoning and rice. Stir to make sure everything coats the rice.

Add the beer. 6 ounces for the pot. 6 ounces for the chef. Stir and cook off the alcohol for a minute or two before adding any more liquid.

Now everybody in the pot: diced tomatoes, chicken stock, chicken, and sausage.

Stir well to incorporate everything evenly. Bring to a boil. Reduce to simmer. Put the lid on. Set a timer for 20 minutes and stir once or twice so the rice doesn't stick to the bottom.

After the 20 minutes, give it a stir and check that the rice has cooked through. Also check for seasoning, if you want to add extra cajun seasoning or salt, now is the time.

The Jambalaya should be loose and saucy (welcome to Mardis Gras, y'all), so if the dish has tightened up, add a little chicken stock.

Garnish with green onions and parsley. Enjoy!
Make it Whole 30: hold the beer and hold the rice. Make sure to use Whole 30 approved sausage. Sub cauliflower rice for long grain rice and reduce the chicken stock, only use ¾ of a cup instead.
Go Vegan: obviously hold the meat and use vegetable stock instead. Saute butternut squash and cramini mushrooms cut into quarters vs chicken and sausage.