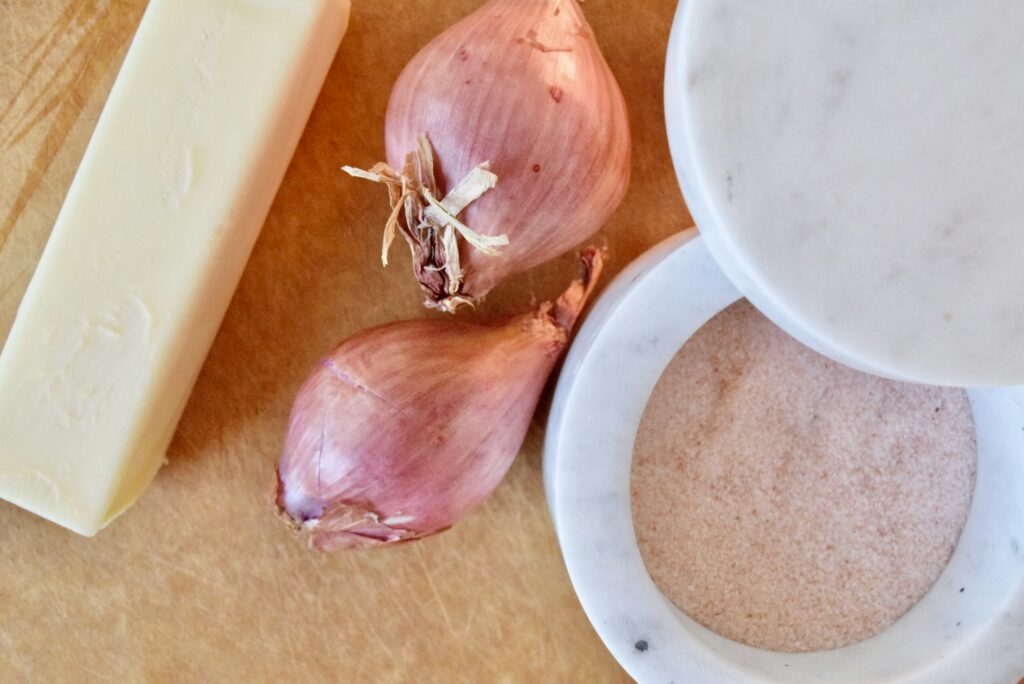 Crispy shallots in brown butter. The first time I had this, I was blown away that something so simple could be so good. I learned to make it at a Sur La Table cooking class. It was a topping for cast iron steak. About a week later, I found the same recipe in "The Joy of Cooking" cookbook. Safe to say this has been around for awhile. But, as I do, I have modified it to fit my kitchen.
The original recipe for a steak topping includes thyme, sherry vinegar, maybe dijon mustard, and something else I can't remember. Now when I make it, sometimes it lands on steak, but more often it's for green veggies. I put it on broccoli, green beans, asparagus, or dip artichokes in it. If I ate kale, I bet it would be good with shallots in brown butter.
This is one of those times that it's all about the process. It takes a little patience, but the time is so worth it! And I make enough to last throughout the week, so that's nice. Most of the time I make it with just butter, shallots, and salt. All that other stuff is good, but not required for a tasty topping that'll make you happy to eat your veggies.
So, here it goes—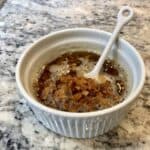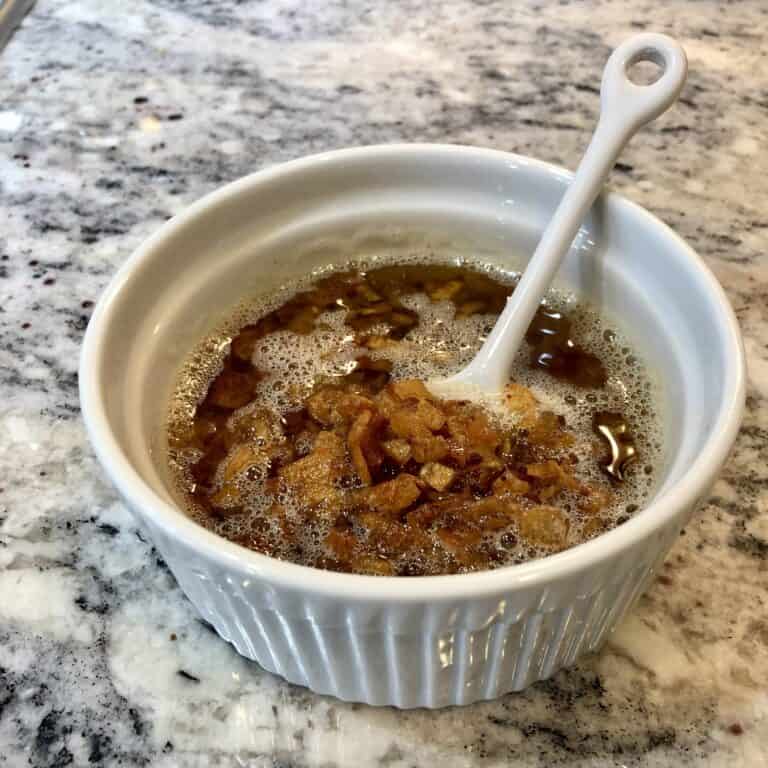 Print Recipe
Crispy Shallots in Brown Butter
A tasty topping of brown butter and crispy shallots to go over steak, chicken, or green veggies.
Ingredients
1

Stick of butter

2

small or one large shallot diced

Salt to taste
Instructions
Get out a medium sauce pan and turn on to medium heat. Melt the butter.

As the butter melts, it will start to bubble and foam. With a spoon or spatula, mix it around to break up the bubbles. Pay attention to the heat, you don't want the butter to brown to quickly, or worse, burn.

After a couple minutes, add your diced shallots. Stir them in completely.

As the shallots fry and crisp up, they will let out moisture and create loads of bubbles. Stir continuously and lower heat as needed to keep from bubbling over.

Continue to stir and make sure to scrape the brown bits off the bottom of the pan. This is important. It's delicious.

Once the shallots are a golden brown and the butter has browned, remove from heat and put in a serving dish. See pictures below to follow the process.

Now smother whatever it's intended for: steak, chicken, potatoes, rice, veggies. You're welcome.
Last night, my brown butter and crispy shallots landed on a weeknight cheat-pan dinner. I had a thin chicken breast cutlet, asparagus, and mushrooms on a sheet pan with a little oil, salt, pepper, and garlic powder. I cooked it at 375F for 18 minutes. Then I gave the chicken a healthy spoonful of shallots and it was perfect.
*Thicker asparagus works better here so it isn't over cooked compared to the chicken.