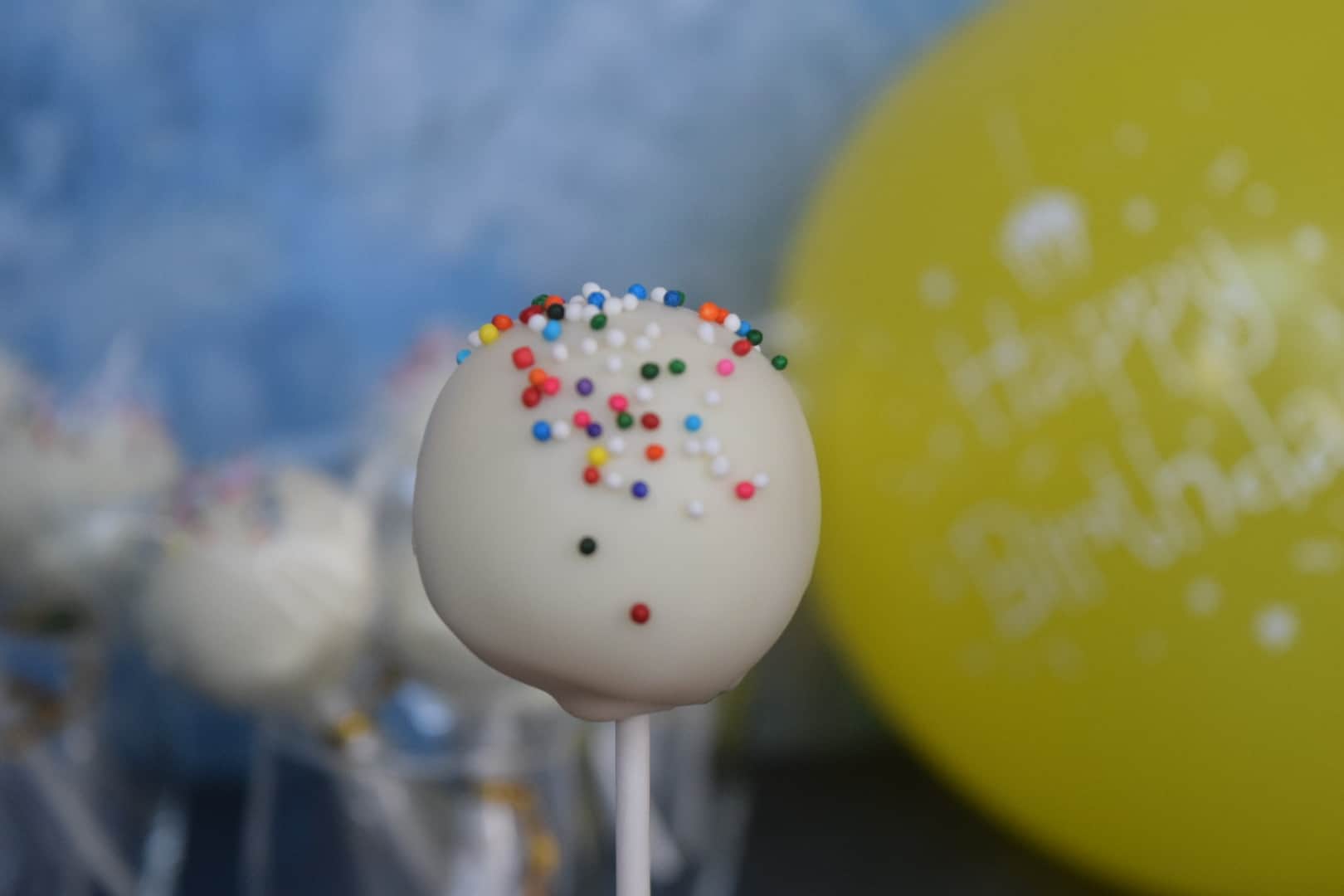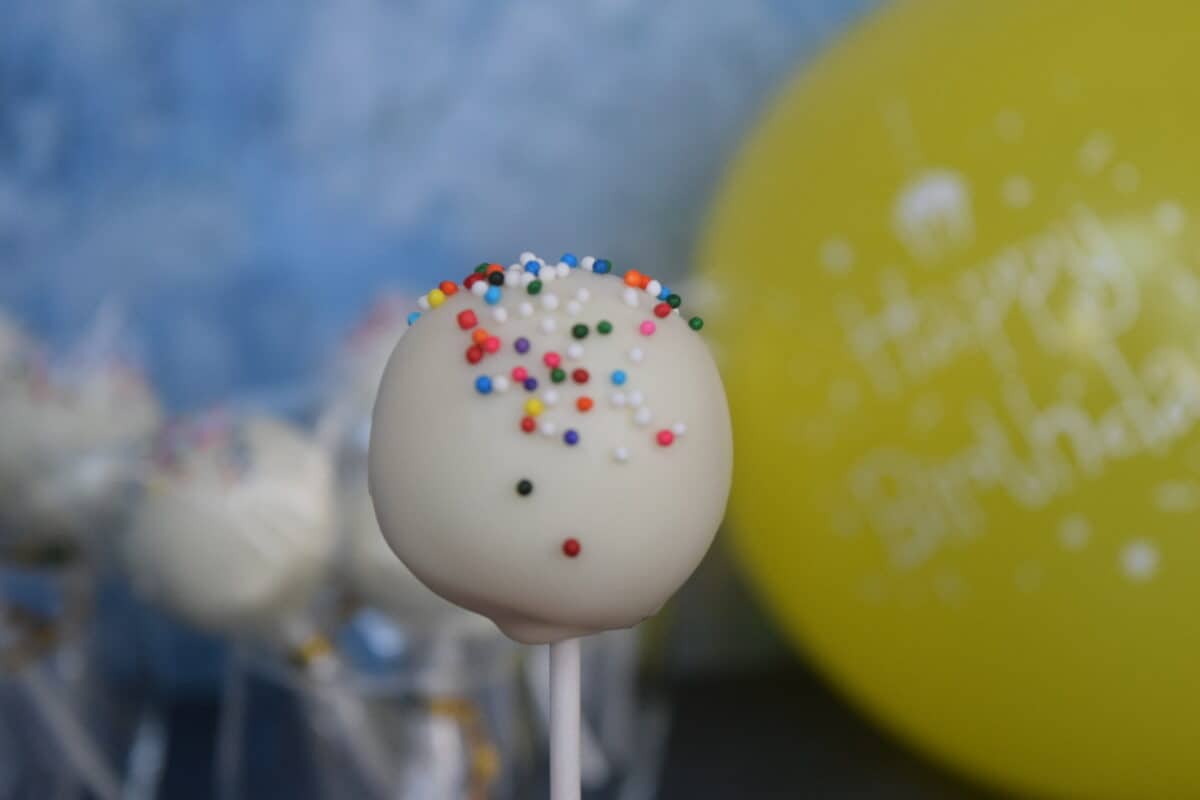 Birthday cake pops are my newest confection-obsession. These are hands down the cutest little treats ever and they are a blast to make.
I had to dive in and give them a shot because I never see gluten free cake pops anywhere, but Jack and I want some treats too. The other day at the grocery store, I saw a box of gluten free Funfetti cake mix and it was like a calling. I had to have them.
The Method
So, the basics of cake pop making is just combining crumbled baked cake with a little frosting, rolling them into balls, and then dipping in candy melts so they have an adorable candy shell.
To have perfectly smooth cake pops, you'll need a few things...
First, you need gloves. Wearing gloves really helps to smooth out the cake ball. Next tip, for a perfectly smooth candy shell, the cake pop needs to be cool and the candy melts need to be perfectly melted and smooth. You'll see how this goes when you make them, but at some point during the dipping process, the melted candy coating will cool off so much that it won't glide easily over the cake pop and it will harden too quickly. Toss the candy melt mixture back in the microwave for a few seconds to keep it warm.
A word of caution... If the cake pop is too cold and the candy melts are too warm, as the shell hardens it may crack. The most challenging part of making cake pops is maintaining the right temperature balance so that the candy shell is smooth, but does not crack. See picture below.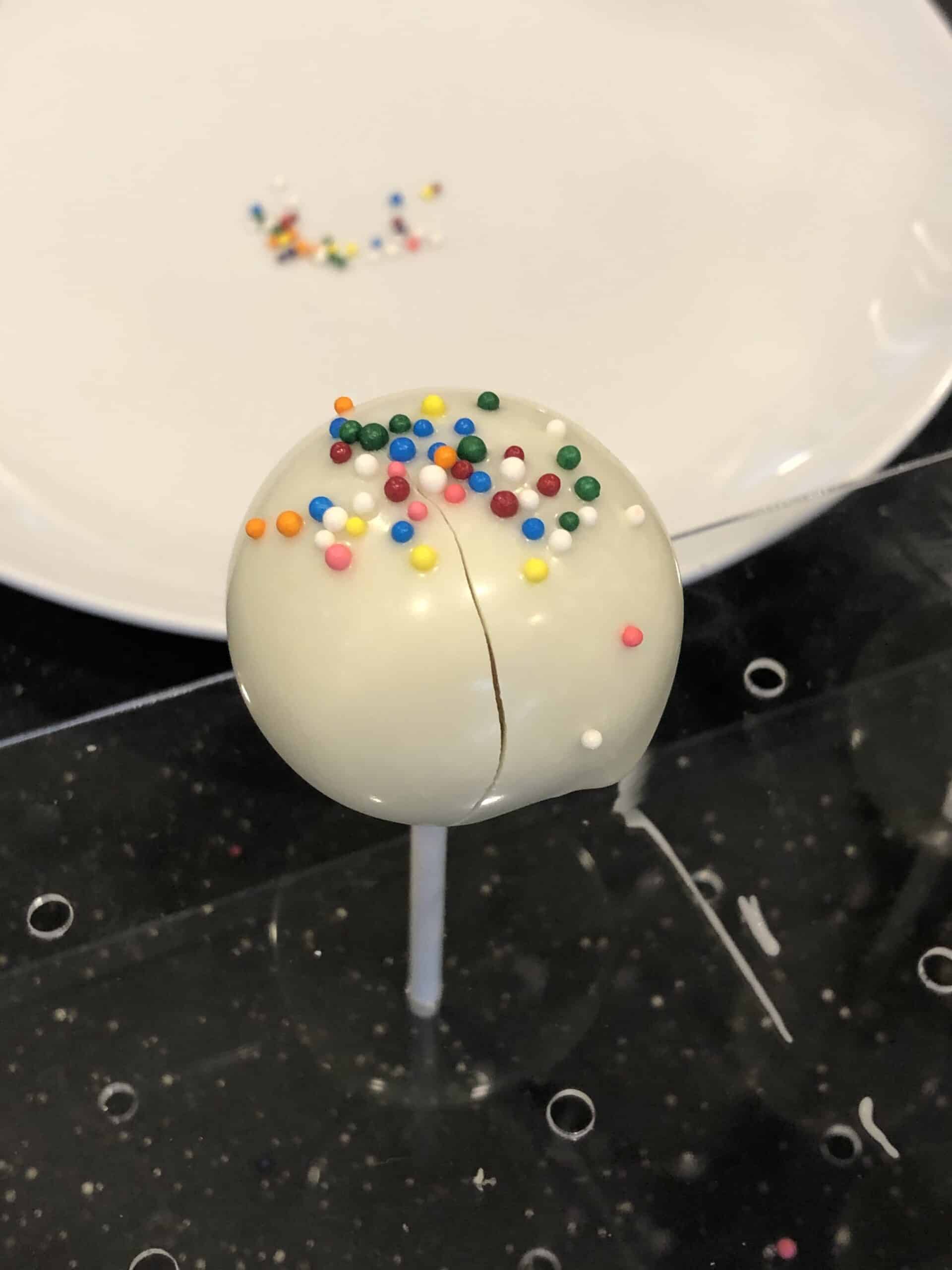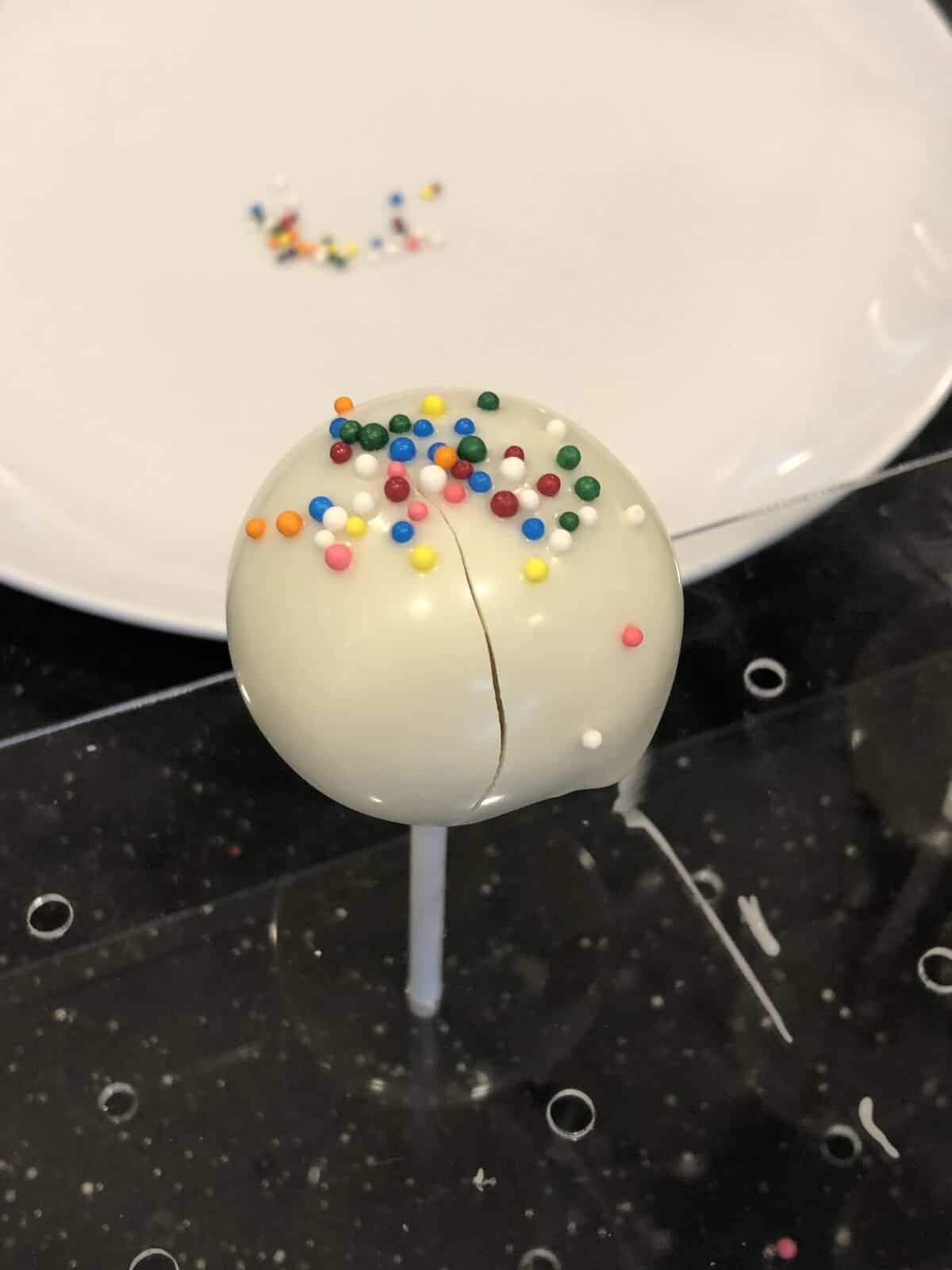 The Process
The easy part is crumbling the cake into smithereens. Lately, I bake the cake days in advance because its quick and easy. I freeze it until I'm ready for the cake pops. On the day of, I take it out, glove up, and crumble it in a big bowl.
Next, I add the frosting. Since we are looking for a perfectly smooth cake ball, I'm not sure if over mixing is possible. Once the mixture has an even consistency throughout, get out a cookie scoop or tablespoon to portion out equal sized cake balls.
When you get a dollop in your hands, give it a good squeeze a few times so it's a uniform consistency and then roll it into a ball. I use a cake pop mold more as a housing and measurement to hold the cake balls rather than actually shape them. Next, dip a cake pop stick into a little melted chocolate coating and poke it into the cake ball. This helps secure it so that the cake pop doesn't fall off of the stick later. If you want to see some kids cry, skip this step.
After all of the birthday cake pops have their sticks, they need to chill just a little bit in the fridge before they get their pretty chocolate coating and fancy sprinkles, so into the fridge they go.
The Candy Coating
I have two tried-and-true brands of candy coating to endorse: Ghirardelli and Merkens. I made the mistake of using Candy Melts once and it was a disaster. The chocolate needs to melt easily. Both the Ghirardelli and Merkens are so dependable. The Candy Melts brand did not melt completely, evenly, have a strange waxy coating, and I don't like the taste. So there! I know there are also other good brands out there that I have read about, but I can only recommend what I have actually used.
Last words about the candy coating... If the chocolate wafers over heat, the sugar can burn and seize up. If/when this happens, you'll find a lump or pile of burnt sugar mess in your bowl, cup, pot, whatever. It happens. Don't beat yourself up about it. Just start over and move on. Using less heat and everything will be fine.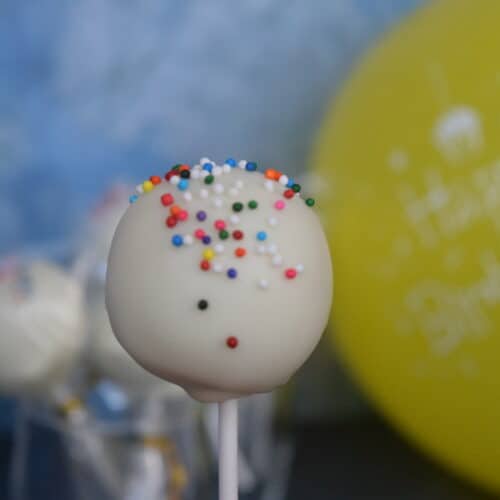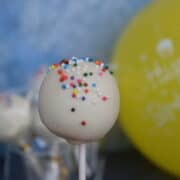 Print Recipe
Birthday Cake Pops
Funfetti cake and frosting turned into perfect pops with a smooth candy shell.
Equipment
cake pop mold

cake pop sticks

a deep and tall cup

cake pop holder
Ingredients
1

cake baked to package directions

½

cup

frosting

2

bags

candy coating

Ghirardelli or Merkens

nonpareil sprinkles
Instructions
Bake cake according to package directions. Let cool completely or overnight if possible.

Place cooled cake into a large bowl. Put on golves and crumble cake completely. The more consistent, the better.

Add a half cup of frosting. You may need more depending on the humidity in the air or dryness of the cake. Start with a ½ cup and add more if needed to evenly incorporate all of the cake. Using your gloved hands, really combine and massage that frosting into the cake. You will have a dense and smooth mixture ready to roll into balls.

Using a tablespoon or cookie scoop, portion out some cake into your palm and give it a few squeezes. Roll the mixture into a ball and make sure it is smooth all the way around. Place the ball in a cake mold or on a sheet pan lined with parchment. Continue until all of the cake mixture is rolled into balls.

In a microwave safe dish, melt about a ⅓ of a cup of candy wafers. Follow the package directions for melting. Heat in 30 second intervals and stir well after each 30 seconds until the chocolates are smooth.

Dip ½" of a cake pop stick into the melted chocolate and poke into the cake ball. Continure until all of the cake pops have sticks.

Chill the cake balls in to fridge for 15-20 minutes.

After cake pops have, bring them back out of the fridge for dipping. Melt about a cup of candy wafers in a microwave safe measuring cup, 30 seconds at a time and stirring in between. Once the chocolate has melted evenly and you have a smooth mixture, you are ready to dip the pops.

Tilt the measuring cup with the chocolate coating on an angle and dip a cake pop, rotating through the coating until it is evenly covered. Use the side of the measuring cup to tap the cake pop stick against until the excess coating has dripped off. Top the cake pop with sprinkles.

Place cake pop in holder while the shell hardens completely.

Cover cake pops in small cake pop bags and store in the refridgerator until it's time to eat them.
Nutrition
Serving:
1
cake pop
|
Calories:
140
kcal
Supplies
More sweets...
If you need any more sweet treats, especially of the gluten free variety, check out my other goodies here.
This post contains affiliate links. As an Amazon associate I may earn from qualifying purchases.