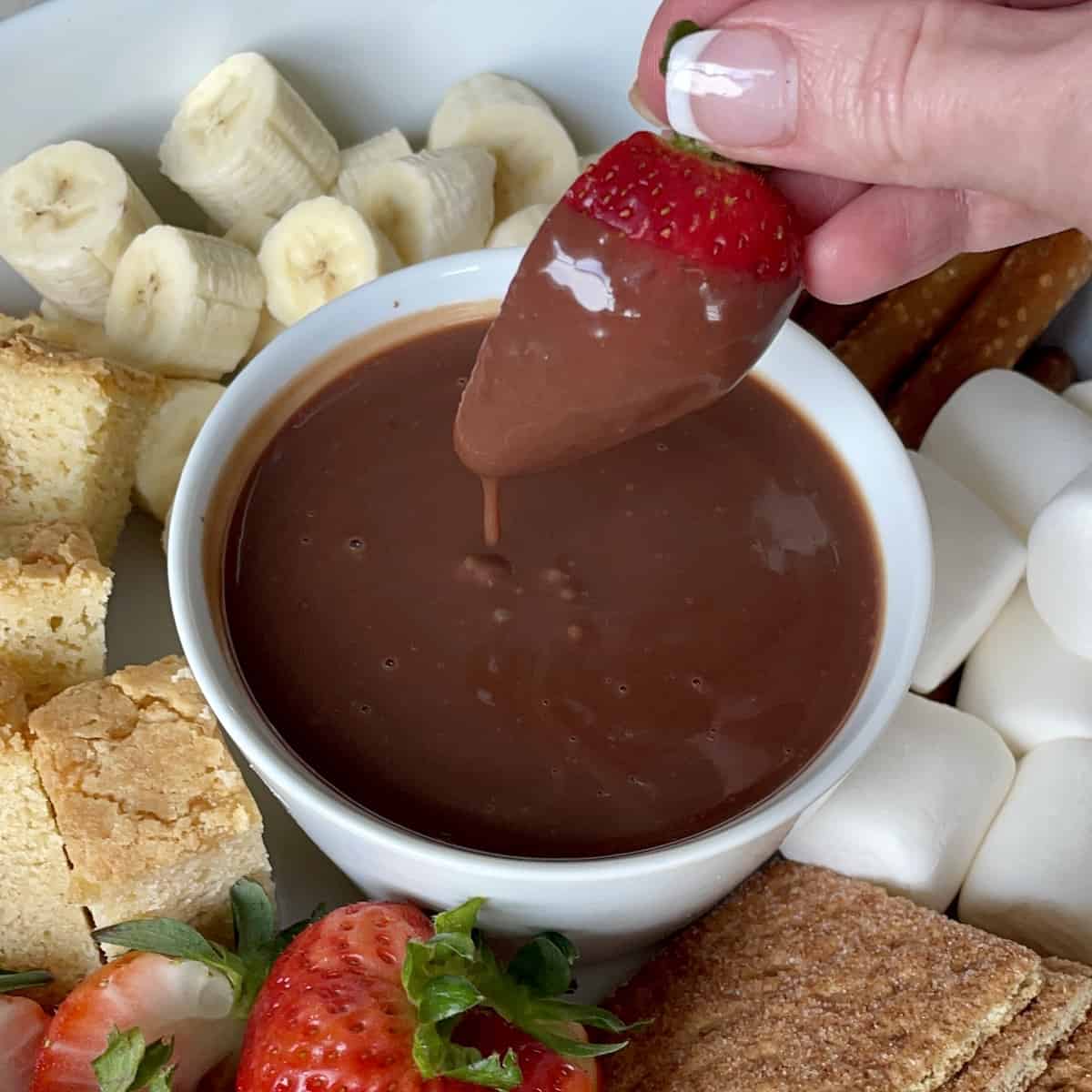 This chocolate dipping sauce recipe packs all of the decadent chocolate we need to make a great dessert board or fun treat for the family. I have to keep it simple though. This is such an easy recipe for homemade chocolate sauce. The hardest part is deciding what to dip next!
This blog post contains affiliate links. As an Amazon Associate I may earn income from qualifying purchases. Thanks for the support.
A Quick Chocolate Sauce Overview
Let's first start by getting in the chocolate-dessert-decadent mindset. Dessert brings us so much joy. Whether you are hanging out as a family having a fun weekend evening. Or maybe you need something sweet to end a romantic dinner (or at least move on to the next phase 😉 ). This chocolate dipping sauce is so fun and so delicious.
Save this recipe for: Valentine's Day, summer parties, girls nights, or when the kids have sleepovers.
Dipping Sauce Ingredients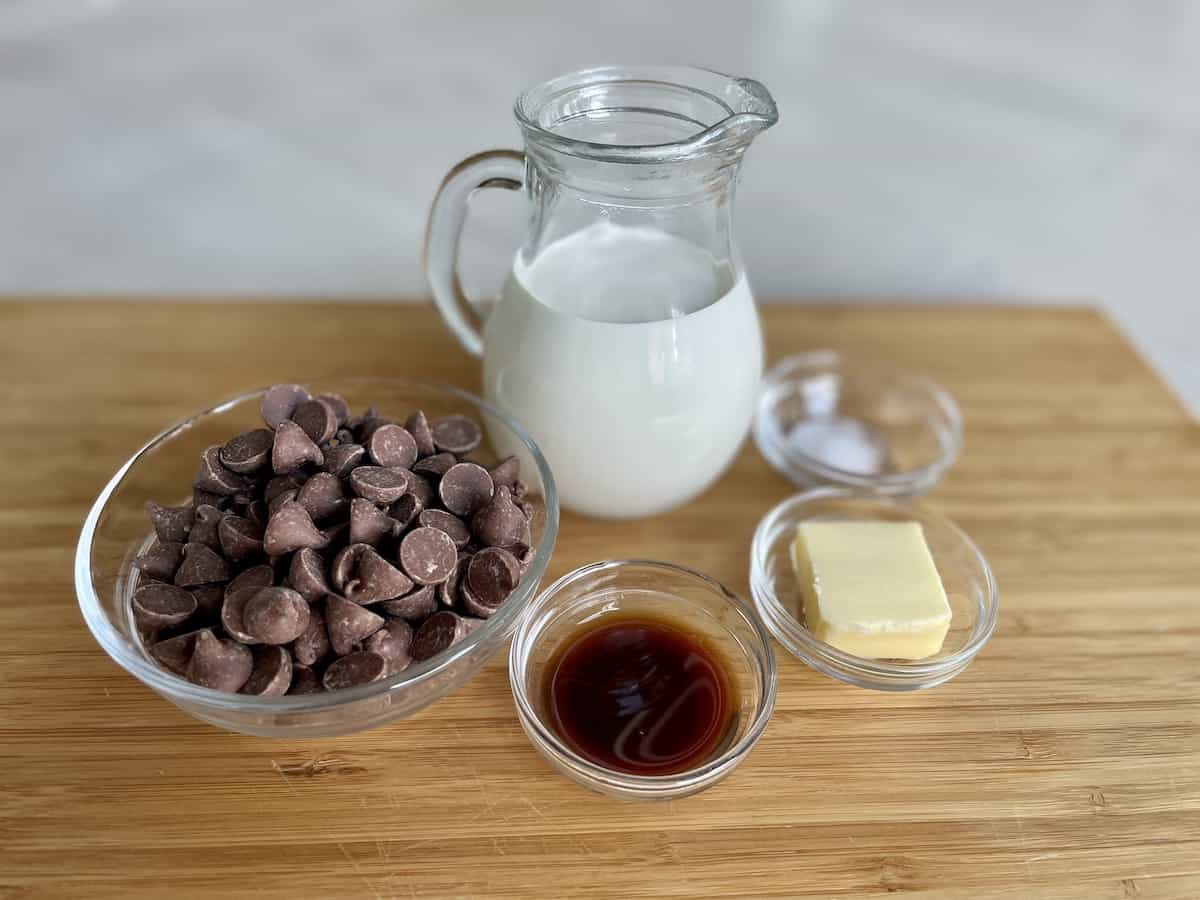 I feel like there is a pretty good chance you already have these simple ingredients in your pantry. Check it out.
You need milk chocolate or semi-sweet chocolate. The recipe card is written with semi-sweet chocolate chips, but you can choose. I like to use chocolate morsels because I almost always have them on hand, but a chocolate bar would also work. You'll just need to very finely chop it up into small pieces.
Next, we need heavy cream, unsalted butter, vanilla extract, a pinch of salt.
*I don't recommend using dark chocolate. The semi-sweet is dark enough. Besides, you deserve a little of sweetness here.
Heating and Melting Chocolate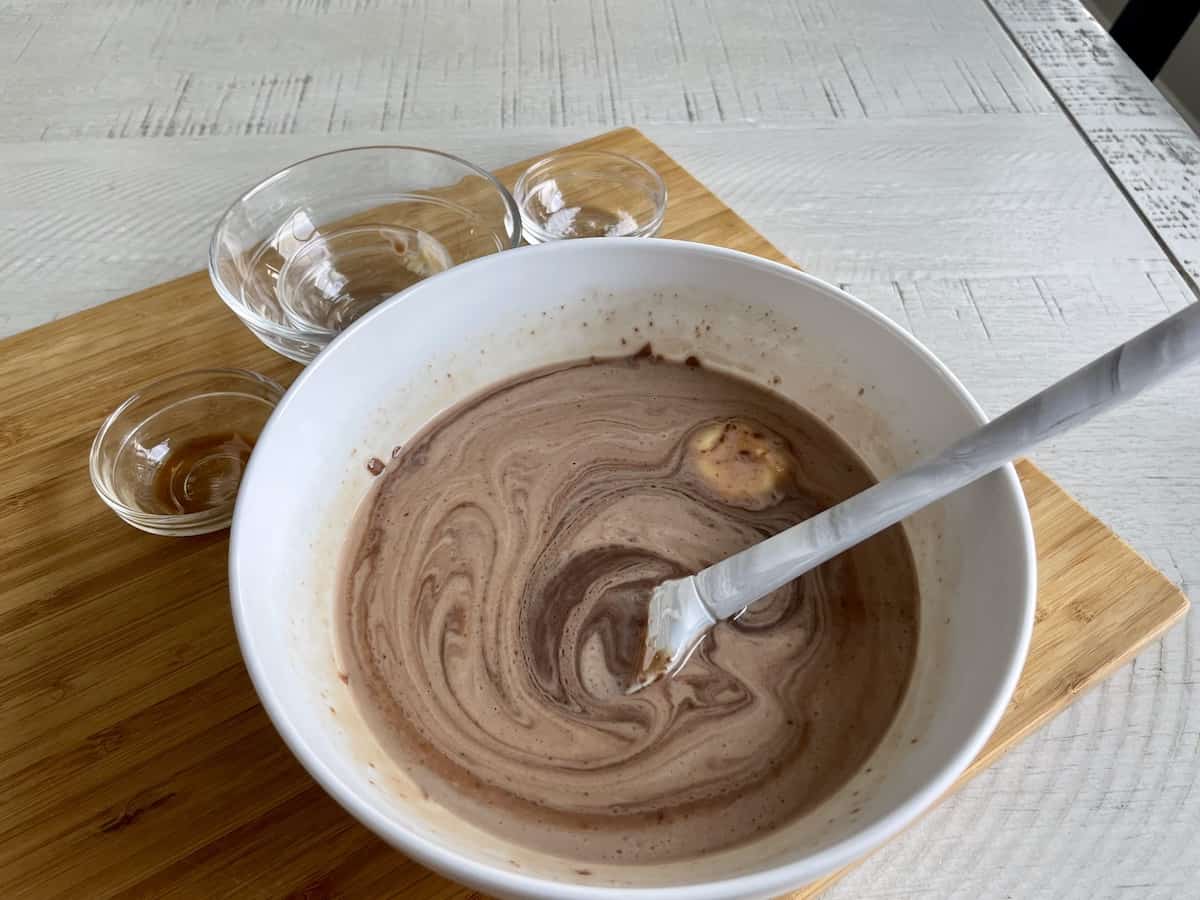 Okay, so you have a few choices. We can make this sauce on the stove or in the microwave. Much to my surprise, its actually faster and easier to make it in the microwave. Here are the steps for both options:
1). Stove top- place a small saucepan on the stove over medium heat. Pour in the cream and butter. Once the cream has heated enough to make small bubbles around the edge on the pot, add in the chocolate, vanilla, and salt. Stir the mixture with a rubber spatula until is melted and completely smooth. *careful not to burn it. Lower the heat to medium or low heat just to be safe.*
2). Microwave- pour the cream into a microwave-safe bowl and heat it for 30 seconds. Add in the chocolate chips and return to the microwave to heat for another 30 seconds. Remove the bowl from the microwave and stir with a rubber spatula. Add in the butter, vanilla, and salt. Continue stirring until the chocolate has melted completely and you have a smooth sauce.
What I don't recommend... a double boiler. Y'all, it is not necessary. Don't hassle with the mess.
What to Dip...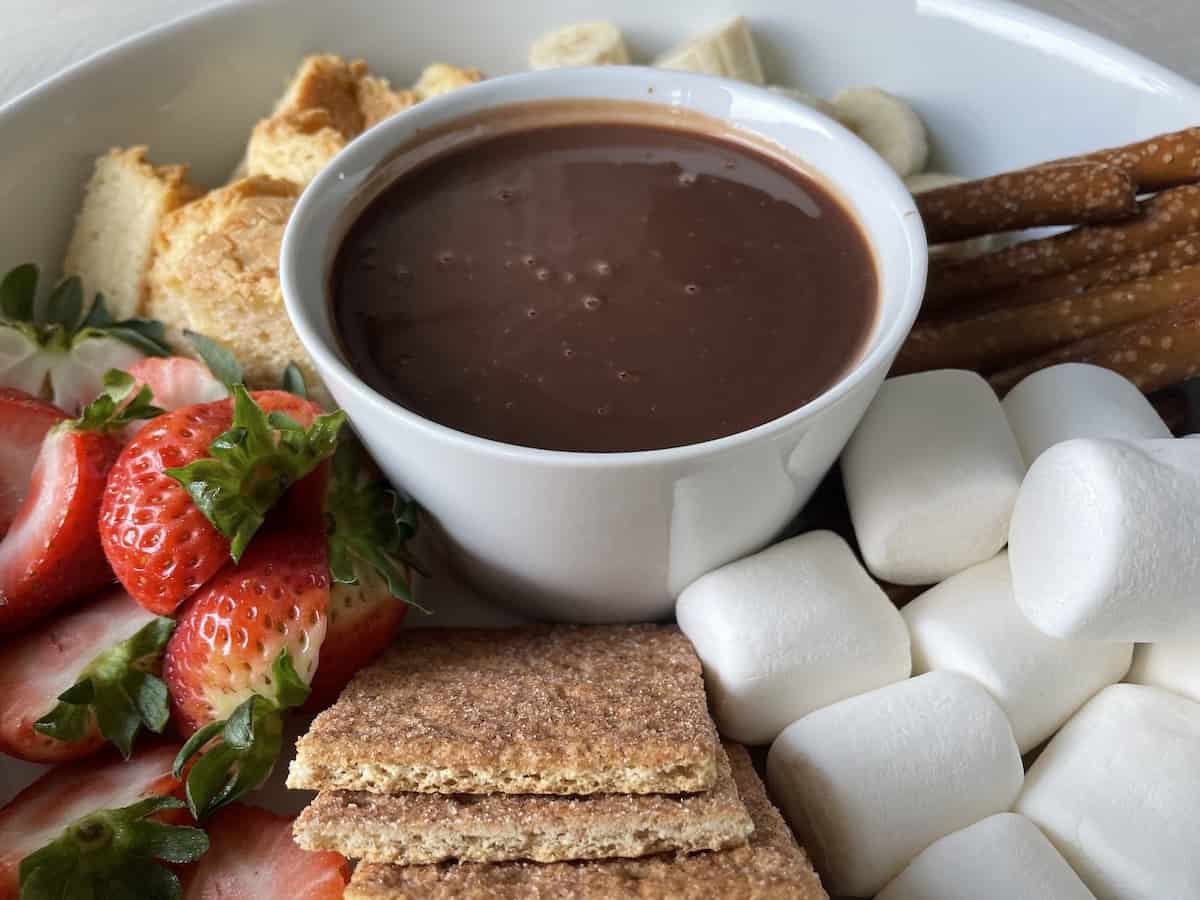 What's not to dip is a better question. This is such a great recipe because it's delicious, but its also great because you dip whatever you have on hand. Here's a list just to get you started though:
Fresh fruit- strawberries, apple slices, bananas, pineapple
Marshmallows- the bigger the better
Graham crackers, pretzel rods, pound cake, chessman cookies
Store bought or homemade churros
Chocolate chip cookies, vanilla wafers, or pirouline cookies
More Ways to Use This Chocolate Dipping Sauce Recipe
This chocolate sauce is also perfect for pouring. I absolutely love to drizzle it over ice cream, cheesecake, crepes and chocolate chip pancakes. (That is obviously a once in a while brunch type breakfast!)
Basically, any time you would reach for the Hershey's syrup, swap it out and go for this way tastier homemade chocolate sauce version.
How to Serve Chocolate Dipping Sauce
If you don't already one, check out this dip serving set. I like this type of serving ware because a small bowl of dipping sauce goes in the middle and of the delicious dippers are laid around it.
The sauce will stay perfectly smooth and saucy at room temperature. If you have leftovers to save for another day, transfer the chocolate sauce to an airtight container. Keep in the refrigerator for up to one week (although I always devour it much faster).
To reheat the chocolate sauce, just microwave in 30 second intervals and stir in between. The sauce will melt and liquify, no problem.
Chocolate Dipping Sauce Recipe Card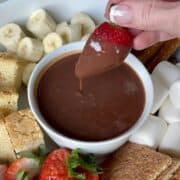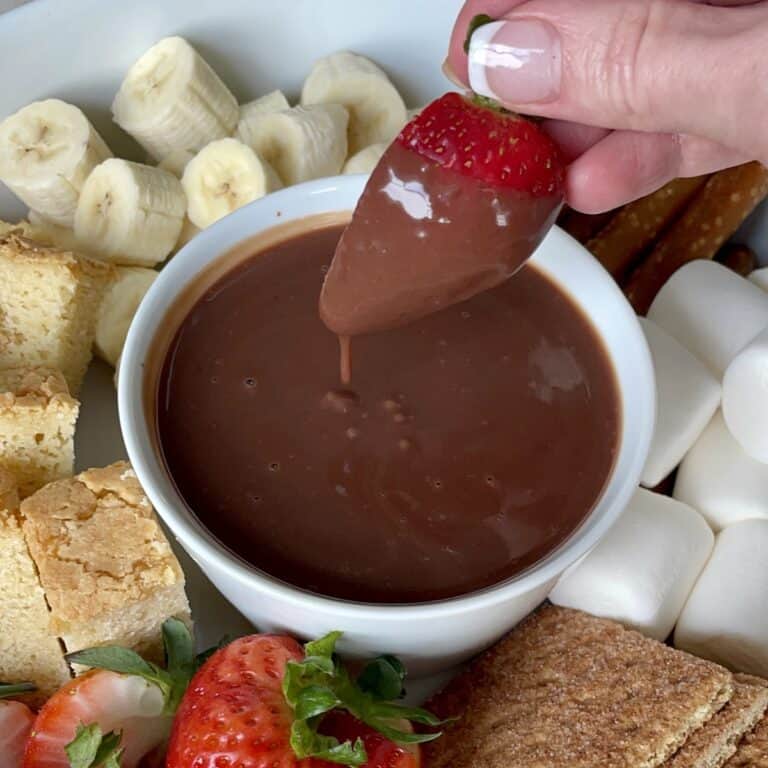 Print Recipe
Chocolate Dipping Sauce Recipe
A decadently rich chocolate sauce perfect for dipping or pouring over your favorite desserts. Perfectly sweet for dipping fruit, cookies, pretzels, and so much more.
Equipment
1 saucepan

1 rubber spatula

1 microwave safe bowl
Ingredients
1

cup

semisweet chocolate chips

¾

cup

heavy cream

½

tablespoon

unsalted butter

1

teaspoon

vanilla extract

pinch of salt
Instructions
Stove Top
In a small sauce pan, combine the heavy cream and butter. Place over medium low heat for 2-3 minutes.

Add the chocolate chips, vanilla, and pinch of salt. Use a rubber spatula to stir the mixture together until the chocolate chips have melted completely. Once the sauce is completely smooth, remove from the heat and serve immediately.
Microwave
In a microwave safe bowl, combine the heavy cream and butter. Heat in the microwave for 30 seconds.

Add the chocolate chips, vanilla, and pinch of salt to the warm cream. Stir it well to combine and return to the microwave. Heat it for another 30 seconds. Remove it and stir.
Nutrition
Calories:
214
kcal
|
Carbohydrates:
12
g
|
Protein:
2
g
|
Fat:
17
g
|
Saturated Fat:
11
g
|
Polyunsaturated Fat:
1
g
|
Monounsaturated Fat:
5
g
|
Trans Fat:
0.05
g
|
Cholesterol:
28
mg
|
Sodium:
8
mg
|
Potassium:
150
mg
|
Fiber:
2
g
|
Sugar:
9
g
|
Vitamin A:
361
IU
|
Vitamin C:
0.1
mg
|
Calcium:
29
mg
|
Iron:
1
mg
Recipe Modifications
If you want a slightly thinner sauce, add an extra tablespoon of cream or use a full tablespoon of butter.
Butter- you can certainly substitute coconut oil for the butter. A little goes a long way, so start with just 1 teaspoon and add more if needed. The butter or coconut oil give the sauce a glossy finish, so either will work.
More Sweets to Keep You Satisfied