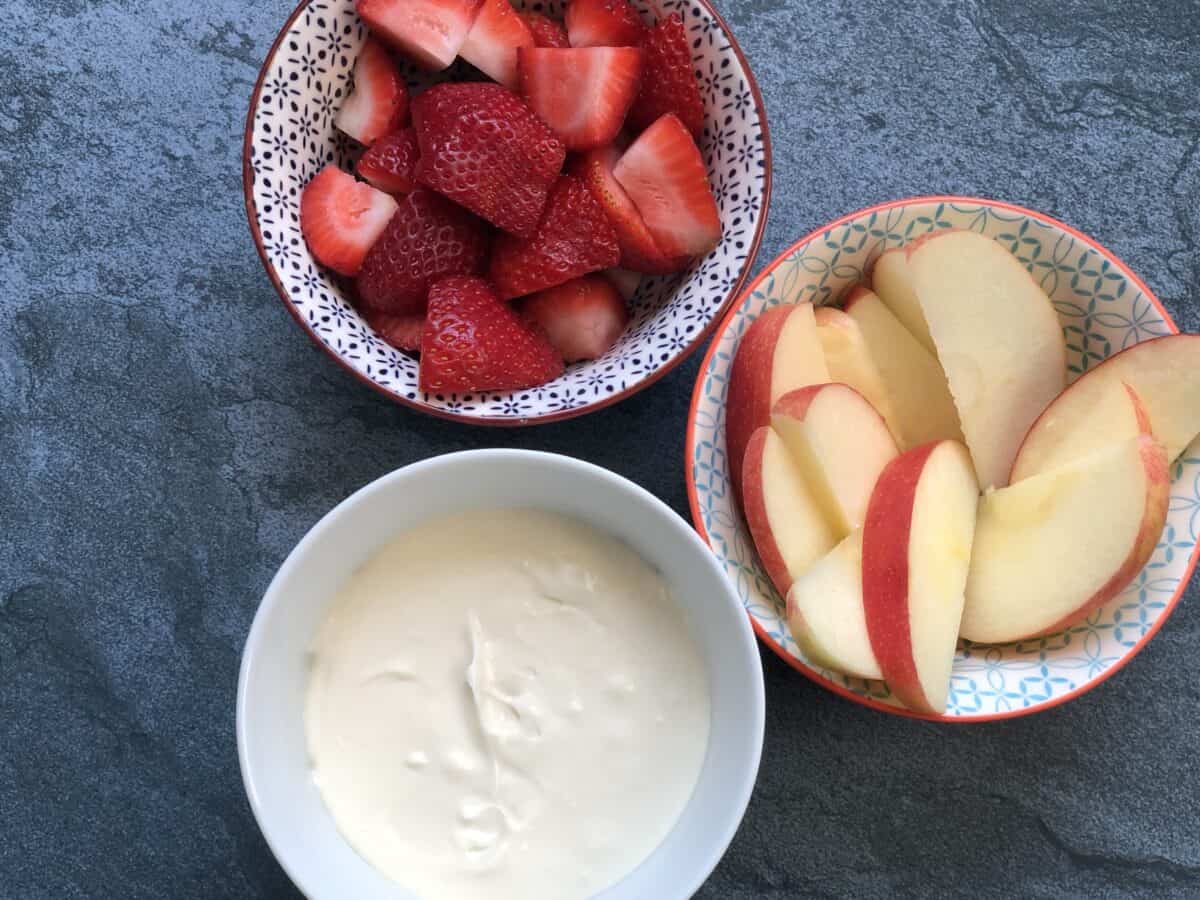 Cheesecake Fruit Dip is one of those guilty pleasures that I am totally able to justify. It's a dessert that comes with fresh fruit. The fruit and cheesecake cancel each other out. Plus, I'll take cheesecake however I can get it. Mini cheesecakes. Cheesecake ice cream (esp. at Cold Stone). I even spread this stuff on bagels in the morning.
I'm not a very patient person, which is another reason why I like this so much. Making cheesecake fruit dip takes just ten minutes to mix up and there's not a lot to clean afterward. The hardest part of this recipe is waiting for the cream cheese to get to room temperature. Just dump the ingredients into your stand mixer and whip until it's combined. I spend so much time food prepping, making dinner, and cleaning my kitchen that this is about all the energy I have for dessert on some days.
Aside from the fact that I love eating it, I'm happy to share with my kids. My seven year old does a great job of eating fruit, but my 4 year old, not so much. He is, however, a good dipper. I use that to my advantage. Also, there's not a ton of sugar in the dip, but they don't know that.
Check out the recipe real quick and then we'll talk more.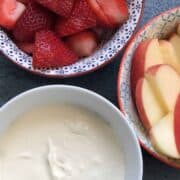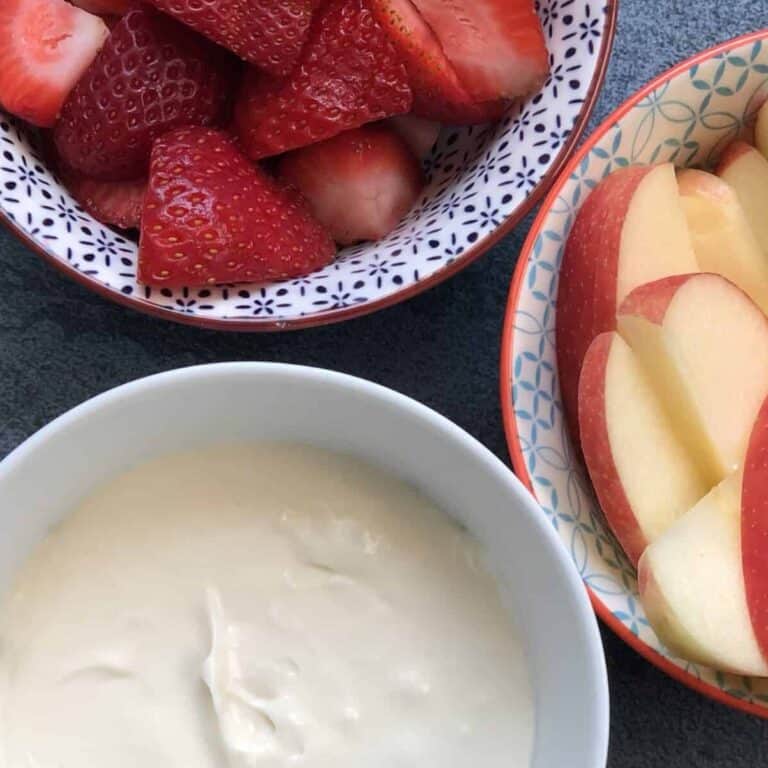 Print Recipe
Cheesecake Fruit Dip
Sweet and tangy dip that has all the flavor of cheesecake in a fraction of the time.
Equipment
Stand mixer or electric hand mixer
Ingredients
8

ounce

room temperature cream cheese

2

tbs

heavy cream

1

teaspoon

vanilla

1

teaspoon

lemon juice

⅓

cup

powdered sugar
Instructions
Put room temperature cream cheese in the bowl of a stand mixer and whip for a minute with whisk attatchment.

Add cream. Whip until combined and smooth.

Add lemon juice and vanilla. Whip to combine.

Add powdered sugar and stir to combine one more time.

Serve immediately or refrigerate until serving time.
Nutrition
Two variations I like for this: mini chocolate chips or caramel sauce. Mini chocolate chips for the strawberries and caramel for the apples. This definitely takes the dip to the next level. It's more decadent and kind of fancy.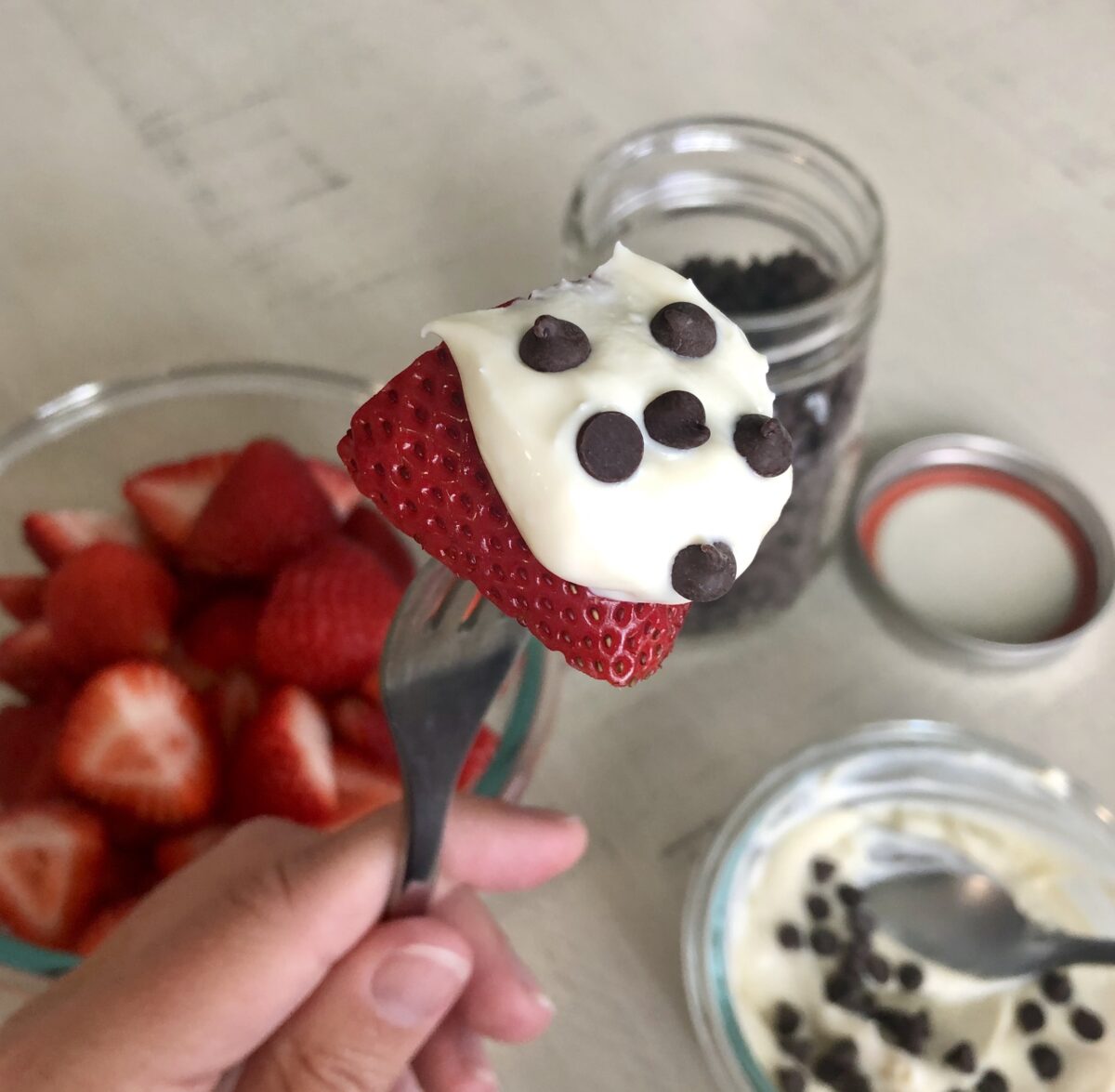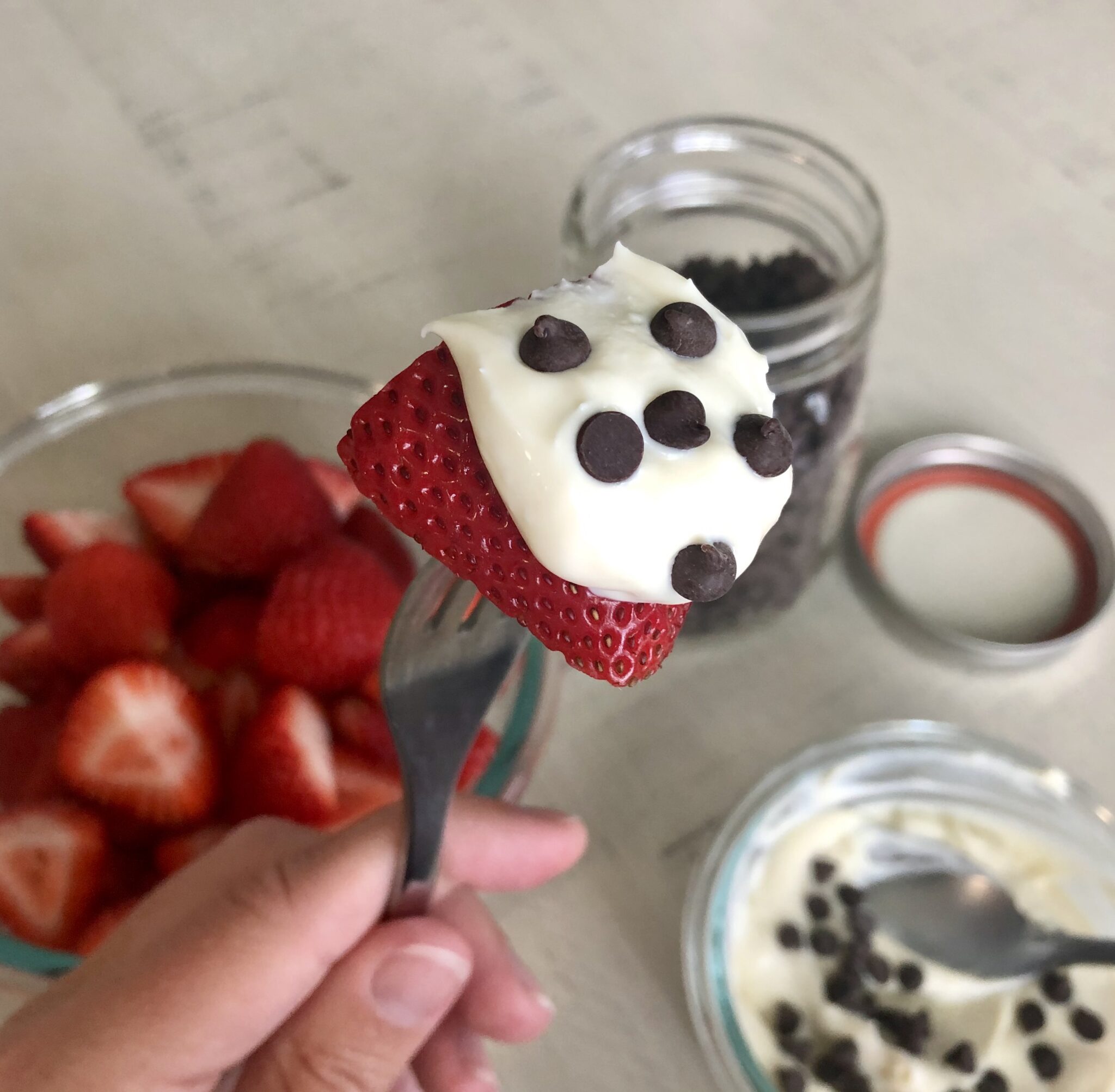 Other ways to eat cheesecake dip, you ask... I mentioned above spreading it on bagels. That's a delicious way to start the day. It's also good on a graham cracker for an afternoon snack or you can crush graham crackers up and sprinkle the crumbs on top to really make it cheesecake-y. You can dip pretzels in it if you want. Lastly, you can put a little dollop of it in a fruit and yogurt parfait with some granola to make it extra special.
Alright, that's all I got. Enjoy.
This post contains affiliate links. As an Amazon Associate I may earn from qualifying purchases. (but it's not likely because Amazon cut affiliate commission rates)