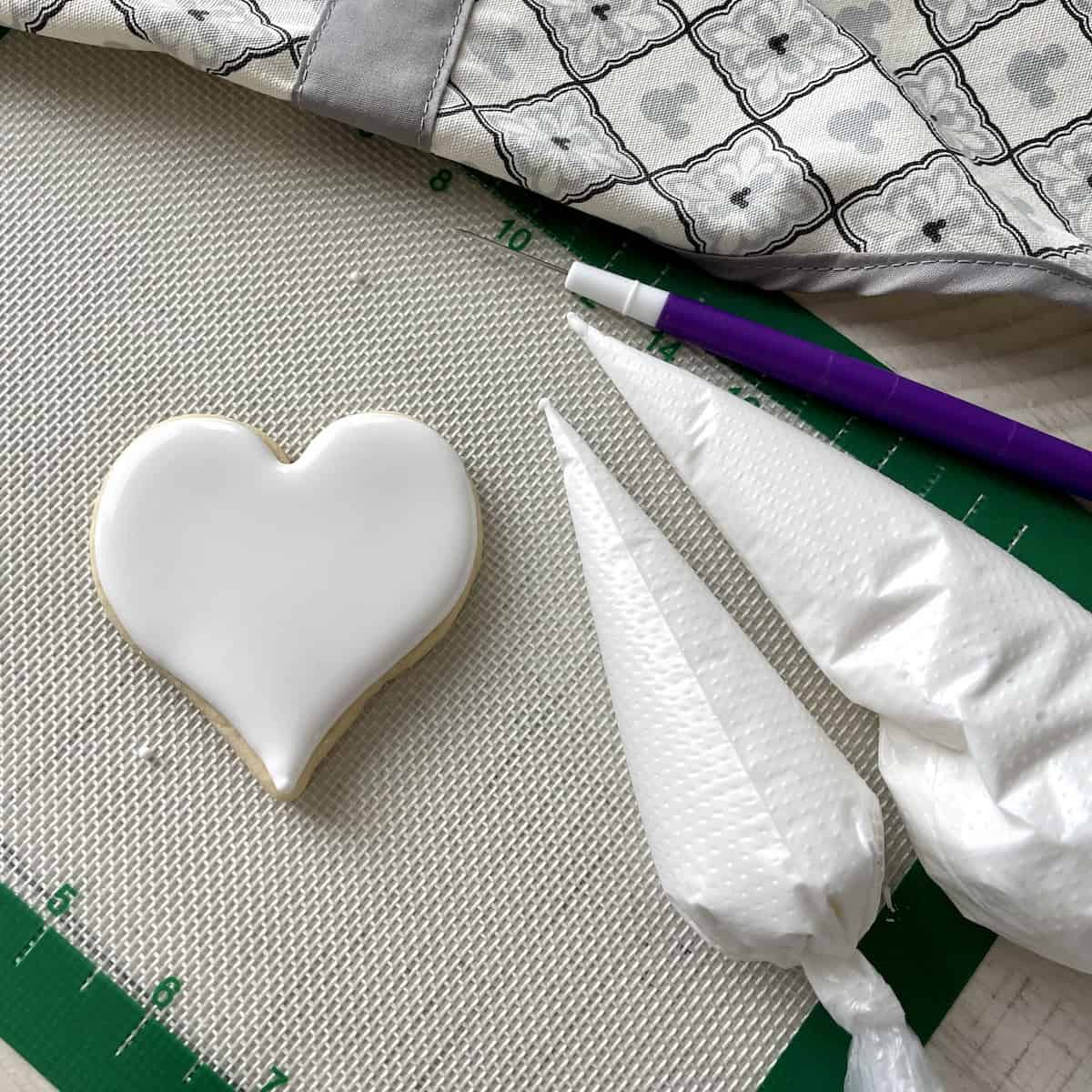 This is the best royal icing for sugar cookies recipe with a great taste. It's your guide to making gorgeous decorated cookies you will love.
This blog post contains affiliate links. As an Amazon Associate I may earn income from qualifying purchases. Thanks for the support.
What makes this the best royal icing for sugar cookies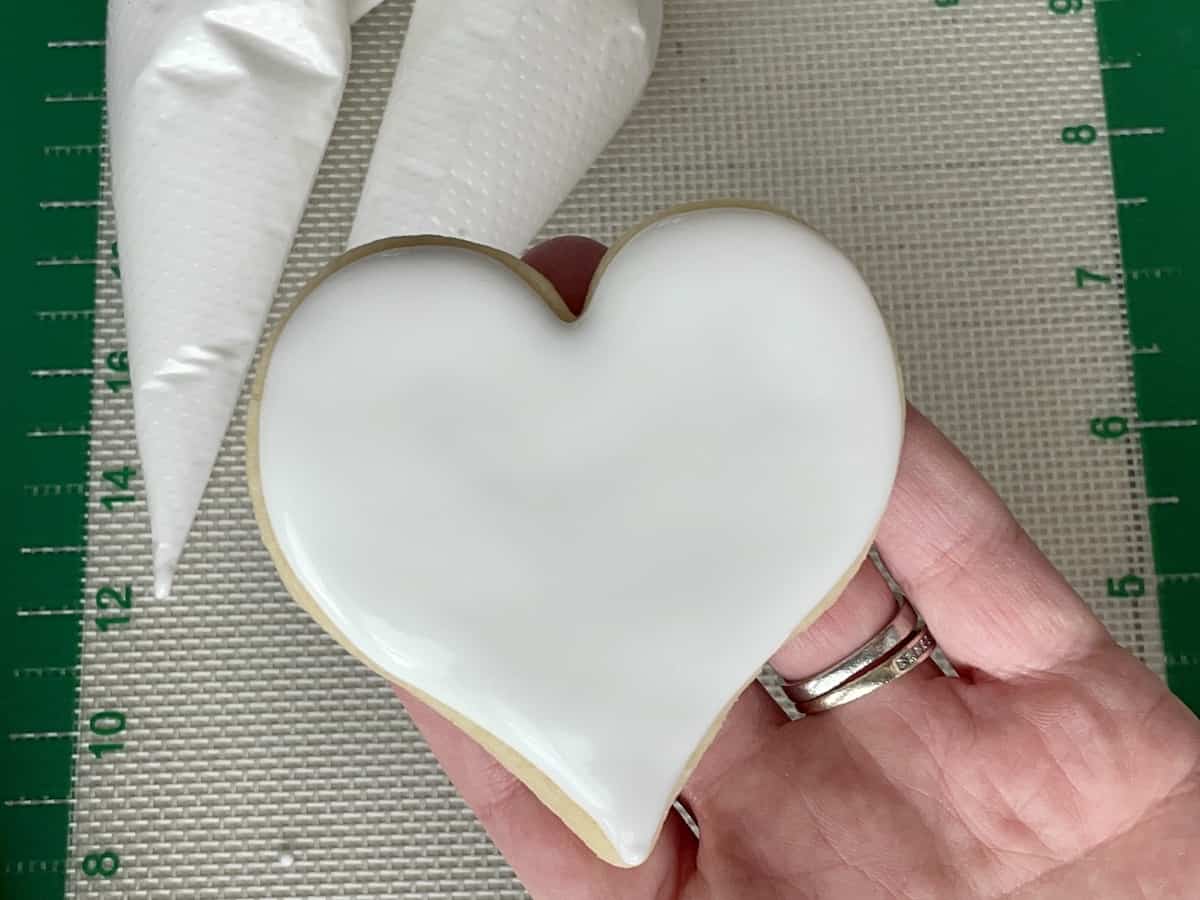 This is such an easy royal icing recipe to make. It has very simple ingredients that don't actually have much flavor. Some recipes include raw egg whites, while most use meringue powder. The meringue powder I use has the best flavor and I have tried several.
Judee's Complete Meringue Powder Mix is my absolute favorite. The first time I opened a bag of it, the smell was captivating. I knew right away that it was going to be good. It has more flavor than other meringue powders I have tried. I also think it creates a more stable royal icing with a shinier finish.
Royal Icing Ingredients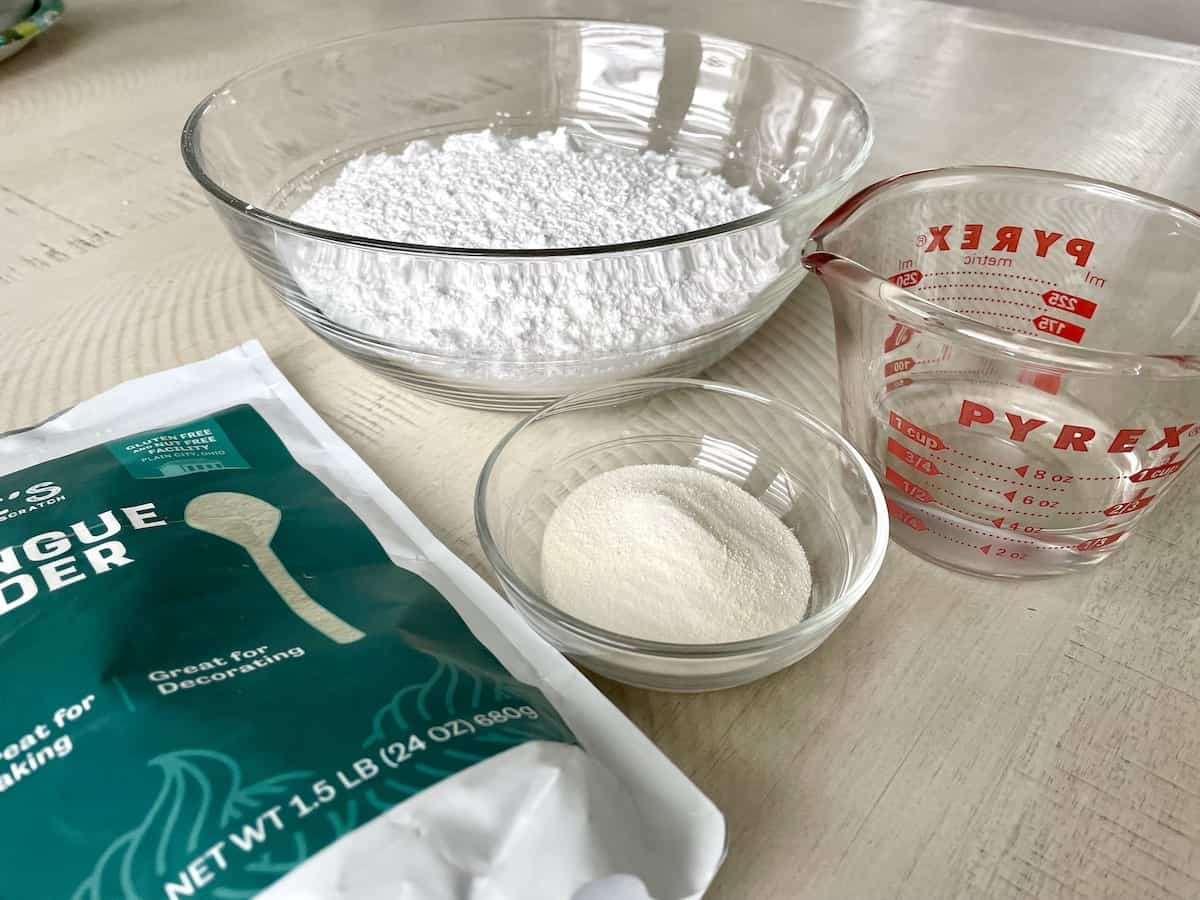 For the best royal icing for sugar cookies, you need:
4 cups powdered sugar
1 cup warm water- you will start with ⅓ of a cup in the beginning and gradually add more to get the consistency you need
3 tablespoons of meringue powder
There is a lot to cover with coloring options, so see a separate section for that below.
Some recipes call for light corn syrup to create a shiny finish versus a matte finish. I prefer the powdered sugar and meringue powder combination.
Adding flavors to your royal icing
After you learn the basics for the royal icing, you can branch out and add flavors if you want. The most common addition would be clear vanilla extract. Other great flavors include almond extract, maple, orange, lemon, or mint.
For Christmas, I like to add peppermint extract to my royal icing and decorate Christmas trees with mini m&ms. This makes a mint chocolate sugar cookie and it's just best holiday flavor ever.
The Best Supplies for Making Royal Icing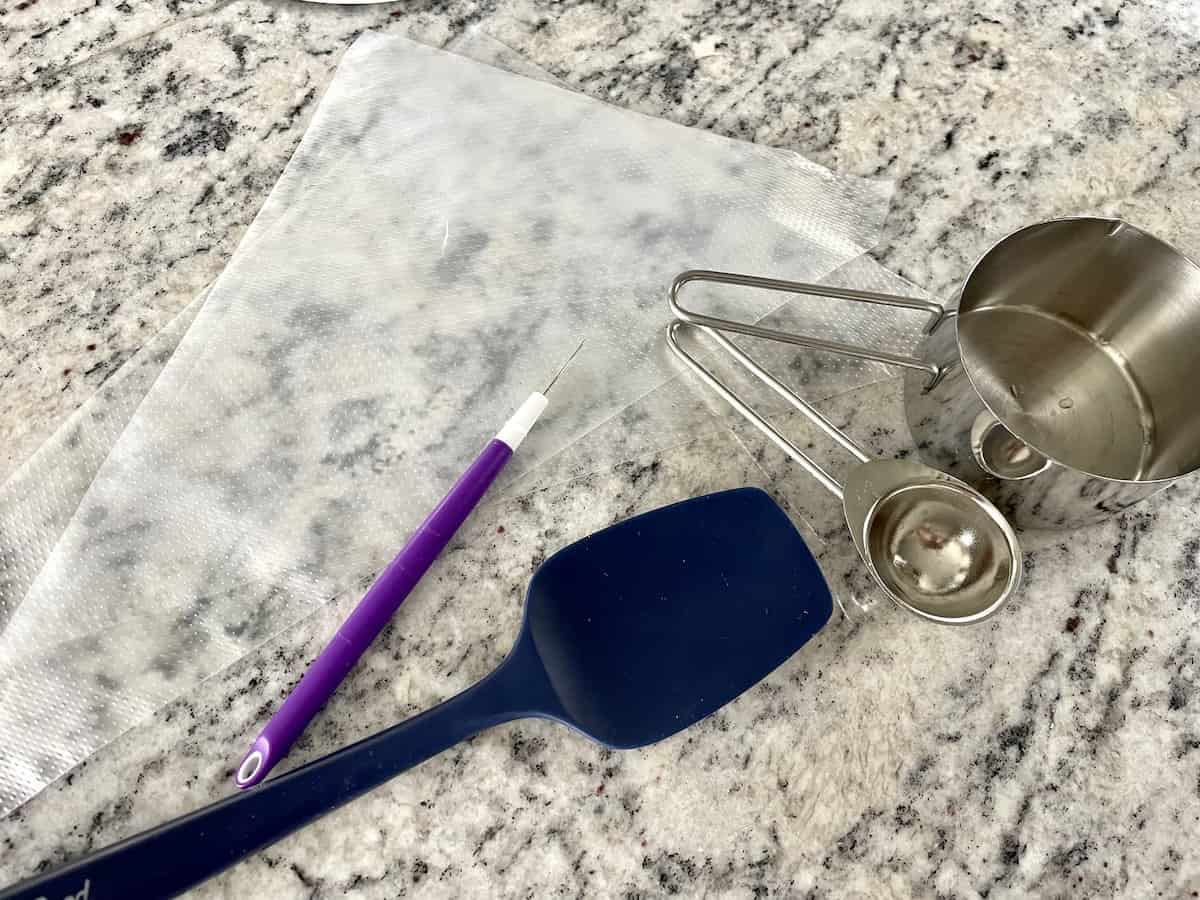 First and foremost, you need a stand mixer with a whisk attachment. The icing has to mix for 7 minutes and that's a long time to hold a hand mixer. You also need a one cup dry measure, a tablespoon, and a cup for warm water.
After the icing is made and you are ready to add colors, lay a damp paper towel or piece of plastic wrap over the mixing bowl to keep the top of the icing from building a dry crust.
Favorite Cookie Decorating Tools and Supplies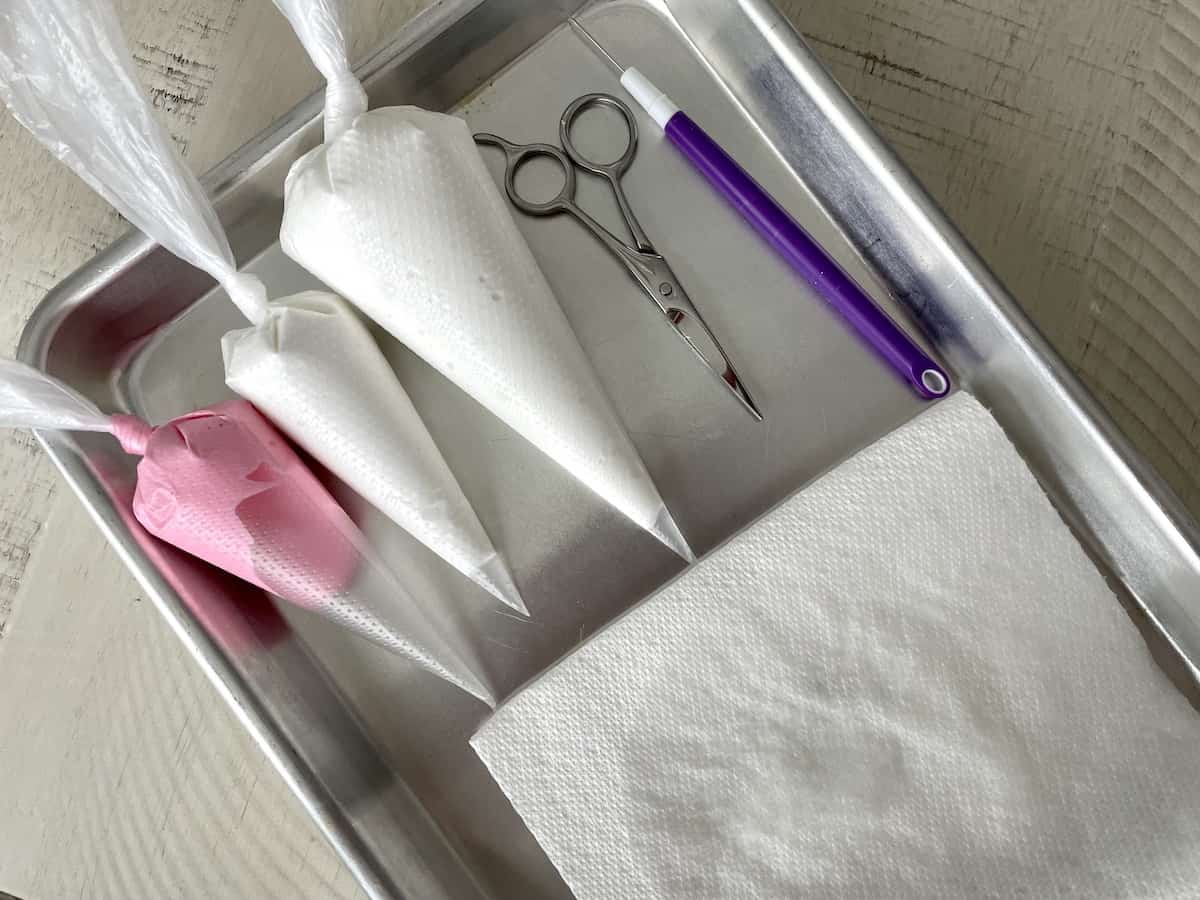 Piping bags- tipless piping bags are the most popular kind of bag for royal icing. When you fill the bag with your icing, just flatten the edge of the tip so the seam is facing up. Cut a tiny tip off the end of the piping bag and you are ready to go.
Scribe- this pointy little poker is used for smoothing icing out to the edge of the cookie, swirling and creating different designs, and popping any air bubbles un the icing.
Piping tips- useful for specialized decorating like flower petals and leaves
Wet paper towel- have one ready next to you for wiping off the tips of the piping bags and your scribe as you go. They will build up dried icing and cause problems.
The Perfect Consistency for Decorating Cookies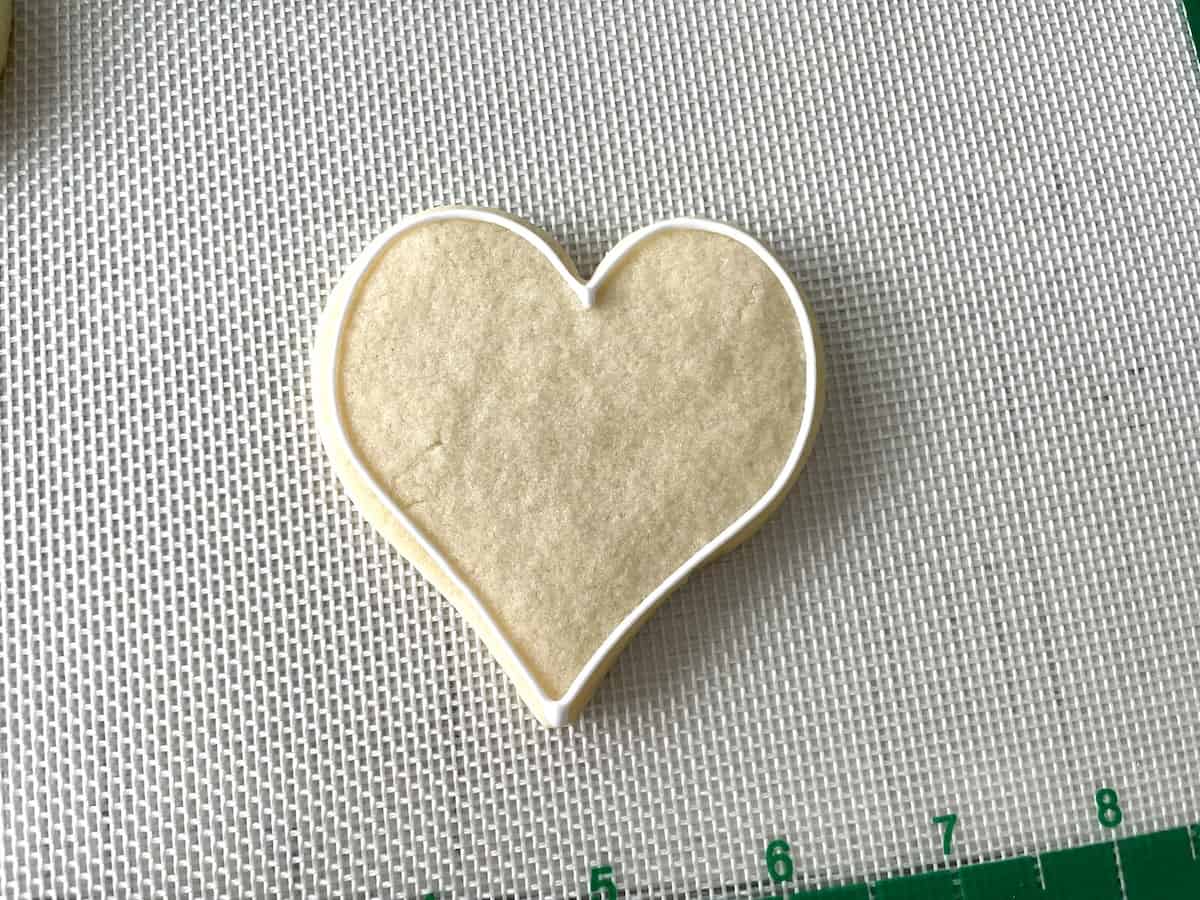 Achieving the right consistency of the icing is the most important factor when decorating sugar cookies, especially if you are creating more intricate designs. The more water you add, the looser the icing will be. A border icing to outline the edges of the cookies should be the consistency of toothpaste. To flood the cookies and fill in the completely, you want the consistency of honey.
Very stiff icing- used for flowers and some styles of lettering. Can also be used to build gingerbread houses. This icing stands up on its own and does not flop over when it's scooped up.
Somewhat stiff- use for lettering and detail work. Will maintain a peak when pulled away from the mixing bowl, but soft enough to flop over.
Border icing- soft and easily flows off of a spatula but able to hold on the cookie without spilling over the edge
Flood consistency- a thinner icing that pours easily and fills in cookie
When you mix the icing, add water slowly and carefully until you get the desired consistency. You can use a half or quarter teaspoon, eye dropper, or spray bottle to avoid adding too much water.
Coloring options for the Best Royal Icing for Sugar Cookies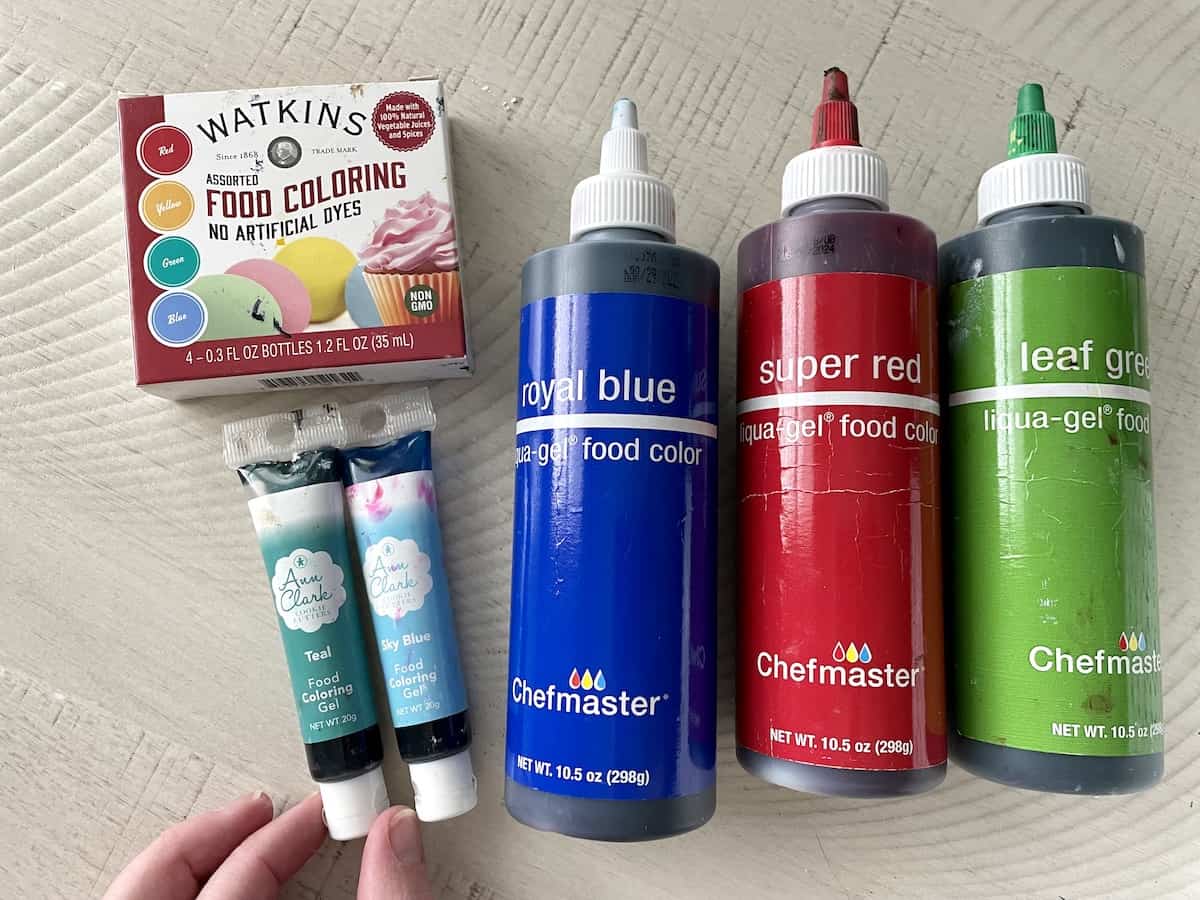 Gel Food Coloring is the best and most commonly used coloring agent by professional cookie decorators. It is water based, but thick so it won't change the consistency of your royal icing. When it comes to decorating, it's all about consistency, so go for the gel. Popular brands include Ann Clark, Chefmaster, Americolor, and Watkins.
These can be found on-line, in craft stores, or bakery specialty stores. Ann Clark comes in small squeezable tubes which really makes life easier.
Liquid Food Coloring that you would find in grocery stores is also water based and works just fine for basic colors. Liquid is thinner than gel, so it will effect the thickness of the icing. If you want to use natural color versus artificial color, Watkins has one that is vegetable based.
DO NOT use oil based food coloring. This is meant for chocolate. It will drastically change the consistency of your royal icing.
I make my royal icing the day before I am going to decorate sugar cookies. Mix a thicker consistency of royal icing with the gel food coloring and store it in the refrigerator until you are going to ice your cookies. The color really needs a chance to bloom in the icing. This prevents color bleeding when you ice your cookies and ensures a consistent color without dark spots on your decorated cookies.
Mixing icing ahead of time is especially important for red or anything with red in it like brown, orange, or purple. Red dries darker then it appears while it's wet.
Adding Sprinkles and Candies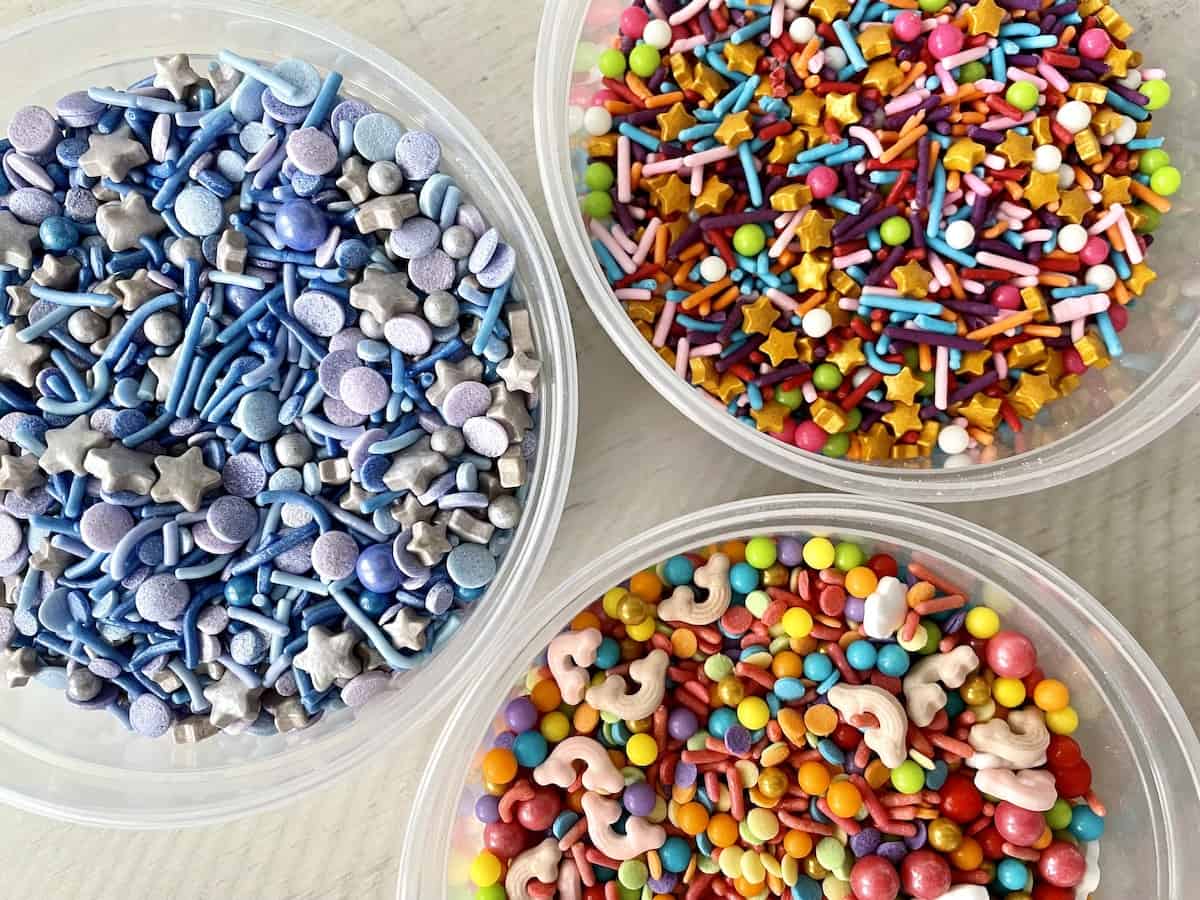 There is a whole world of adorable and fun sprinkles out there. Check out local craft stores and specialty bakery supply shops for a tons of options. Chain stores that may be local to you include Michael's and Hobby Lobby. Walmart tends to have holiday sprinkles at a really low price if you are making cookies for a special occasion. Check out Sweets Indeed Sprinkles on Amazon if you can't get to a store.
Drying Process For Iced Cookies
First, you'll need a large surface area to lay the cookies out in a single layer. After the icing dries completely and hardens, they can be stacked on top of each other. You can also individually bag them if you are giving them away as party favors or for Christmas cookies.
To help with the drying process you can place cookies in front of a fan. This helps speed up drying time and creates more of a shiny finish. This is optional, not required.
Storing Icing After it is Made
I store my icing in glass snap ware. After I make a thick royal icing base, I add the color. The next day, separate the icing into two portions for the border and the flood icing. Royal icing will hold up in the refrigerator for about 7 days and will need to be remixed before using. You can also freeze leftover icing for up to 6 months. It thaws out quickly just being set out at room temperature for an hour.
**You can store icing in an airtight container at room temperature for up to 4 days, but its better in the refrigerator.**
The Best Royal Icing Recipe Card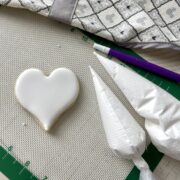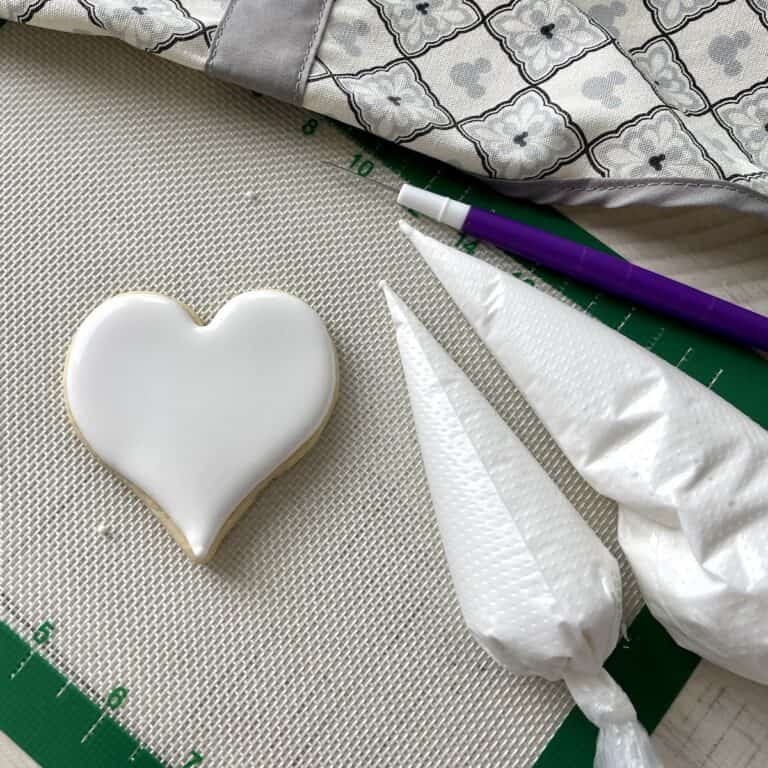 Print Recipe
Best Royal Icing For Sugar Cookies
A sweet and silky icing perfect for decorating sugar cookies that dries completely.
Equipment
piping bags

cookie pick

stand mixer with whisk attachment

rubber spatula
Ingredients
4

cups

powdered sugar

3

tablespoon

meringue powder

⅓

cup

warm water

plus more for mixing to the desired consistency

flavor extracts optional
Instructions
Combine the meringue powder and ⅓ cup of warm water in a stand mixer with whisk attachment. Stir the water and meringue powder with a rubber spatula.

Add the powdered sugar to the water and meringue powder mixture.

Start the mixer on low until the water and powdered sugar have combined. Then increase the speed to 4 and mix for 7 minutes total.

Divide the icing into bowls so you can add in food coloring. I prefer using my glass 4 cup measure because after I prep my stiffer, border icing, I can add a little more water to create the flood icing. Pour the flood icing into piping bags as well.
Notes
Other design options:
1. After piping border, fill multiple colors in with no edge. Use cookie pick or tooth pick to swirl colors together.
2. After piping border, add smaller drops of flood icing to create mosaic look.
3. Create starburst effect by icing colorful circles from the center out to the edge of cookie. Using a pick, start at the center and pull out toward the edge. Repeat all the way around the cookie.
4. Add candies or fun sprinkles. 
Other flavor options:
* Chocolate and peppermint
* white chocolate raspberry
* lemon poppyseed
* orange vanilla bean
Tips:
* Draw out your design first so you have some direction
* Pick 1-2 patterns and stick with them
* Have a large surface for the cookies to dry on overnight. I use sheet pans lined with parchment.
* Practice is key. The more you do it, the better your cookies will be. 
Nutrition
Calories:
47
kcal
|
Carbohydrates:
12
g
|
Sodium:
0.2
mg
|
Potassium:
0.2
mg
|
Sugar:
12
g
|
Calcium:
0.1
mg
|
Iron:
0.01
mg
The Best Sugar Cookies Recipe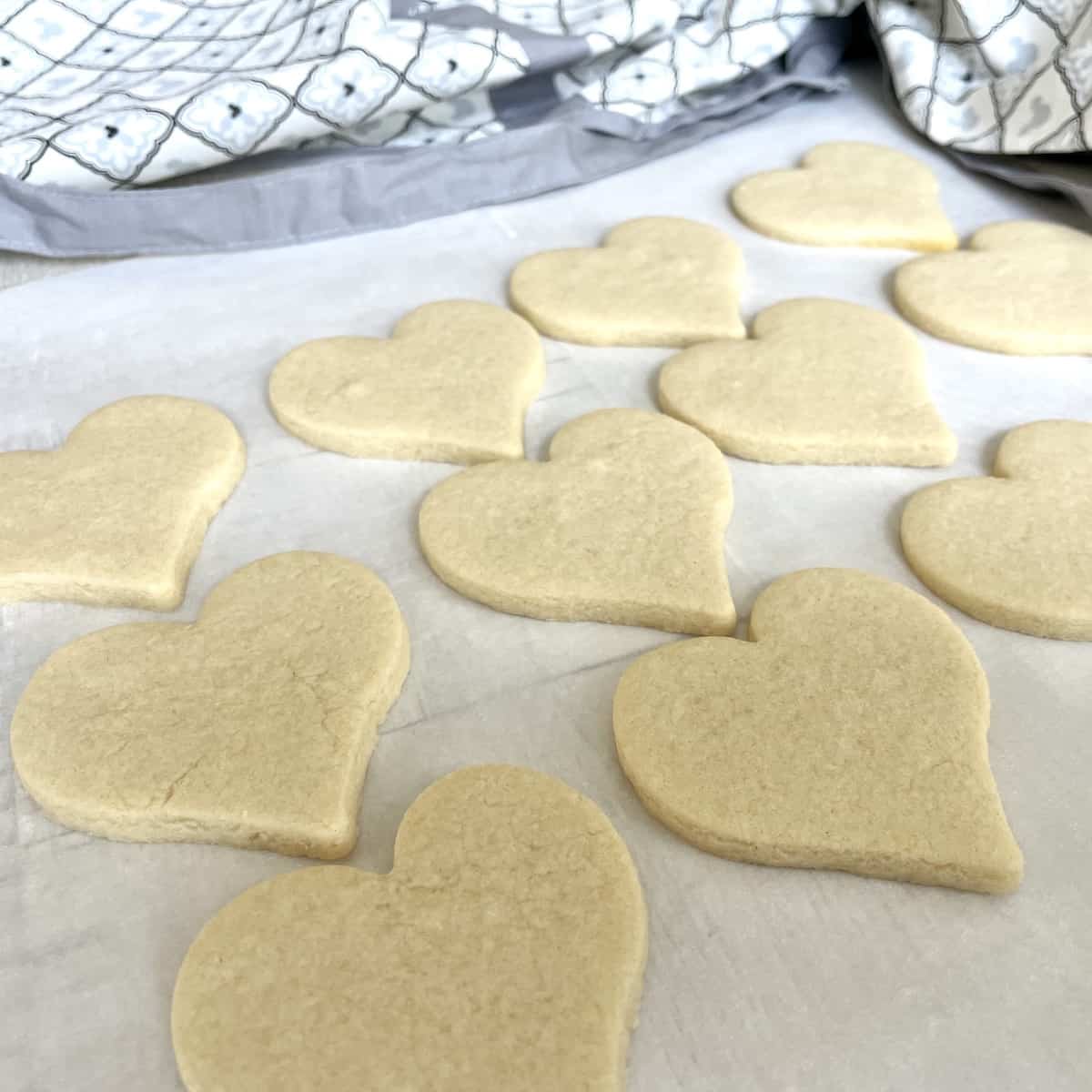 The best royal icing for sugar cookies needs the best sugar cookie recipe of course. These cookies are soft, tender, and hold their shape perfectly. The best part is that you don't need to chill the dough. Just make the dough, roll it out, and cut your shapes. They couldn't be easier!