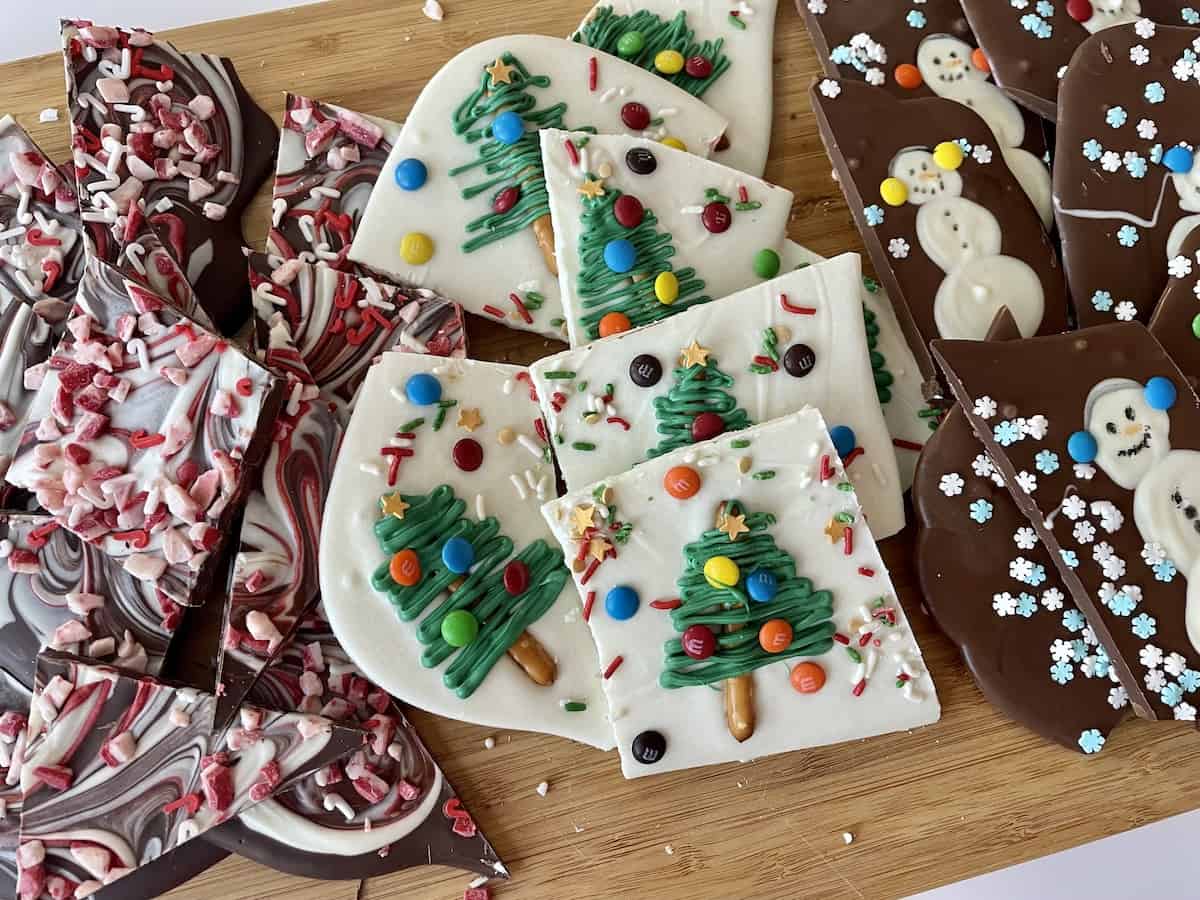 Y'all, get ready to have fun! We are going to make Christmas Chocolate Bark. This is hands down the easiest homemade treat anyone could ask for. If you can melt chocolate, you can make this recipe. This is your guide to make Christmas Bark for your Christmas party, to share as a gift, or send to your kid's school as a class party treat. Lets go!
What is chocolate bark?
Chocolate bark is a super easy recipe with no bake required. It's just melted chocolate poured out into a thick layer, topped with candies and decorative ingredients, and then broken or cut into individual pieces. For that, we can go a hundred different directions. This is not only the best recipe, I am so excited to have new recipes for Christmas treats.
Easy Chocolate Bark Ingredients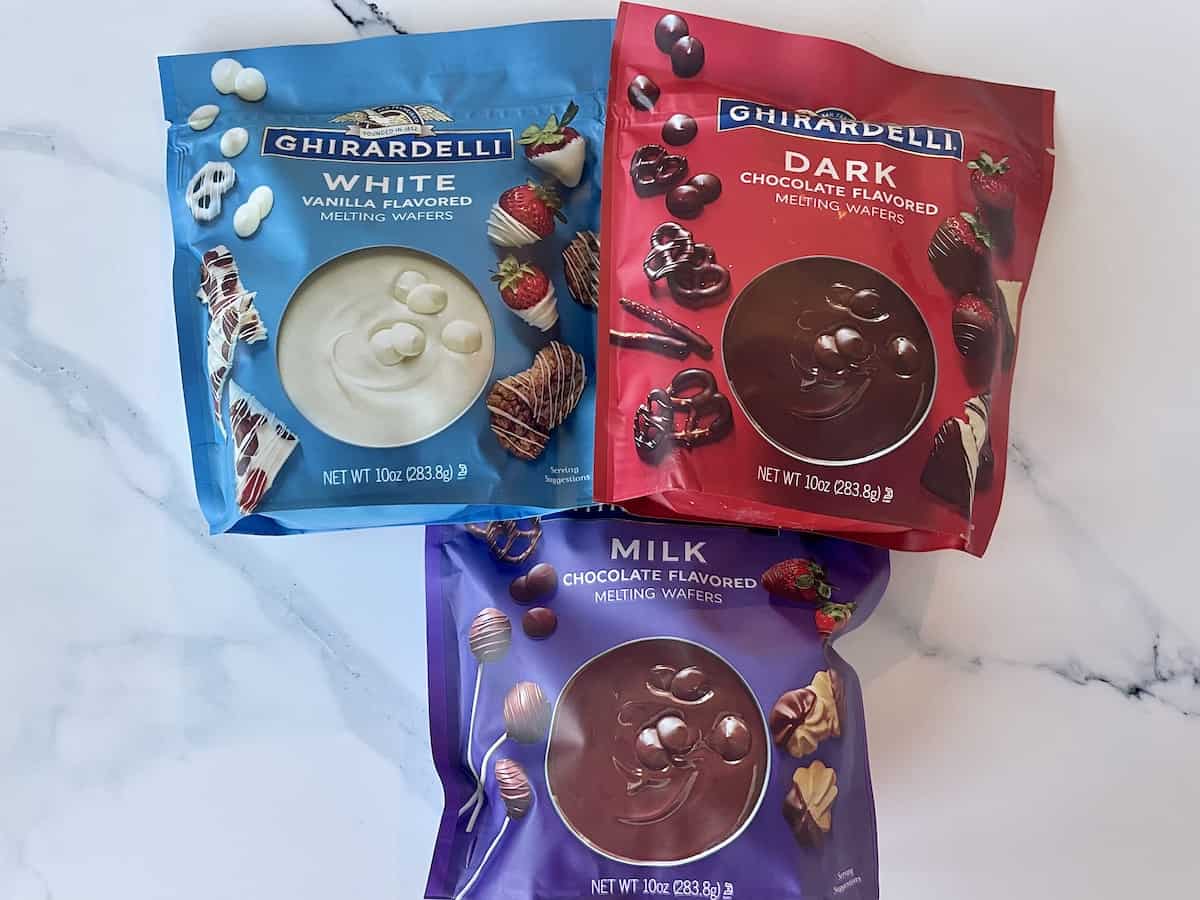 What kind of chocolate to use
First, we want to choose our chocolate: milk chocolate, dark chocolate, white chocolate, or a combination of them. I really recommend making more than one batch so you can try them all, but I am also really fond of a white and dark chocolate combination. It is pretty and delicious!
For the best tasting chocolate bark and the easiest melting chocolate, I like to use Ghirardelli chocolate melts. They take less time to melt in the microwave than other brands of candy melts and flavor is far better than any other brand I have tried.
Toppings for texture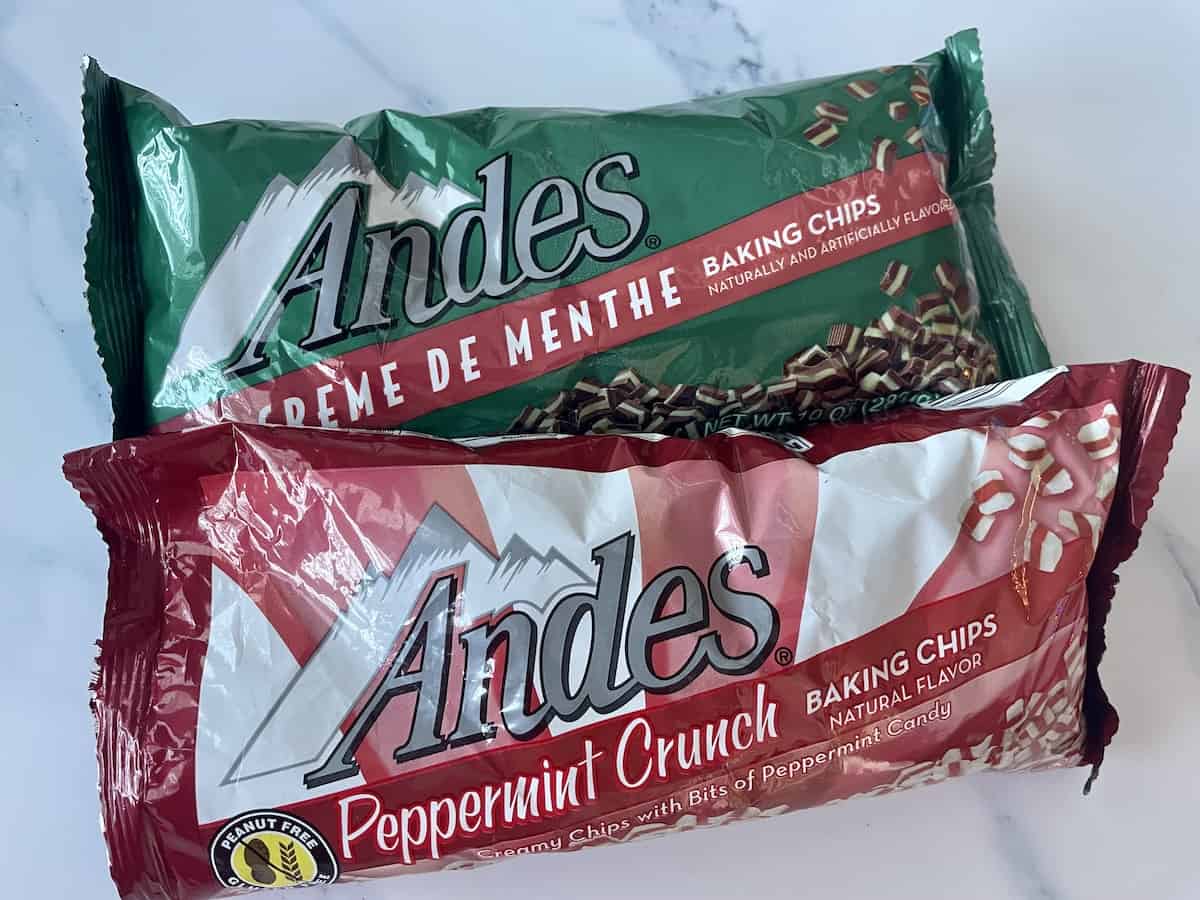 Now with that in mind, let's talk about a few texture options. I like to add something for crunch like pretzel pieces, rice krispies cereal, crushed Oreo cookies, crushed candy canes. More topping options: andy's mint pieces, peppermint chips, white chocolate chips, dried fruits or sea salt.
Make it pretty and make it fun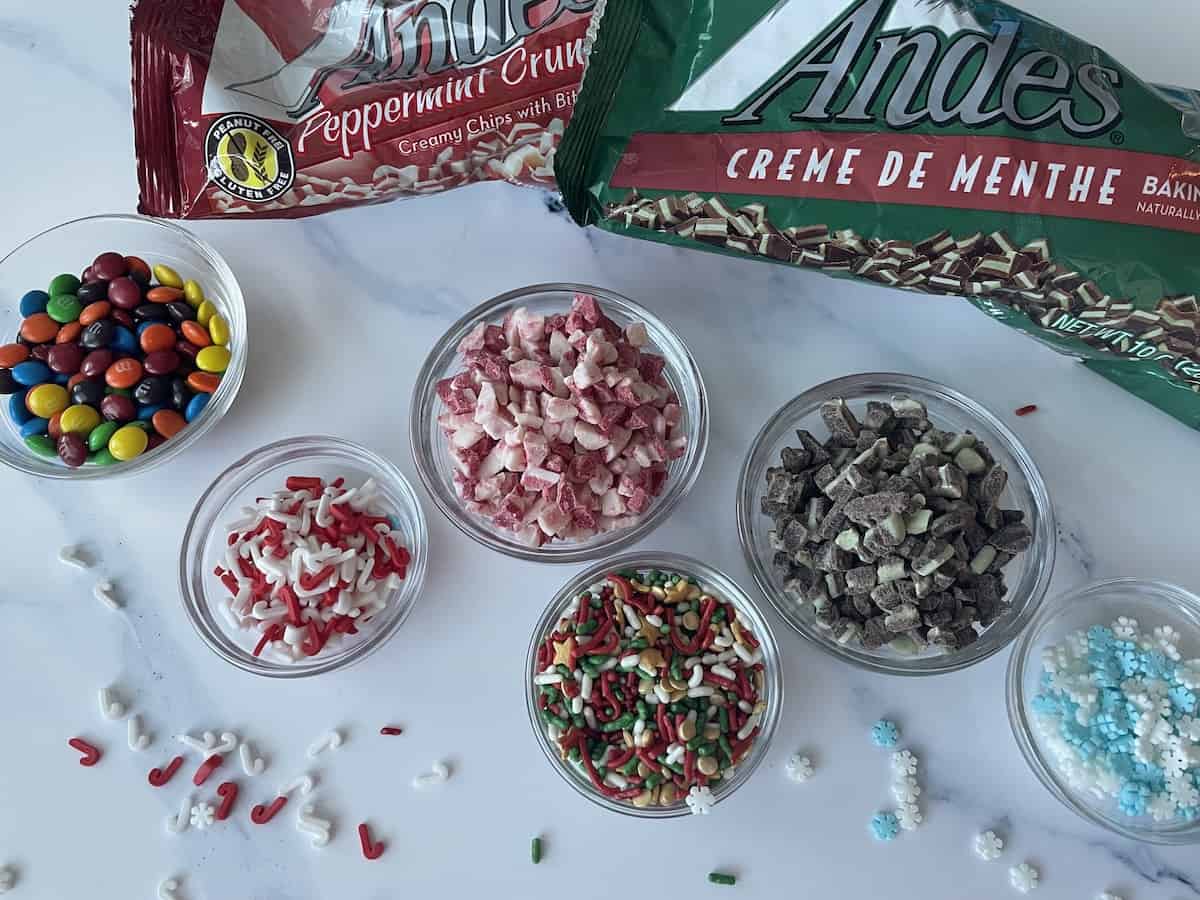 Next is my favorite part! We want to add color and anything to make it scream holidays. Festive sprinkles are at the top of this list. Choose a color palette and stick with it so everything matches. More Christmas candy options include:
red and green mini m&ms
mini marshmallows
Christmas candy corn
crushed candy canes
andy's mint pieces
red and green candy melt swirls
Melting Chocolate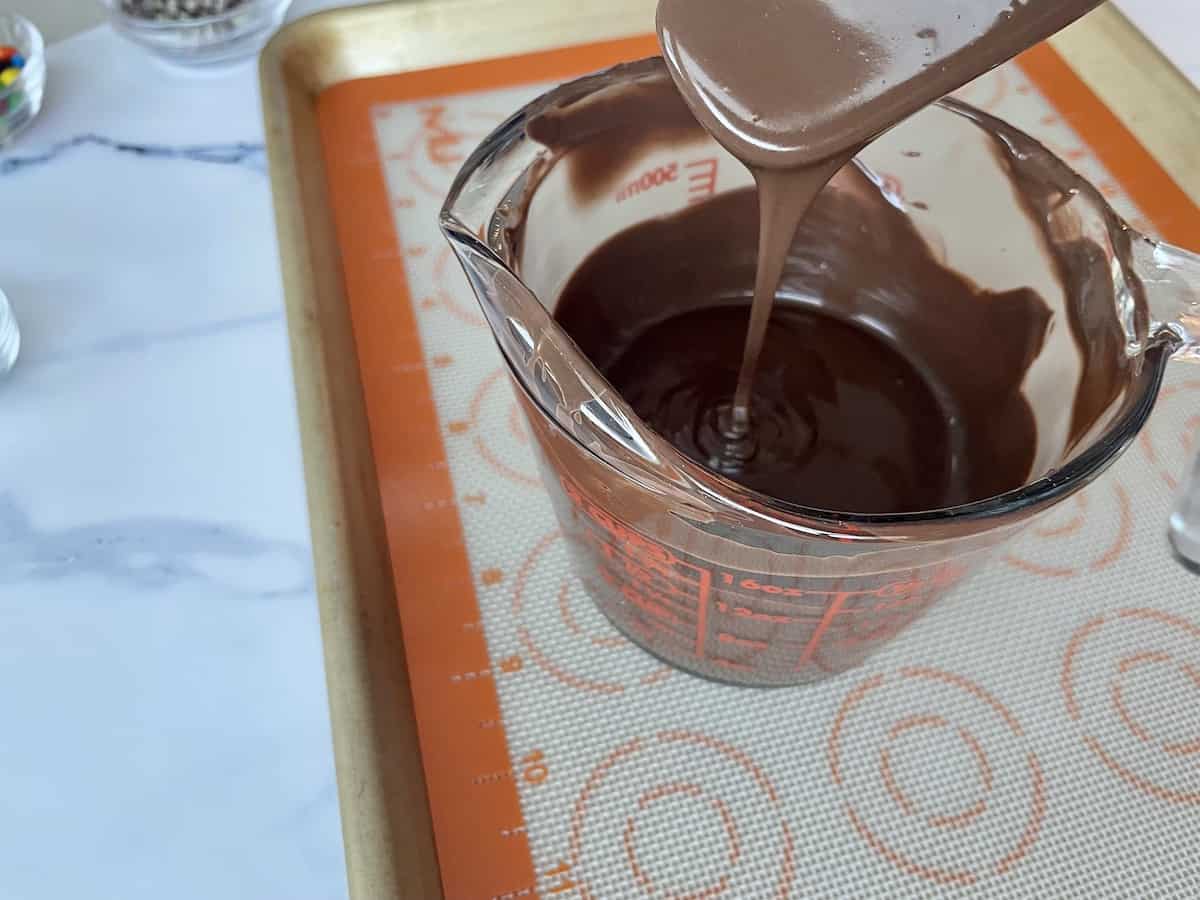 For this no bake treat, all we need to do is melt chocolate. For that, you have three choices. You can either melt chocolate in a double boiler, use a microwave, or melt your chocolate wafers on the silpat right in the oven.
Double Boiler Method
To melt chocolate over a double boiler, fill a medium sauce pot with an inch or two of water. Place a heat safe bowl over the top that is larger than the pot. Turn the heat on to medium-high and add your chocolate wafers to the bowl. As the water begins to boil, it will heat the bottom of the bowl and melt the chocolate. Stir the chocolate continuously with a rubber spatula until it is completely smooth.
Be careful to watch the heat of the boiling water and make sure water is not actually hitting the bottom of your bowl. If it gets too hot, it can burn the chocolate and cause it to seize. For more information on using a double boiler, check out this link.
Microwave Melting
I prefer the microwave over a double boiler because it takes less of my attention and it's easier to clean up after. The important thing to remember is that we want to gradually heat the chocolate and not let it burn.
Follow these steps:
pour chocolate into a glass bowl or measuring cup
heat the chocolate for one minute
remove chocolate from the microwave and stir well
return the chocolate to the microwave and heat for 30 seconds at a time, stirring in between until the chocolate mixture has melted completely and is smooth
Melting Chocolate in the Oven
This is the ultimate in ease and great for melting the base chocolate for your bark. Start by preheating your oven to 250 degrees Fahrenheit. Then, line a cookie sheet with a silpat or parchment paper. Spread out your base flavor for chocolate and place in the oven for 5 minutes. After the five minutes, remove the sheet pan from the oven and use a spatula to smooth out a beautiful thick layer of chocolate.
Christmas Chocolate Bark Supplies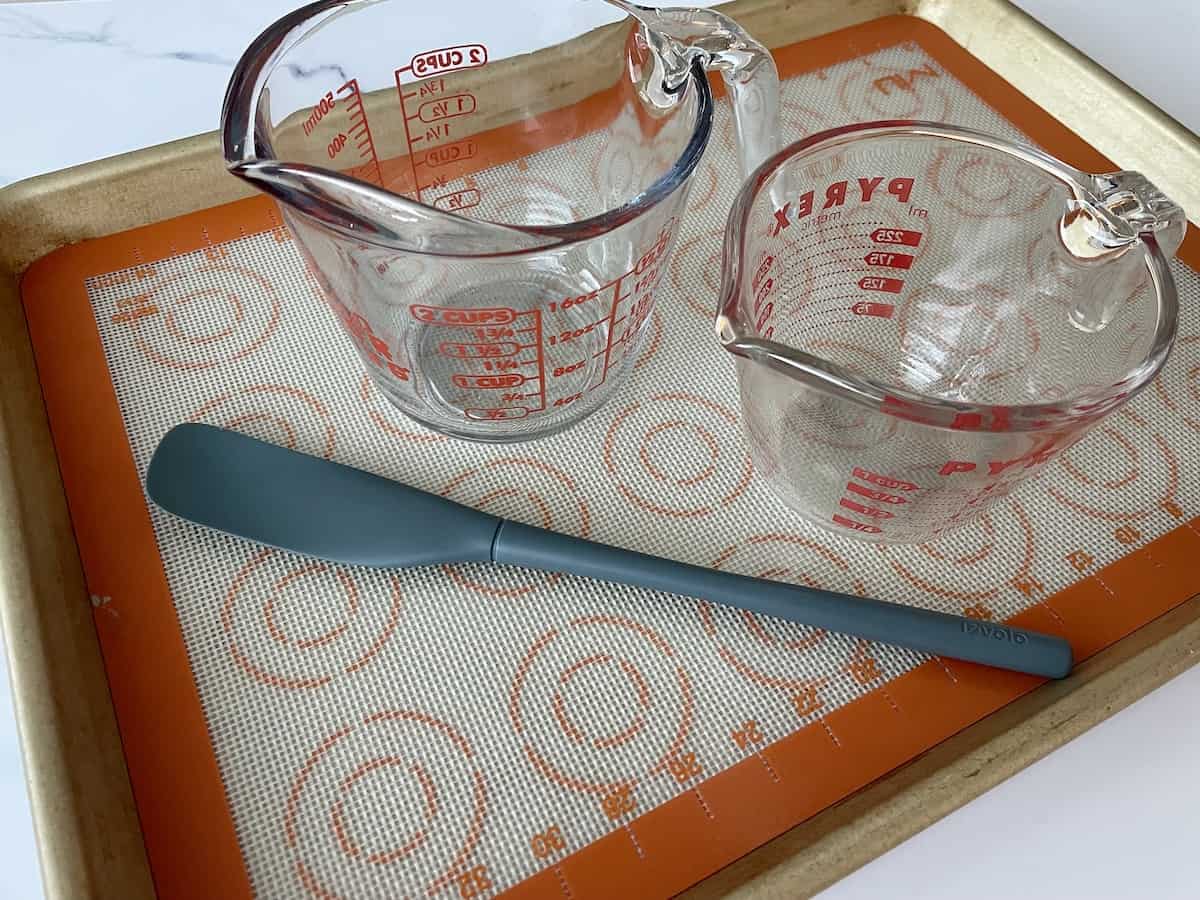 In order to make this Christmas bark recipe the easiest way, we need the right supplies. Check it out:
one baking sheet
a silpat is preferred- but you can also use parchment paper
rubber spatula for easy stirring and easy clean up
microwave safe bowls or glass measuring cups
Making the Christmas Bark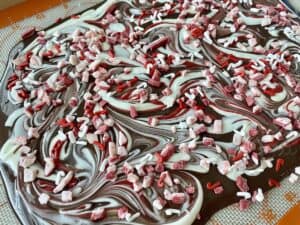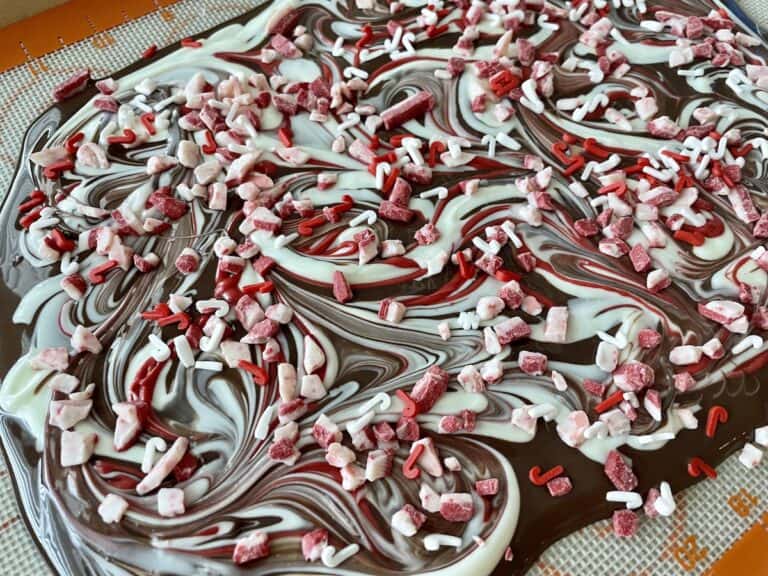 We are going to start with a classic peppermint bark. For this, we need a thick dark chocolate layer for the base. Then we want an equally thick layer of white chocolate poured over the top. Lastly, sprinkle the top with crushed up candy cane pieces over the whole thing. Once the chocolate has cooled and hardened, you can cut or break the peppermint bark into large pieces.
Recipe Modifications and Favorite Combinations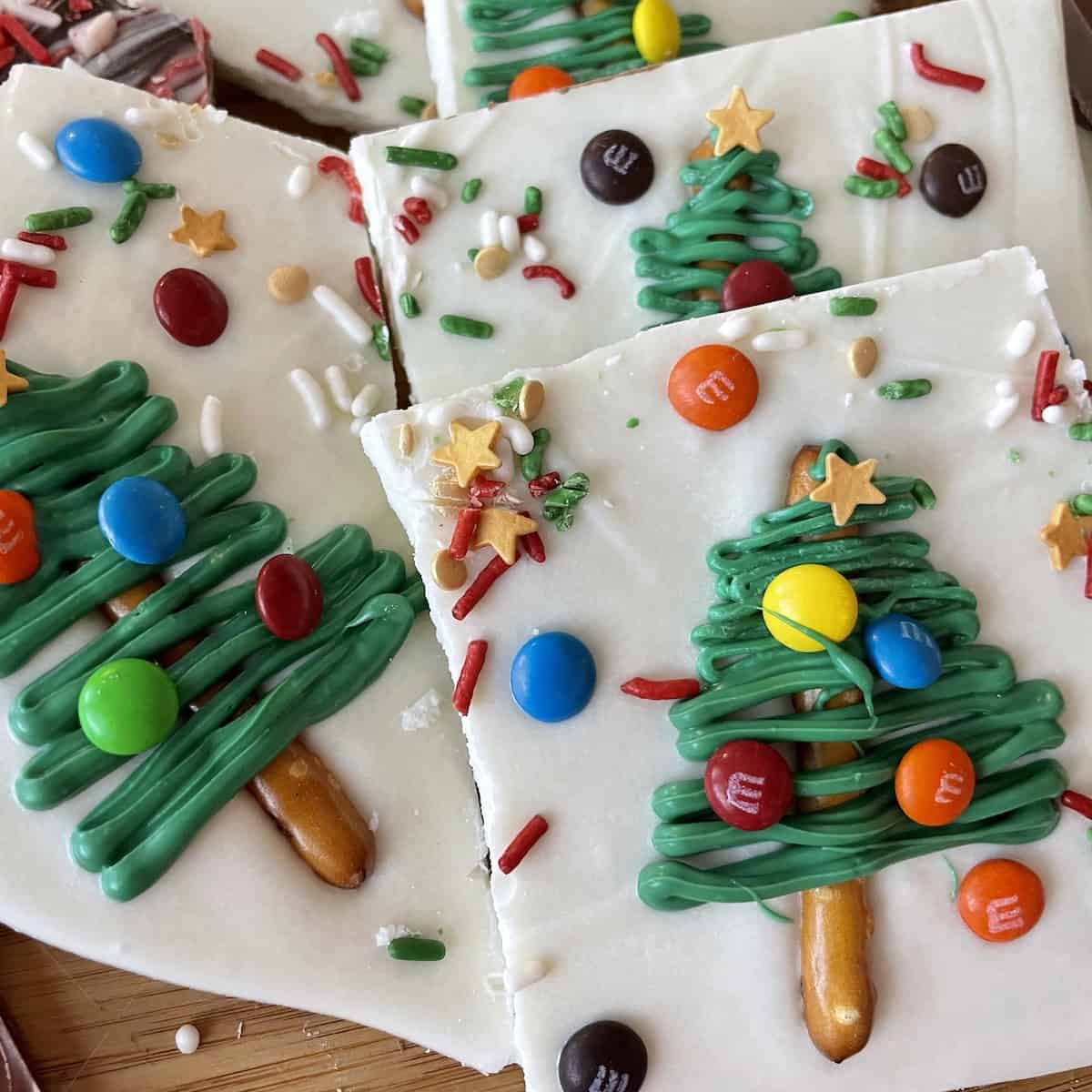 So, aside from the heavenly flavor and texture from peppermint bark is white chocolate pretzel bark. I pour out a thick layer of melted chocolate and place small pretzel sticks in it, pressing them down so they are flush on top. Then I use green chocolate melts to pipe on Christmas trees and decorate with mini m&ms. They are so much fun and the pretzel crunch is excellent.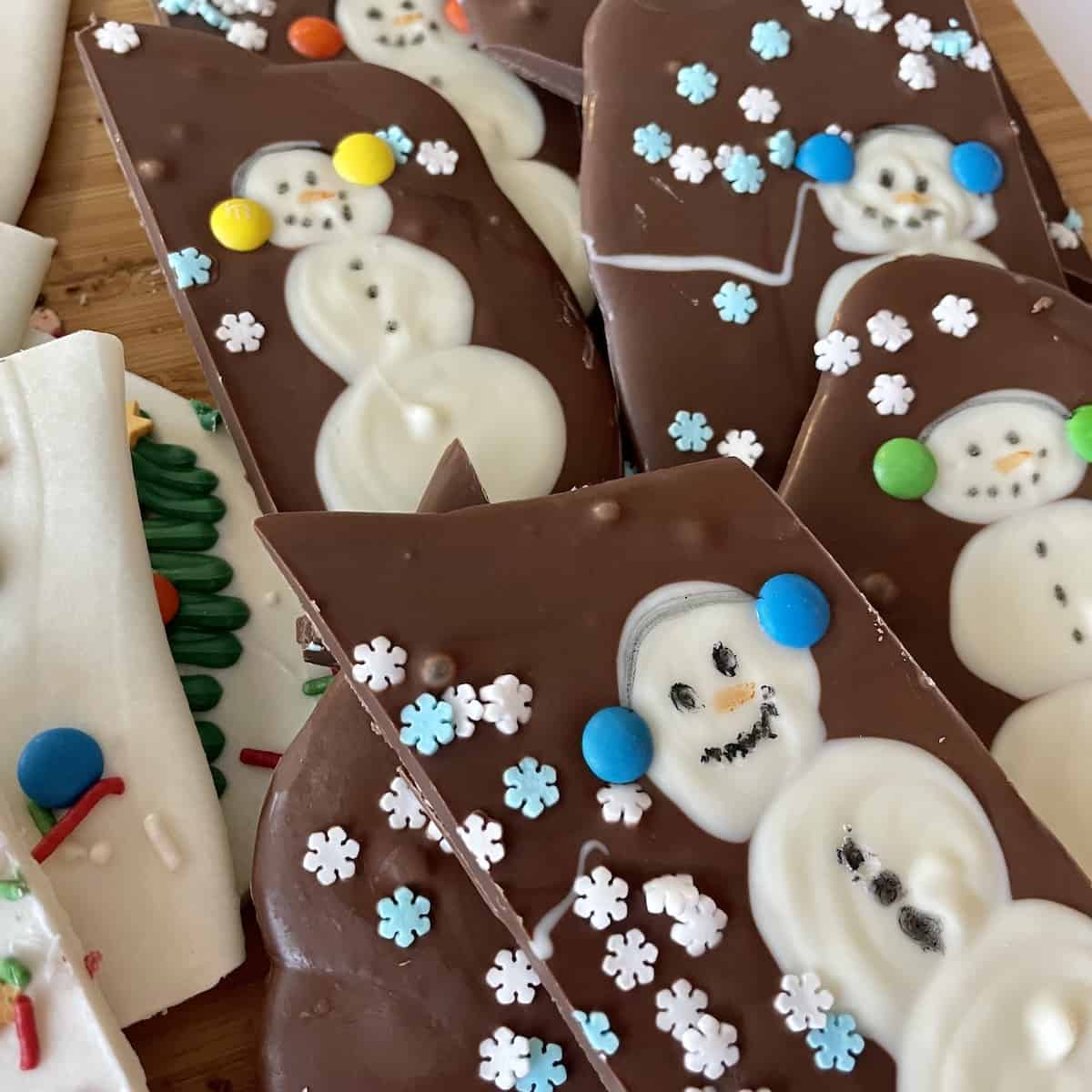 These little snowmen are made with milk and white chocolate. First, melt the milk chocolate for the base. Then, use a disposable piping bag to pipe on little snowmen. Add mini m&ms for cute ear muffs and snowflake sprinkles to bring it together. After the chocolate sets, use edible markers to draw on the face and buttons. Break apart and serve.
Storing Chocolate Bark
Lastly, after you have made this fun and beautiful treat save it all in an airtight container until you are ready to enjoy it. It can be kept at room temperature and does not need to be refrigerated unless you used something perishable for a topping like fresh fruit. You can use a zip top bag or some sort of snap ware container.
If you are giving this Christmas Chocolate Bark to friends or family, it's the perfect gift. Just about any festive bag, box or tin will work. Just make sure it can be sealed. I like to line my boxes with wax paper to protect the chocolate.
Chocolate Bark Recipe Card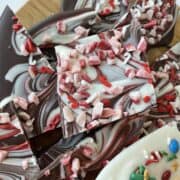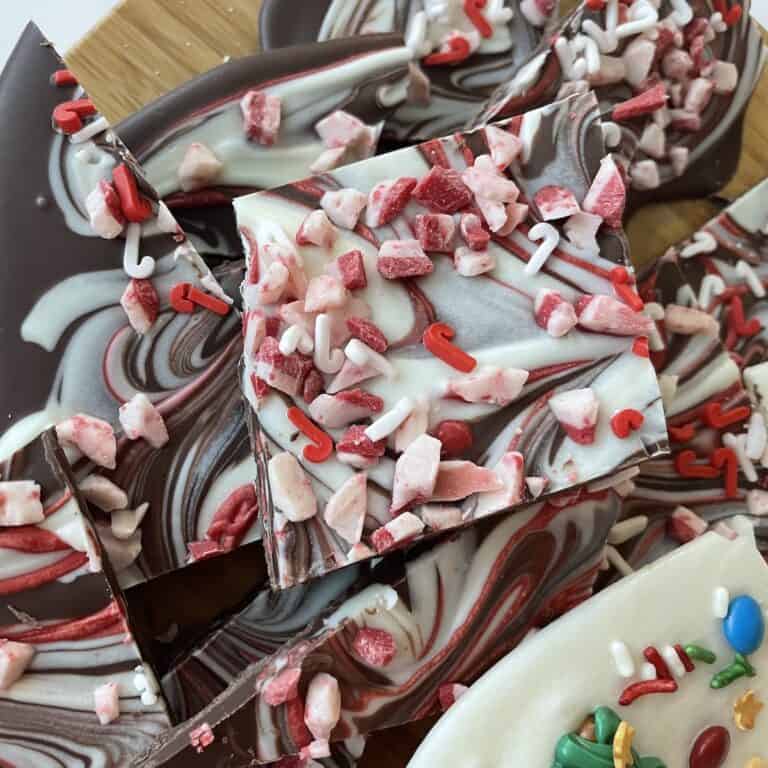 Print Recipe
Christmas Chocolate Bark Recipe
Layers of dark and white chocolate swirled together with festive sprinkles and flavorful toppings.
Equipment
1 baking sheet

1 silicone baking mat

or parchment paper

1 microwave safe bowl

1 rubber spatula
Ingredients
2

10 ounce

bags dark chocolate melting wafers

preferably ghirardelli

1

10 ounce

bag white chocolate melting wafers

preferably ghirardelli

2

tablespoon

red candy melts

½

cup

crushed candy canes or peppermint candy

¼

cup

Christmas sprinkles

optional
Instructions
Line a cookie sheet with the silicone baking mat.

Pour both 10 ounce bags of the dark chocolate into a large bowl or microwave safe glass measuring cup. Heat the chocolate in the microwave for 1 minute. Remove the chocolate and stir very well with a rubber spatula.

Continue heating the dark chocolate in 30 second incriments, stirring well in between each interval. When the chocolate is smooth and pours easily, it is ready.

Repeat the melting process with the white chocolate and red chocolate.

Once all the of the chocolate is melted, start by pouring the chocolate on the silpat and spread it evenly. Next pour on the white chocolate and red chocolate. Use a fork to swirl the chocolate together, but be careful not to over mix. You want to see each color of chocolate still.

Sprinkles the chocolate with peppermint pieces and sprinkles quickly before the chocolate hardens.

Allow the chocolate to harden either by letting it sit out at room temperature or speed the process up by placing the cookie sheet in the refrigerator until it the whole layer is solid.

After the chocolate bark layer has completely hardened, peel the layer off the silpat. Break the bark into large pieces or cut it with a knife.

Either eat immediately or save in an airtight container until you are ready to serve.
Nutrition
Calories:
40
kcal
|
Carbohydrates:
9
g
|
Protein:
0.01
g
|
Fat:
0.4
g
|
Saturated Fat:
0.4
g
|
Polyunsaturated Fat:
0.001
g
|
Monounsaturated Fat:
0.01
g
|
Cholesterol:
0.02
mg
|
Sodium:
1
mg
|
Potassium:
1
mg
|
Fiber:
0.01
g
|
Sugar:
7
g
|
Vitamin A:
0.03
IU
|
Vitamin C:
0.001
mg
|
Calcium:
1
mg
|
Iron:
0.002
mg
Did you make this recipe? Tag me on Instagram @fancy_apron 🙂 or leave a comment below.
Related Recipes
More of my favorites to serve during the holiday season: