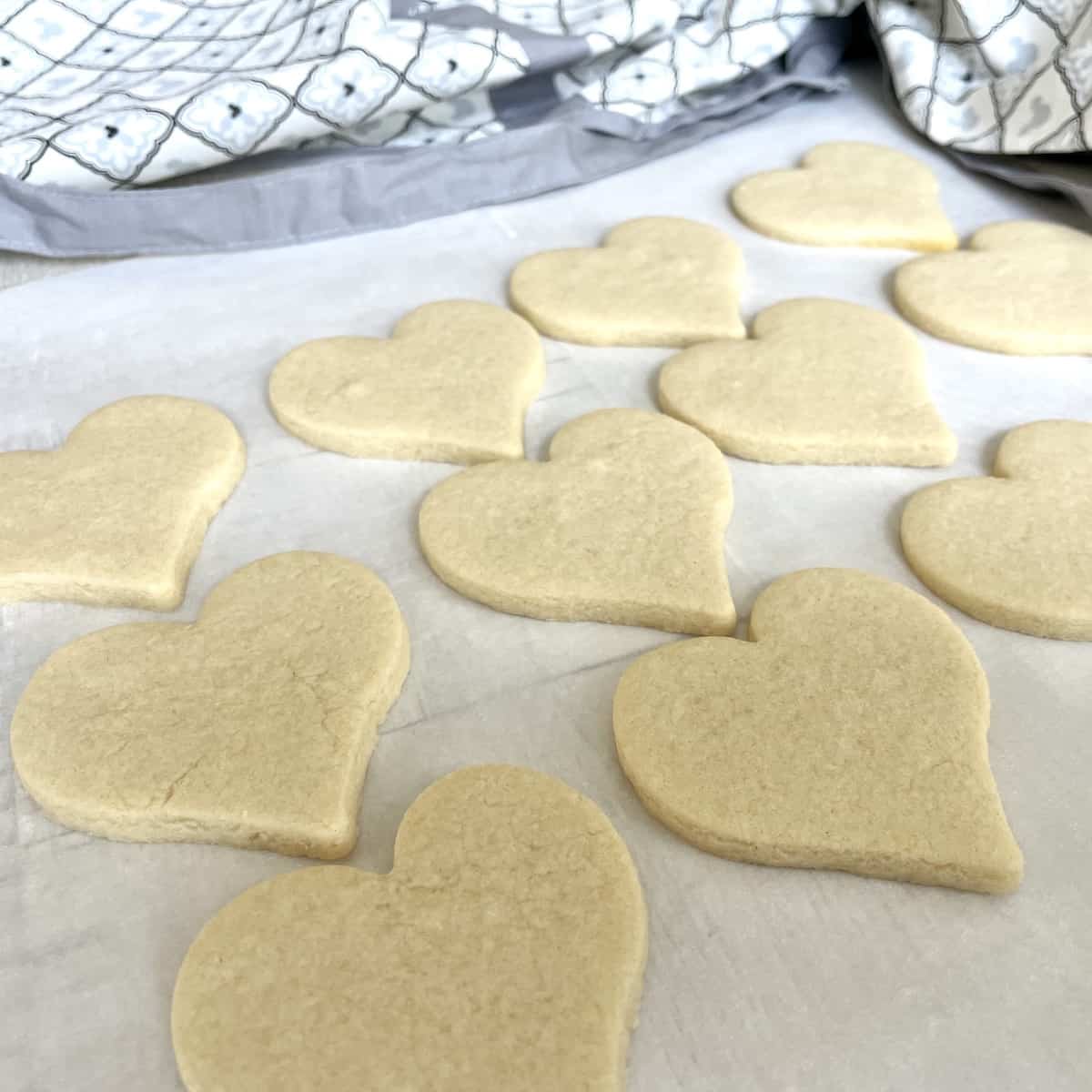 This no chill sugar cookie cut out recipe has the absolute best texture and flavor. Plus, these sugar cookies won't spread while baking. The best part is that you can make them fast because they don't need to chill in the fridge.
This blog post contains affiliate links. As an Amazon Associate I may earn income from qualifying purchases. Thanks for the support.
The Best Sugar Cookie Recipe for Flavor and Texture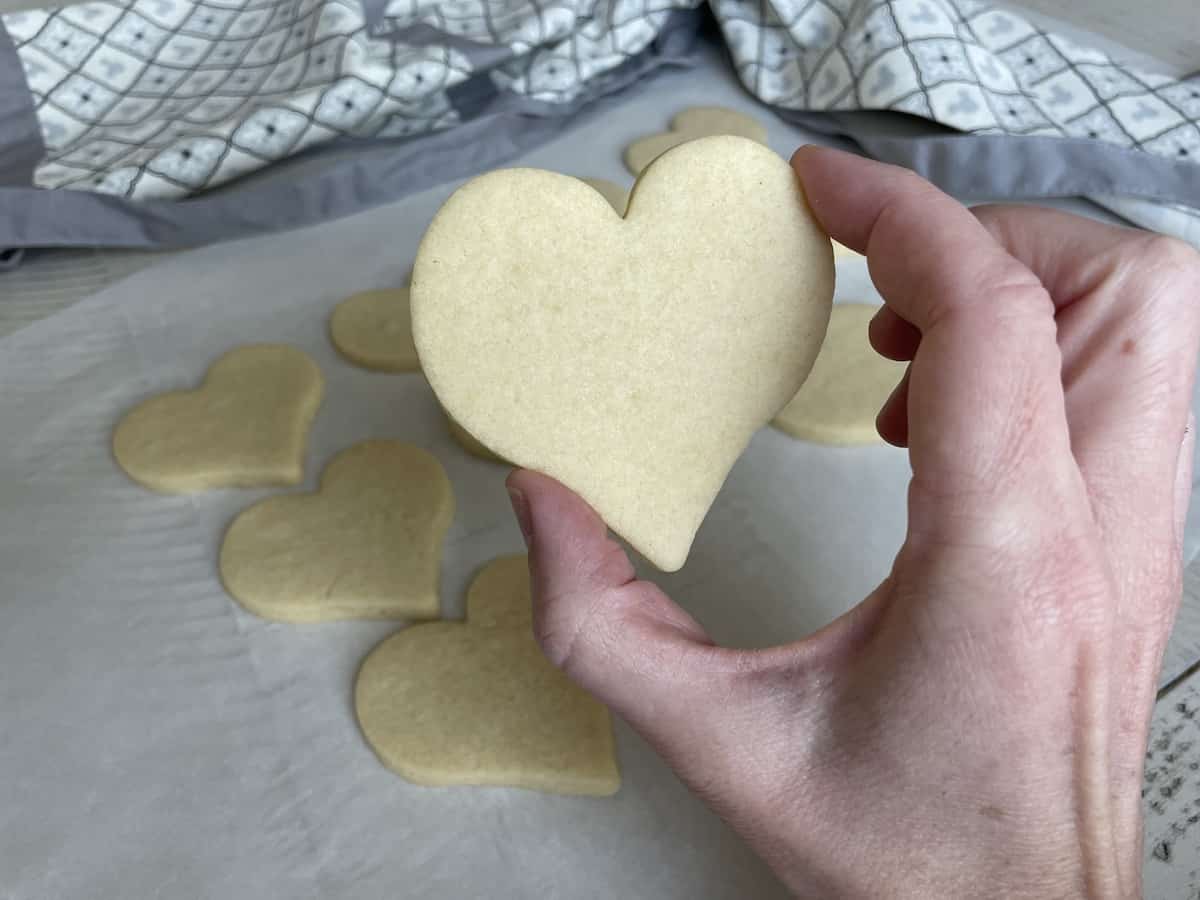 Have you ever eaten a sugar cookie that had the perfect texture- just a little crispness on the outside and a tender and chewy inside? Sugar cookie recipes that require the dough to be chilled in the refrigerator tend to bake more crispy-crunchy and less tender-chewy.
The beauty of this recipe is that the dough is very easy to make so it's a fast recipe. The dough also holds its shape while baking without being chilled. The cookies will not spread or change their shape when they bake. That makes this the ultimate easy sugar cookie recipe: it's fast, the shapes will be perfect, its flavor and texture is way better than any other cookie.
Sugar Cookie Ingredients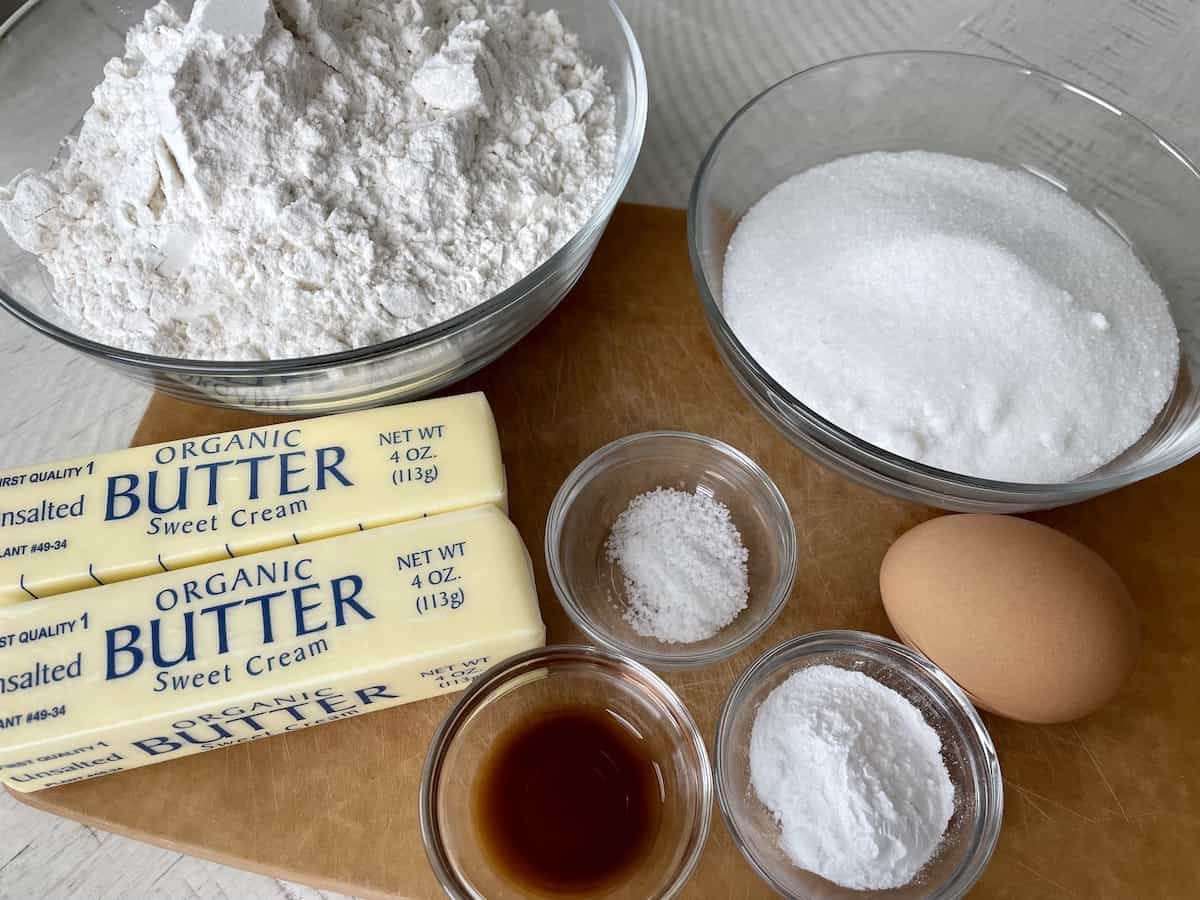 These simple ingredients for no-chill sugar cookies are as basic as they come. We need: all purpose flour, unsalted butter, sugar, 1 egg, 1 teaspoon vanilla extract, baking powder, and salt. The amount of baking powder is what keeps these cookies tender and stable without the need to chill them in the refrigerator. The subtle flavor of vanilla is all the cookies need. 
A traditional sugar cookie recipe has almond extract. I don't mind the flavor of almond, but I really think most people prefer the vanilla. 
The Right Supplies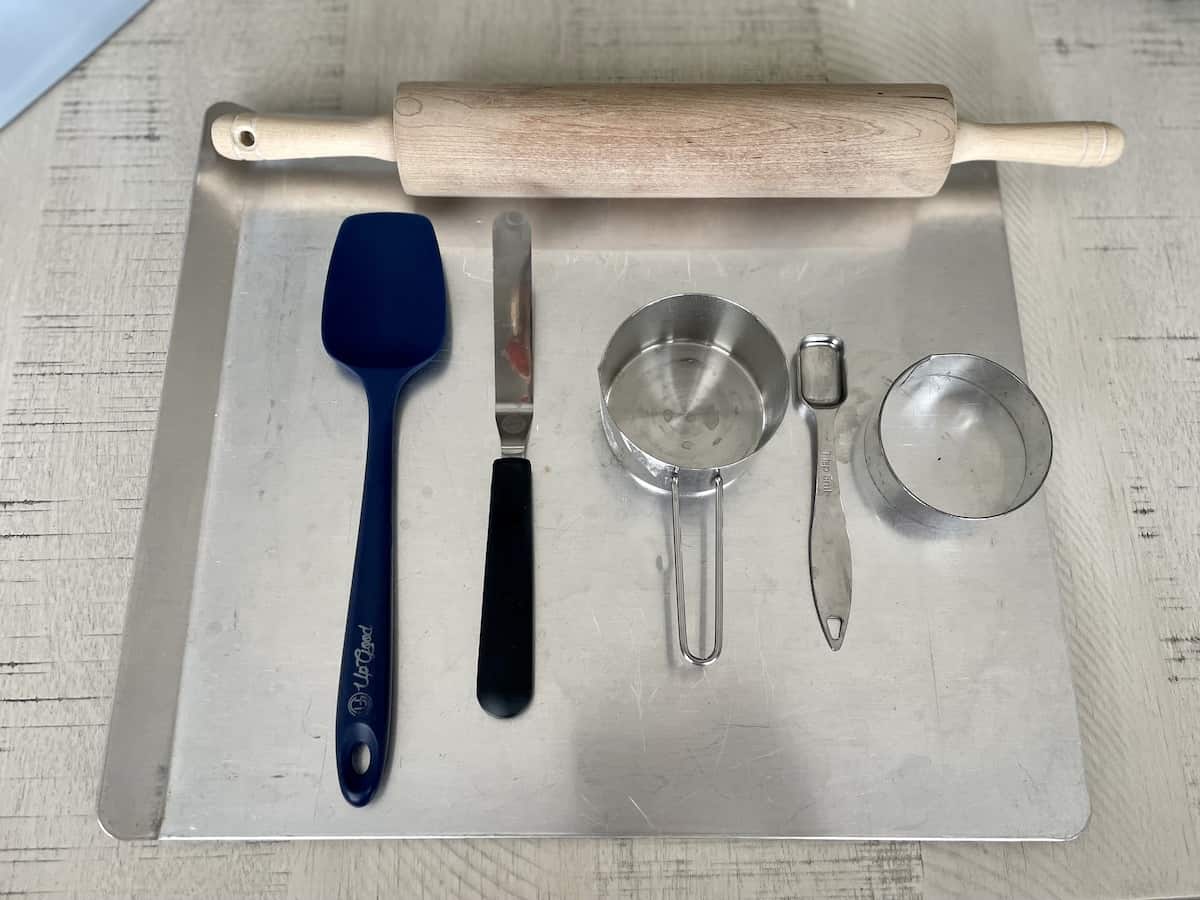 To make this sugar cookie recipe, you will need:
Baking Sheets - half sheet is a good size and should fit approximately one dozen cookies
Dry measuring cup and measuring spoon- just the one cup measure and one teaspoon
Rolling pin- I prefer wood because of the weight. A marble rolling pin is too heavy for this dough.
Parchment paper or butter flavored nonstick baking spray- makes for better baking and easy clean up
Stand mixer- or hand mixer with a large bowl is also fine
Offset spatula- use this to run under the dough after you roll it out and before you cut your cookie shapes. This helps the cookie come out of the dough a little easier.
Large silpat- a large silicone mat makes it easier to roll out the cookies than any other work surface, but this is optional. You could also secure wax paper or parchment paper to your kitchen counter and roll the dough out on that.
Cooling rack- optional but helpful
Steps for making no chill sugar cookies cut out recipe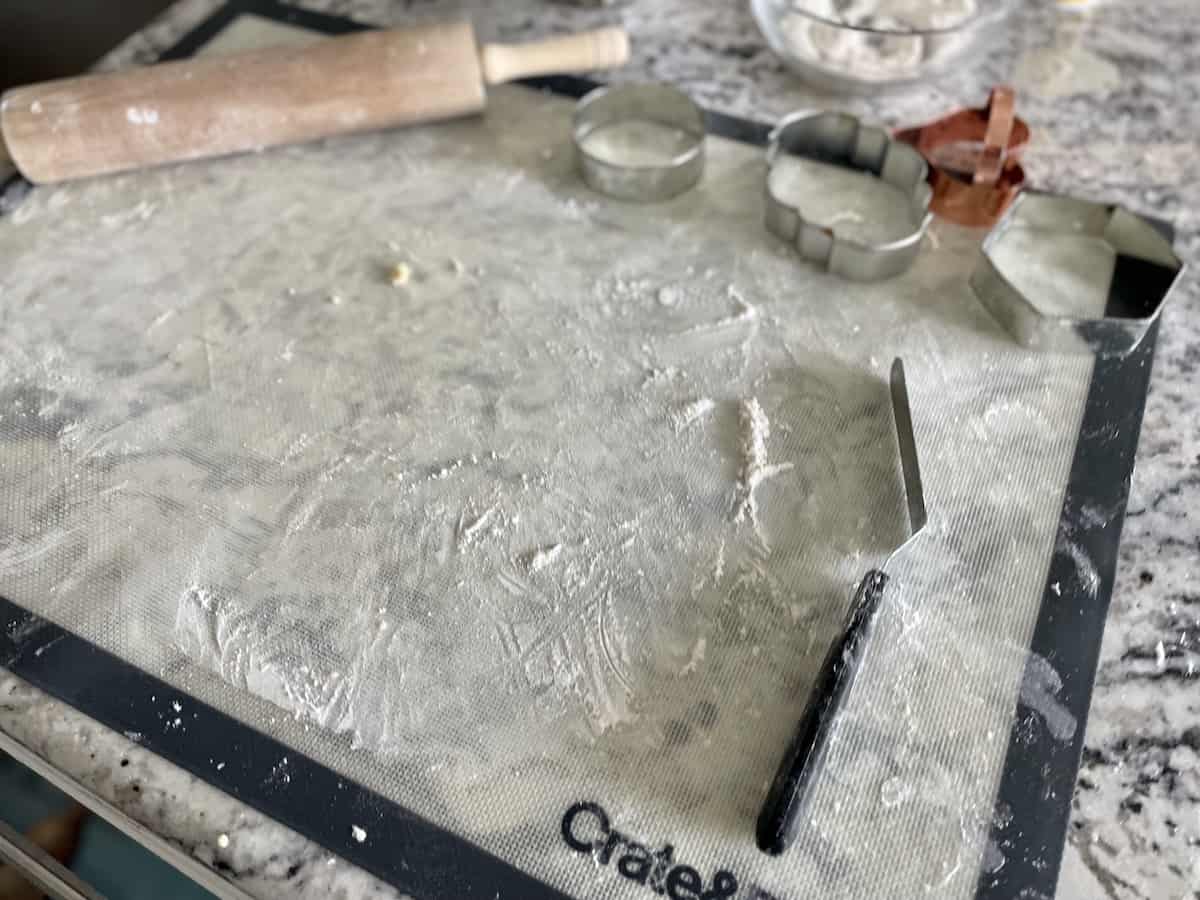 We start with the wet ingredients. Room temperature unsalted butter gets creamed with granulated sugar. Just combine the two ingredients in your stand mixer and stir on a low setting with the paddle attachment until it is completely creamy.
After that, you can add the egg, the vanilla extract, salt, and baking powder. I know typically the salt and baking powder goes in with the dry ingredients, but it does not make a difference as long as it goes in after the butter and sugar have creamed.
That just leaves the all purpose flour. I add the flour in one cup at a time and mix on a low to medium low setting. Pay attention to the consistency of your cookie dough here. I keep mine on the softer side and don't let the dough get crumbly. This is the other reason my recipe makes soft sugar cookies versus a crunchy cookies. Once the flour has been completely combined, we get to roll out the cookie dough and cut our shapes.
Rolling Out the Sugar Cookies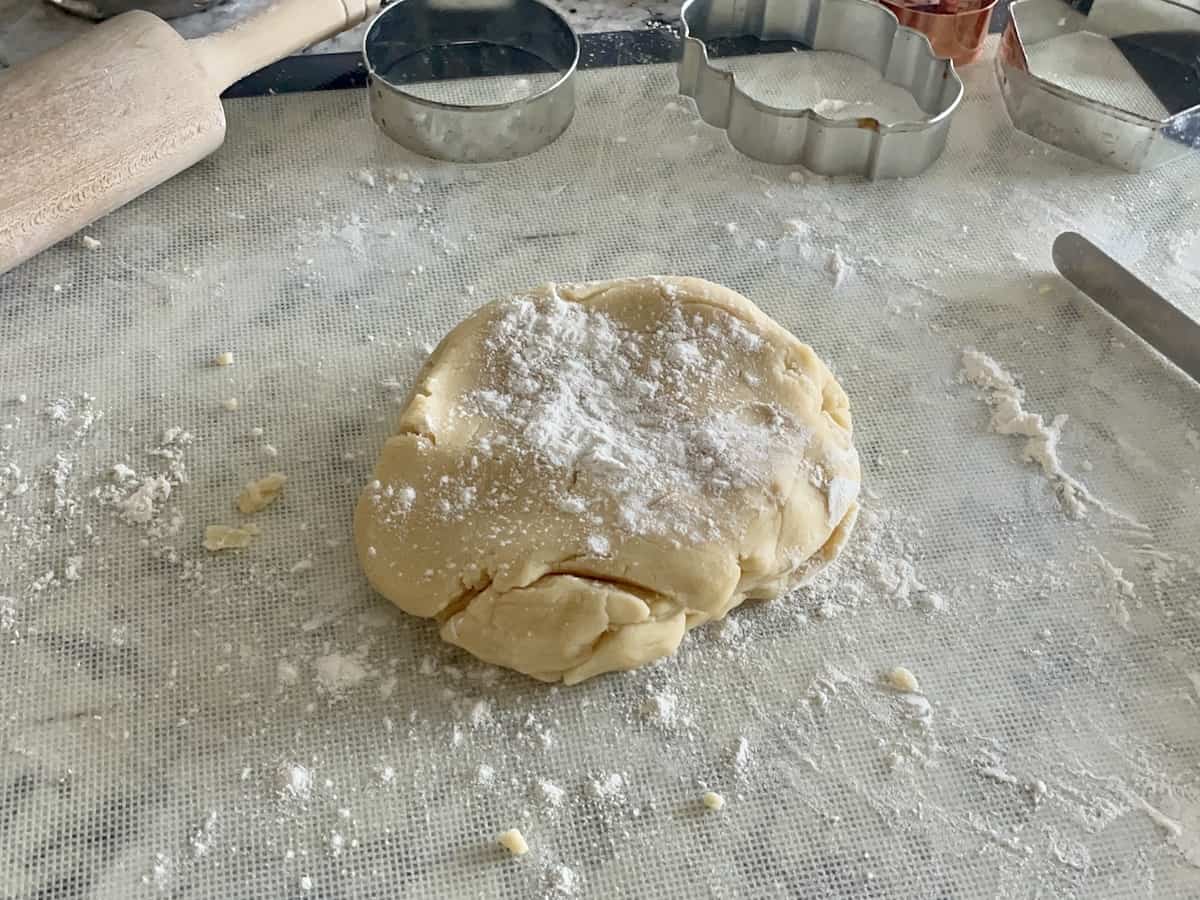 Since we don't have to worry about chill time, we can get right to rolling. Take about a third of your cookie dough and loosely shape it into a ball. Dust your work surface with a little flour and place your cookie dough on top. Dust the rolling pin with a little flour and start rolling out the dough. Start in the middle and gently push toward the edges.
For chewy sugar cookies, I roll the dough to about a quarter inch thickness. After rolling out the dough, run the offset spatula under the dough so that the cut out cookies are easier to transfer to your prepared baking sheet. Thiat ensures the cookie dough is not stuck after cutting the shape.
Cut out all of the cookies you can and transfer to the cookie sheet. Work the leftover dough back into a ball and combine with more dough from the mixing bowl. Repeat this process and bake cookies in batches until you have worked through all of the sugar cookies dough.
Baking the Cut-Out Cookies
Bake the cut-out cookies at 350˚F for 8-11 minutes. The baking time depends on the size of the shape you use for the cookies. A smaller cookie should only take 8-9 minutes to bake. A larger cookie could take up to 11 minutes.
You can tell the cookies are finished when the center of the cookies look dry. There should be a slightly crisp edge, but no color on these cookies! Remove the cookies from the oven and let them cool on the baking sheet for 5-10 minutes. After that, you can transfer them to a cooling rack where they can cool completely. Moving them immediately off of the baking sheet may cause them to break.
Troubleshooting Cutout Sugar Cookies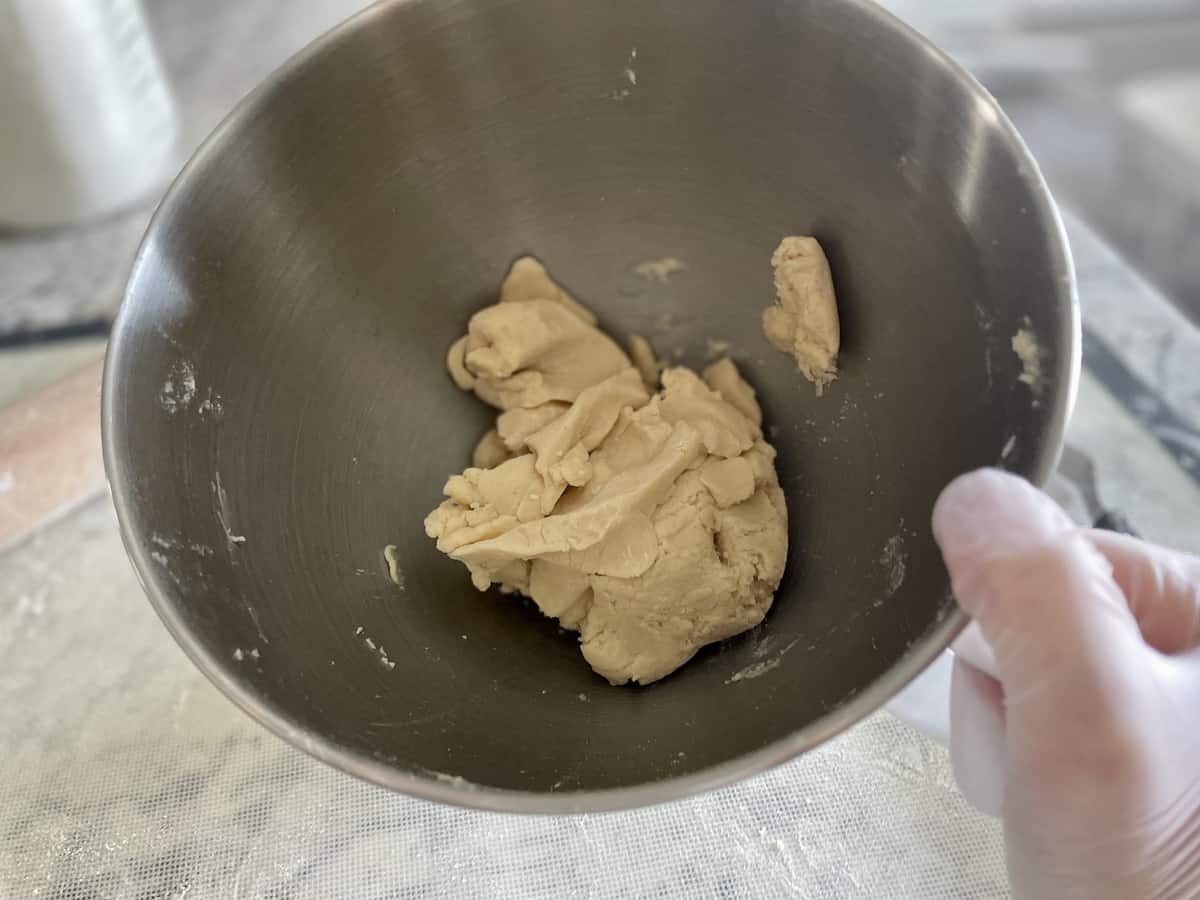 These are super easy sugar cookies to make, but here are a few issues I learned to work through over the years.
Mixing the dough- make sure to use room temperature butter. Cold butter will be much harder to mix with the sugar and other ingredients. If the dough is not coming together easily, increase the mixer speed to 4 and let it mix for 20-30 seconds. You can also use a rubber spatula to scrape the sides of the bowl of your stand mixer to help incorporate the ingredients.
Uneven baking- First, make sure to place the cookie sheet on a middle rack in the oven. Second, consider using an additional oven thermometer to make sure your oven is baking at 350˚F. The cookies cook bake to fast or slower if the oven is heating at a different temperature.
Tips for Cookie Cutters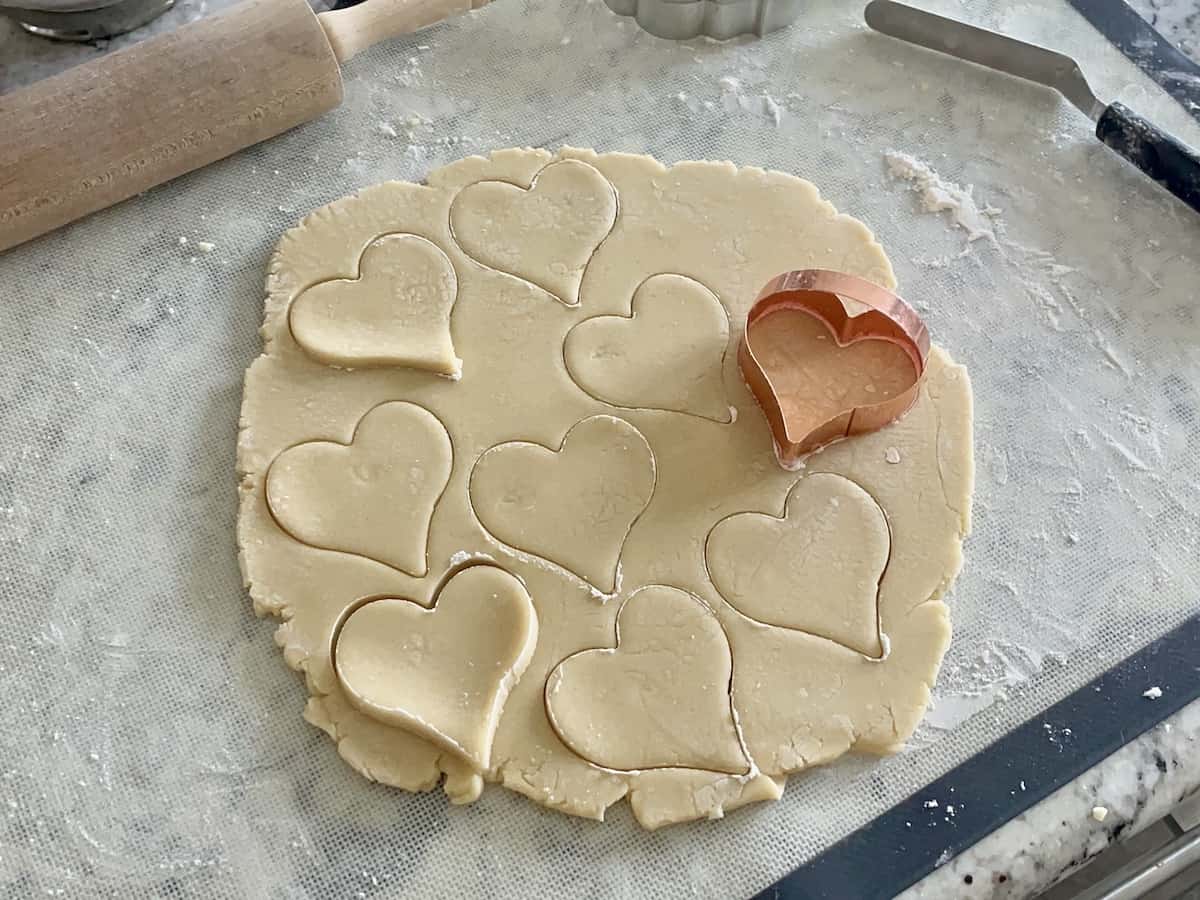 There are a lot of cookie cutter options for you to choose from. Simple metal cutters are the best. When you are looking for a particular shape, a local bakery supply store will have the best prices. I also order quite a few sets from Amazon.
Plastic cutters made from 3D printers are gaining popularity because you can create whatever you want. However, these are not ideal for an easy cut. The plastic tends to smush the cookie dough.
Decorating Sugar Cookies
You have a few options for decorating your no chill sugar cookies. Some options are easier than others. Please remember, these cookies are meant to be eaten. There some amazing cookiers out there who make beautiful cookies. This should be a no pressure activity. First, make it a delicious cookie. Then worry about how it looks.
Royal Icing- the most common way to decorate sugar cookies. It's a very simple recipe made up of powdered sugar, meringue powder or egg whites, and water. Use piping bags to ice a border around the edge of the cookie and a slightly thinner royal icing to flood the inside. This icing dries completely hard making these cookies easy to transport when decorated. Get my Royal Icing recipe.
Buttercream frosting- whether you make buttercream from scratch or bust open a can of frosting, this is a fast and tasty way to decorate your cookies. Choose a flavored frosting such as cream cheese or strawberry frosting and throw on some sprinkles. These will be better than the grocery store version!
Sprinkles- you can skip all the frosting and add decorative sprinkled to the cutout sugar cookies before you bake them. Just make sure the type of sprinkles you choose can tolerate the baking process. Sanding sugar and nonpareils are good options.
Recipe Substitutions
Gluten Free- substitute a measure for measure flour like King Arthur brand. The cookies will have a different texture, but they will still cut out and hold the shape willing being chilled.
Vanilla- if you want other flavors, you can substitute for a teaspoon of almond extract or add warm spices like pumpkin pie spice.
Egg free- you can substitute for apple sauce but you will have an apple flavored cookie. It will still hold its shape though.
Storing Baked Sugar Sugar Cookies
After the cookies has baked and cooled, store them in an airtight container. They can be stored at room temperature for 4-5 days or kept in the refrigerator for 2 weeks.
If you are baking these in advance, they can be frozen as well. Use food saver bags and vacuum seal the bags using the gentle setting so that you don't break the cookies. OR, wrap bundles of the baked cookies in plastic wrap and store in large zip top bags. They will thaw out in the refrigerator over night or in a few hours at room temperature.
No Chill Sugar Cookie Cut Out Recipe Card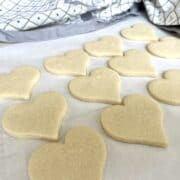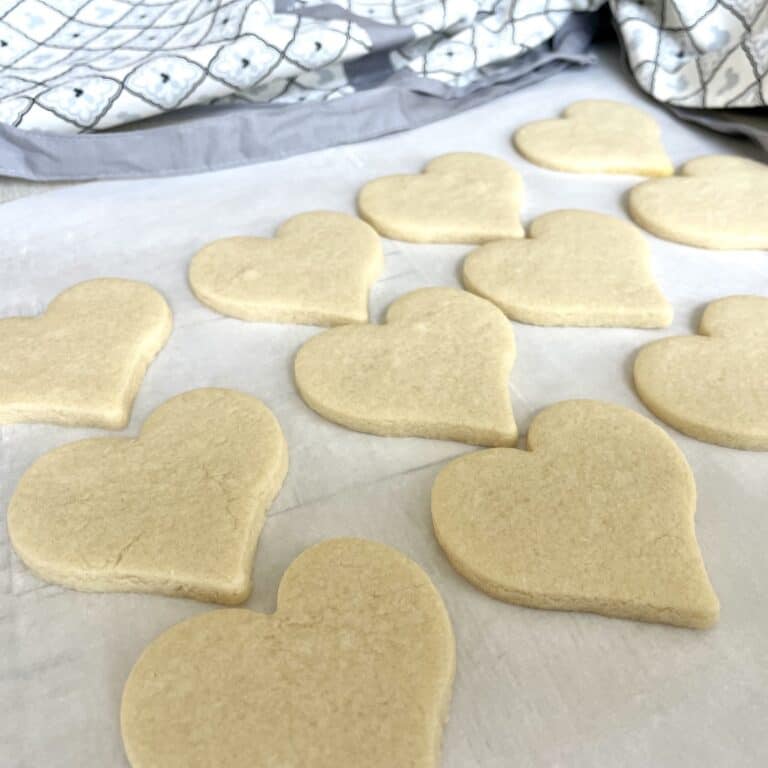 Print Recipe
No Chill Sugar Cookie Cut Out Recipe
Sweet and tender sugar cookies that hold their shape without chilling in the refrigerator.
Equipment
cookie cutters

silpat

cookie sheets

stand mixer

measuring cups and measuring spoons

Rolling Pin
Ingredients
3

cups

all purpose flour

1

cup

granulated sugar

2

sticks of unsalted butter

1

egg

1

teaspoon

vanilla

2

teaspoon

baking powder

½

teaspoon

salt
Instructions
Preheat oven to 350F.

Add sugar and room temperature butter to a mixer and cream together for a minute or two.

Mix in the egg, vanilla extract, baking powder, and salt. Beat the mixture on low until it has completely combined.

Now you can add the flour one cup at a time. If needed, scrape down the sides so everything is incorporated evenly. Keep out ¼ cup of the last cup of flour and watch the texture of the dough closely. The dough should come together completely without any crumbles in the mixing bowl.

On a clean work surface or silpat, pull out all of your dough and scrape out any left behind bits. No chilling required!

Gently kneed together for a minute and divide into 3 sections.

Working with ⅓ of your dough at a time, lightly dust your work surface with flour and dust your rolling pin.

Roll out your dough to an ⅛"-¼" thickness.

Cut out your cooking and place them on a nonstick cookie sheet.

Bake for 8-10 minutes. *you will not see color on the edges, so don't expect to see any changes.

Transfer the sugar cookies to a wire rack and let cool completely before icing, or over night if possible.

Notes
Recipe should yield 24-36 cookies depending on the size of your cutters.
Nutrition
Calories:
93
kcal
|
Carbohydrates:
20
g
|
Protein:
2
g
|
Fat:
0.5
g
|
Saturated Fat:
0.1
g
|
Polyunsaturated Fat:
0.1
g
|
Monounsaturated Fat:
0.1
g
|
Trans Fat:
0.004
g
|
Cholesterol:
7
mg
|
Sodium:
88
mg
|
Potassium:
20
mg
|
Fiber:
0.4
g
|
Sugar:
8
g
|
Vitamin A:
12
IU
|
Calcium:
23
mg
|
Iron:
1
mg
My Sugar Cookie Backround
I have been making homemade sugar cookies for decades. Making cut out Christmas cookies with my grandma is one of fondest childhood memories. She used a chill sugar cookie dough recipe that baked off like a cracker, but I loved it anyway.
When I became a mom, I wanted to make great sugar cookies and become an expert at royal icing. Eventually, I started a cottage bakery out of my home selling custom cookies and was busier than I could have hoped. After awhile though, I realized that I really preferred teaching over filling orders. SO here we are, I hope I can help you make your own very best sugar cookies at home.