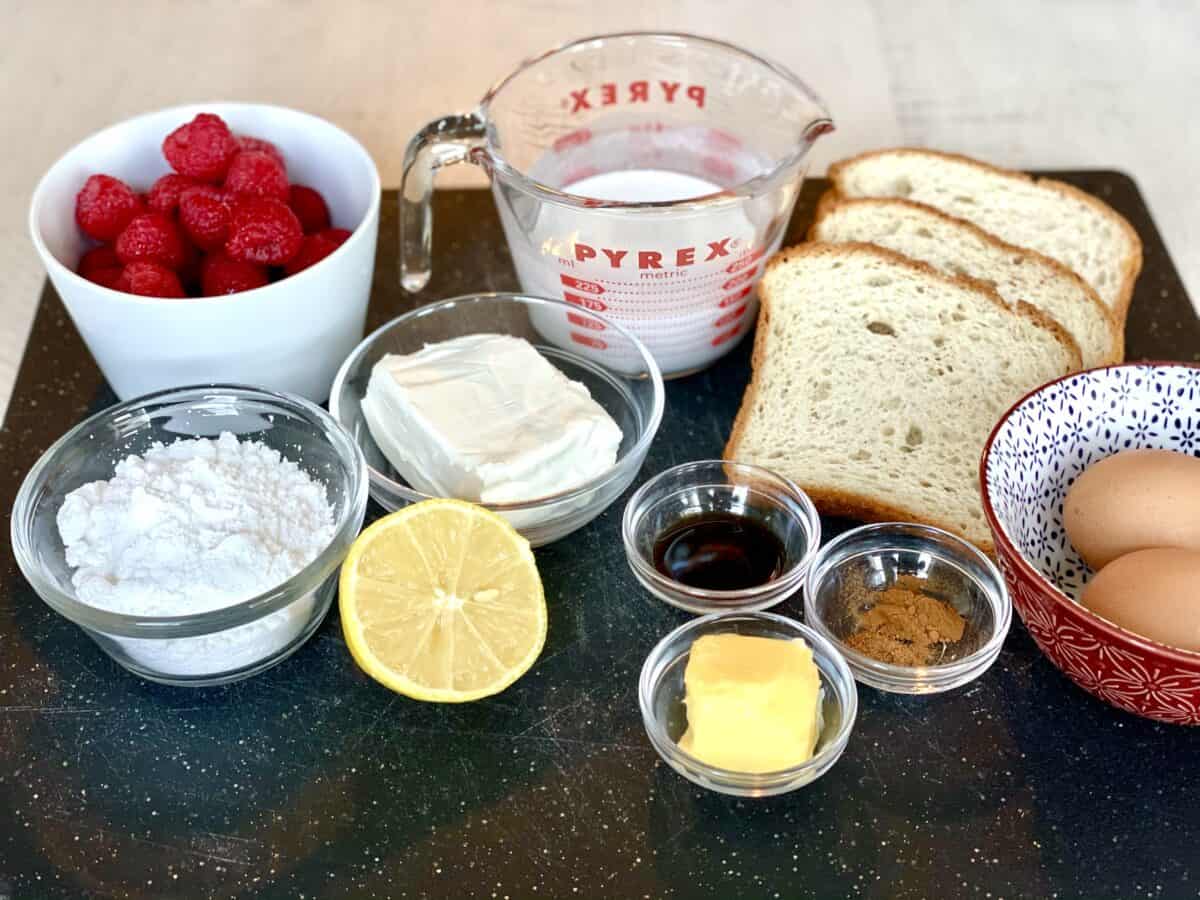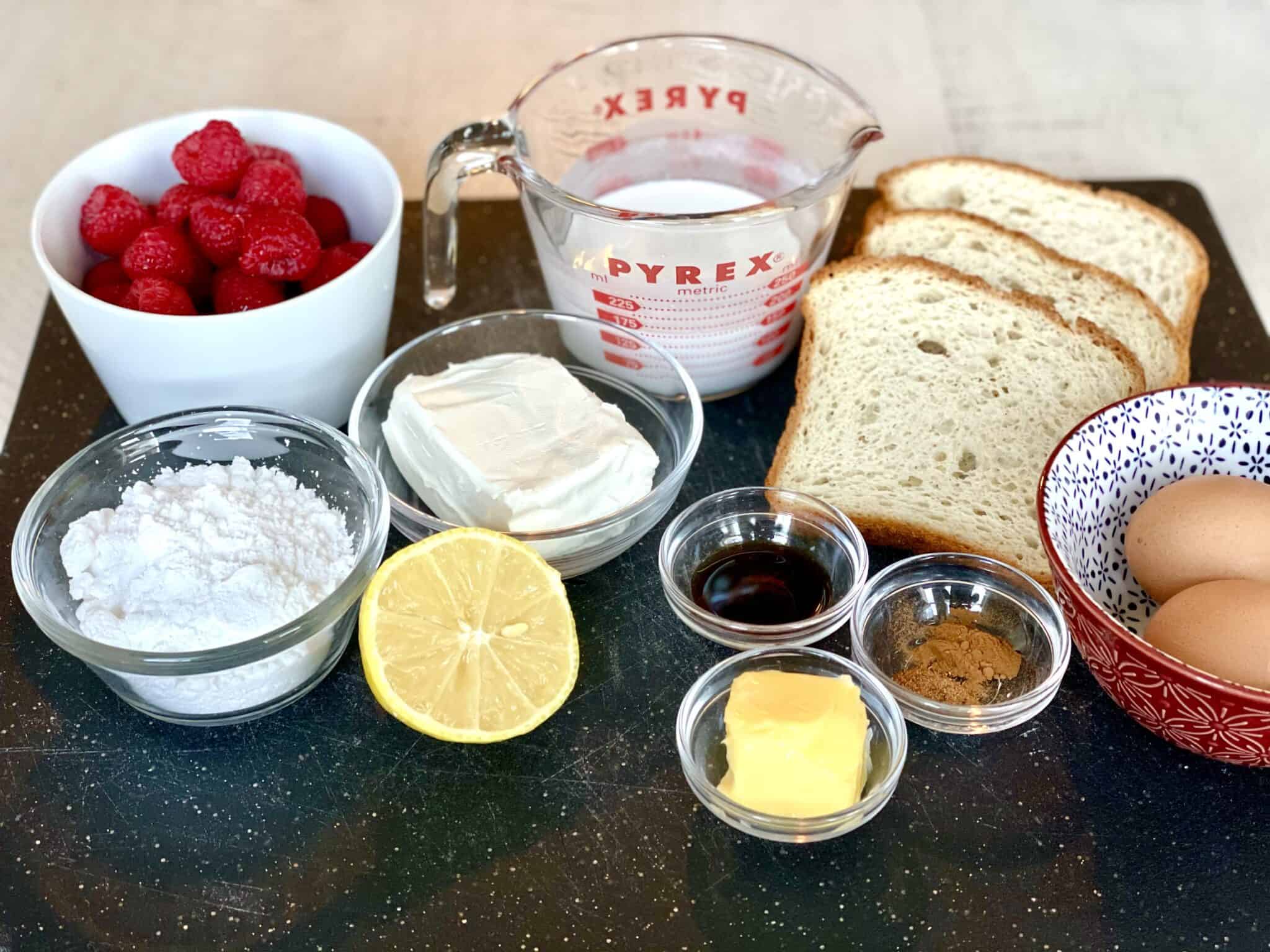 Perfect Sunday Breakfast
In my house, Sundays are for sleeping in and a special breakfast. Dan and I take turns making a big breakfast meal complete with bacon, eggs, fruit, and sometimes cheesecake French toast.
The French Toast
For any French toast, we're going to start with your favorite bread. Preferably something thicker and dryer versus a thin bread or something especially moist. We want this bread to be thick and dry so that it can soak up the custard and crisp up easily in the pan.
I like to put a few warm spices like cinnamon and nutmeg in the custard. Cardamom, cloves, or anise are other warming spices that come to mind. And of course, vanilla extract rounds out all of the flavor we need for a flavorful foundation.
*I use Canyon Bakehouse gluten free bread and it soaks up the custard just fine.
Cheesecake filling
Basically, I'll eat anything if cheesecake filling is involved. That's why I make cheesecake fruit dip to motivate my children and myself to eat fruit because it feels like we're eating a dessert. And this part is so simple. Room temperature cream cheese, vanilla extract, lemon juice, and powdered sugar. Combine and eat. Bam!
Add Some Berries
This cheesecake French toast is a pretty decadent breakfast. I like to lighten it up and cut the richness with some fresh fruit. The brightness from fresh raspberries, strawberries, or blueberries balances the plate out perfectly. Plus, it's pretty and makes me feel fancy eating at home.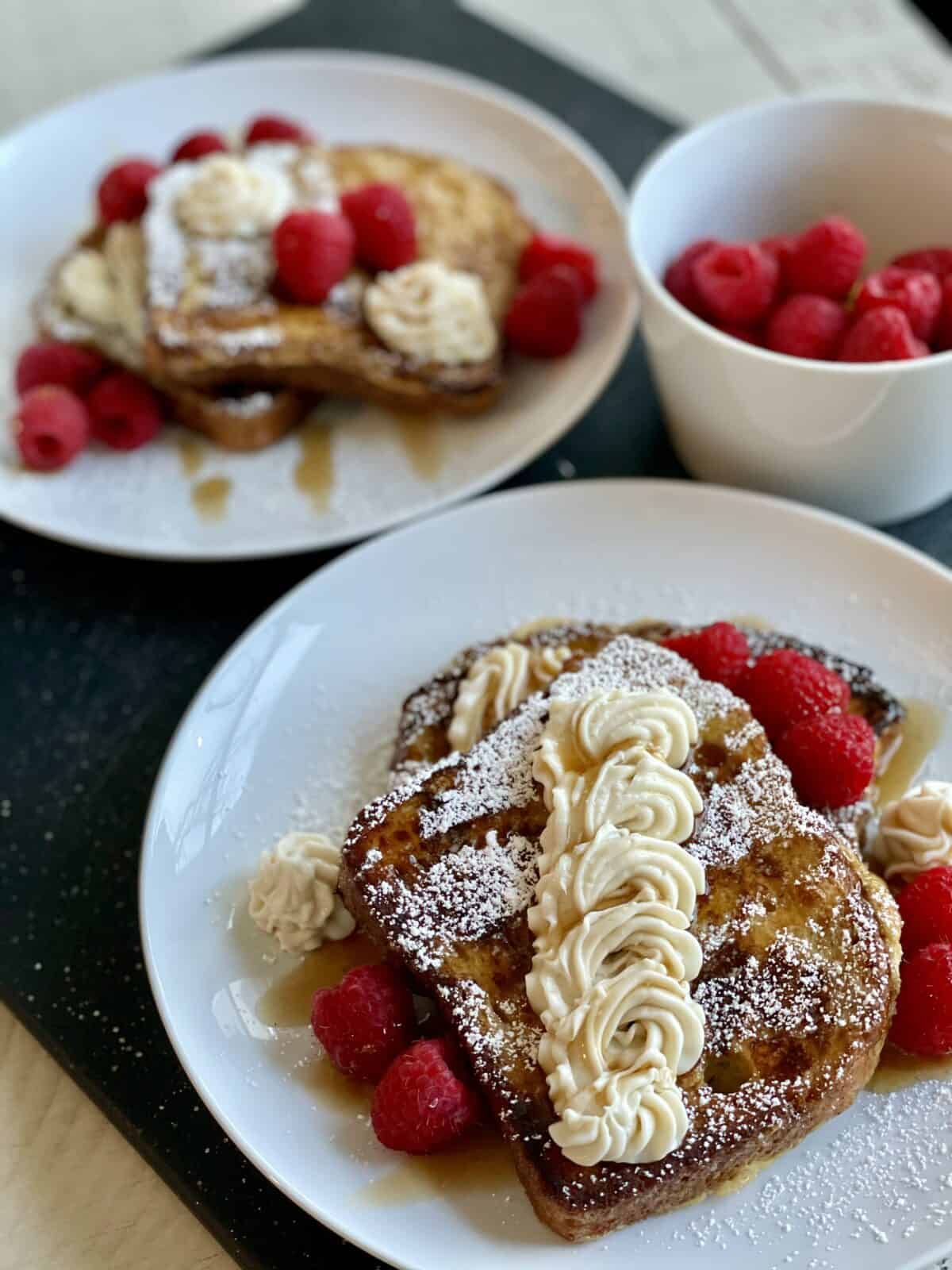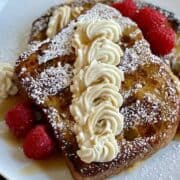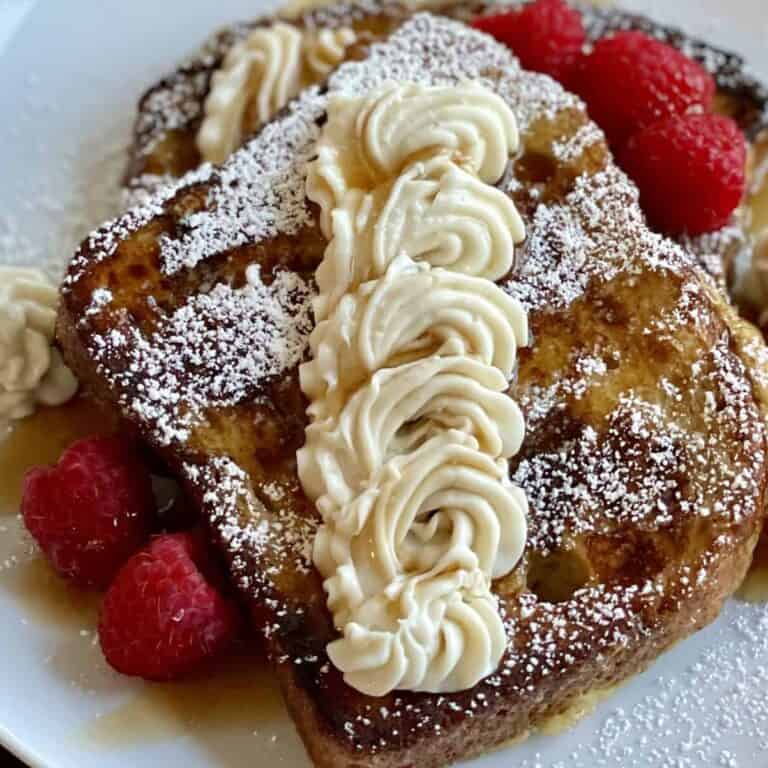 Print Recipe
Cheesecake French Toast
Classic French toast dressed up with a sweet cream cheese filling and fresh berries.
Equipment
Large non stick pan or cast iron skillet

mixing bowls
Ingredients
6-8

slices

bread

2

large eggs

½

cup

half and half

¼

teaspoon

nutmeg

¼

teaspoon

cinnamon

½

teaspoon

vanilla

1

tablespoon

sugar
Cheesecake Filling
4

ounces

cream cheese

¼

cup

powdered sugar

½

teaspoon

lemon juice

½

teaspoon

vanilla
Topping
1

pint

berries

¼

cup

powdered sugar

maple syrup
Instructions
Cheesecake Filling
Set out 4 ounces of cream cheese and let come to room tempertaure. If the cream cheese is too cold, it will be harder to mix and you may have lumps.

In a medium bowl, combine the cream cheese and powdered sugar. Mix well with a spatula.

Next, add the lemon juice and vanilla extract. Mix until it's smooth and well combined. Set aside while you make the French Toast. Put in a pastry bag with a decorative tip if desired.
French Toast
To make the custard for the French toast, crack the eggs into a large bowl and mix with a fork. Add in half and half, nutmeg, cinnamon, vanilla, and sugar. Whip with a fork or whisk until its well combined.

Heat a large nonstick pan or cast iron skillet on medium. Melt a tablespoon of butter and swirl around the pan until it bubbles.

Dip a slice of bread in the custard mixture and flip so it's evenly coated. Lay the dipped bread in the pan and cook for 4-5 minutes until it builds a golden crust on the bottom. Flip the bread and repeat on the other side.
Assemble the French Toast
Start with a piece of warm French Toast on a plate. Pipe or spread a layer of cream cheese filling on the French toast. Place another piece on top. Spread more cream cheese filling on. Spoon ¼ cup of powdered sugar into a small strainer. Sprinkle the French toast with powdered sugar. Add berries and a drizzle of maple syrup.
Did you make this recipe? Tag me on Instagram @fancy_apron 🙂 or leave a comment below.
Shopping list:
*This is an affiliate link. As an Amazon Associate I may benefit from qualifying purchases.
Feedback and Questions
If you have feedback or questions, please reach out. Either comment here or send me a note.