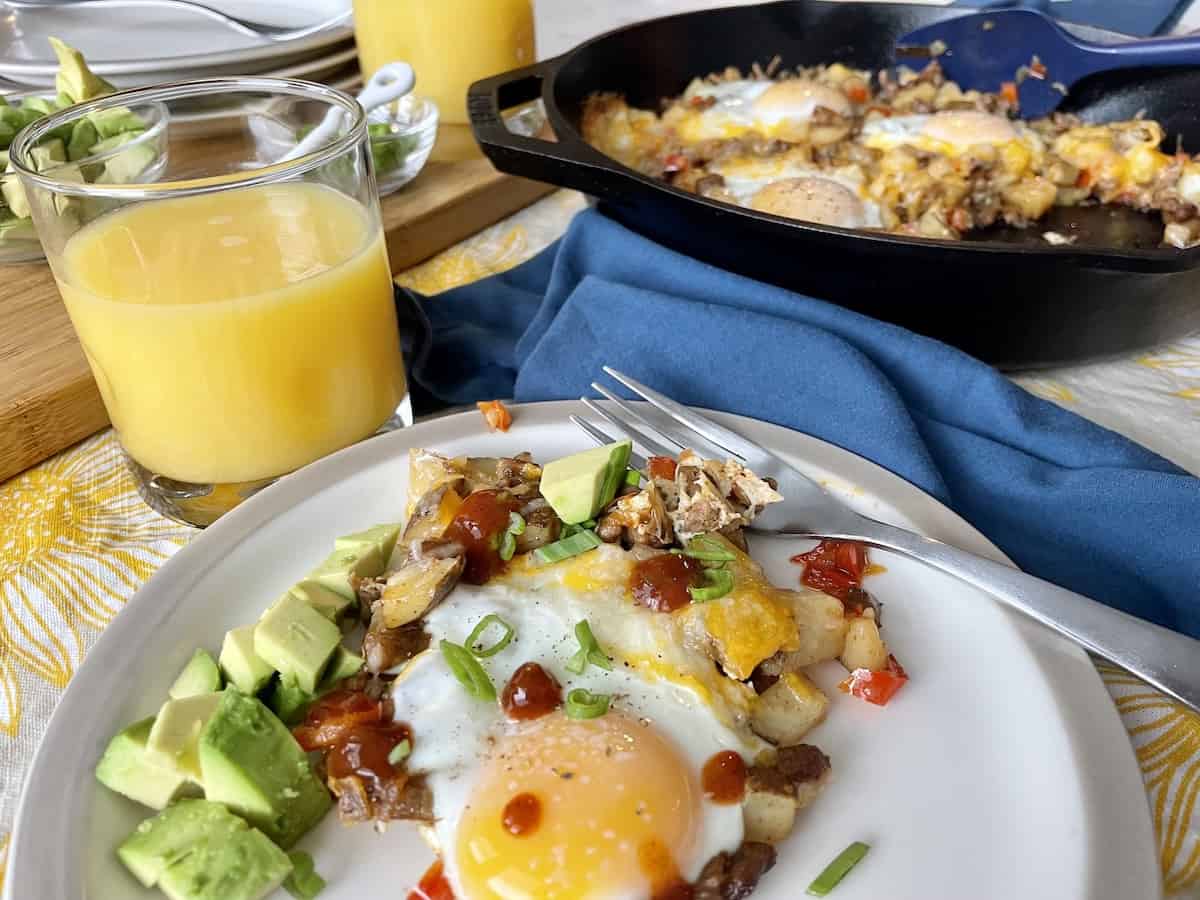 My Mexican breakfast skillet recipe has all the comfort food feelings from starchy potatoes, spicy sausage, eggs, and peppers. We start off with a hot skillet and combine these ingredients to get them cooking. Then we move the whole thing into the oven for a low maintenance complete breakfast. Making the breakfast of champions just got tastier!
This blog post contains affiliate links. As an Amazon Associate I may earn income from qualifying purchases. Thanks for the support.
You are going to love this breakfast skillet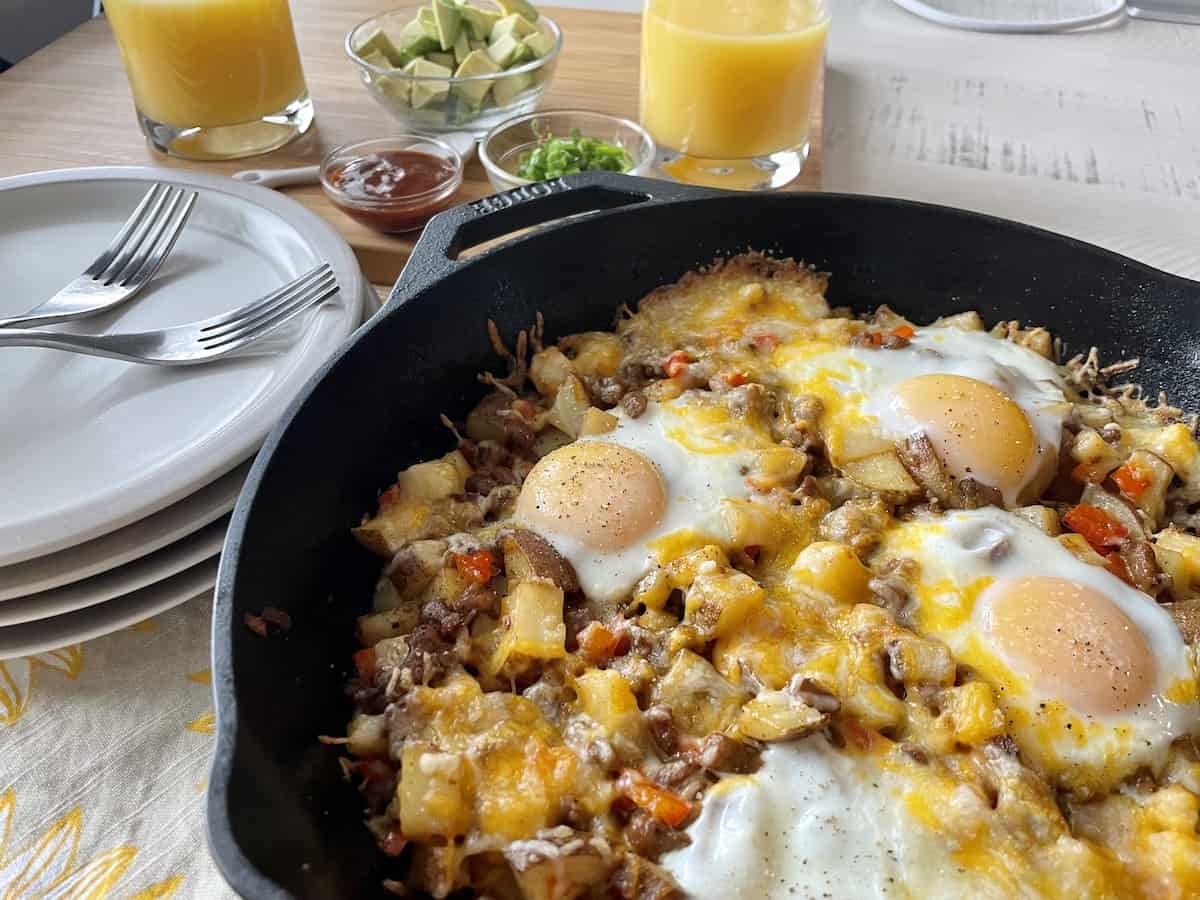 This is the ultimate cast iron breakfast skillet loaded with my favorite Mexican flavors and toppings. It's the perfect complete breakfast that I love to serve on the weekends. The skillet is easy to make and full of the protein, carbs, and healthy fat you are looking for to start the day off right.
Mexican Breakfast Ingredients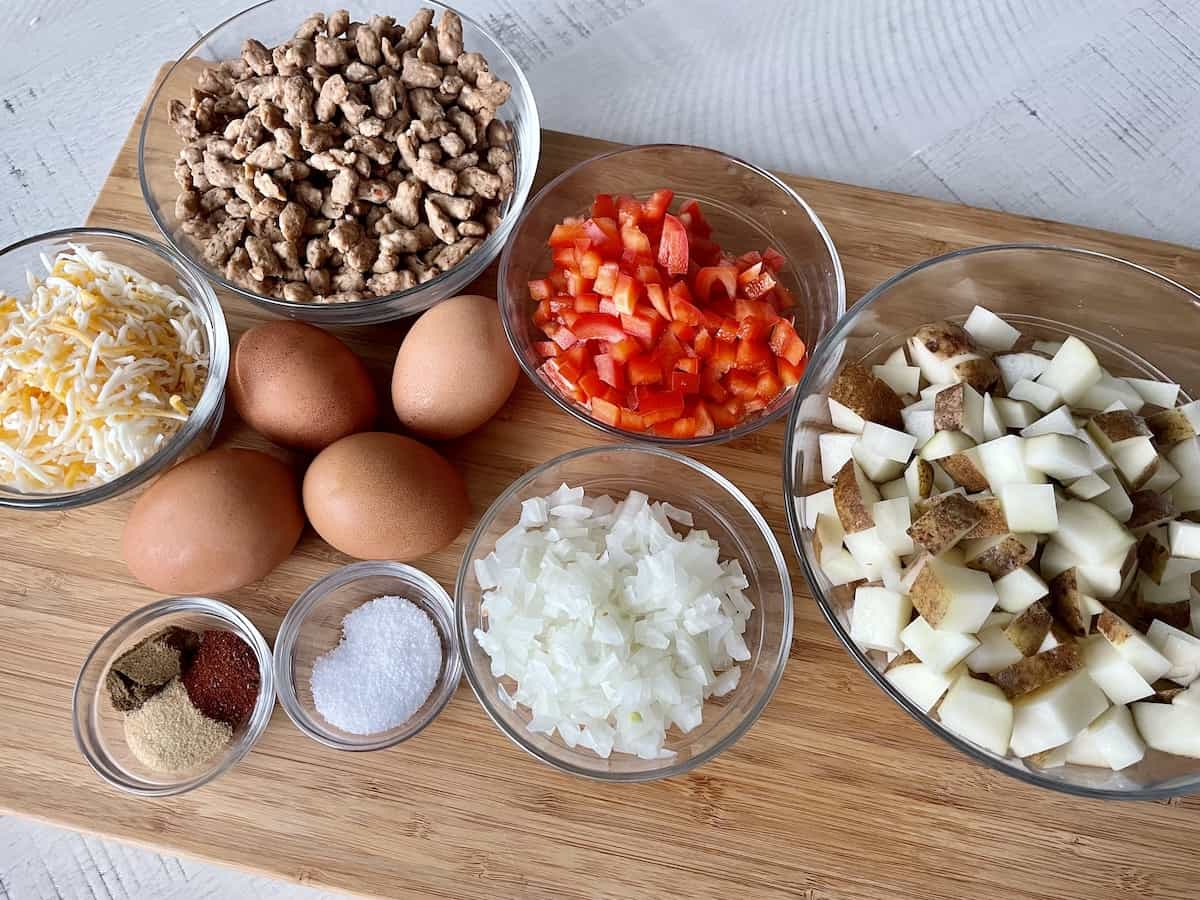 The base of the breakfast skillet is diced russet potatoes. Breakfast potatoes are such an affordable way to add bulk and substance to our skillet. Every breakfast skillet has to have eggs and shredded cheese. I'm pretty sure those are defining characteristics of an actual breakfast skillet. You do have a few cheese options here: shredded cheddar, Mexican cheese blend, pepper jack cheese, or you can finish the skillet with queso fresco or cotija cheese. Dealers choice or whatever you have on hand.
Next up, let's talk protein. This skillet needs breakfast sausage. You can use a delicious spicy chorizo sausage to really kick up the Mexican flavor. Or you can use a milder breakfast sausage that the whole family will love. It's really up to you.
Then, we are going to add the fresh veggies. Diced bell peppers and diced yellow onions really add the right flavor to make this skillet especially tasty. We finish the whole skillet off with hot sauce, diced avocado, and thinly sliced green onions for a bright kick at the end. For more vegetable options, make sure you read the section below for modifications.
Lastly, but still very important, the spices. Gotta have warm cumin, granulated garlic or garlic powder, and chili powder. These warm Mexican spices season the potatoes and the whole skillet for that classic Mexican flavor I'm looking for in this easy recipe. And of course, nothing is complete without salt and black pepper.
Breakfast Skillet Supplies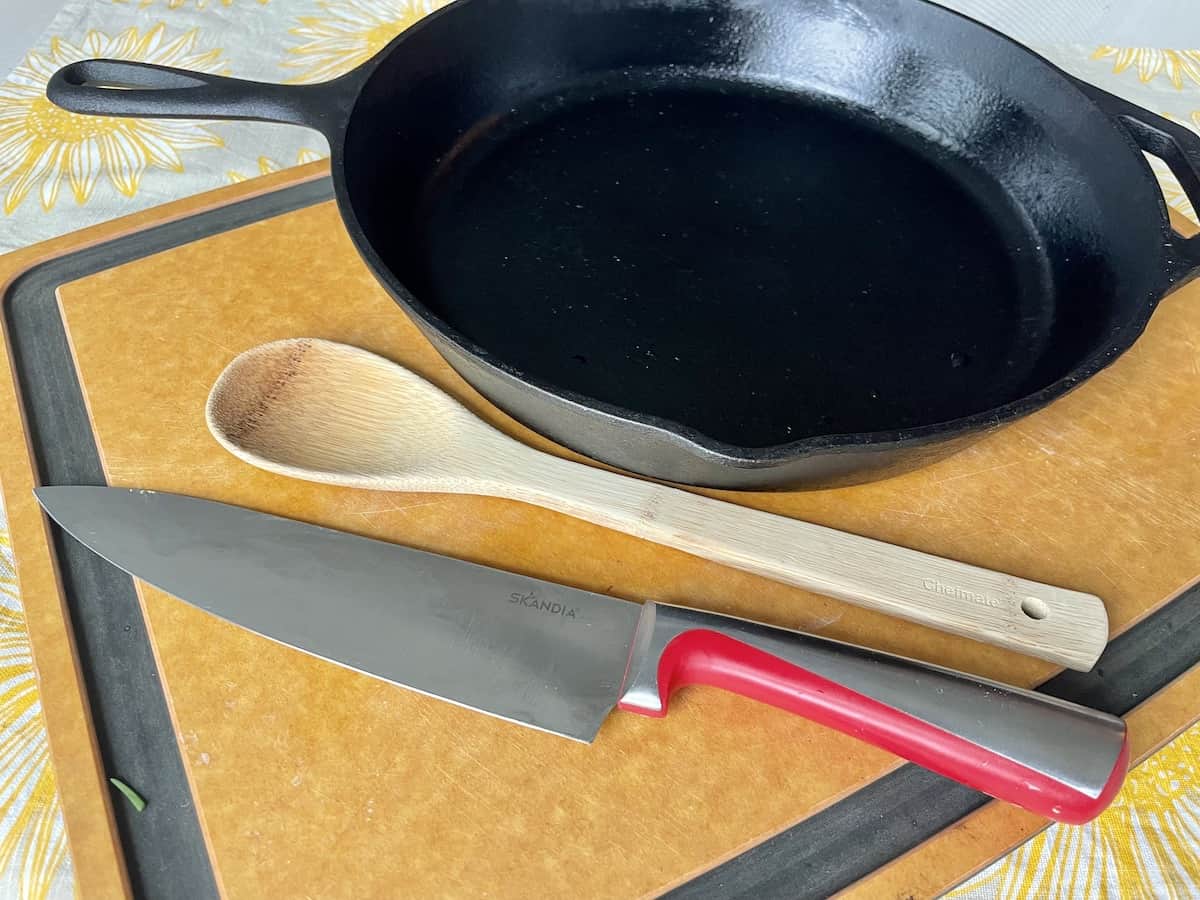 The ease of this recipe is brought to you by my very favorite cast iron skillet. The chop and dump recipe is completely assembled by cutting on a large cutting board and cooking everything together in one large skillet. Get out your trusty kitchen knife and a wooden spoon. That's all you need.
*If you choose to increase the amounts for the breakfast skillet recipe, I suggest using a skillet larger than 9" or even moving this meal to a sheet pan. Overcrowding the pan will increase cook time and make it harder to achieve crispy potatoes.*
Cooking Step by Step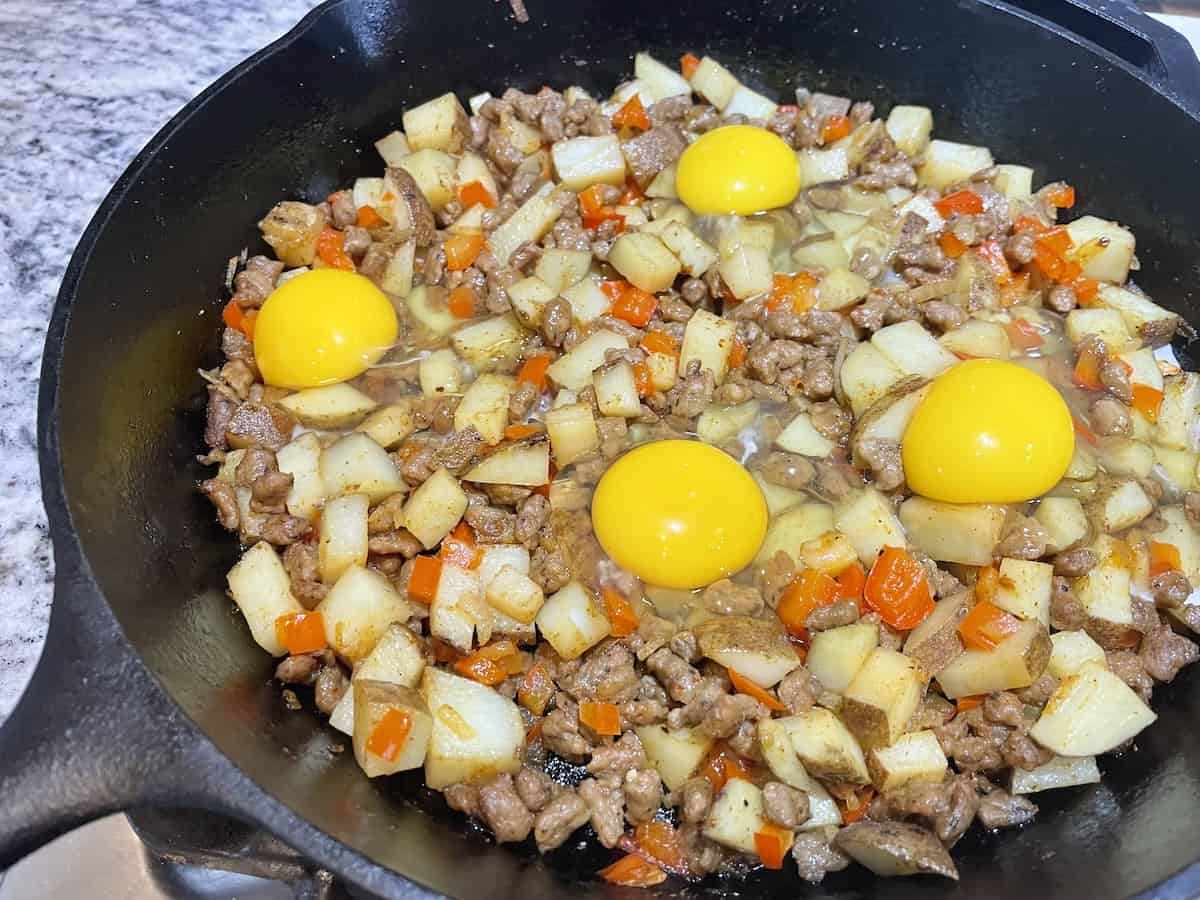 We need to start the cooking process by prepping all of our ingredients.
Wash, chop, drop.
The first step is to preheat the oven. After that, you can saute all of the potatoes, onions, bell peppers, and sausage on the stove at medium to medium-high heat. The skillet will finish cooking in the oven.
Make sure to prep all of your ingredients ahead of time. If you are using an uncooked hot sausage or chorizo, cook that in the cast iron skillet on medium heat and break it into small pieces. Remove it with a slotted spoon and set it aside so you can add it back in later.
Next, you will add in the diced onion and cook it for a few minutes until they become translucent. Then you can add in the potatoes, red peppers, and spices. After a few minutes, move the whole skillet into to the oven and let it cook for 15-20 minutes or until the potatoes are tender.
The last step in the cooking process is to add in the raw eggs. Take the skillet out of the oven and add the cracked eggs, one by one, directly into the skillet as pictured above. Sprinkle the egg yokes with a little salt and pepper. Lastly, sprinkle cheese over the whole skillet and return it to the oven for 6-8 minutes.
*if you like a runny egg yoke, pull it at 5-6 minutes. if you like the egg yoke to be completely cooked through, give it the full 8 minutes.*
Breakfast Skillet Garnishes, Toppings, and Serving Suggestions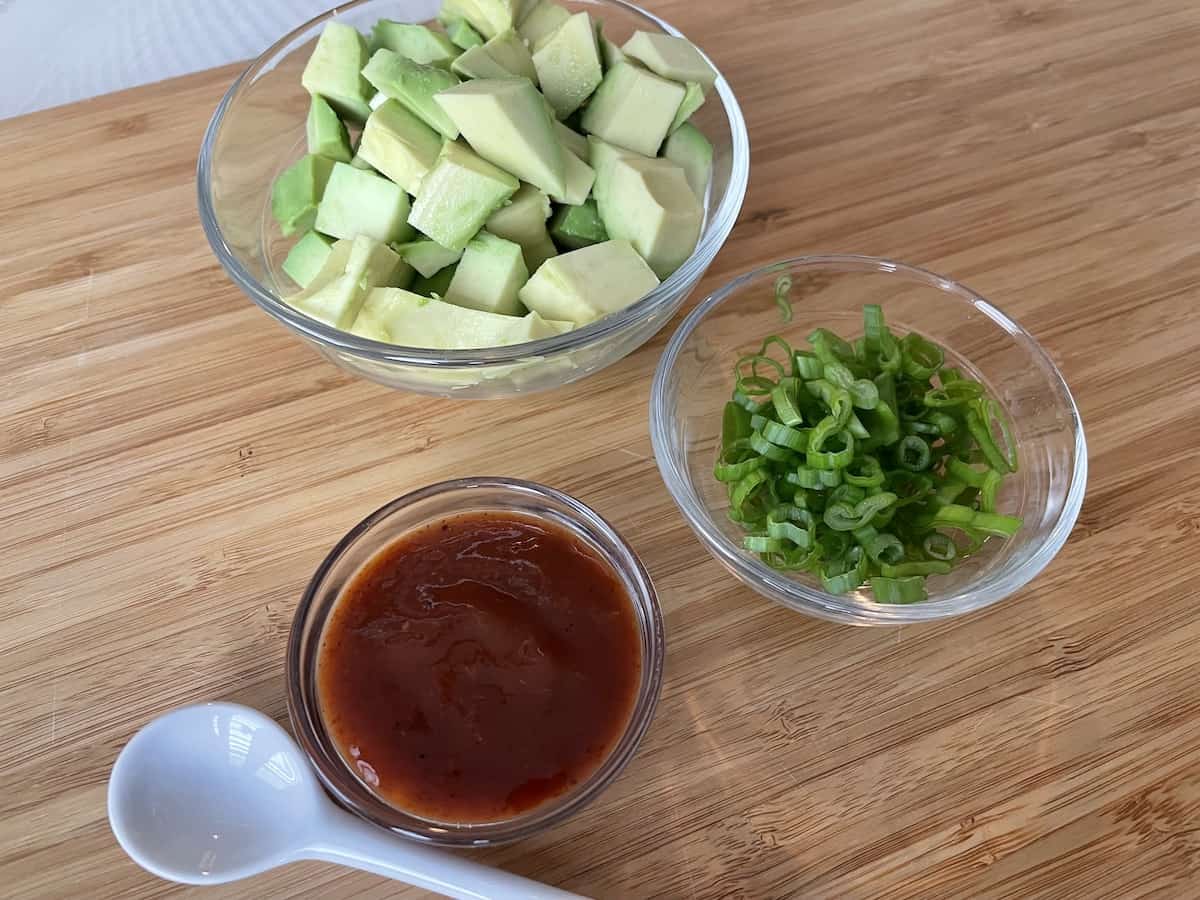 This is our chance to really turn up the Mexican breakfast skillet flavor. We get a good amount of flavor from the cumin, chili powder, and granulated garlic, but the toppings will take it up a notch.
The must have toppings for me include diced avocado, sliced green onions, and a favorite hot sauce. More options include: sour cream, fresh cilantro, pico de gallo or your favorite salsa, lime wedges or an extra sprinkle of cheese.
When you are ready to eat this delicious breakfast, you have options. You can serve it straight out of the skillet and add all of your favorite toppings. Or you can serve with warm corn tortillas to make breakfast tacos. Another great option is folding a generous helping the skillet into large flour tortillas for breakfast burritos if you want breakfast on the GO.
Recipe Modifications and Substitutions
To turn up the heat and make it even spicier:
add poblano peppers, diced green chilies, a pinch of cayenne pepper, or use a spicy Mexican sausage or chorizo
Make this an extra hearty breakfast:
Add pinto beans or black beans to make this more filling and increase the fiber
Prefer your eggs scrambled?
If you prefer scrambled eggs, by all means scramble them and cook them in a separate pan. Gently fold them in with the cooked potatoes, sausage, and veggies after the skillet has cooked in the oven.
Mexican Breakfast Skillet Recipe Card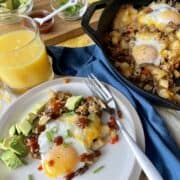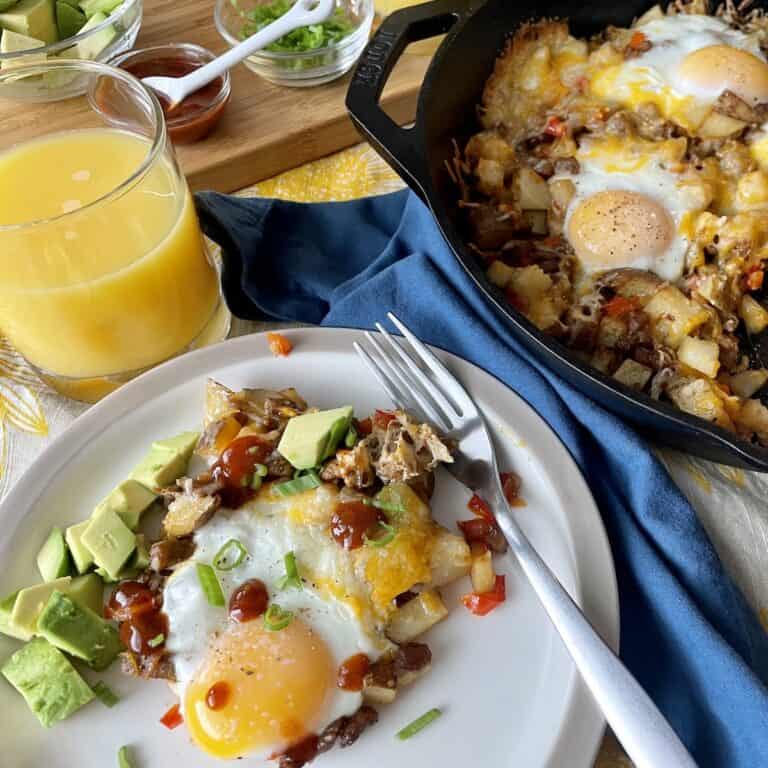 Print Recipe
Mexican Breakfast Skillet Recipe
A delicious and hearty breakfast skillet loaded with potatoes, spicy chorizo, veggies, eggs, and melty cheese. Top off the whole thing with fresh herbs and taco sauce for a breakfast made in heaven,
Equipment
1 9" cast iron skillet

1 cutting board

1 sharp knife

1 wooden spoon or spatula
Ingredients
1

tablespoon

veg oil

3

cups

russet potatoes

diced

1

cup

breakfast sausage

or chorizo

1

cup

bell pepper

diced

½

cup

yellow onion

diced

4

eggs

1

teaspoon

salt

½

teaspoon

black pepper

½

teaspoon

cumin

½

teaspoon

chili powder

½

teaspoon

garlic powder

1

cup

shredded cheese

1

avocado

diced

3

green onions

thinly sliced green part only

hot sauce

as desired
Instructions
Prepare skillet ingredients by dicing potatoes, bell pepper, and onion.

Heat a 9" cast iron skillet on medium high and add the vegetable oil.

Cook the breakfast sausage and break it up until has browned and cooked through completely. Remove the sausage with a slotted spoon and set aside to add back in later.

Discard any extra grease that has cooked off from the sausage. Add another splash of vegetable oil if needed.

Increase the heat under the skillet to medium high. Saute the diced onions for 2-3 minutes or until the onions become translucent.

Add the diced potatoes and bell pepper. Stir them in with the onions so they are evenly coated.

Season the vegetables with salt, pepper, and add the granulated garlic, cumin, and chili powder. Cook the vegetable mixture for 3-4 minutes.

Turn off the heat for the stove. Fold in the cooked sausage and move the skillet to the oven. Bake the skillet in the oven for 15-20 minutes until the potatoes are tender and cooked through.

After the potatoes have cooked, remove the skillet from the oven and gently add 4 raw eggs on top of the potatoes. Season the eggs with a little salt and pepper.

Top the skillet with shredded cheese and return to the oven for 6-8 minutes.

Remove the skillet and serve. Top with diced avocado, salsa or hot sauce, and diced green onions.
Notes
You can also serve this breakfast skillet with warm tortillas and make into breakfast tacos or breakfast burritos. 
Additional toppings include: sour cream, chopped cilantro, pico de gallo, or cotija cheese.
Nutrition
Calories:
443
kcal
|
Carbohydrates:
31
g
|
Protein:
22
g
|
Fat:
27
g
|
Saturated Fat:
9
g
|
Polyunsaturated Fat:
3
g
|
Monounsaturated Fat:
12
g
|
Trans Fat:
0.1
g
|
Cholesterol:
210
mg
|
Sodium:
1056
mg
|
Potassium:
1031
mg
|
Fiber:
6
g
|
Sugar:
4
g
|
Vitamin A:
1861
IU
|
Vitamin C:
62
mg
|
Calcium:
208
mg
|
Iron:
3
mg
More of my favorite Mexican Recipes
If you love this Mexican Breakfast Skillet Recipe and need more easy Mexican meals, check these out...