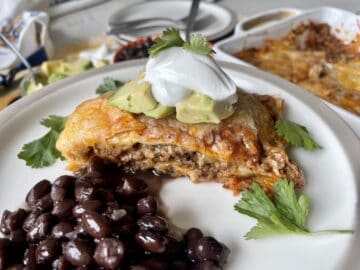 This beef enchilada casserole recipe is the quick dinner shortcut you are looking for to feed your family. With a few easy ingredients you will have a delicious dinner in no time. It's warm and comforting just like the casserole your mom used to make.
This blog post contains affiliate links. As an Amazon Associate I may earn income from qualifying purchases. Thanks for the support.
Why is this so dang delicious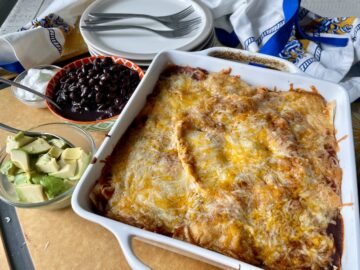 There's nothing like seasoned ground beef layered with melted cheese and rich enchilada sauce. It has all the flavor of traditional enchiladas layered in a single casserole.
Not only is it delicious, it's super easy. Sometimes we just need an easy meal that whole our family will eat without question. Beefy enchilada casserole fits that category because the ingredients are so simple. There are no onions or extra veggies. Its just the tortillas, meat, melty cheese, and delicious red enchilada sauce. Nothing to pick out. Even picky eaters can get on board here.
Now, I personally load up on veggies for the sides- a Mexican green salad and black beans go great. But the heart of this recipe is delicious seasoned ground beef smother with melted cheese and wonderful flavor from enchilada sauce.
Basic Beef Enchilada Casserole Ingredients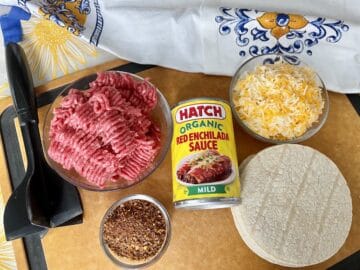 Get ready for the most basic list of ingredients ever:
Corn tortillas or flour tortillas- I go with corn because they are gluten free, but if you love flour tortillas use them.
Seasoned ground beef- One pound of ground beef browned with taco seasoning. This can be homemade or store-bought. You can also use ground turkey as a substitute.
Shredded cheese- The Mexican blend of shredded cheese blend from Costco is perfect for this but you can also use Cheddar cheese, sharp cheddar, Monterey Jack cheese, or
Enchilada Sauce- use your favorite canned red enchilada sauce. I love the flavor from the Hatch Organic, but you get whichever one you like best. (If you make homemade enchilada sauce I applaud you)
Enchilada Toppings, Garnishes, and Extras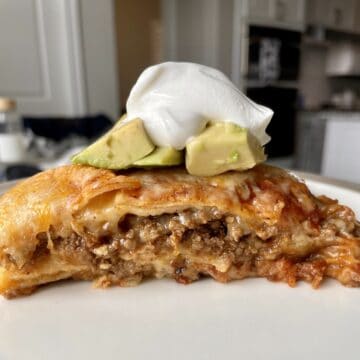 Aside from the basic ingredients to make this beef enchilada casserole, you may want to dress yours up a bit. Check it out:
Sour Cream- my favorite for the cooling effect that holds up to the warm heat from the enchilada sauce
Avocado- diced, sliced, or mashed
Green Chiles
Hot sauce- sriracha, taco sauce, Taco Bell Fire sauce...
Sliced green onions
Fresh cilantro
Supplies and Equipment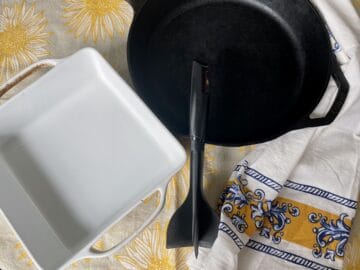 You will need:
One large skillet- I use my cast iron skillet for the ground beef because I love how evenly it holds heat and browns the beef.
One meat masher- or wooden spoon, but the meat masher really does make this process quicker.
Casserole Dish- whatever 9x9 oven safe baking dish you want. You can go bigger or smaller depending on how many servings you want.
Casserole Steps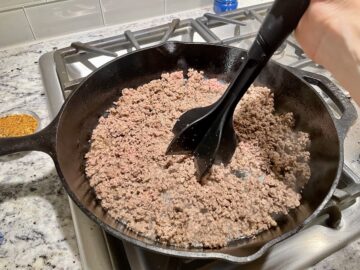 Browning and seasoning the ground beef- start by placing a large skillet over medium-high heat. Use a meat masher or wooden spoon to break up the ground beef into very fine pieces. Continue to cook the ground beef on medium heat until all of the moisture has left the pan. Add in ¾ of a cup of water and taco seasoning. The water is an important step to getting that flavor into the meat. After the meat has cooked, you can start the layering process.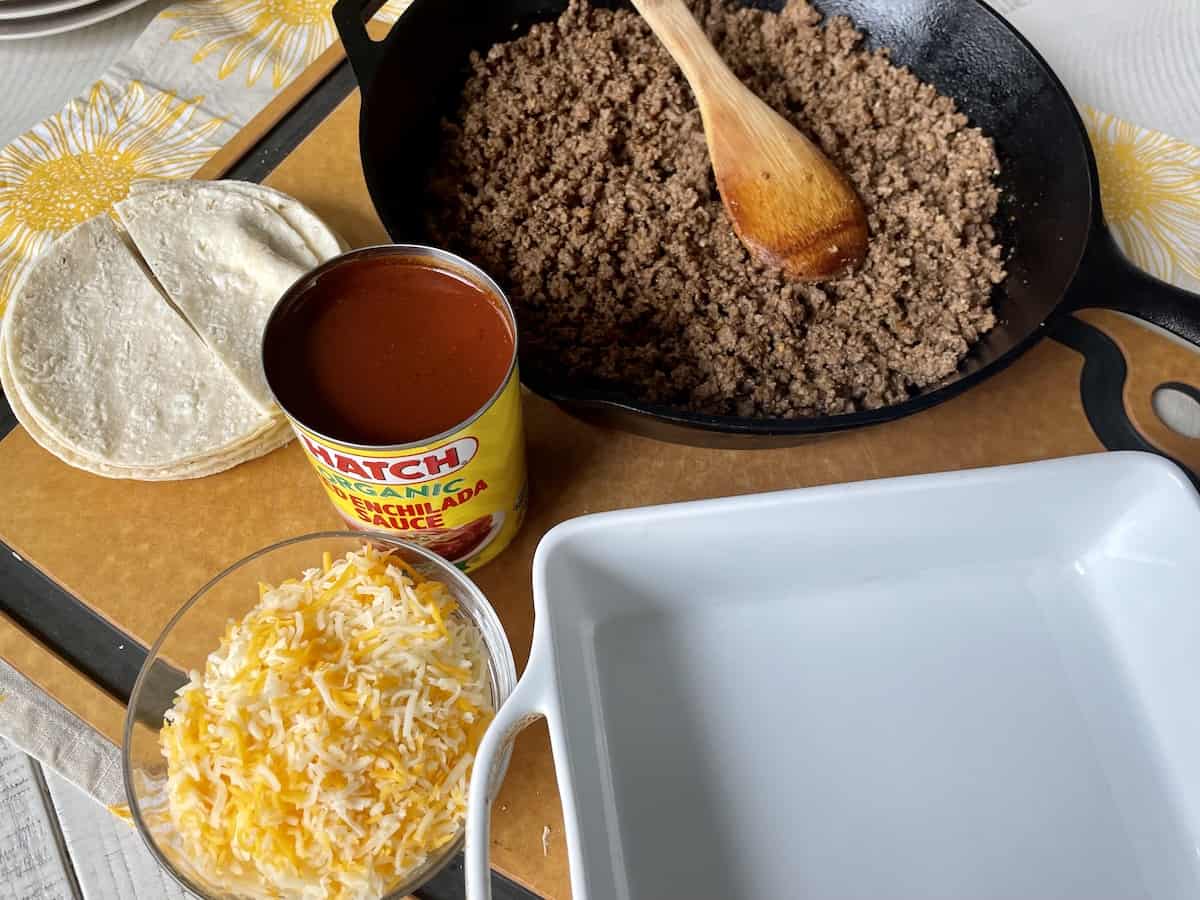 To assemble the casserole, you'll first need to cut the tortillas in half so that you can lay the straight edge against the baking dish. Then you can begin layering all of the ingredients.
Pour a thin layer of enchilada sauce in the bottom of the casserole dish. Then, lay down the cut corn tortillas in a single layer so the straight edge is against the dish. Add a little more sauce and half of the seasoned ground beef. Next, top with lots of cheese and more sauce.
Repeat the process a second time. To finish the casserole, pour the remaining enchilada sauce over the top. Make sure to spread out the sauce evenly to the edges over the layer of corn tortillas. If the edges don't get enough sauce, they could burn or dry out. Top off the entire casserole with a generous layer of shredded cheese.
Place the enchilada casserole in the preheated oven. You can choose to cover the enchiladas with aluminum foil, but I don't worry about that. The cheese will melt perfectly without foil. Your enchiladas are ready for the oven. Woohoo!
What to Serve with Your Beef Enchilada Casserole
Now, I love Mexican food. Let's talk about the side dishes that go oh so well with traditional enchiladas or this beef enchilada casserole.
First and foremost, I like serving this easy recipe with beans. I of for black beans, pinto beans, or refried beans. Any of those that you choose will balance out your meal with fiber and a generous serving of iron or folate depending on which bean you choose.
Next up, I love to serve this with an easy Mexican rice. I may not take the time to make rice on a busy weeknight, but if this is for a Sunday dinner, I will go for the extra carbs. This recipe combines flavors from chili powder, tomato sauce, cumin, and garlic salt.
Can I make this casserole ahead of time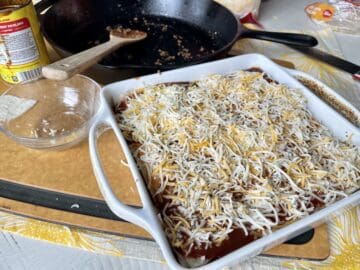 Of course you can! Its such an easy beef enchilada casserole and you can layer it up to a day in advance. Assemble as instructed and cover the baking dish tightly with plastic wrap. When you are ready to bake it, add an extra 10-15 minutes since the casserole will be extra cold.
Saving and reheating leftovers
If you happen to have leftovers, just transfer the beef enchiladas to an airtight container with a lid. Store them in a refrigerator for up 4 days for food safety.
When you are ready to eat it again, place your serving on a microwave safe plate. I like to cut my portion in half for more even heating in the microwave. Use the reheat option on your microwave if you have one. It really does help for even heating throughout the enchiladas.
Printable Beef Enchilada Casserole Recipe Card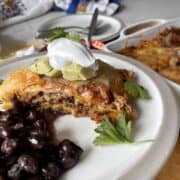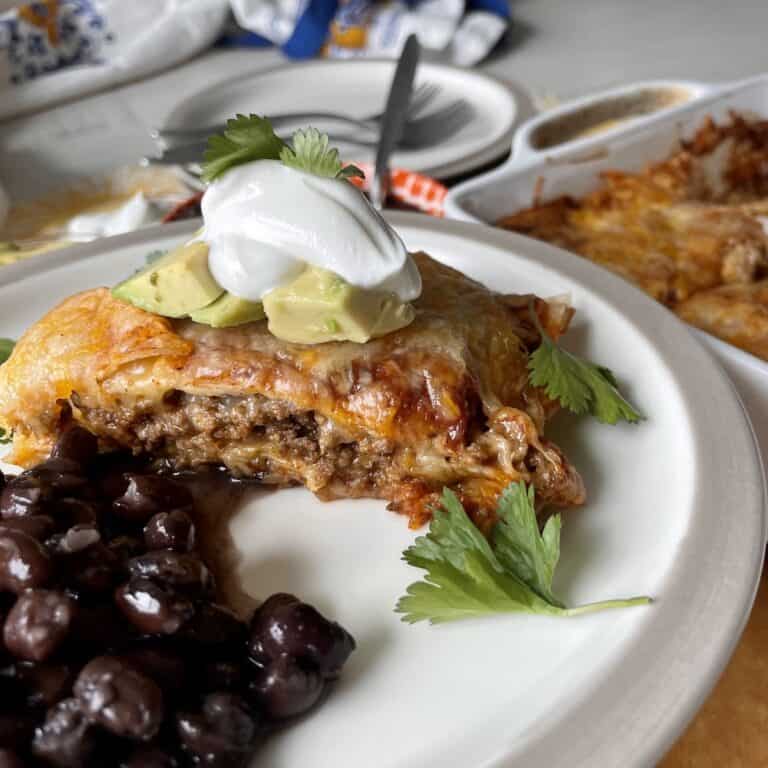 Print Recipe
Beef Enchilada Casserole Recipe
Layers of corn tortillas are filled with seasoned ground beef, enchilada sauce, and cheese. Then it's baked for melty perfection.
Equipment
1 9x9 baking dish

1 skillet or nonstick pan
Ingredients
12

corn tortillas

1

pound

seasoned ground beef

¼

cup

taco seasoning

3

cups

shredded Mexican cheese blend

1

15 ounce

can enchilada sauce
Instructions
Assemble the Ingredients
Preheat your oven to 375 F.

In a large skillet or nonstick pan, brown the ground beef and break up into very fine pieces. Once all of the moisture has evaporated, add ¼ cup or 1 packet of taco seasoning and ¾ cup of water. Simmer on medium-low uncovered for 15 minutes. Most of the water should evaporate. Turn off the heat and prepare to layer the enchilada casserole.
Layering the Casserole
Pour in a thin layer of enchilada sauce on the bottom of the baking dish. Lay down 4 tortillas in a single layer. They will slightly overlap. Pour on more enchilada sauce and spread out thin.

Next, add a layer of the cooked ground beef, shredded cheese, and more enchilada sauce. Repeat the layer process a second time.

Finish the top layer of the enchilada casserole by pouring over the rest of the enchilada sauce and topping it with the remainder of the cheese.
Baking the Enchilada Casserole
Place the casserole in the oven, uncovered and let it cook for 30-35 minutes or until the cheese is completely melted and slightly browned on the edges.

After the cheese has completely melted and the casserole is bubbling, remove it from the oven and allow it to cool for 10-15 minutes before serving.
Notes
Optional garnishes for serving: sour cream, diced avocado, hot sauce, or fresh cilantro. 
Nutrition
Calories:
463
kcal
|
Carbohydrates:
25
g
|
Protein:
30
g
|
Fat:
27
g
|
Saturated Fat:
13
g
|
Polyunsaturated Fat:
2
g
|
Monounsaturated Fat:
10
g
|
Trans Fat:
1
g
|
Cholesterol:
88
mg
|
Sodium:
510
mg
|
Potassium:
353
mg
|
Fiber:
3
g
|
Sugar:
1
g
|
Vitamin A:
330
IU
|
Vitamin C:
0.003
mg
|
Calcium:
700
mg
|
Iron:
2
mg
I hope you decide to make this delicious casserole and add it to your menu of east recipes. We all need a dose of weeknight comfort food and a hot dish to bring our family together at the dinner table.
More Dinner Ideas