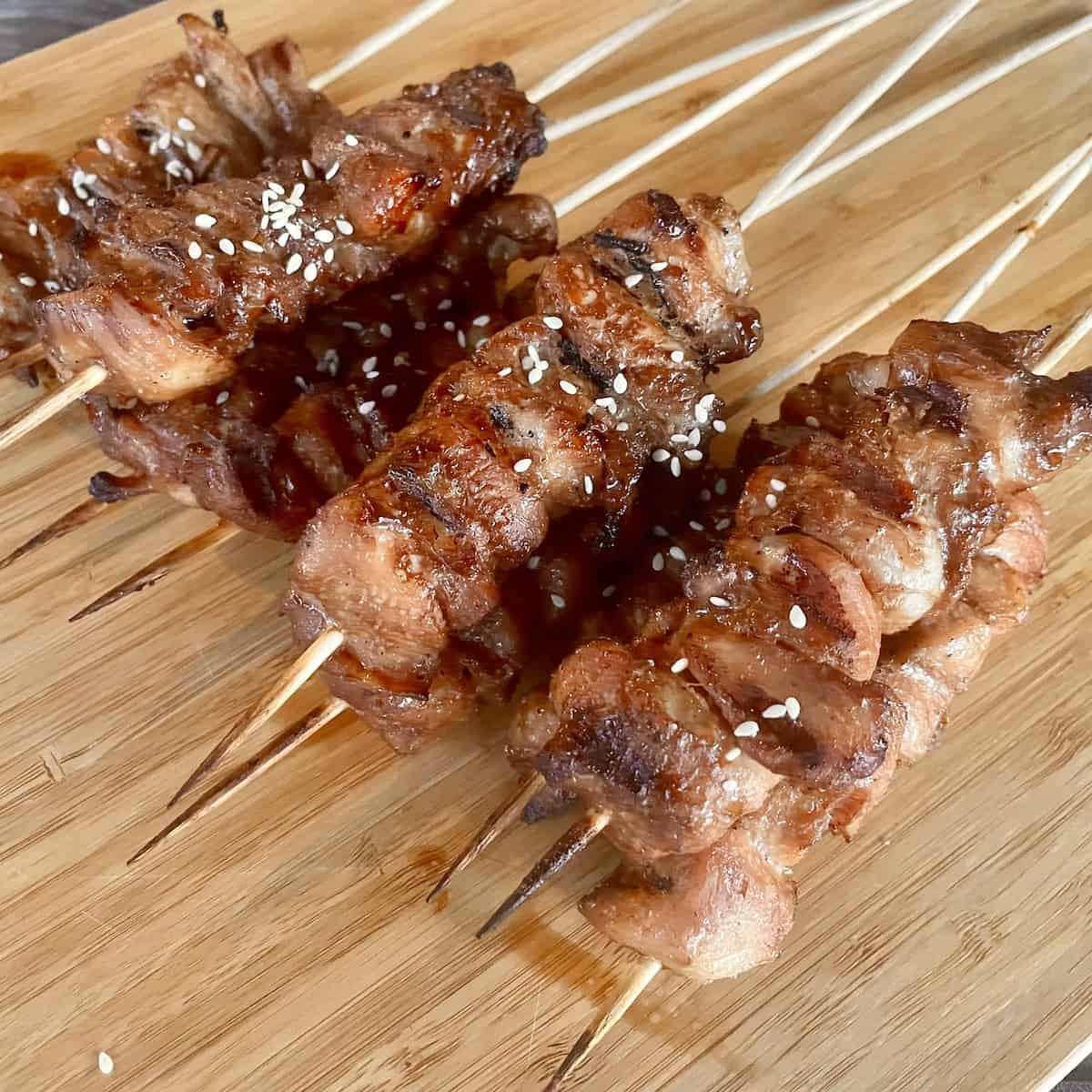 Ditch the local Chinese takeout and make delicious Chinese chicken on a stick at home. This appetizer comes together so easily. It's an delicious recipe that packs a flavorful punch from soy sauce, sesame oil, honey, and spices. All we need is a little prep, some bamboo skewers, and a hot grill.
This blog post contains affiliate links. As an Amazon Associate I may earn income from qualifying purchases. Thanks for the support.
Chinese Chicken Skewer Ingredients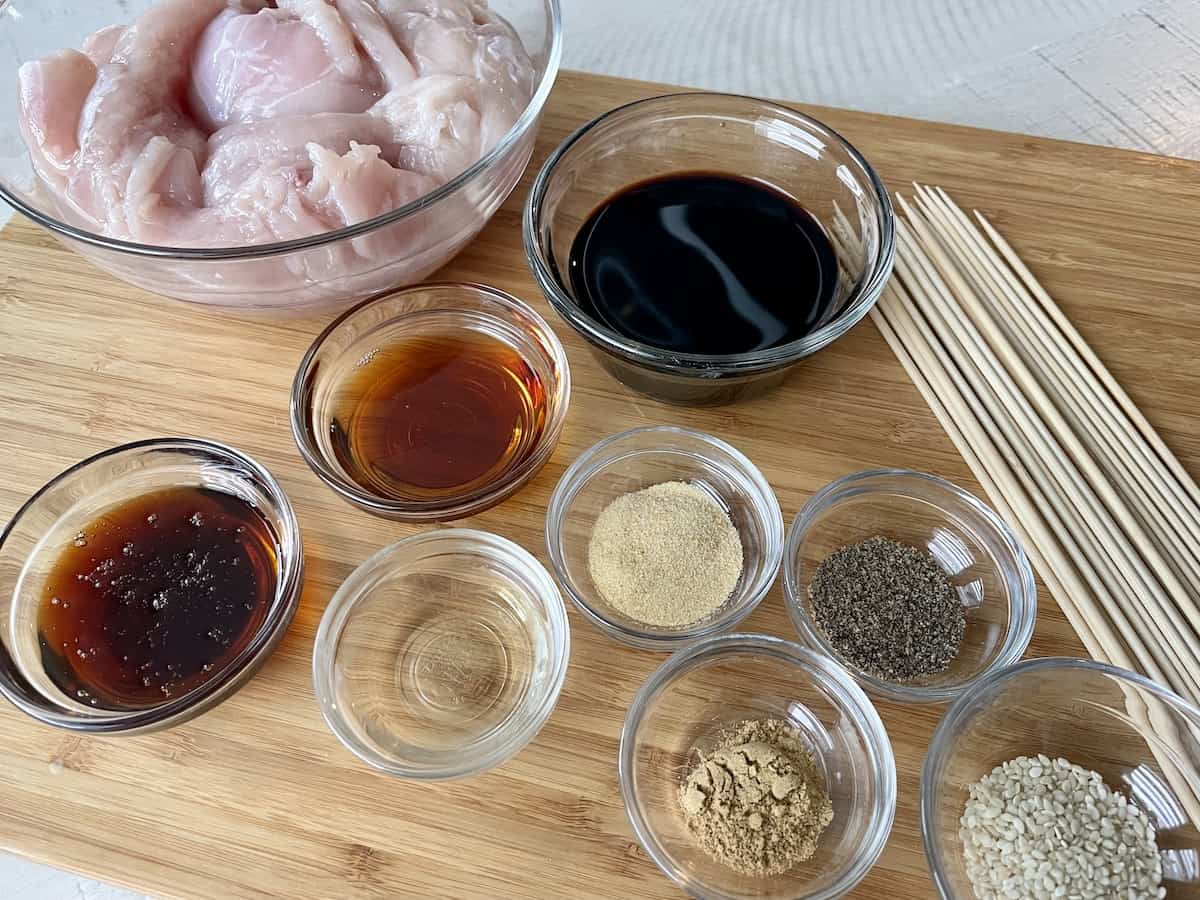 I love this Chinese chicken on a stick recipe because I always have the ingredients in my pantry, or something super close to it. The bulk of the marinade is made with soy sauce, sesame oil, and honey. The soy sauce gives the marinade a zippy umami flavor, but the sesame oil and honey are just as important here.
The sesame oil transforms the marinade, giving it a subtle nutty bite. The honey not only offers sweetness, but it charrs around the edges of the chicken. I love the caramelized burnt ends from the honey. To balance out that sweetness we need just a splash of rice wine vinegar.
Other than that, we just need a few spices: granulated garlic, powdered ginger, and pepper.
Garnish your Chinese skewers with green onion or sesame seeds for an elevated presentation and extra pop of flavor.
If you are not in the mixing mood, you can certainly use a teriyaki chicken marinade as well. Read below for shortcuts and recipe modifications.
Must Have Chicken Skewer Supply List
Wooden skewers - for skewering chicken
Large glass bowl, zip top bag, or any airtight container - for marinating chicken
Large baking dish or bag - to soak the skewers in water
Grill - I am all things team Traeger but any grill will cook the chicken
The Preparation: chicken and the marinade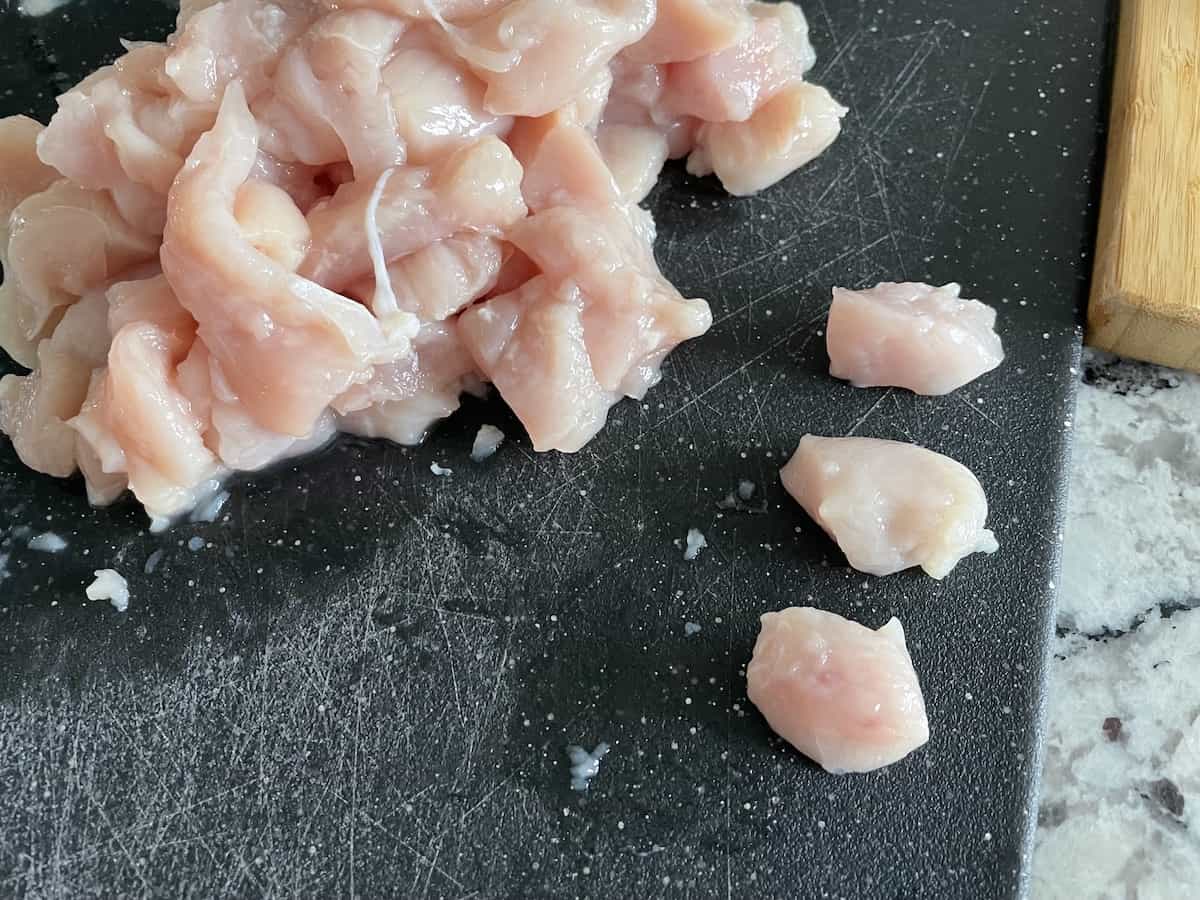 Let's start by preparing the chicken. You can use boneless chicken breast, chicken thighs, or chicken tenders. Since I want my kids to eat this meal, I go for chicken tenders. My kids are way more likely to eat a very tender piece of white meat than dark meat or anything too tough.
I cut the chicken into very small half inch cubes. Cutting small pieces ensures 3 things: the chicken is easy to eat off the stick, it will cook quickly, and it cooks evenly. Pay attention to your knife cuts. It's a small detail that makes a real difference.
If you are using boneless skinless chicken breasts or boneless skinless chicken thighs, you have two options for making these skewers. First, you can cut small pieces of chicken like I did above with the tenders. Second, you can cut long strips of meat and thread chicken pieces back and forth over the skewer.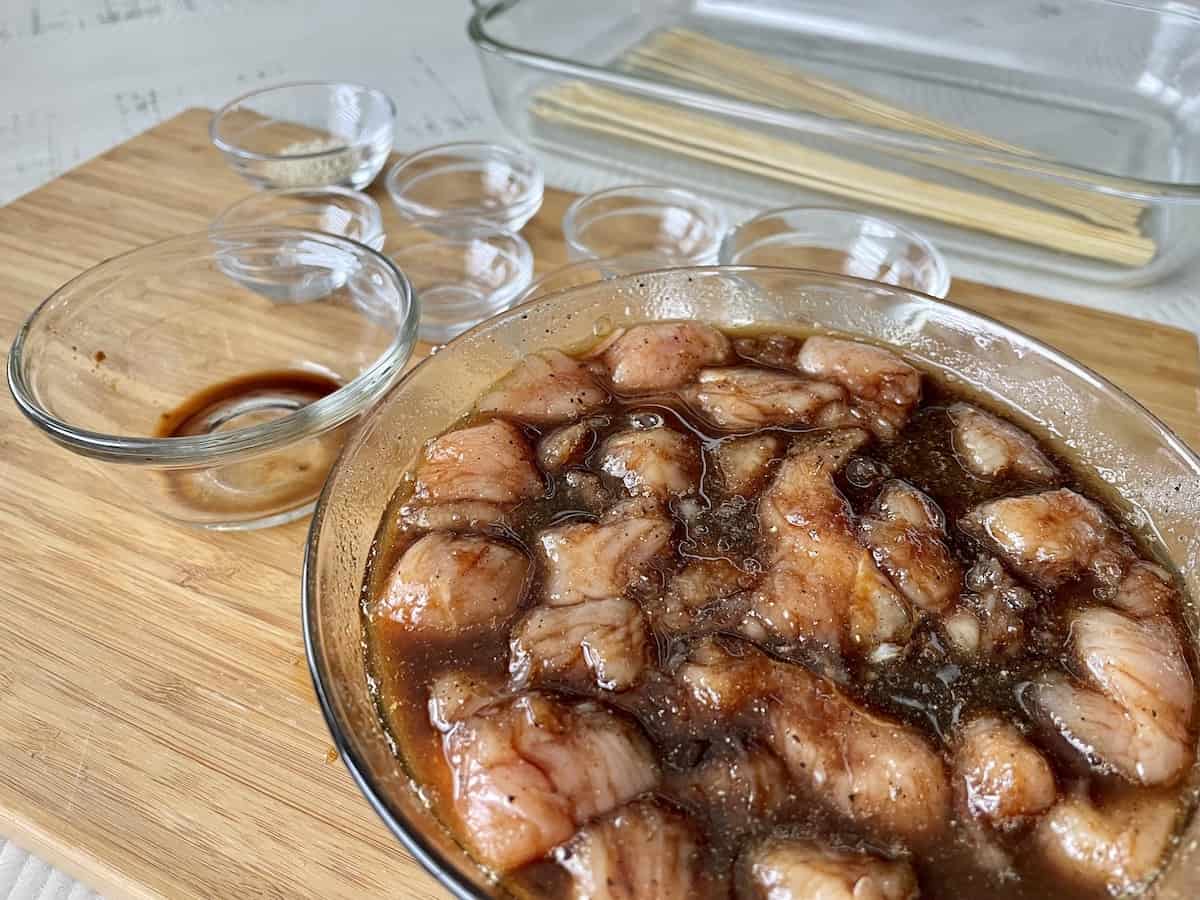 Next step: mix the marinade. Combine all of the other ingredients and get the chicken in there. You can marinade the chicken for 1-2 hours. Use a large bowl, zip-top bag, or glass container. Marinade the chicken in the refrigerator until you are ready to cook.
Lastly, we need to get this chicken on the sticks. I like to use bamboo skewers. Just soak them in cold water for 10-15 minutes before skewering the chicken so they don't burn on the grill. You can use metal skewers if you have them on hand and don't want to use bamboo skewers.
How to cook your Chinese Chicken on a Stick
We have plenty of choices for cooking our skewered chicken. I prefer the grill, so I will start there. However, you can also use a grill pan on the stove, air fryer, or oven. Whatever gets the internal temperature of the chicken to 165F is good. (always use a meat thermometer if you are unsure of doneness)
I like to fire up my pellet grill to medium-high heat while I stab the chicken pieces. Once the grill is hot, 400 degrees F to be exact, I grill the Chinese chicken on a stick for 16-18 minutes. Just flip them once half way through. You can follow the same process with a gas grill as well.
If you are cooking these on a grill pan over your stove, start by preheating your pan over medium heat. Lay the Chinese chicken skewers out in an even layer and cook for 5-6 minutes, flipping the skewers in between. They still need to cook for about 16-18 minutes total. You will want to flip these more often than you would on a grill just to make sure the sugar from the honey doesn't burn. I'm confident you will do great though.
Lastly, for an air fryer or oven, preheat to 400F. If you're using an own, lay the skewers on a sheet pan with a wire rack. The wire rack makes air flow possible around the chicken. Cook the skewers 16 minutes and check for doneness before removing them from the heat.
Serving Chinese Chicken on a Stick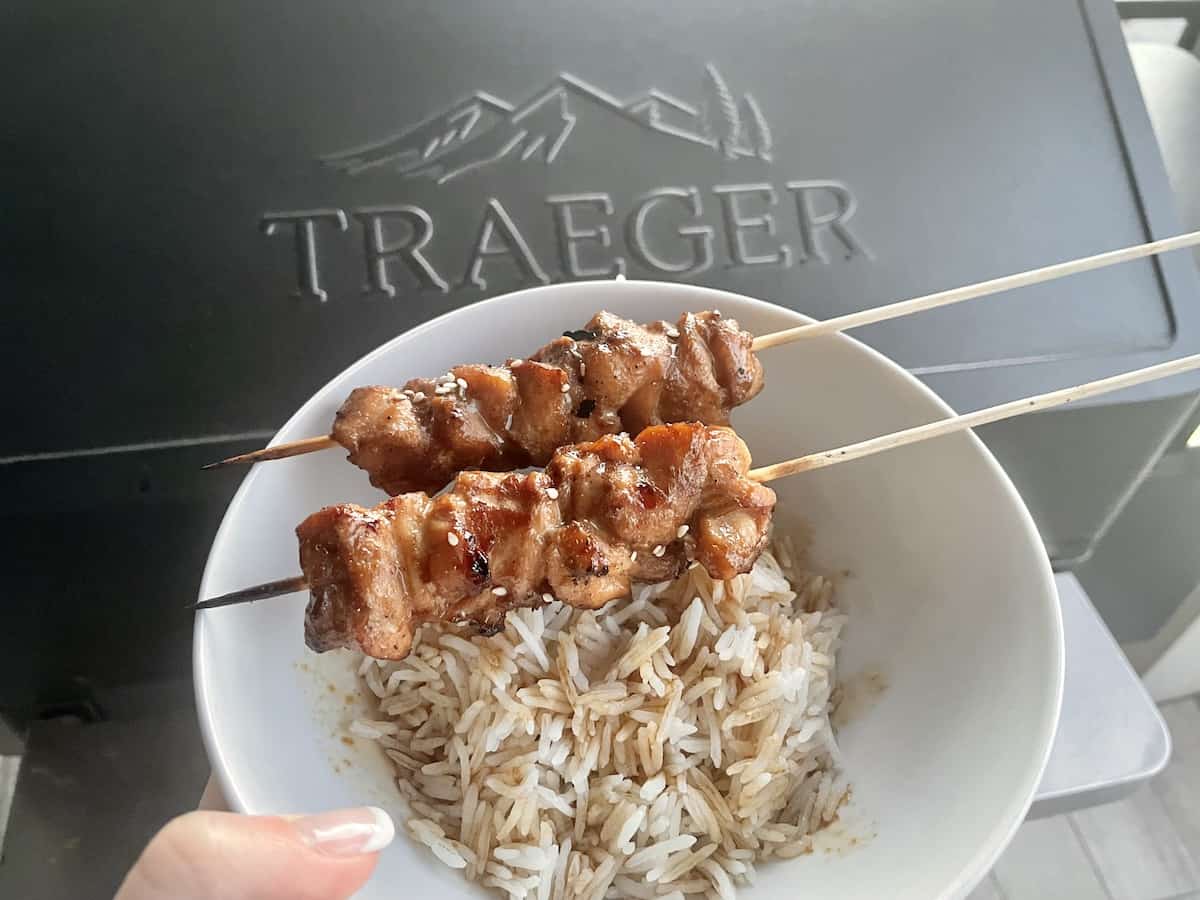 These chicken skewers can be served as an appetizer or main dish. When I am serving them for dinner, I make white rice or fried rice and garnish with extra sesame seeds or green onions.
They do travel pretty well if you need them for a potluck or offer to bring as an appetizer to a party.
Save some marinade or use a bottled teriyaki for a dipping sauce on the side. Who doesn't love to dip their chicken on a stick?
Chinese Chicken on a Stick Recipe Card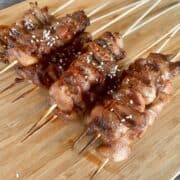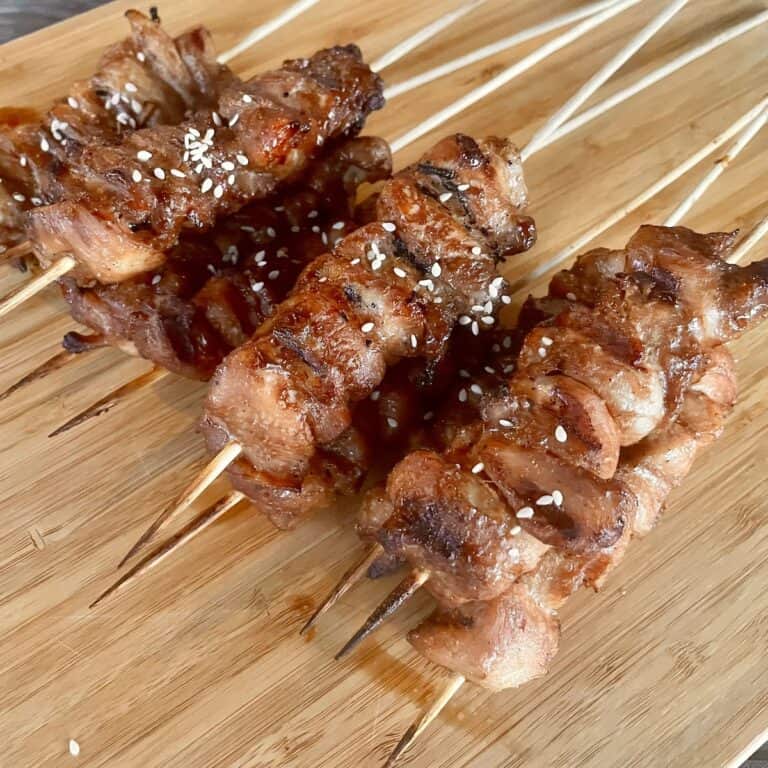 Print Recipe
Chinese Chicken on a Stick
Asian inspired marinated chicken on a skewer and quickly grilled to perfection.
Equipment
12-16 bamboo skewers

1 9x13" baking dish or large bowl

1 grill
Ingredients
2

pounds

boneless skinless chicken breast

or chicken tenders

2

tablespoon

sesame oil

⅓

cup

soy sauce

2

tablespoon

honey

2

teaspoon

rice wine vinegar

1

teaspoon

granulated garlic

½

teaspoon

ginger powder

½

teaspoon

white pepper

sliced green onions for garnish
Instructions
Prepare chicken by dicing into half inch pieces or cutting into long strips against the grain. Set aside in a bowl or plastic zip top bag.

Combine all of the other ingredients and pour the mixture over the chicken. Allow the chicken to marinade for 1-2 hours.

After the chicken has marinated, turn on the grill to 400F.

Soak wood skewers in cold water for 10-15 minutes. Drain the skewers and get ready to skewer the marinated chicken.

Poke the wood skewers through the center of each piece of chicken until you have the desired amount of meat on each skewer, about halfway to two thirds along the skewer is a good portion size. Once it is complete, set it aside and continue to skewer all of the chicken.

Once all of the skewers are assembled, place them on your hot grill and cook with the lid down for 7-8 minutes per side. Flip the chicken skewers to create grill marks on all sides and to ensure even cooking.

Make sure to cook the chicken until it reaches an internal temperature of 165F.

Remove the chicken skewers from the grill and garnish with sesame seeds or thinly sliced green onions.
Nutrition
Calories:
184
kcal
|
Carbohydrates:
5
g
|
Protein:
25
g
|
Fat:
6
g
|
Saturated Fat:
1
g
|
Polyunsaturated Fat:
2
g
|
Monounsaturated Fat:
2
g
|
Trans Fat:
0.01
g
|
Cholesterol:
73
mg
|
Sodium:
672
mg
|
Potassium:
449
mg
|
Fiber:
0.2
g
|
Sugar:
4
g
|
Vitamin A:
34
IU
|
Vitamin C:
1
mg
|
Calcium:
9
mg
|
Iron:
1
mg
Recipe Modifications
Okay, lets say you want to make this recipe tonight, but you are missing one of the ingredients. I have a variety of ways to infuse Asian flavors so fear not, you can still make these asap.
Honey: use brown sugar
Granulated garlic: use garlic powder or fresh garlic cloves finely minced
Ginger powder: use fresh ginger grated into the marinade
Rice wine vinegar: sub for another acid like apple cider vinegar or lime juice
More sauce options to bulk up the marinade: hoisin sauce, oyster sauce, teriyaki sauce
You can use any combination of the above ingredients and I am sure you will have a delicious recipe for your dinner table.
Related Asian Recipes