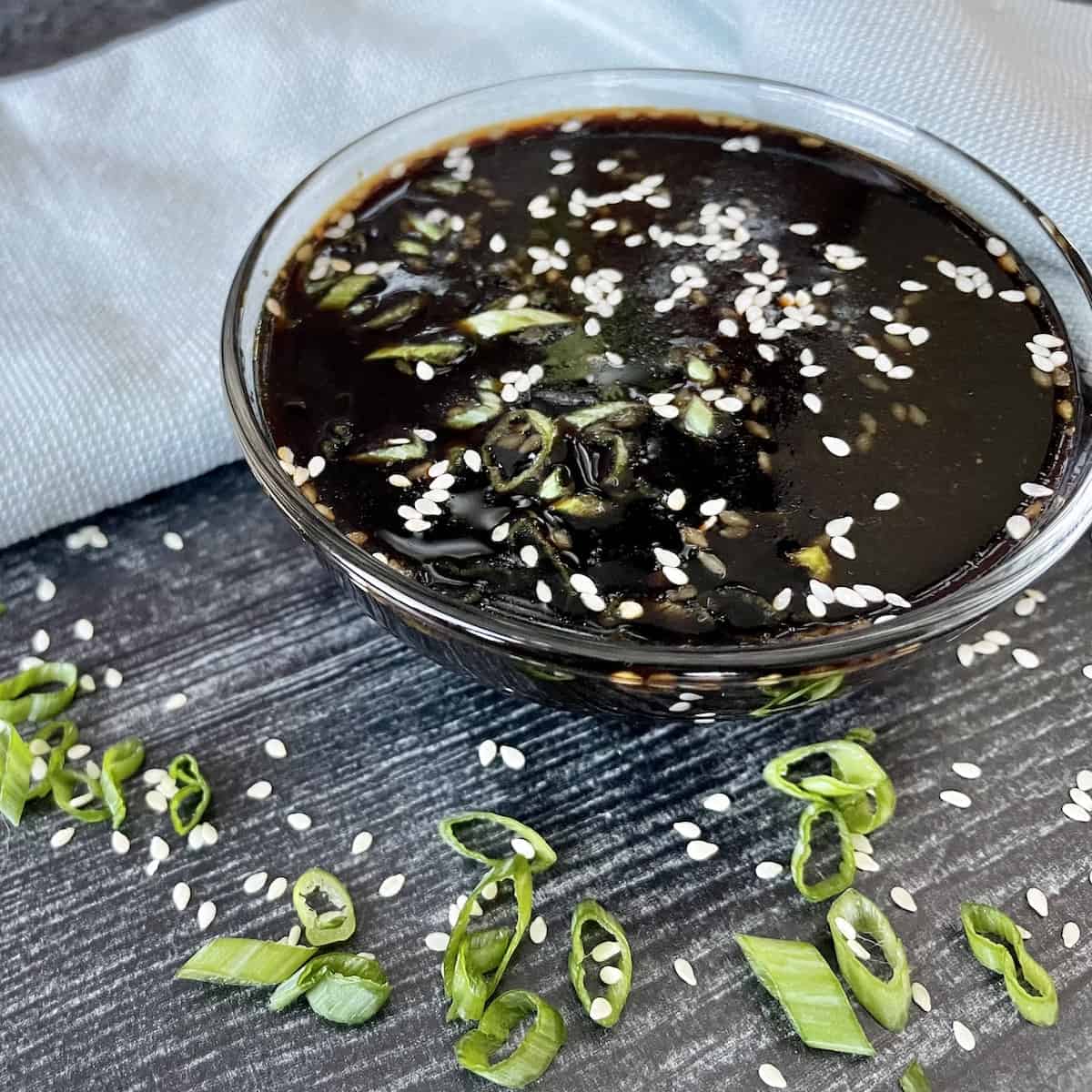 Soyaki sauce is an intensely flavorful mash up between soy sauce and sweet teriyaki. It's the perfect sauce for dipping, marinating, stir fry, and more.
This blog post contains affiliate links. As an Amazon Associate I may earn income from qualifying purchases. Thanks for the support.
What is soyaki sauce exactly?
Soyaki sauce is the mash-up of soy sauce and teriyaki. It packs that umami punch from the fermented soy sauce but has so many more flavors coming from sugar, Asian spices, and sesame.
Trader Joe's soyaki sauce is a bottled sauce with soy sauce, sesame seeds, and spices. There is also a close rendition of this called Kecap Manis. An Indonesian sauce that combines soy sauce with sugar. I love them all and we are going to make some today.
The Simple Ingredients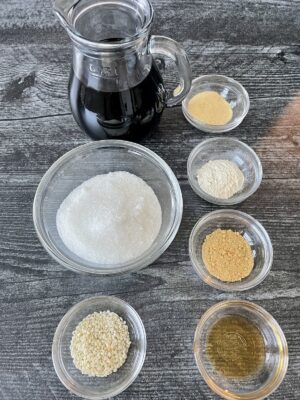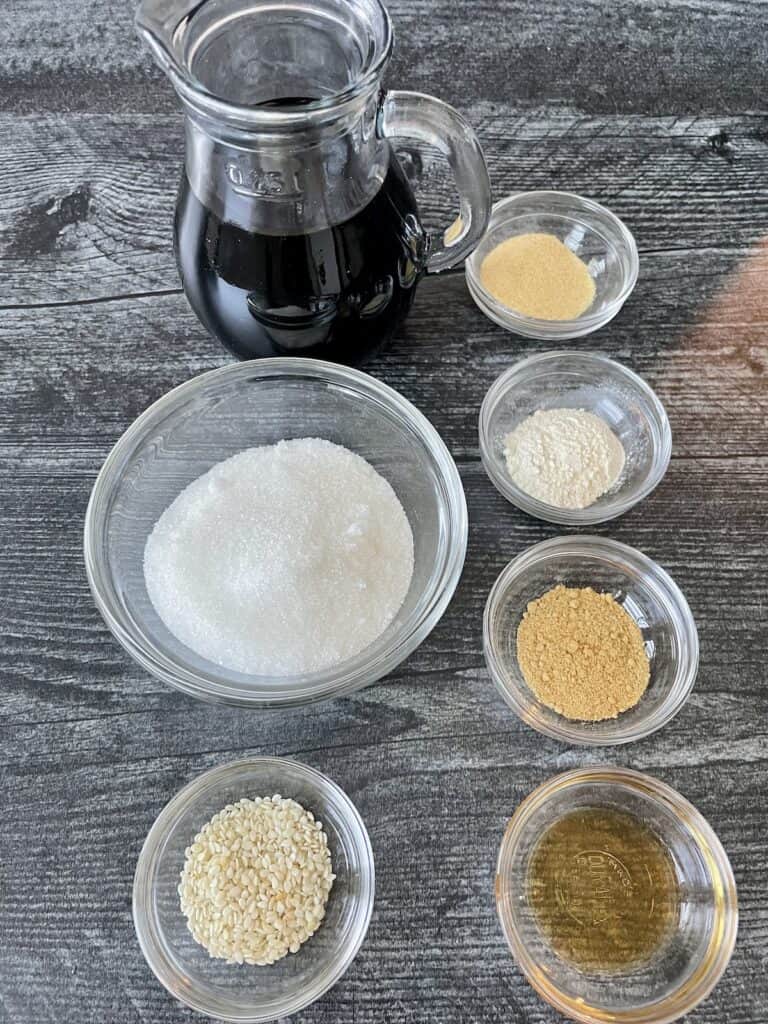 One of the best things about this versatile sauce is the simple everyday ingredients right out of your pantry. We need: soy sauce, granulated sugar, powdered ginger, granulated garlic or garlic powder, onion powder, sesame oil, and sesame seeds (optional).
However, these are the pantry ingredients needed to pull together a quick soyaki. You can also make this using fresh ginger and cloves of garlic. Just bring the soy sauce and sugar up to low bubble and throw in two smashed garlic cloves with a piece of peeled ginger root. Let the garlic and ginger steep in the sauce while it cools and remove them when you are finished. It will have a delicious and bright flavor.
Making the sauce
This sauce could not be simpler to make! You know I love to share an easy recipe. Just combine all of the ingredients in a small sauce pot and cook over medium heat until the sugar dissolves completely. It will thicken slightly as it cools and be like a very thin syrup. The perfect consistency for marinating and dipping.
Store the sauce in an air tight jar with a tight fitting lid fir up to two weeks in the refrigerator, but I doubt it will last that long!
Great ways to use
I like to make a batch of this sauce and use throughout the week as a marinade for chicken, beef, or pork. But I also like to use for fried rice, to make a quick stir fry, or as a dipping sauce for potstickers.
Teriyaki Steak Skewers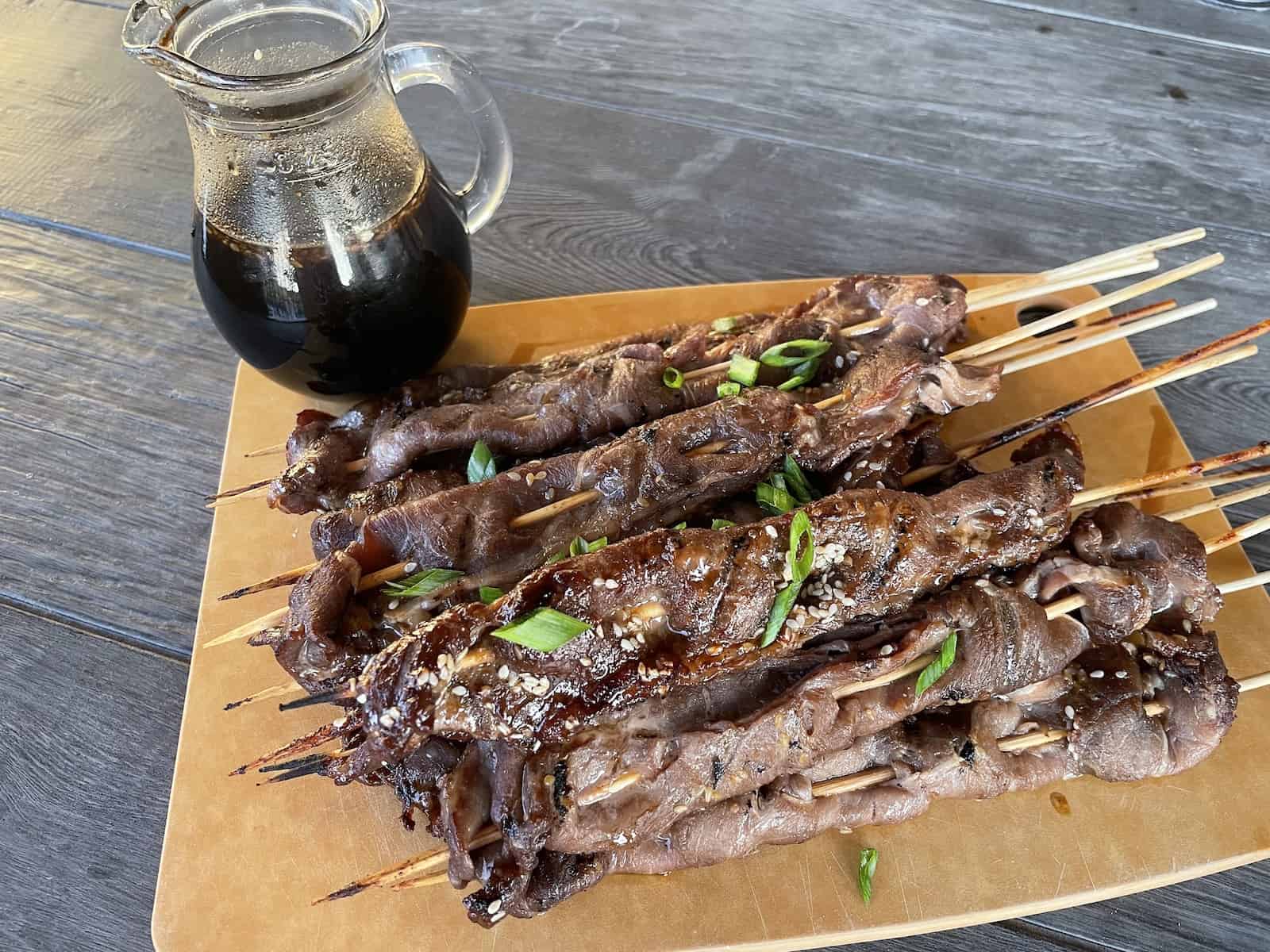 For a fun appetizer or weeknight meal, I marinade super thinly sliced New York steak (shabu shabu style) in the soyaki sauce and then skewer it on bamboo skewers. I grill it for a couple minutes and we have a major crowd pleaser. I like to garnish with green onions for the pop of color and extra hint of flavor. The meat is incredibly tender and the flavor is out of this world!
Last Minute Chicken Teriyaki Dinner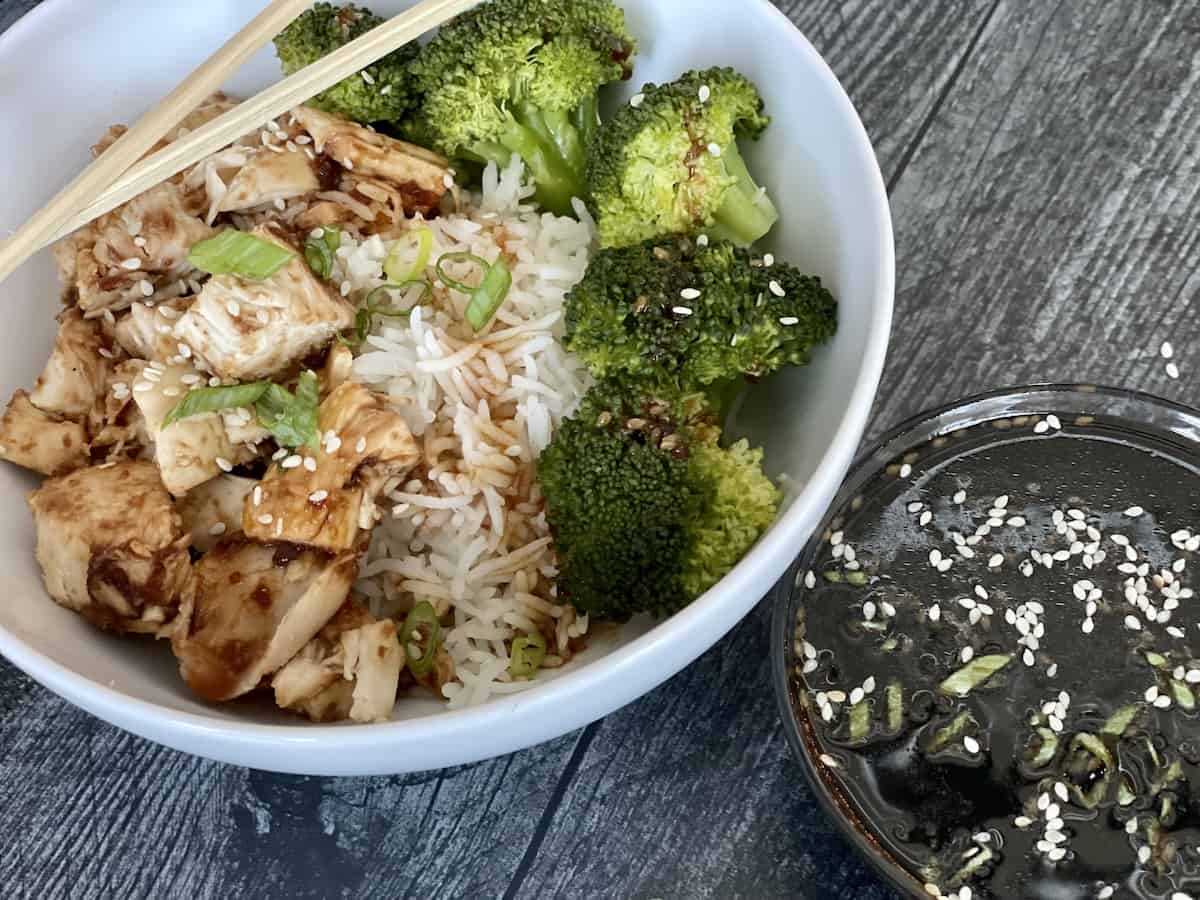 For a tasty chicken teriyaki bowl, I marinade cut up chicken breast and pan fry in olive oil. Then top a bowl of steamed rice with the cooked chicken and fresh broccoli. Drizzle with a little extra sauce, green onions, and sesame seeds for an easy weeknight dinner.
It's Perfect For Your Favorite Veggies
This sauce is perfect for your favorite vegetables to give them a kick of flavor. Just mix a little homemade soyaki sauce with a splash of pineapple juice and marinade vegetables like red onion, bell peppers, carrots, mushrooms, snow peas, and zucchini for a great stir fry.
Recipe Modifications
If you want to make this sauce with fresh herbs, you certainly can. When I have fresh ginger and whole garlic cloves I like to add them to this sauce. Just peel about a one inch piece ginger and two garlic cloves. Give them a solid smash with the flat edge of your knife to get the juices flowing. Then add them to the boiling sauce and sugar mixture, letting them steep for 5-10 minutes.
This will infuse that fresh herb flavor and give the sauce an extra bite.
You can also make this sauce lower in sodium by using a low sodium version of soy sauce or liquid aminos. I happen to make mine gluten free by using La Choy brand soy sauce which naturally does not contain gluten. This is one benefit of making it on your own versus buying the trader joe's island soyaki sauce.
Homemade Soyaki Sauce vs Premade Sauce
I am a big advocate of making sauces at home for several reasons, so hear me out. When we make a sauce at home from scratch, we control the ingredients and avoid additives that are in bottled premade sauces from the store. I don't love preservatives or artificial ingredients, so when I can avoid them, I do.
Additionally, I love being able to make exactly as much as I need without buying a big bottle that may take weeks to use. That saves room in my refrigerator and I don't run the risk of the sauce expiring... which saves money in the big picture.
This sauce is the perfect addition to your teriyaki marinade collection. I love soyaki chicken with a mix of bright stir fry vegetables. There are so many ways to use it and transform the sauce for a variety of favorite recipes.
Soyaki Sauce Recipe Card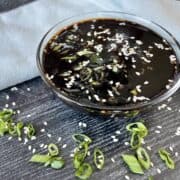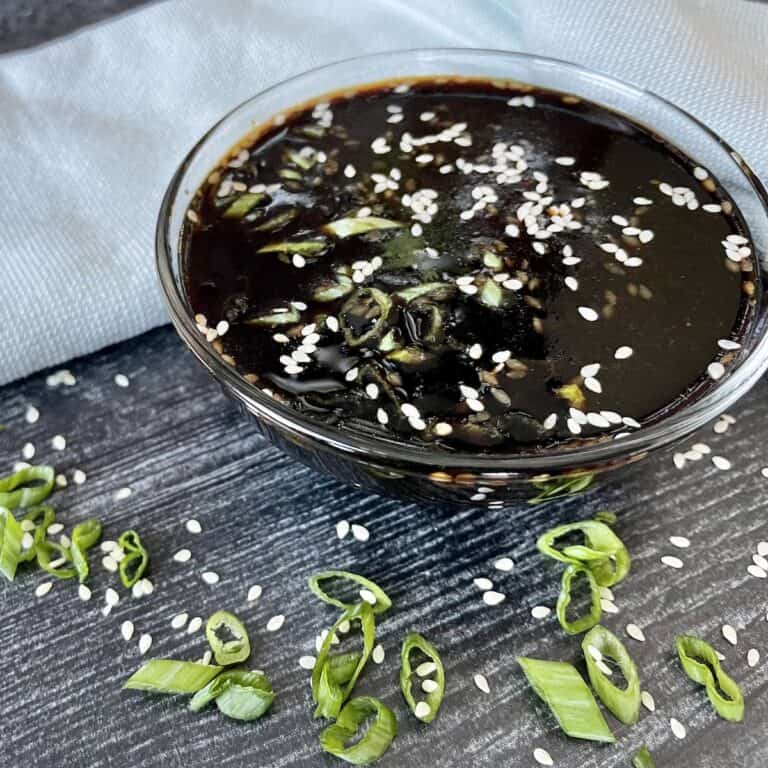 Print Recipe
Copycat Soyaki Sauce
A delicious melody of flavors from soy sauce, sugar, and Asian spices.
Ingredients
1

cup

soy sauce

¾

cup

granulated sugar

1

teaspoon

granulated garlic

1

teaspoon

ground ginger

1

teaspoon

onion powder

1

teaspoon

sesame oil

1

teaspoon

sesame seeds
Instructions
Combine all of the ingredients in the small sauce pot and set on the stover over medium heat.

Bring the sauce mixture up to a low boil and cook for 5 minutes. The sauce will reduce slightly.

After the sugar has dissolved completely, remove from the heat and allow to cool. The sauce will slightly thicken as it cools.

Store the soyaki sauce in an air tight container such as a mason jar in the refrigerator for up to two weeks.
Nutrition
Calories:
48
kcal
|
Carbohydrates:
10
g
|
Protein:
2
g
|
Fat:
0.3
g
|
Saturated Fat:
0.04
g
|
Polyunsaturated Fat:
0.1
g
|
Monounsaturated Fat:
0.1
g
|
Sodium:
1080
mg
|
Potassium:
49
mg
|
Fiber:
0.2
g
|
Sugar:
9
g
|
Vitamin A:
0.1
IU
|
Vitamin C:
0.04
mg
|
Calcium:
7
mg
|
Iron:
1
mg
Frequently Asked Questions
Can I make soyaki sauce gluten free?
Use Tamari or La Choy brand soy sauce to make this gluten free.
Can I make soyaki sauce lower in sodium?
Definitely use the lower sodium version of soy sauce if you want less sodium but still want a sauce packed with flavor.
Related Recipes