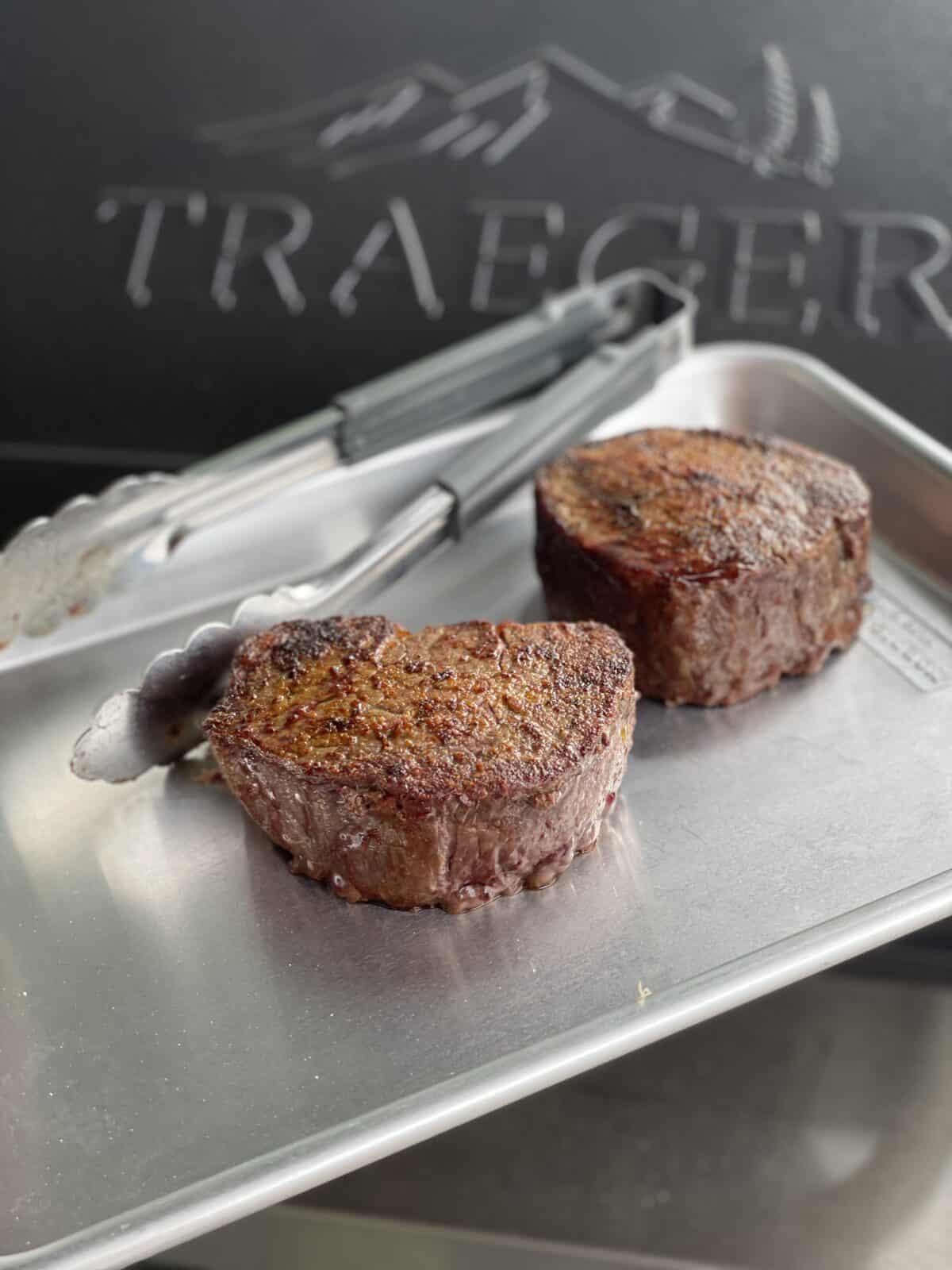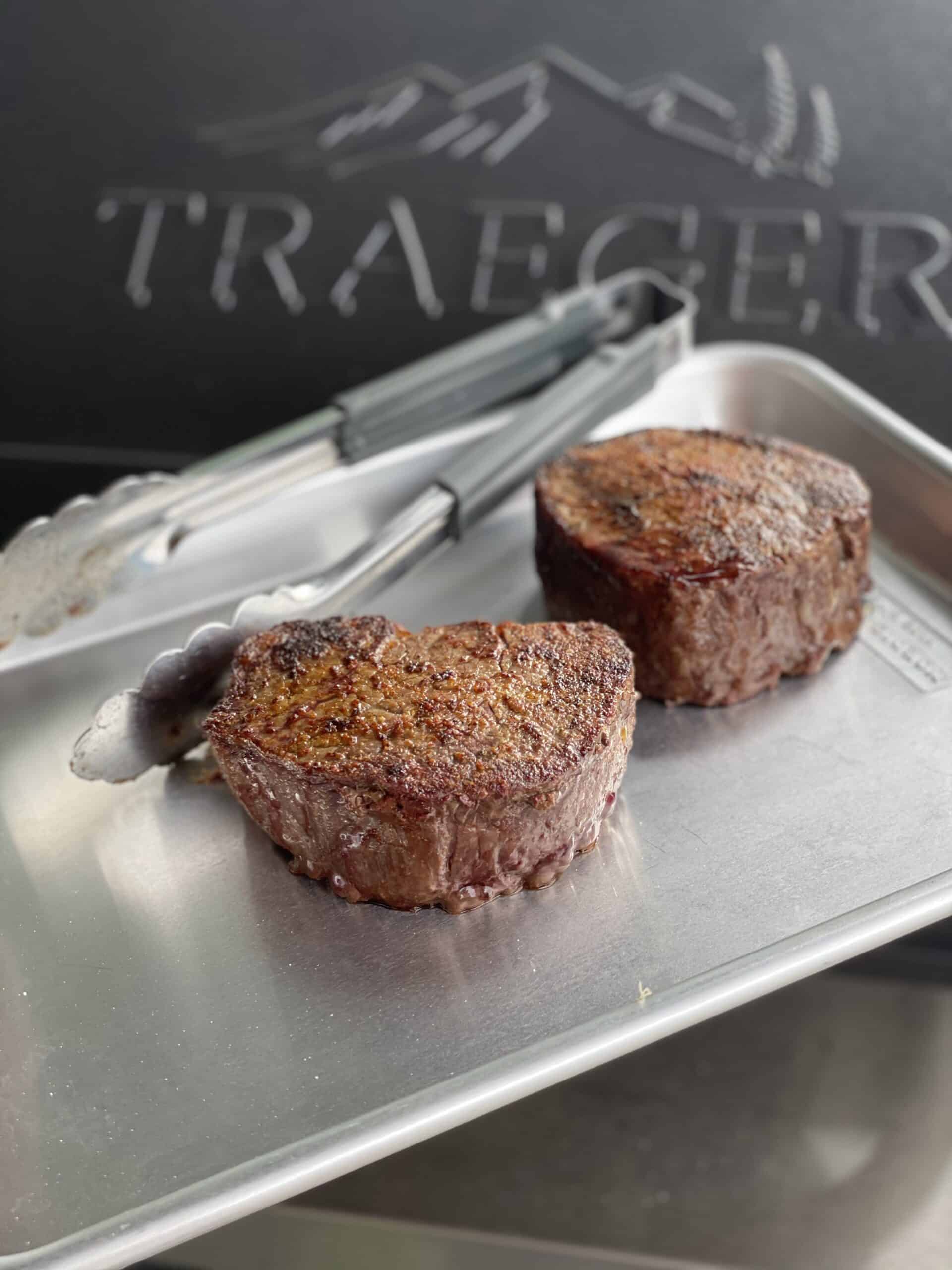 Cooking a prime filet mignon on a Traeger grill is easy and guaranteed to serve up all of the great steak flavor you are looking for at home. With a little preparation and a high quality piece of meat, we can make a steakhouse quality dinner at home. This is your complete guide to buying a beef tenderloin roast all through the filet cooking process.
Preparing filet mignon for the Traeger
We need to start this delicious steak dinner by preparing the meat with a dry brine the day before. Dry brining is salting the meat a day in advance. We do this for three reasons:
the salt is able to penetrate deep below the surface of the meat
it controls the moisture content and movement throughout the filet
drying the outside of the steak makes for a great crust without overcooking the whole steak
Now, you have options when it comes to how to season your filets. You can use salt all by itself. Just season the surface of the steak on every side and place on a sheet pan lined with a wire rack. Leave it in the refrigerator uncovered overnight, or any time from 4-24 hours. Even just 4 hours will make a difference on the seasoning and cook time of the filet.
Another option is to start with a store bought spice rub meant for steak. Anything from montreal steak seasoning to a Trager dry rub is good.
For me, I really enjoy the natural flavors of a good steak so I keep our seasoning fairly simple. I use kosher salt, black pepper, granulated garlic, and paprika. It is so simple, but it is such a good combination for achieving the optimal flavor of the filet.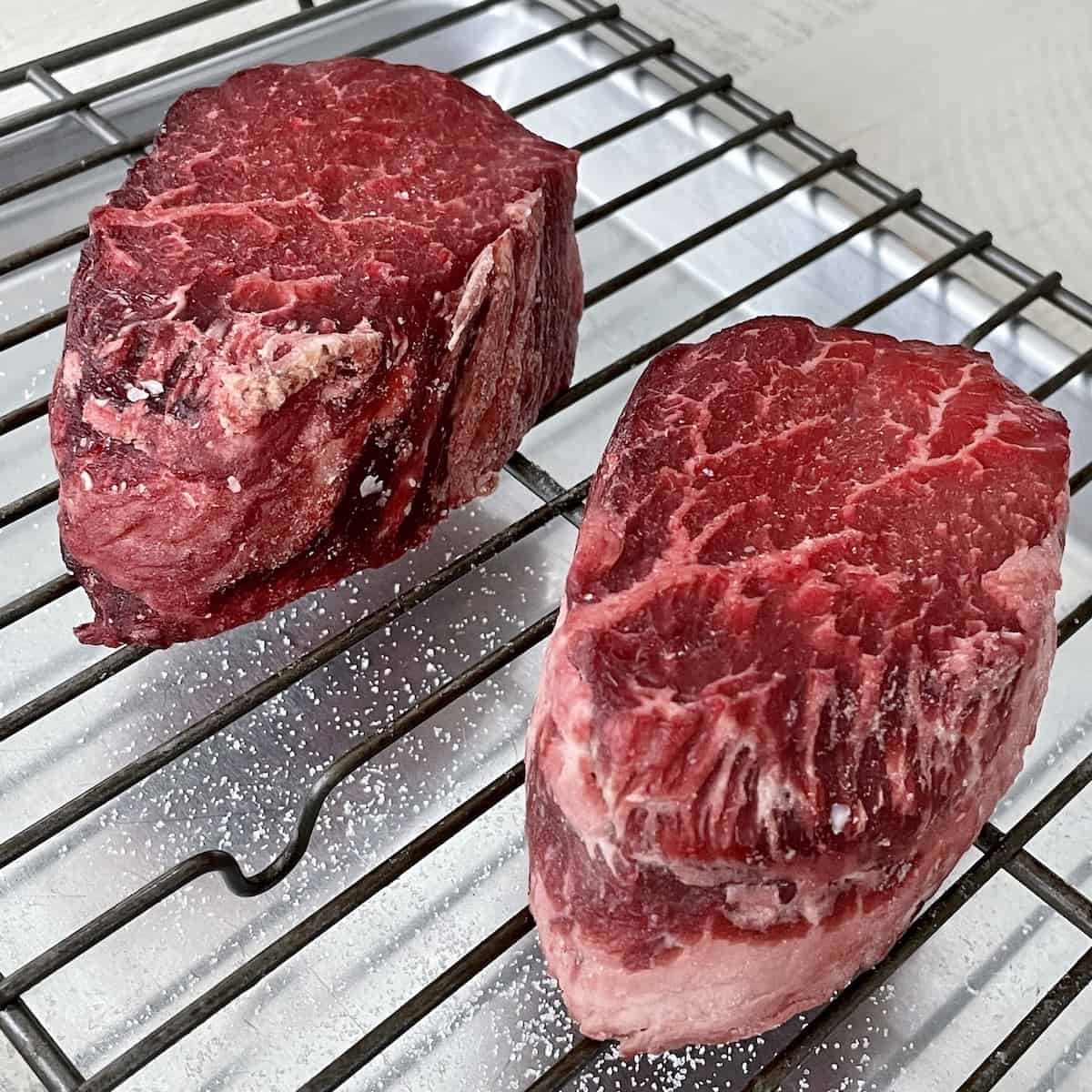 Pictured here are two beef tenderloin filets that have been salted and rested in the refrigerator overnight. Notice the bright red color and dryness of the steak surface. This will maximize the crust we get when we cook them.
Cooking the Filets on the Traeger Grill
For a perfectly cooked filet, we are going to set the Traeger temperature or other pellet smoker up to a high heat at 425 degreed F. You will want to start up the Traeger and let preheat with the lid closed for 15 minutes.
I cook my filets on a Lodge Cast Iron square inside of the Traeger grill in order to achieve a perfect sear. I am looking for the best steaks possible and want to lock in the great natural flavor from beef tenderloin. As a result, we will get a great crust on the outside with a tender and juicy inside. However, we won't have grill marks because the cast iron provides us a solid cooking surface. Good salt crust is more important that grill marks here.
Due to differences in cooking temperatures and possible "hot spots," I am including desired cooking temperatures. Because of the dry brine, cast iron skillet, and high temperature we are going to have a very short cooking time. These filets need to cook for 6-7 minutes per side.
Internal temperatures for steak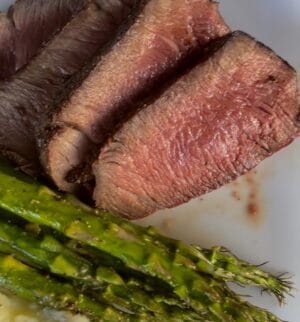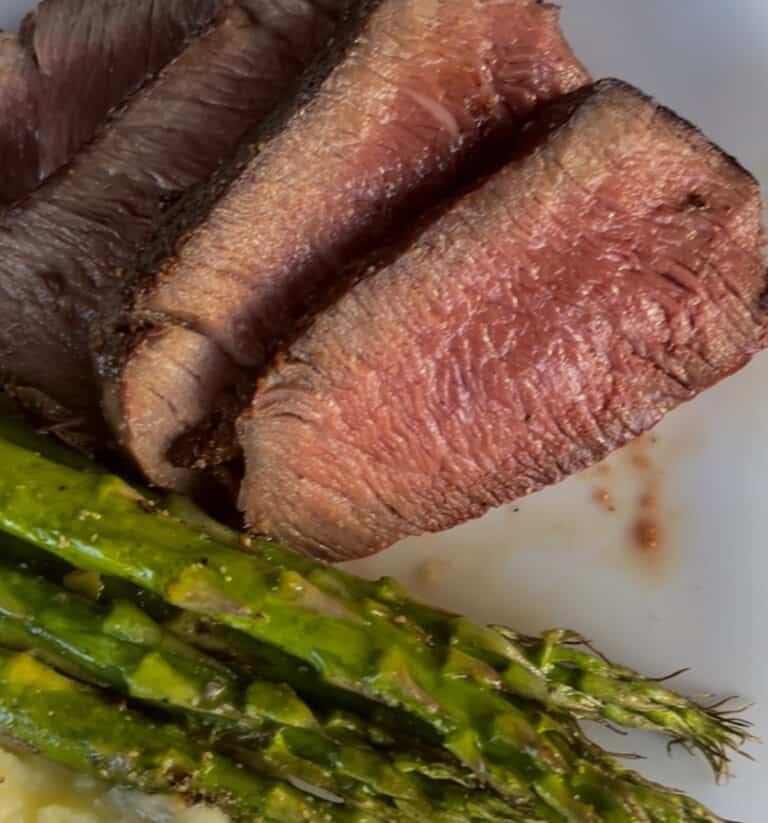 I highly recommend using a wireless meat thermometer or temperature probe that connects directly to your Traeger if you are unsure of doneness based on touch. Since these steaks are dry aged, they will stay more tender even though they have reached the desired internal cooking temperature. Either way, the best way to ensure desired doneness is with a thermometer.
| | |
| --- | --- |
| Rare | 125F |
| Medium Rare | 130F |
| Medium | 140F |
| Medium Well | not recommended |
Traeger Filet Mignon Quick Guide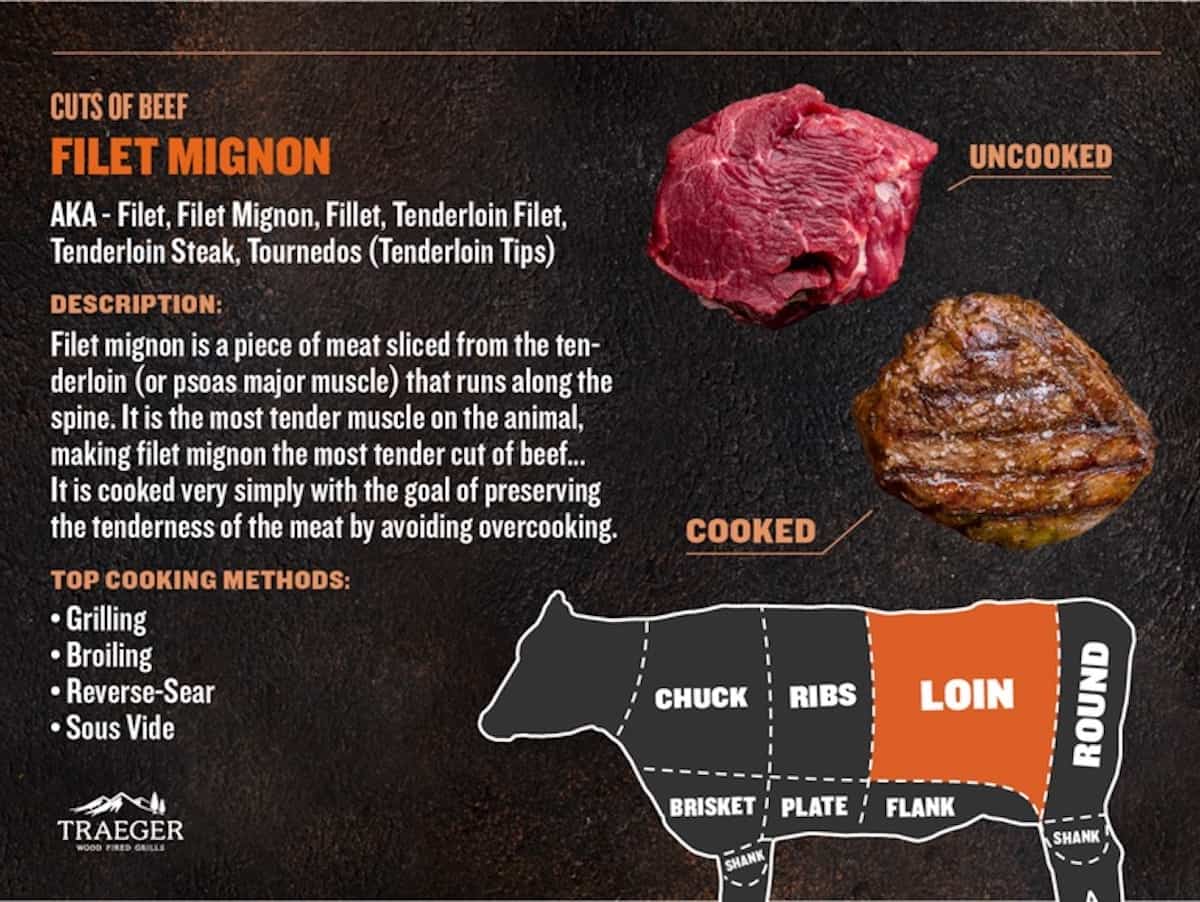 Visit the full guide by Traeger Grills.
Traeger Filet Mignon Recipe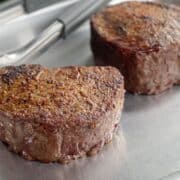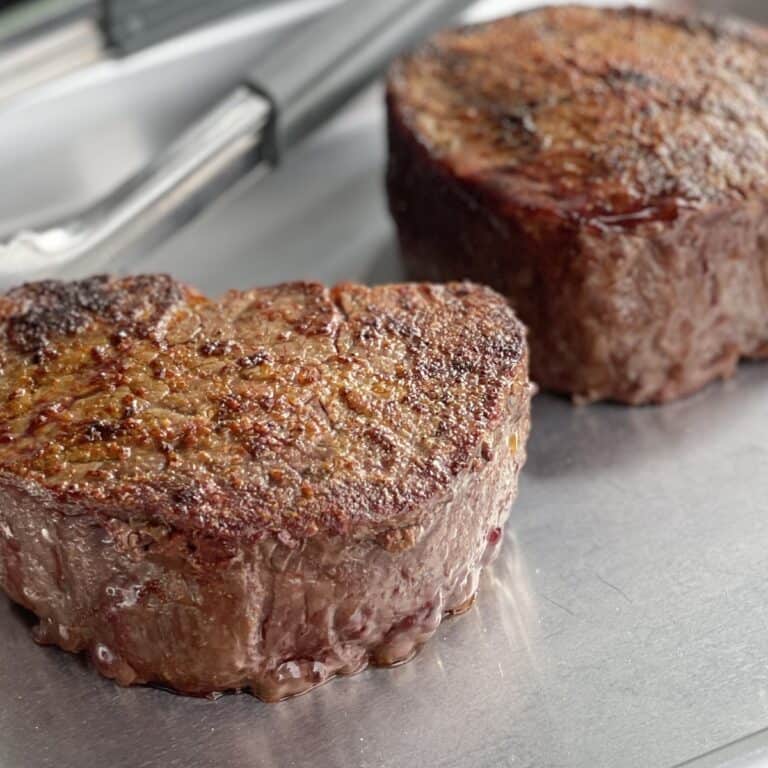 Print Recipe
Filet Mignon on the Traeger Grill
A dry aged and spiced filet cooked medium to medium rare on a Traeger Grill.
Equipment
Traeger Grill

sheet pan with wire rack

Lodge cast iron skillet
Ingredients
2

6-8 ounce

beef tenderloin steaks

2

tsps

salt

2

tsps

vegetable oil

1

teaspoon

black pepper

1

teaspoon

garlic powder

1

teaspoon

paprika

2

tsps

unsalted butter
Instructions
Dry Aging the Filets
Prepare the filets 4-24 hours in advance.

Place a wire rack on a baking sheet.

Season filets with salt on all sides and place them on the wire rack. Season to taste, not too heavy. About 1 teaspoon per steak.

Place the baking sheet in the refrigerator uncovered. This allows the salt to penetrate the meat below the surface and dry the outside. This will create a nice crust when cooking the steak.
Cooking the Filets
Preheat the Traeger Grill to 425F. Place a cast iron pan inside the grill.

Remove the filets from the refrigerator.

Drizzle each steak with vegetable oil and rub all over for an even coating.

Season the filets with fresh black pepper, smoked paprika, and garlic powder.

Once the Traeger has reached 425F, place each steak on the preheated cast iron and close the lid. Cook the filets for 6-7 minutes.

After 7 minutes, flip the steaks. Be sure to place the steaks on other sides of the grill pan for maximum heat. Cook for another 6-7 minutes.

Check the temperature of the filets with a meat thermometer by testing the center of the filet. For rare steak, the filet should reach an internal temperature of 125F and for a medium steak 140F.

Turn the Traeger off and top each steak with a teaspoon of butter.

Remove the filets to a plate and cover with aluminum foil. Let the steaks rest for 5 minutes before cutting.
Nutrition
Calories:
308
kcal
|
Carbohydrates:
2
g
|
Protein:
48
g
|
Fat:
11
g
|
Saturated Fat:
3
g
|
Polyunsaturated Fat:
3
g
|
Monounsaturated Fat:
2
g
|
Trans Fat:
1
g
|
Cholesterol:
11
mg
|
Sodium:
2328
mg
|
Potassium:
42
mg
|
Fiber:
1
g
|
Sugar:
1
g
|
Vitamin A:
208
IU
|
Vitamin C:
3
mg
|
Calcium:
9
mg
|
Iron:
1
mg
Buying a Whole Beef Tenderloin
A whole beef tenderloin can cooked as a whole roast or cut into individual steak. No need to find a local butcher. You can do it all at home and get exactly what you want! This is one of our household's favorite delicious dinners whenever we are celebrating a special occasion.
The best thing about cutting a beef tenderloin at home is that I get the absolute cut of beef at a lower cost per pound.
Why buy a whole tenderloin?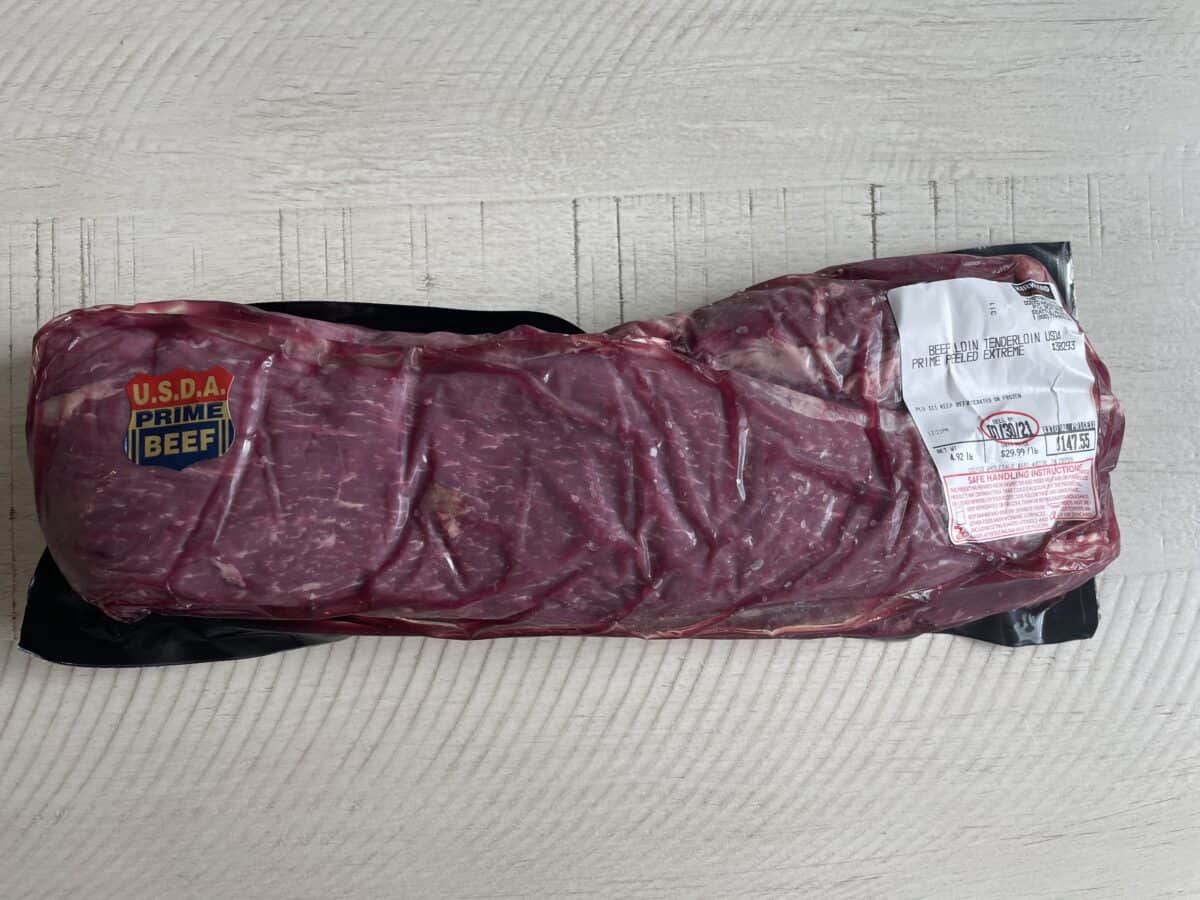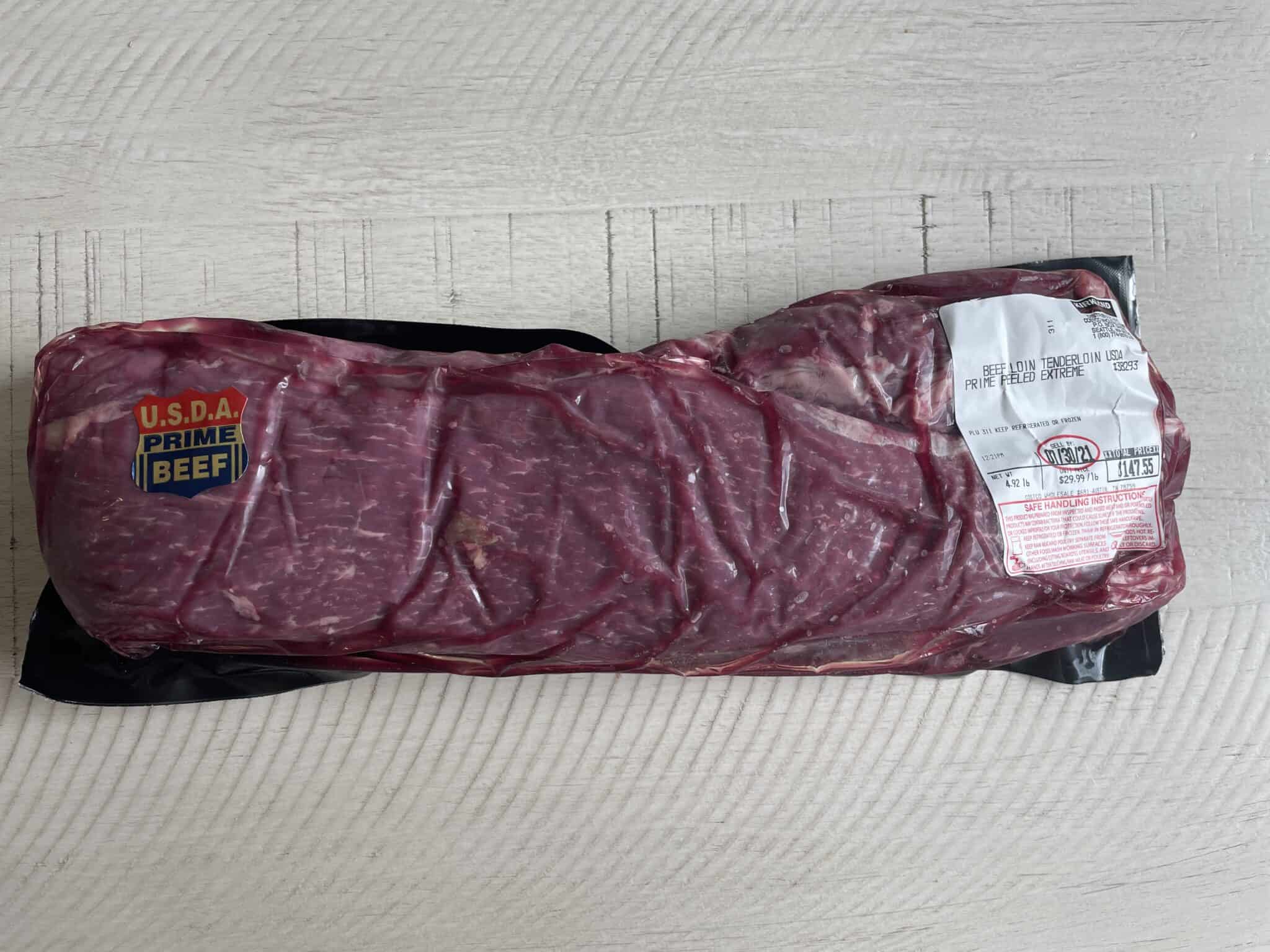 A Peeled PSMO Extreme had the chain and silver skin removed. This prime beef tenderloin was trimmed to perfection.
A prime peeled extreme is one of the best pieces of beef you can buy. There is a low and even amount of marbling throughout the tenderloin and very little fat on the exterior. This prime piece of meat has a mild beefy flavor and is the most tender cut you can buy.
To be honest, I was nervous the first time we bought one of these. I did not want to screw it by overcooking, cutting it too thick or thin, and I still wanted to get great flavor out of the filet. Now, this is our preferred purchase for filets at home.
We buy our beef tenderloin at Costco. They consistently offer the best value on the highest quality meat. I have never been disappointed by a steak or beef of beef from Costco.
Cutting a Whole Beef Tenderloin into Steaks
When cutting a whole tenderloin into individual steaks, I work my way backwards. First, I consider how I want the steak to be cooked: rare, medium rare, medium, etc. The lesser temperature I plan to serve the steak, the thicker the cut. For a more well done steak, I cut a filet a little thinner.
Rare: 2" steak
Medium Rare-Medium: 1.75"
Well Done: not recommended
I love a good thick cut steak. I always get the end result I am looking for and don't overcook the meat. These are the details that make for a great dinner.
How many steaks can I get out of a whole beef tenderloin?
You should get between 9 and 12 filets out of a whole tenderloin. I save the tail and cut it into smaller, almost bite sized pieces, to make a kabob for my kids because it's easy to serve.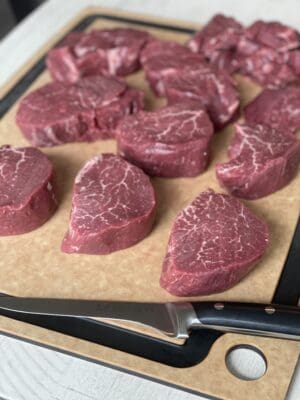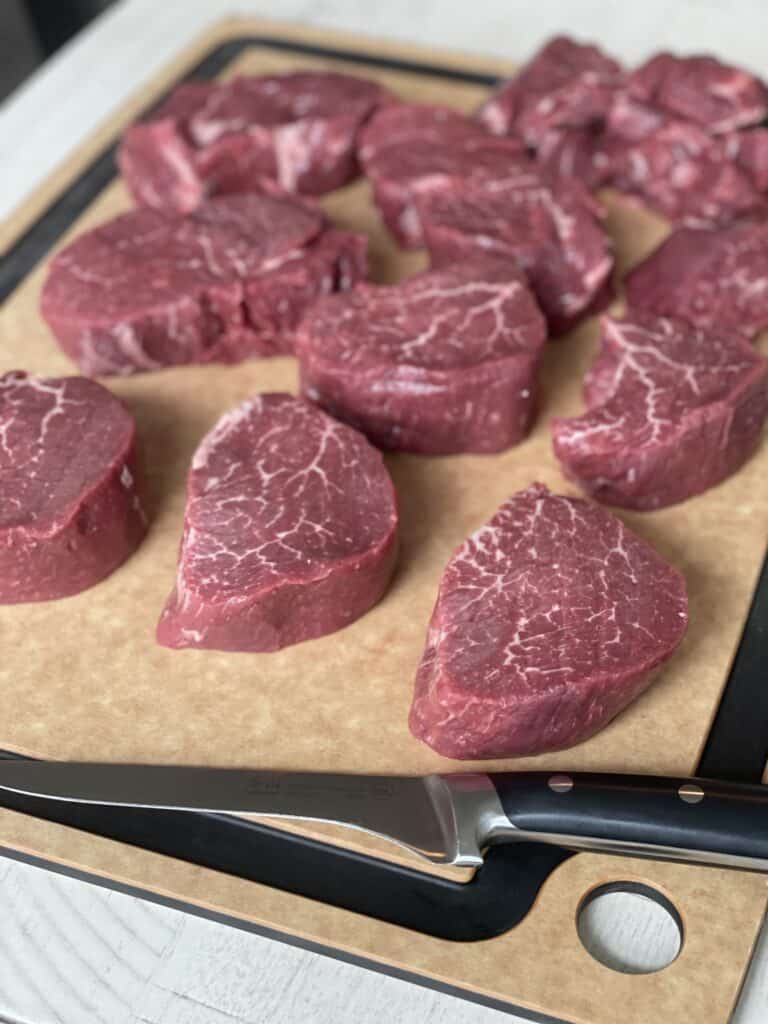 11 steaks plus enough for a steak kabob leftover
Traeger Filet Mignon Side Dishes and Wine
For more steak dinners and a complete steakhouse experience at home, amazing side dishes are a must. Check out these Fancy Apron favorites including mashed potatoes, wedge salad with homemade blue cheese dressing, and French onion soup. Another great idea, serve this dinner with a bold red wine like a Tempranillo or Cabernet Sauvignon.