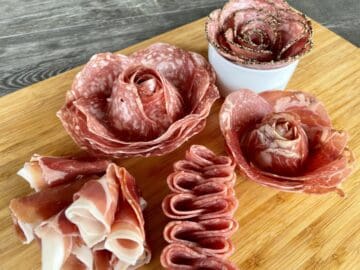 Welcome to your guide for how to make meat roses for a charcuterie board. I have tips and tricks for making a beautiful and unique charcuterie board at home. By the end of this post, you will be able to make a beautiful salami rose for your next party or special occasion.
What types of charcuterie and deli meat can we use for a meat rose charcuterie board?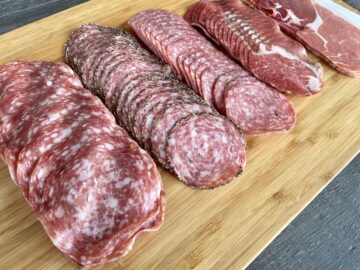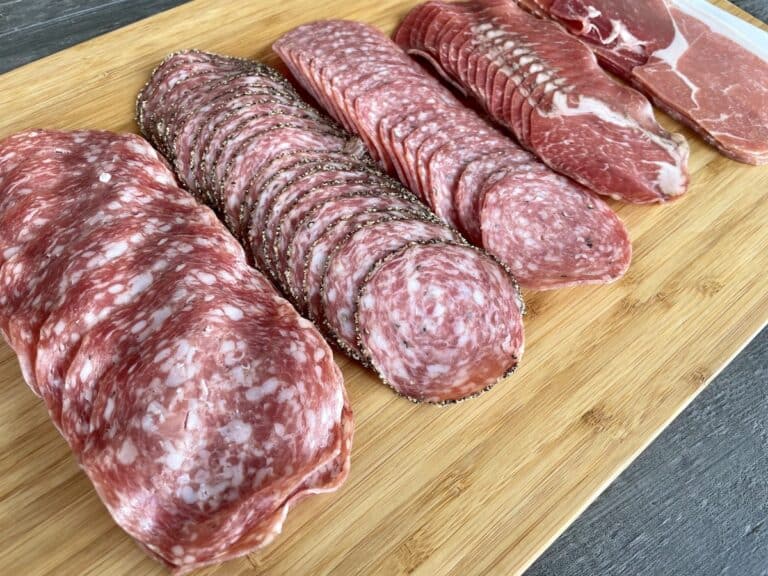 Let's start by looking at what kinds of salami and cold cuts we can use for making these roses. To make different types of roses, we want a variety of meats that are different sizes. For both presentation and flavor, I prefer the following:
Genoa salami- Italian dry salami
mortadella- or large slices of salami
prosciutto
capicola
pepperoni
We want charcuterie that is flexible and easy to shape. Hard or thicker cuts of salami pieces will be harder to fold. Thinner pieces of meat can be folded more easily and will hold its shape better than stiffer thick cuts.
How to make large salami roses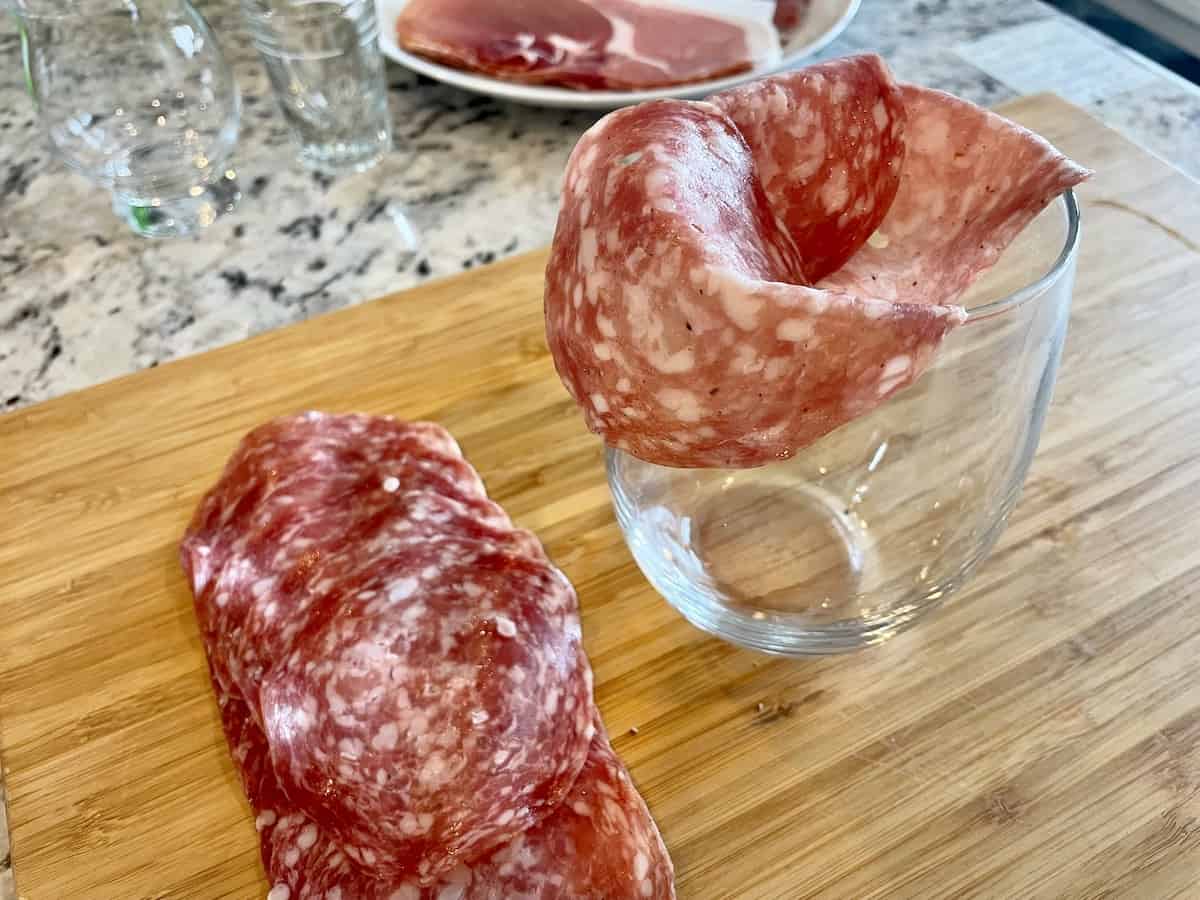 This is my favorite way to make meat flowers, but its also the easiest way. The presentation looks great AND its so easy for your guests to serve themselves. We need:
large salami circles
wine glasses
We are going to layer salami one by one over the rim of a wine glass. Lay one slice on the edge, folding it over through the middle. Next, overlap the next slice about halfway over the first one. Continue the process working your way around the rim of the glass until you have 3-5 layers of salami stacked on top of each other.
For the best results, place the glass in the refrigerator with the layered salami on and chill for 20-30 minutes. After the rose has chilled, it will hold its shape better. When you are ready to assemble your board, simply flip the wine glass upside down onto to surface of your charcuterie board and remove the glass. You will have a gorgeous meat flower sitting up on its own.
The size of the finished rose will depend on the size of the glass you used. If you want to use this method with smaller cuts of salami, use a champagne flute or shot glass instead. The smaller opening of the champagne flute with accommodate the smaller size of the rose.
The rose shape will also be slightly different depending on the shape of the glass. A champagne glass tapers in while a shot glass tapers out or goes straight up.
Creating a salami chain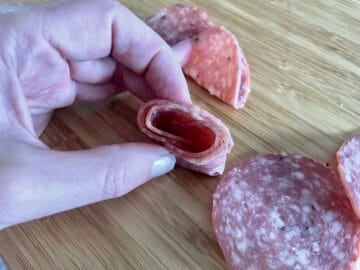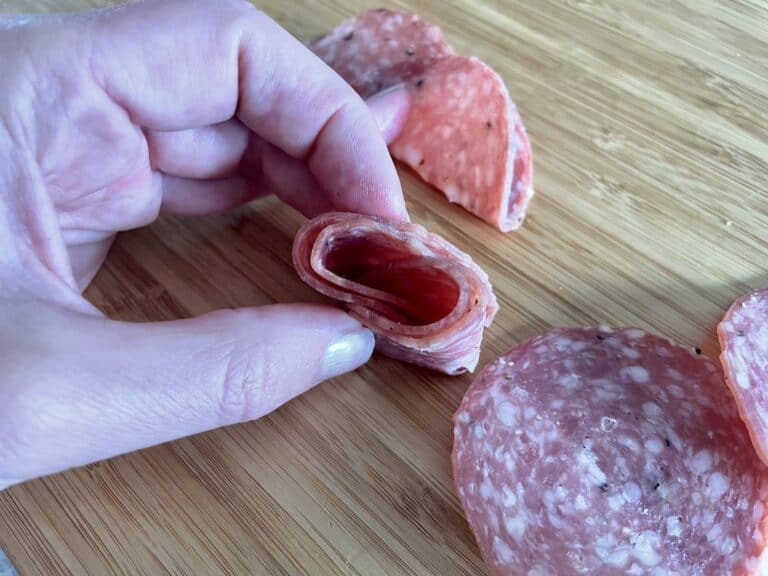 Another easy way to make display salami is by creating a chain. Fold each piece of salami in half tomato semi-circles. Fold those semi-circles in half and interlink them with each other one by one. This method creates a little hight and offers a different shape to fill in a perfect charcuterie board.
Using small bowls to shape charcuterie roses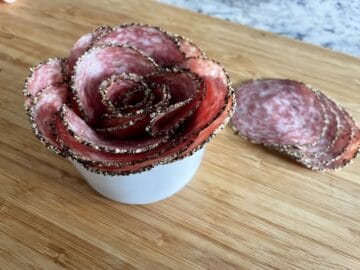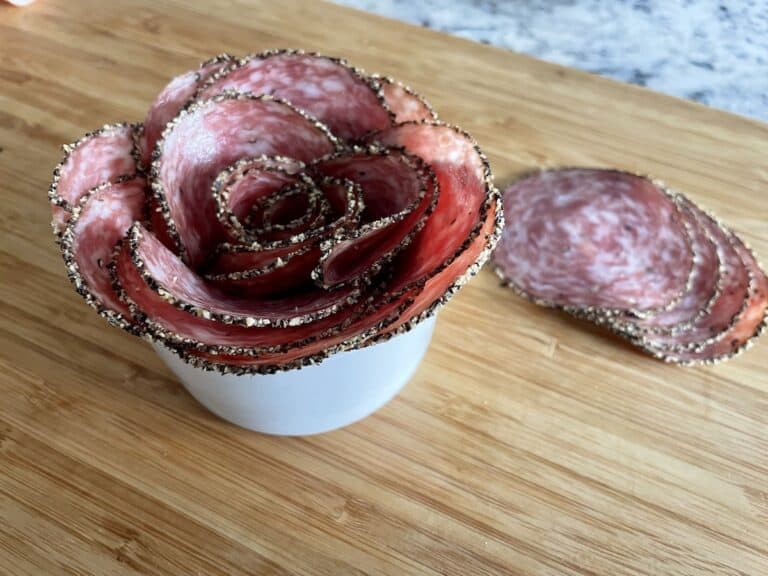 Here is a great way to make a beautiful rose super stable! All you need is a small bowl or small ramekins for layering the salami or even pepperoni roses. Simply layer pieces of salami around the bowl, overlapping each slice about halfway on top of the last one.
Make a charcuterie bouquet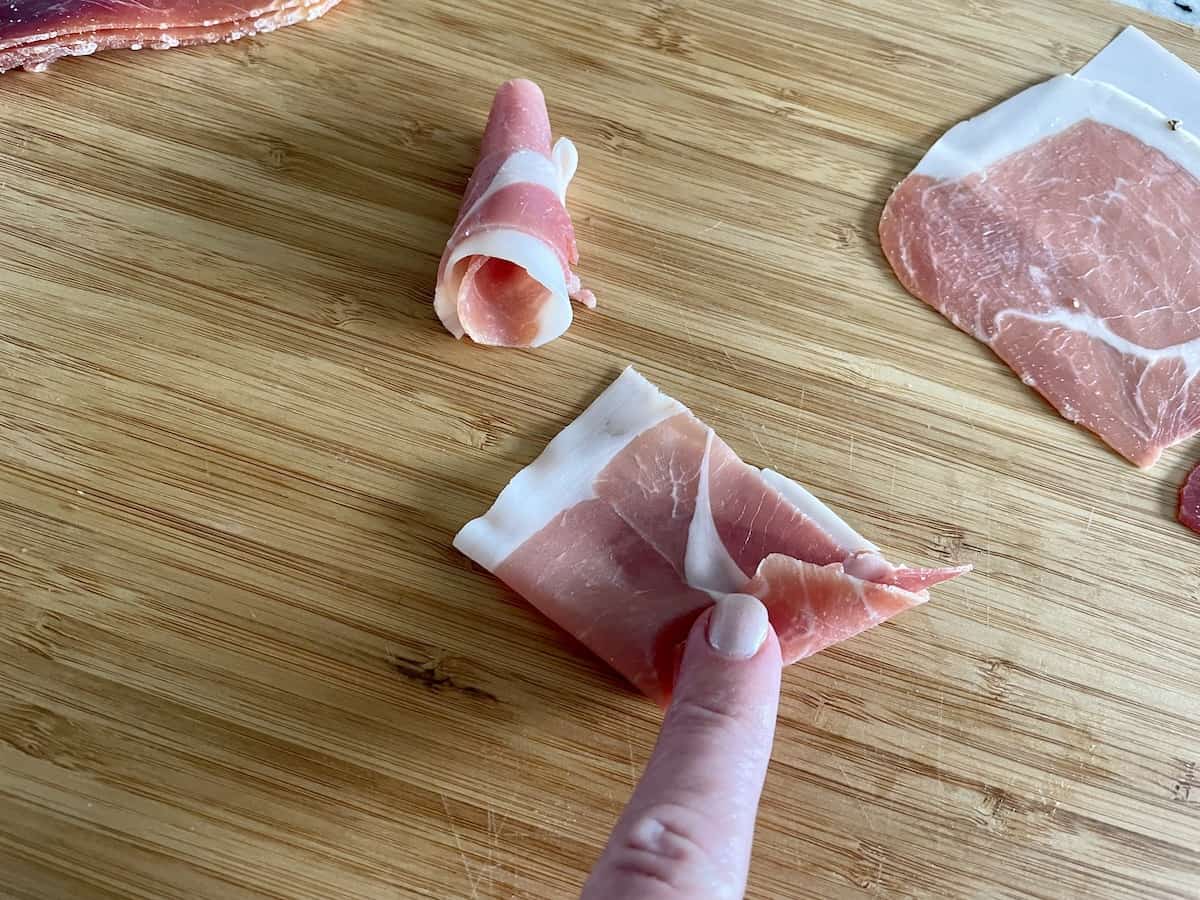 A fun way to fold prosciutto is to make small rosettes and set up together in a small bouquet. First, cut the prosciutto in half. Fold that piece in half and roll it diagonally from one corner around to the other so it makes a little cone. Group these together on the board for a little bouquet.
I like this method especially for prosciutto because of how thin it is, that really helps holds the shape. Also, this method makes the prosciutto more bite sized instead of serving it in the large rectangles that it comes in.
Putting this altogether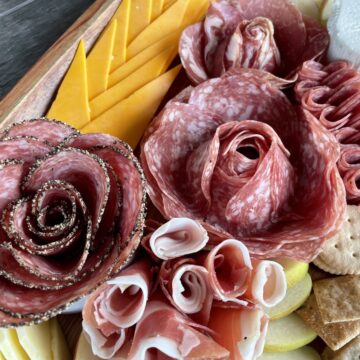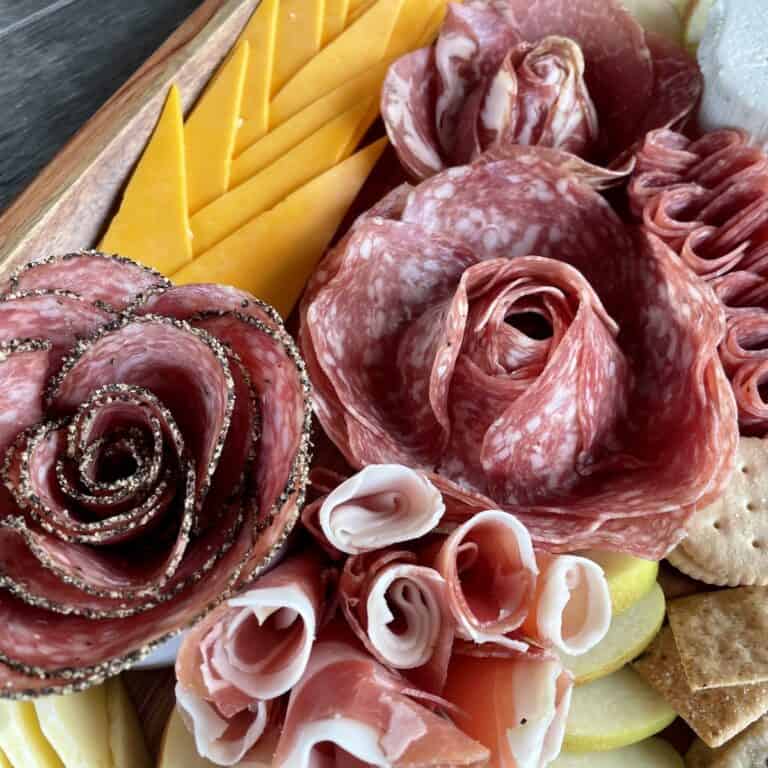 When you are ready to build your charcuterie board, start with the larger roses and place them close to the center of the board. Set your smaller roses around the board or in the corners. Now, you can start adding in your other foods like cheeses and crackers.
Fill in all of the empty spaces. Use smaller loose items like nuts or dried fruit for the end so they can fit in the smallest spaces.
Making meat roses ahead of time
We can absolutely make some of these flowers ahead of time. Just fold the meat into the desired flower style and transfer it to an airtight container. You can do this a day in advance and assemble your charcuterie board the next day. They should hold up just fine!
Making a beautiful board for different occasions
The methods you choose for assembling charcuterie boards may depend on the occasion. For Mother's Day, you may want a really gorgeous charcuterie board with several types of flowers, and maybe even a cheese rose. For Valentine's Day, perhaps a grazing board with smaller roses and wine is the way to go. Sprinkle some fresh rose petals around the board to make it especially romantic.
If you just want a fun snack board, keep it really simple and let your kids help. My kids love it when I serve this for an east weekend lunch. Like one giant Lunchable for the family.
Other items to include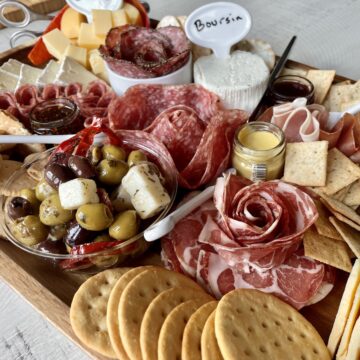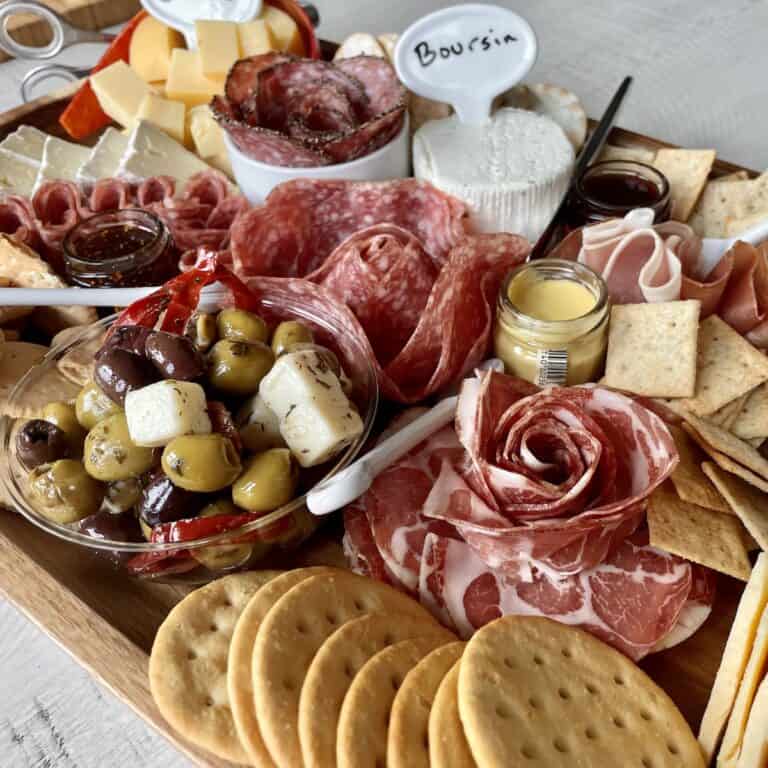 To make a full and beautiful board, fill it with items listed below:
fresh fruit
crackers or sliced baguette
assorted cheeses
spreads such as mustard, cherry or fig jam
veggies, marinated olives, or small pickles
Related Blog posts
If you want more tips on presentation and charcuterie board ideas, check out this post on making a cheese board.
Be sure to follow me on social media to catch all of my charcuterie videos and more fun tips.