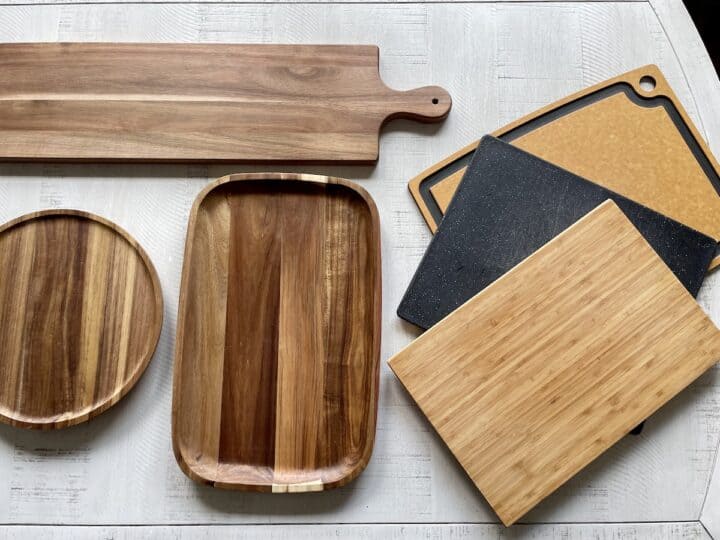 When it comes to understanding the differences between a charcuterie board and cutting board, it mostly comes down to function. While both types of boards look very similar, there are a few key differences that separate these two. I have covered types of wood, featured functionality, size, price and a few other key points to help you understand which kind of board is right for you.
This blog post contains affiliate links. As an Amazon Associate I may earn income from qualifying purchases. Thanks for the support.
Are charcuterie boards and cutting boards made from the same material
When it comes to comparing charcuterie boards vs a cutting board, the type of wood is main difference.
Charcuterie boards are typically made from face grain wood. This makes them more prone to knife cuts and scratches. You should avoid using knives to cut food on wooden boards made from face grain wood.
Wooden cutting boards are made from edge grain wood or end grain wood. They can hold up against sharp knife cuts from slicing and dicing. 
Lastly, there is butcher block. This is a material sometimes used for counter tops or chopping blocks. It is separated from cutting boards by its unique appearance and positioning of end or edge grain on the surface. Several small pieces of wood are glued together to create butcher block versus a single large piece of wood.
Do charcuterie boards look different than cutting boards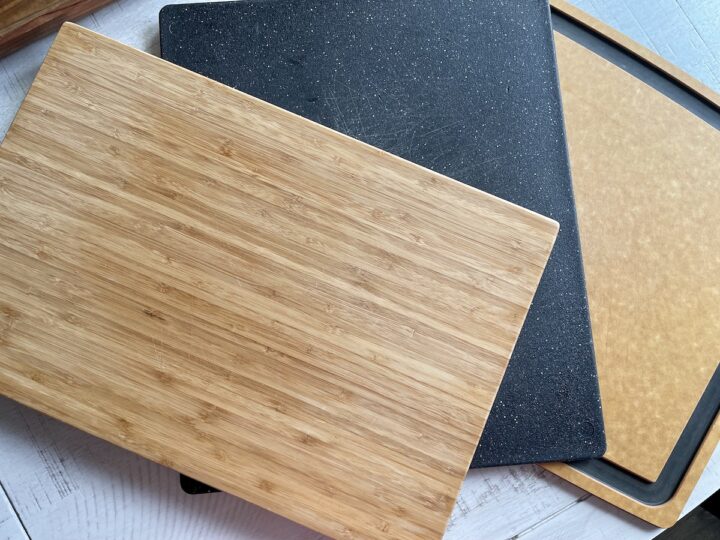 Charcuterie boards, or any serving board, is usually lighter and thinner than a cutting board. That makes them easy to carry, especially when they are topped with lots of food. Wood charcuterie boards also tend to be decorative. They may have a handle, burned in decorative design, or a raised edge to keep small finger foods from sliding off the edge.
Wood cutting boards are heavier and more solid. The surface of the board is completely flat so nothing interferes with chopping. There is also the meat carving board which will have juice grooves that run around the edge. This is to keep meat juices from spilling all over your kitchen. Home cooks should have both a wood grain cutting board and a meat carving board.
How else can I use a charcuterie board
Because charcuterie boards have more visual appeal, they are nice for serving several types of foods. Appetizers, desserts, grab and go foods like sandwiches are all nice to display on a good board.
Wood boards with a proper edge can also be used to transporting food from one place to another. For example, if you're eating outdoors and need to carry food from the kitchen. Or maybe you are headed to a potluck and need to travel in the car. A board with a raised edge can do the trick.
What are the differences in size for a charcuterie board vs cutting board
This is another key point to separating boards. The right board for preparing food depends on the work surface you need. A large cutting board is important for chopping lots of vegetables and keeping everything in place.
To find the best charcuterie boards, you'll want to keep in mind how many people you intend on serving and getting a board that fits. The difference in a beautiful charcuterie board versus and a so-so looking board is fullness. The more full your charcuterie board- the better. Avoid having any empty space when you set out your finished charcuterie board. Smaller boards are a great choice when you have a smaller group of guests to entertain.
Is there a price difference between cutting boards and charcuterie boards
Just like anything in life, you can spend as much or as little as you want on these. Specialty shops and home furnishing stores will probably have a wide variety of great charcuterie boards along with a wide range of prices. Other factors that will change the pricing include species of wood, decorative elements like gold or silver handles for aesthetic purposes, engraving or personalization.
For cutting boards, different materials will vary the prices. I do recommend getting a couple plastic cutting boards for cutting meat and poultry. Plastic boards are easier to wash and won't hold on to bacteria like wood boards can.
Choosing the right charcuterie board for you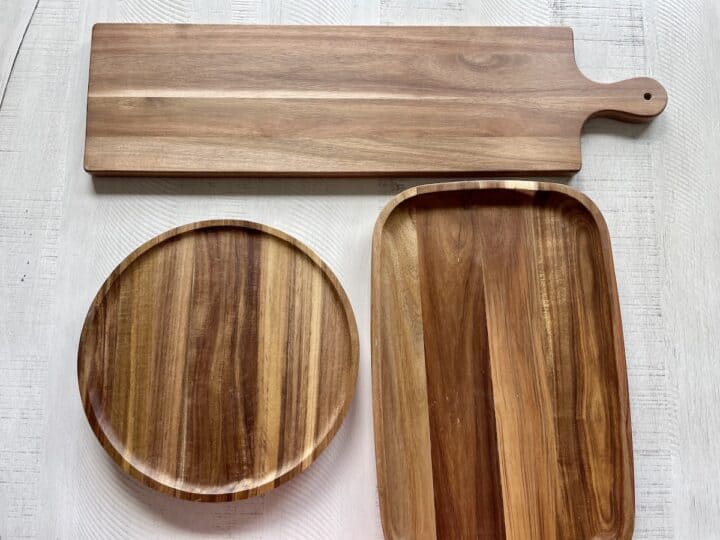 Best places to shop for charcuterie boards
Etsy: Personalized Charcuterie Boards
Amazon: for selection, price, and quick deliverability.
World Market: for a brick and mortar you can actually see
Kirkland's Home - they have a great selection in including one with marked spaces to help you play out the food in just the right places
What cutting boards should you have
After looking at the collection of cutting boards I have, it turns out I have 12 different cutting boards. I could probably live with a few less but they all get used. Here is what you should have in your kitchen:
a large board for everyday chopping and dicing
plastic cutting board or plastic cutting mat for meat and poultry
small board that is a little lighter for smaller prep
Recommended cutting boards
One of my favorite places to shop the best cutting boards is Sur La Table. They have a great selection with a variety of materials and associates who can help you find which board you are looking for. They also have guidance on knives and what kinds of boards will hold up against knife marks depending on how you cook at home.
Another good source for cutting boards is Costco. A few times a year, I see a two or three pack of plastic cutting boards that are a great price. The other place I would look at are of course Amazon.
The best serving ware and extras for charcuterie boards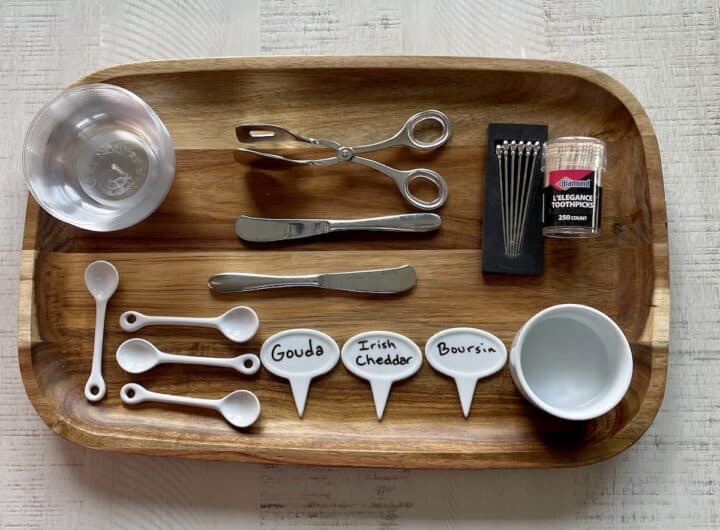 Listed below are the best items to have on hand for easy serving on any board.
Small bowls are important for items like marinated olives, dips and spreads, and for certain meat and cheese folding techniques.
Cheese labels or signs are great when you are serving a variety of cheeses. These let your guests know what the choices are and they add a special personal touch. 
Serving tongs make it easy to pick up these little finger foods and dress up the presentation.
Toothpicks and skewers are another great way to make small bites easy to take off the entire board. I really like these for food preparation so my guests can grab and go.
Decorative spoons are a great touch for dips and spreads.
Cheese knives are a little iffy, guys. If you are making a traditional cheese board where everyone slices and cuts their own portion of cheese, make sure to use a board that can be cut on. Otherwise, use spreadable cheese knives for soft cheese only (such as herbed cheese or goat cheese). 
Final takeaways from comparing charcuterie boards to cutting boards
If you are needing a new cutting board and a charcuterie board, look for a nice cutting board first. If you can find a beautiful bamboo board, it can be used for both food preparation AND serving. After that, build your inventory of both functional cutting boards to support different functions and a charcuterie board or two when the time is right. I like having one big charcuterie board for larger parties and a smaller one when I have the girls over.
Check out these helpful posts for planning your next charcuterie board: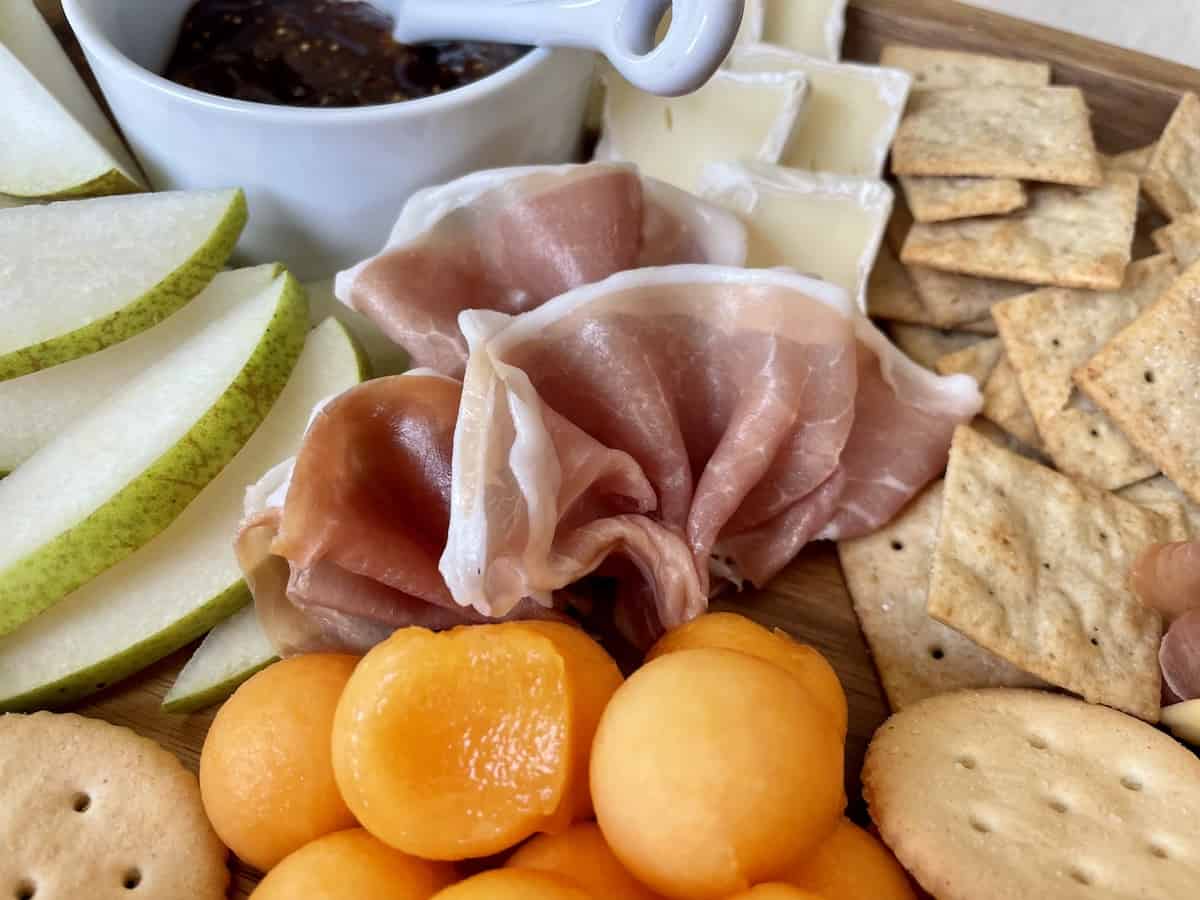 Check out these helpful posts for planning your next charcuterie board: