In this post, you will find 6 easy ways to fold prosciutto for a charcuterie board. These are perfect for a beautiful presentation and they are easy to serve. If you are a beginner at building a beautiful charcuterie board, don't stress. By the end of this post you will be prepared and confident!
This blog post contains affiliate links. As an Amazon Associate I may earn income from qualifying purchases. Thanks for the support.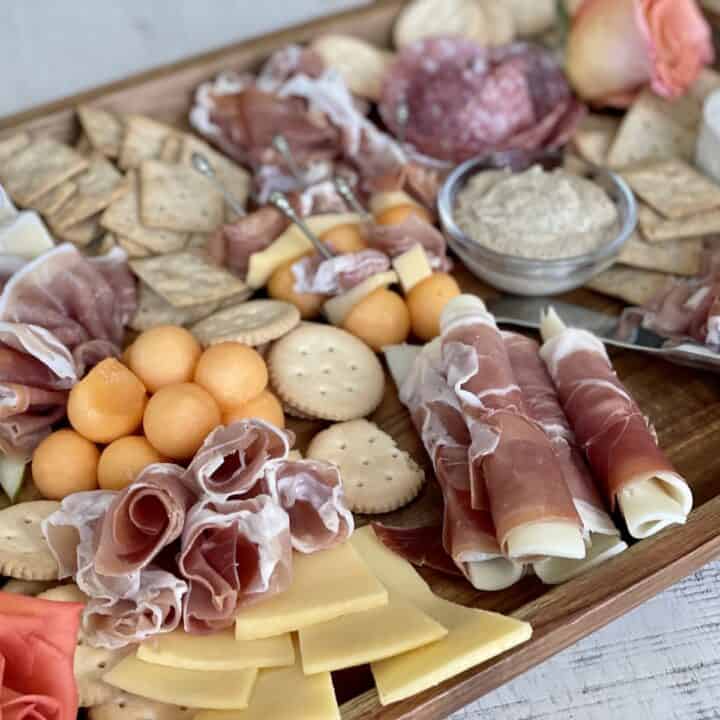 What Makes a Board Charcuterie
Charcuterie is the French word for cured leftover meats. Prosciutto happens to be my favorite meat when it comes to a charcuterie platter. I like its delicate flavor and easy pairing with fruit and mild cheeses.
Other popular charcuterie meats include: Genoa salami, Serrano ham, pâtés, and cappicola. The best charcuterie board will include a variety of meats with different textures like hard salami and a softer more delicate type of meat like prosciutto.
6 Beautiful Ways to Fold Prosciutto
How to Make a Prosciutto Bouquet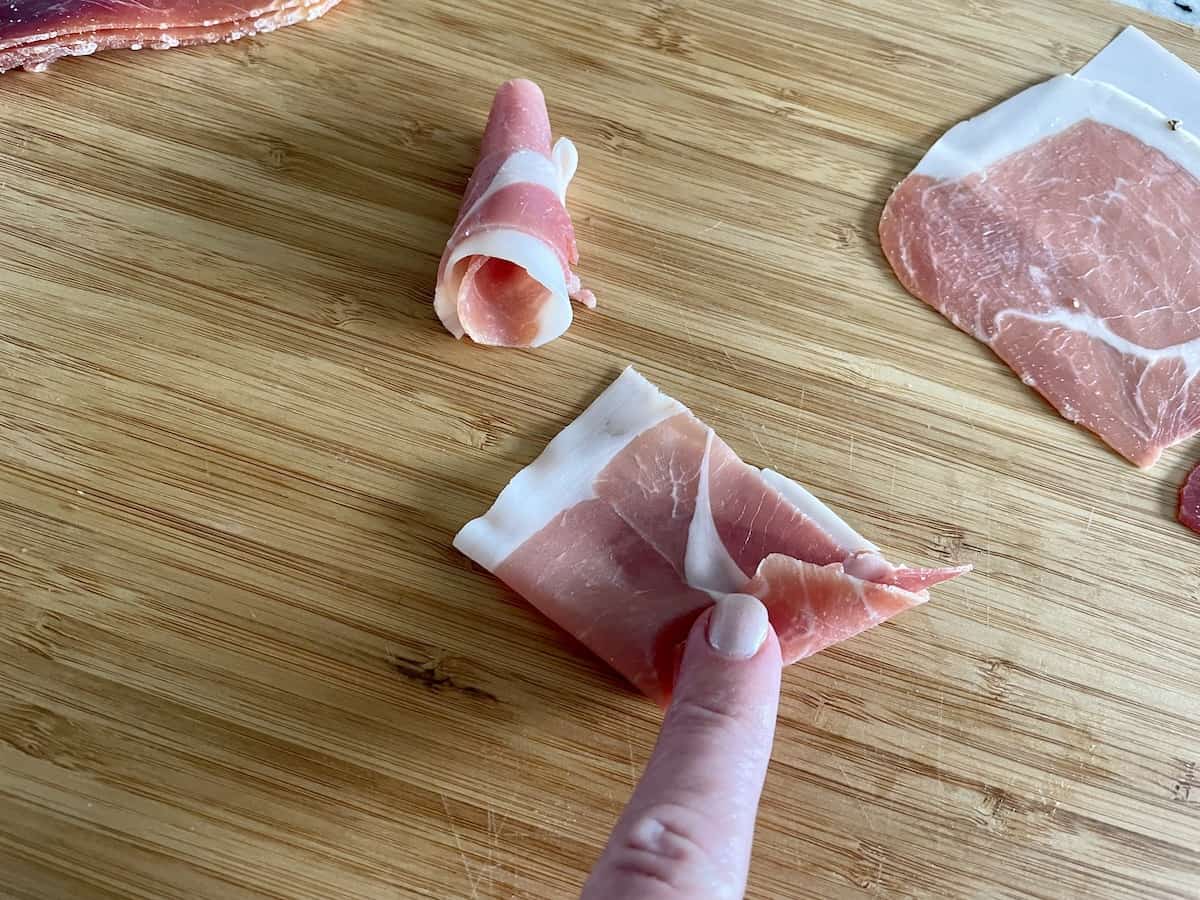 A prosciutto bouquet is wonderful for two reasons. First, and probably the most important thing is that it is easy to serve this way. Second, the little prosciutto flowers can be grouped together giving the board some height and it looks cute. To fold little prosciutto rosettes, follow these steps:
Take a full slice of prosciutto and cut it in half with a sharp knife so the prosciutto does not tear
Fold one piece in half again
Roll one corner diagonally across to the other side (hold one finger on the center to help fold around that point)
group the rosettes together on the charcuterie board and prop them up on slices of cheese for better height
How to Fold a Prosciutto Ribbon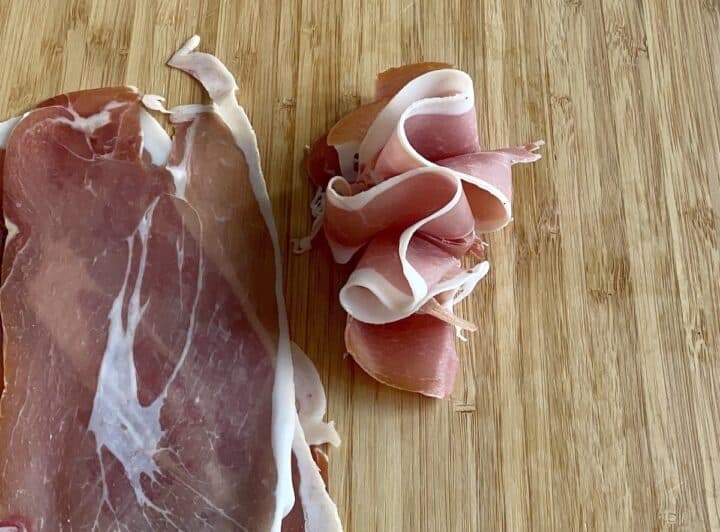 When you want prosciutto to be the star of the show, I like this method because it makes a pile of prosciutto stand out and larger than the other methods. Simply fold a full slice of prosciutto back and forth like an accordion or fan. Then pinch the middle and stand it up on the board. The easiest way to keep it up is to build several of these little piles and prop them up against each other.
Making Little Prosciutto Fans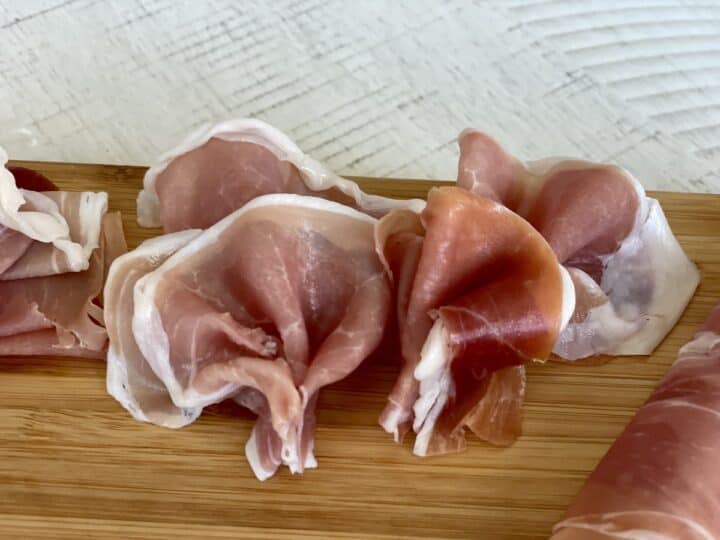 This is similar to the prosciutto ribbon method, but smaller. Take full slices of prosciutto and cut them half or even quarters depending on the desired portion size. Fold the prosciutto back and forth and pinch the bottom to create a small fan. After making 6-10 small fans, lay them out on the board letting them overlap slightly. This is an easier method for serving because the portion is small enough to fit on a cracker and it's easy to pick up the precut pieces.
Sliced Prosciutto Rolled with Sliced Cheese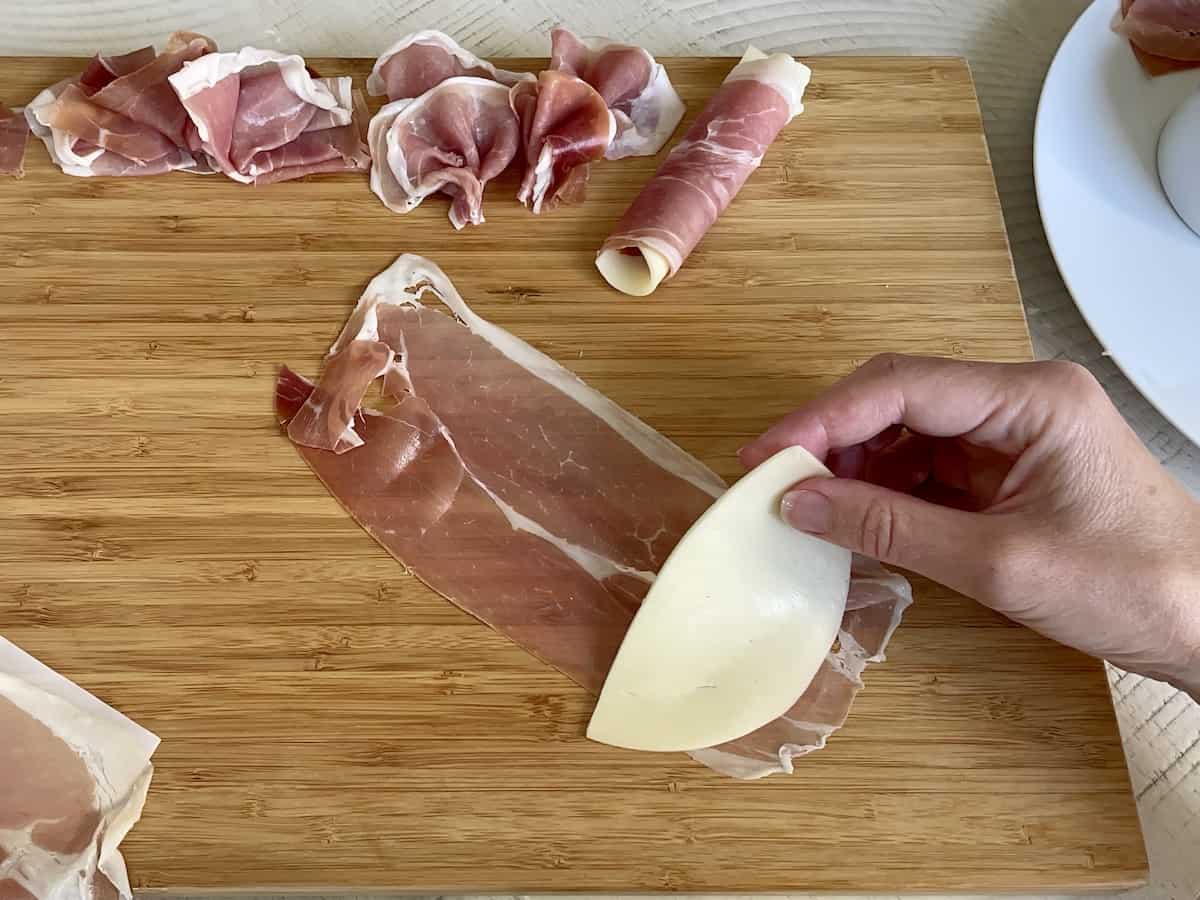 This is probably the second easiest method to fold prosciutto. It takes no skill at all to make these little rolls look good. Choose a mild sliced cheese like provolone or an aged cheddar that will roll easily with the prosciutto.
Start by laying a slice of prosciutto on a flat surface.
Lay a piece of cheese down on top.
Roll them up together striating with the end that the cheese starts on and roll from one end to the other.
I love simple ways for preparing my meats and cheeses, but this is also an especially easy way for guests to take food from an easy grazing board.
Creating a Loose Prosciutto Pile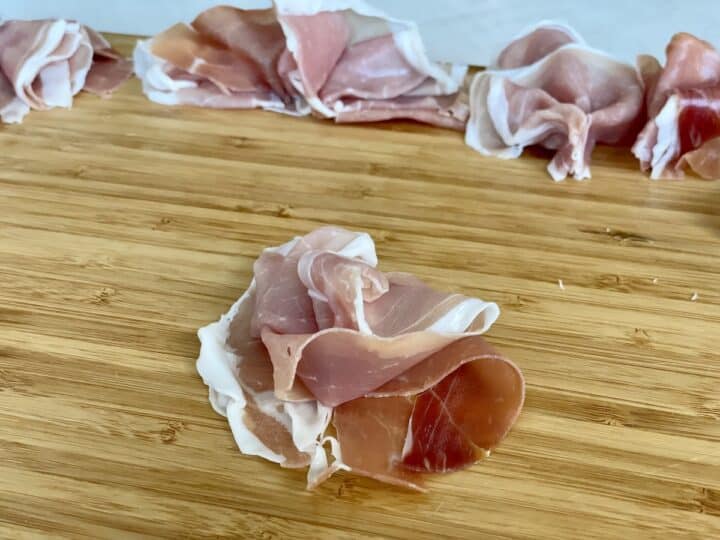 This is a great way to serve prosciutto if you want to go for a rustic and natural look. You can bunch up the prosciutto slices whole or cut them in half. Similar to the prosciutto ribbon, fold a slice of meat back and forth gently. Lay them in a pile and let them overlap.
How to Make Mini Meat and Cheese Skewers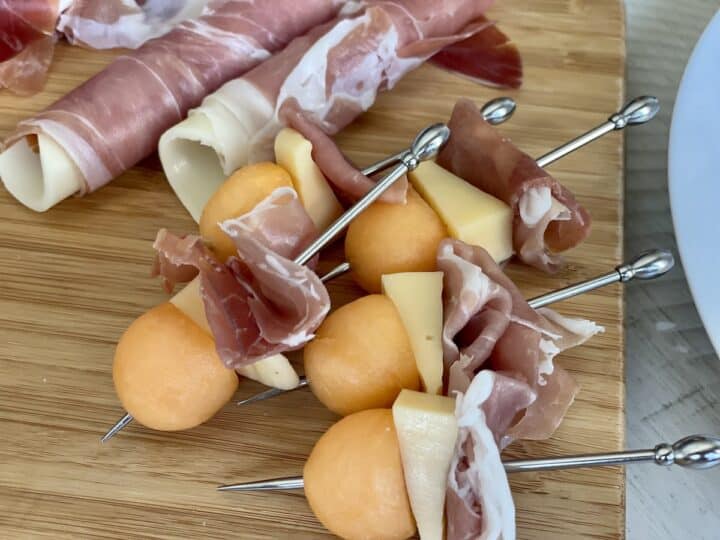 For a mini charcuterie board you can make these cute little skewers. The first step is to fold half of a piece of prosciutto into fourths or over in a little ribbon. Pierce a tooth pick or skewer through the prosciutto, then add a small slice of cheese or cheese wedges, and finish with a cantaloupe ball. It's the perfect little bite sized serving which is so easy for guests to take off the platter.
Another great combination is prosciutto with a mini fresh mozzarella ball and fresh basil. The colors are gorgeous and perfect for a great Christmas Charcuterie Board.
The Best Cheeses to Serve With Prosciutto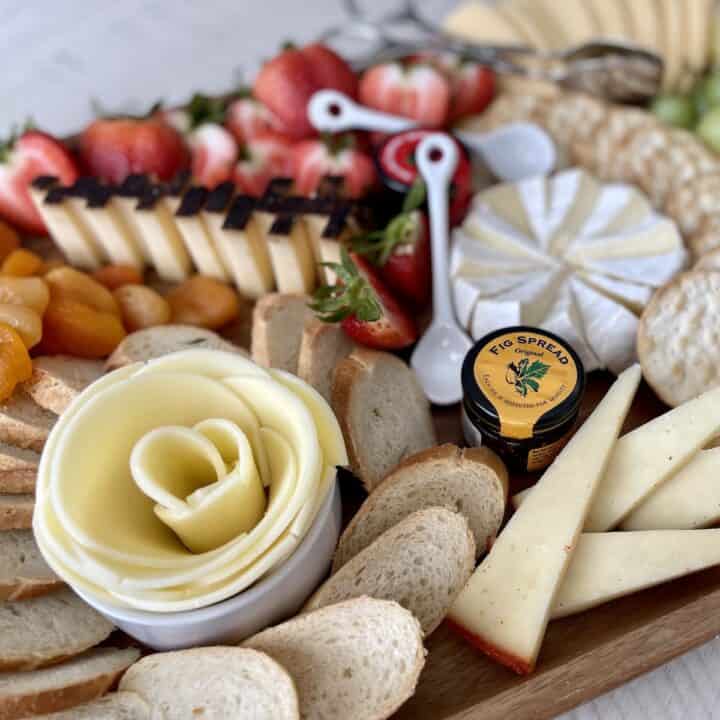 Prosciutto has such a mild and delicate flavor. The best way to eat it is to pair with cheeses that won't over shadow this kind of meat. I like to combine prosciutto with soft cheeses like brie or goat cheese.
A general rule of thumb is that if the cheese pairs well with fruit, it will also go well with prosciutto. Think of sweet flavors like a fruity goat cheese, mild cheddar, or blends of honey and lavender cheeses. Creamy cheese with fruit spread are my favorite over a slice of baguette or buttery cracker.
An example of something I would not pair with prosciutto would be blue cheese or intensely flavored herbed cheeses.
Good Supplies for Serving a Simple Charcuterie Board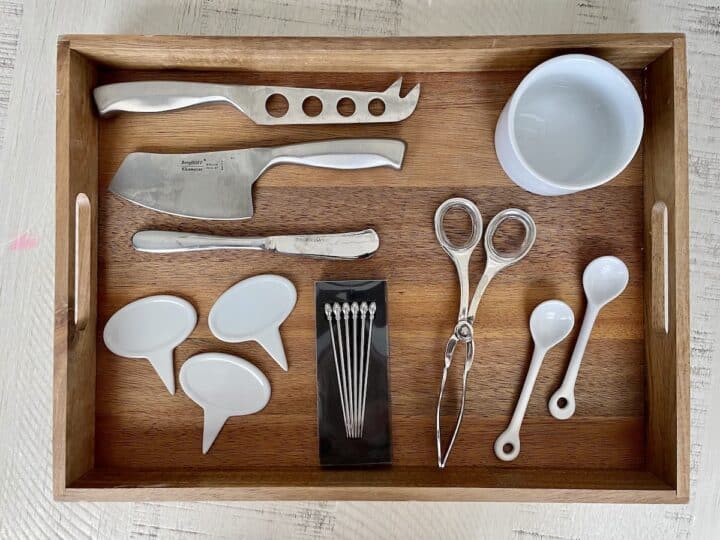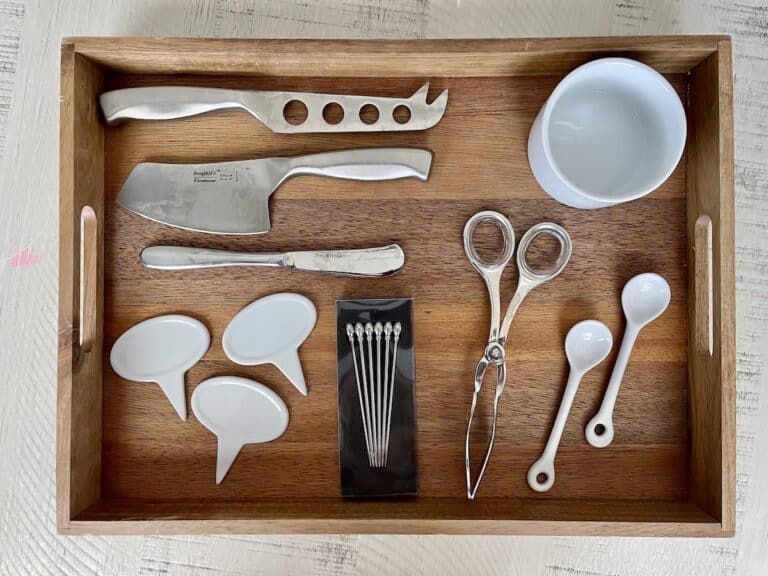 These are my go-to supplies for an easy charcuterie board. They make serving easy and help with a beautiful presentation.
charcuterie board or large wood cutting board
small bowls
small serving tongs - an absolute must!
tooth picks
small forks
What Other Food Items Belong on a Charcuterie Board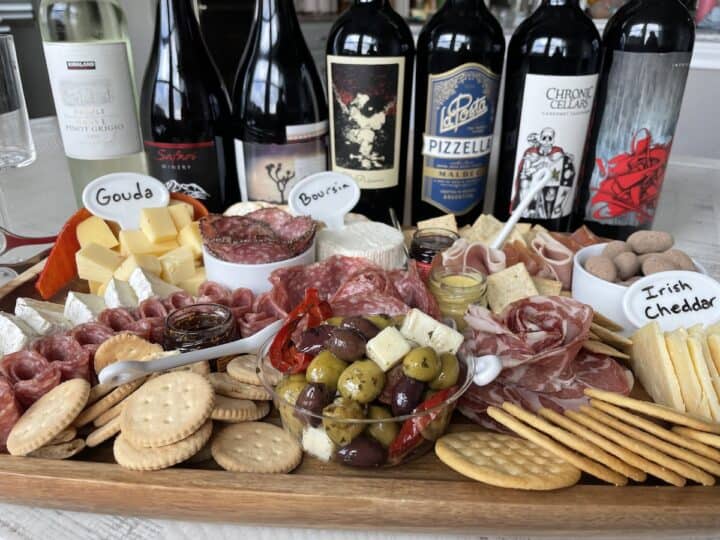 Whether you are focused on making a traditional charcuterie board or a simple cheese board, there are few must have items to include. Choose two items for every 3-4 people you are serving:
fresh fruit
dried fruits
crackers and baguette slices
hard cheeses
soft cheeses
olives, pickles, marinated veggies
nuts and chocolate pieces
spreads such as: fig, cherry, quince, mustards, and
small sprigs of fresh herbs for garnish
Charcuterie Tips and Related Info
To build your own classic charcuterie board, check out my full DIY Charcuterie Board Post. For more ways on presenting charcuterie meats, check out my How to Fold Salami Flowers post with helpful tips and supplies for making more meat roses. The combination of prosciutto ribbons and a salami rose are surefire ways to make a perfect charcuterie board.
Don't forget to:
serve your charcuterie board at room temperature to the flavors shine through
group similar items together on the board so your guests know which meats and cheeses compliment each other
fill all the empty spaces on the board so its full and beautiful
most importantly- have fun!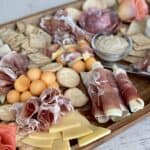 Print Recipe
Easy Ways to Fold Prosciutto for a Charcuterie Board
6 techniques for folding prosciutto for easy serving and beautiful presentation
Ingredients
8

ounce

prosciutto

2

ounces

provolone

slices cut in half

2

ounces

brie

cut in wedges

2

ounces

mild cheddar

cut into small cubes or wedges

⅓

cup

cantaloupe

in small melon balls

1

pear

sliced

2

cups

crackers

2

cups

baguette

sliced

¼

cup

fig jam
Instructions
Prosciutto Rosettes
Prepare prosciutto rosettes: cut slices of prosciutto in half. Fold that in half and roll it around the center to create a mini rosette.
Prosciutto Fans
Cut sliced prosciutto in half. Take one half and fold it back and forth like accordion. Pinch the bottom and fan out the top. Group 8-10 prosciutto fans together.
Prosciutto Ribbons
Make large ribbons with a full slice of prosciutto. Fold it back and forth like an accordion. Hold the middle and place and gently fold that over. Group two slices back to back to support each other on the charcuterie board.
Mini Skewers
Cut one slice of prosciutto in half. Take that half and fold it over two more times. Take a tooth pick or appetizer skewer through the center of the piece of prosciutto. Add a small wedge of cheese and finish with a cantaloupe ball.
Rolled with Provolone
Lay a full slice of prosciutto on a plate or cutting board. Lay a slice of provolone with the curved end lined up with the end of prosciutto. Roll the cheese and prosciutto all the way across into a single roll.
Loose Piles of Prosciutto
Take a full slice of prosciutto and hold vertically over the charcuterie board where you want it to stay. touching the bottom down, twist the prosciutto back and forth while lowering it into an easy pile.
Building the Charcuterie Board
Lay the piles of prosciutto and other charcuterie meats across a wood board. Add cut cheese, jar of fig spread, sliced pears, crackers and baguettes. Fill in empty spaces with nuts and dried fruit. Serve the board at room temperature with small tongs and knives for serving.
Nutrition
Calories:
366
kcal
|
Carbohydrates:
38
g
|
Protein:
12
g
|
Fat:
18
g
|
Saturated Fat:
7
g
|
Polyunsaturated Fat:
4
g
|
Monounsaturated Fat:
6
g
|
Trans Fat:
0.2
g
|
Cholesterol:
30
mg
|
Sodium:
666
mg
|
Potassium:
172
mg
|
Fiber:
2
g
|
Sugar:
8
g
|
Vitamin A:
333
IU
|
Vitamin C:
2
mg
|
Calcium:
166
mg
|
Iron:
2
mg