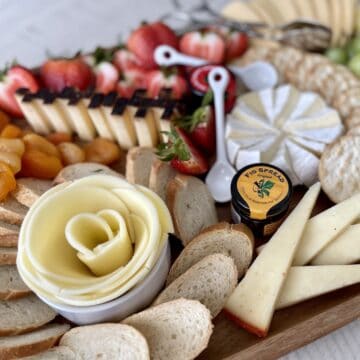 This blog post contains affiliate links. As an Amazon Associate I may earn income from qualifying purchases. Thanks for the support.
What is the main difference between a cheese board vs a charcuterie board? Here you will find the answers along with favorite pairings for both.
Let's take a look at what makes a good and well balanced selection of cheeses. I have a list of great cheeses that you can serve to a few close friends or a large crowd. The other more talked about social media craze, Charcuterie boards, has just one major difference. I have tips for both so stick with me.
Charcuterie defined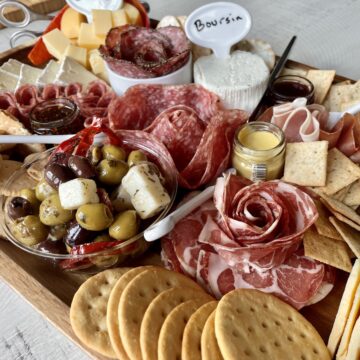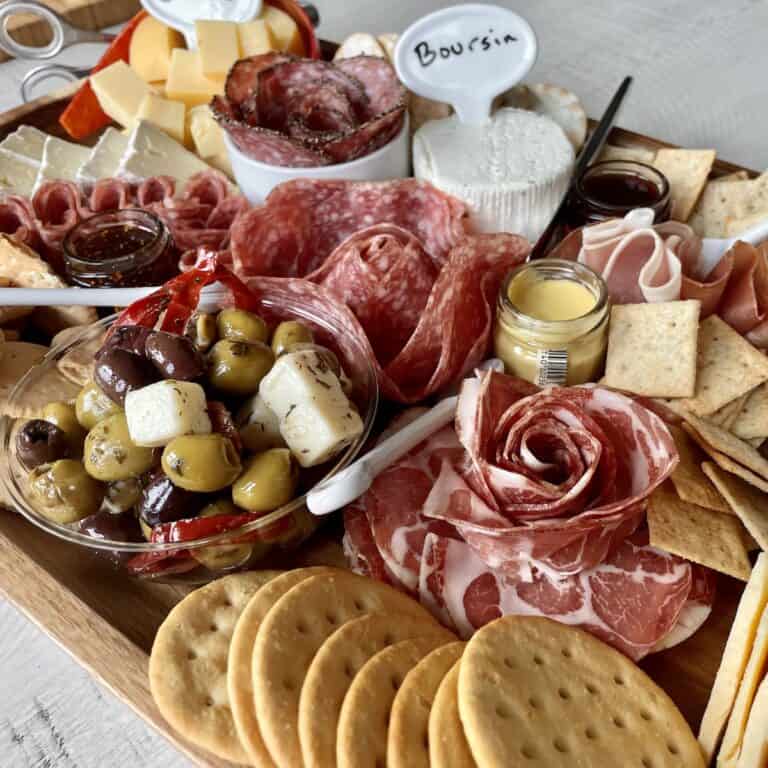 Charcuterie is a French word for cured meats. It's a very old process used to preserve leftover meats so that nothing went to waste. After a feast, the leftover meat was salted and cured.
cooked, processed, or cured cold meats and meat products, originally and typically pork products, as sausages, pâtés, hams, etc.
So of all the different foods we like to put on a charcuterie board, the word charcuterie only applies to the meat. You could actually make an entire meat board of just different types of meat and a few breads. So the only difference is that one has cold cuts and one does not.
What kinds of cheese should I put on my cheese board?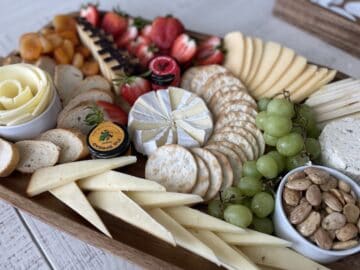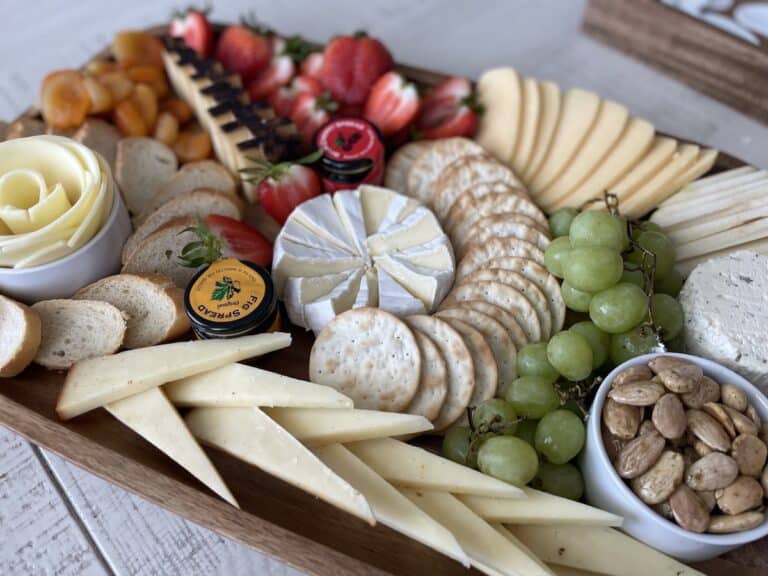 A good cheese board is focused on a variety of cheese including different flavors and textures. You'll want both hard cheeses and soft cheeses with great flavor. Check out the table below and choose a couple from both columns so you have variety.
Now, within each cheese type, there are tons of flavor options to choose from. Different cheeses that are smoked, combined with fruit or infused with flavor like truffles or honey. There are too many amazing cheeses to choose from.
| | |
| --- | --- |
| Soft Cheese | Hard/Aged Cheese |
| blue cheese | manchego |
| goat cheese | aged cheddar |
| herbed cheese | gouda |
| brie | comte |
| burrata | gruyere |
These are my favorite cheeses to include on a DIY cheese platter: brie, Boursin garlic and herb, aged white cheddar, smoked gouda, and a fruity goat cheese.
What else should a great cheese board include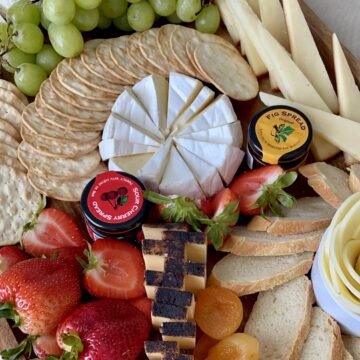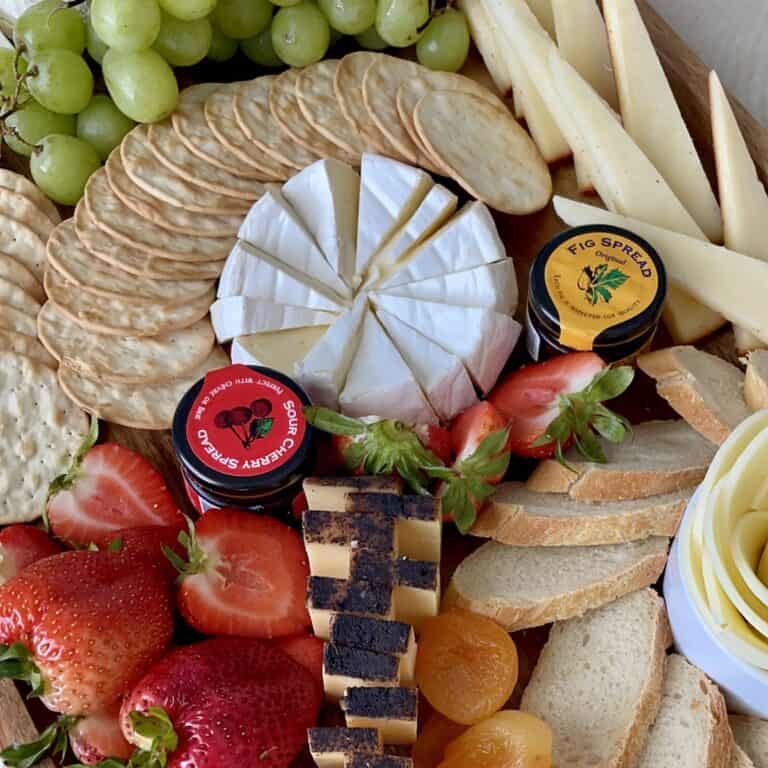 Once you figure out the kinds of cheese you plan to serve, think about what other foods you want to offer with the cheese. Pick a few things that will enhance the cheese flavor and make it even better. Include different textures and a variety of flavors. Think about including items like:
Dried fruit: apricots, mango, cranberries, raisins
Fresh fruit: halved strawberries, grapes, pears, apples, blueberries, raspberries
Nuts: marcona almonds
Olives or pickles: marinated and stuffed or pickles bring that briny sour hit that breaks up the rich flavor from cheese
Crackers- too many to list!
Sliced French baguette- especially if you are serving brie
spreads: mustards, fig spread, sour cherry, honey or honey comb
What does a charcuterie board include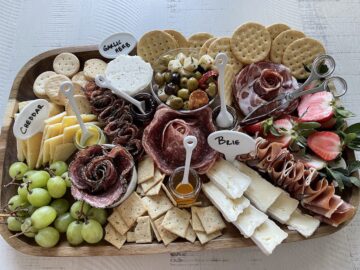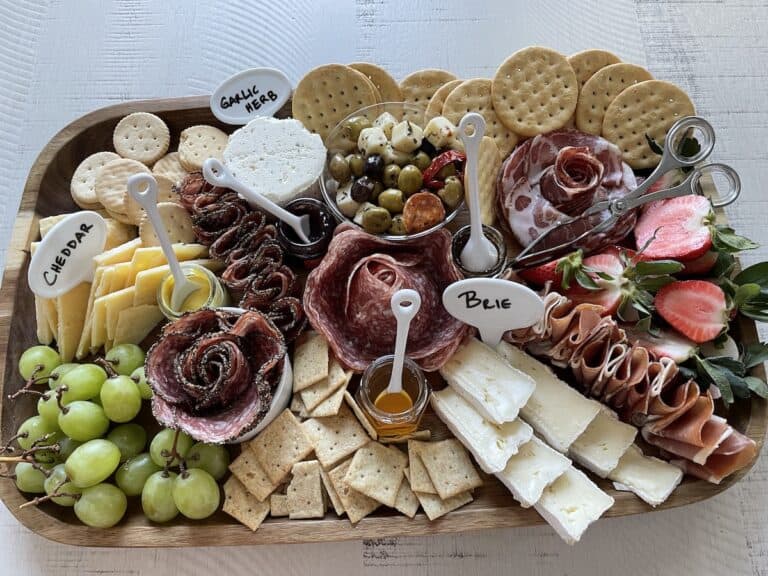 The perfect charcuterie board is really about the assortment of meats. My perfect board has to have prosciutto and salami. Other popular meat would include capacola, Serrano ham, sopressata, and patés. (I don't like paté). After you get an idea of your selection of meats, choose some various cheeses, a couple spreads like mild or spicy mustards, crackers or French bread, and just a few extras like pickles, olives, artichoke hearts, or mixed nuts.
For more information on what I consider to be the perfect charcuterie board, check out that blog post here.
Shopping for Boards and Servingware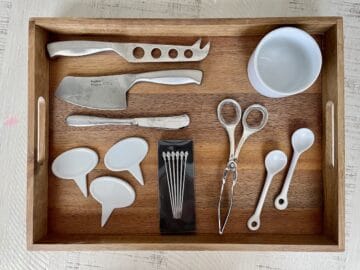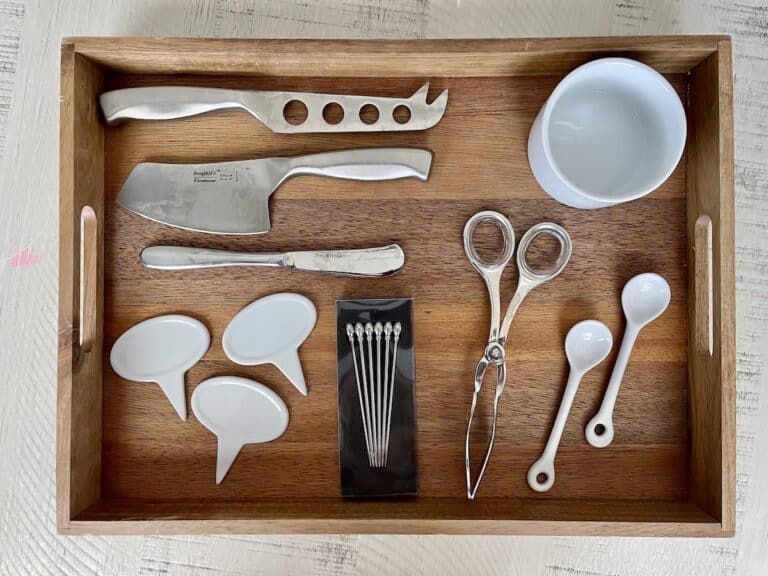 You'll want to start with a board or cheese plate that is right for the number of people you are serving. I love neutral colors and different materials for charcuterie boards. We can find them in so many different shapes these days. I think the best charcuterie boards have a little lip on the edge so that the different types of foods we are serving don't roll off the board.
Once you figure out the different types of cheese you will be serving, you can figure out what other supplies you need.
cheese knives- for hard cheeses or soft cheeses
Small bowls
small plates
toothpicks
knives for spreading
cute cocktail napkins
Favorite Grocery Stores to Shop for the Best Cheese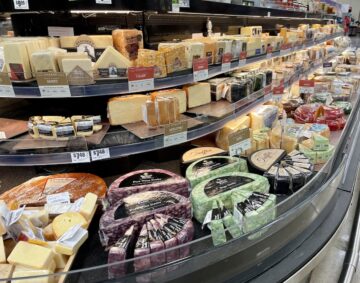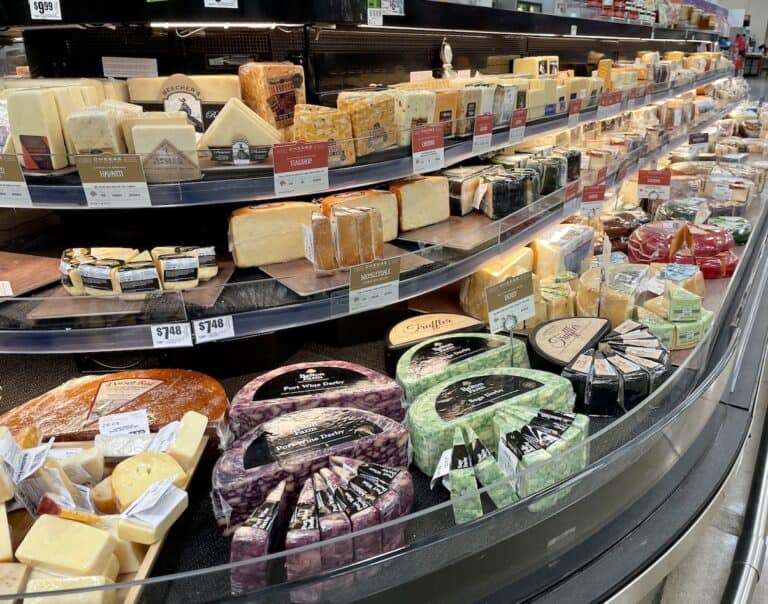 Costco is a great place to shop and has a wide variety of specialty cheeses. They even have a few packs of different cheese ready to go. Considering how expensive artisan cheese can be, I love Costco for the value and quality.
Whole Foods is another good choice for building a special cheese tray or charcuterie platter at home. My other two favorite places to shop are Trader Joe's and H-E-B if you are here in Texas with me. H-E-B has a huge selection of local and exotic cheeses.
How to make cheese look good for a cheese board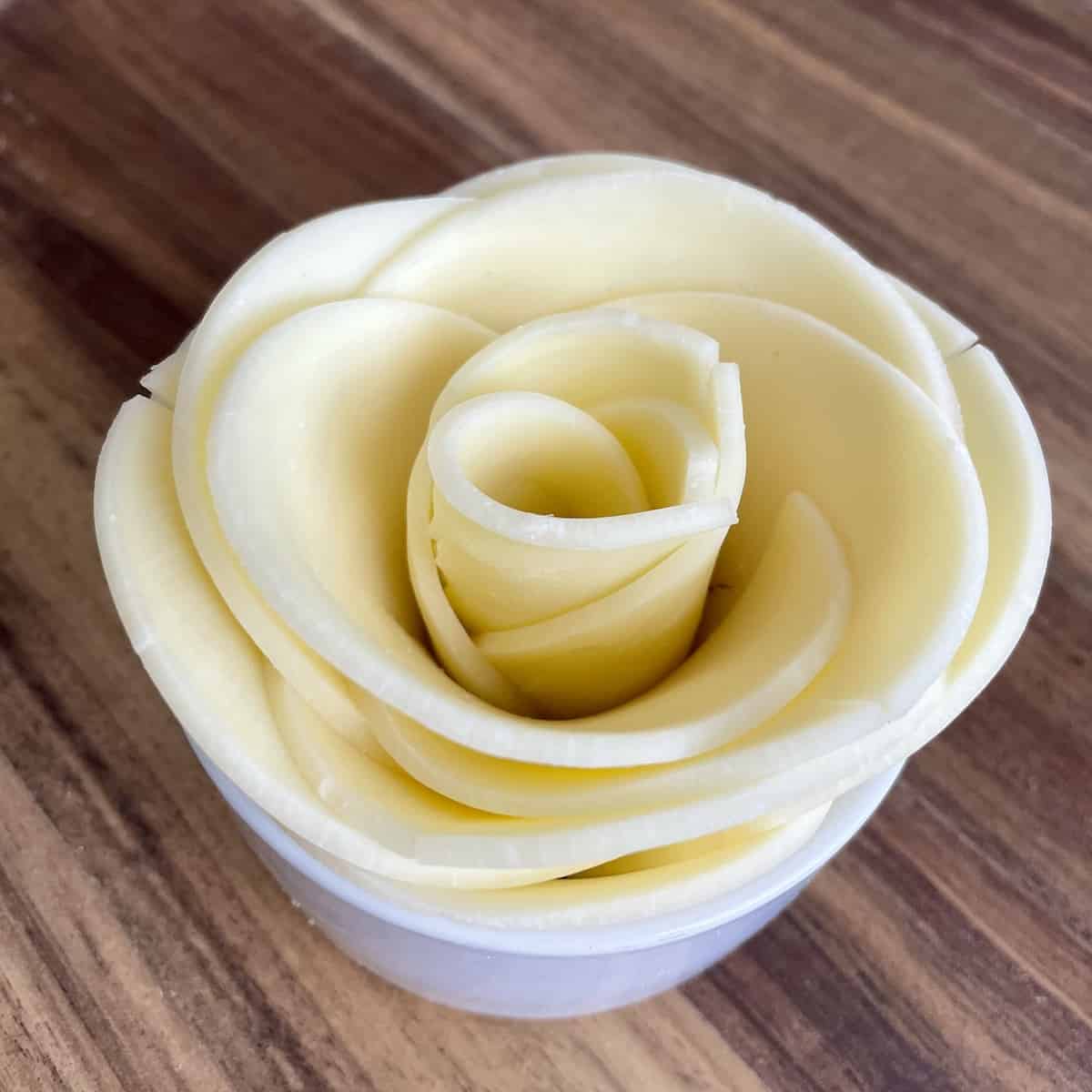 Create a cheese rosette:
cut circles of cheese in half to make a semi-circle or half moon shape
use a small bowl to layer the semi-circles with the curved side up, going around the dish
to finish the rose, slightly overlap two slices and roll up tightly to place in the center of the rose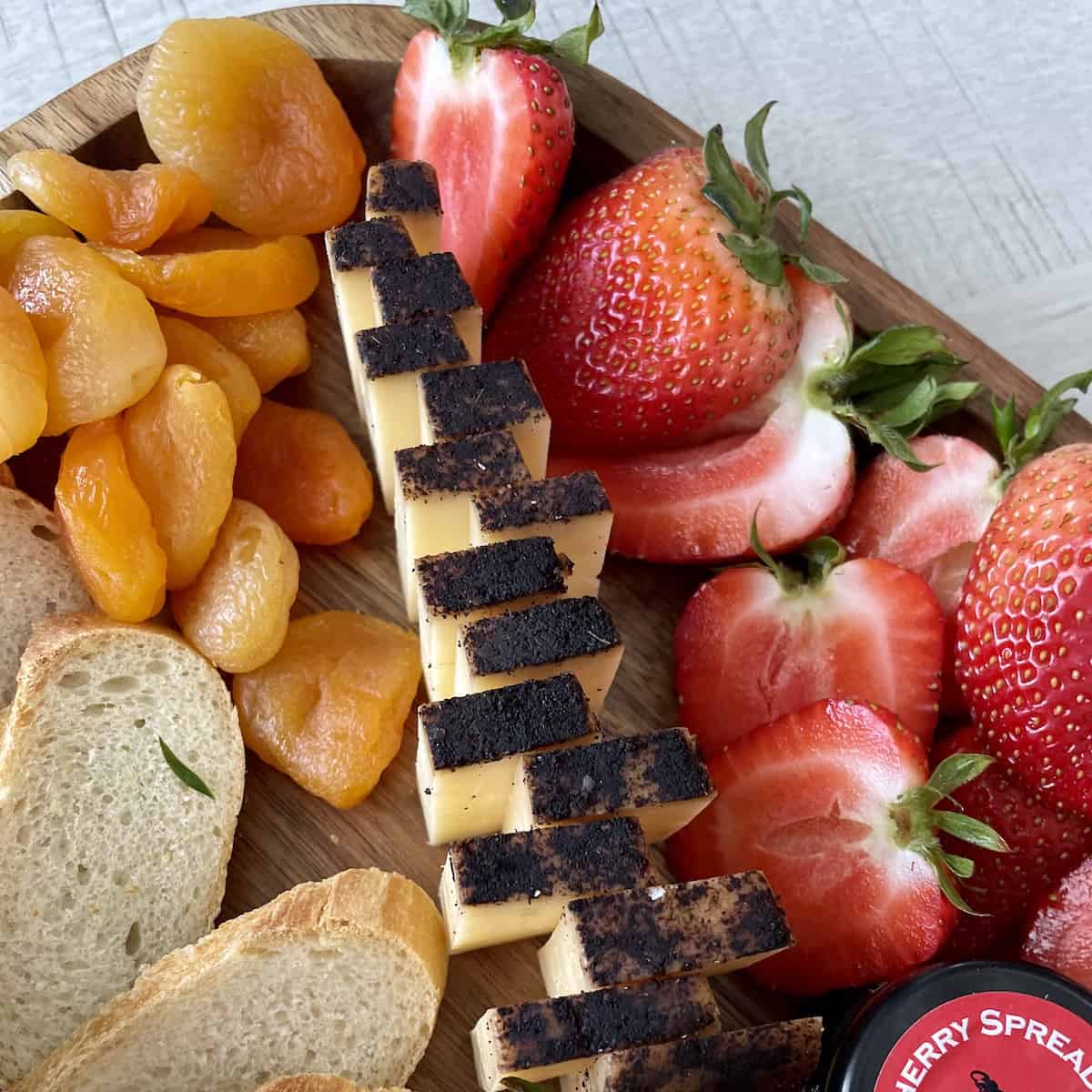 Make an offset "tree":
slice a triangle shaped wedge of cheese from the narrow end to the wide end
working back and forth, stagger the slices so they are offset
this creates an offset tree or zipper look
Additional Tips for building a cheese board vs charcuterie board
Do a little bit of planning before you hit the grocery store. Know what main ingredients you want to include and whether you are making a cheese board vs a charcuterie board.
Prepare all of the ingredients before assembling the board. Make all of the foods easy to serve in small bites so everyone can easily pair items and fill their plates.
Group similar flavors together on the board. Keep mild and sweet items close to each other, and more savory or spicy items sectioned together.
Don't leave any empty space on the board. The art of preparing a beautiful board is the full look of beautiful and colorful foods wrapped around each other.
Serve your cheese board at room temperature. Cold cheese needs to have time to open up its flavor, so take the cheese board out of the refrigerator 20-30 minutes in advance.
Final Notes for a cheese board vs a charcuterie board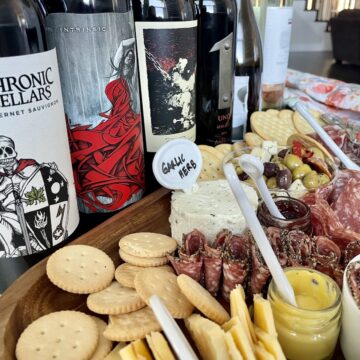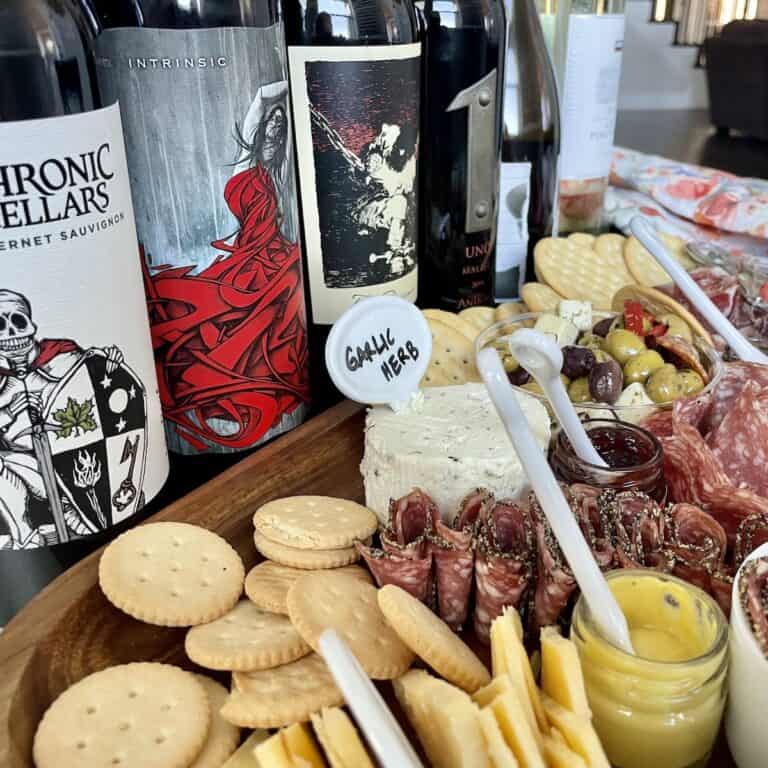 If you want a great display of appetizers for your next party, you can definitely create a good charcuterie board or epic cheese presentation. Pick what you like. Serve it with a fun wine or mixed drink. These different boards are so creative and a great way to pull people together. They are easy to serve from once they are assembled also. Whether you are making these boards small gatherings or bigger parties, the variety of foods and flavors will be a home-run every time.