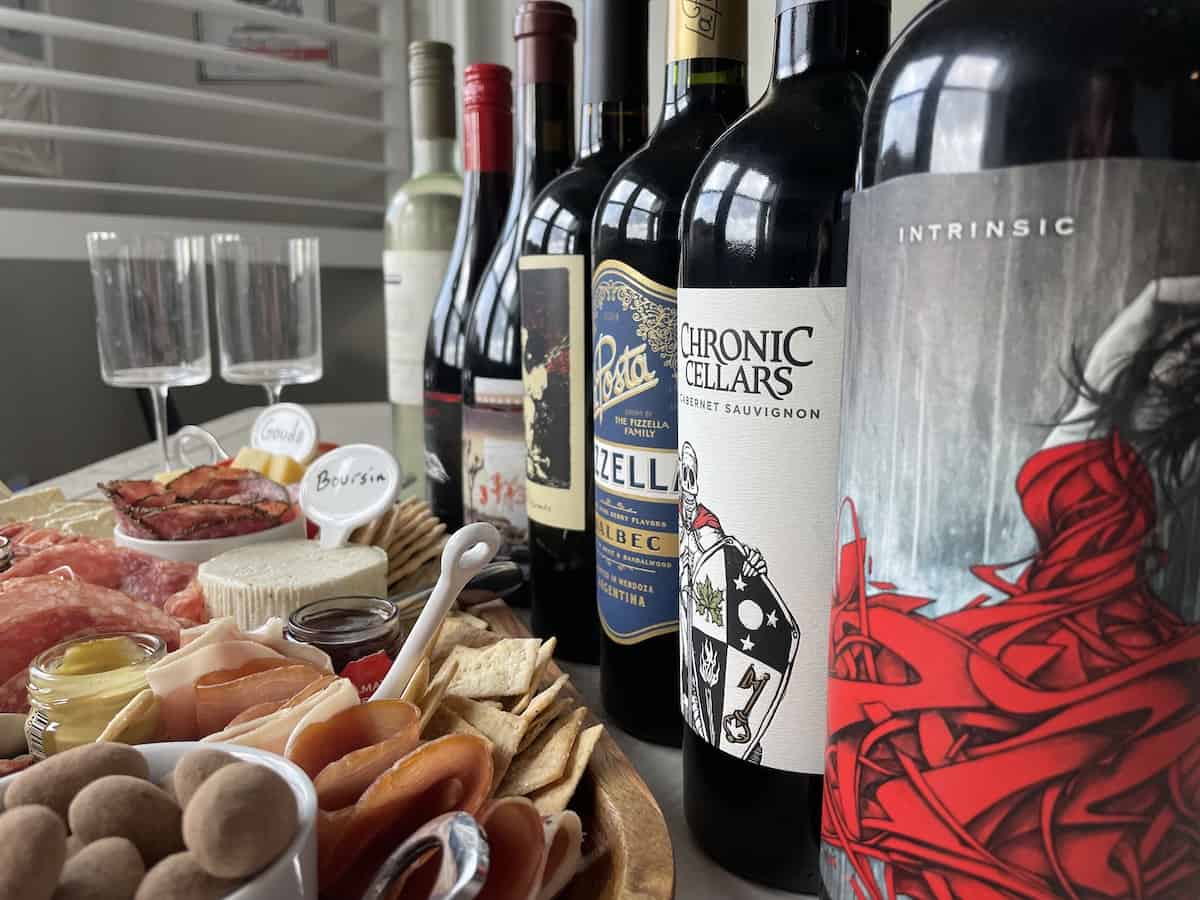 Get ready for a helpful guide to assemble the best wines for charcuterie boards with pairings to make everyone happy. I want to help you find the right wine to enjoy with a fun charcuterie platter. Whether you are enjoying this with a group of friends or as an intimate date night in, you will have the best pairing possible.
What Exactly is a Charcuterie Board?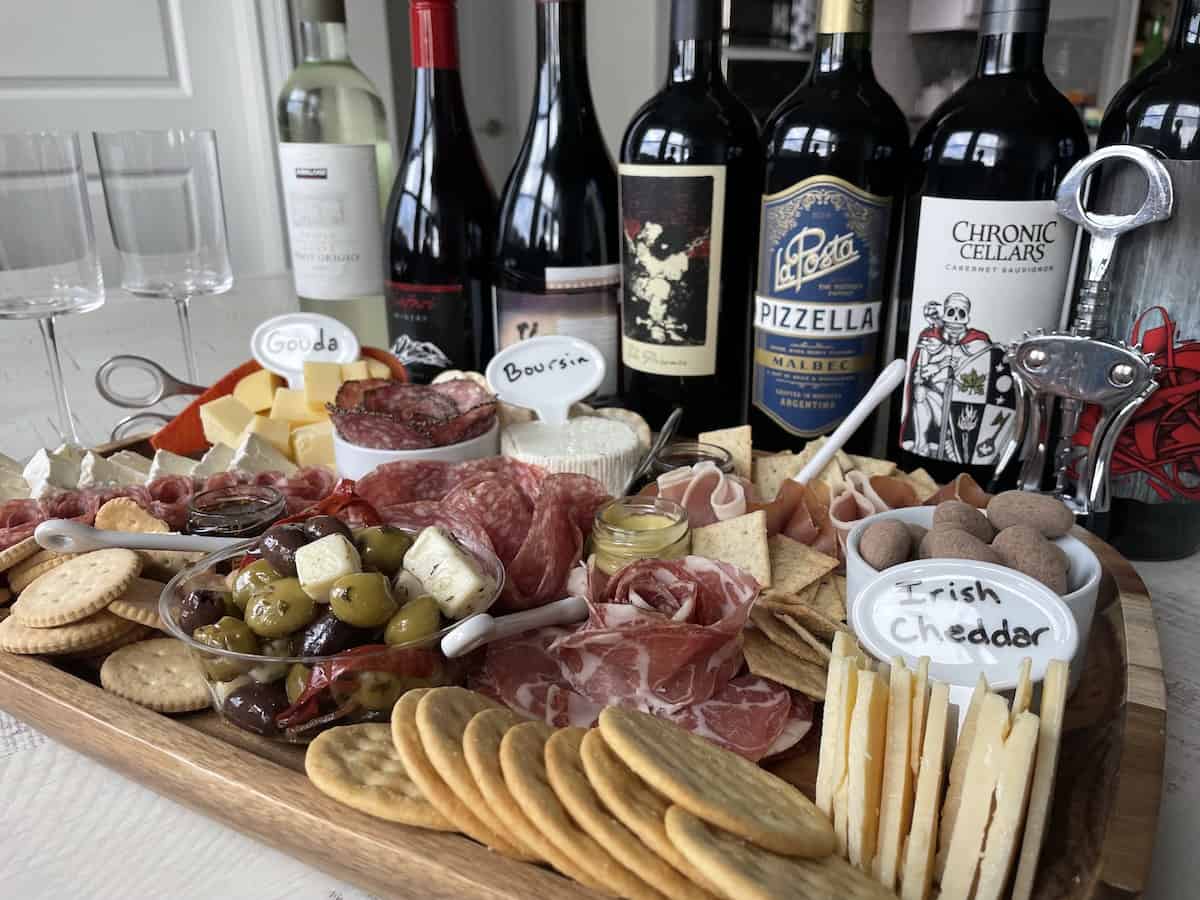 First, we need to cover what charcuterie actually is and then we will have an idea of what we're looking for when it comes to wine.
Charcuterie: cooked, processed, or cured cold meats and meat products, originally and typically pork products, as sausages, pâtés, hams, etc.
So... a charcuterie board is really a variety of cold cured meats. This includes popular cuts such as: salami, prosciutto, capicola, sopresatta, chorizo, pates, and on and on.
Building a Delicious Charcuterie Board and Wine Pairing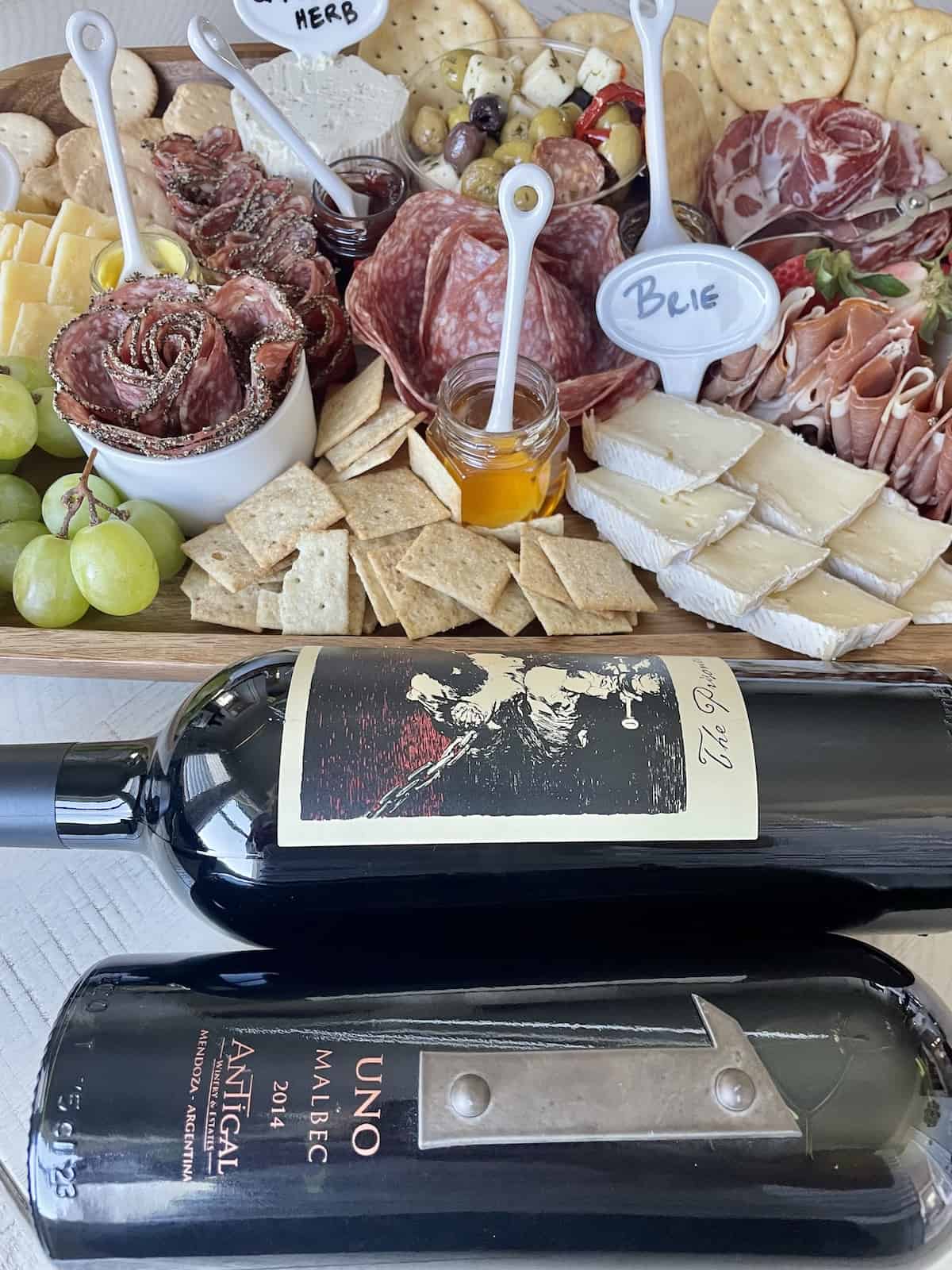 Creating a delicious charcuterie board is a great way entertain and share food with friends. You can choose a few of your favorite meats, cheeses, spreads, and crackers and add in a few fresh fruits, nuts, olives, or pickles. The options are endless. There are so many amazing flavors and great foods out there to choose from. Now, we can dive into what type of charcuterie board you will love and the best wines for charcuterie boards.
When it comes to wine pairings, look for wines with high acidity levels as these hold up best next to savory flavors. A good rule of thumb is to have one bottle of wine per two people. A bottle of wine has five glasses of wine, so this equates to 2.5 glasses per person.
Best Wines for a Mild and Sweet Charcuterie Board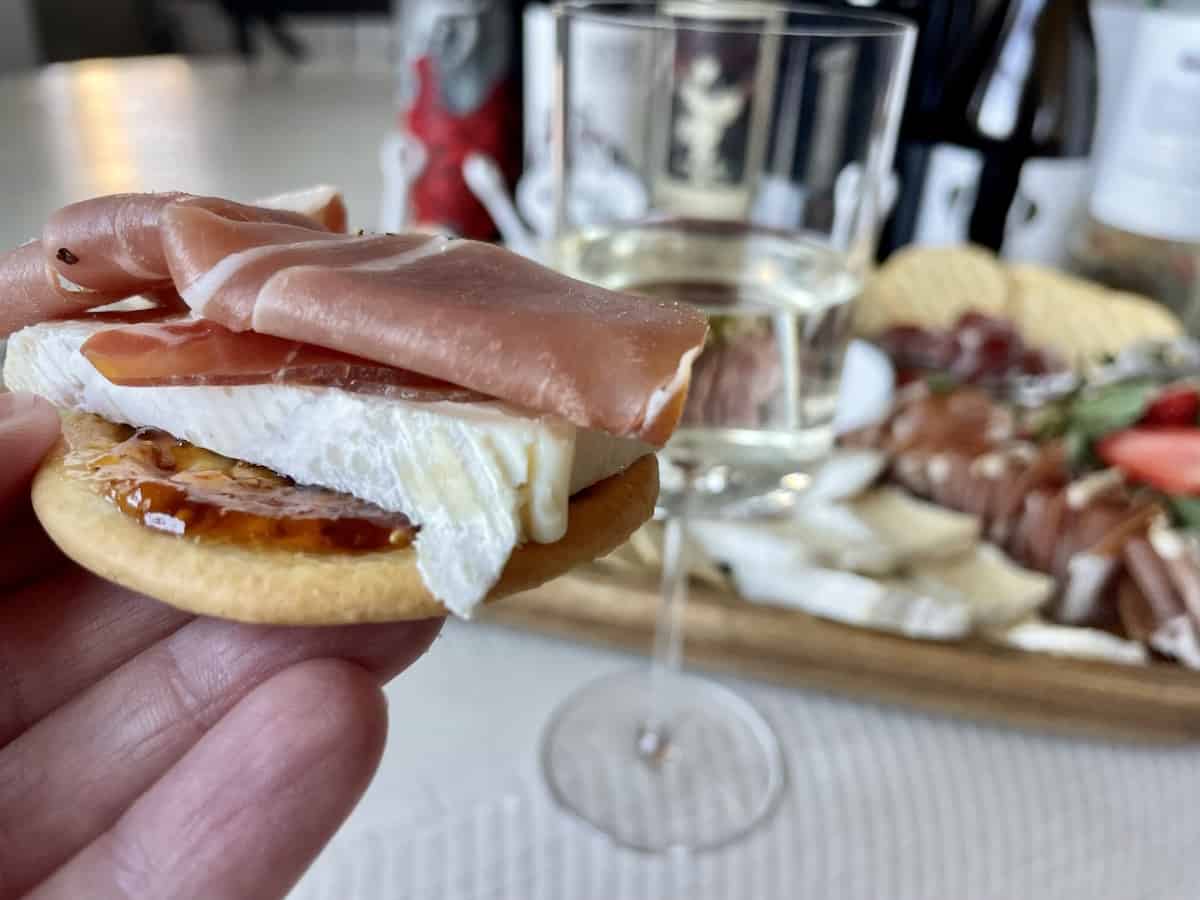 If you like milder and less intense meats and cheeses look for light-bodied red wines and light-bodied whites. Sweet wines will compliment milder meats and really go nicely with fruity flavors like jammy spreads, fresh fruit or dried fruit.
| | |
| --- | --- |
| Red Wines | White Wines |
| Pinot Noir | Sauvignon Blanc |
| Merlot | Pinot Grigio |
| Red Blends | Rosé |
| Grenache | |
| Montepulciano | |
| Cabernet Franc | |
I really love the combination of prosciutto with brie and some sort of fruit spread like fig, quince, cherry, or ultra thinly sliced pears. For that sort of combination, I would drink a crisp white wine like Pinot Grigio or something bubbly because it is light and refreshing, but not too sweet.
If I am more in the mood for red wine, I would match that up with darker meat like salami or capicola have that with a mild cheddar or gouda.
| | |
| --- | --- |
| Meat | Cheese |
| Prosciutto | Brie |
| Sopressata | Mild Cheddar |
| Genoa Salami | Gouda |
| Capicola / Coppa | Goat Cheese |
| Pâtés / Foie Gras | |
**Cheddar can go either way. A very long aged cheddar will have a sharp and bold flavor compared to a gentler, shorter aged cheddar that pairs perfectly with salami**
Best Wines for a Savory and Spicy Charcuterie Board
Now, let's look at bolder flavors with some spice. We can get into full bodied red wines that hold up to more intense flavors. Most charcuterie meats pack in a ton flavor from garlic, peppercorns, and salt from the curing process and there are tons to choose from.
| | |
| --- | --- |
| Red Wines | White Wines |
| Cabernet Sauvignon | Chardonnay |
| Malbec | Viognier |
| Chenin Blanc | Muscat |
| Syrah | Pinot Blanc |
| Petite Sirah | Dry Riesling |
| Petit Verdot | |
| Bordeaux / Bordeaux Blend | |
For a complete guide of light-bodied reds to bolder reds, check out this helpful chart.
| | |
| --- | --- |
| Meat | Cheeses |
| Calabrese Salami | Aged Cheddar |
| Peppered Salmi | Herbed Cheese (Boursin) |
| Chorizo | Manchego |
| Pepperoni | Blue Cheese |
Best Sparkling Wine
Bubbles are a nice to break up to flavor from the food. Champagne is a great choice if this charcuterie night is for a special occasion. If you are looking for something bubbly, but not necessarily champagne, there are some great Prosecco options out there that are great in flavor and light on the wallet.
Champagne: Veuve Clicquot
Moscato: Rose Regale
Prosecco: Kirkland Signature
Building Your Perfect Pairing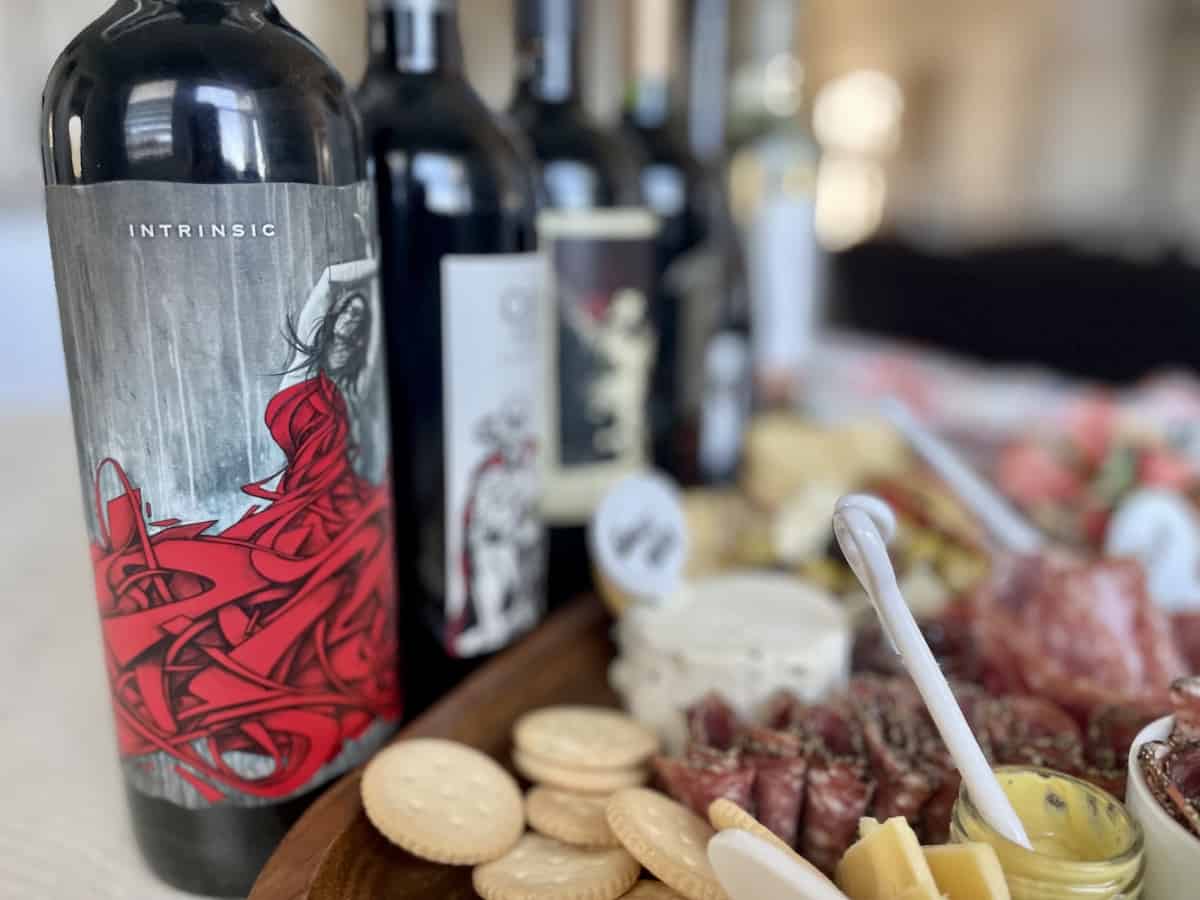 There two ways you can go about creating your perfect food pairings. First, let's say you know what type of wine you enjoy the most. That's perfect! Go get your favorite wine and then find where it lines up with all of these delicious meat and cheeses. Look for some food items for your board that combine a salty balance and different textures.
Conversely, maybe you don't know what kind of wine you want yet. Maybe you are having a group of people over and want to have several types of wine available. That is great also. Just go through these charts and pick a few items off of each list so that you have a well rounded cheese board and charcuterie to offer.
A Few Tips for a Great Wine and Charcuterie Night
Prepare your charcuterie board so that all of the foods are easy to serve. Have the cheese and meats cut into individual bites so you can quickly serve the food and not struggle.
Serve the charcuterie board at room temperature. The cheese especially benefits from taking the chill off.
Shop at places like Costco, Whole Foods, or Trader Joe's to find the best wines and perfect food pairings. Costco has everything you need in one spot for a beautiful charcuterie board and incredible wine at good prices.
Have fun! Make this a fun night and don't over think it.
Make Sure Your Charcuterie Board Has These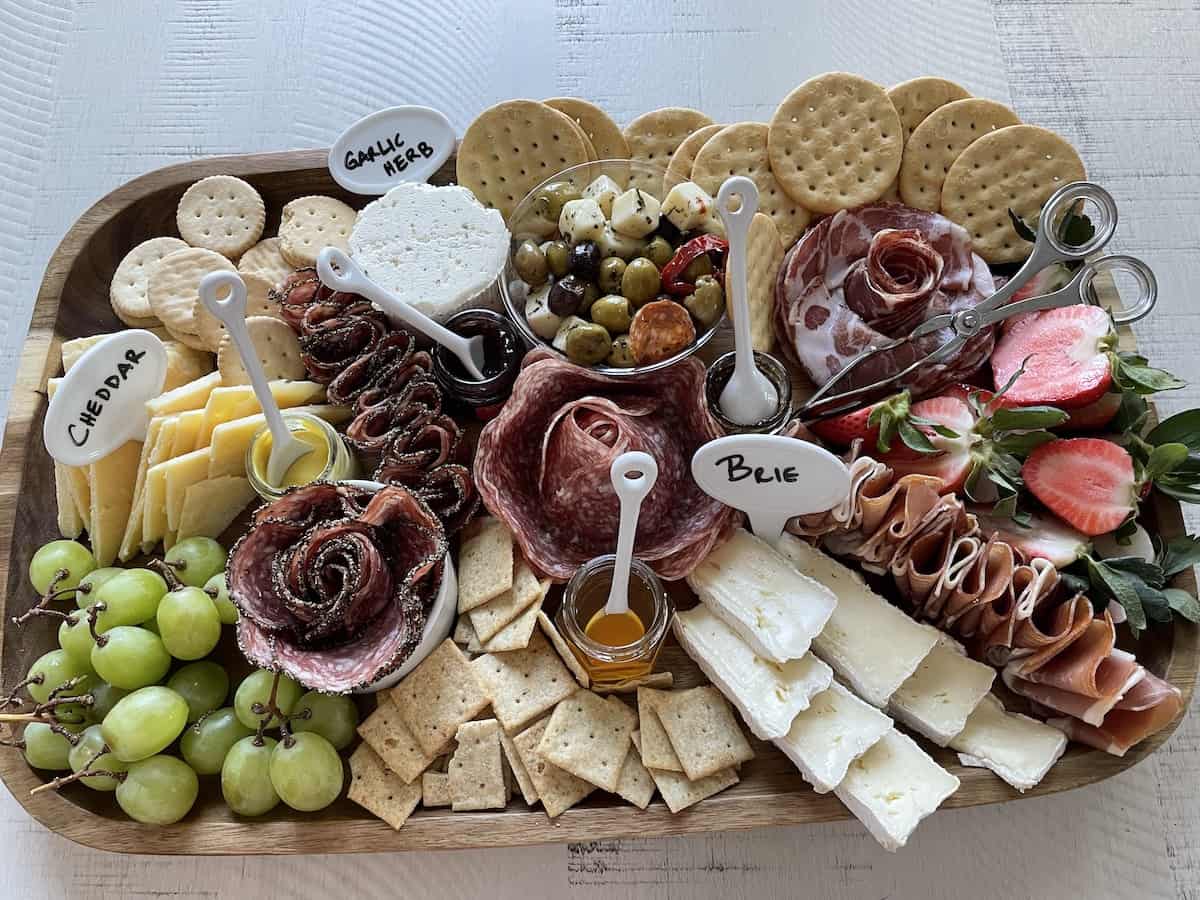 Now that your are armed with everything you need to know to make incredible charcuterie pairings and the best wines to go with, let's put it all together. Keep in mind, that the more people you are serving, the more variety you can add to the board.
Different Meats: go for a couple trusty staples like salami or prosciutto and then add spicy meats like the pepperoni or Calabrese.
Different Types of Cheeses: choose a few cheeses that contrast each other. You want a hard cheese that has been aged for a long time. Aged cheese will have more of kick and nutty flavor. Think about cheddar, parmesan, manchego.
To balance out the hard cheeses, choose a softer cheese with a creamy texture, fresh cheese, or cheese spread. Look for creamy cheeses or semi-soft cheese. Cheeses like brie, goat cheese, or Boursin.
Fresh Fruit, Dried Fruit, Crudité, Pickles or Olives, and Spreads: all of these cured meats and cheeses pack a salty punch, so break that up with fresh foods and items to offset the high salt content. I like grapes, pears, strawberries, apples, dried apricots, or figs. Mixing in some veggies like endive, carrots, bell pepper, pickled vegetables, olives, or gherkens also add a nice texture and crunch to compliment all of this wine and charcuterie.
Check out my full guide to a DIY Charcuterie Board ♥️
My Picks and Best Wines for a Charcuterie Board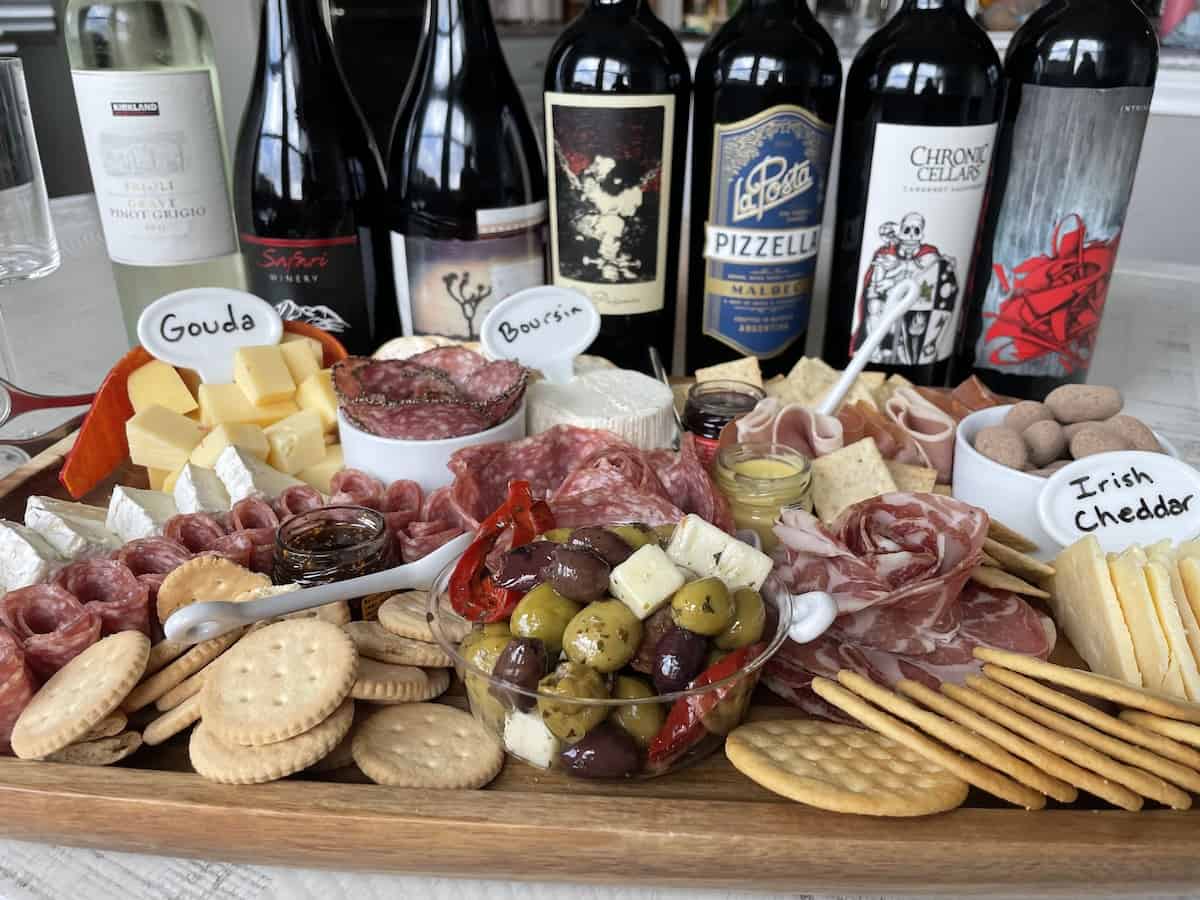 Personally, I prefer a dry wine and don't like anything too sweet. It's tough to recommend wine because its such a personal preference, however, I want to be as helpful as possible so these are my favorites.
A good choice for a medium-bodied red is either Prisoner which is a red blend or for an inexpensive option, Kirkland Signature Malbec found at Costco. Both of these wines are great match for salty and bold tasting charcuterie.
For a lighter red wines, opt for Meiomi Pinot Noir or Duckhorn. Both if these wines are great options because they are easy to find and gentle on the palette.
White wine recommendations include Kirkland Signature Pinot Grigio or Clean Slate Dry Riesling. The pinot Grigio is especially versatile and able to hold up flavor next to aged cheeses and more mild spreads like goat cheese or anything fruity.
If you want more full-bodied reds, look for Justin Wine Cabernet Sauvignon or Rombauer. They are both good options with high ratings that also come at a reasonable cost. Seems to me that the bolder the flavor profile of a wine, the more expensive it gets. Cabs can start to get pretty pricy. Just saying.
Have Fun With Your Wine and Charcuterie Night
I hope all of this was helpful and you have the information you need to create a great night with friends or family. Please comment below if you have any questions or more recommendations for readers.