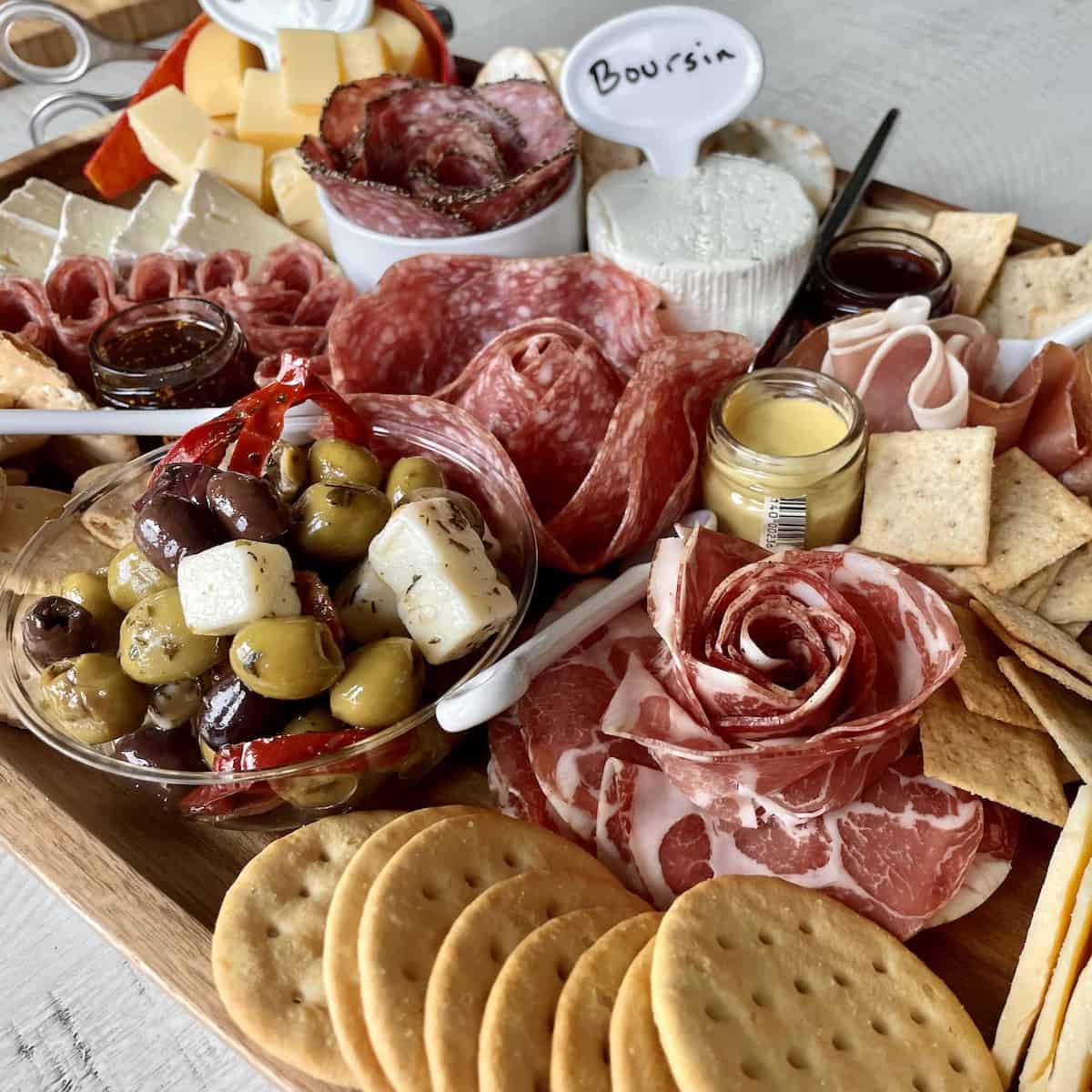 Let's go over my favorite foods, techniques, and tips so you can make a beautiful and delicious diy charcuterie board. By the end of this post you will have everything you need to create a great board for any occasion. This is the perfect party appetizer that will have your guests amazed. Once, you have the basics, the options are endless!
This blog post contains affiliate links. As an Amazon Associate I may earn income from qualifying purchases. Thanks for the support.
What Exactly is a Charcuterie Board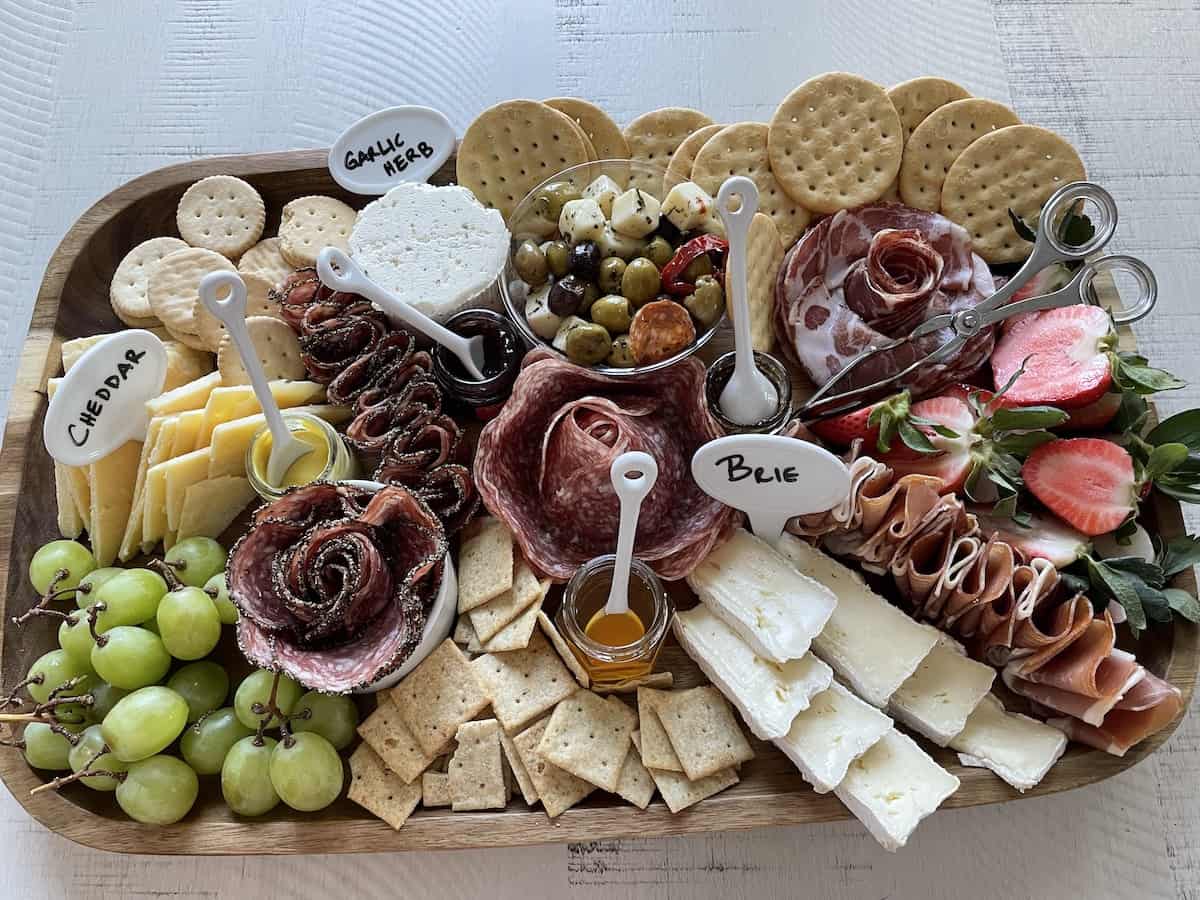 "Charcuterie: cooked, processed, or cured cold meats and meat products, originally and typically pork products, as sausages, pâtés, hams, etc." -dictionary.com
The word charcuterie has gotten a lot of hype over the last few years and charcuterie boards are ultra trendy these days. What you might not know is that it is a French word from the 15th century for cured meat. The process was used to preserve cooked meats so nothing ever went to waste.
So... a charcuterie board is really a variety of cold cured meats. This includes popular cuts such as: salami, prosciutto, capicola, sopresatta, chorizo, pates, and on and on.
How to Make a Beautiful Charcuterie Board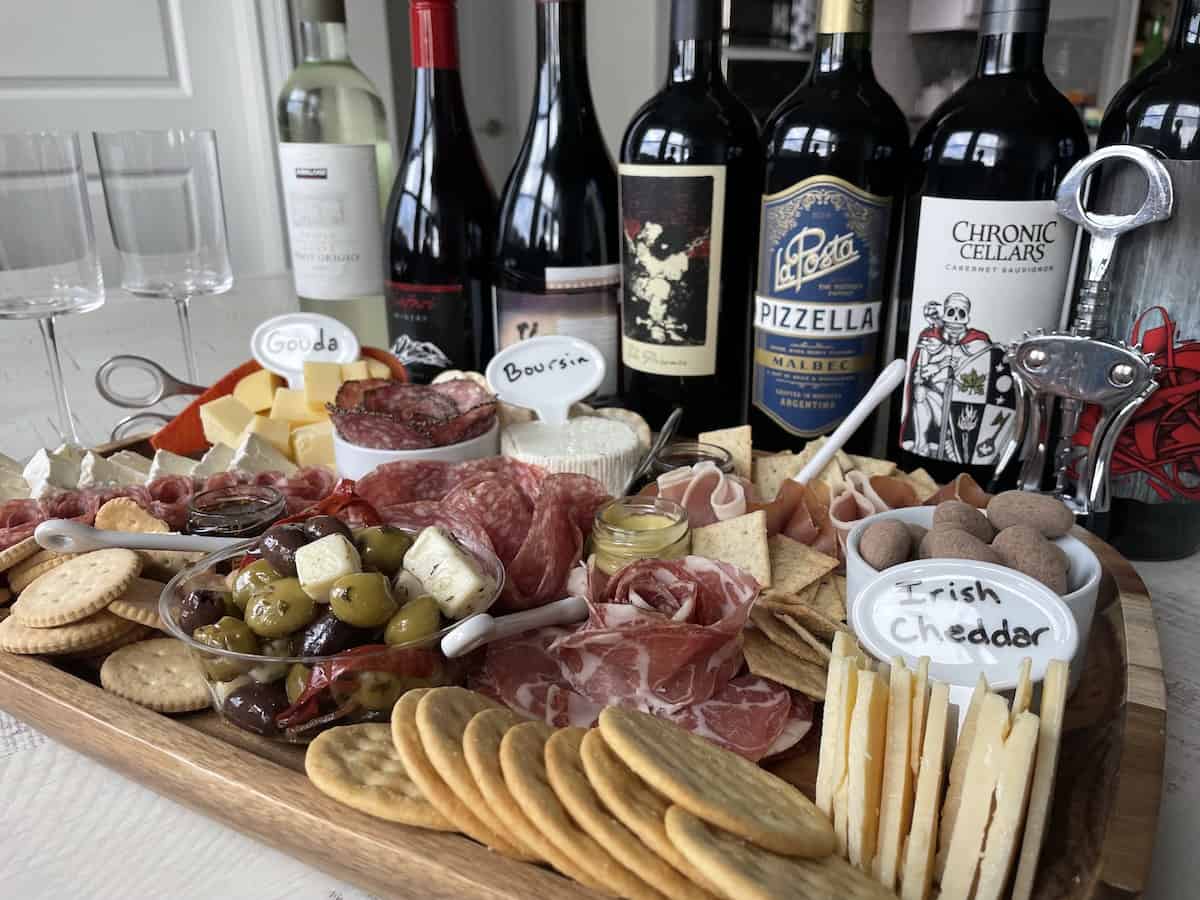 You can and will make a beautiful charcuterie board by following a few simple steps. First, how the ingredients are cut or folded can make the board very ascetically pleasing. Each meat and cheese will look its best when prepared intentionally.
Next tip, create balance by placing similar types and quantities of food across from each other. So a large salami rose on one side of the board opposite from ribbons of prosciutto. Once you lay out your larger quantities of meats, you can add in cheeses that compliment those meats.
Lastly, fill in the entire board and eliminate any empty space. The charm of a charcuterie board is the decorative and beautifully prepared food that has a board completely filled in.
I lay out my own diy charcuterie board like this: Meats->Cheeses->Fruits/Other Ingredients->Dip/Spread->Crackers/Breads->Filler like nuts, olives, etc
All of that being said, it can still be a simple charcuterie board that looks lovely but it is not difficult to make.
Best Meats for a DIY Charcuterie Board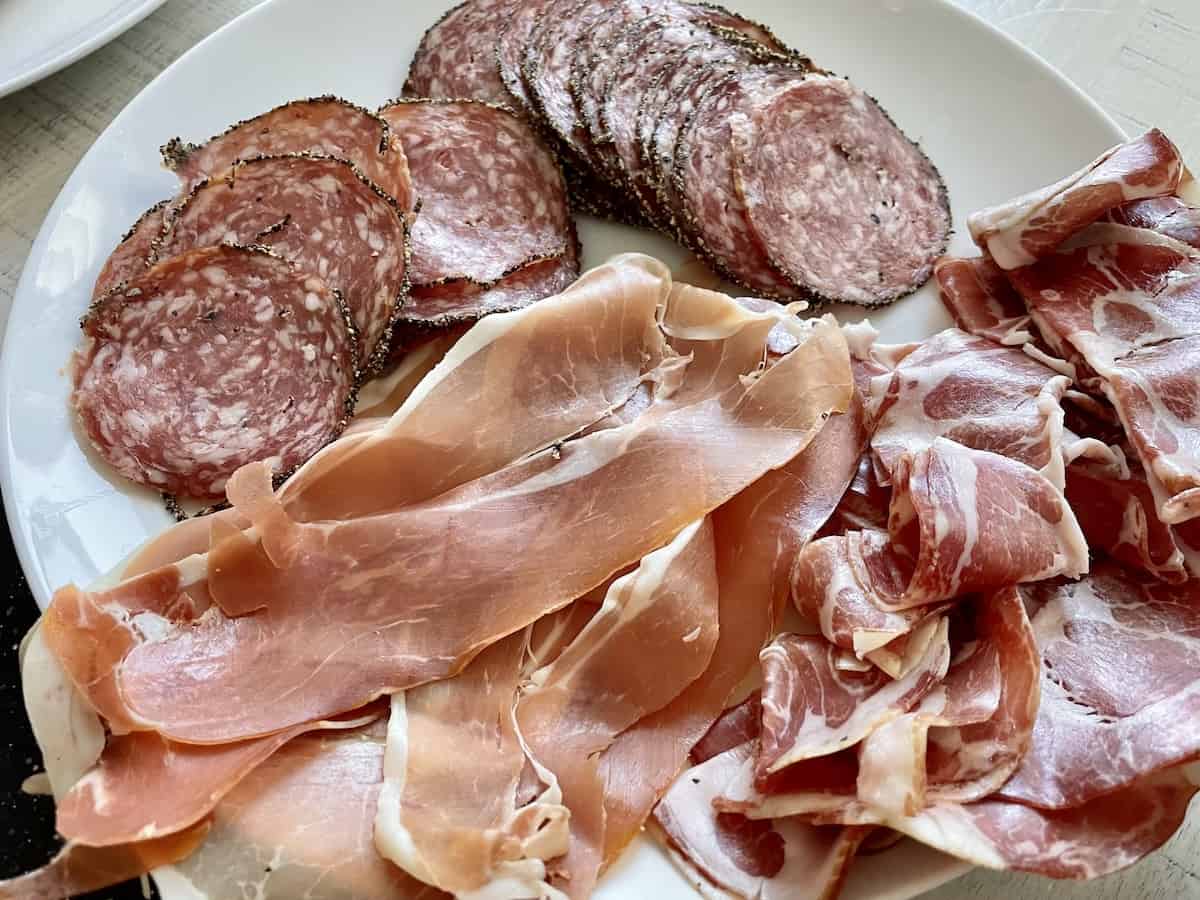 Since the definition of charcuterie is cooked and cured meats, they are the only must have ingredient to make a real charcuterie board. There are so many great types out there ranging from salami, prosciutto, capicola, pâtés, and on and on.
My two favorite charcuterie meats are Genoa salami and prosciutto. I like them because they have a great salty flavor without being over powering. Both meats also pair really well with a variety of cheeses and spreads. Salami holds up nicely to different mustards and harder cheeses. Prosciutto is very mild and can fit in with sweeter spreads and fruity flavors.
How to Fold Charcuterie Meats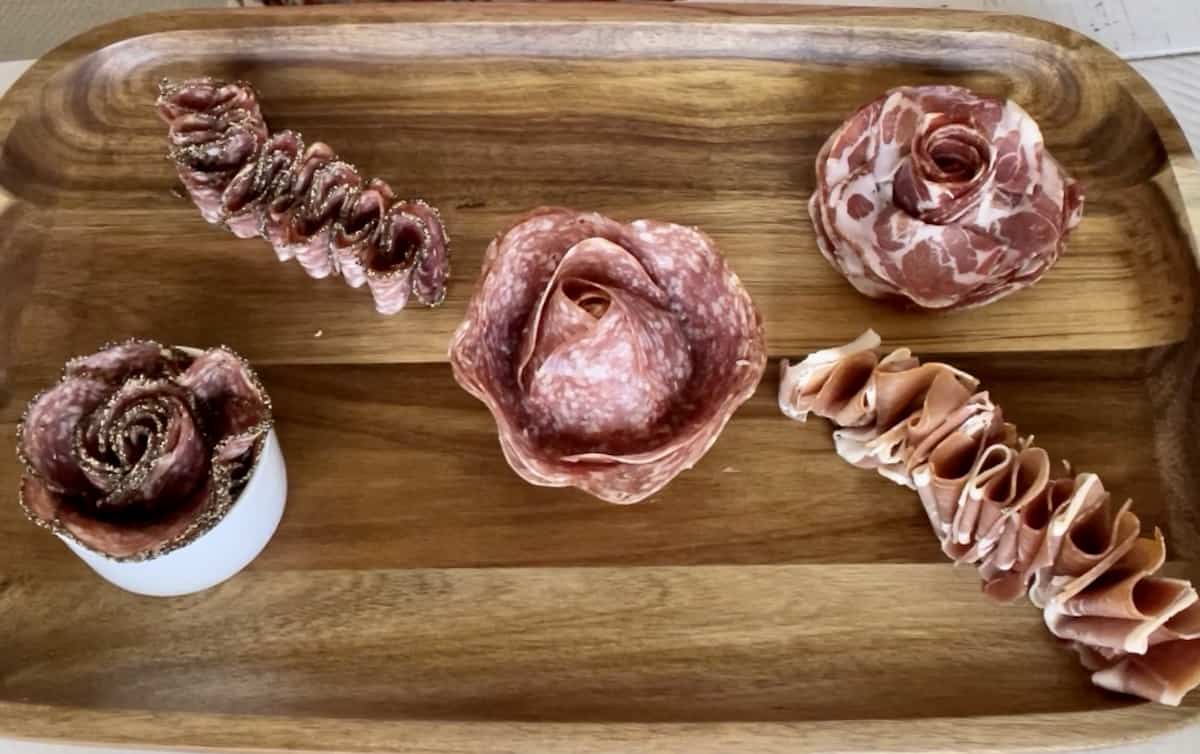 When it comes to a diy charcuterie board, presentation is everything. However, its easier than it looks. Each of these techniques takes just a moment to lay out.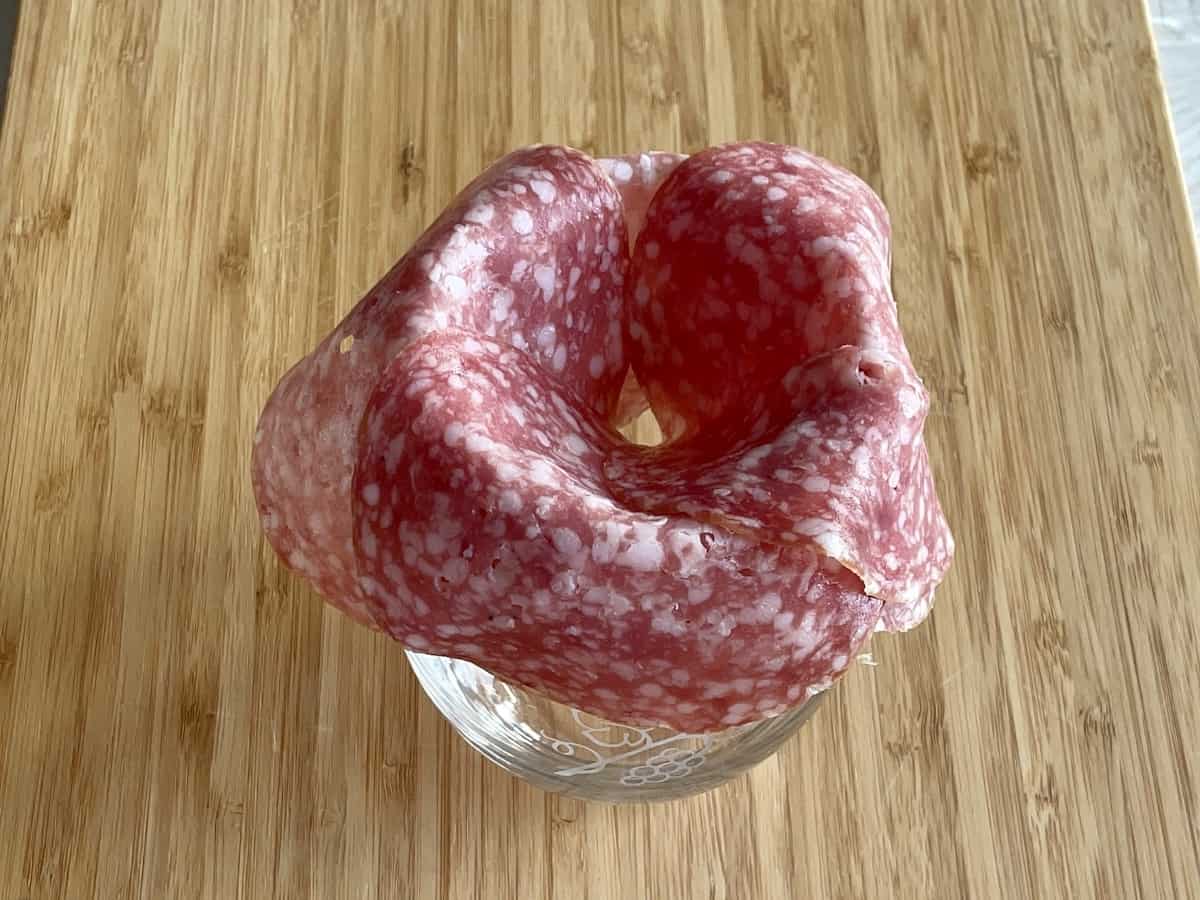 Create a large rose by overlapping bigger salami slices around the rim of a stem wine glass. Do this at least 3 times and then flip it over into your board and remove the glass. You will have a beautiful rose to put in the center of your serving board.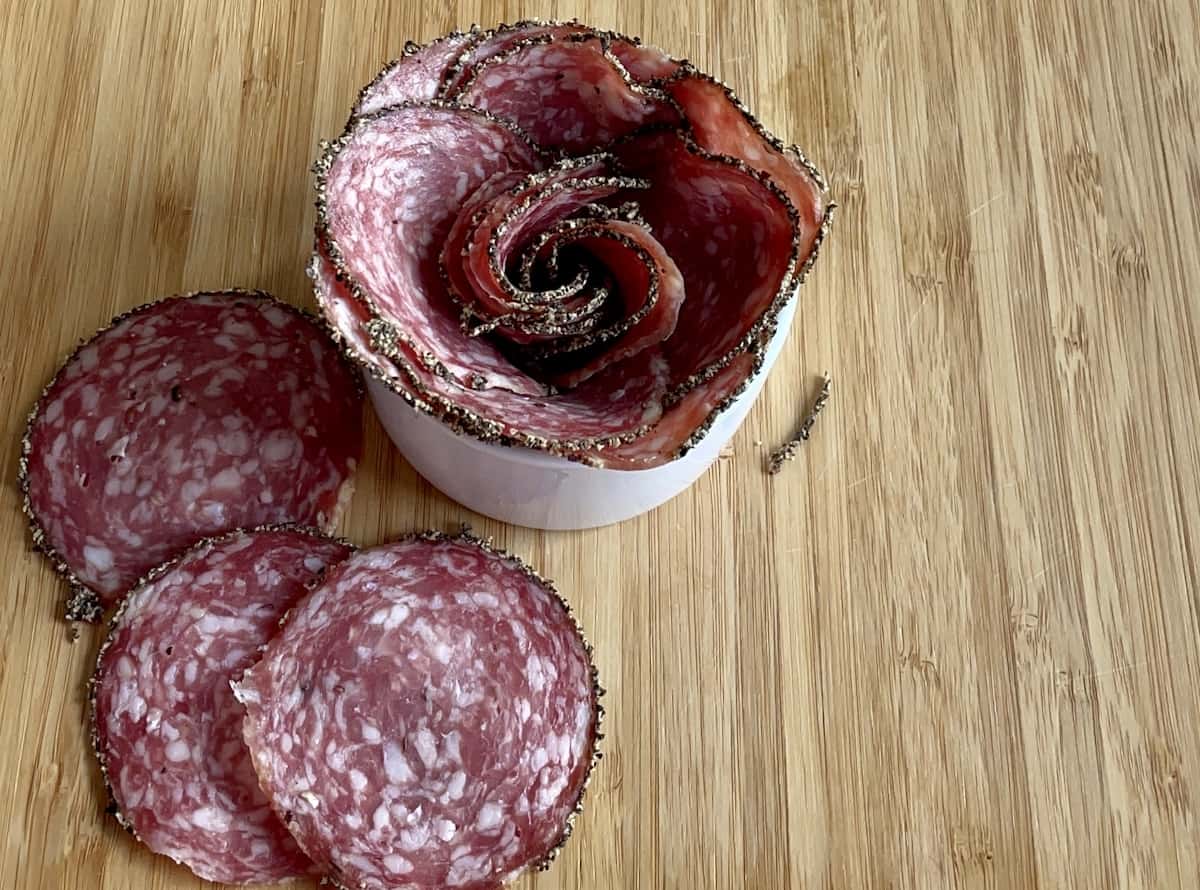 For smaller salami, you can overlap slices around the edge of a small bowl and then create a rosette in the middle. Simply fold salami in half and line up like a little train. Roll that whole train up to make a rosette and set it in the center of the bowl.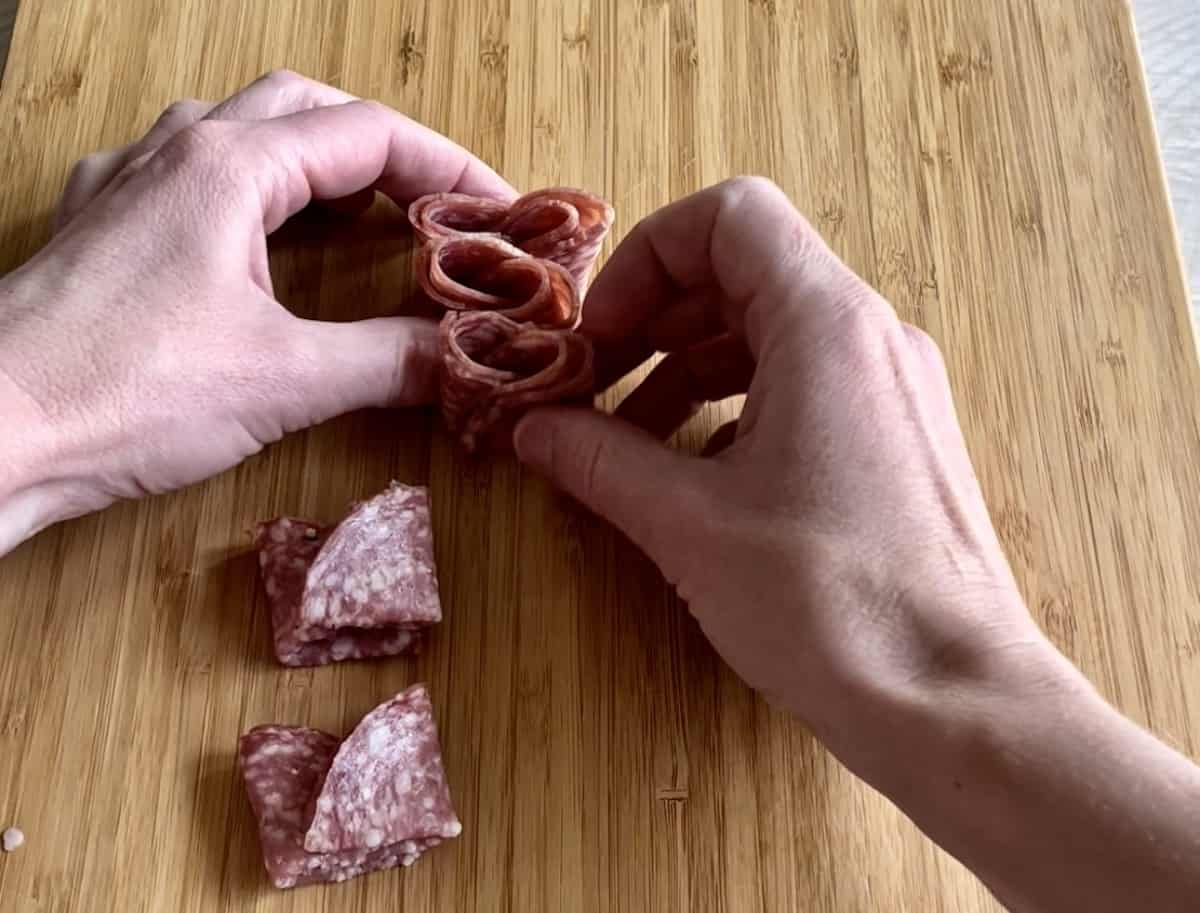 Another option for circular cuts or meats such as capicola you can make a little ribbon stacked up on end. Fold each piece in half and then in half again. Interlink two pieces of meat together and stack up to form a long line or train of meat on your charcuterie platter.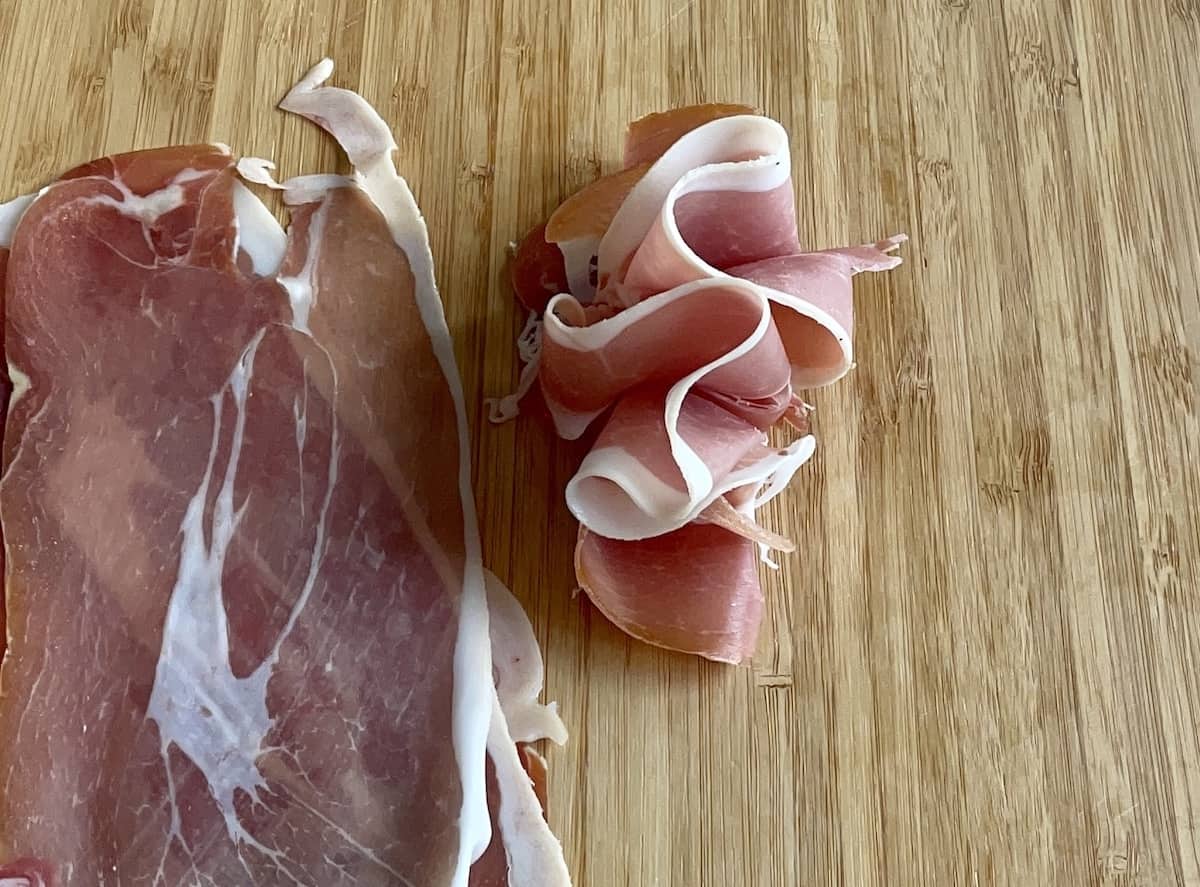 Lastly, prosciutto. Use an accordion fold going back and forth with the prosciutto like you are folding a paper fan. Then pinch the middle and give it a gentle fold in the middle. They this down on your board for a ribbon effect.
Making a Great Cheese Board
I love cheese. But there are so many types of cheese, it can get a little overwhelming. What cheese goes best with what meat? Or spread? Let's look at cheese types and then you choose 1-2 from each category so that you have a nice variety of cheese with different textures and lots of flavor. Also, choose various cheeses that can be cut into different shapes.
Soft cheeses: brie cheese (a must have in my opinion), spreadable cheese with herbs such as boursin or alouette, goat cheese, cream cheese paired with a fruity sauce, blue cheese,
Hard Cheese: aged cheddar cheese, smoked gouda, gruyere, manchego,
Almost every time I make a diy charcuterie board, I include brie, Irish cheddar, and smoked gouda. However, making a board like this is a real opportunity to use up any random cheeses you have leftover in the refrigerator.
**Tip: make sure to serve your charcuterie board at room temperature. The flavor from the cheese will come through much better and the soft cheeses will be easier to spread.**
Including Some Fresh Ingredients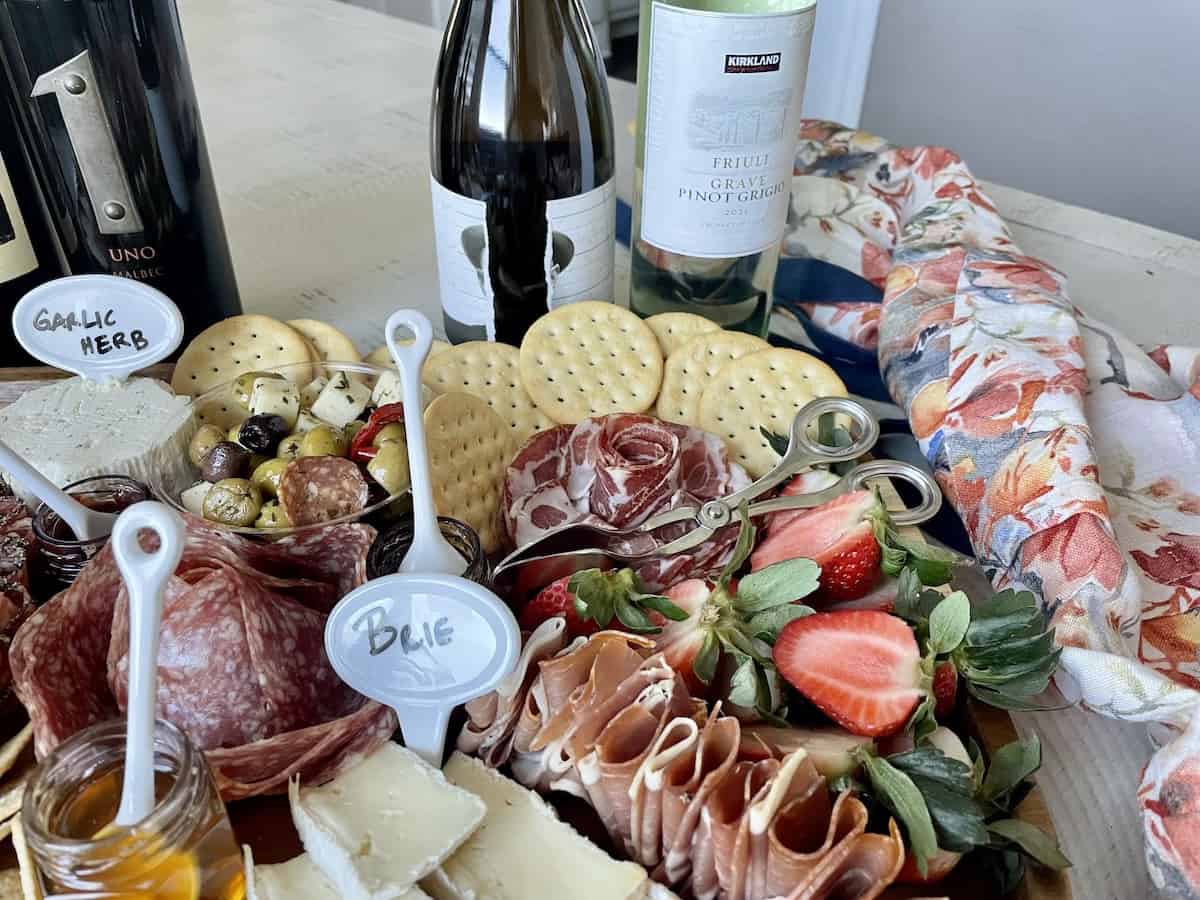 Now that we've covered all of that meat and cheese goodness, we can freshen up the charcuterie board and our palette. In walks fresh fruit. Pick two or three fresh ingredients to brighten up the board. Wash, dry, and cut all of the fruit so it is easy to serve. Here are my favorites to include on my boards:
Grapes- green or red
Strawberries- cut in half through the center with the stem on for presentation
Apples slices
Pear slices
Orange segments
Figs- cut in half or quarters
Cherry Tomatoes
Sliced Cucumber
Dried Fruit- apricots are great
Sliced Bell Peppers
Another great way to break up the flavors on a classic charcuterie board is to include olives, Marcona almonds, gherkins or small pickles.
To brighten up the garnishes, add some fresh herbs for the color and aroma.
Charcuterie Spreads and Mustards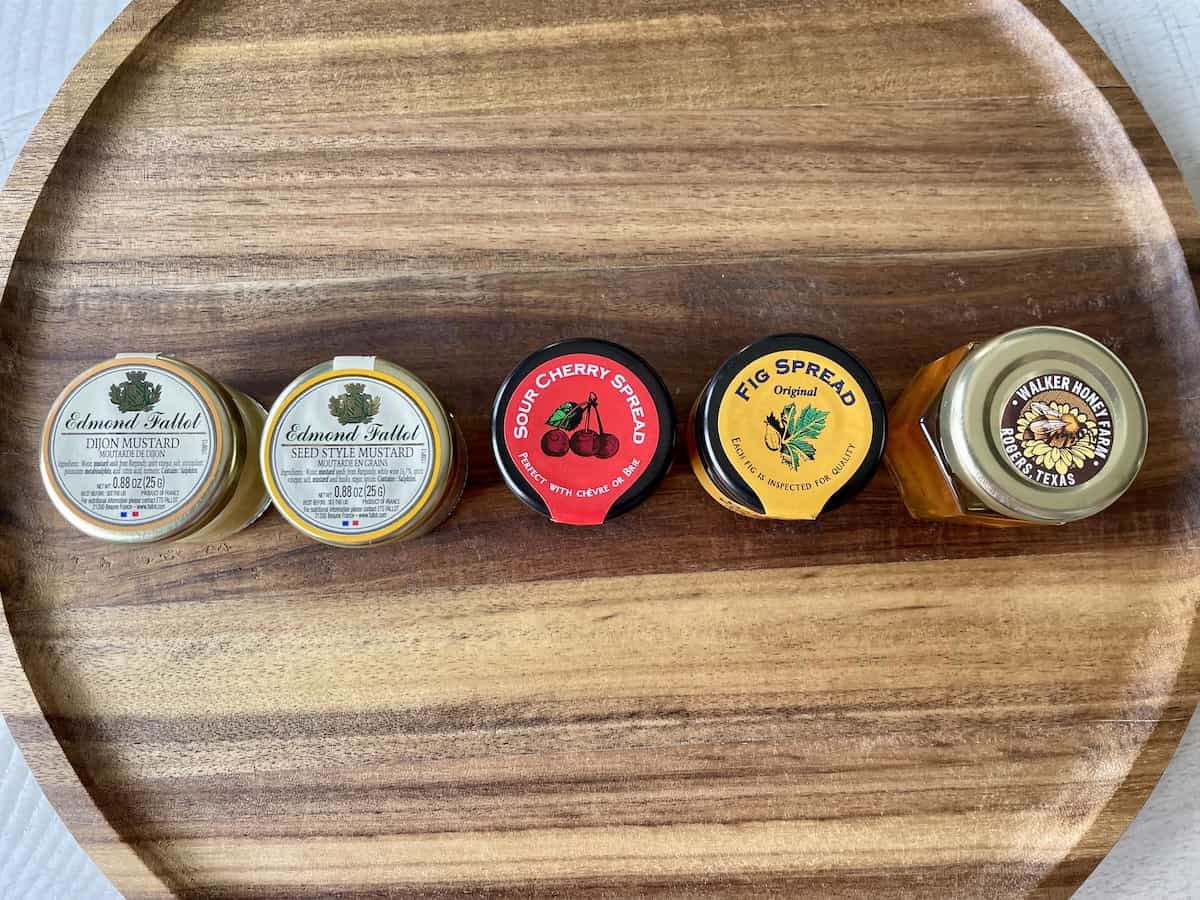 First of all, I like little jars. I think they are cute. Also, we need something to help our meat and cheese stick to the crackers. Choose a few so you have a variety of flavors.
Mustard- whole grain mustard or dijon mustard are most commonly used
Fig jam- an absolute must have ingredient
Cherry Spread
Quince- another popular spread but I've never actually seen this fruit in real life
Honey
Olive Tapenade
Crackers, Breads, Carbs...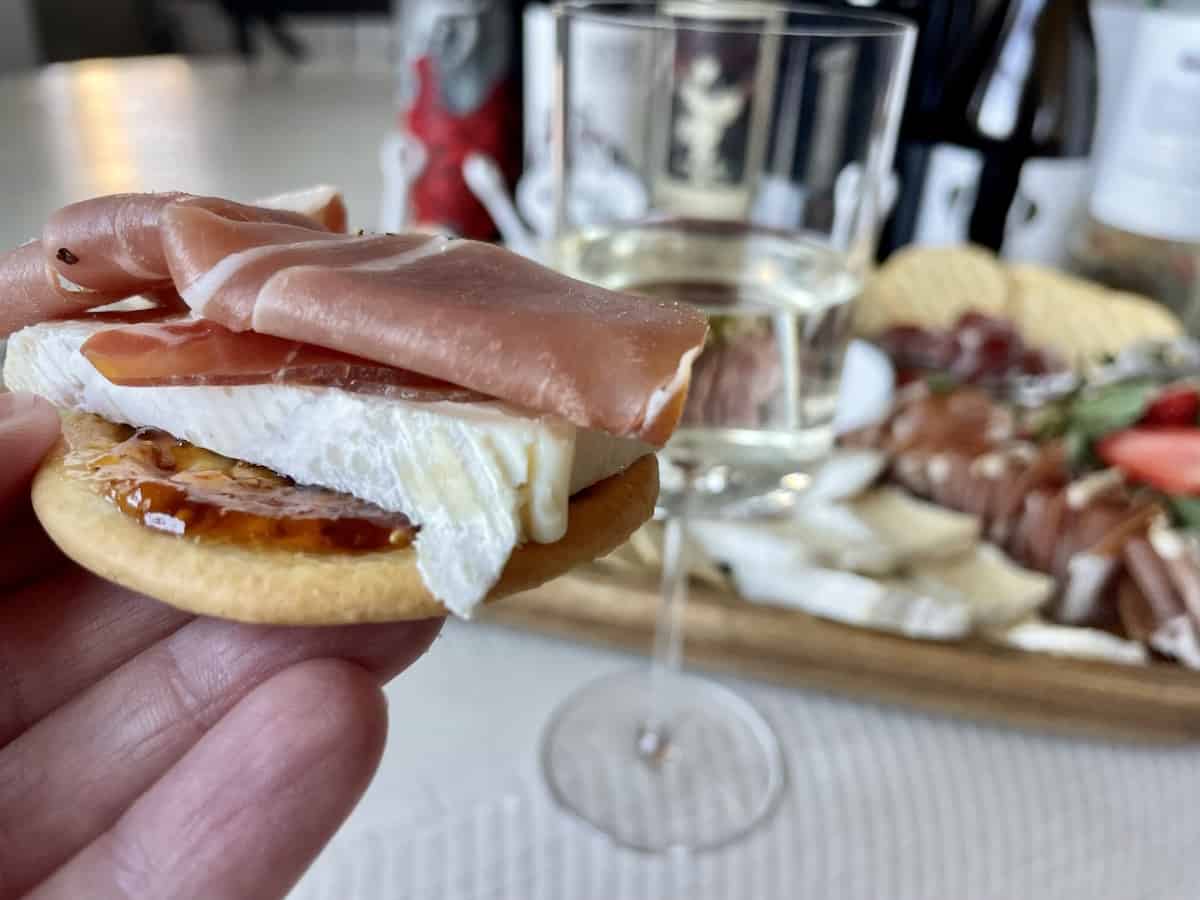 Last ingredient to talk about. Choose a few crackers with different textures as the vehicle to get all this delicious charcuterie food in your mouth. French baguettes or toasted crostini are a great addition. Mostly, you just need a little crunch and something to set up with all of these toppings.
What Kind if Board Should I Use?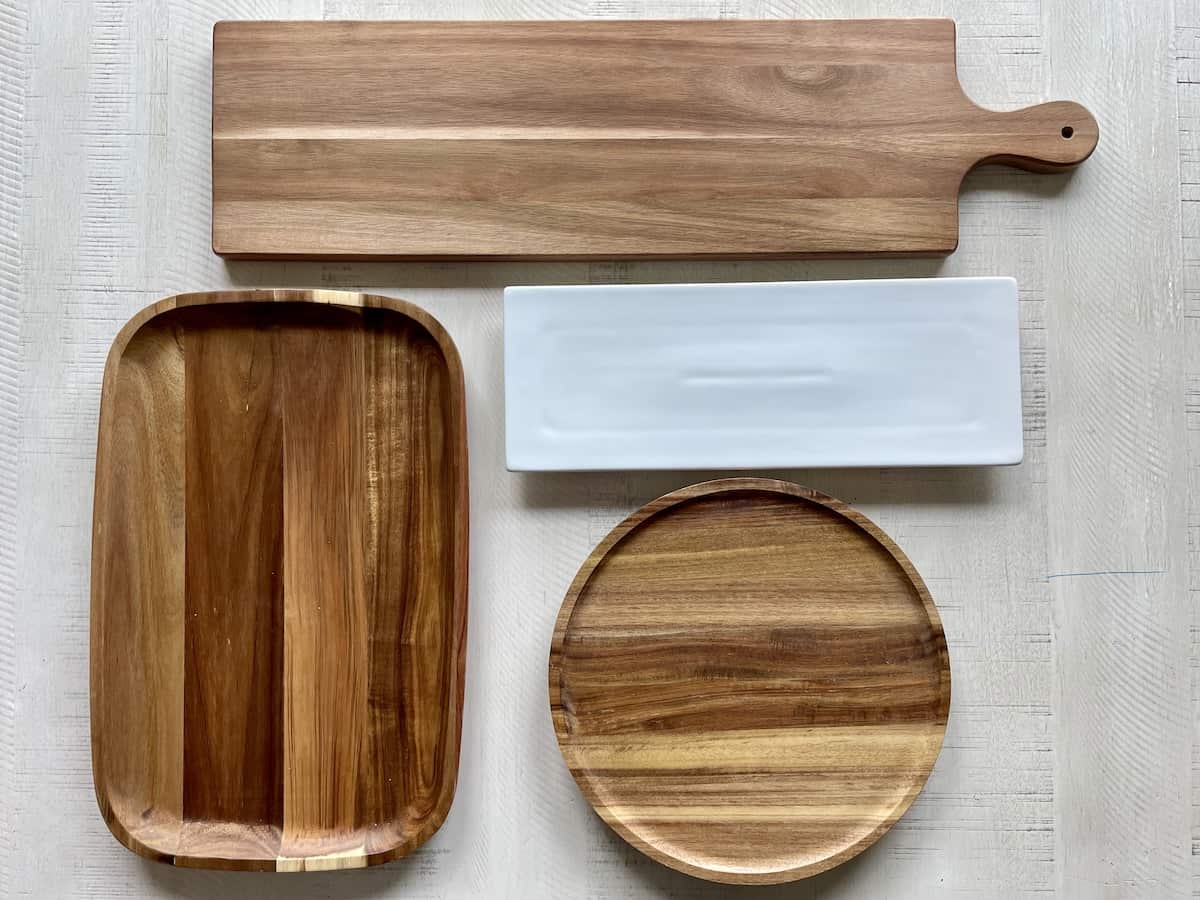 When it comes to shopping for a charcuterie board or choosing one of your own platters to use, just keep in mind a few things.
Consider the size of the board and make sure its right for how many people you are serving. A large board should be able to feed 8-10 people when its filled. I would choose a smaller board to be the perfect appetizer for 6-8 people.
Choose a board with a raised edge if you will be moving the board from one surface to another. If the board isn't moving at all, you shouldn't worry.
A wood cutting board is of course an option if you don't have a big board specifically meant for charcuterie.
Other materials like porcelain or glass platters can also be used to serve.
Shop for serving platters and great appetizers with Sur La Table.
Charcuterie Board Serving Supplies and Accessories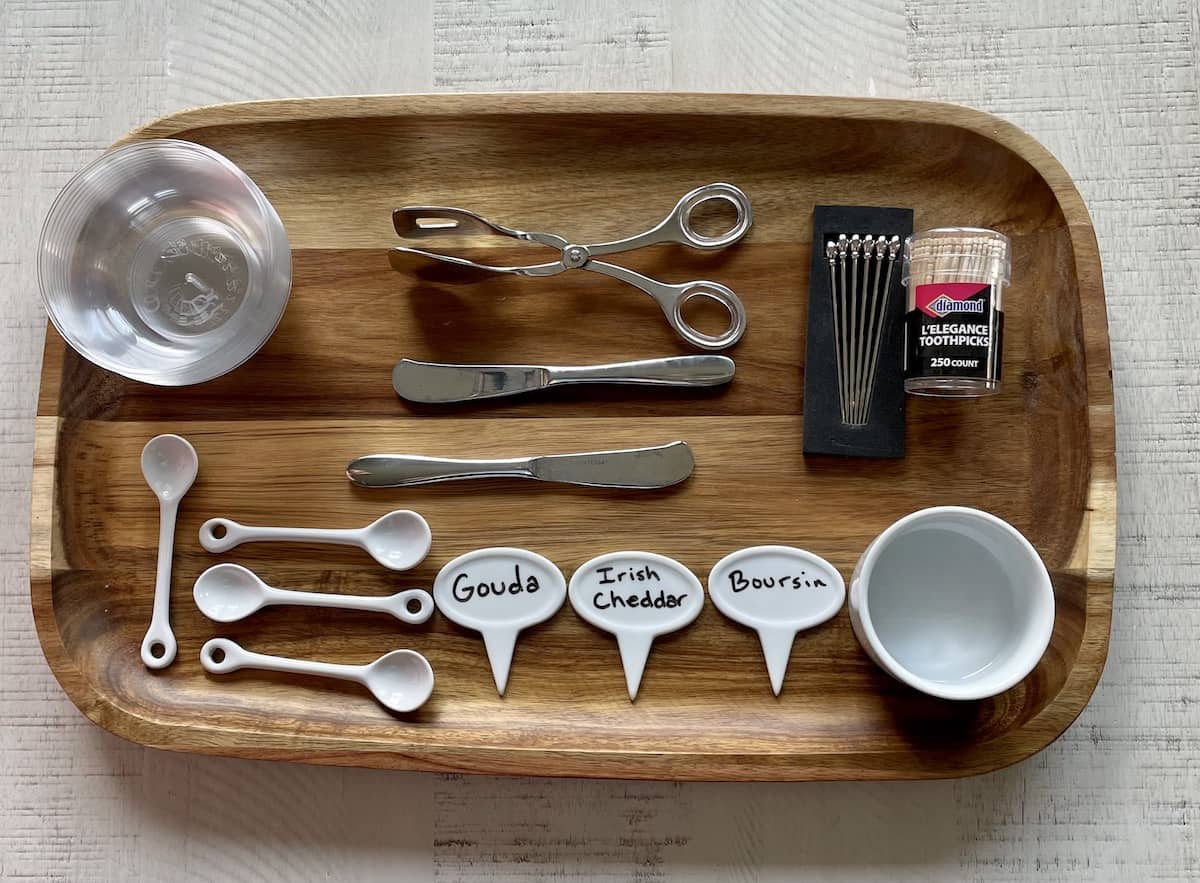 We are just about done and onto the details now. Over time, I found that these items help make serving the various meats and cheeses just a little easier.
Small Bowls- this is for things you may want to keep together like spreads and dips
Toothpicks or Appetizer Picks
Small Tongs
Tiny Spoons- for spreads and jams
Favorite Places to Shop Charcuterie Board Ingredients
Costco is hands down the best place to shop for a variety of meats and cheeses which can be so expensive in grocery stores these days. They offer a great assortment of meats and variety packs of charcuterie that are perfect for a special occasion. Costco also has a great selection of cheeses. While you are there, you can also grab a couple nice bottles of wine 😉 Check out my wine pairing guide for charcuterie boards also.
Other places to shop for great specialty items include Whole Foods, Trader Joes, and HEB (if you are in Texas).
DIY Charcuterie Board Recipe Card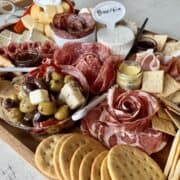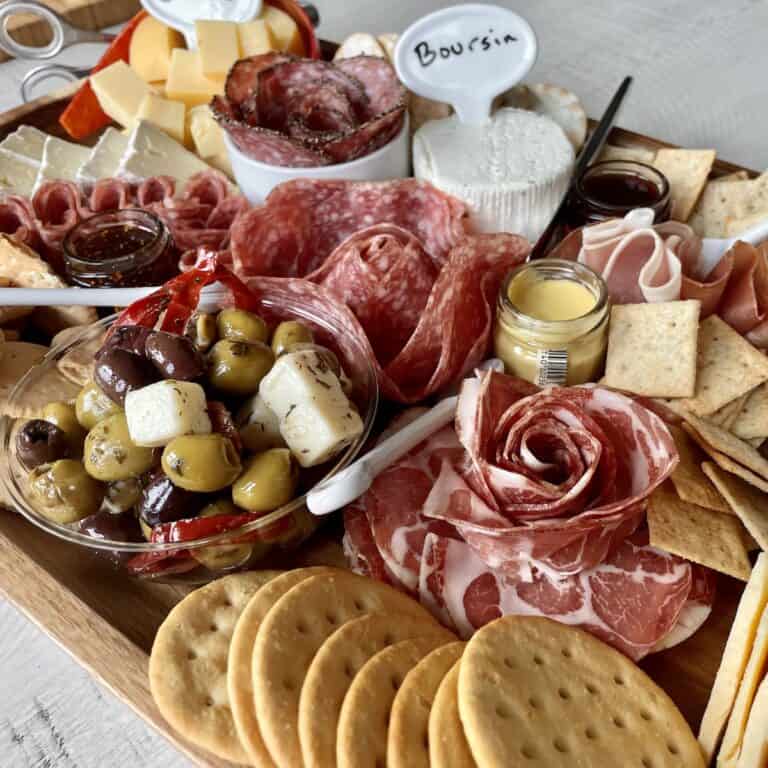 Print Recipe
DIY Charcuterie Board
A large board with assorted charcuterie meats, cheeses, spreads, crackers, fruits, and spreads. Great for serving as an appetizer with wine or cocktails.
Equipment
1 Wood Board

1 sharp knife

1 Cutting

Disposable Food Safe Gloves

**optional, not required
Ingredients
4

ounces

salami

4

ounces

prosciutto

4

ounces

spicy salami

spressata, calibrese

6

ounces

brie cheese

6

ounces

sharp cheddar

4

ounes

herbed cheese

Boursin or alloette

assorted crackers

8

ounces

green or red grapes

8

ounces

strawberries

washed and cut in half with the stem on

2

ounces

mustard

whole grain or dijon

2

ounces

fruit spread

fig, sour cherry, quince

mixed nuts

gherkins or assorted olives

**optional
Instructions
Begin assembling the charcuterie board by folding the salami and prosciutto in decorative patterns. Place them in the charcuterie board through the center, but leaving space in between for other food items.

Next, prepare the cheeses by cutting into individual pieces and laying on the board in small decorative piles or design to fill in around the meat.

Now place the jars of mustard and fruit spread.

Add anything being served in a small bowl such as olives or gherkins.

Lastly, add some assorted crackers, prepared fruit, and mixed nuts to fill in any empty space.
Notes
When designing your charcuterie board put like items next each other. For example, brie and prosciutto pairs together nicely with a fruit spread. Place salami next to sharper cheeses like aged cheddar and have the mustard close to them.
Eliminate empty space by keeping ingredients tightly together and fill in with nuts, candy, or fruit at the end. 
Nutrition
Calories:
308
kcal
|
Carbohydrates:
8
g
|
Protein:
15
g
|
Fat:
24
g
|
Saturated Fat:
11
g
|
Polyunsaturated Fat:
2
g
|
Monounsaturated Fat:
8
g
|
Trans Fat:
0.02
g
|
Cholesterol:
63
mg
|
Sodium:
767
mg
|
Potassium:
190
mg
|
Fiber:
1
g
|
Sugar:
5
g
|
Vitamin A:
353
IU
|
Vitamin C:
17
mg
|
Calcium:
202
mg
|
Iron:
1
mg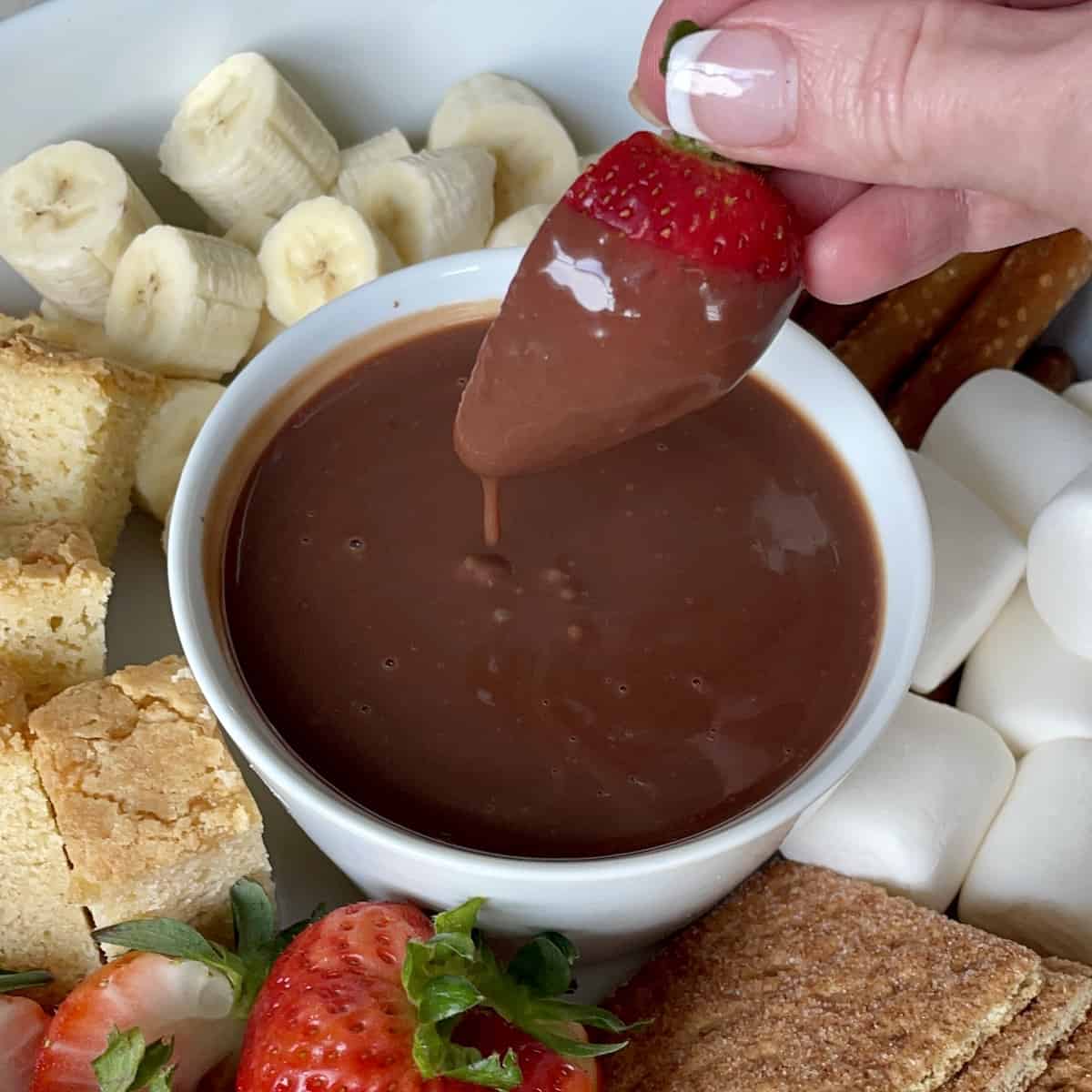 If you want a fun dessert that matches up nicely with a charcuterie board, check out this Chocolate Dipping Sauce. Serve it along side fun dippers like fresh fruit, marshmallows, and pretzels rods.