After lots of searching and testing, I finally have the best beef jerky recipe for a Traeger pellet smoker. We just need a simple jerky marinade and patience while we wait for our beef jerky to cook on our Traeger Grill. The final product is a delicious chewy beef jerky that you will want to make over and over again.
This blog post contains affiliate links. As an Amazon Associate I may earn income from qualifying purchases. Thanks for the support.
What You Get From Smoked Beef Jerky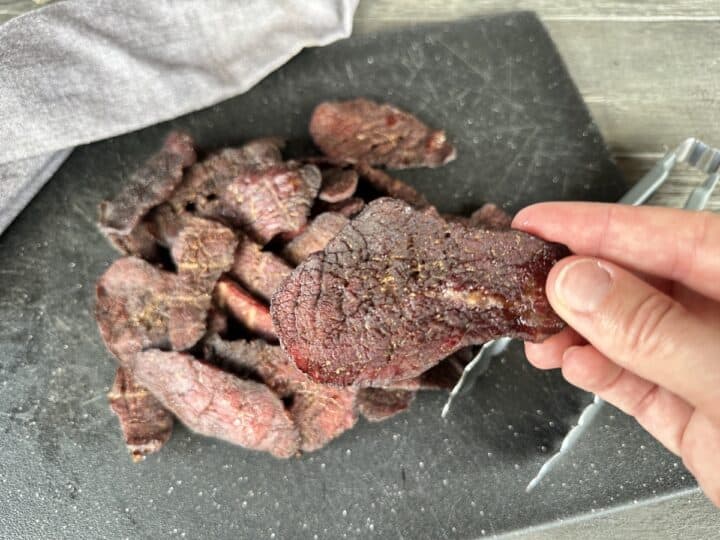 Making beef jerky on a smoker is better than making it with a dehydrator or oven because we get the chance add even more flavor. Drying out and curing meat with salt and low heat source is good, but why not shift the process to our pellet grill. A pellet grill or even electric smoker is perfect for jerky because they are able to consistently maintain a very low temperature. It's a great way to cook a big batch of jerky and I love it.
The consistent low temperature will dry and cook the meat slowly. This creates a finished product with a good chew, but it is still tender enough to easily eat.
Why Making Homemade Beef Jerky Is Awesome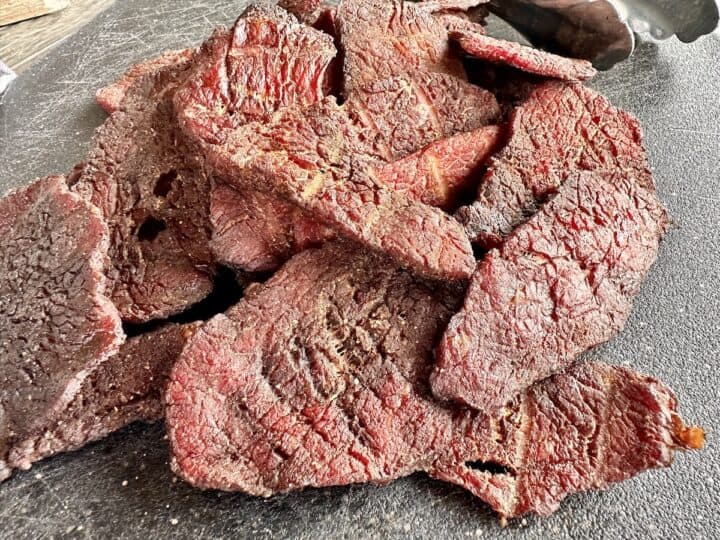 There are three great reasons for making beef jerky at home. First and foremost, you get to eat exactly what it is you are craving. There's no need to compromise on flavor when you choose the ingredients. If you like lots and lots of black pepper like I do, you can add as much as you want. If you are craving something sweet and sour, make it happen. This is your beef jerky.
Another great reason is that you get to choose the quality of ingredients and save money doing it. Buying beef jerky from the grocery store is expensive. You can smoke your own jerky at home with a better quality meat and know how fresh the ingredients are that go into making your food.
Lastly, its fun. Sometimes cooking is a chore. It can be labor intensive and requires clean up after. That's not the case with beef jerky. We need to slice the meat, get it in a marinade, and the next day we smoke it for a few hours without any more thought. It couldn't be easier.
What Cut Of Beef Is Best For Beef Jerky?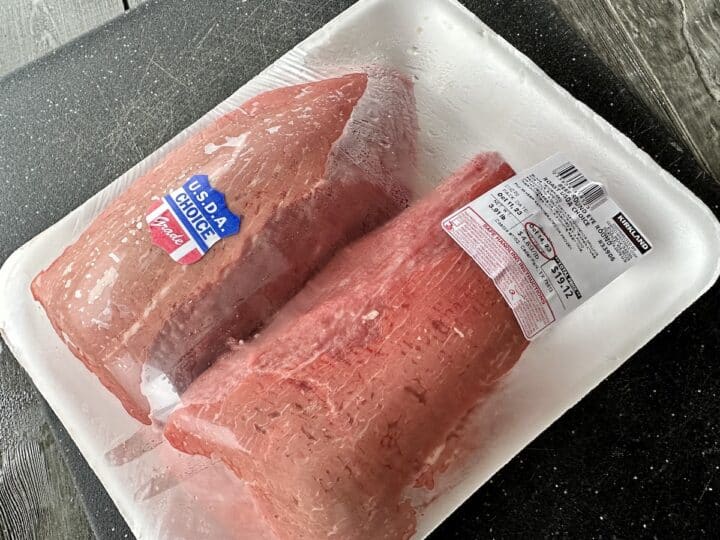 There are a few different cuts of beef that you can choose from for homemade beef jerky. The best cuts of beef to use for jerky are a lean cut that doesn't have much excess fat. Good options are inexpensive cuts of beef like a loin roast (aka sirloin tip roast), flank steak, eye of round or top round. Although its less common, London broil is another good option because it inexpensive and comes from the same section of a cow as the Round.
For the recipe below, we are using an eye round or top round roast. The top round is a muscle that doesn't get used much, so it's more tender than some of the other roast options. It's also a great choice because of the shape that we get when we slice the roast and its very lean.
How to Prepare the Jerky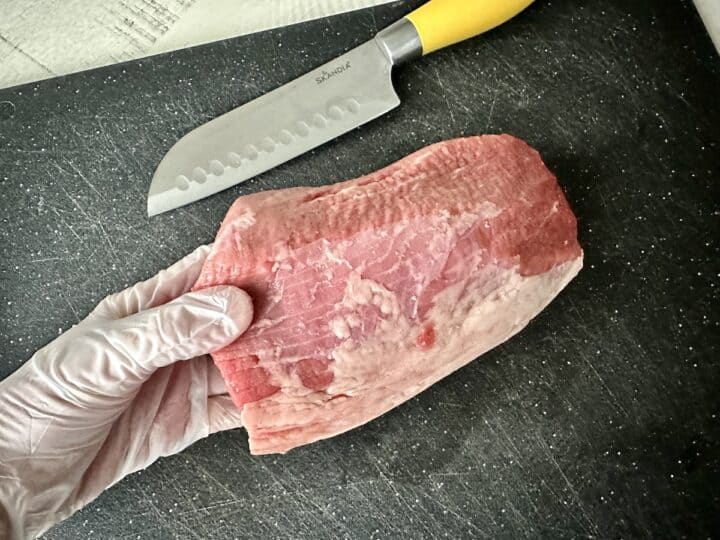 When it comes to making beef jerky, slicing the beef is as important as the marinade and cooking process. The very first step is to trim any excess fat from the outside of the beef. Then, in order to get really thin slices of beef the cut needs to be partially frozen. After the outside is trimmed, wrap the roast it in plastic wrap and pop it in the freezer for 2-3 hours. This way I get the best results with a very sharp knife to get ultra thin slices.
If you have a meat slicer, I think that's awesome. If this is your first time making beef jerky and you're not ready to invest in special equipment, you don't have to. You will have delicious jerky and it will have a great texture.
How To Slice The Beef
After the outside of the beef has firmed up from being in the freezer, pull it out and discard the plastic wrap. Using a sharp knife, cut thin slices about ⅛" against the grain. Thinner strips will dry out quickly and evenly. Make sure to check out my YouTube video to see how I like to do it.
Beef Jerky Marinade Ingredients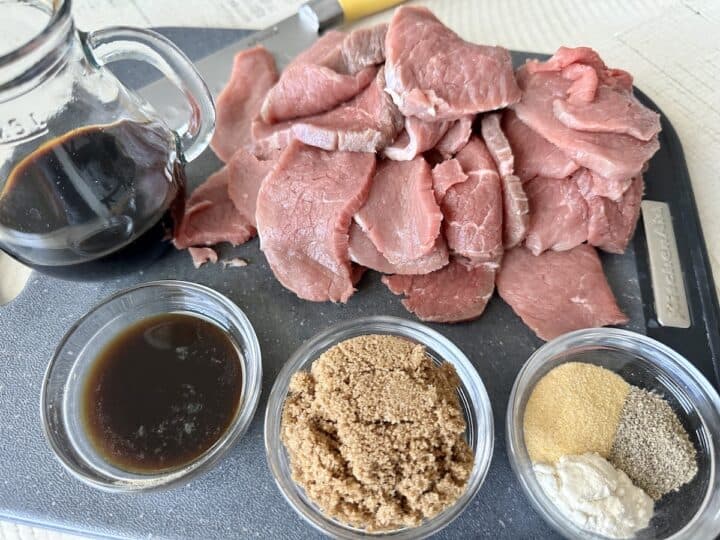 This is an incredibly easy recipe for homemade jerky. I used my basic meat marinade for inspiration which is my go-to when I don't have a dinner plan already in the works. We are going to get great flavor from soy sauce and Worcestershire along with some spices to turn the flavor up a notch.
To make the marinade we need:
low sodium soy sauce
Worcestershire sauce
onion powder
brown sugar
black pepper
garlic powder
*Use low sodium soy sauce. The first batch of jerky I made was too salty. Since the jerky strips are cut so thin and I let it marinate for a long time, less salt is better.
Options if you want even more flavor:
Red pepper flakes- for some added heat
Cayenne Pepper- for even more heat
Liquid Smoke- if you're here because you love the flavor from cooking on your smoker, you may want to add a little more smoke flavor with ½ of a teaspoon of liquid smoke
How Long To Marinade Beef Jerky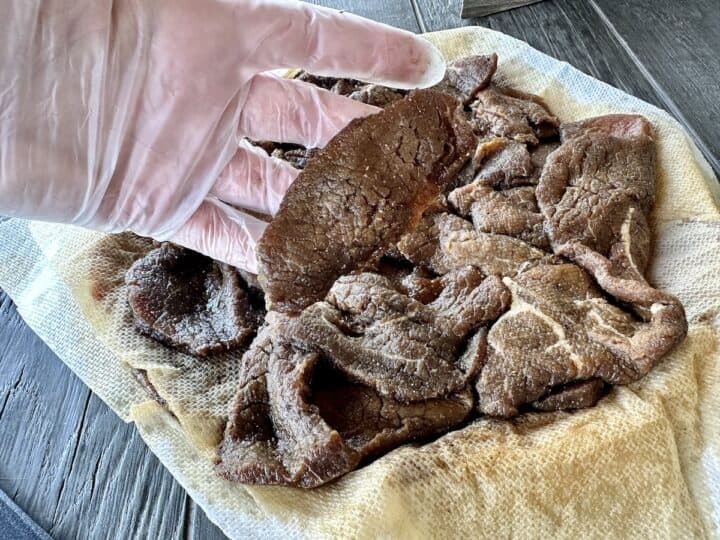 ​After the meat is thinly sliced, mix up the marinade. Combine the marinade and sliced beef in a large ziplock bag and let it marinade for 8-24 hours. I always marinade my beef overnight to lock in the most flavor. Any sealed container will work. I like using a sealable bag so I can move the meat around in the marinade and massage it in.
The Beef Jerky Smoking Process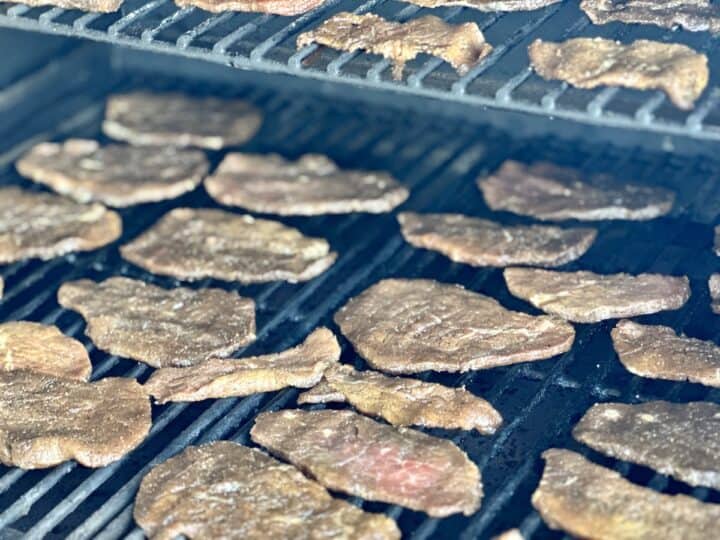 Now for the easy part. Let's fire up the smoker to 175˚F. While the smoker heats up, we will get our marinated beef slices ready.
Start by draining the excess marinade. Lay out a few paper towels and blot the strips of meat so they are not drenched in liquid anymore. The wetter the meat, the longer the drying time.
Once the smoker is up to temp, you have two options. You can lay the sliced beef in a single layer directly on the grill grates or smoker racks. Or, you can lay the beef jerky on wire racks from a baking sheet and place the racks inside the smoker. The benefit of using the wire racks is that you will have the smoker open for less time when getting the jerky into the smoker. Honestly, it doesn't make a huge difference either way.
It is going to take quite a long time to smoke the beef jerky since we are cooking at such a low temperature, but that just means you are free to hang out and relax while the jerky does its thing. The cooking process will take 3-4 hours. You can flip the beef jerky and move it around halfway through so that all of the slices cook evenly, but it's to required.
How to Store Homemade Beef Jerky
As soon as the jerky is done cooking, I pull it off the grill and put it in a large zip top bag or airtight container to lock in the moisture that the jerky still has. The beef jerky can stay at room temperature for a few hours, but it should be refrigerated.
It's good in a salad container in the fridge for up to two weeks. Homemade beef jerky is a great snack for kids lunches and gets a little extra homemade protein in them to keep them going throughout their day.
Smoked Beef Jerky Recipe Card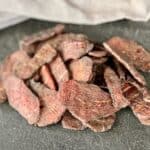 Print Recipe
Traeger Beef Jerky
Thinly sliced beef top round in a delicious marinade and smoked low on a Traeger Grill for perfect chewy beef jerky.
Equipment
1 Traeger Grill

1 sharp knife

1 cutting board

1 gallon sized zip top bag
Ingredients
2

lbs

eye round roast

see below for other optional cuts

½

cup

low sodium soy sauce

2

tablespoon

worcestershire sauce

¼

cup

brown sugar

2

teaspoon

granulated garlic

2

teaspoon

onion powder

2

tsp

black pepper
Instructions
Prepare the Beef for Slicing
You have two options for prepping the beef for slicing. If the beef is frozen, bring the roast out at room temperature for 1-2 hours or until the beef is still partially frozen but able to be sliced.

The second option is partially freeze the top round. Wrap the beef in plastic wrap and place in the freezer for 2-3 hours.

Using a very sharp knife, thinly slice the beef to an ⅛".
Mix the Marinade
Combine the soy sauce, worcestershire sauce, brown sugar, garlic powder, onion powder and black pepper.

Add the beef to a zip top bag and poor the marinade over it. Rub in the marinade and place in the refrigerator for 12-24 hours.
Smoke the Beef Jerky
When you are ready to smoke the beef jerky, start by preheating your smoker to 175F.

Remove the marinated beef and blot with a paper towel to remove the excess liquid.

Once the smoker has reached 175F, lay our the beef slices directly on the grill grates. Cook the jerky with the lid closed for 2-3 hours. Check the jerky for doneness by removing a piece from the smoker and pull it apart. Once it has reached the desired consistency, turn off the smoker and remove the beef jerky.

Place the cooked beef jerky in a zip top bag or food storage container and allow to rest at room temperature for an hour.

Store the beef jerky in the refrigerator for up to two weeks (but it won't last that long).
Notes
More beef options include: top round, loin roast, flank steak, or London broil. Any lean inexpensive loin or round roast are good options.
Nutrition
Calories:
122
kcal
|
Carbohydrates:
6
g
|
Protein:
17
g
|
Fat:
3
g
|
Saturated Fat:
1
g
|
Polyunsaturated Fat:
0.1
g
|
Monounsaturated Fat:
1
g
|
Cholesterol:
42
mg
|
Sodium:
465
mg
|
Potassium:
335
mg
|
Fiber:
0.3
g
|
Sugar:
5
g
|
Vitamin A:
4
IU
|
Vitamin C:
0.5
mg
|
Calcium:
28
mg
|
Iron:
2
mg
More of Snacks Off the Traeger