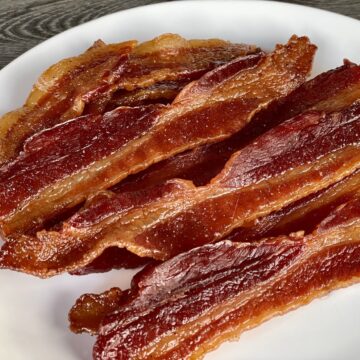 This blog post contains affiliate links. As an Amazon Associate I may earn income from qualifying purchases. Thanks for the support.
If you are looking for a fun spin on candied bacon, you need this easy hickory smoked bacon jerky recipe in your life. It's a fun snack that has the chewy texture of beef jerky with the great flavor of hickory smoked bacon. The best part of all is that this easy recipe requires very little prep and very little supervision. 
What to expect from bacon jerky
The first time I made smoked bacon jerky, I was in heaven. I am a total bacon lover and will have it any way I can get it. This jerky is my new favorite snack because I can get in a little protein and even the basic recipe has tons of flavor. I use hickory smoked bacon so it already has a little bit of a smoky flavor with added sweetness from brown sugar. A little bourbon and black pepper takes homemade bacon jerky to the next level. Its a way better jerky than anything you could buy in the grocery store.
Bacon Jerky Ingredients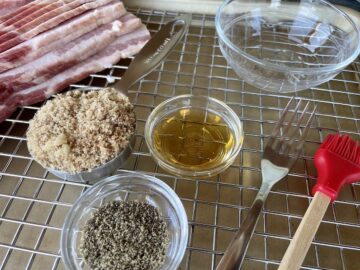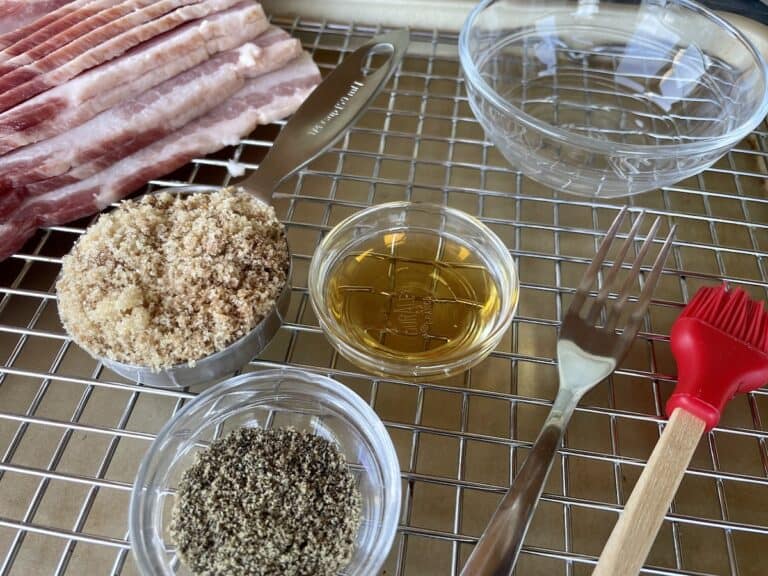 First and foremost, you will need thick cut bacon. Regular cut bacon won't create a chewy texture like jerky. I have tried this recipe with both bacon options and I get the best results with a thicker cut.
As far as flavor enhancers go, there are a lot of recipes out there. My favorite jerky is black pepper so I baste my thick-cut bacon slices with a mixture including dark brown sugar, bourbon, and freshly cracked black pepper. The brown sugar and bourbon melt together to create a candy coating. That sticky glaze really adds the right amount of moisture during to the jerky during the drying process.
Smoking Jerky Supplies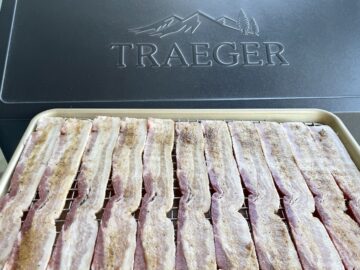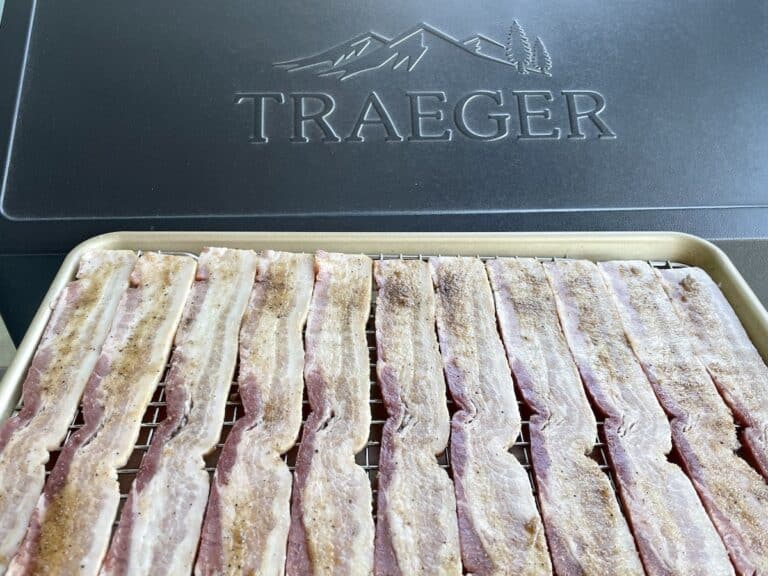 We need a few kitchen basics to pull off this bacon jerky:
pellet smoker- Traeger preferred
wood pellets- I match the wood pellets to kind of bacon I am using. For hickory smoked bacon, I go for hickory wood. Maple or apple are the other common options. If you are using a different smoker, choose wood chips that will enhance the bacon jerky flavor.
wire rack- this is both for prep and used to hold up the bacon while its smoking
baking sheet- fitted with the wire rack
paper towels- to blot excess grease halfway through the cooking time
small bowl- for mixing the brown sugar and bourbon
pastry brush
The Super Simple Cooking Process
Begin by preheating your smoker to 200 degrees. Line a cookie sheet with a wire rack to prepare the bacon strips. This also makes for easier cleanup later. Lay the bacon slices out in a single layer across the baking rack.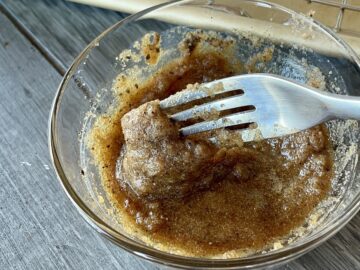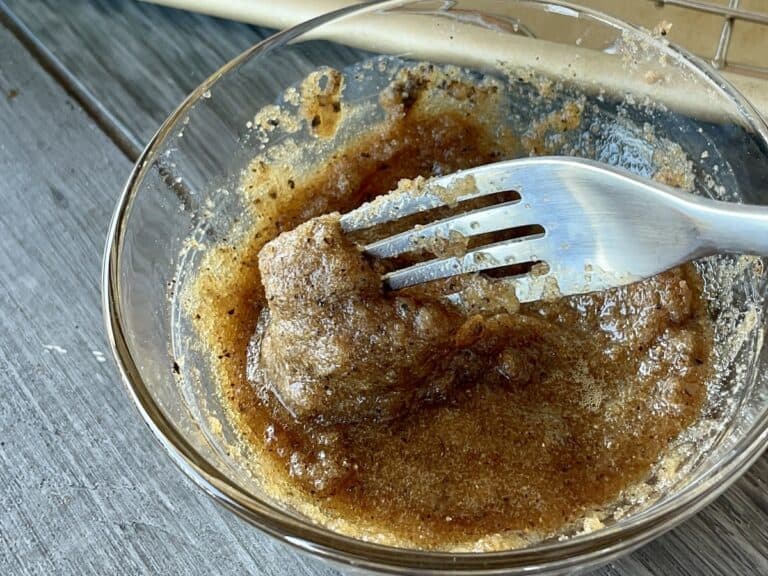 In a small bowl, mix up the brown sugar, bourbon, and black pepper.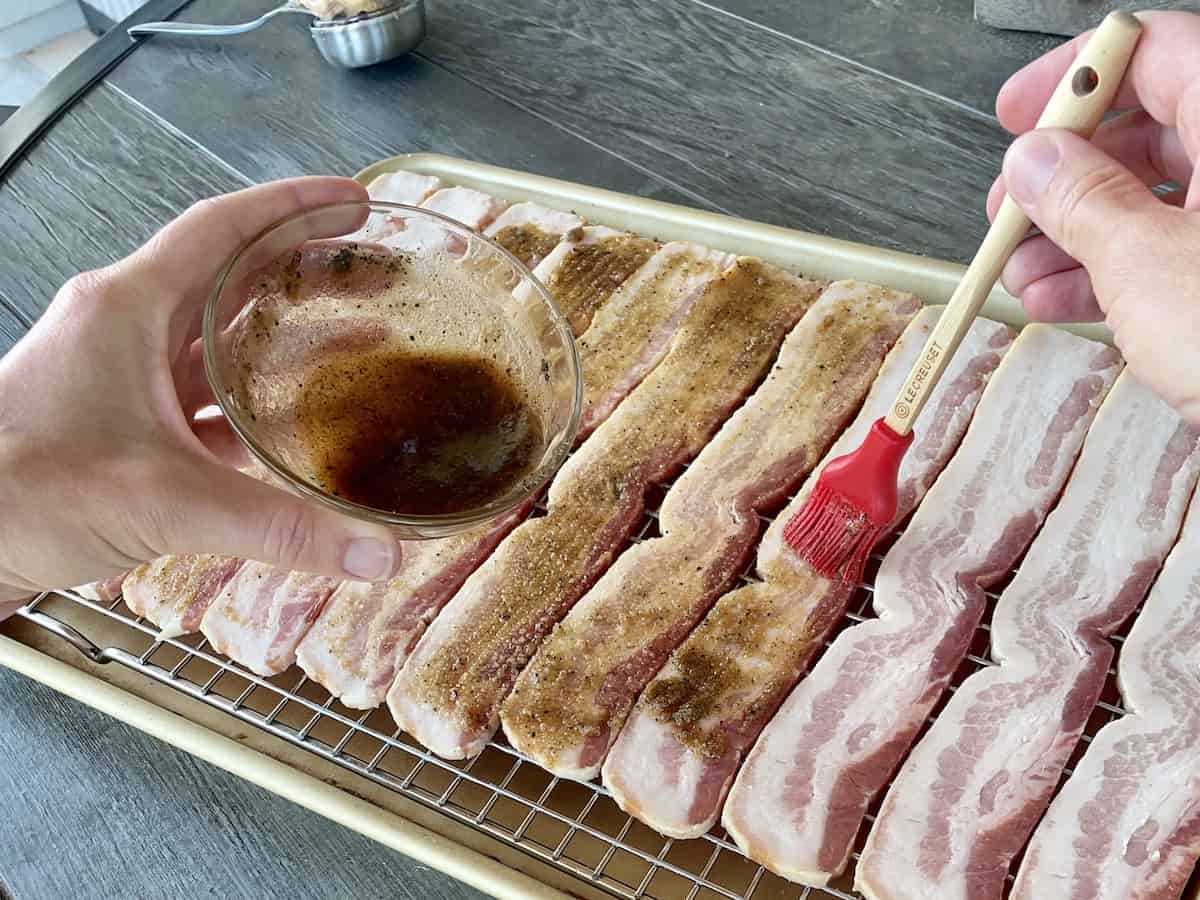 Use a basting brush to apply the brown sugar mixture to both sides of each slice of bacon.
When the smoker has reached 200˚F, place the wire rack with the prepared bacon directly on the grates on the smoker and cook with the lid closed.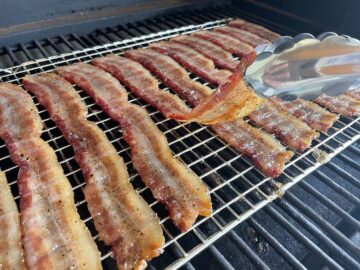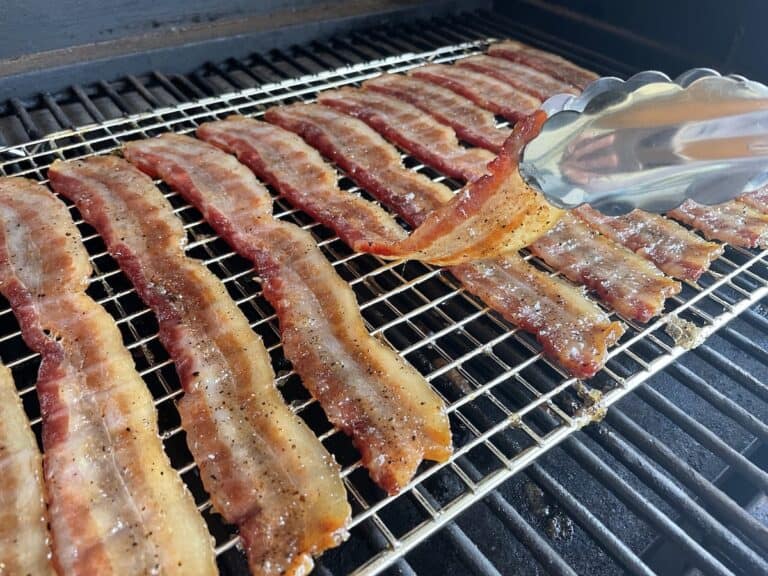 After 2 hours, use a paper towel to gently blot the bacon slices and remove the excess grease. Flip the bacon over and repeat. Cook the bacon with the lid closed for an additional 2 hours. Total cooking time should be 3-4 hours.
The 4 hour mark is my personal preference. When you get past to the 3 hour mark, remove one piece from the smoker and allow it cool for about 5 minutes. After it has cooled, take a bite and look at the texture. If it isn't chewy like jerky, give it another 30-60 minutes.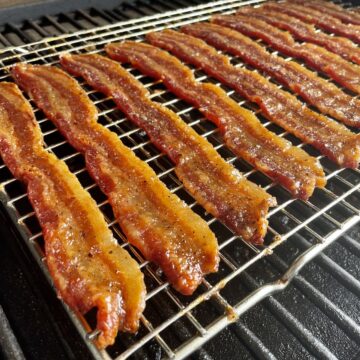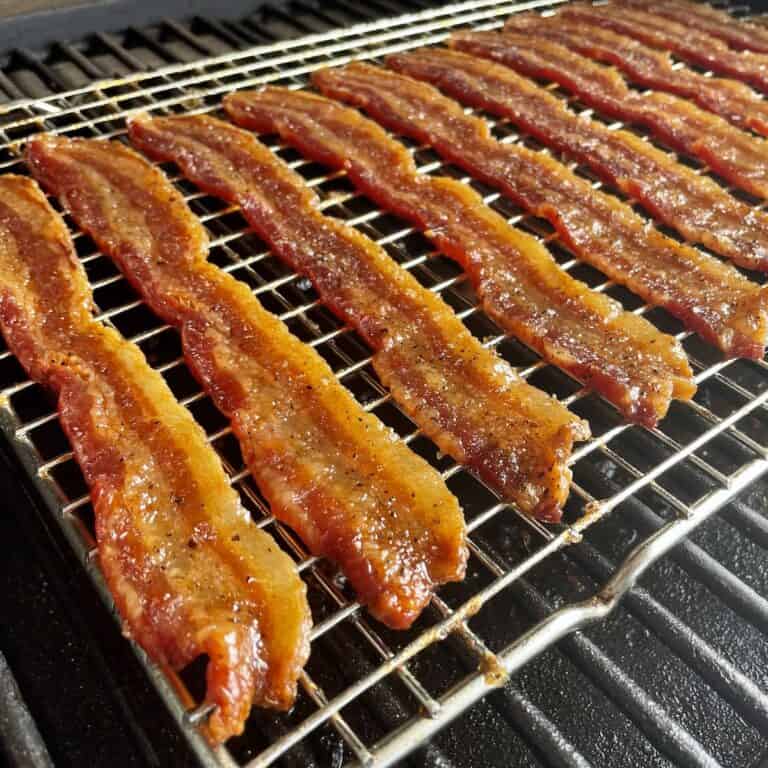 When the bacon has finished cooking, it will be dryer and cooked through, but not completely crispy. The finished product has the texture beef jerky. It should pull apart easily and have a tender chewiness.
Serving this Bacon Jerky Recipe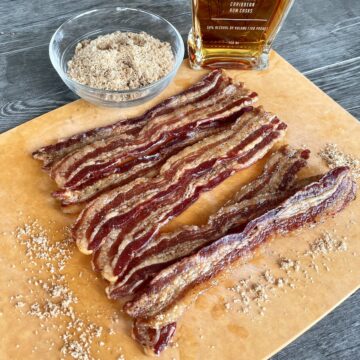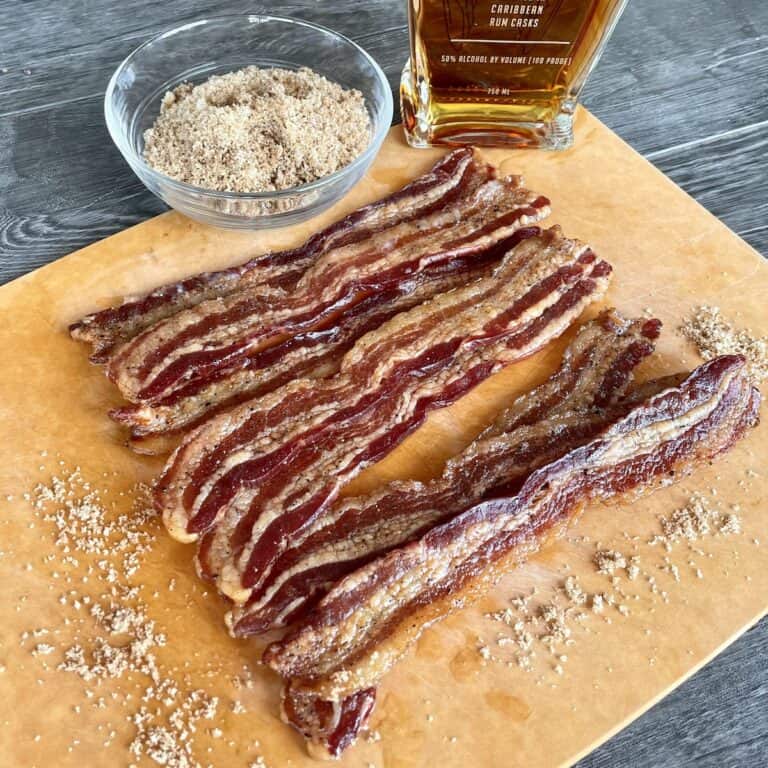 After the bacon jerky has finished cooking, remove the strips from the smoker and allow to cool for 5-10 minutes before serving. This is the perfect snack or appetizer to serve with a cold beer or bourbon cocktail.
Storing Cooked Bacon Jerky
After the bacon jerky has cooked and cooled, transfer it to an airtight container and keep it refrigerated. Honestly, not much ever makes it to the fridge here because everyone wants to eat it immediately. But, if you have the chance to make extra and have some to save, keep it in a ziplock bag or glass container with a tight lid. There is too much moisture and protein to leave bacon jerky out at room temperature.
Recipe Modifications
Now that you have the smoking process down, we can dig into some different flavors and all of the perfect bacon jerky options:
Maple bacon- if you are using maple bacon or want to have that breakfast vibe, mix 2 tablespoons of maple syrup with black pepper and brush that on.
Sweet and Spicy- sriracha hot sauce with the addition of brown sugar and mustard is another popular option. Other options to making a spicier bacon jerky is cayenne pepper, more black pepper, garlic powder, or hot chili sauce.
Printable Bacon Jerky Recipe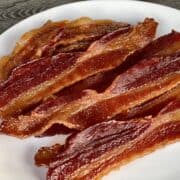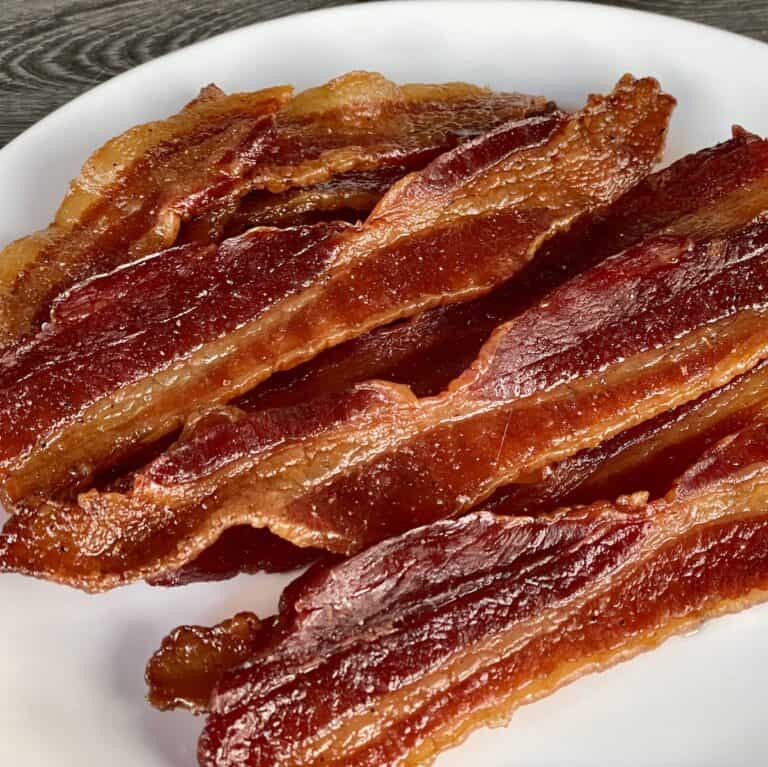 Print Recipe
Smoked Bacon Jerky
Thick cut bacon with a brown sugar and bourbon glaze smoked for hours to make the best jerky you've ever had.
Equipment
1 Pellet Smoker

Traeger Grills preferred
Ingredients
1

pound

thick cut bacon

¼

cup

brown sugar

1

tablespoon

bourbon

or whiskey

2

teaspoon

black pepper
Instructions
Preheat pellet smoker to 200˚F

Prepare bacon slices by placing them in a single layer on a baking sheet with a rack.

Combine brown sugar, bourbon, and black pepper in a small bowl. Mix completely. It will come together but be pretty grainy.

Use a pastry brush or basting brush to apply a thin layer of the bourbon and brown sugar mixture to the bacon. Evenly coat both sides of each piece. It should be a very thin layer, not a heavy coating.

When the smoker has reached 200˚, place the bacon with the wire rack directly on the grates and close the lid. Cook for two hours.

After two hours, blot the bacon with a paper towel to absorb any excess grease. Flip the bacon over and rotate the wire rack to ensure even cooking for all of the bacon jerky.

Close the lid and cook for an additional 1-2 hours. For best results, smoke the bacon jerky for at least an extra 1 and ½ hours to really get a good jerky texture.

After the bacon jerky has finished cooked, transfer the jerky to a large plate or cutting board and allow it to cool for 5 minutes before serving.
Nutrition
Calories:
358
kcal
|
Carbohydrates:
10
g
|
Protein:
10
g
|
Fat:
30
g
|
Saturated Fat:
10
g
|
Polyunsaturated Fat:
5
g
|
Monounsaturated Fat:
13
g
|
Trans Fat:
0.1
g
|
Cholesterol:
50
mg
|
Sodium:
503
mg
|
Potassium:
171
mg
|
Fiber:
0.2
g
|
Sugar:
9
g
|
Vitamin A:
32
IU
|
Calcium:
14
mg
|
Iron:
0.4
mg
More Fancy Apron Snackables