Mashed potatoes are quite possibly my favorite side dish. Definitely in the top three. I make them once a week. So... I think I have them perfected.
It's a funny thing to be writing a post on mashed potatoes because everyone knows how to make them. And there are probably thousands of posts, recipes, and videos out there. But I'm going to talk about options. Which potatoes should you use and what mashing device is best. Let's start with the potatoes...
Which Potatoes to use?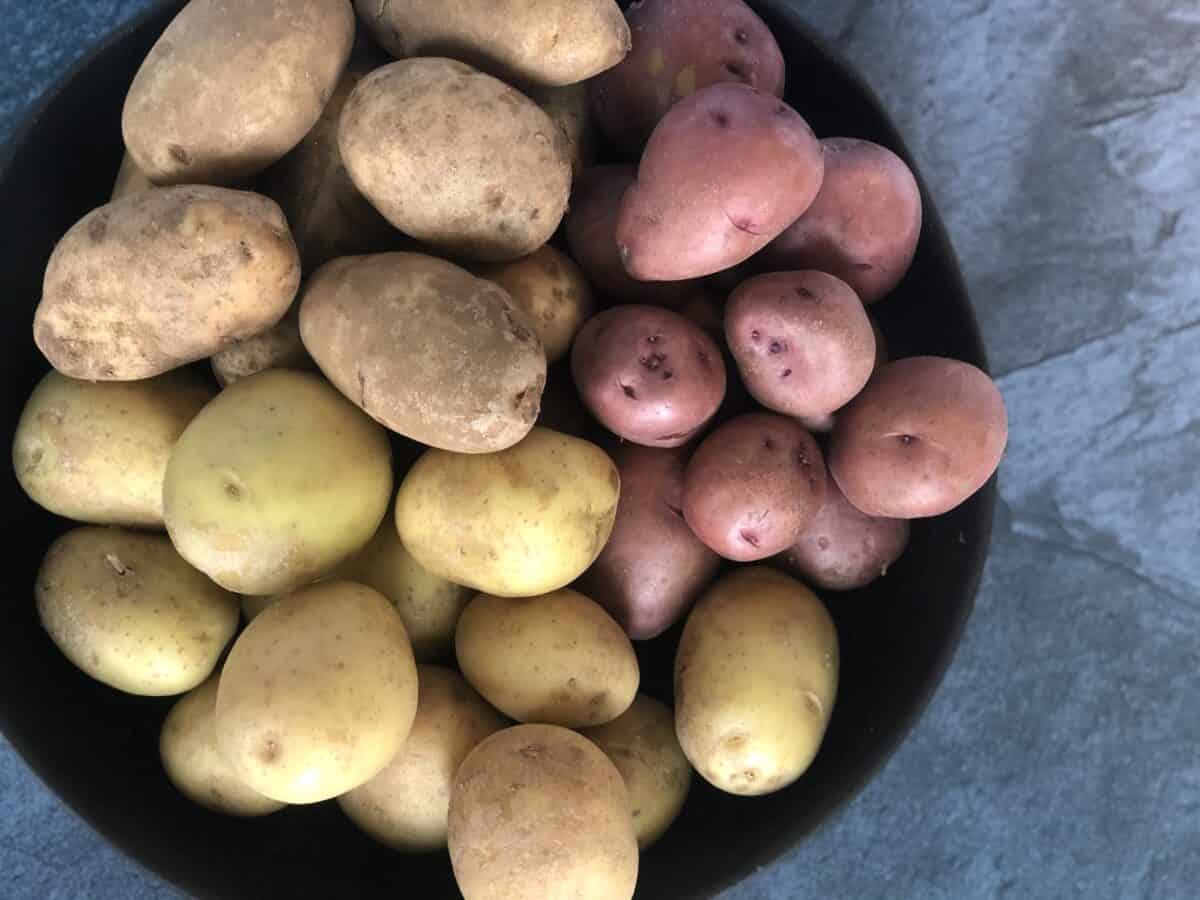 I'm going to cut to the chase and just tell you Yukon Golds. They have the best flavor and consistency, no question about that. The runner up, Russets. The difference is russet potatoes can be lighter in consistency. Yukons have a richer texture making them the perfect canvas to carry whatever flavors you add to them. Red potatoes are too waxy and should only be roasted. The end.
The Masher?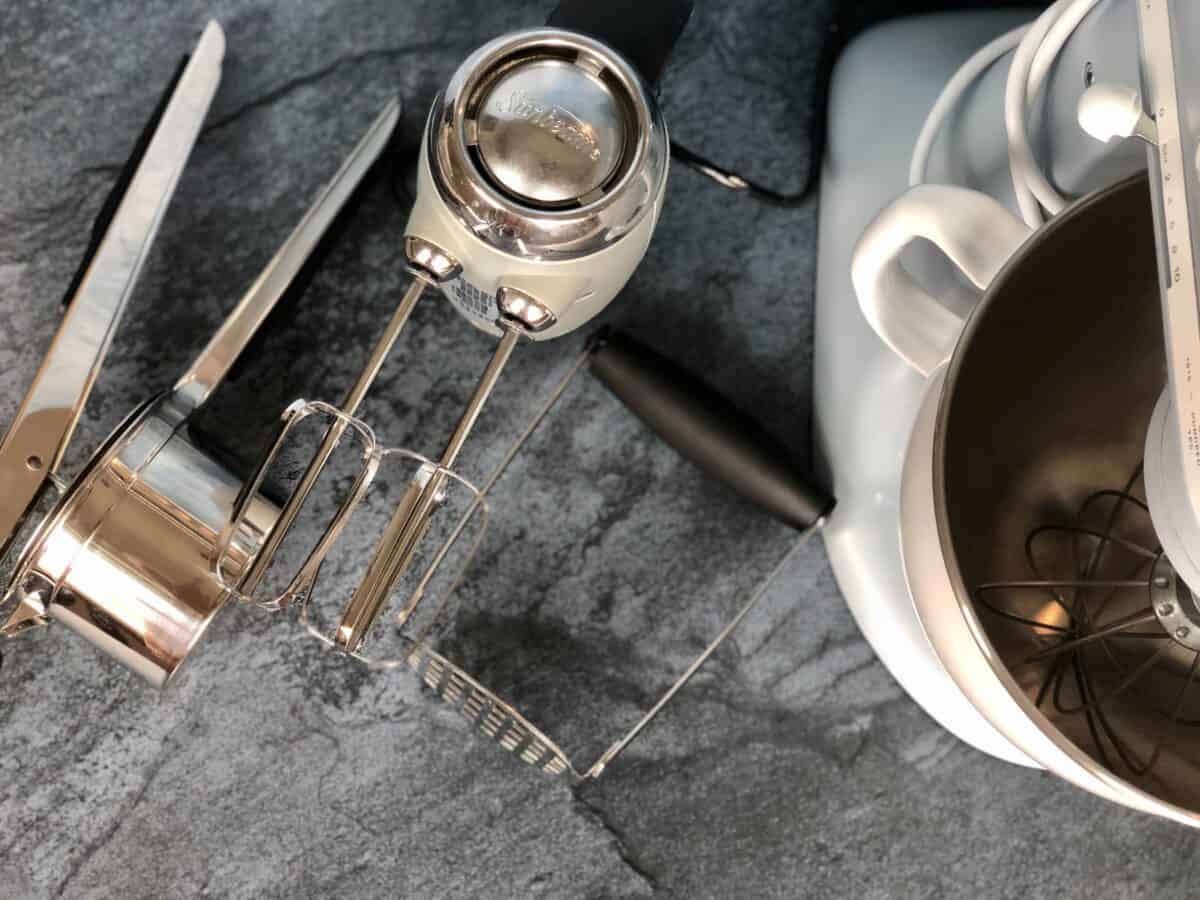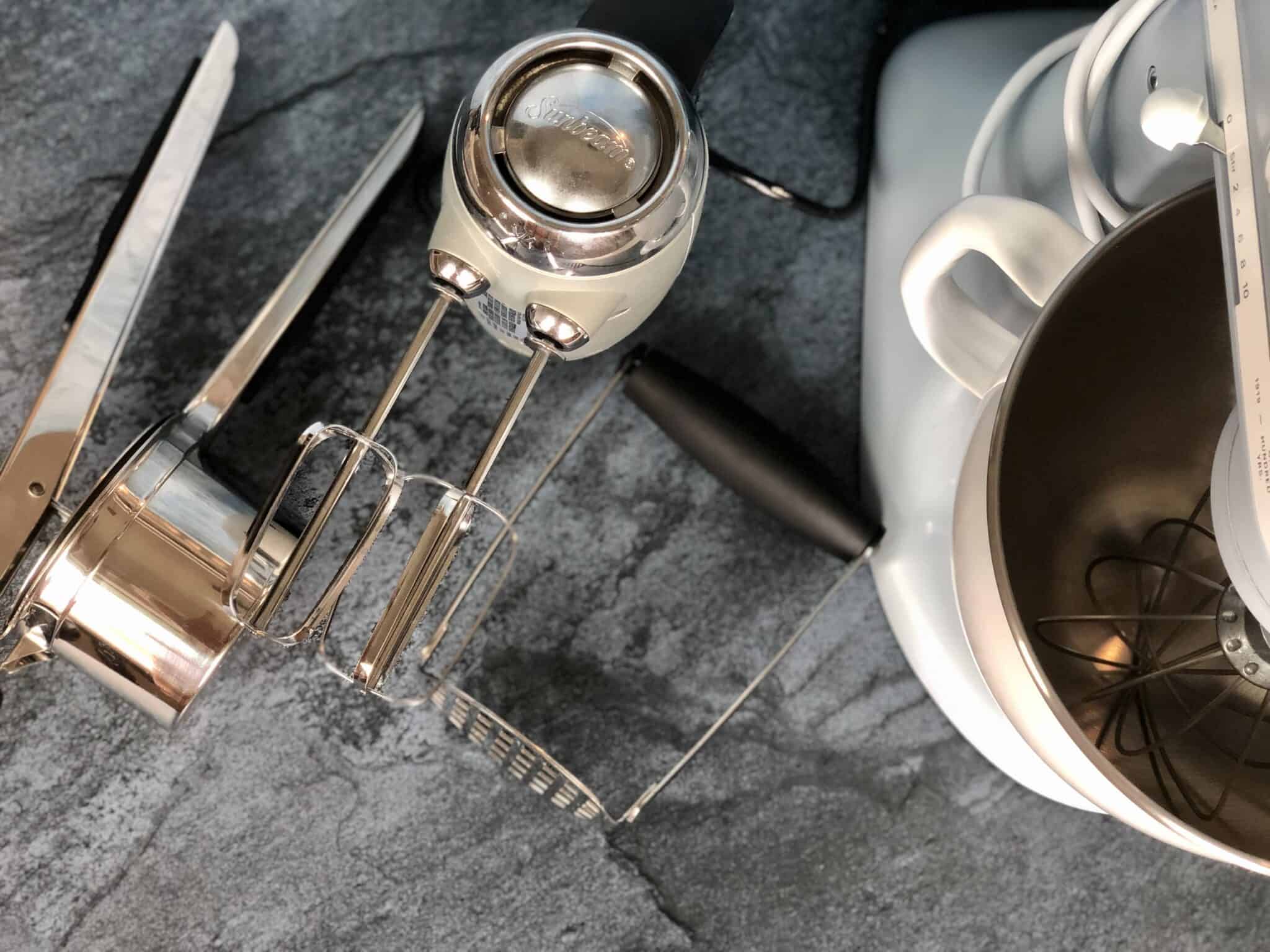 Now, here there are choices. Holy cow, so many and I have a lot of them. Hand mixer, hand masher, ricer... But my favorite is using my Kitchen Aid stand mixer with the whisk attachment. Here's my review on each method:
Stand Mixer- best for a smooth consistency. Especially useful for large batches of mashed potatoes. It gets the job done quickly and it does all the work for you. Not very labor intensive.
Hand Mixer- does a good job, but can be messy and fling potato bits all over the kitchen making for extra clean up (I hate cleaning a messy kitchen). Good for consistency but not as good as the stand mixer. Medium effort on labor.
Hand Masher- not great on consistency, leaves lumps (but if you like lumpy mashed potatoes this one is for you). Easy on clean up. Medium effort on labor.
Ricer- ugh. I have a love hate relationship with this one. It produces a good consistency. However, it's time consuming to load up that little vessel over and over again to get through all the potatoes, it's a pain to clean for some reason, and I don't love big tools that only do one job. High level of effort required.
Basic Mashed Potato Recipe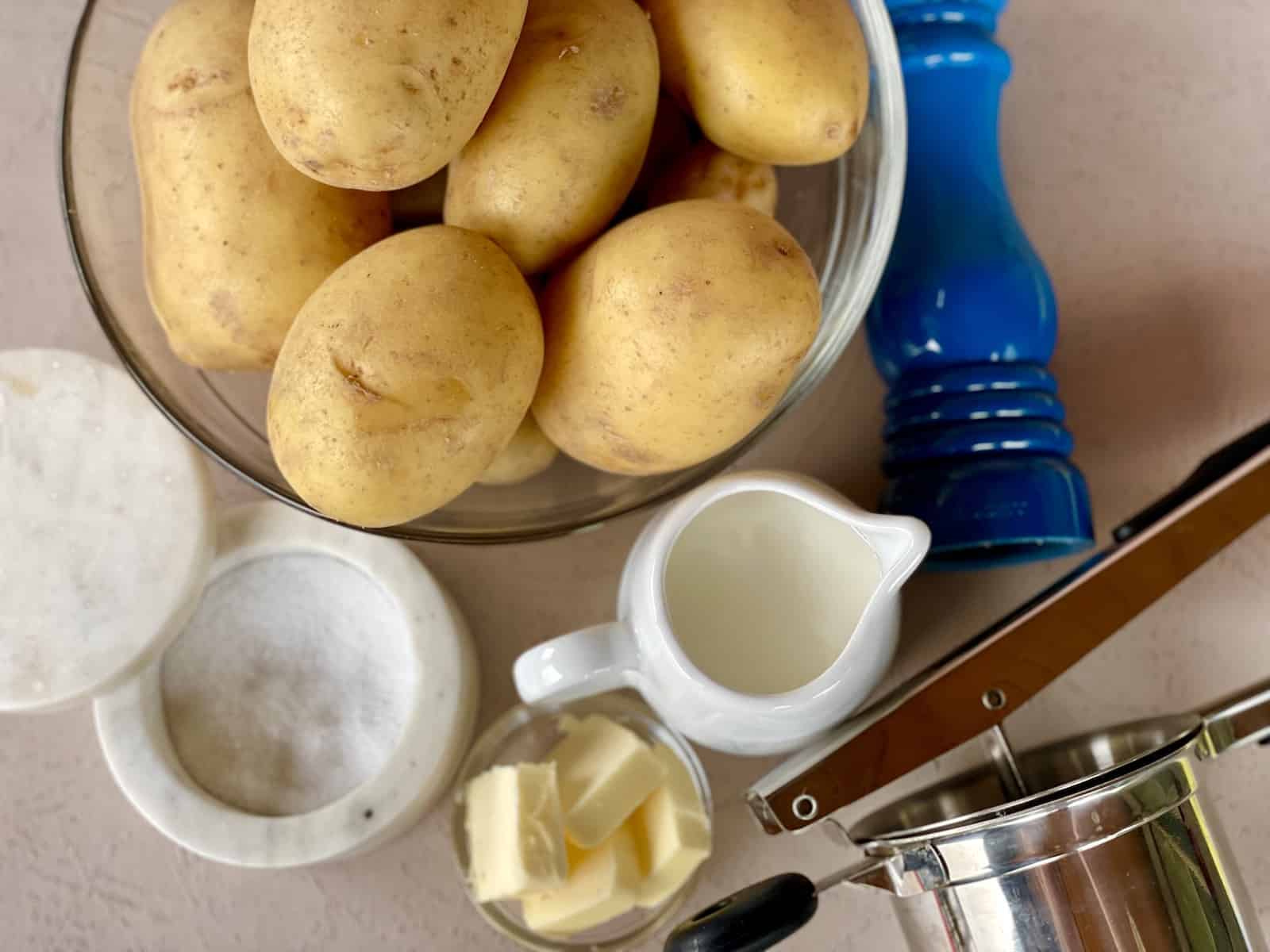 Now that we've established Yukon Gold potatoes are the best and the stand mixer is the best masher, we can move on to the basic recipe. Butter, heavy cream, salt and pepper. That's all you need for a magical mashed potato that will carry whatever sauce, gravy, or protein you desire. I have amounts listed in the recipe card, but you will have to pay attention to the consistency of the potatoes and add more butter, cream, or salt if needed. I've only included minimums.
The last detail you need to know is that it is so important the potatoes are cooked all the way through and then you want to get as much water out of them as possible after draining them. This is another reason why I like the stand mixer. After draining them, I whip them for a minute or two so that they can dry out and expel as much steam as possible. Then I add the salt. Next the butter. And lastly, the cream.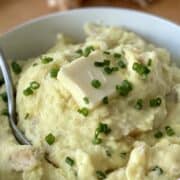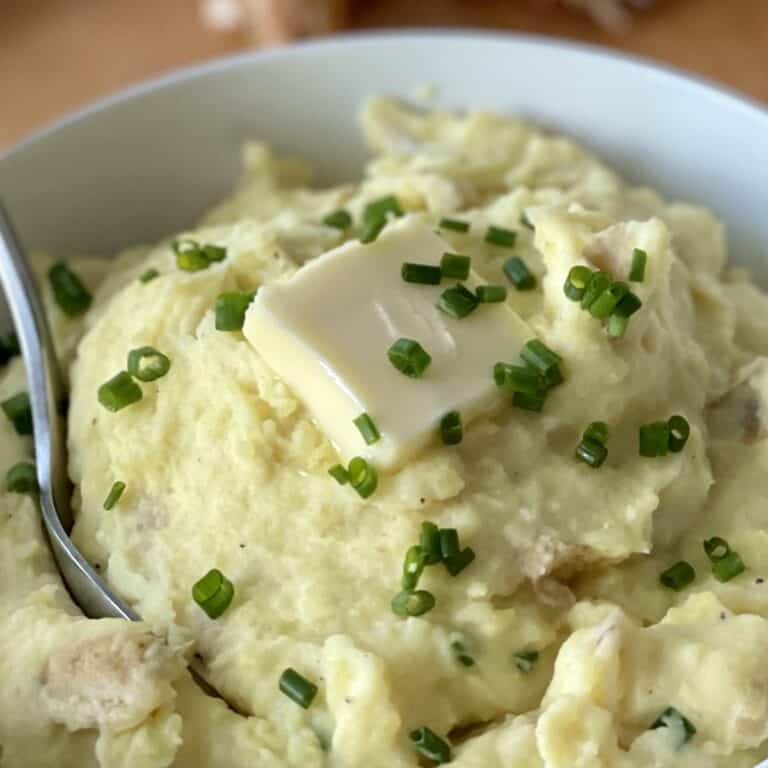 Print Recipe
Mashed Potatoes
Creamy and flavorful mashed potatoes that are perfect every time.
Ingredients
2

pounds

Yukon Gold potatoes

3

tablespoon

unsalted butter

room temperature

¼

cup

heavy whipping cream

room temperature

½

teaspoon

salt

pepper
Instructions
Wash, peel, and cut potoatoes into ½ inch pices.

Place cut potatoes in a pot of cool water until they are covered completely plus a half an inch of water above them.

Put pot of potatoes on stove and turn on to medium high. Once the water is boiling, lower to medium heat and cook potatoes for 10-15 minutes until they are fork tender. That means when you poke the potatoes with a fork, they fall off the fork immediately.

Drain the potatoes completely and add to the bowl of your stand mixer.

With the whisk attachment, beat the potatoes on low at first and increase the speed gradually to a 4. Lots of steam will leave the potatoes which is important. Let the mixer go for 1-2 minutes and scrape down the sides as needed.

Turn the mixer off. Scrape down the sides and add 1 teaspoon of salt and ½ a teaspoon of pepper.

Turn the mixer back on to a low speed and add one tablespoon of butter at a time.

Scrape down the sides, turn the mixer back on low and slowly add the heavy cream. You made need more or less cream depending on your desired consistency.

Once the potatoes are completely mixed and amazing, return them to the pot they cooked in and put the lid to keep them warm until serving.
Nutrition
Calories:
220
kcal
|
Carbohydrates:
27
g
|
Protein:
2
g
|
Fat:
10
g
Now that you have the method and recipe down for the perfect mashed potatoes, we can discuss the next step. What to serve them with and what you can mix in to dress them up (not required though, these potatoes can hold their own).
What to serve mashed potatoes with...
Everything. But if you're not sure, a good cast iron steak with a peppercorn cognac cream sauce is a big hit. Or a classic roast chicken with gravy. Or saltimbocca.
Mix-ins
Cheese- white cheddar or parmesan or smoked gouda depending on what else you're having
Sour cream and chives
Roasted mushrooms
If I ever owned my own restaurant, I would have a cart for table side mashed potatoes and the servers would roll it around and add in whatever mix-ins my patrons wanted and serve with amazing sauces. Someday maybe...