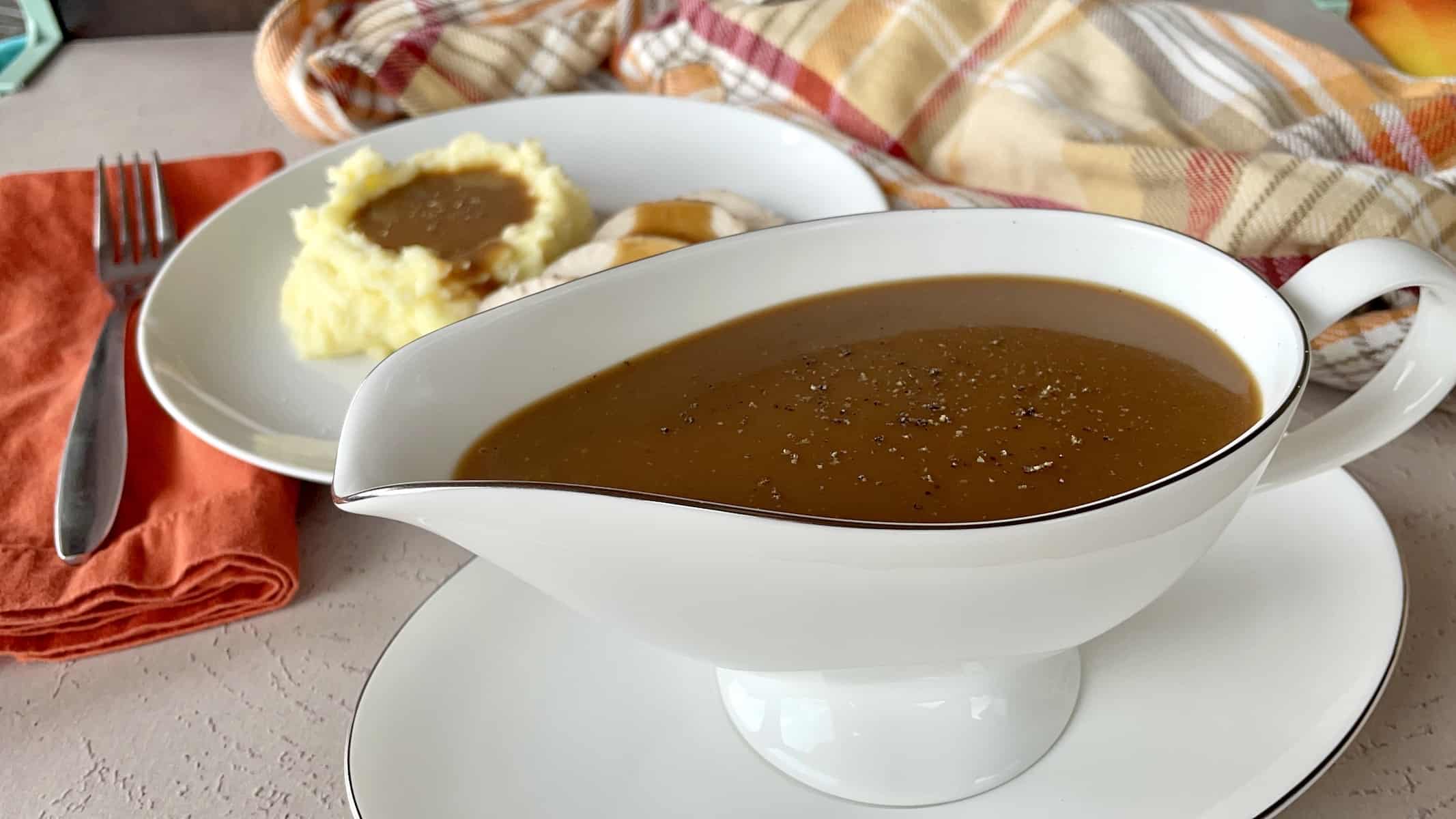 This blog post contains affiliate links. As an Amazon Associate I may earn income from qualifying purchases. Thanks for the support.
If you need an easy gravy without drippings recipe, you came to the right place. This is my favorite gravy recipe because of the full flavors, but it cooks up fast without drippings from a roast. We are going to combine a few store-bought secret weapons to create that long cooked flavor. You get the richness and depth from a slow cooked roast and you'll never miss the drippings.
Why Make Gravy Without Drippings?
You may have landed on this recipe for a variety of reasons. Such as:
you may want gravy to go with something like a store bought rotisserie chicken and not have fresh meat drippings to make it
making a gravy without drippings can lower the fat content and total calories
a plant based option made with vegetable broth cannot include drippings from a roast
timing could be an issue- if you want to make your gravy ahead of time you can use this recipe and not have to wait for your main dish to give off its liquid
if your making a last minute dinner and hadn't planned ahead, this perfect gravy is all pantry ingredients and fridge staples
In summary, there are plenty of reasons why you could use this recipe. But to be honest, it's just my preference because I can make a delicious gravy quickly and without the greasy feel of extra fat.
Making Gravy Without Flour
I am going to blow your mind here and also tell you I don't use flour. Whether I want quick weeknight sauce or I'm cooking for Thanksgiving, I don't make gravy with a traditional roux.
Cornstarch is my go-to thickener. After trying to make traditional gravy with a flour and butter base and it turning out lumpy, I decided to stick with this recipe instead. Another recipe this applies to is my rotisserie chicken stew. It is one of my personal favorites and is enjoyed by several family members.
The Gravy Ingredient List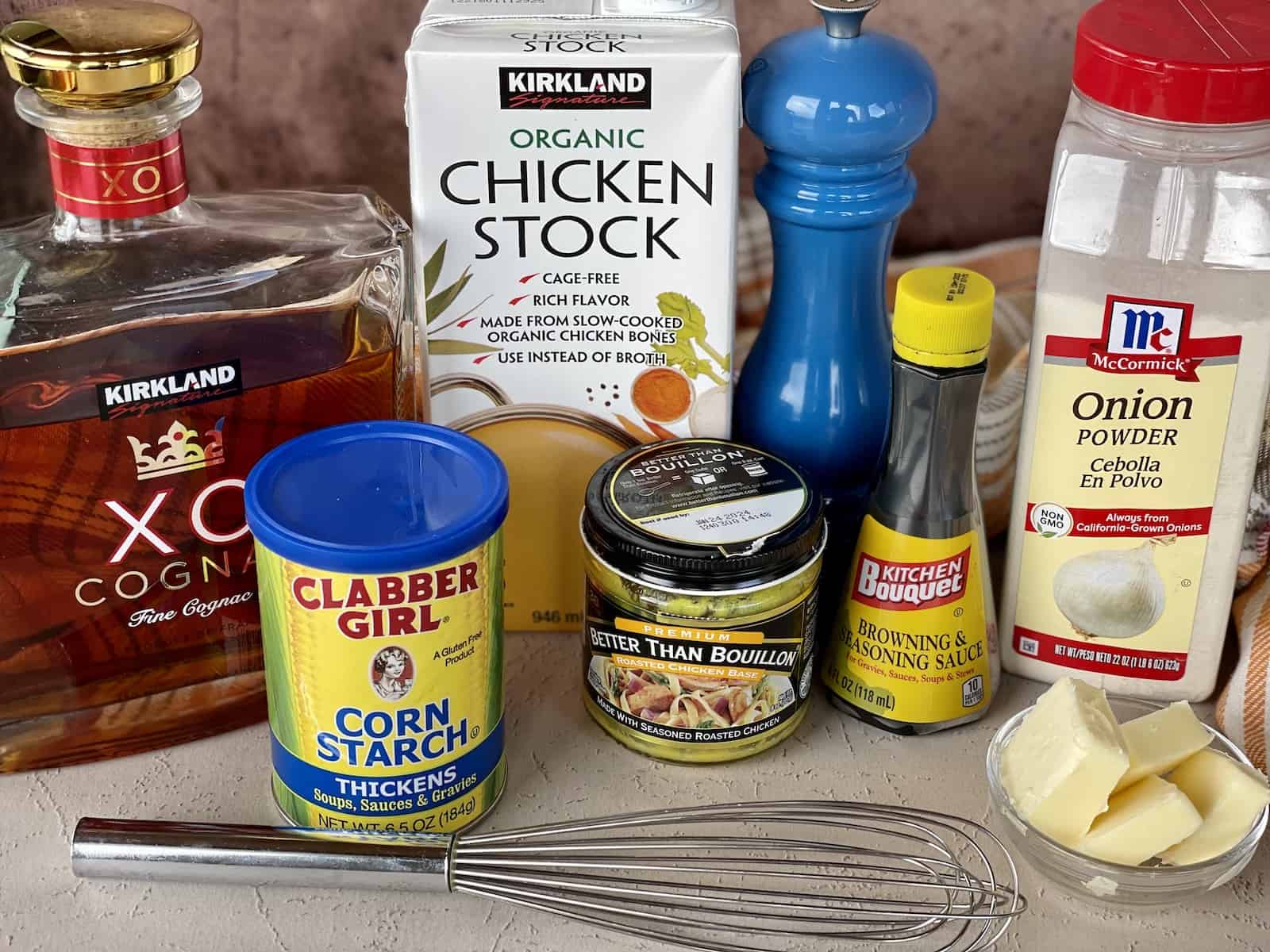 Let's start with our stock because it is the most important ingredient for making a good gravy no matter how you do it. We can make a great gravy with chicken stock, turkey stock, beef stock, or vegetable stock. If you have time to make your own chicken stock, I highly recommend it. You can control the quality and salt content.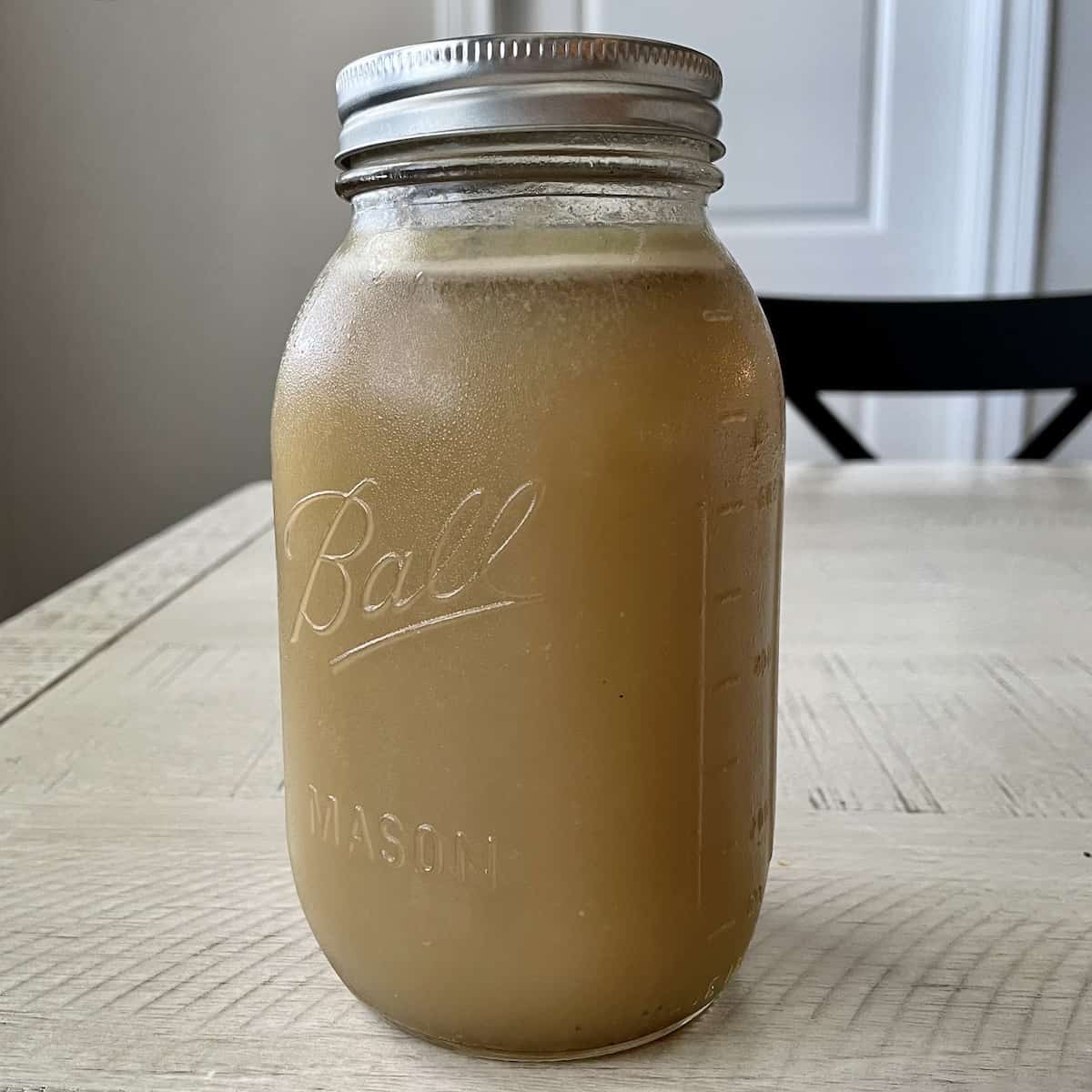 My recipe for homemade stock is a cooking power house of flavor for sauces, soups, and stews. The benefit for using homemade chicken stock is the gelatin. The gelatin creates a silky feel for the gravy and will help the gravy thicken as it cools. However, if you don't have homemade chicken stock on hand, you can definitely use a boxed stock.
*Stock is different than broth. Chicken stock is made from both meat and bones while chicken broth is made from meat only. Stock has way more flavor and also contains gelatin which makes a big difference in the thickness of our gravy*
Since we are not using drippings, we also want to turn up the meaty flavor by adding Better Than Bouillon. They have several flavors including low sodium and organic options. To create the slow cooked browning flavor, use Kitchen Bouquet. The Kitchen Bouquet is how we get a brown gravy. More Kitchen Bouquet=darker gravy. However, a little bit goes a long way and it really makes a difference because it infuses that meaty flavor that makes gravy delicious.
Lastly, I want to talk about using cognac or dry white wine. Adding these make a really flavorful gravy. It makes the difference it deep and complex flavor versus thick salty chicken stock. You can absolutely leave it out, but I would add a dash of Worcestershire sauce or herbs.
Other than these we just need a few basics: butter, cornstarch, onion powder, water, and black pepper. These are the important basics. There are more ingredient options and recipe modifications below.
Making this easy gravy recipe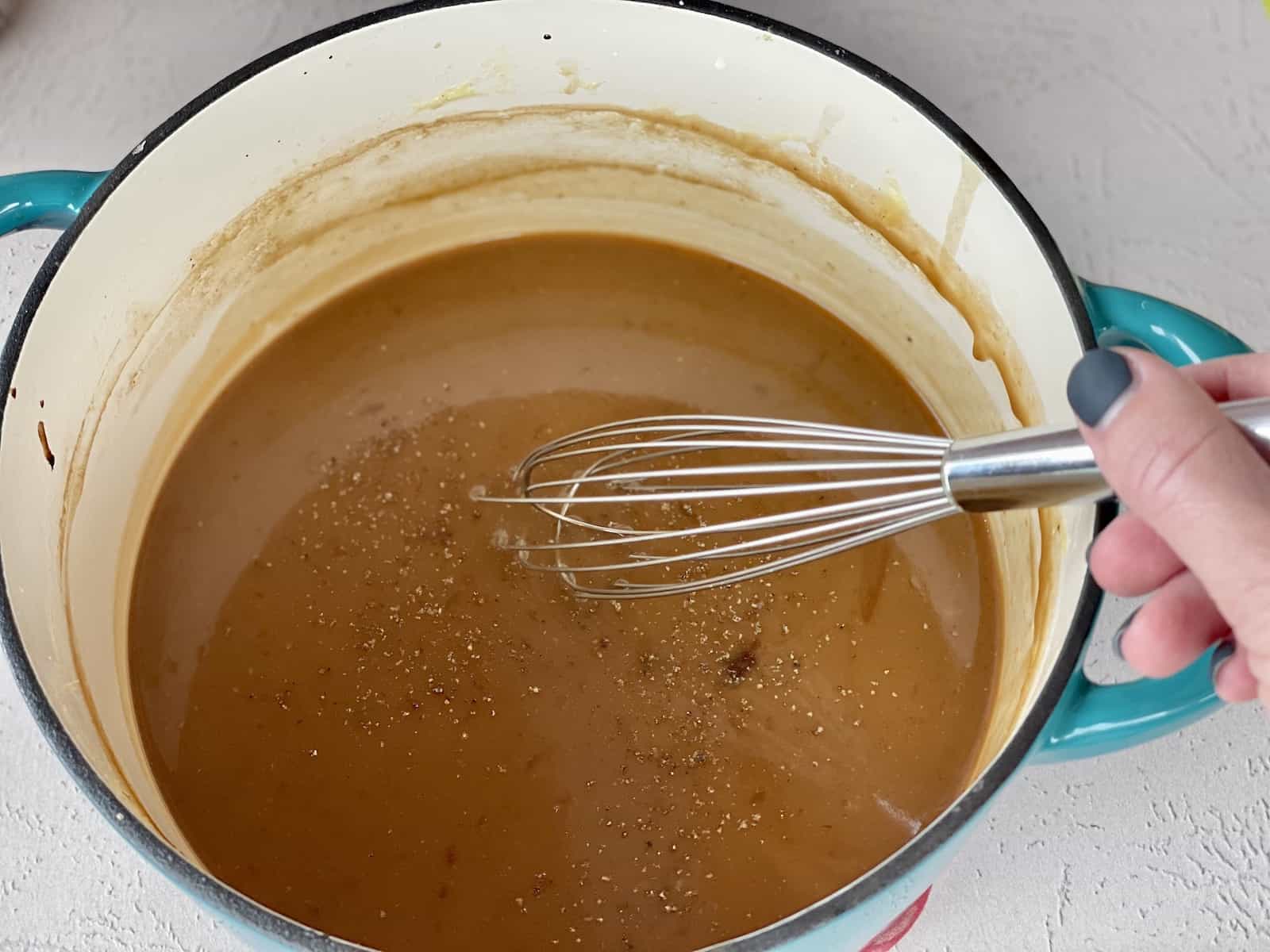 We start with our medium saucepan or dutch oven over medium heat. I still like to start with butter for the flavor. If you want to make this with a traditional roux, this is the time. Add your tablespoon of flour while you melt the butter.
Then we add the cognac next to let the alcohol cook off. After that, we get almost all of the other ingredients in the hot pot. Use the whisk to scrape the bottom of the pot while adding the spices and chicken stock.
The final phase of making this gravy is adding the cornstarch slurry. Its important to lower heat while stirring in the slurry to avoid a lumpy gravy. After it is mixed in, you do want to increase the heat and bring the gravy back up to a bubble so the cornstarch activates and thickens the gravy.
After the gravy has finished cooking, remove it from the heat and transfer to a gravy boat or serving dish. It will continue to thicken as it cools.
Serving this Recipe for Holiday Meals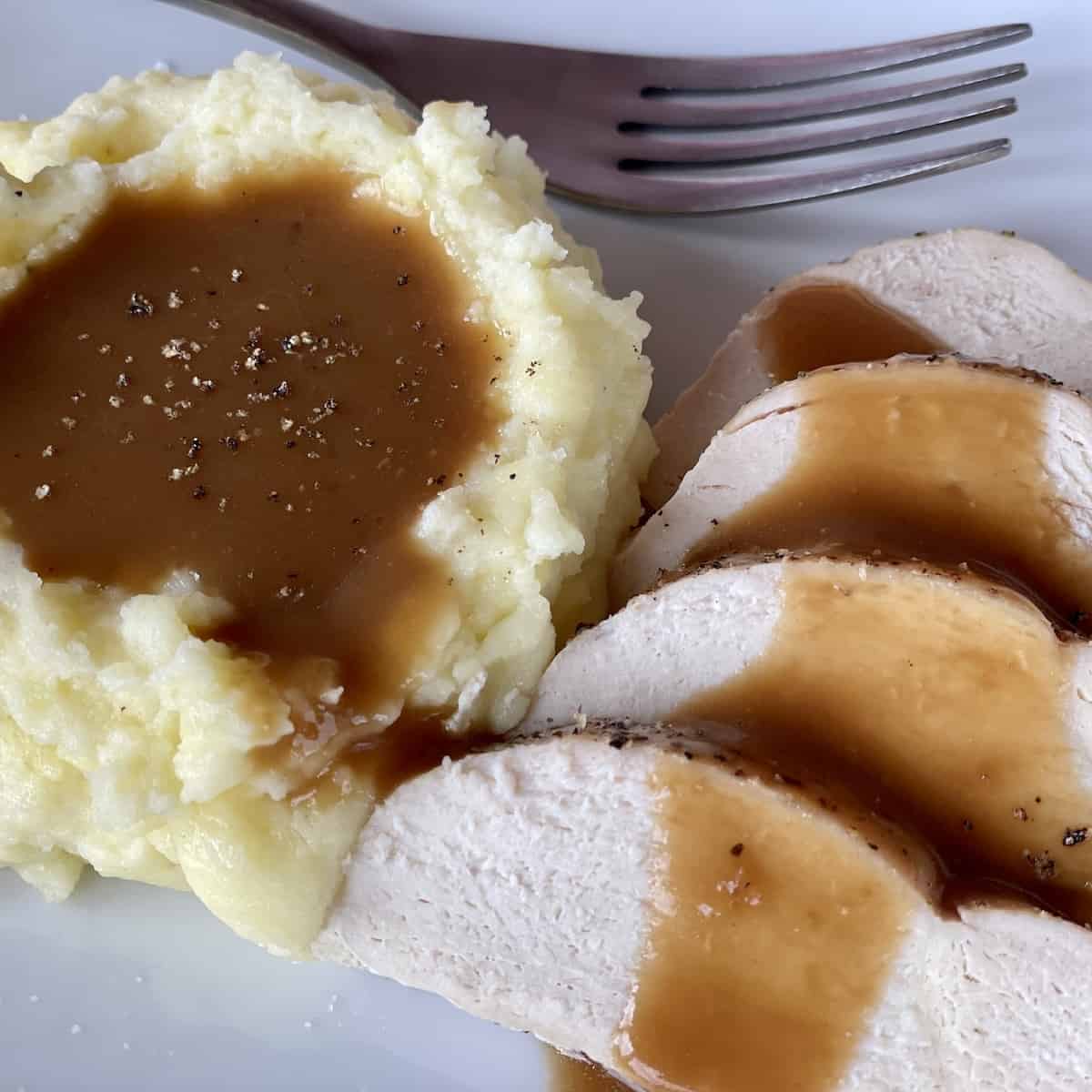 This gravy recipe is perfect for Thanksgiving dinner. If you are cooking a friendsgiving or having a smaller dinner, you may not need a whole turkey. This gravy is better than a store-bought gravy but perfect for a small turkey breast that serves 6 people.
It is also great with a beef roast or prime rib. Making a quick an easy gravy from beef stock or beef broth is delicious, but you don't have to hassle of using a fat separator.
The best part of this gravy recipe is that once you learn the process, you make it for anything including a roast chicken dinner for Sunday. One of my go-to meals to eat with family.
Recipe Modifications
Make this gravy without drippings recipe your own with these optional modifications:
omit the alcohol- while the cognac or white wine add a nice flavor, you can make a delicious gravy with the alcohol. Add a dash of Worcestershire sauce instead.
add fresh herbs or dried herbs for more flavor- I love the flavor from poultry seasoning, garlic powder, fresh thyme or rosemary, and parsley
for a thicker gravy, increase the cornstarch slurry
add heavy whipping cream for a creamy texture
make the gravy with a traditional roux by combining 2 tablespoons of butter with 2 tablespoons of all purpose flour before adding in the chicken stock and other ingredients
Storing and Reheating This Gravy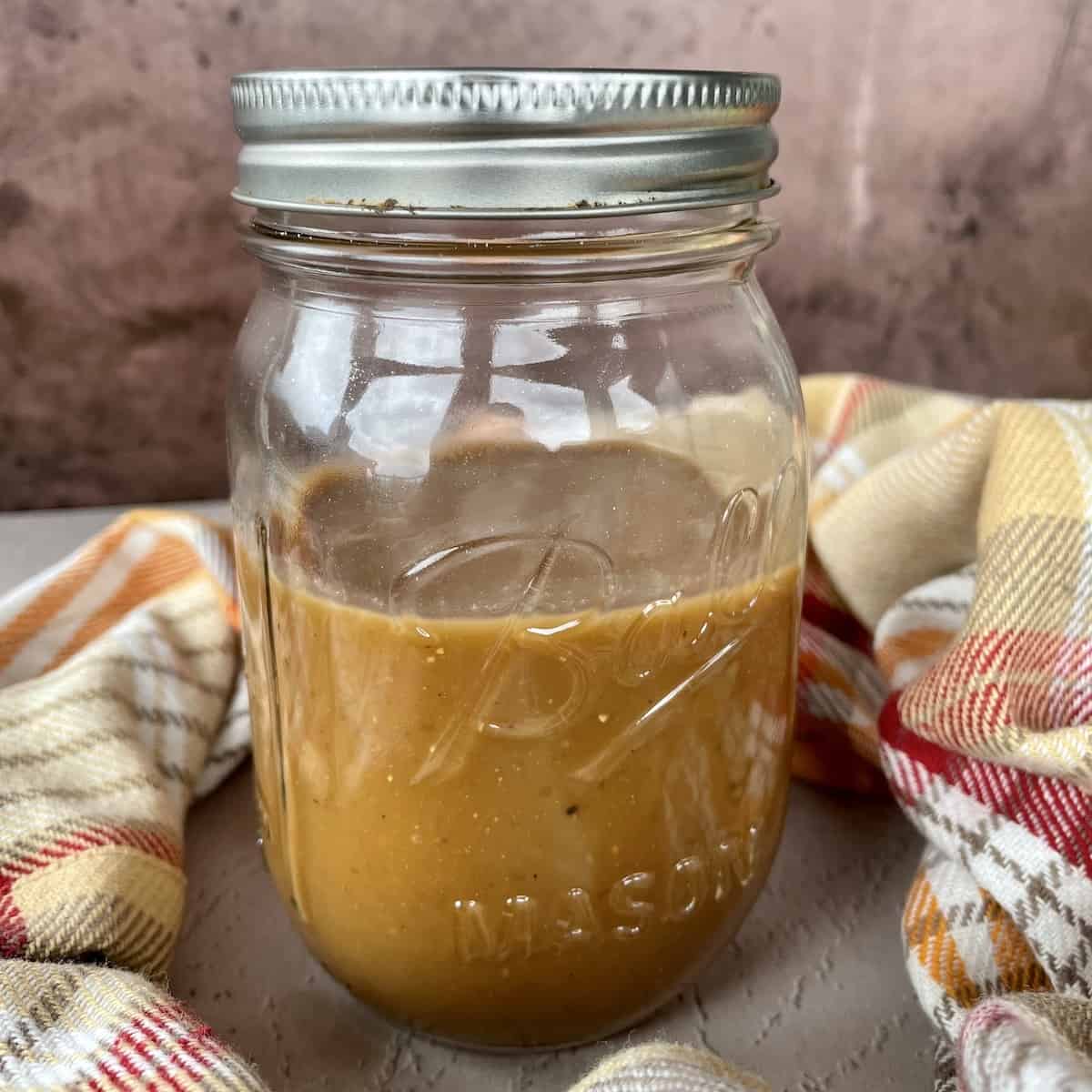 If you happen to have leftovers, make sure to store it in an airtight container in the refrigerator. It will be good for up to 4 days before it separates and food safety becomes an issue.
To reheat the gravy, using a small sauce pan over low heat is best to maintain the quality. You can also reheat it in the microwave on a "reheat" or medium heat setting for 30-60 seconds depending on the quantity.
How to fix lumpy gravy?
Pour the gravy through a fine mesh strainer to remove lumps.
How can I thicken gravy?
Use a cornstarch and cold water slurry to thicken gravy. Mix 2 teaspoons of cornstarch with 1 ½ teaspoons of cold water and stir thoroughly. Add the slurry to the gravy and stir in well. Increase the heat so that the cornstarch activates and thickens the gravy. Gravy will continue to thicken as it cools.
How can I add more flavor to gravy?
You can add fresh or dried herbs, kitchen bouquet, heavy cream, or pureed roasted vegetables such as onions, carrots, and celery to add more flavor to your gravy.
Easy Homemade Gravy Recipe Card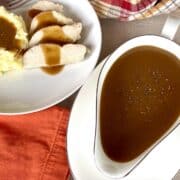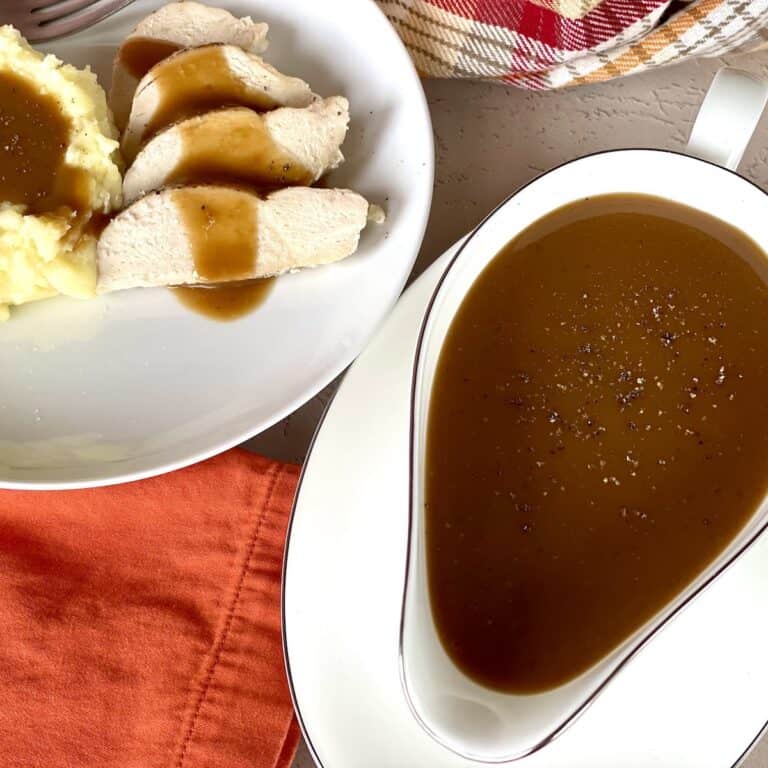 Print Recipe
Gravy Without Drippings
A delicious gravy made with pantry staples and a few secrets to create that rich comfort food gravy when you don't have meat drippings on hand.
Equipment
1 medium sauce pot or small dutch oven
Ingredients
2

teaspoon

unsalted butter

¼

cup

cognac

or dry white wine

2

teaspoon

onion powder

3

cups

chicken stock

2

teaspoon

Better Than Bouillon Chicken

1

teaspoon

Kitchen Bouquet

¼

cup

cornstarch

2

tablespoon

cold water

1

teaspoon

fresh black pepper
Instructions
Heat a medium sauce pot over medium high heat.

Add 2 teaspoons of unsalted butter and stir to melt.

Add the ¼ cup of cognac and stir with a whisk. Cook for 2-3 minutes until the alcohol has cooked off.

Add the chicken stock, onion powder, Better Than Bouillon, and Kitchen Bouquet. Bring the grave up to a boil and reduce to simmer.

Simmer the gravy for 5 minutes.

In a small bowl mix the cornstarch and cold water. Stir well so the cornstarch slurry is a smooth mixture.

Lower the heat to low and slowly whisk in the cornstarch slurry. Bring the heat back up to medium and the let the gravy bubble for another 4 minutes.

Add black pepper to taste and check for seasoning. Add salt if needed.

Remove the gravy from the heat and transfer to a serving dish. The gravy will thicken slightly as it cools.
Notes
For thicker gravy, use more cornstarch slurry.
Add poultry seasoning, fresh thyme, or parsley for an herby flavor. 
Omit the cognac or white wine if you prefer to make this without alcohol.
Nutrition
Calories:
101
kcal
|
Carbohydrates:
10
g
|
Protein:
3
g
|
Fat:
3
g
|
Saturated Fat:
1
g
|
Polyunsaturated Fat:
0.3
g
|
Monounsaturated Fat:
1
g
|
Trans Fat:
0.1
g
|
Cholesterol:
7
mg
|
Sodium:
179
mg
|
Potassium:
133
mg
|
Fiber:
0.1
g
|
Sugar:
2
g
|
Vitamin A:
45
IU
|
Vitamin C:
0.4
mg
|
Calcium:
7
mg
|
Iron:
0.3
mg
Related Recipes
We all need an easy recipe from time to time. For an easy chicken dinner, check out my favorites below.