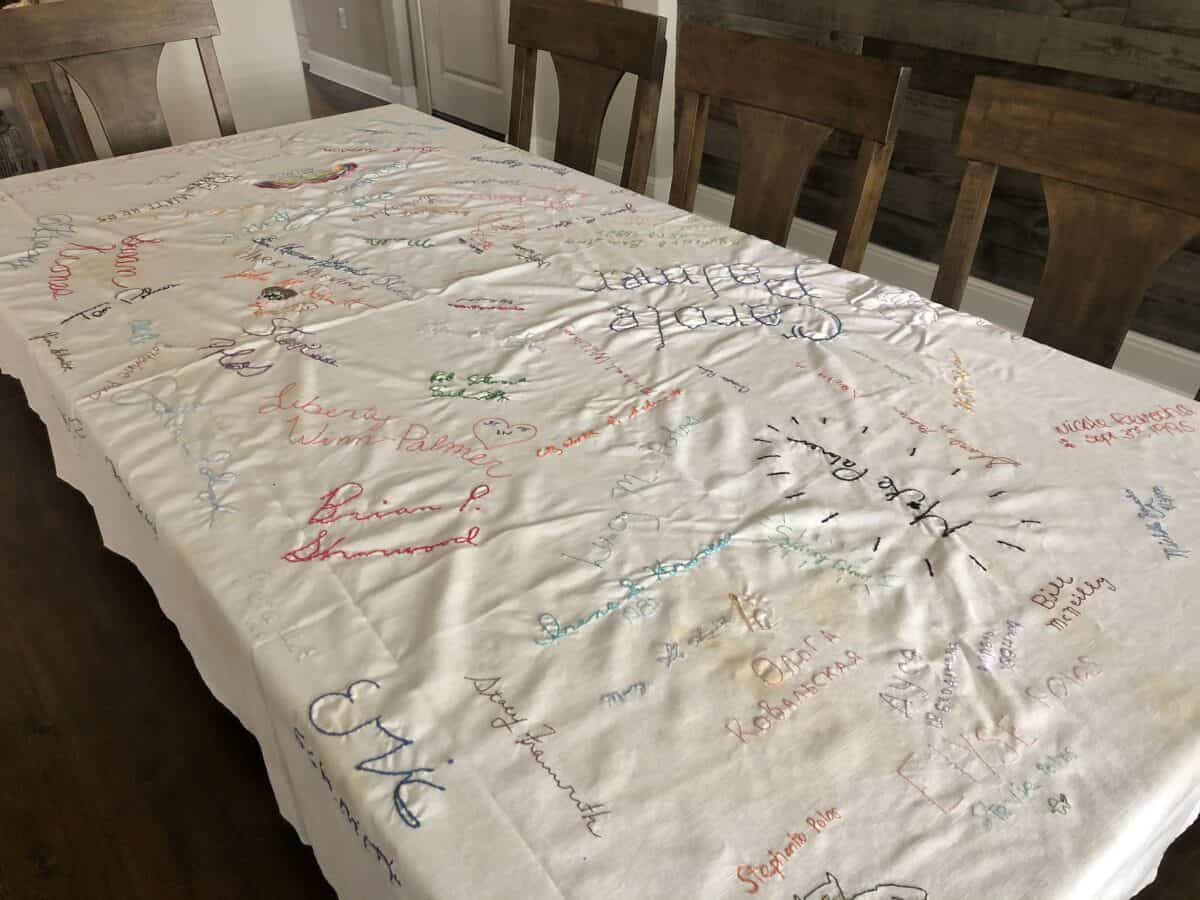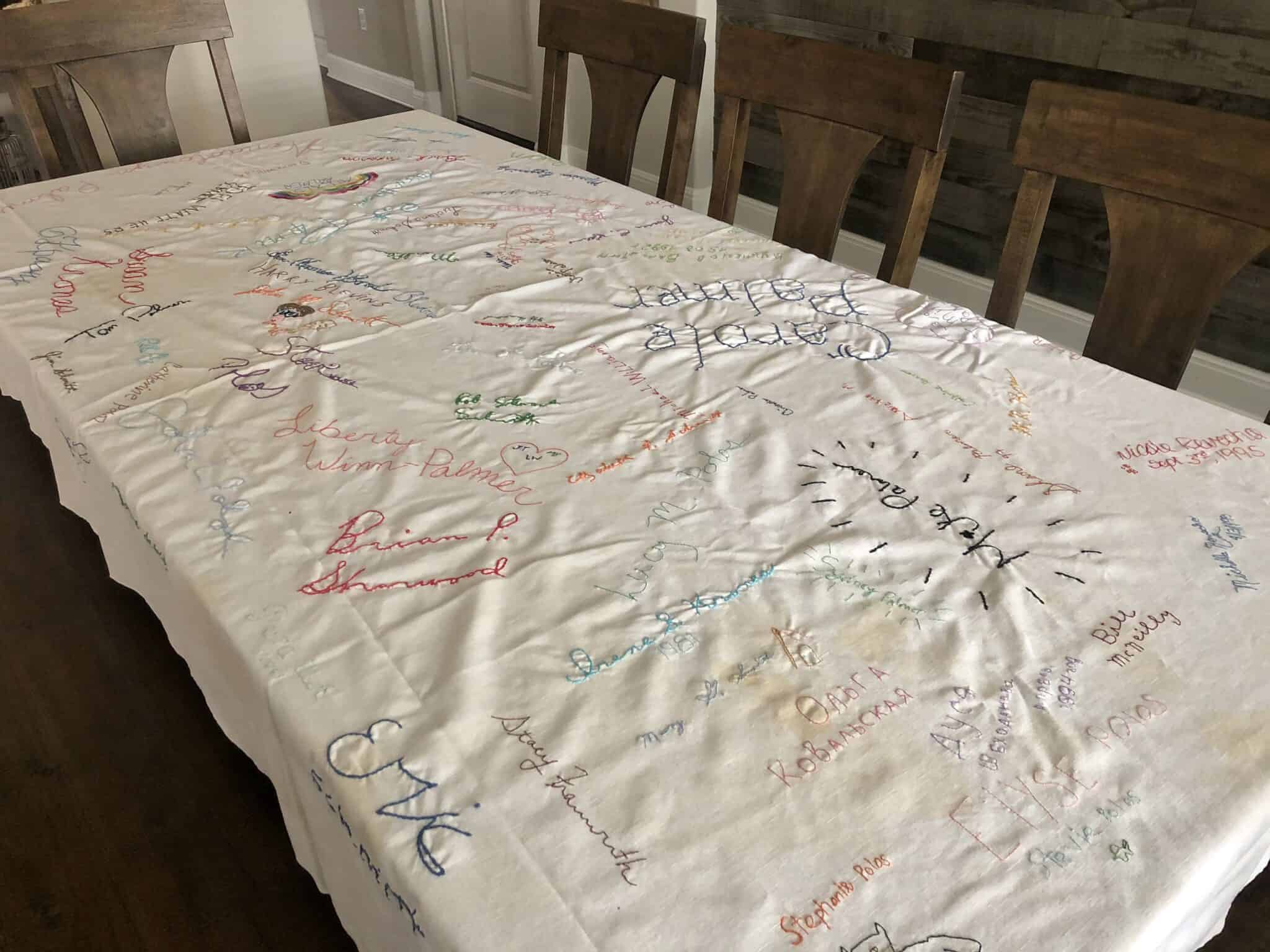 I'm going to teach you how to make a signature table cloth. I'll start with HOW TO and then I'll go into my personal story on why I have two of these.
Pick a table cloth
Kind of obvious, right? Look for an appropriate sized white table cloth. A smooth cloth with little to no texture will be the best to stitch on and it's easier to sign if it's very smooth.
Collect signatures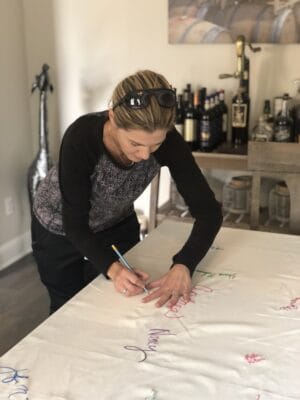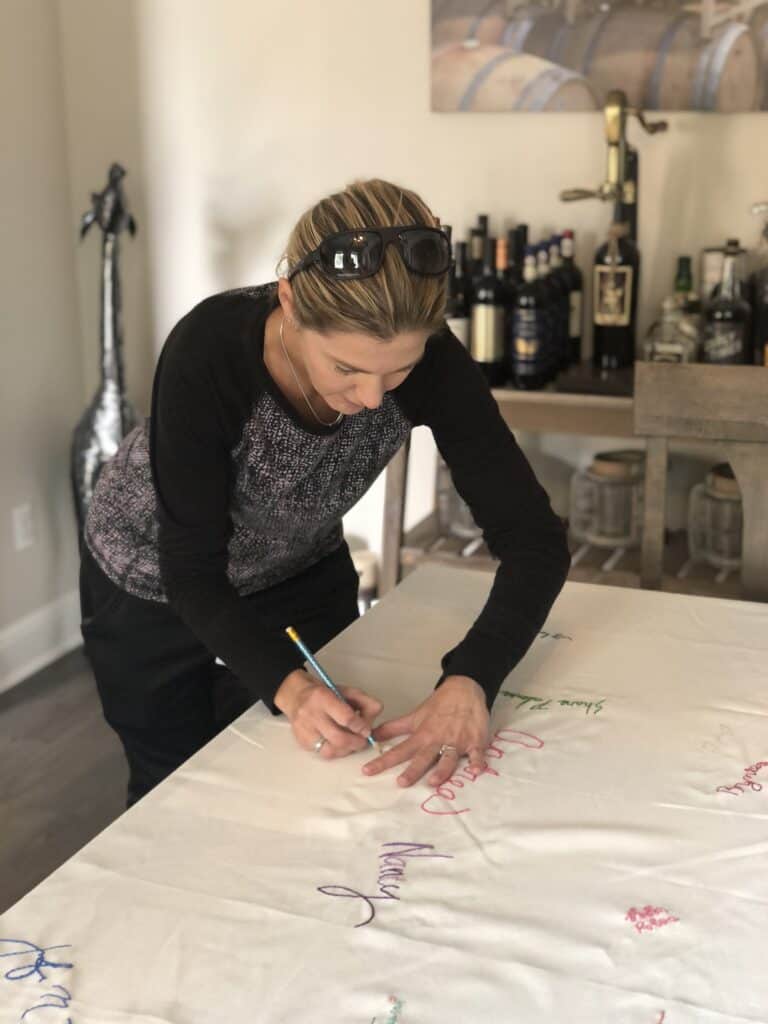 This never ends. This family heirloom is a growing and changing piece of art that doesn't have to stop. Collect all of the signatures you want from family and friends. Add more as time goes on and more people come into your life. Have your people sign the table in pencil so you can sew over it later. It's your choice on how they sign, whether it's messy like their real signature or very legible.
Start sewing
You'll need an embroidery ring, needles, colorful thread, needle threaders, and scissors. Lock the embroidery ring around the signature you want to sew by placing the smaller ring under the table cloth and the larger ring on the top. Line up the rings and push the smaller ring inside of the larger one. Turn the dial on the outer ring to tighten. You should have a very secure cloth inside of the embroidery ring.
Now it's just a matter of choosing a color and using a back stitch to sew on the signature. If you haven't ever sewn before, I suggest watching my video and maybe a few more on YouTube until you get the hang of it. When you begin sewing a new signature, start one stitch length over from the beginning. One stitch is about an ⅛"-¼". Then you'll return the needle back to the start and pull it through. Push the needle back up another stitch length over and push the needle back into the last whole from the previous stitch. Seriously, just watch some videos, but I hope this helps.
On the bright side, this is a very easy stitch. My grandma taught me how to sew it when I was a kid.
A "completed" signature table cloth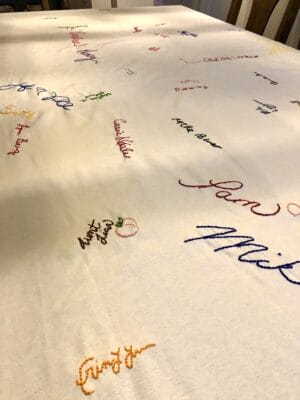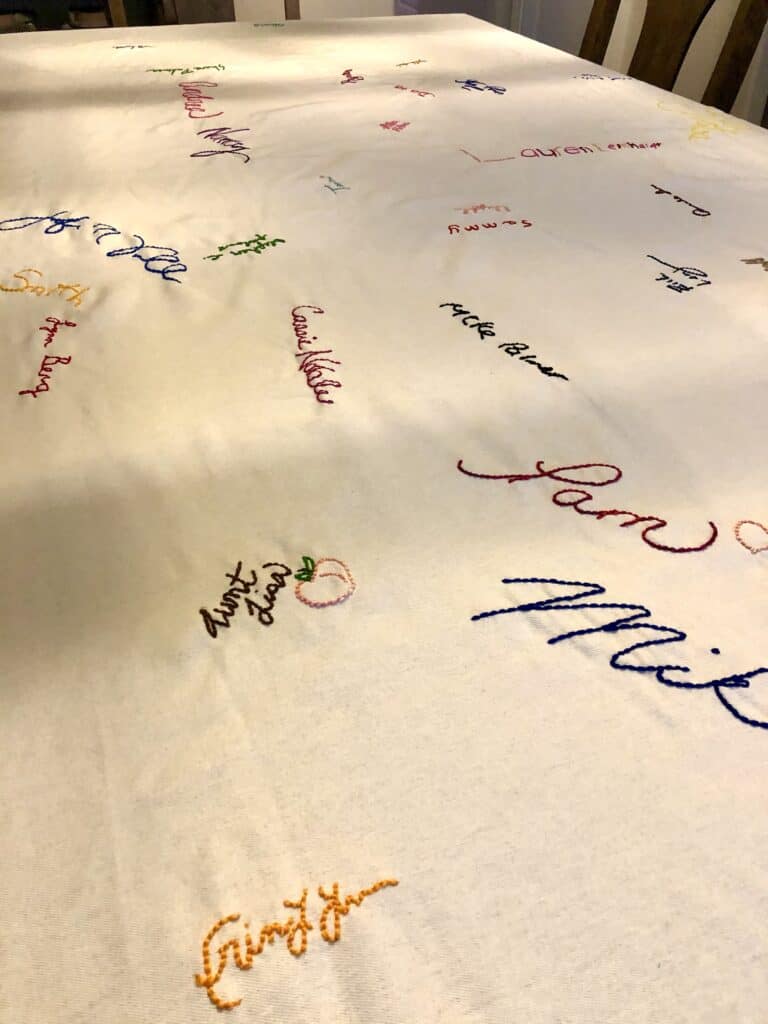 Like I said above, this can be a project that never ends. However, this is what one might look like once it has quite a few signatures on it.
We use this table cloth for family events and holidays.
Add character and make it personal
Have your family and friends add a little something to their signature that shows who they are or choose a color that reminds you of them. Special symbols like an "XO" or a heart add to the overall personality of the signature table cloth. It also brings me joy to pick a color that I associate with loved ones. For example, my dad always chooses black. Family members Nancy and Pam are all things purple. My Aunt Lucy is a native Texan, so she got yellow for a Texas rose. I could go on, but you get the gist.
The Original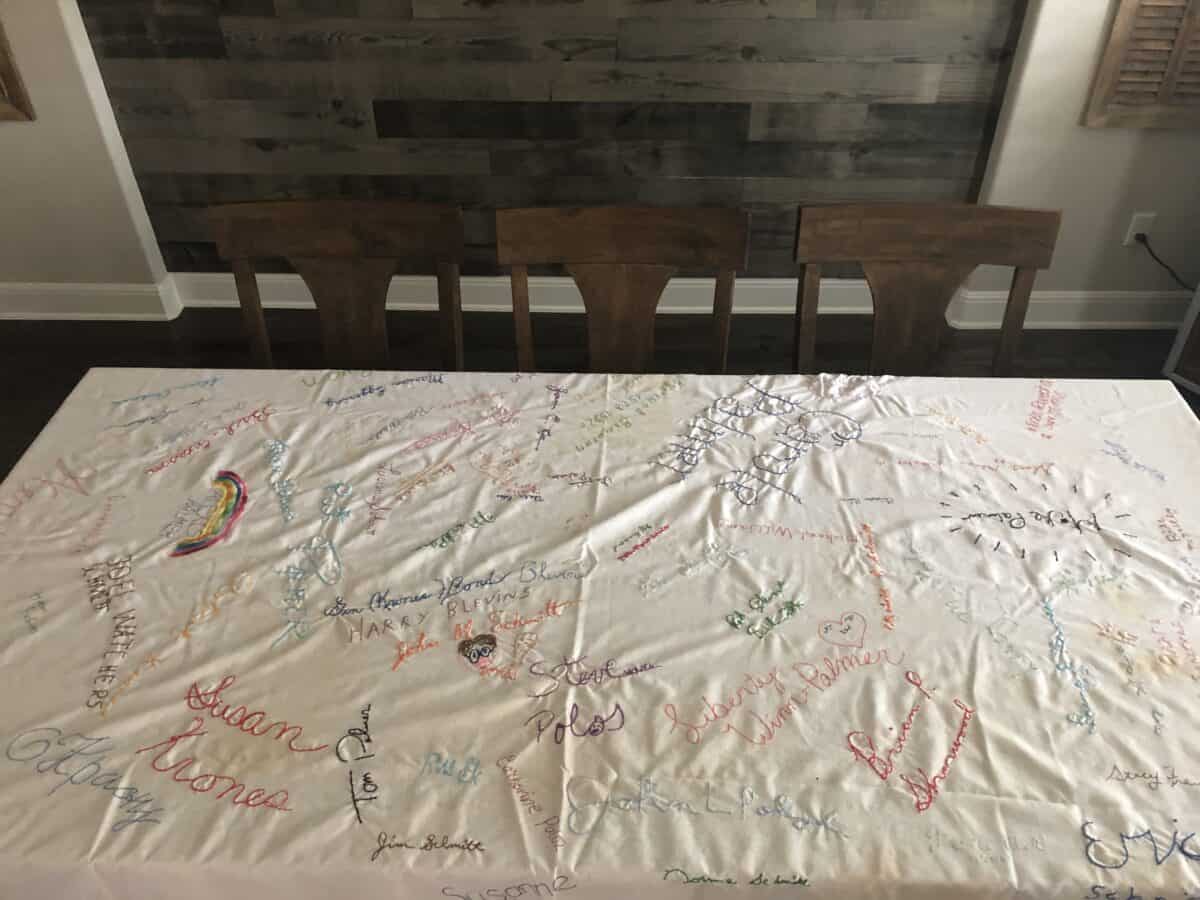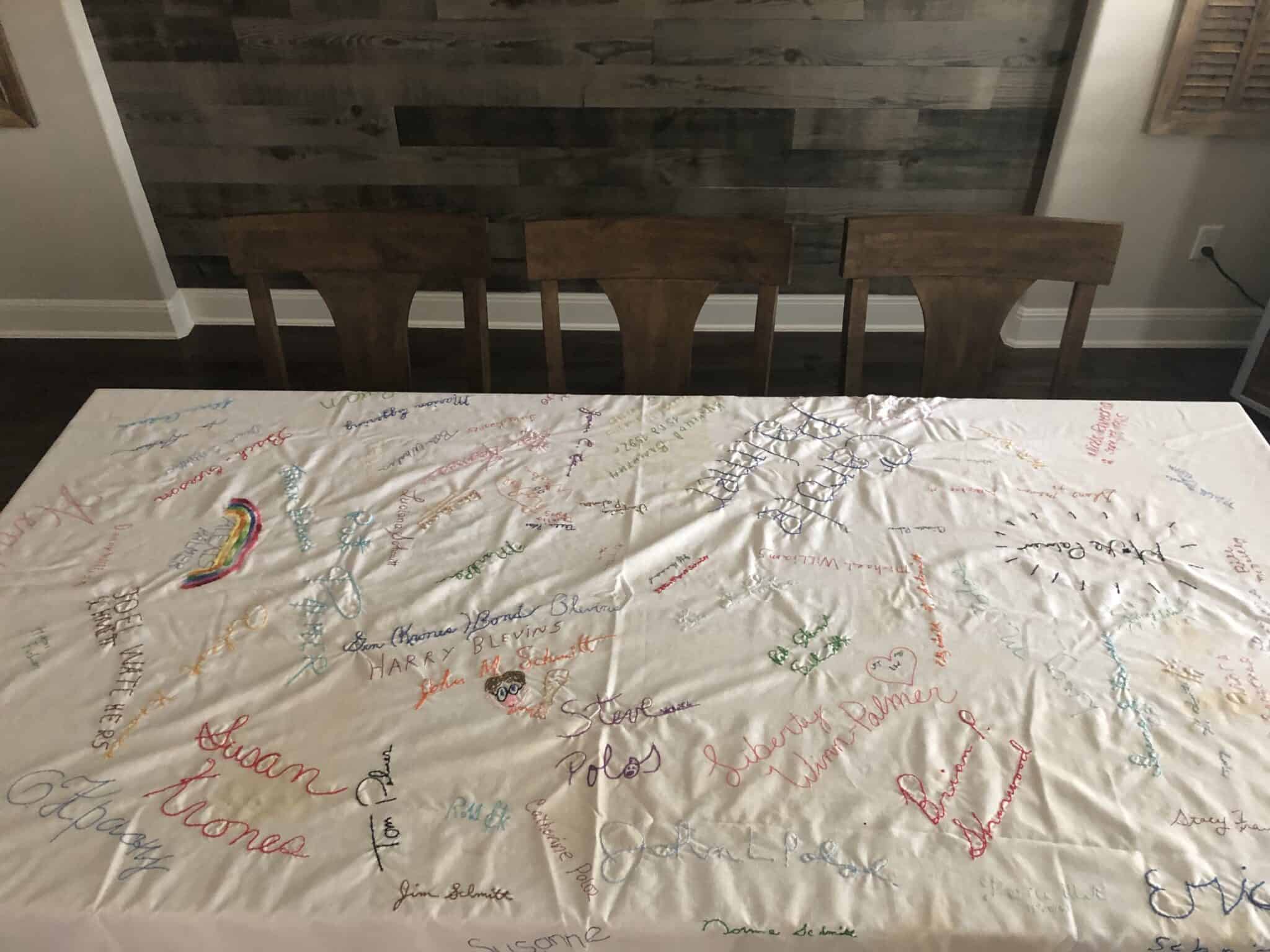 My grandmother made a signature table cloth and put it out on the table at family events. I remember when I got to sign it because it was a big deal to me. I loved it. Just the whole thing and how special it was. So much so, that when I was fourteen, I asked my grandmother if I could have it someday and she said yes.
I'm really happy that I have it now. My mother's signature is on it and that means the world to me. That signature table cloth is a perfect family heirloom. My mother's signature is also the biggest one on the table cloth. Her defense was that when she signed it there were no other signatures, so went big on purpose. Not that it was an indication of her personality. Everyone gave her a bad time for being the John Hancock of the family.
I wish I would have started to my table cloth earlier on, but I am very thankful that I did at all. It's a personal and unique item that can't be bought or duplicated.
I will leave this to one of my kids or grandkids some day. They can listen to stories about people who signed it who aren't with us anymore. I think these two table cloths are actually my favorite possessions in the world.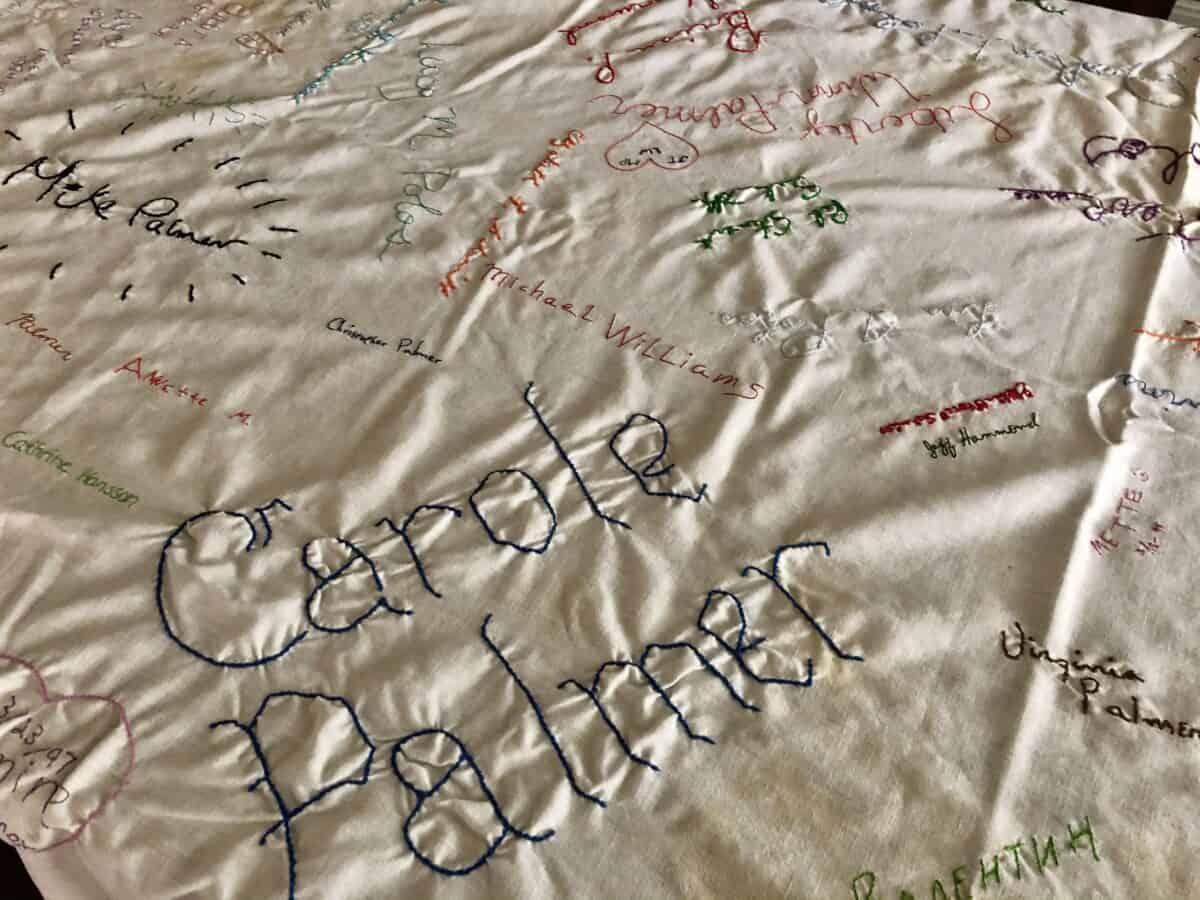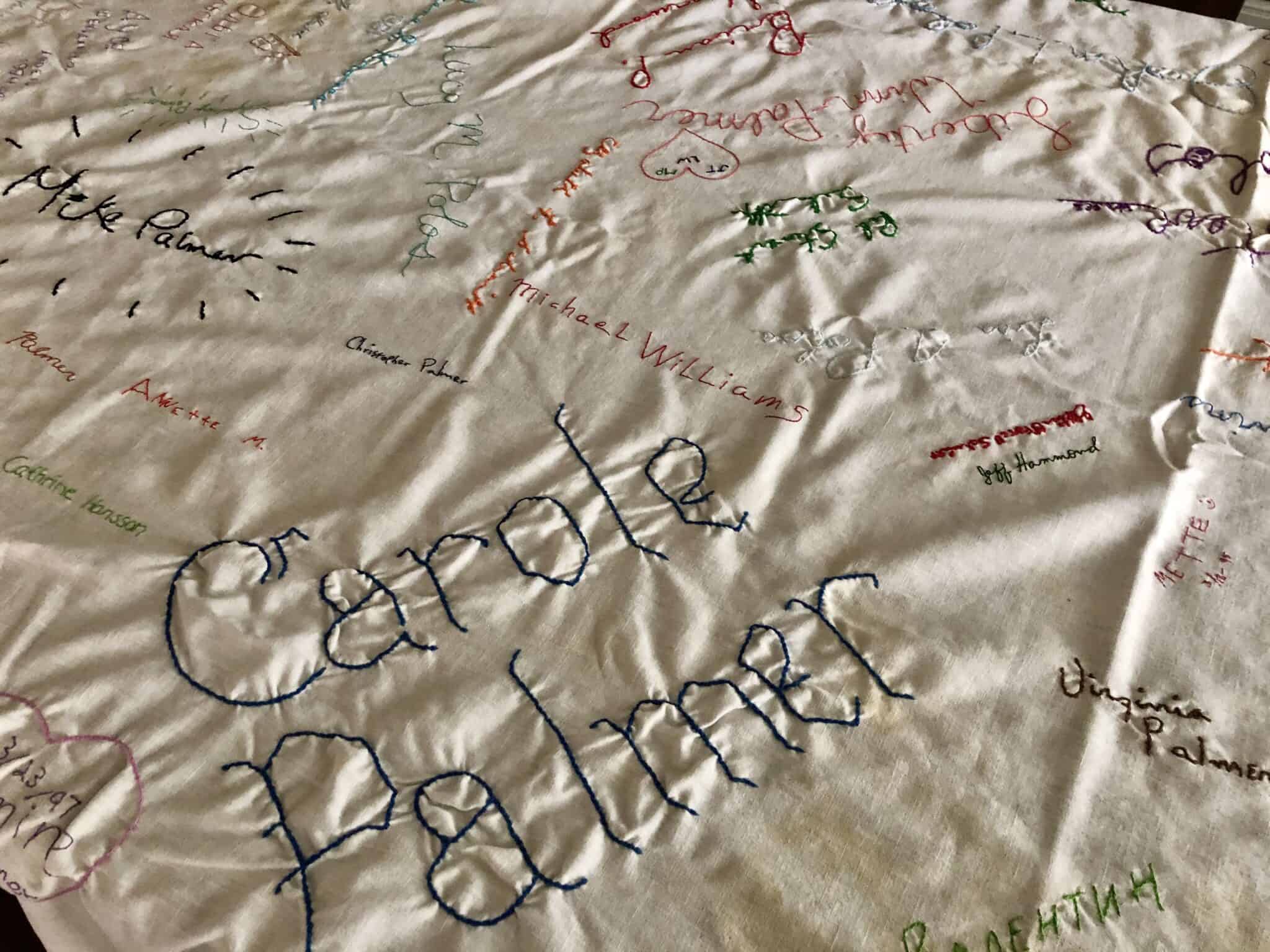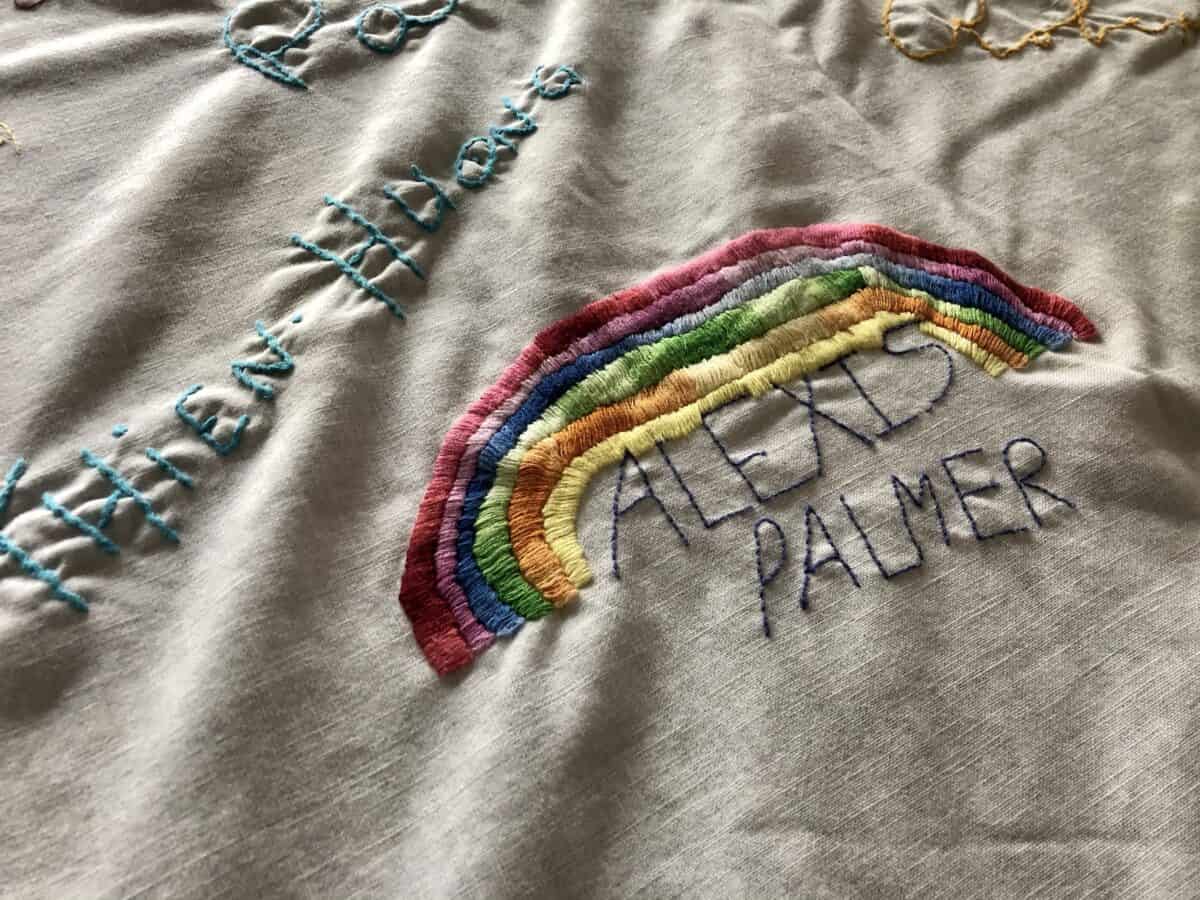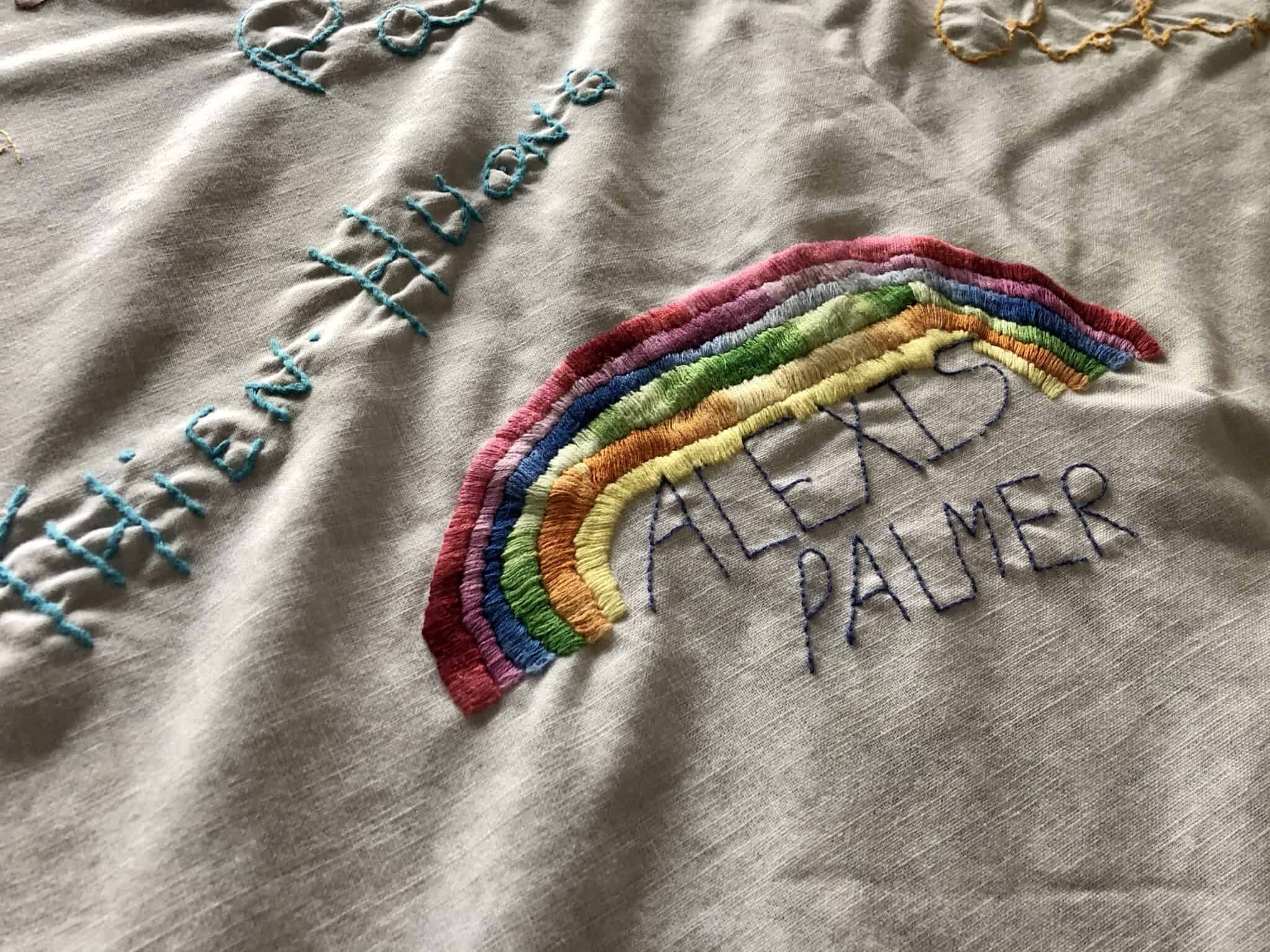 Shop the supplies you need for a signature table cloth
(As an Amazon Associate I may benefit from qualifying purchases)