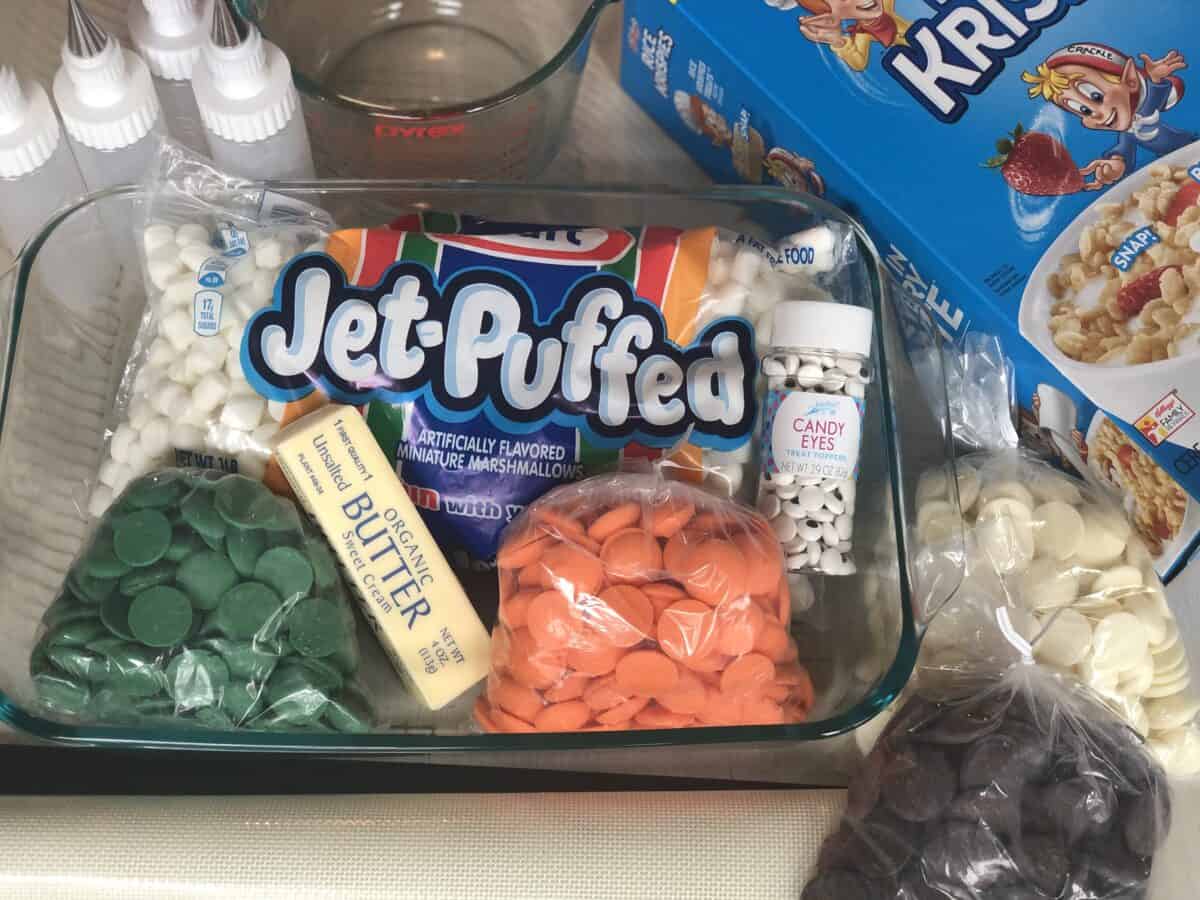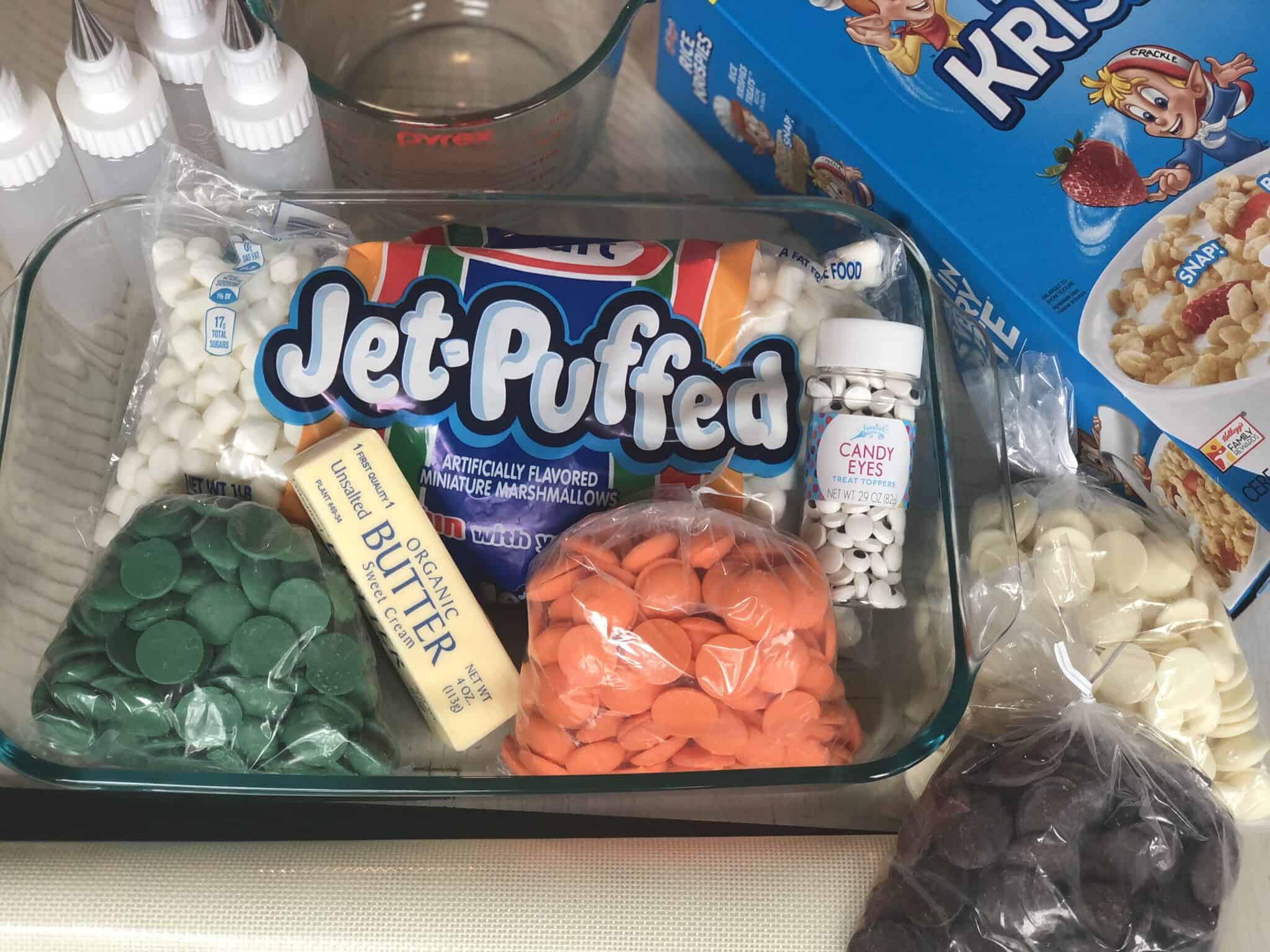 Halloween Rice Krispie Treats are sure to get you in the spooky spirit! These little monsters are super cute, but better than how good they look, they are so easy to make.
The Secret to Deliciousness
Everyone who wants to know how to make Rice Krispie treats already knows how. They have been around forever and the recipe is on both the Rice Krispie cereal box and bags of marshmallows. What I am going to suggest is more marshmallows. The typical recipe calls for 5 ½ cups of marshmallows and 6 cups of Rice Krispies. I just go to a 6 to 6 ratio. My cousin Elyse used to make Rice Krispie treats with extra marshmallows and tossed some Fruit Loops. They were fun and delicious.
Aside from the extra marshmallows, we are going to use Merkens Chocolate Melts to decorate these little cuties. Merkens Chocolate makes everything better and they will be adorable. Two birds... One stone.
The Decorations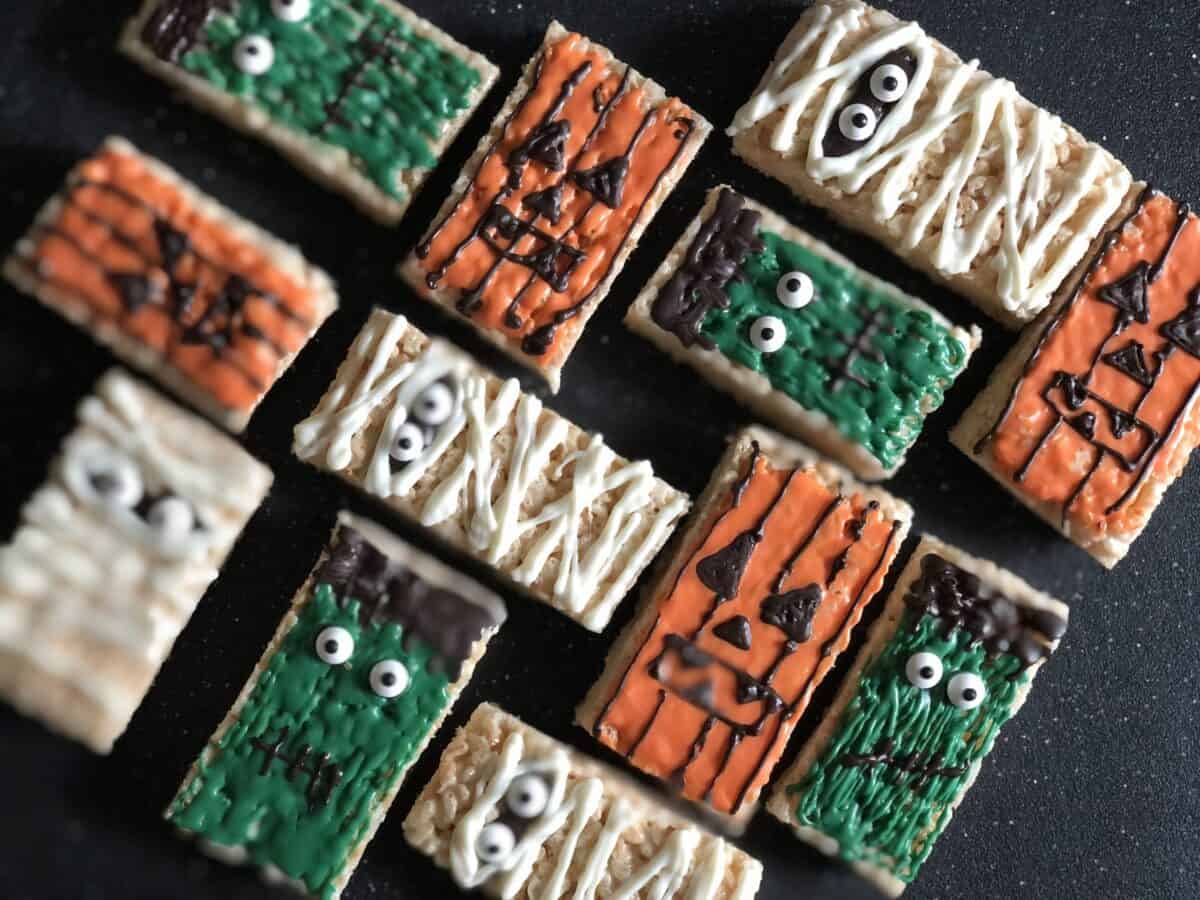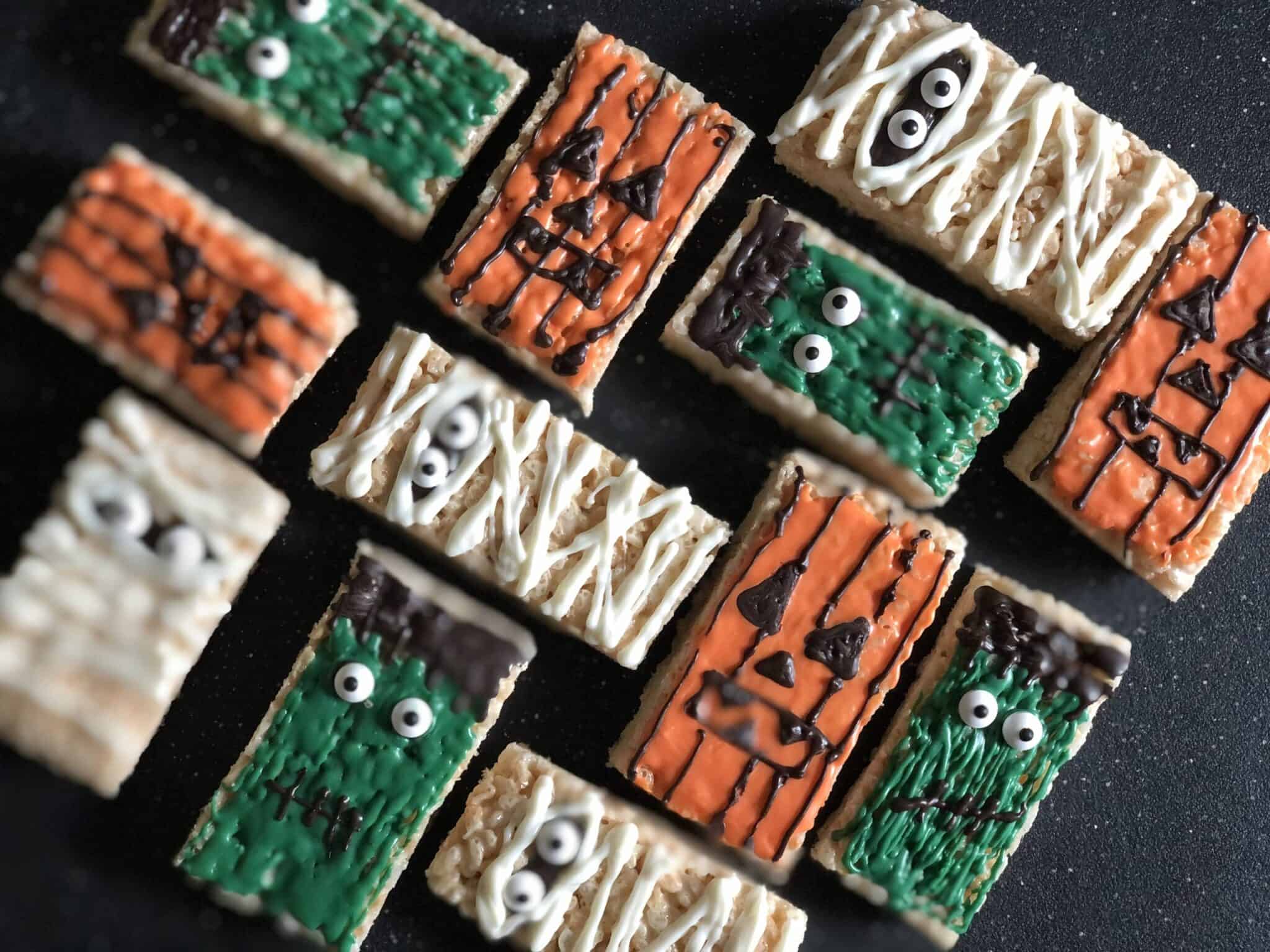 You guys know I need my confections to be forgiving and I don't do perfect. I barely do "exact." So aside from the tasty factor, I like making these because they are so simple you could have your kids do them and they will come out great! The designs for a Jack-O-Lantern, mummy, and Frankenstein are simple. (the Jack-O-Lantern is probably my favorite.
To make these three designs, you'll need:
orange, white, dark brown, and green chocolate melts
candy eyes
icing bottles
The secret to success with the designs for the Jack-O-Lantern and Frankenstein is that after you squeeze on the base color, pick the Rice Krispie treat up and tap it a few times on your work surface. This will create a smooth finish across the top. After that, you can add the finishing touches. Some candy eyes and a little flair... Voila.
The Chocolate Melts
The most challenging part about making these is the chocolate. Use a microwave safe dish and the MELT setting on your microwave. If the sugar in the chocolate burns, it is ruined. I hate that. What I have found the more I work chocolate melts is that lots of stirring makes all the difference. Really mix it in between each interval to the microwave. After I fill my bottles, I keep the bottles in glass cups of screaming hot water while I'm working. This prevents the chocolate from hardening in the bottles before I'm finished. Lastly, if chocolate gets stuck in the piping tip, I hold my finger on the end of it and run it under hot water for a second. It melts the chocolate again and works every time.
Watch the video below to see the step by step and read on for links to purchase supplies.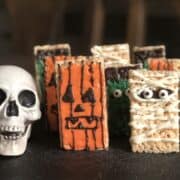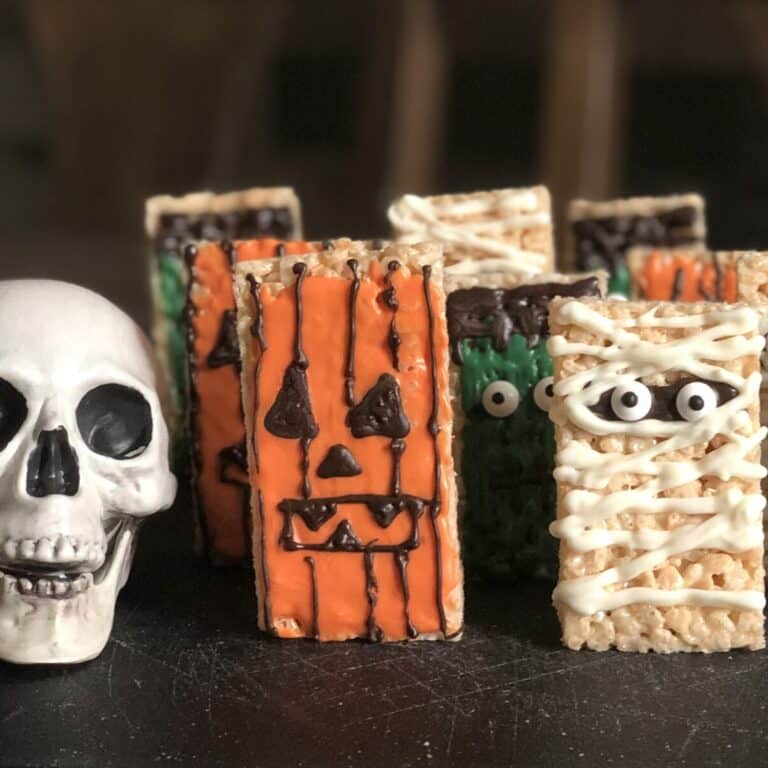 Print Recipe
Halloween Rice Krispie Treats
Delicious marshmallow gooiness with rice krispie cereal and festive Halloween decorations.
Ingredients
6

cups

Rice Krispie Treats

6

cups

marshmallows

3

tablespoon

unsalted butter

½

cup

orange chocolate melts

½

cup

green chocolate melts

½

cup

white chocolate melts

½

cup

dark brown chocolate melts

16

candy eyes
Instructions
Spray a 9x13 glass baking dish and set aside.

Preheat a large pot to medium and melt 3 tablespoons of butter.

Once the butter is melted, add all 6 cups of marshmallows and stir to coat with the melted butter. Continue to stir the marshmallows until they are completely melted.

Turn off the heat and quickly stir in the Rice Krispies. As soon as they are evenly mixed, pour the Rice Krispie and marshmallow mixture into your dish.

Cover the Rice Krispie treats with a piece of plastic wrap and really press into them to create a very even thickness all the way through. Having a nice even layer will give you uniform Rice Krispie Treats. Let them rest for at least two hours before cutting and decorating.
Decorating
Run a knife around the edges of the Rice Krispie Treats and flip over onto a cutting board. Cut out 12 equally sized treats. Trim the edges so they have straight sides all the way around.

Start with the white and dark chocolate wafers. If you decorate in this order, you'll have an easier time keeping the chocolate warm.

Place chcolate melts in a microwave safe dish and heat in mocrowave on "MELT" setting. Stir vigorously every 30 seconds until the chocolate is smooth. The more you stir, the less heat you will have to use overall. Be careful and watch the temperature because if the chocolate gets too hot, the sugar will burn and you'll have to start over.

When the chocolate is melted and smooth, pour into icing bottles.

Get out 4 drinking glasses and fill halfway with very hot water. After the icing bottles are filled, place them in the hot water to keep them warm.

For the mummy, start with a small section ⅓ of the way from the top of your treat and pipe out a little dark chocolate. Stick on two candy eyes in the dark chocolate stripe. Use the white chocolate to pipe on stripes, making some horizontal and some diagonal to look like a wrapped mummy.

For Frankenstein, start with a lot of green chocolate for the base. When you have piped out a thick layer, tap the Rice Krispie Treat down on your work surface to smooth it out. Put on two candy eyes. Use the dark chocolate to give him hair and a mouth that looks like stitches.

For the Jack-O-Lantern, pipe out quite a bit of orange. Just like with the mummy, tap it on the counter to smooth it out. Using the dark chocolate, give it triangle shaped eyes, nose, and Jack-O-Lantern mouth.

They are ready to serve or you can bag them up for later. They travel well.
Nutrition
Finished Halloween Rice Krispie Treats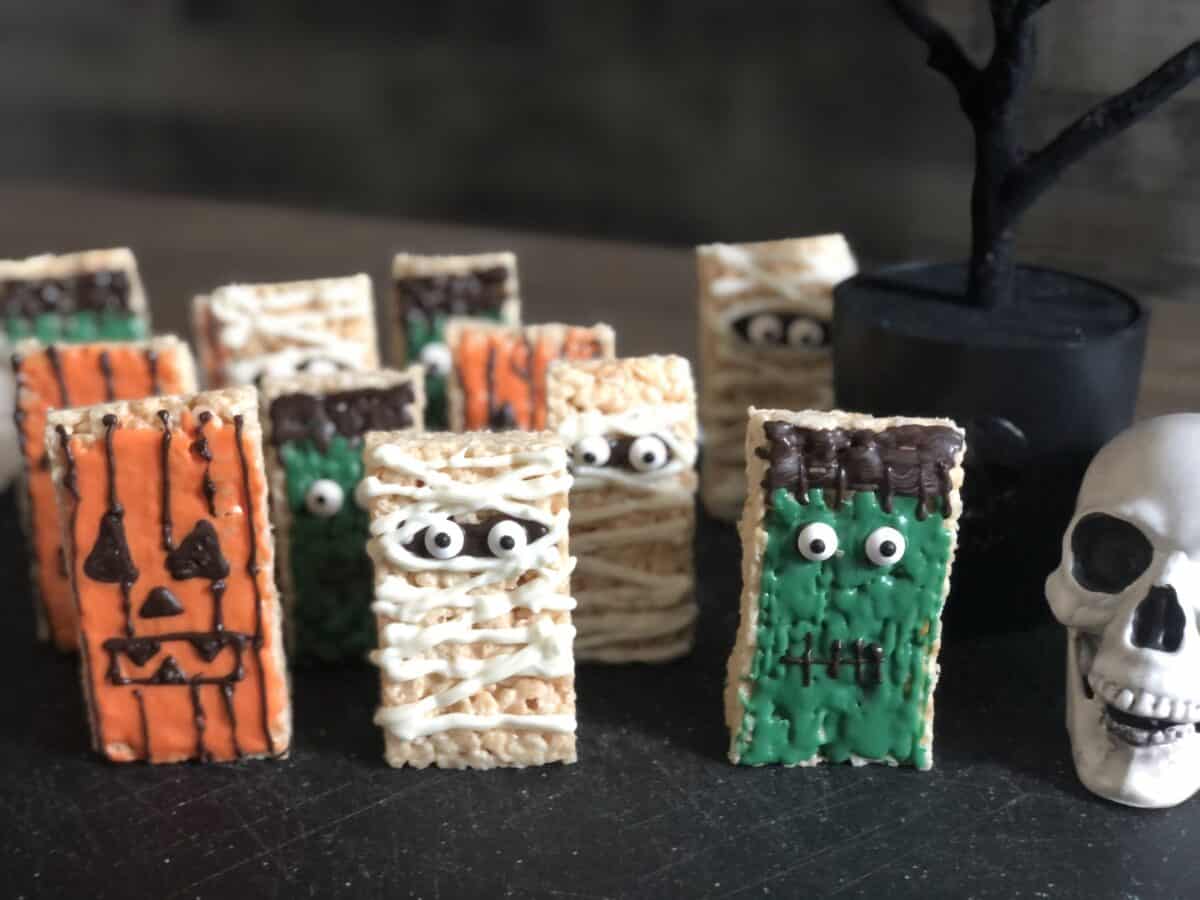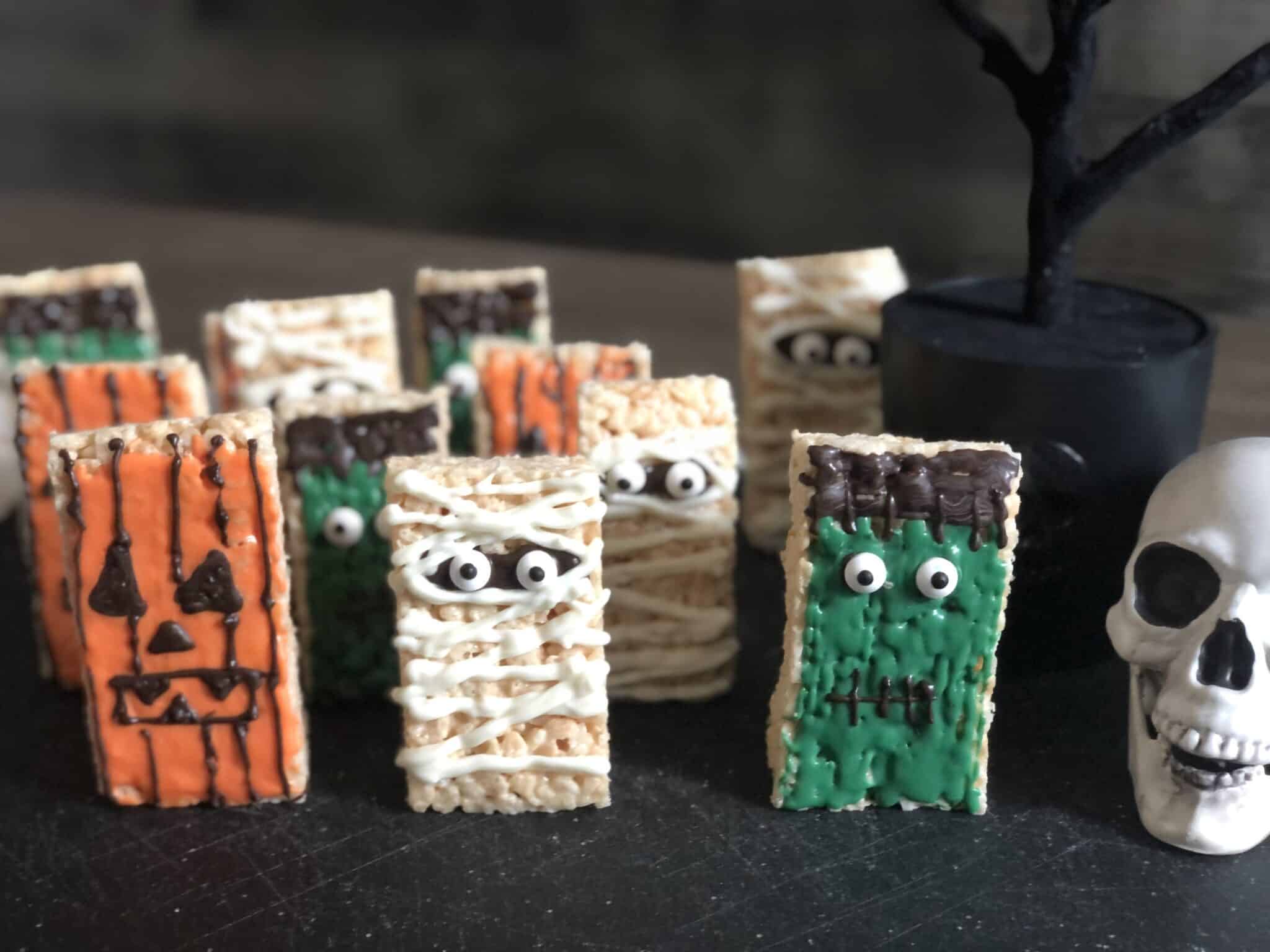 Shopping List
More Festive Fun...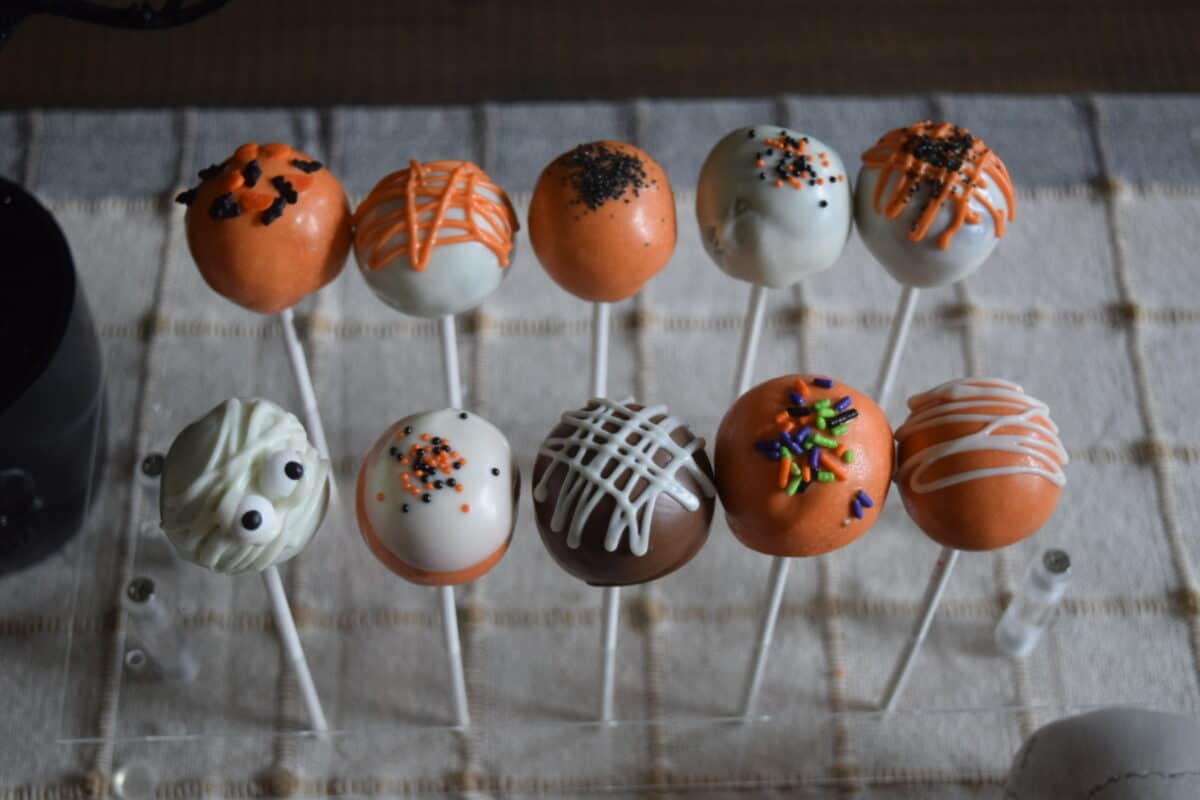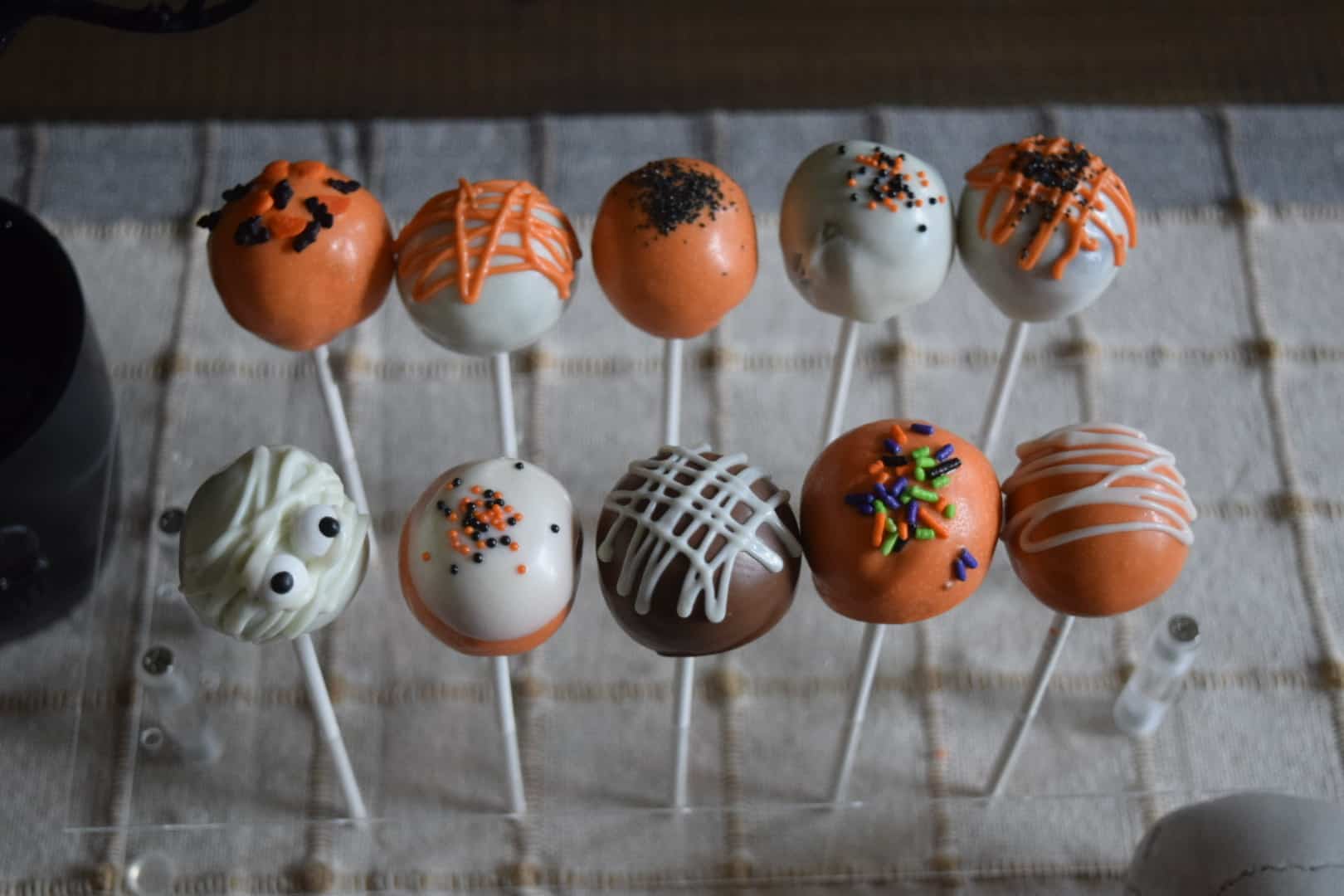 For other sweet treat ideas, check out my cake pops. Decorate with Halloween colors and sprinkles for some spooky fun.
This post contains affiliate links. As an Amazon Associate I may benefit from qualifying purchases.