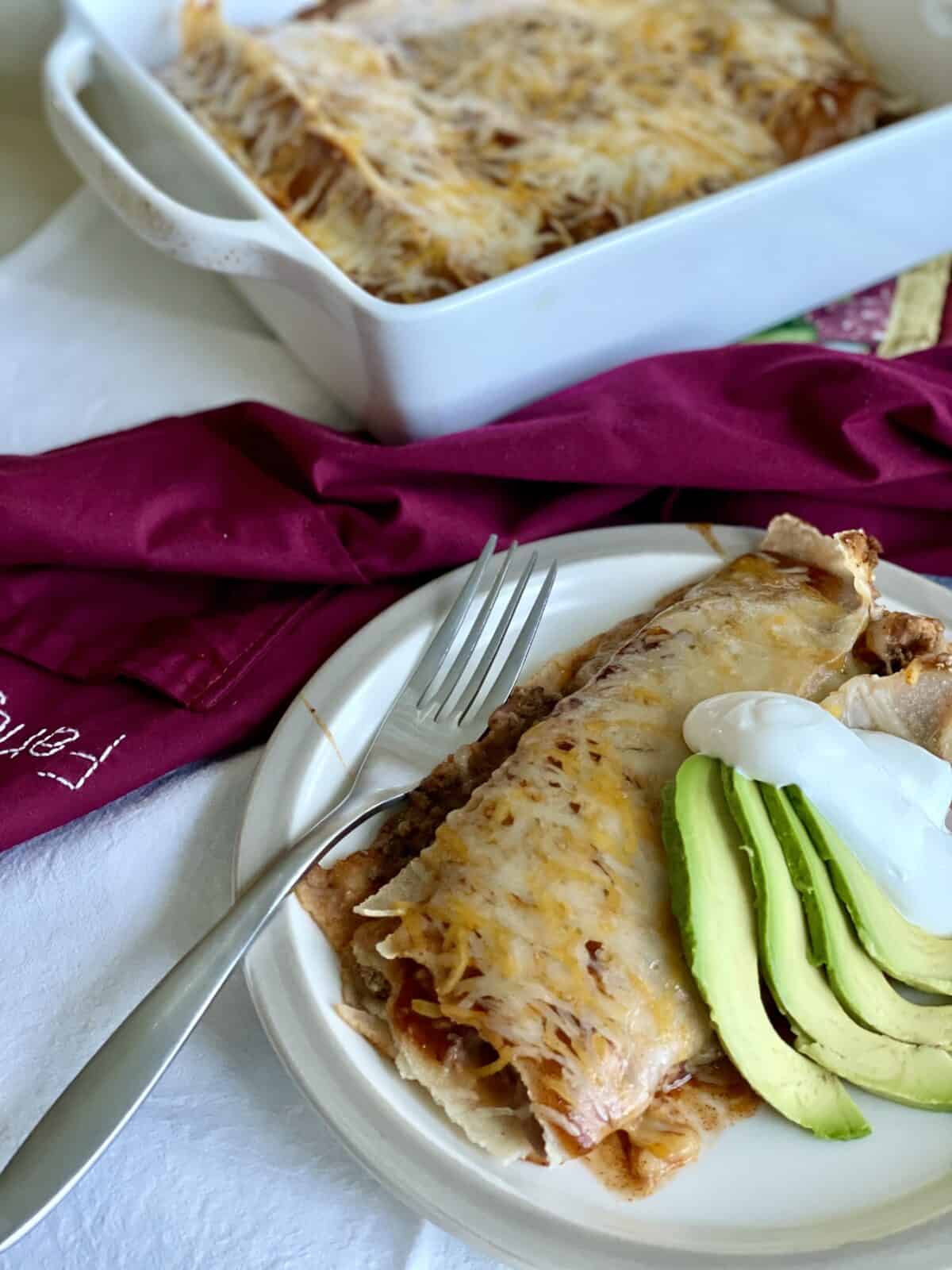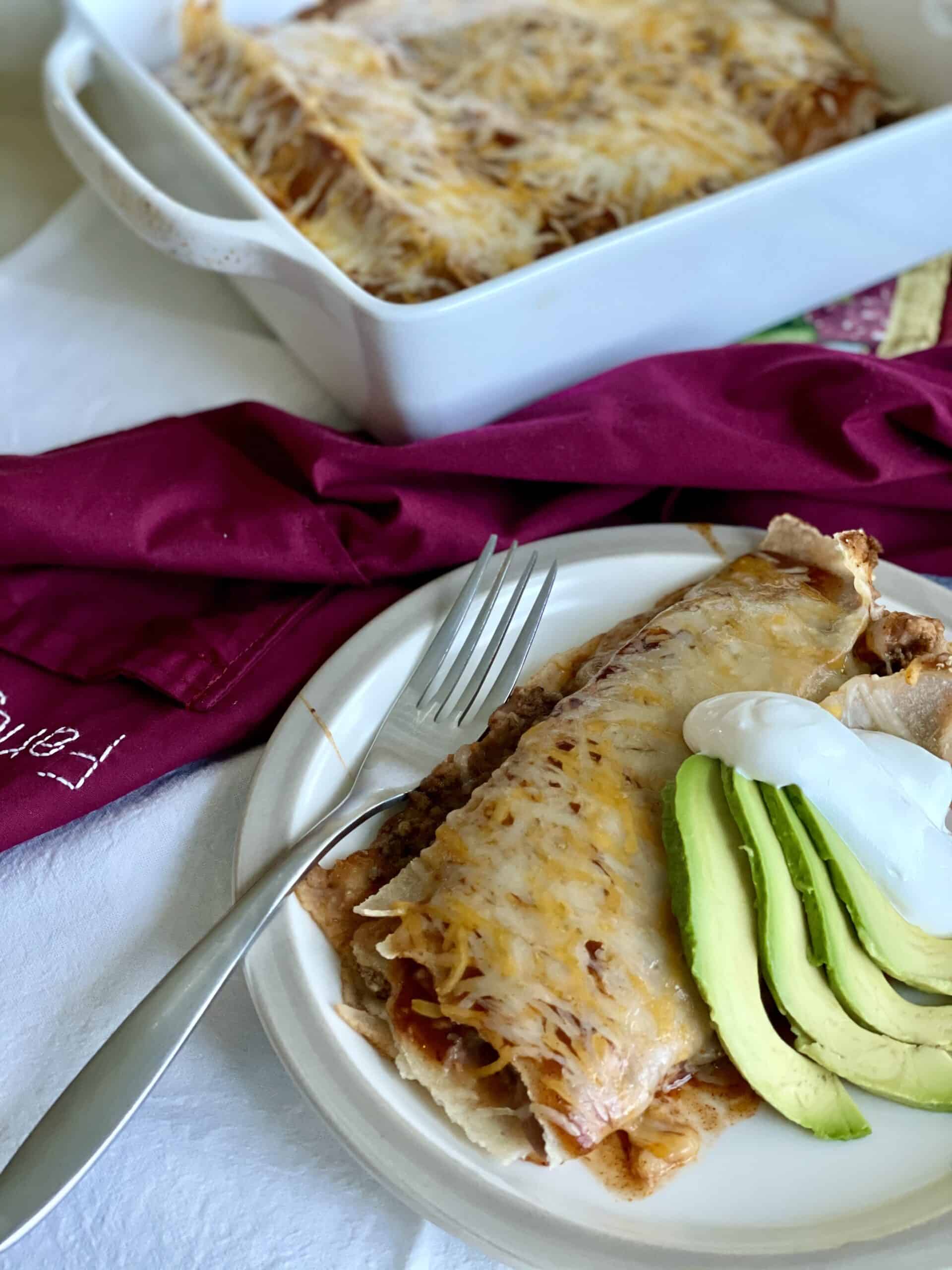 What's an Enchirito?
Beef and bean enchiritos are a mash up of a big burrito in a soft tortilla smothered in enchilada sauce and melted cheese. I bet I have your captivated attention, don't I? 🙂
I love smothered burritos. Texas has them at every Mexican restaurant. It's a stick to your ribs, loaded with flavor, food coma waiting to happen.
Ingredients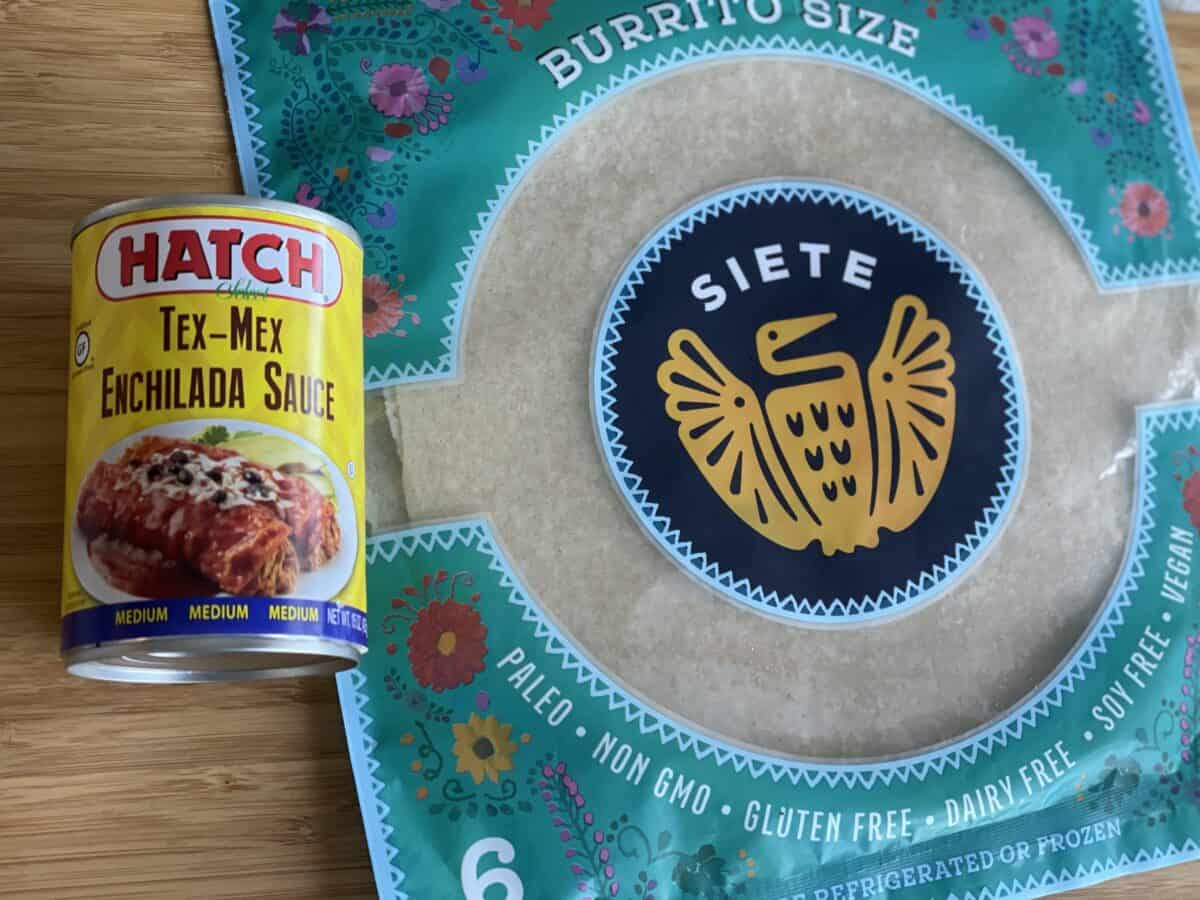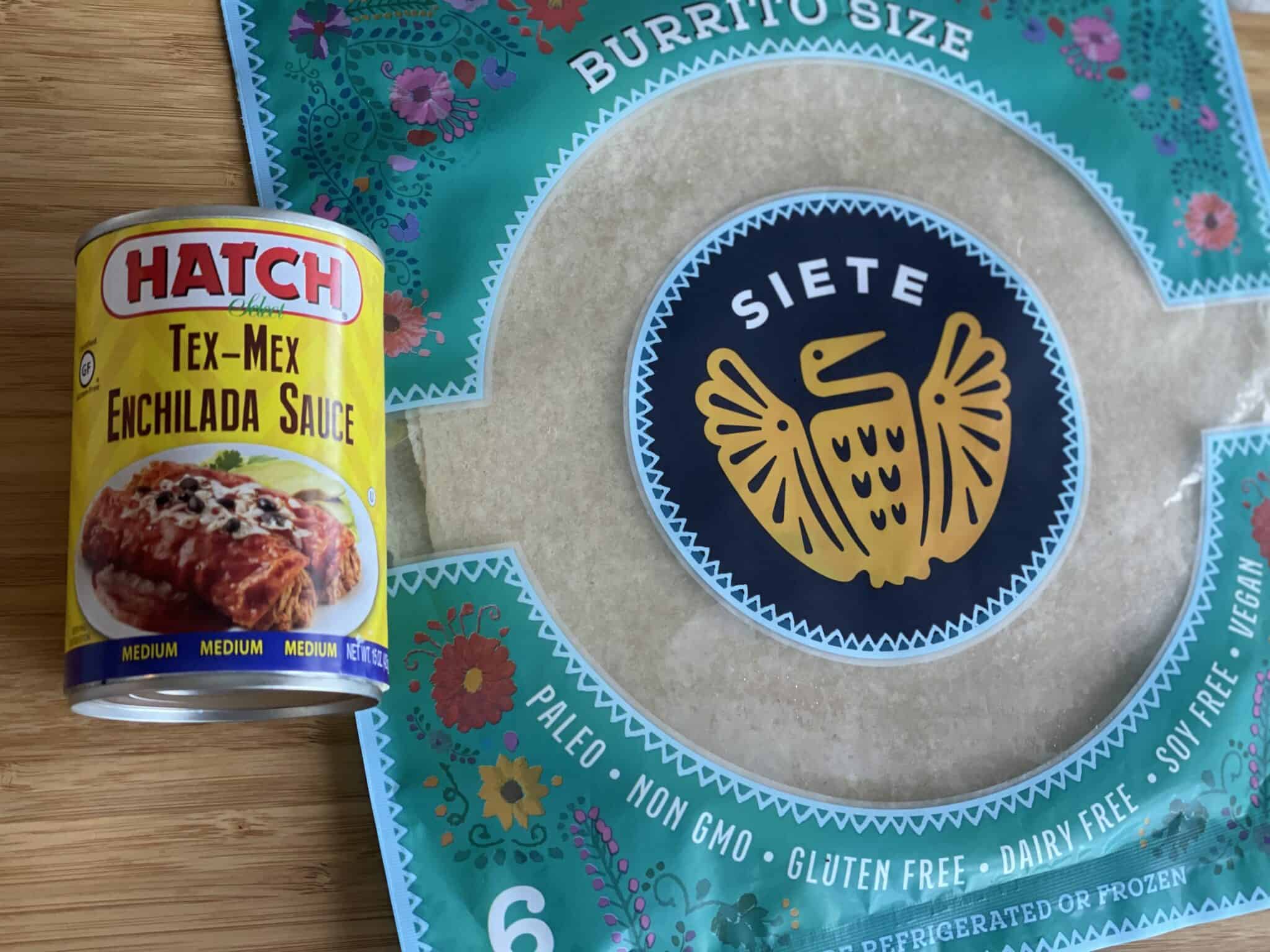 The game changer with this meal is the soft tortilla. In my former days, I lived on flour tortillas. Now that I'm a gluten free girl, I like to use Siete brand gluten free tortillas. Then we're just filling up that tortilla with seasoned ground beef, refried beans, cheese, and enchilada sauce.
This Hatch Tex-Mex sauce really delivers just a hint of spice and deep chili flavor. It is hands down my favorite canned enchilada. I can find it in my Texas grocery store, HEB, and Target stores. Bottom line, find one you really enjoy.
Beef and Bean Enchirito Recipe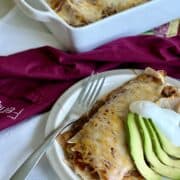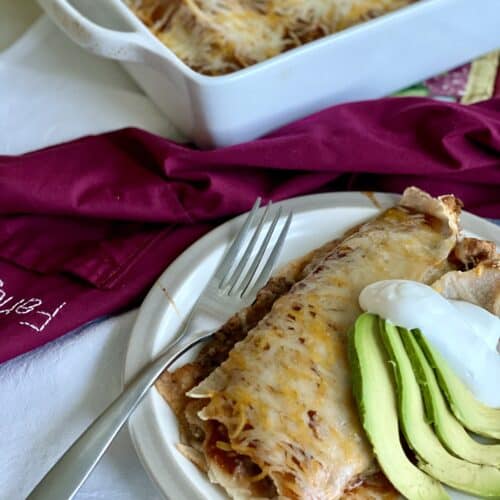 Print Recipe
Beef and Bean Enchirito
Ingredients
1

pound

ground beef

4

10" flour or gluten free soft tortillas

2

cups

shredded cheese

1

15 ounce

can of refried beans

1

15 ounce

can of enchilada sauce

1

avocado

sour cream

optional
Instructions
Prepare Ingredients
Preheat your oven to 375F.

Brown the ground beef in a large skillet. Cook until all of the moisture has cooked out and the meat carmelizes. Add 1 cup of water and 1 packet of taco seasoning. Reduce heat to medium-low and cook for 20 minutes. The water will reduce completely, leaving you with a moist and tender meat mixture.

While the meat is cooking, heat up the refried beans in the microwave for 1 minute. They dont need to heat completely, but just enough to soften so they are easy to spread. Do the same with the tortillas. They are more pliable when warmed up.

Open the can of enchilada sauce and get out the shredded cheese.
Assemble the Enchiritos
Lay a warmed tortilla on a plate or cutting board.

Spread a layer of refried beans out for the base. Next, spoon on the cooked beef. Pour 1 tablespoon of enchilada sauce onto the meat. Top with cheese. Roll the enchirito by tucking in the ends and rolling up completely. Assemble all 4 enchiritos.

In a baking dish, pour a layer of enchilada sauce on the bottom of the dish. Lay each enchirito in the baking dish. Pour on a generous layer of sauce to coat each enchirito and top with cheese.

Bake the enchiritos uncovered for 20 minutes or until the cheese has melted completely and the sauce is bubbling.
Notes
If you're using a Site brand gluten free tortilla, it may break when folded. That's ok. It will still bake well and taste amazing. 
If you're using a regular soft tortilla, it will fold well and hold up its shape no problem. 
Nutrition
Family Friendly Dinner
This is a family friendly meal. It serves 4 adults or a family of 2 adults and up to 4 kids. It doesn't have any weird flavors or mixed in veggies that someone will pick out. Just easy ingredients and an uncomplicated cooking process.
You know by now I love Mexican food. Some of my other favorites are Pulled Pork Tacos or Tequila Lime Marinated Chicken.
Notes
If the gluten free tortillas break, that's okay. Everything will still come together and taste delicious.
Questions or Comments?
If you have questions or comments, please let me know. I love to hear from readers and know if anything in my recipe needs to be adjusted or if its a total success.
Thanks for reading 🙂