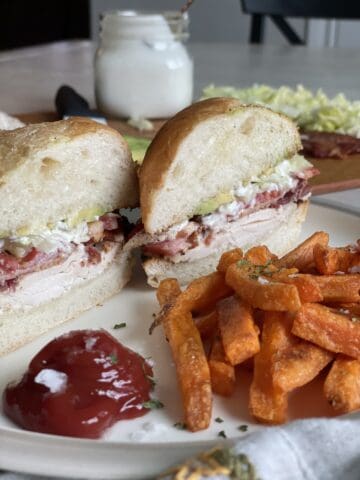 One of my favorite lunch time mash-ups is a Chicken Cobb Sandwich. I used to order this at a local restaurant until they took it off the menu, but it's easy enough to recreate at home. Plus, I get to use my homemade blue cheese dressing on this sandwich, which I love.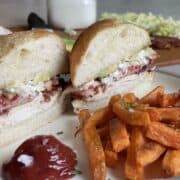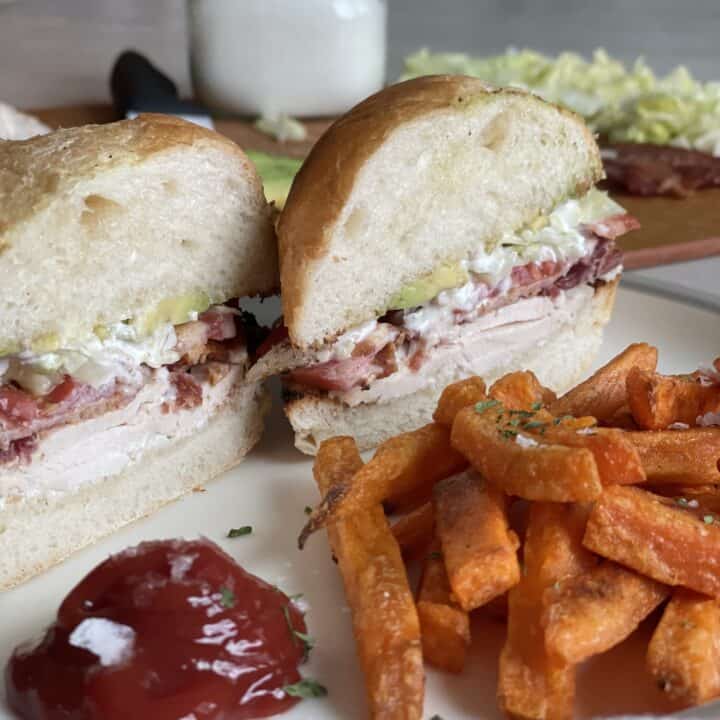 Print Recipe
Chicken Cobb Sandwich
All of the ingredietns in a cobb salad loaded on a soft roll for a tasty Cobb Salad Sandwich
Ingredients
1

French Roll

2

tablespoon

butter

4

ounces

cooked chicken thinly sliced

either grilled or roasted

2

slices

crispy bacon

¼

avocado

3

slices

tomato

⅓

cup

shredded iceberg lettuce

2

tablespoon

blue cheese dressing

black pepper
Instructions
Cook bacon slices until they are crispy and drain excess grease. I bake my bacon slices in the oven at 400F for 20-22 minutes on a baking sheet lined with parchment paper or in an air fryer. While the bacon is cooking, prepare the other ingredients.

Thinly slice the cooked chicken breast on an angle. The thinner the better for an easy to eat sandwich. Grilled or roasted chicken both work great for this sandwich. A rotisserie chicken from Costco is a perfect shorcut here.

Cut the French roll in half through the center. Spread butter in the cut side of each half and lightly season with salt. Place on a baking sheet and place under a broiler set to LOW for 3 minutes or until the roll has lightly toasted to a golden brown.

Prepare the avocado, lettuce and tomatoes. Slice the avocado. Shred the lettuce into thin bite sized pieces. This allows the blue cheese dressing to thuroughly coat the sandwich ingredients. Slice the tomato to desired thickness. I like mine very thin.

Assemble the sandwich. Spread a thin layer of blue cheese dressing on each side of the toasted roll. On the bottom roll, layer the sliced chicken, crispy bacon, avocado, tomatoes, shredded lettuce, and more blue cheese dressing. Cover with the top roll and cut through the center on a diagonal for easy eating.

Serve this sandwich with potato wedges or sweet potato fries.
Did you make this recipe? Tag me on Instagram @fancy_apron 🙂 or leave a comment below.
The Ingredients
Let's run these down for a second:
Chicken- can be cooked anyway you like as long as its tender. A rotisserie chicken from Costco is perfect here. Leftover grilled or roasted chicken are other good options. The most important thing is that it is thinly sliced. The sandwich will be easier to eat and more enjoyable if the chicken is tender and thinly sliced.
Bacon- I recommend thin vs thick cut bacon and plenty crispy, please.
French roll- the key to a great sandwich. Pick out something from the bakery section of your grocery store. Freshly baked and with a nice chew makes this sandwich a treat.
Blue cheese dressing- homemade blue cheese is the best. The dressing I use on my wedge salad is simple and packed with blue cheese flavor.
The veggies don't need more explaining.
More Lunch Ideas
Most days, I need a lunch that won't weight me down. I get hungry and want a good lunch break halfway through my day, but I don't want to be too stuffed to carry on either. These suggestions below keep me going.
So... if you tried this recipe or would like to see more like, please send me a note. I love feedback from readers. Thanks 🙂