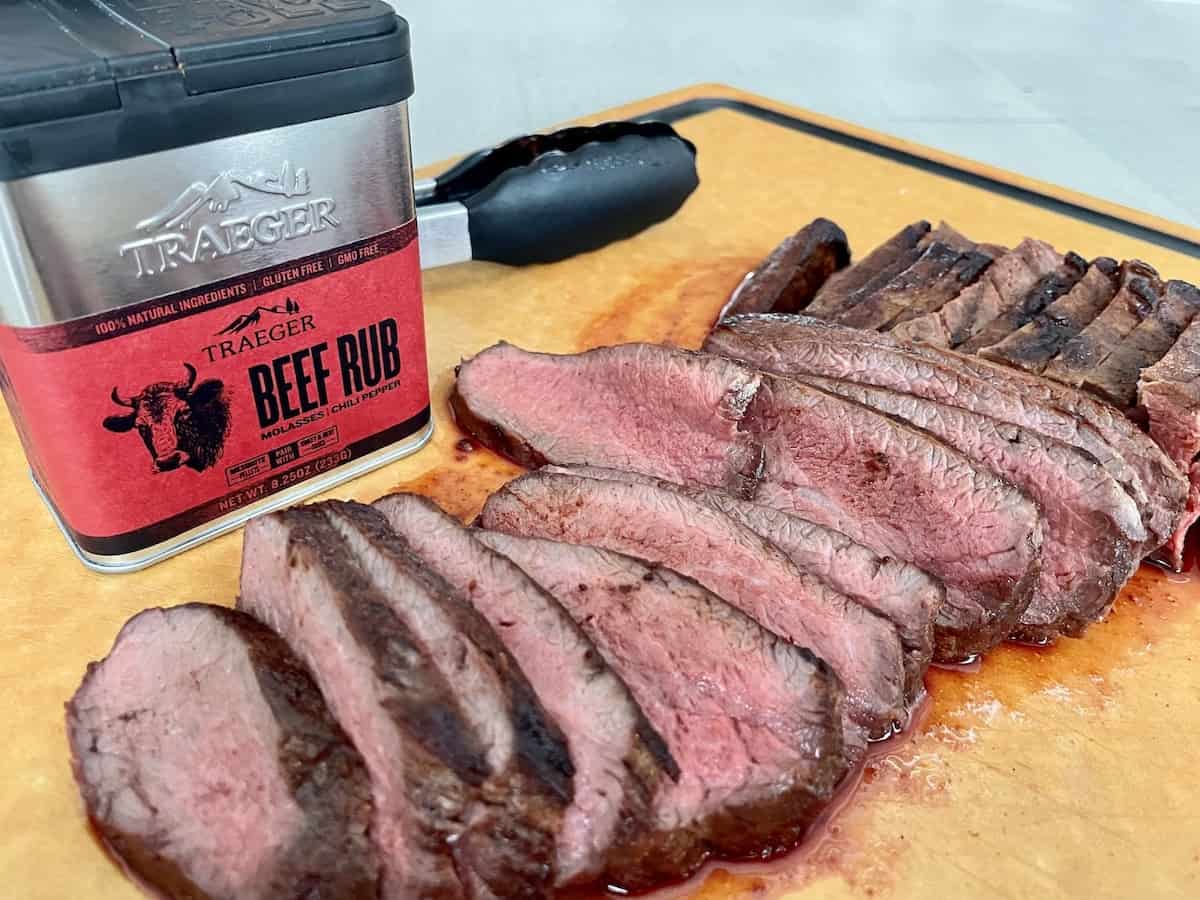 This Traeger Tri Tip recipe is my favorite way to cook a medium sized cut of beef that is tender, flavorful, and moist all of the way through. Tri tip can be tricky because of its shape, but we are using a modified Santa Maria method for this recipe. If you want a delicious and uncomplicated tri tip recipe for your Traeger, I got you.
This blog post contains affiliate links. As an Amazon Associate I may earn income from qualifying purchases.
Santa Maria Style Tri Tip
Tri-tip is most popular along the central coast of California, which is why it earned the name "California cut." The preferred method for cooking a tri tip originated in Santa Maria. A tri tip roast is a less tender cut from the bottom of the sirloin. So... it doesn't quite work as a quick cook on high heat, but it also doesn't need the low and slow treatment.
Santa Maria is the method of searing the tri tip steak on high heat for a nice crust on the outside, and then lowering the heat and cooking the steak with the lid down to evenly finish the inside. Not complicated, just need to be savvy. We are doing that today on our Traeger.
Choosing a Tri Tip at the Grocery Store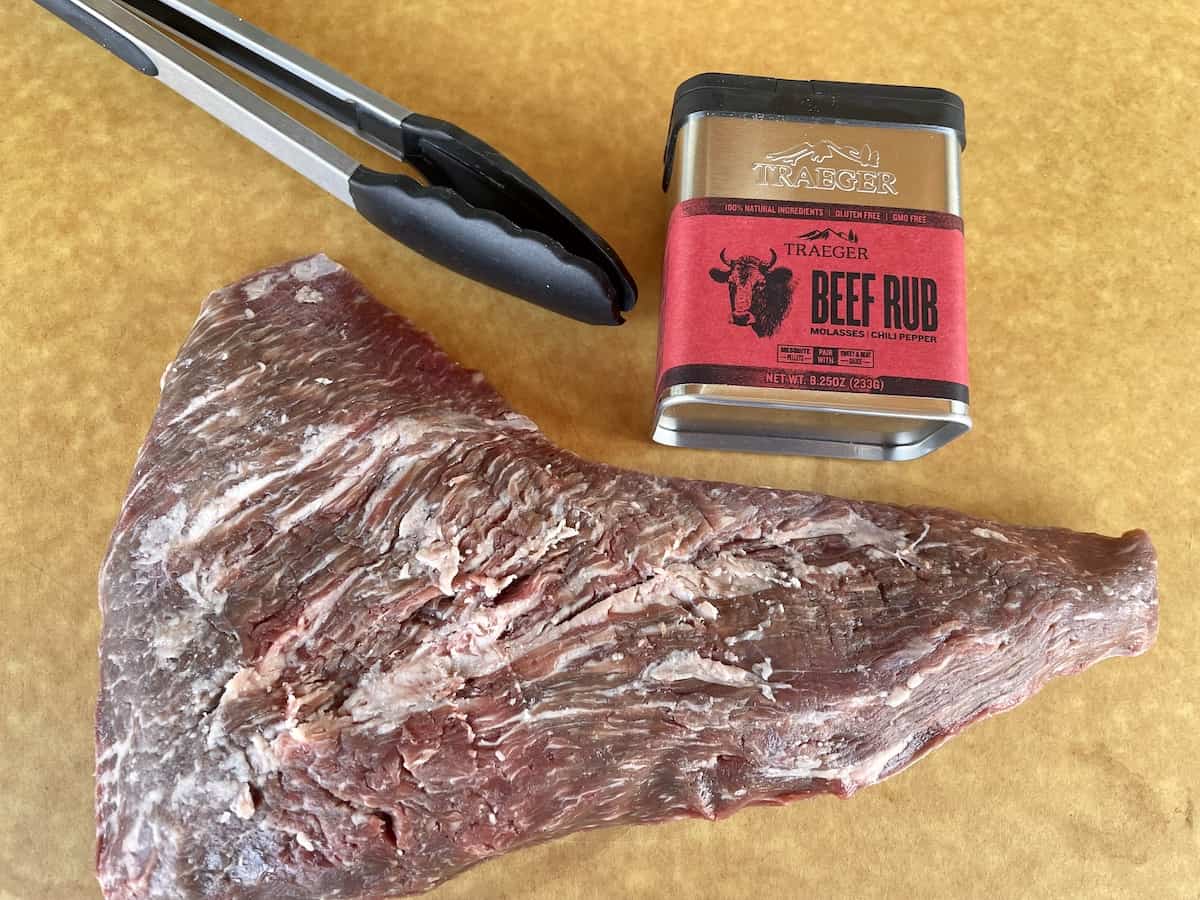 First and most importantly, start with Costco. I've never bought tri tip anywhere else. The important things to look for on a good tri tip are great marbling, silver skin and excess fat removed. A tri tip roast can be a somewhat lean cut of beef if the fat cap has been thoroughly trimmed. You may be able to find a USDA Prime option which I recommend. The term Prime is earned for excellent marbling.
Tips for Even Cooking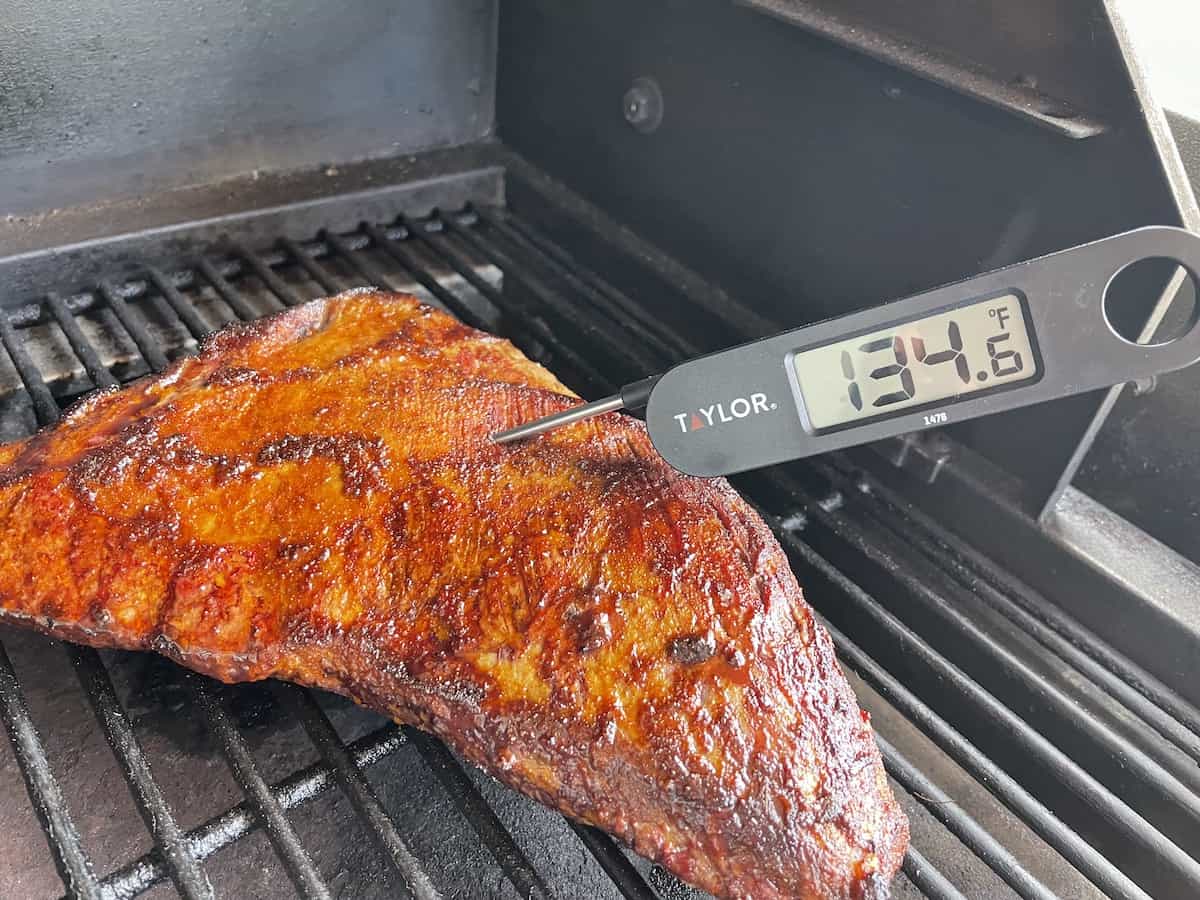 Tri tip has three points, aka triangle steak. The description is in the name. The challenge with this shape is that the narrow triangle tip will cook faster and be "well-done" versus the thickest part of the meat that may be undercooked when you pull it from the grill. We avoid that by:
use a cast iron skillet inside the Traeger Grill for a really beautiful crust
remove the tri tip from the refrigerator and allow it to come to room temperature for an hour before cooking so the inside cooks evenly
starting with a high heat and then lowering the heat and moving the tri tip to the less hot side of the grill
A major benefit of cooking tri-tip on a Traeger Grill is the temperature control. This is much more doable on our pellet grill which maintains a consistent temperature. We can start on high heat and finish low.
Traeger Tri Tip Ingredients and Must Have Spices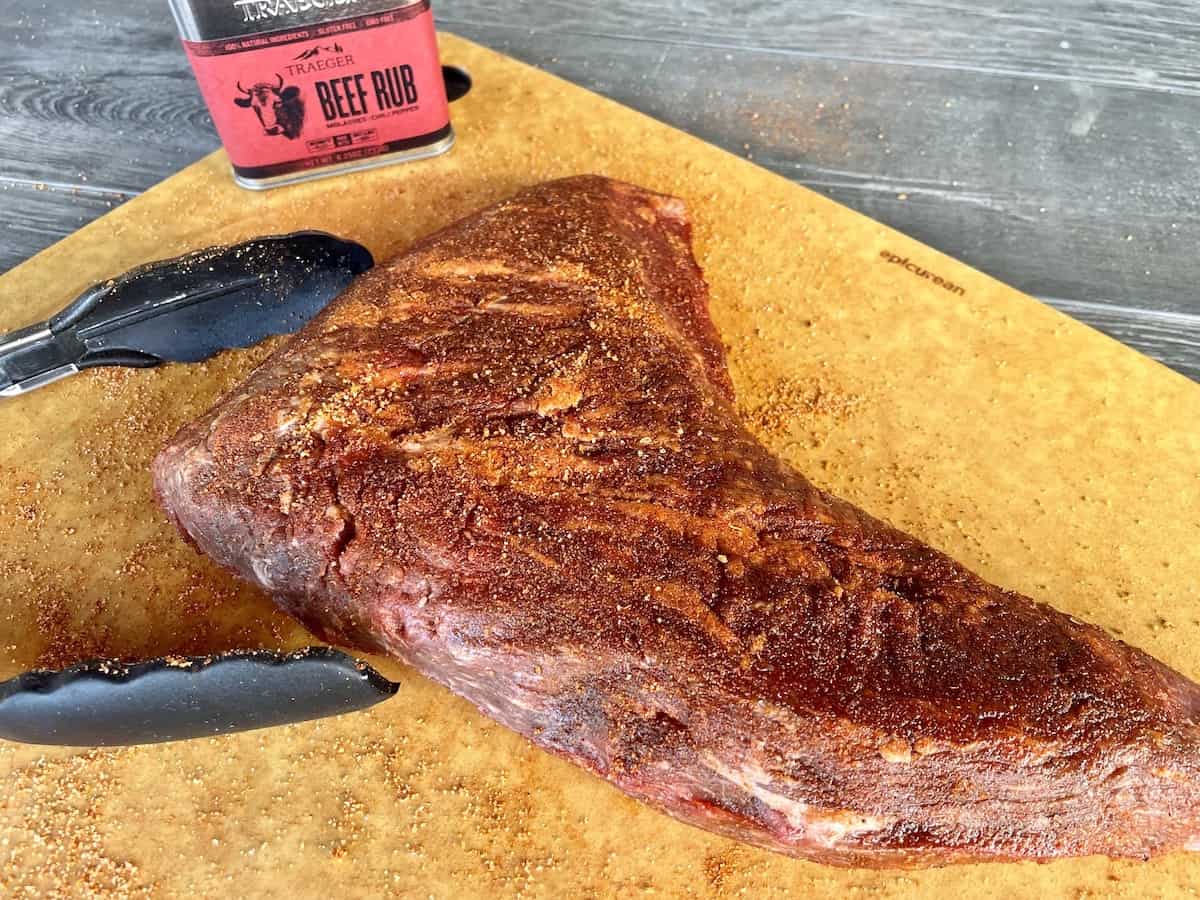 We just need a couple spices and olive oil.
Traditionally the only spices needed are kosher salt, black pepper, and granulated garlic. However, we can certainly add more flavors to push the tri tip in different directions. For a delicious traeger smoked tri tip, consider including: garlic powder or granulated garlic, onion powder, cayenne pepper, and brown sugar.
I love the Traeger Grills Beef Rub for this recipe. It has salt, sugar, paprika, molasses, and other spices which really infuse a BBQ flavor. Its a favorite dry rub for any cut of beef or burger.
When you are ready to prepare the steak, generously season the meat and store in a ziplock bag or cover with plastic wrap. You can do this ahead of time, up to two days and keep refrigerated. If you don't have the time, try to get the rub on for 60-90 minutes before grilling.
Step by Step on the Traeger
preheat Traeger Grill to 425F
set a large cast iron skillet on the grill grates over the hottest area of your grill
remove seasoned tri tip from refrigerator and allow it to come to room temperature
once the grill has reached 425, drizzle a little oil over the cast iron
place the tri tip in the cast iron and cook with the lid down for 5 minutes
flip the tri tip and cook for another 5 minutes
take the tri tip out of the cast iron and place it on the opposite side of the grill
lower the grill temperature to 325F and cook with the lid closed for 20-25 minutes
once the steak has reached the desired internal temperature on a meat thermometer (125-140F depending on preference), remove the meat to a large cutting board and cover with aluminum foil
allow the Tri tip to rest for 10-15 minutes before cutting
How to Cut and Serve a Traeger Tri Tip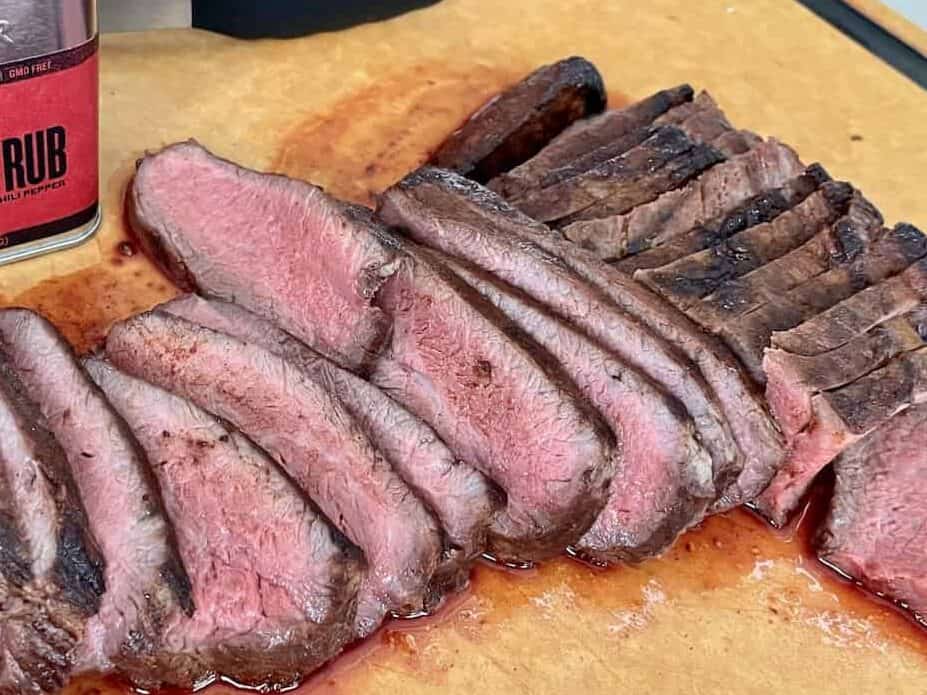 This is a small detail that makes quite a difference. Because we are working with a triangle shaped cut of meat, the grain of the meat changes directions near the wide end of the tri-tip.
You always want to cut against the grain, so pay attention to where that changes in your roast. Notice on the picture above, about ⅔ of the way up I switched directions. If you don't pay attention to that, the widest part of the meat will be much tougher as the muscle fibers are running the long way.
Things I don't do with my tri-tip
Now, I'm going to share controversial opinions, but I have learned these things through trial and error. Firstly, I don't wrap my tri-tip in butcher paper or aluminum foil. This practice is most common with "brisket style" tri-tip, but I think it ruins the spice crust on the outside by trapping steam. Its the equivalent of wrapping a New York or Ribeye. I am just not a fan.
Secondly, I'm not into the reverse sear method. I've tried them all and following the Santa Maria steak method is my favorite. The tri-tip is much more consistent as far as temperature goes. And I don't thing a reverse sear is any easier.
Traeger Tri Tip Recipe Card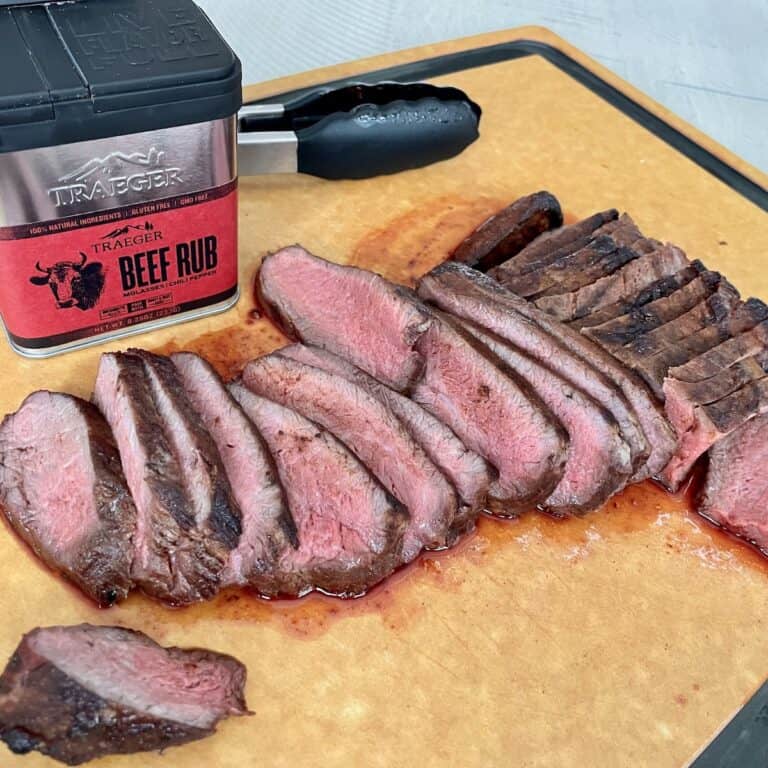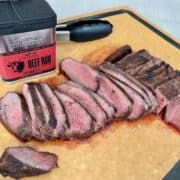 Print Recipe
Traeger Tri Tip Recipe
A grilled tri tip with a seasoned crust and cooked to a moist medium rare.
Equipment
1 Traeger Grill

1 meat thermometer

1 sharp knife

(grantor edge for meet slicing)

1 large cutting board
Ingredients
2

pound

tri tip roast

¼

cup

Traeger Beef Rub

2

tsps

vegetable oil
Instructions
Prepare the tri tip by trimming any excess fat. Generously season the tri tip with the beef rub on all sides. Do this ahead of time at least an hours before cooking, up to two days. Keep covered while refrigerated.

Preheat Traeger Grill to 425F with the lid closed and place a cast-iron pan in the hottest area of the grill.

When the Traeger has reached 425F, lightly drizzle the cast iron with vegetable oil. Lay the tri tip in the cast iron and cook for 5 minutes with the lid closed. After 5 minutes, flip the tri tip and cook for another 5 minutes.

After the tri tip has cooked in the cast iron, lower the temperature on the grill to 325F. Move the tri tip to the opposite side of the grill without the cast iron pan.

Cook the tri tip at 325F with the lid closed for 20-25 minutes or until the internal temperature reaches 130F.

After cooking, remove the tri tip to a large cutting board and cover with aluminum foil. Allow the meat to rest for 10-15 minutes before cutting.

Slice the tri tip in ¼" slices going against the grain. Enjoy while its hot and serve with a good BBQ sauce if desired.
Nutrition
Calories:
237
kcal
|
Protein:
31
g
|
Fat:
12
g
|
Saturated Fat:
4
g
|
Polyunsaturated Fat:
1
g
|
Monounsaturated Fat:
6
g
|
Cholesterol:
98
mg
|
Sodium:
80
mg
|
Potassium:
485
mg
|
Calcium:
36
mg
|
Iron:
2
mg
Great Side Dishes for a Tri Tip
Check out these favorite sides and sauces for a perfect and well rounded meal.
Tri tip really benefits from a great BBQ sauce. My Jack Daniels sauce packs a punch of flavor from whiskey, brown sugar, and soy sauce.
Twice baked potatoes are a great way to feed a group. They can be assembled ahead of time and are super easy for serving when you are ready to eat.
Grilled asparagus rounds out the meal with a light crunch from being cooked just right. I love the bright zing from a squeeze of lemon on top.